Kingfast C-Drive F8 Series 240GB SSD Review - Cheapest tested 240GB drive so far
JMicron returns with a new controller, JMF667H. Just wait until you see the price of the C-Drive F8 SSD. Follow as Chris tells us all about it.
Published Feb 5, 2014 8:02 PM CST
|
Updated Tue, Nov 3 2020 7:00 PM CST
12 minute read time
Introduction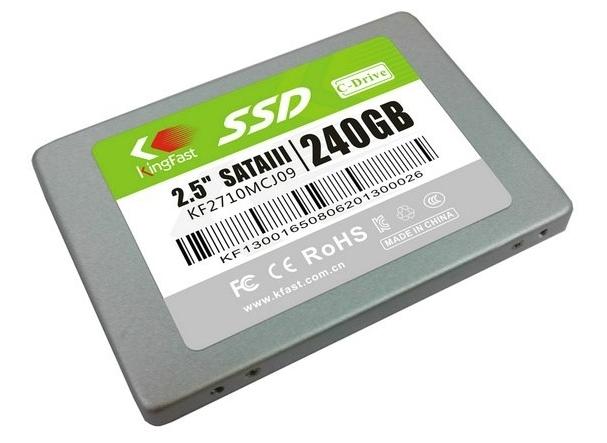 It's been quite a while since we heard from JMicron, and we've never recommended a SSD with a JMicron controller in it. The company was responsible for the worst SSDs in history, like the second generation Ford Mustangs based on a Pinto, they were a stop gap in history before the good products came to market.
Since the dark days, JMicron has improved the user experience, and made ground in the entry-level SSD market, winning designs with Kingston and a few other reputable manufacturers. For the most part, manufacturers choosing to use JMicron controllers did so by tucking the drives away from media. Is that about to change?
I hope that Kingfast doesn't mind our diligence on this review, which has taken four months to write. Given the reputation of the controller manufacturer and my reputation as a journalist, this article could really go two ways.
The first way being that the controller proved worthless, and the article could go up right away; or the second (and who would have thought this is the way it would go), this controller is actually pretty good, and needed to be abused before I put my neck on the chopping block to say so. Here we are, four months later, but I'm not too worried about falling blades, the JMicron JM662 controller is actually pretty good.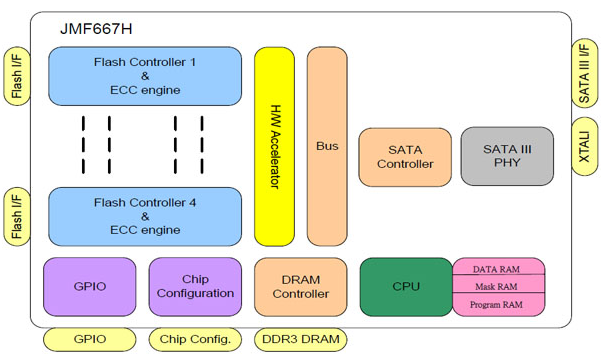 The JMF667H is JMicron's third-generation SSD controller design, and features four channels to flash and a SATA III connection to the host. Based on the ARM9 instruction set, the 32-bit processor is a modern design with support for the latest Flash Forward and IMFT flash.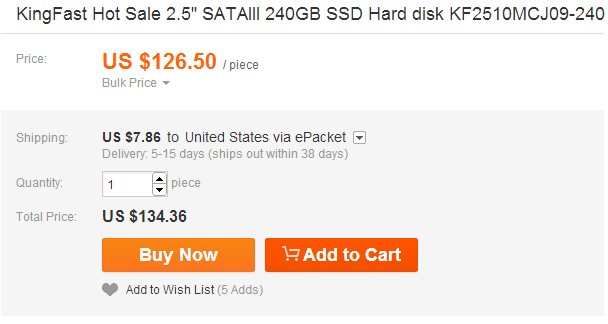 The 4-channel design, when paired with low cost Toshiba 19nm TOSP flash, also means the drive is inexpensive. Hell, it's a down right bargain at $126.50 at the time of writing for a 240GB model. Let's not get too far ahead of ourselves though. Let's take a look at the specs, and then circle back to the overall value after seeing the performance.
Specifications, Pricing and Availability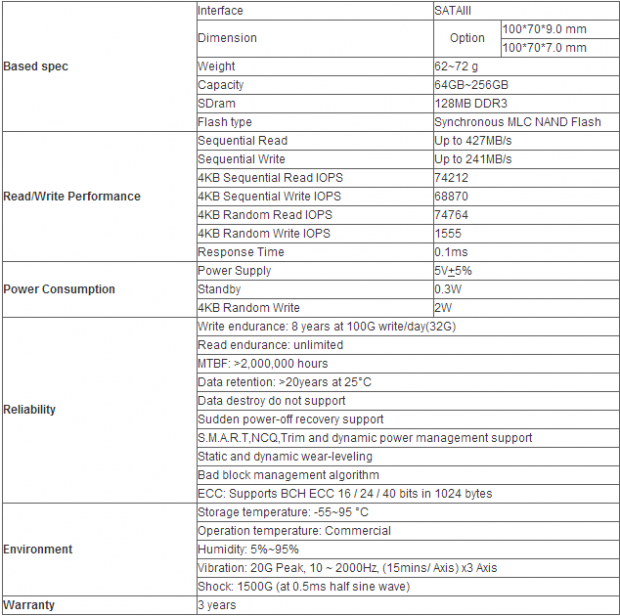 Offered in three capacity sizes and two form factors, the Kingfast F8 Series 2.5" drives use the new SATA III JMicron JMF667H controller, and pair it with 128MB DRAM. From the ground up, this product is built to deliver high value and performance, and at least on paper, appears unimpressive. Kingfast quotes sequential read performance at just 427 MB/s, and sequential write performance at 241 MB/s; hardly the performance you would expect TweakTown to get excited about. I think Kingfast quoted performance from the 64GB or 128GB model, because in our testing we topped out at just over 510MB/s sequential read, and 370 MB/s sequential write.
Looking at the specifications sheet, we had other concerns as well. The random read performance looks solid for a budget drive, 74K read IOPS, but the specifications sheet shows just 1,555 IOPS for random writes. Although that is higher than a 10K spinner on its best day, it's not very SSD like, and thankfully in our tests we achieved over 30K at queue depth 1, and just under 60K at QD32. I'm not sure who put together the specifications sheet I found, but I'm sure their foot is still bandaged, and someone needs to keep them away from firearms.
Specification mismanagement doesn't stop there. The specific model number for the drive we're testing today is KF2510MCJ09, and if you go to Kingfast's website, it's nowhere to be found. The 7mm z-height variant of the same drive is available, and for just a few dollars more. Google turned up a number of Chinese Amazon type wholesale outlets where Kingfast lists the drives for sale; that doesn't do much for consumer confidence. I have heard of Ali Express before, but I haven't purchased anything from the site before. Alexa shows it as the 78th most trafficked website in the world at the time of writing, so the site is popular globally, just not by me I guess.
There's little reason to look at the specification sheet any further since we don't know what's accurate and what's not. We'll pull the performance numbers ourselves anyhow. The drive ships in a blister pack without accessories, software, adapter bracket, or any of the pieces we expect to come with a premium product. It does carry a three-year warranty.
Kingfast C-Drive F8 Series 240GB SSD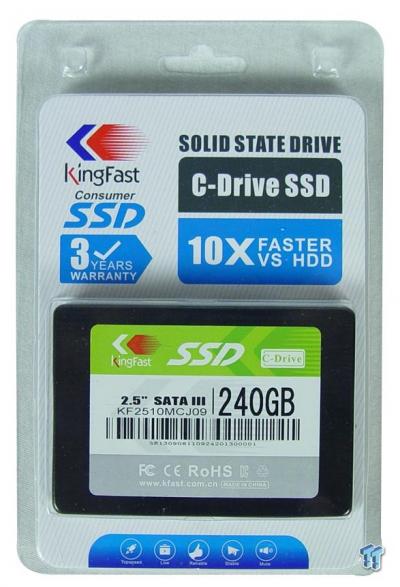 Package wise, there really isn't much to see. Kingfast designed everything to stock on a hanger at a convenience store. 7-11's are on every corner in Asia, and when I see SSDs in blister packs, that's what I think of. I'll take a pack of Camel Filters and the 240GB Kingfast please.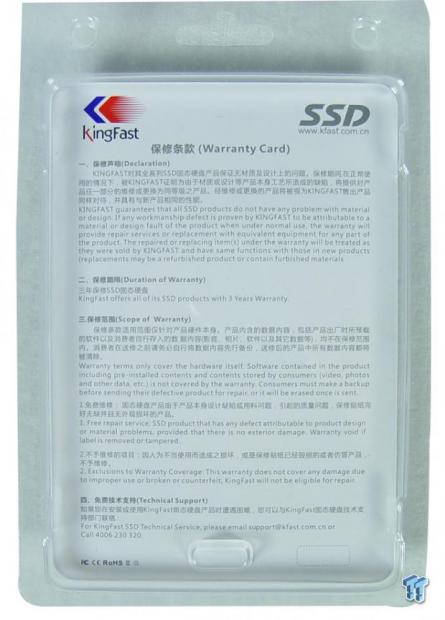 The back of the package is dedicated to warranty information, and where to reach out to for support.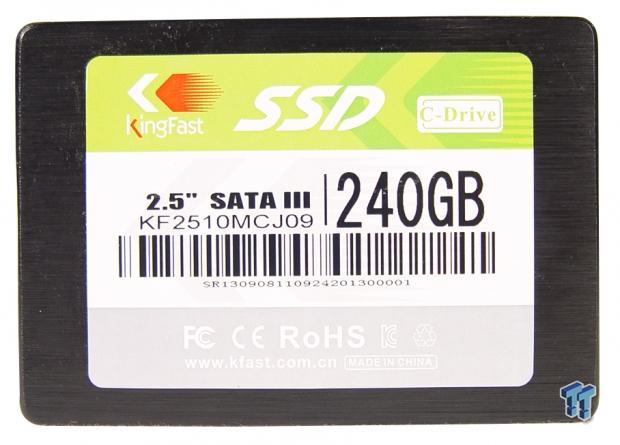 Here, we get our first look at the drive. The KF2510MBJ09 is a 9mm z-height design, but Kingfast also makes a 7mm version.
I've been asked before: "Why do you talk about the mounting points in all of your reviews? Who would make a drive without the proper mounting spacing?"
Although it's been a few years since I was able to make a significant contribution to talking about mounting holes, but this is why. The Kingfast sample we received only has three of the four standard mounting points on the bottom of the drive.

Everything is all good on the side mounts though.
The SATA power and data connectors are also where they should be.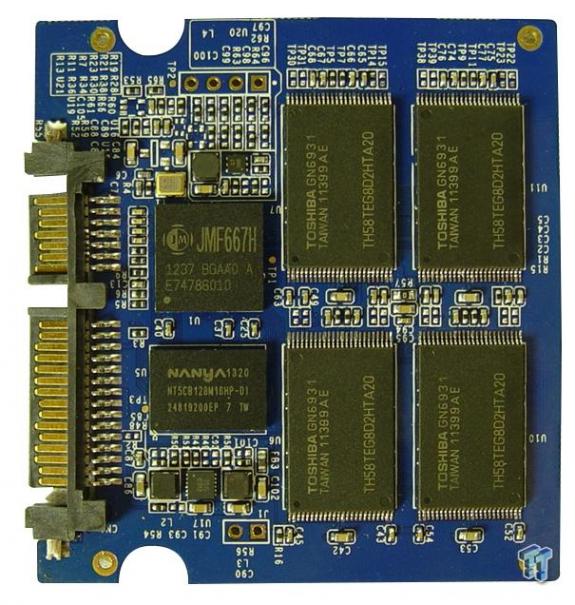 Inside, I found a half-length PCB with the components needed to make an SSD operate.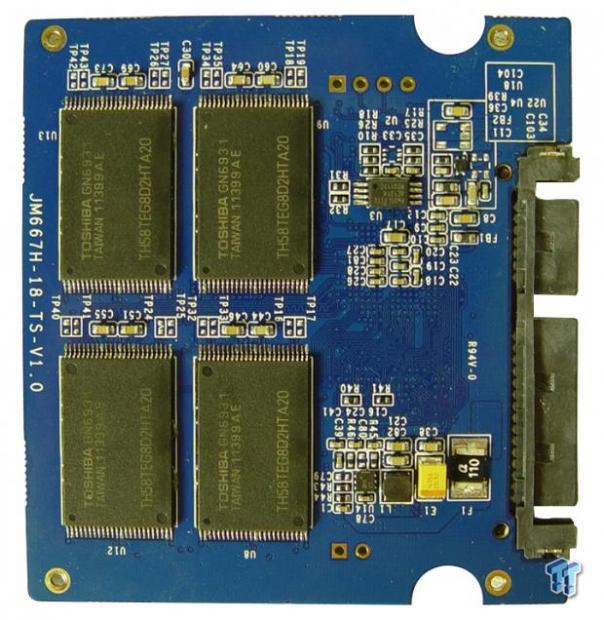 There are eight NAND flash packages total; four on each side. Kingfast used Toshiba 19nm flash in TSOP packages with four die per package.
Here, we get our first look at the new JMF667H controller and the 128MB Nanya DRAM.
Benchmarks - Test System Setup and ATTO Baseline Performance
Desktop Test System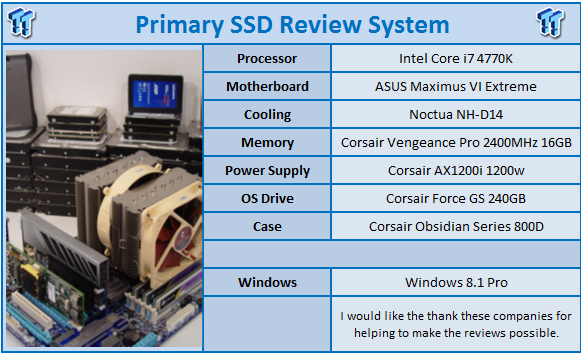 Lenovo W530 - Mobile Workstation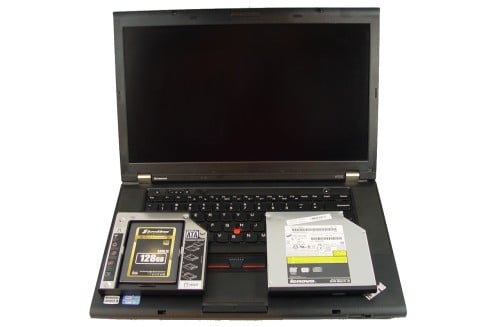 We use two systems for SSD testing. The desktop runs a majority of the tests, and the Lenovo W530 runs the notebook power tests as well as the real-world file transfer benchmark.
ATTO Baseline Performance
Version and / or Patch Used: 2.34
ATTO is a timeless benchmark used to provide manufacturers with data used to market storage products.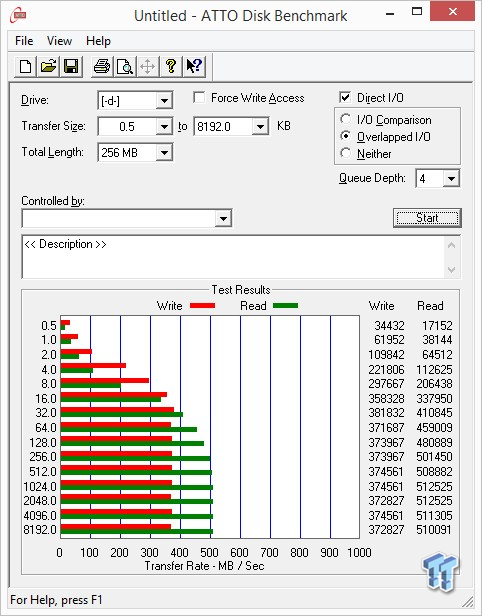 Although the benchmarks will not show it, we beat this drive with everything we had, including 4K writes in Iometer for days, to see if it would recover. We also ran the drive in a notebook and used it for a week straight, even running benchmarks while in use as a boot drive.
In ATTO we achieved a sequential read score of just over 510 MB/s. The sequential write performance was nearly 375 MB/s. The numbers aren't in the same league as Vector 150 or 840 Pro, but neither is the price.
Benchmarks - Sequential Performance
HD Tune Pro
Version and / or Patch Used: 4.00
Developer Homepage: http://www.efdsoftware.com
Product Homepage: http://www.hdtune.com
HD Tune is a Hard Disk utility which has the following functions:
Benchmark: Measures the performance
Info: Shows detailed information
Health: Checks the health status by using SMART
Error Scan: Scans the surface for errors
Temperature Display
HD Tune Pro gives us accurate read, write, and access time results, and for the last couple of years has gained popularity amongst reviewers. It is now considered a must-have application for storage device testing.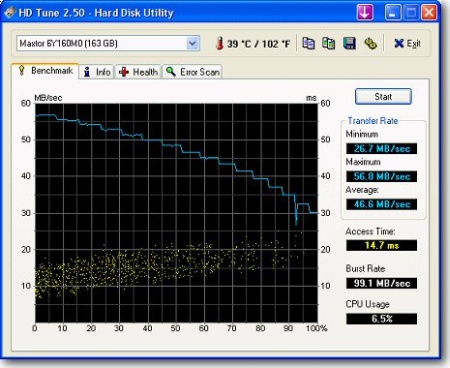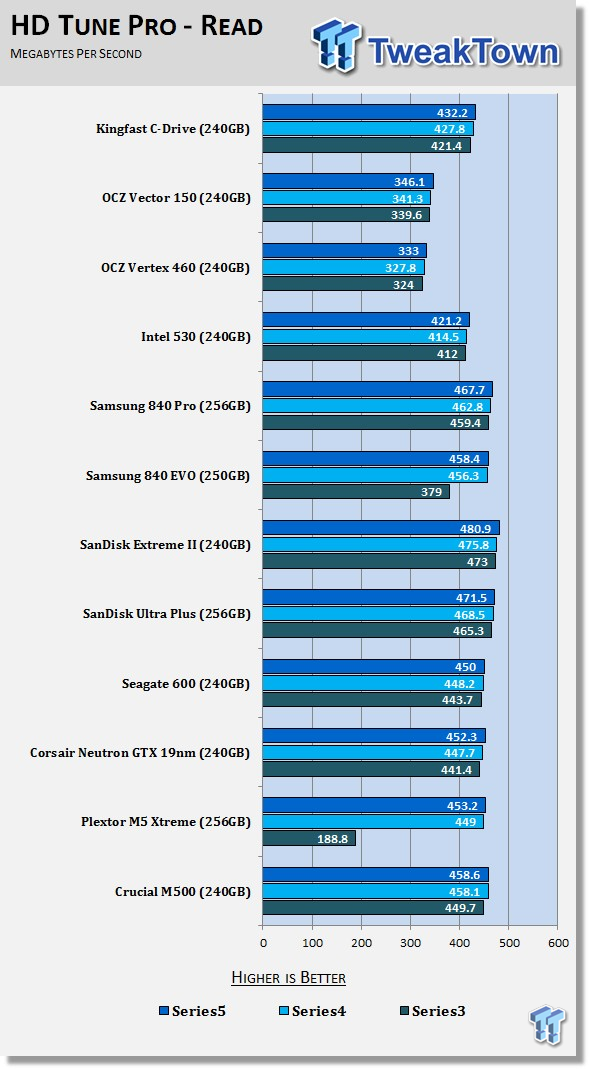 In ATTO, the performance was enough to get our attention, but not all that impressive compared to the highest performing drives on the market. Here, see a comparison against every tier one consumer SSD on the market, and the Kingfast C-Drive F8 actually does pretty well with the budget models.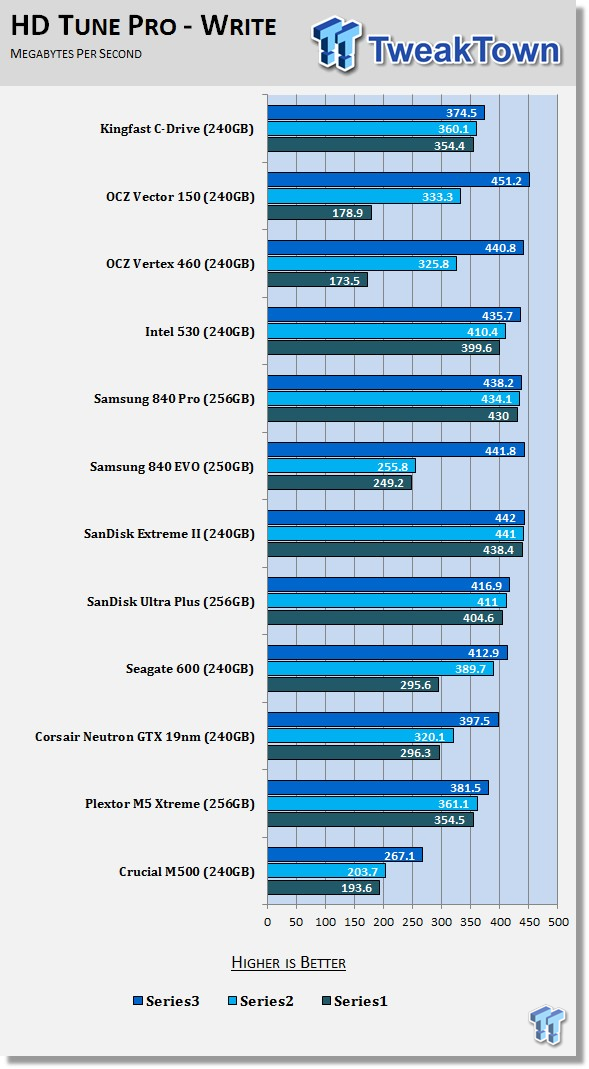 The sequential write performance is down to many of the well-known products, but the highest selling drive in the world right now, the Samsung 840 EVO, is actually slower when you get past Turbo Write speeds.
HD Tach - Sequential Write Performance after Random Writes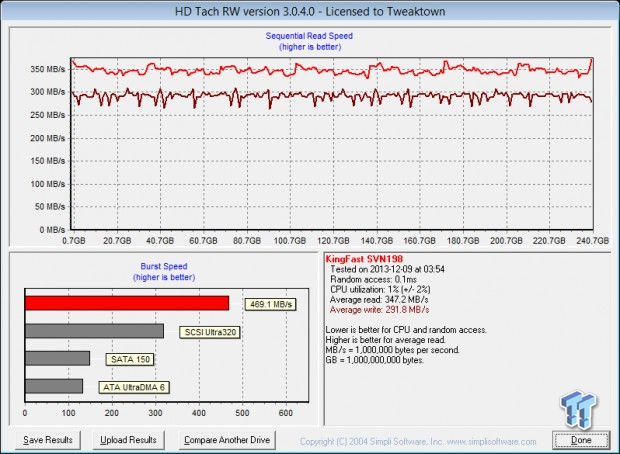 After running a consumer appropriate amount of random writes to the drive, 4x runs in HD Tune Pro's random write test in full span, the sequential write performance never drops past 260 MB/s, and has an average sequential write speed of 291 MB/s.
Benchmarks - AIDA64 Random Access Time
AIDA64 Random Access Time
Version and / or Patch Used: 1.60
Developer Homepage: http://www.aida64.com
Product Homepage: http://www.aida64.com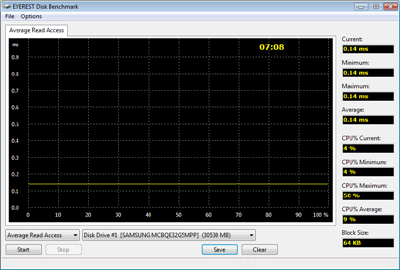 AIDA64 offers several different benchmarks for testing and optimizing your system or network. The Random Access test is one of very few, if not only, that will measure hard drives random access times in hundredths of milliseconds as opposed to tens of milliseconds.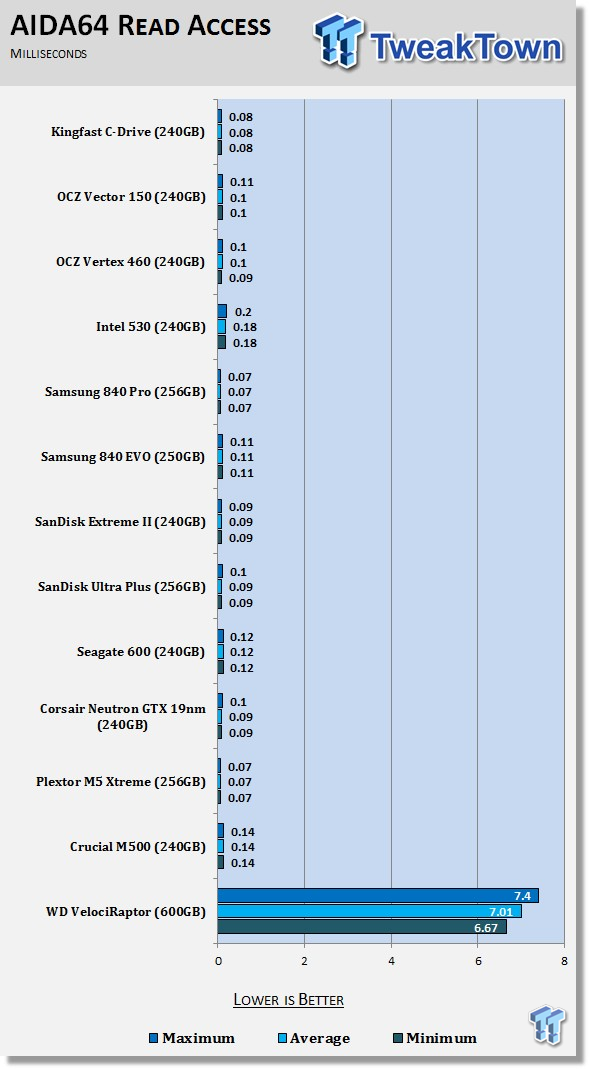 The C-Drive's latency never breaks over .08ms at 64KB, not much over 840 Pro's latency tally in the same test.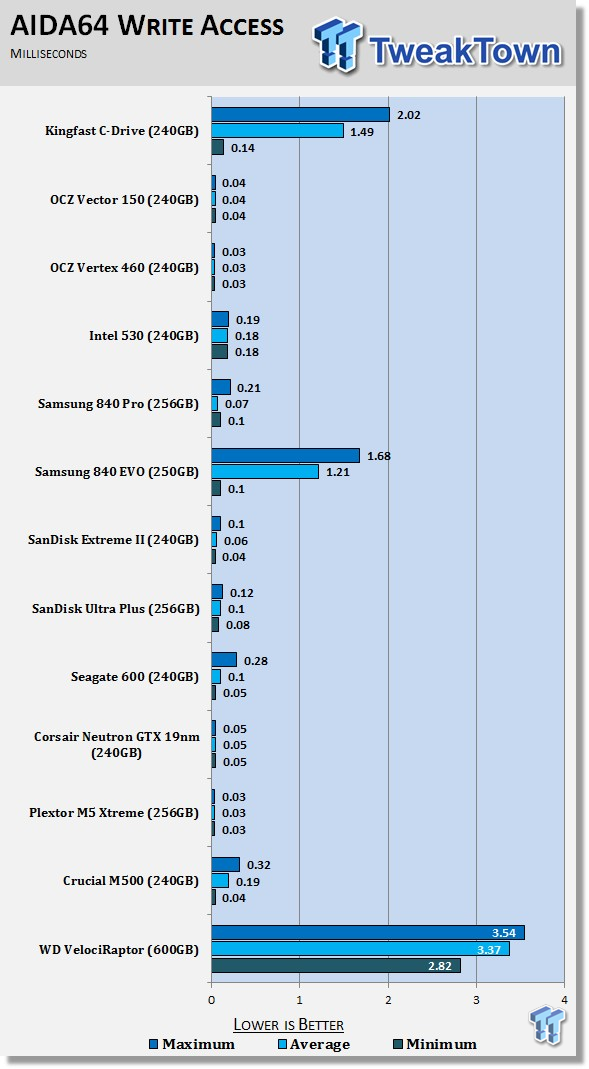 Write latency at 64KB isn't the best. The drive does have a small DRAM buffer for the map data, and JMicron isn't known for having the best write latency.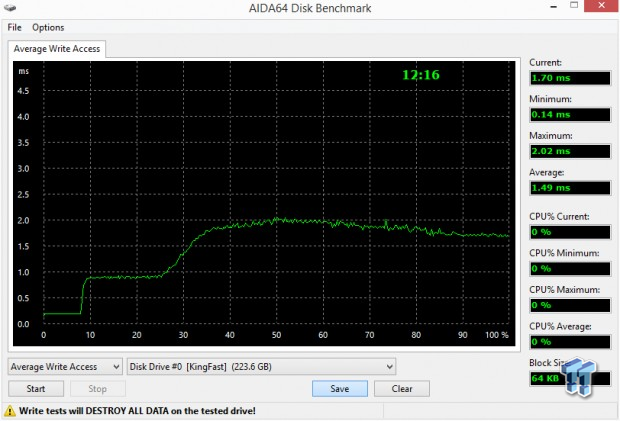 Here, we see the actual results from the test, and can clearly see the tapering in performance. For the first 8% the drive does really well.
Benchmarks - Anvil Storage Utilities
Anvil Storage Utilities
Version and / or Patch Used: RC6
So what is Anvil Storage Utilities? It's a storage benchmark for SSDs and HDDs, where you can check and monitor your performance. The Standard Storage Benchmark performs a series of tests; you can run a full test, or just the read or the write test, or you can run a single test (i.e. 4K DQ16).
Anvil Storage Utilities is not officially available yet, but we've been playing with the beta for several months now. On several international forums, the author, Anvil, has been updating the software steadily and is adding new features every couple of months.
The software is used several different ways, and to show different aspects for each drive. We've chosen to use this software to show the performance of a drive with two different data sets. The first is with compressible data, and the second data set is incompressible data. Several users have requested this data in our SSD reviews.
0-Fill Compressible Data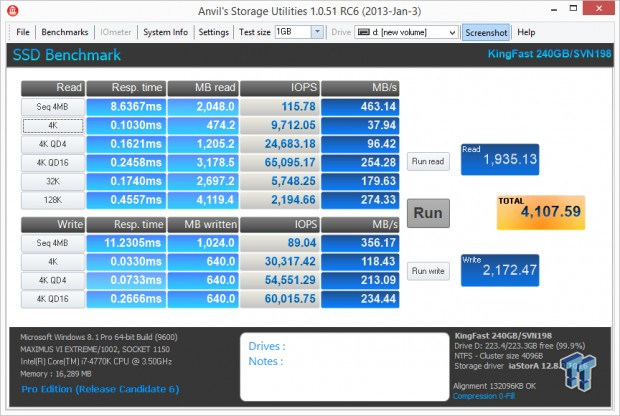 Incompressible Data
JMicron doesn't perform any different when working with compressible or incompressible data.
Read IOPS through Queue Depth Scale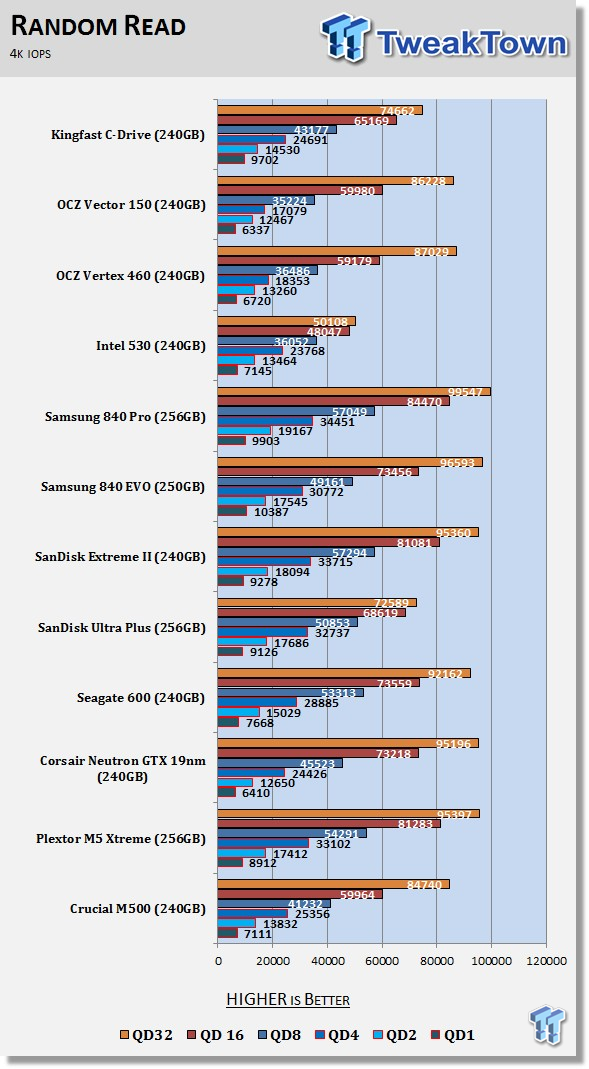 We talk a lot about how important low queue depth IOPS performance is in a consumer environment. To my knowledge, we're the only site that does this even though for day-to-day tasks, it's one of the most important metrics to look at for perceived user experience. The Kingfast C-Drive F8 does really well in these tests, much better than many of the other drives.
Scaling Write IOPS through Queue Scale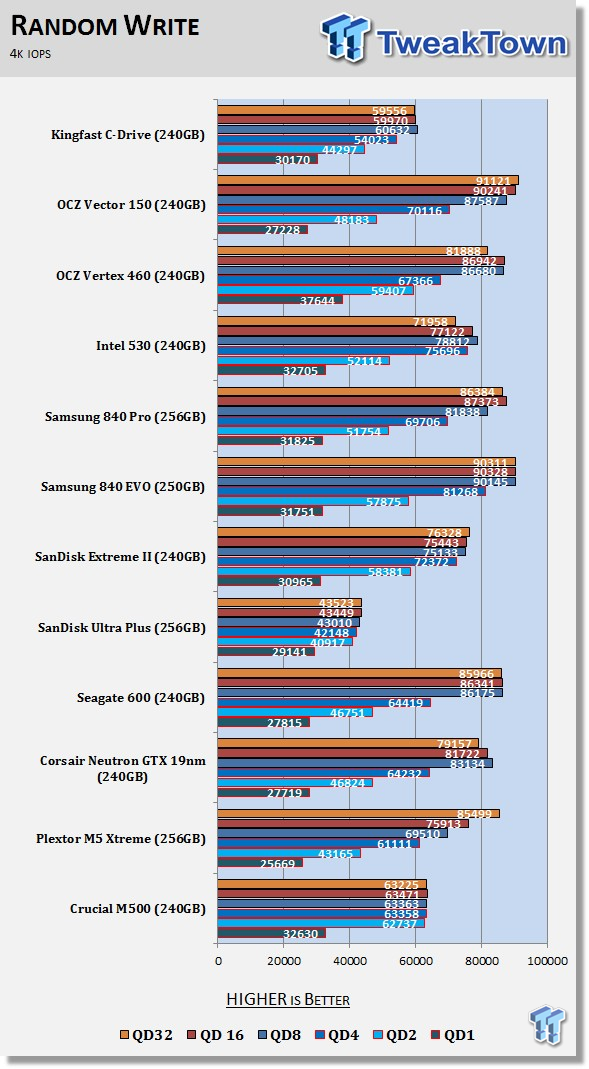 The 4K QD1 write IOPS are down a bit to the flagship drives, but in line with several of the other top tier drives.
Benchmarks - CrystalDiskMark
CrystalDiskMark
Version and / or Patch Used: 3.0 Technical Preview
Developer Homepage: http://crystalmark.info
Product Homepage: http://crystalmark.info/software/CrystalDiskMark/index-e.html
Download here: http://crystaldew.info/category/software/crystaldiskmark
CrystalDiskMark is a disk benchmark software that allows us to benchmark 4K and 4K queue depths with accuracy.
Key Features:
* Sequential reads/writes
* Random 4KB/512KB reads/writes
* Text copy
* Change dialog design
* Internationalization (i18n)
Note: Crystal Disk Mark 3.0 Technical Preview was used for these tests since it offers the ability to measure native command queuing at 4 and 32.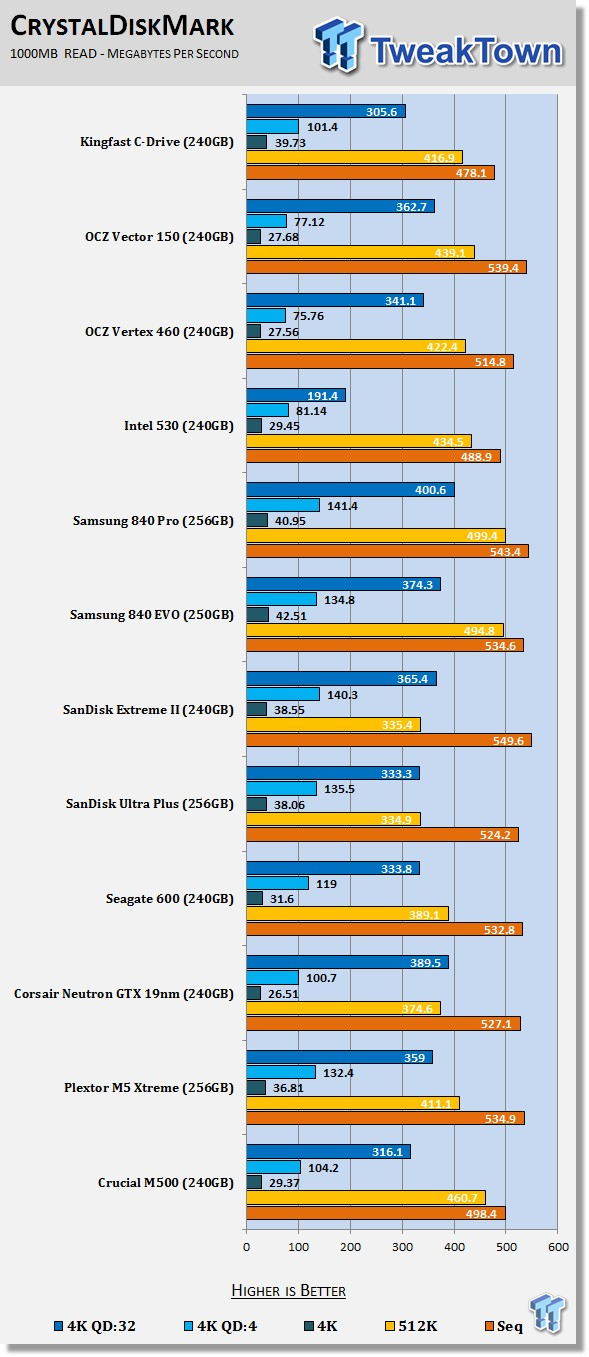 Very few drives are able to achieve 40 MB/s in our 4K QD1 test, but the C-Drive F8 is very close to that mark. The drive scales very well as we increase the queue depth as well.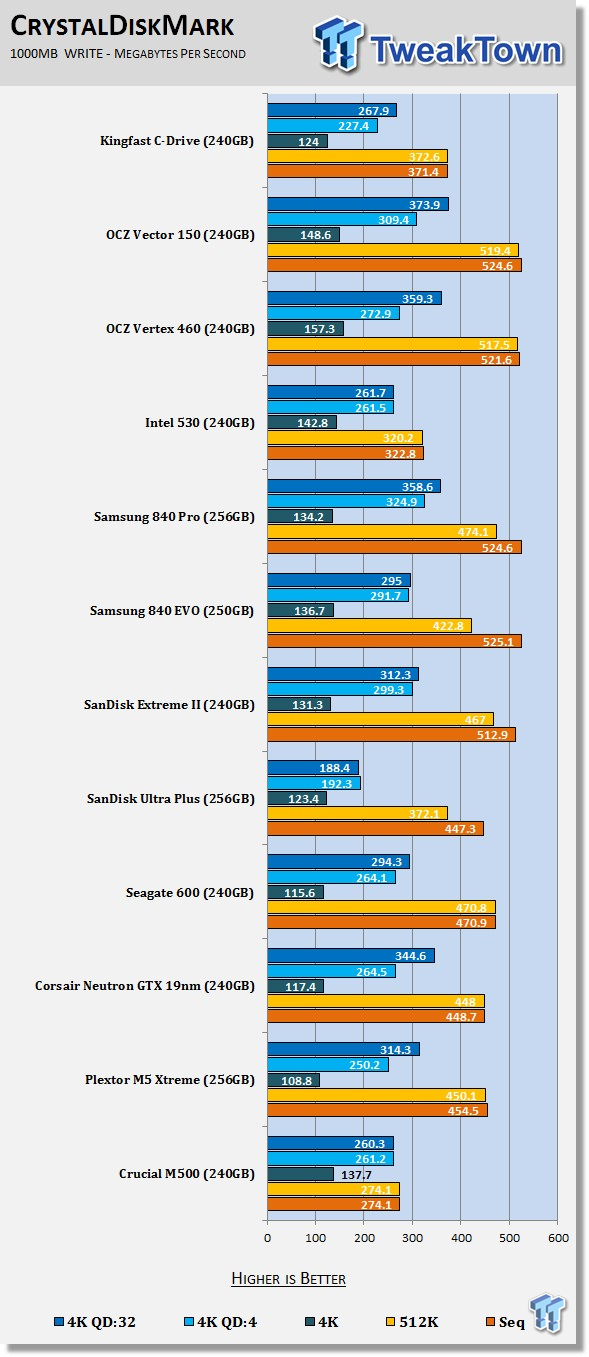 When it comes to the C-Drive's write performance, this chart really tells us all we need to know. When compared to flagship models, the sequential performance is down, but still higher than LSI SandForce drives since this test uses incompressible data. The 4K QD1 write performance is also slower than the flagship drives, but comparable to many of the other drives on the chart.
Benchmarks - PCMark Vantage Hard Disk Tests
PCMark Vantage - Hard Disk Tests
Version and / or Patch Used: 1.0.0
Developer Homepage: http://www.futuremark.com
Product Homepage: http://www.futuremark.com/products/pcmarkvantage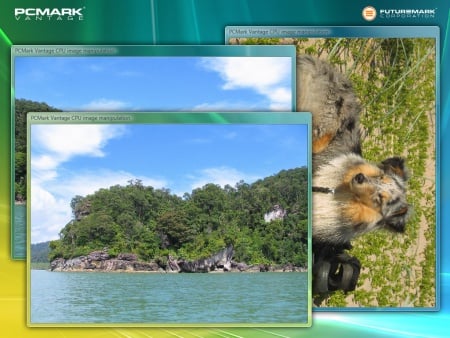 PCMark Vantage is the first objective hardware performance benchmark for PCs running 32 and 64 bit versions of Microsoft Windows Vista. PCMark Vantage is perfectly suited for benchmarking any type of Microsoft Windows Vista PC from multimedia home entertainment systems and laptops to dedicated workstations and high-end gaming rigs. Regardless of whether the benchmarker is an artist, or an IT Professional, PCMark Vantage shows the user where their system soars or falls flat, and how to get the most performance possible out of their hardware. PCMark Vantage is easy enough for even the most casual enthusiast to use, yet supports in-depth, professional industry grade testing.
Futuremark has developed a good set of hard disk tests for their PCMark Vantage Suite. Windows users can count on Vantage to show them how a drive will perform in normal day to day usage scenarios. For most users, these are the tests that matter since many of the old hat ways to measure performance have become ineffective to measure true Windows performance.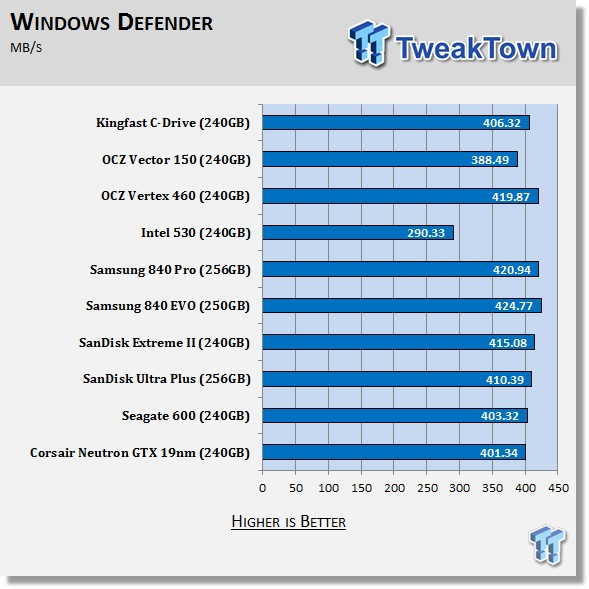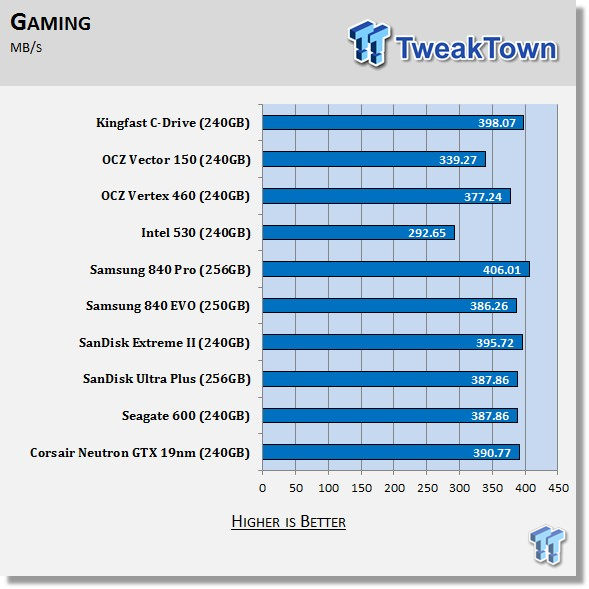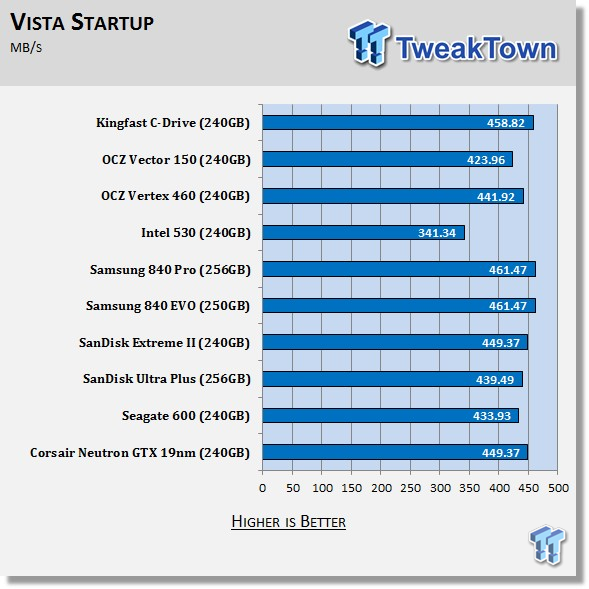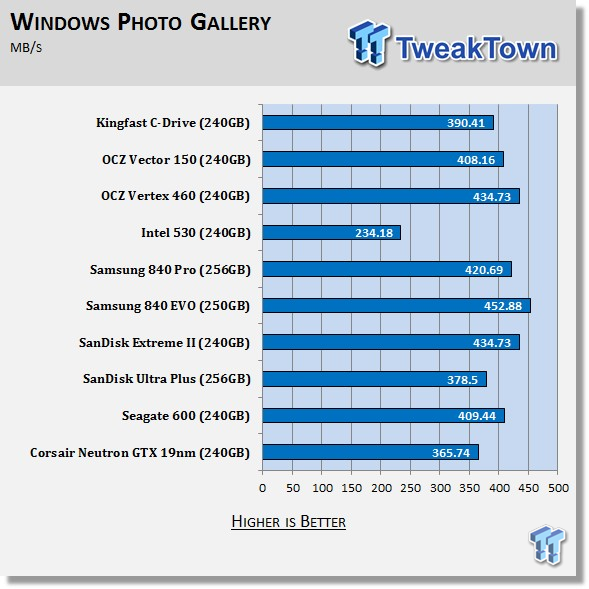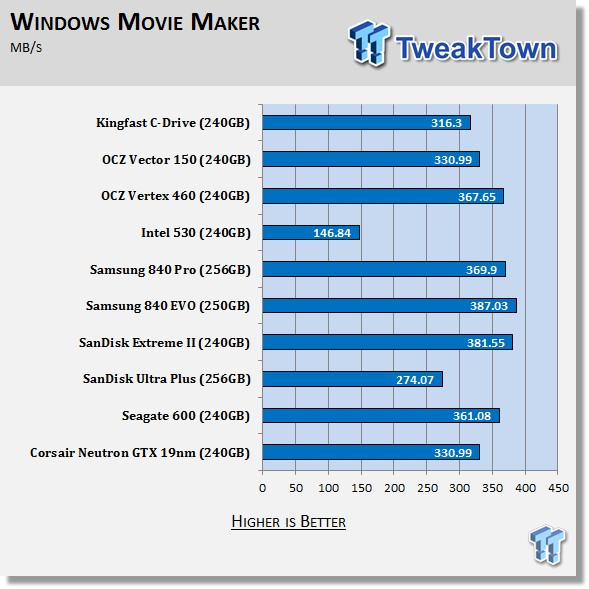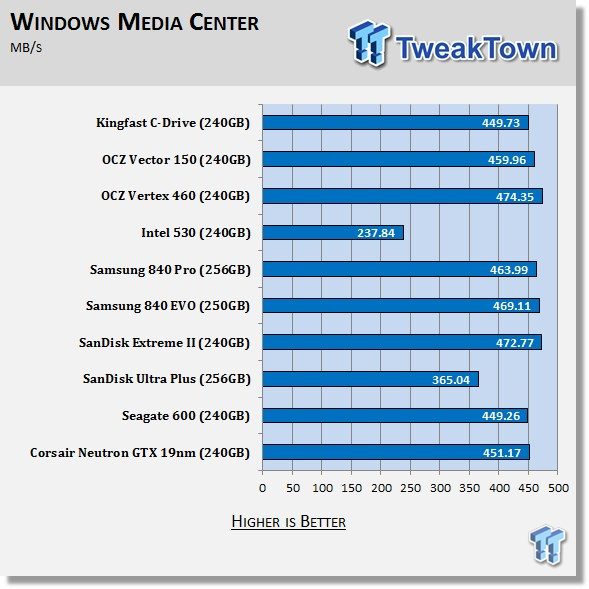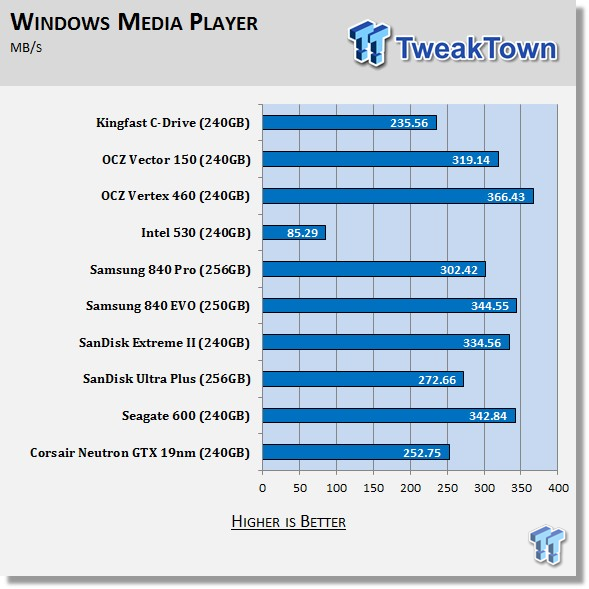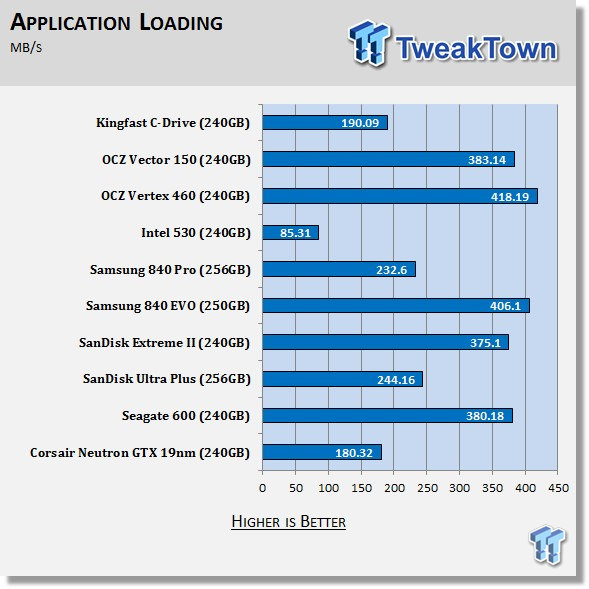 While showing its age with tests like Vista Startup, Vantage is still relevant when it comes to testing storage products. The tests mimic nearing one to one what we experienced with the C-Drive in a notebook. The drive is very good at some tasks and only acceptable in others. In all cases though, the drive is faster than a mechanical drive, and the response time is much better.
Benchmarks - PCMark Vantage - Drives with Data Testing
PCMark Vantage - Drives with Data Testing
For a complete breakdown on the Drives with Data Testing please read this article. You will be able to perform this test at home with the files provided in the article - full instructions are included.
- Brief Methodology
SSDs perform differently when used for a period of time, and when data is already present on the drive. The purpose of the Drives with Data testing is to show how a drive performs in these 'dirty' states. SSDs also need time to recover, either with TRIM, or onboard garbage collection methods.
Drives with Data Testing - 25%, 50%, 75% Full States and Dirty / Empty Test
Files needed for 60 (64GB), 120 (128GB), 240 (256GB)
60GB Fill - 15GB, 30GB, 45GB
120GB Fill - 30GB, 60GB, 90GB
240GB Fill - 60GB, 120GB, 160GB
Empty but Dirty - A test run just after the fill tests, and shows if a drive needs time to recover, or if performance is instantly restored.

One of our largest surprises comes from how well the C-Drive performed with data on the flash. Using 50% as our guide stone, the drive manages to outperform many established products on the market.
Benchmarks - PCMark 8 Hard Disk Tests
Version and / or Patch Used: 1.0.0
Developer Homepage: http://www.futuremark.com
Product Homepage: http://www.futuremark.com/products/pcmark8
Note: PCMark 8 Storage benchmark is ideal for testing the performance of SSDs, HDDs, and hybrid drives. Using traces recorded from Adobe Creative Suite, Microsoft Office, and a selection of popular games, PCMark 8 Storage highlights real-world performance differences between storage devices.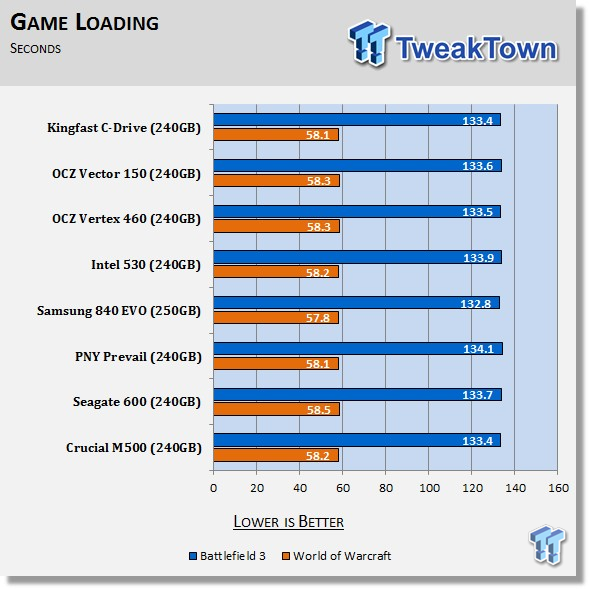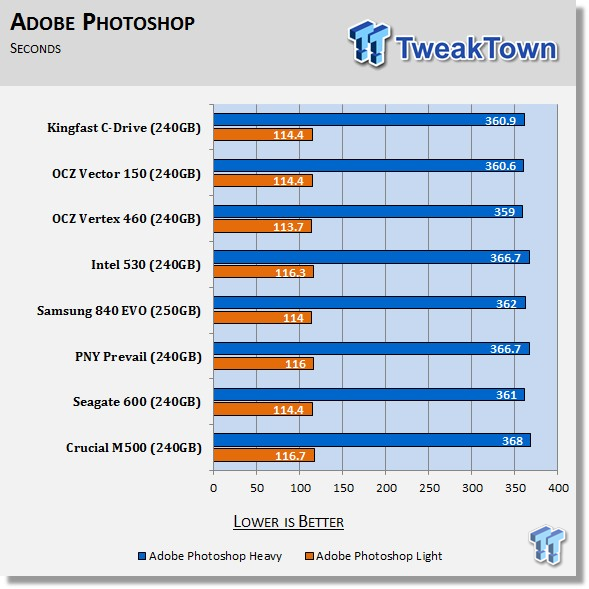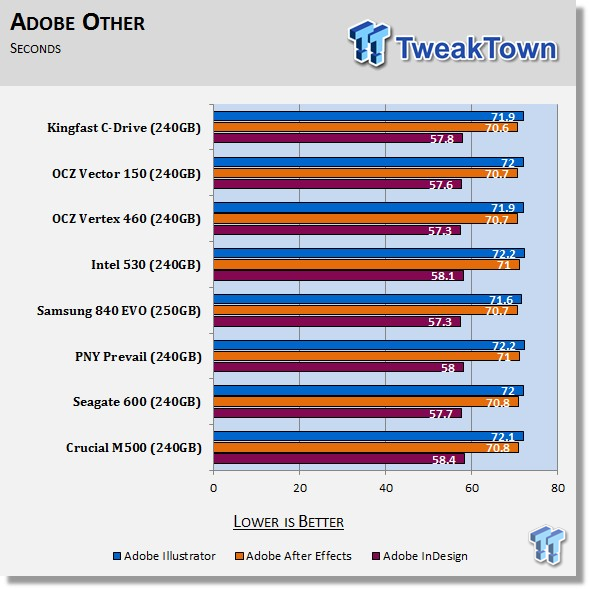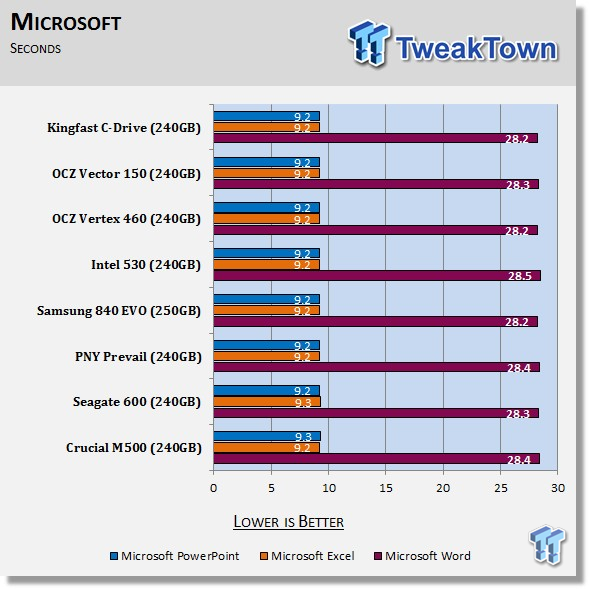 PCMark 8 shows how long a task takes to complete. When looking at SSD performance in time rather than performance, it's sometimes difficult to tell one model from another.
PCMark 8 Storage Bandwidth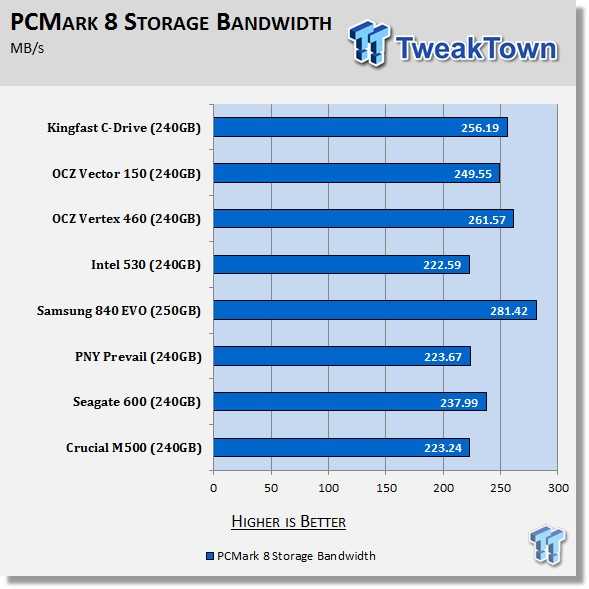 Here, we see the average performance of all tests, and the results in transfer speeds.
Benchmarks - DiskBench
DiskBench - Directory Copy
Version and / or Patch Used: 2.6.2.0
Developer Homepage: Nodesoft
Product Homepage: DiskBench
Download here: http://www.nodesoft.com/diskbench/download
Note: In this test, we use the Lenovo W530 Mobile Workstation and a SuperSSpeed S301 SLC 128GB SSD, to move a 15GB block of data to and from the target drive. This is part of our real-world test regiment. Roughly 45GB of data resides on the target drive before the '15GB Block' is transfer. The 15GB Block is the same data we built for the Data on Disk Testing, and is a mix of compressible and incompressible data.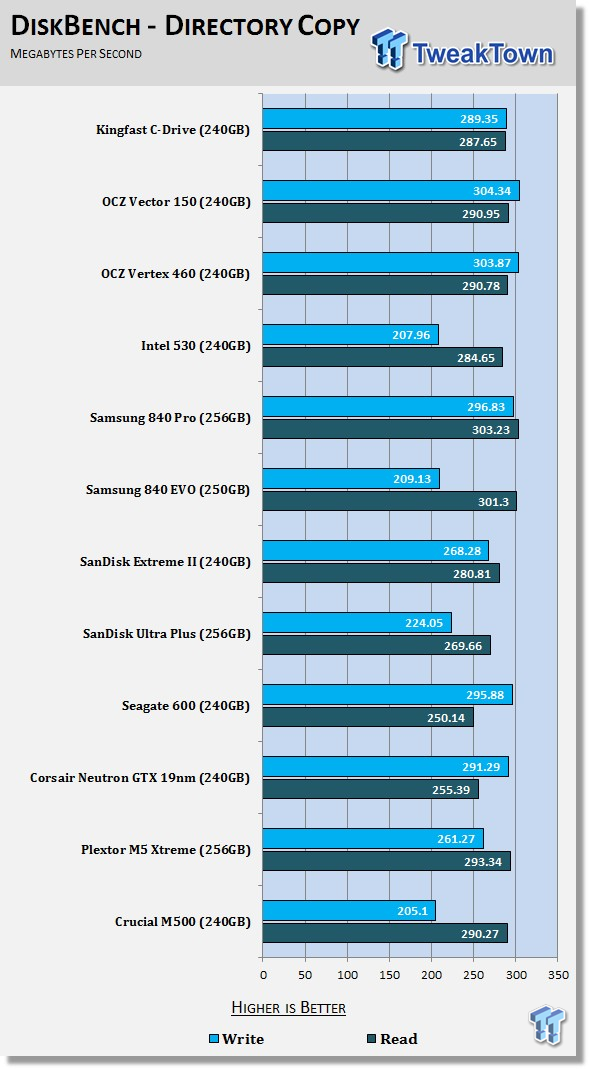 Here, we transfer mixed data to and from the drive to see how the drive handle a directory copy. Despite lower read and write performance numbers on the specifications sheet, the Kingfast C-Drive F8 does very well with the mixed workload.
Final Thoughts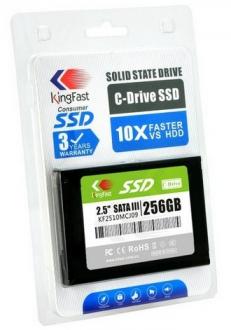 I was very surprised at the level of performance the new JMicron JMF667H offers. JMicron has come a long way since the early controllers, and even since the last time we tested a drive with the company's early SATA III offering.
I'm not saying the performance is enough to make my head spin, but it's good enough for a majority of people. If I needed to buy a drive for someone else who was not all that technical and mainly surfed the web or played games, this would be a good option for doing it on a budget.
However, there is one issue, and that's actually buying this drive. I managed to find the C-Drive F8 in Asian markets and even European markets, but it looks like all of the drives ship from Asia. If the drive wasn't priced so low, I don't think it would be worthwhile to even consider it, but at $126.50 at the time of writing for a 256GB class SSD, it's hard to turn your back on that kind of value. The decision would be much easier if Kingfast had the drive listed on its own website like the 7mm model (that model costs a little more).
All things considered, the drive is fast enough, and the price is low enough to consider this model, but there are some issues we'd like to see Kingfast sort out before really recommending the drive. Certainly, a U.S. distributor or e-tailer would help, or at the very least an Amazon account. Support may also be an issue from the U.S. and Europe; especially if you need a warranty replacement. In Asia and other places with a low shipping time from Kingfast's factory, we could recommend the F8 drives.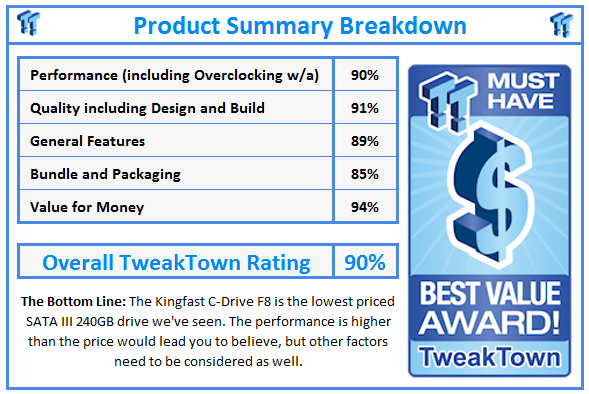 PRICING: You can find products similar to this one for sale below.

United States: Find other tech and computer products like this over at Amazon.com

United Kingdom: Find other tech and computer products like this over at Amazon.co.uk

Australia: Find other tech and computer products like this over at Amazon.com.au

Canada: Find other tech and computer products like this over at Amazon.ca

Deutschland: Finde andere Technik- und Computerprodukte wie dieses auf Amazon.de
We openly invite the companies who provide us with review samples / who are mentioned or discussed to express their opinion. If any company representative wishes to respond, we will publish the response here. Please contact us if you wish to respond.