In Japanese folklore, few stories are more sacred than the story of the 47 Ronin. Despite this, Universal had high hopes for significant overseas revenues in order to justify the films burgeoning budget, whilst entrusting the production to a first time director. A recipe for disaster? Overwhelmingly. But is 47 Ronin as much of debacle as much as its reputation precedes it to be? Read on.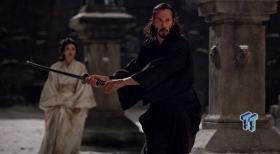 In feudal Japan, the shunned half-cast peasant Kai (Keanu Reeves) becomes a formidable warrior, and gains the attention of Lord Asano's (Min Tanaka) daughter Mika (Kou Shibasaki). When Asano is murdered by the hands of his rival Lord Kira (Tadanobu Asano), 47 lord-less samurai known as 'Ronin' attempt to avenge their master. In their way stands Kira's adviser, a frightening witch Mizuki (Rinko Kikuchi), and the hordes of adversaries at Kira's disposal.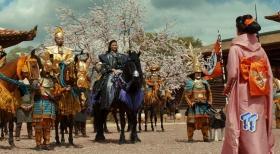 Music video luminary, and first time feature film director, Carl Rinsch was given incredible reign by Universal to present his vision, with a sizeable $170 million dollar budget. However, he was seemingly unsure of what his vision should be. The production was beset with problems, including an indulgent shoot that saw scenes filmed twice; once in English, and again in Japanese.
This no doubt exacerbated shooting delays, which culminated in the alleged removal of Rinsch from the cutting room, to be replaced by Universal's studio head, with subsequent costly and significant re-shoots. As such, it's no surprise that 47 Ronin is a slightly schizophrenic offering, which controversially does much to embellish the Japanese folk tale, alienating the very audience that it should have appealed to the most.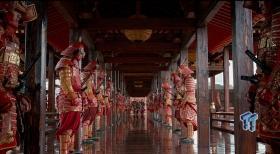 Still, armed with this knowledge, I was surprised that the film is reasonably coherent, one that for the most part hits the right beats. Or at least does so on paper. The cast members are all incredibly earnest. I have no doubt that Keanu Reeves, who holds a significant affection for Asian culture which predates his involvement with The Matrix franchise, understands the importance of the 47 Ronin story, and attempted to do his very best by it.
The supporting cast, none of whom are likely to be known by your ordinary cinema goers, all do a very respectable job transcending the otherwise dullness of the films script. Sadly, by the films fourth quarter, a visually impressive supernatural battle does little to draw the viewer back into the fold, debasing what should be a poignant and moving finale into a completely unmemorable and mediocre one.