Acer Aspire S7-392 Ultrabook Review
Trace takes a look at Acer's recently upgraded 13.3-inch Aspire S7 Ultrabook. Is this the Ultrabook that puts the "Ultra" into Ultrabook?
Published Jan 28, 2014 9:00 AM CST
|
Updated Tue, Nov 3 2020 7:00 PM CST
9 minute read time
Introduction & Specifications, Configurations and Pricing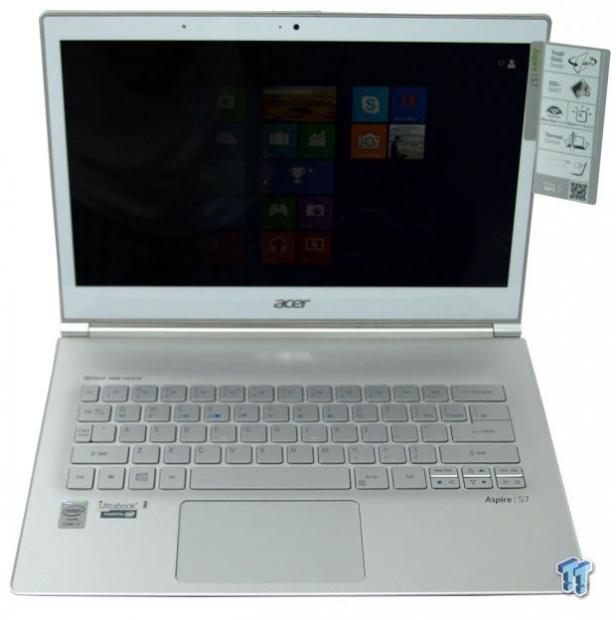 It's always a pleasure when we get to check out an upgraded model of a product that we reviewed and provided feedback on in the form of a review. It's an even greater pleasure when you find out that the company heard what you had said, and implemented improvements upon the design based upon what you suggested.
Today, we have the pleasure of checking out Acer's recently upgraded Aspire S7-392, a 13.3-inch model that has been upgraded from Ivy Bridge to Haswell; along with a few other tweaks. But, do these tweaks address some of the concerns I had with the Aspire S7-391? Let's find out!
Specifications, Configurations and Pricing
Our specific Aspire S7-392 features Intel's Haswell-based Core i7-4500U dual-core mobile processor. This processor comes clocked in at 1.8GHz across two cores and four threads, thanks to HyperThreading, and can boost all the way up to 3.0GHz, thanks to Intel's TurboBoost technology.
Coupled with the 4500U, is 8GB of DDR3 RAM. 8GB should be plenty of RAM for an Ultrabook, provided you don't like opening pages upon pages in a web browser. It's definitely more than most Ultrabooks will come with.
Graphics are provided by Intel's latest HD4400 on-die GPU. While you won't be setting world records with Intel's latest graphics processor, you can make use of technologies such as QuickSync video to speed up transcoding jobs. Additionally, the HD4400 GPU is a fairly capable graphics chipset, meaning basic games should be readily playable.
The S7 comes with a beautiful 13.3-inch full HD 1080p IPS display that supports up to ten unique touchscreen inputs. The screen is, as you would expect, covered with Gorilla Glass to protect from scratches.
Windows 8 is installed upon a RAID 0 array of SSDs that totals 256GB. It's likely the system features dual 128GB SSDs, which provides for speedy reads and writes, making the system feel snappy, and responsive.
Packaging
You can check out the Acer Aspire S7-392 packaging in the unboxing video below.
Temperatures, Cooling and Noise
The Acer Aspire S7-392 is an extremely slim notebook, though ever so slightly thicker than the previous S7-391. As such, it's very possible that the temperatures we are about to see could be a bit on the high side.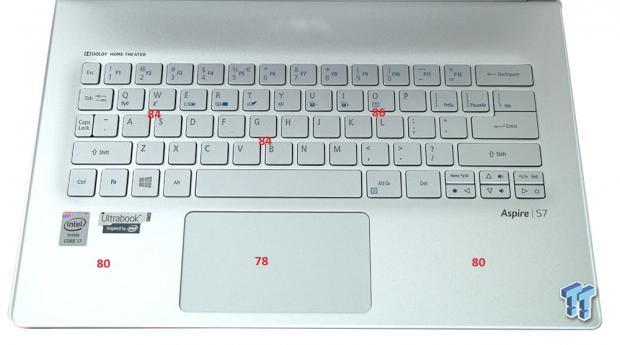 As you can see, on the front of the system, we logged a maximum temperature of 86 degrees Fahrenheit. Considering the slimness of the notebook, this is a rather incredible feat. Compared to the other notebooks we've had the pleasure of testing, the S7-392 was the second coolest; beaten out by the gigantic Origin Eon 17-S by just a few degrees.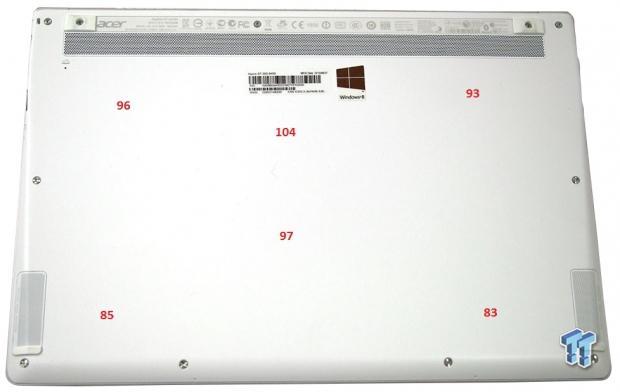 Moving around to the backside, temperatures were worse. The maximum observed temperature was 104 degrees Fahrenheit. Using the loaded system on your laptop would likely be uncomfortable, but I'd much prefer to see heat on the backside of the system than the front side.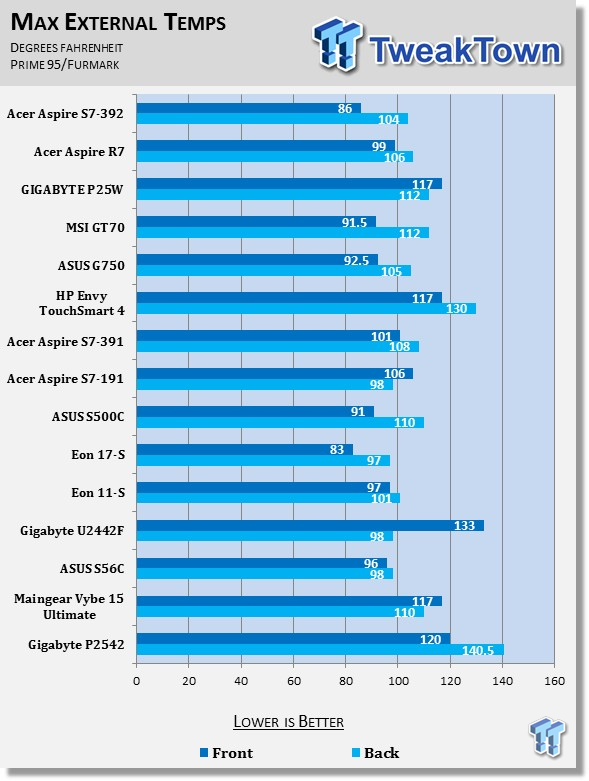 The maximum observed GPU temperature was 79 degrees Celsius. This is the same as the CPU temperature, because the Aspire S7-392 makes use of Intel's on-die HD4400 graphics.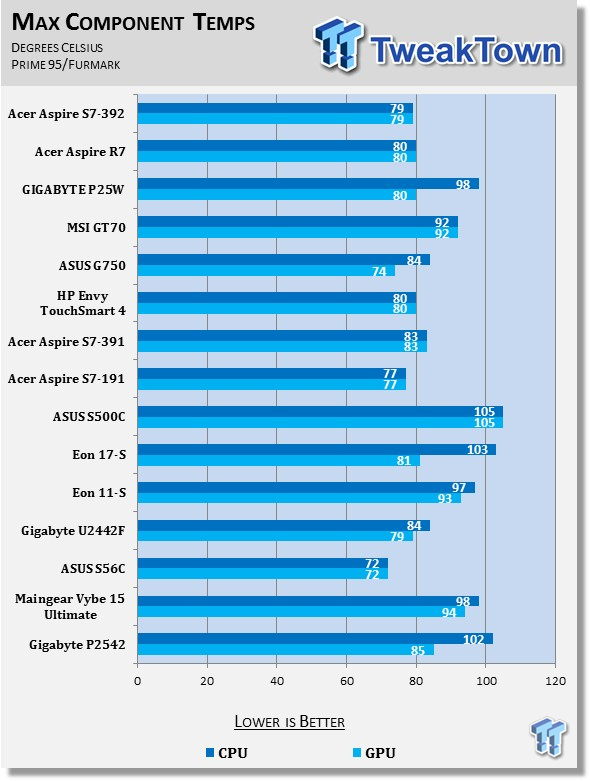 The S7-392 produced a sound level of 36 decibels. This noise ties for the quietest notebook in our testing history. To put this in perspective, you can barely hear the notebook in the room. It's practically silent. Our measurement is taken in front of the laptop, at roughly head level. For comparison, 30dB is a totally quiet night time in the desert, 40dB is whispering, and 60dB is a normal conversation.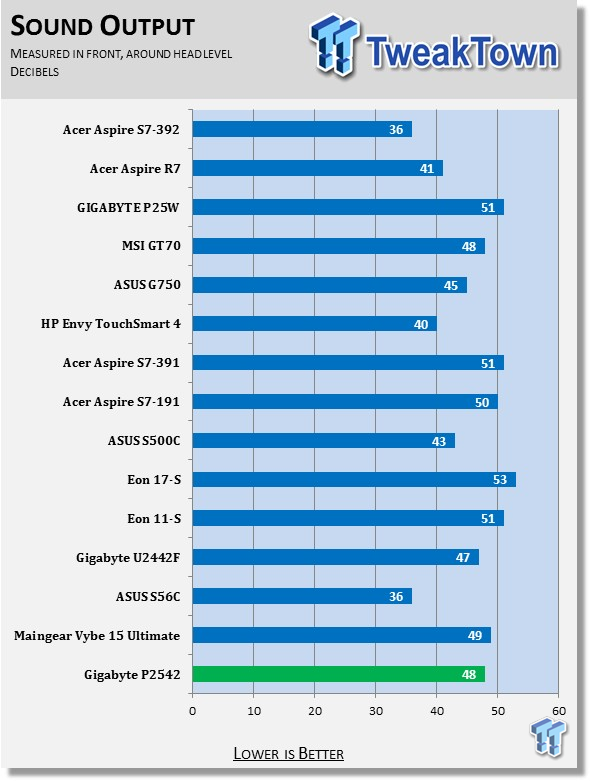 Keyboard, TouchPad, Screen and other User Interfaces
Keyboard and TouchPad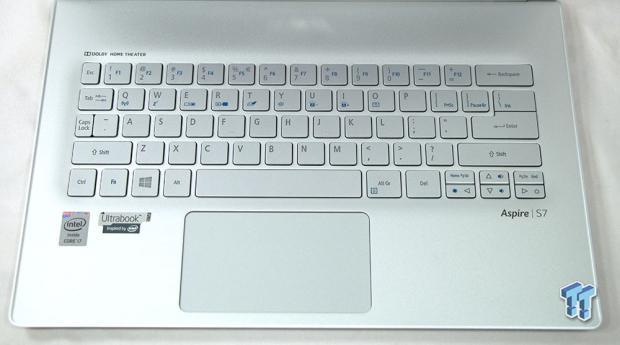 This is where we get to have some fun, and see if Acer took into account what I said in my previous review. The older Aspire S7-391 had a marginal-at-best keyboard, with the S7-191 being even worse. The question is: Does the S7-392 feature a better keyboard?
The simple answer is: Yes. They keyboard fitted to the S7-392 is loads better than the S7-391, and S7-191, despite the appearance being unchanged. It is still fitted with the standard island-style keyboard that most notebooks feature. It is still slightly recessed into the chassis to protect the screen. The keys still feature the subdued aqua colored backlighting.
The one place that the S7-392 keyboard is still lacking is in the throw department. The key travel distance is still just a wee bit short for my taste, though my ability to type on this keyboard is much better than it was on the S7-391.
The keys are flat with a slightly grainy texture. They make very little noise while typing, save for the space button that has a rather annoying rattle to it. There is absolutely no noticeable flex across the entire keyboard, likely due to the aluminum chassis.
The touchpad is made from a single piece of material. The touchpad is fairly wide, but is a bit short. The entire touchpad can be depressed for a left click, or depressed with two fingers to register a right click.
The touchpad is slightly recessed into the palm rest, and features a smooth texture, which makes it easy to differentiate between the palm rests, and the touch-enabled portion of the system.
Screen
The S7-392 features a full HD 1080p 13.3-inch touch-enabled display, protected by Gorilla Glass. The screen is very bright and sharp, and features excellent viewing angles due to being an IPS panel. While the system isn't one of those two-in-one convertibles, the screen will fold the entire way backward; flat with the keyboard. It also features hinges that make it stiffer once it's opened past 90-degrees.
Testing Methodology
View our full testing methodology article.
- Accessory Port Testing
Ports to which an external storage device can be connected to are tested using HD Tune Pro to obtain their maximum, minimum, and average read and write speeds. USB 2.0, USB 3.0, and eSATA ports are tested using a Corsair Neutron GTX 240GB SSD that is capable of saturating the theoretical bandwidth available.
The Corsair Neutron GTX is housed inside an Icy Dock external enclosure, which features a SATA I/II/III to USB 3.0, and eSATA converter.
- Gaming Tests
3DMark Vantage is run on the Performance preset to get a feel for how the computer would manage gaming. The CPU, GPU, and combined scores are reported. A higher overall score is the best, and a high GPU or CPU score shows particular prowess with tasks that use that part of the computer.
3DMark 11 is run on the Performance preset, and the Physics, GPU, and combined scores are reported. This test is only run if the system supports DirectX 11. A higher overall score is the target, though a high individual result shows prowess in a particular area.
3DMark is the latest benchmark by Futuremark. The Cloud Gate test is run with all of the default settings, and the score, GPU score, and physics score, are all recorded in the chart. The Cloud Gate test is intended to be run on home desktops and notebooks.
- System Tests
PCMark 7 is run to get an overall idea of how the system performs as a whole. It tests all aspects of the PC, and puts a score on how well it performs overall. In this test, a low scoring area can affect the overall score, so it's important to read the analysis. A higher score is better.
CrystalDiskMark is run to put a number on how well the system Hard Disk Drive / SSD runs. It measures five different metrics, of which higher is better for all. The higher the numbers, the snappier the operating system will feel, especially if the "4K" number is high, as most operating system files are small files.
- Battery Life
PowerMark is used to measure battery life of the system when set to the "Balanced" power plan. This test simulates several different activities, but uses custom built applications.
Accessory Port Layout and Performance

The left side, from back to front, features the power jack, power switch, one USB 3.0 port, and the SD card reader.

The right side, from back to front, features the DisplayPort, HDMI port, one USB 3.0 port, and the headset jack.
Due to issues with the test, the USB 3.0 read and write speeds could not be determined.
Gaming Performance
3DMark Vantage
Version and / or Patch Used: 1.1.0
Developer Homepage: http://www.futuremark.com
Product Homepage: http://www.3dmark.com/3dmarkvantage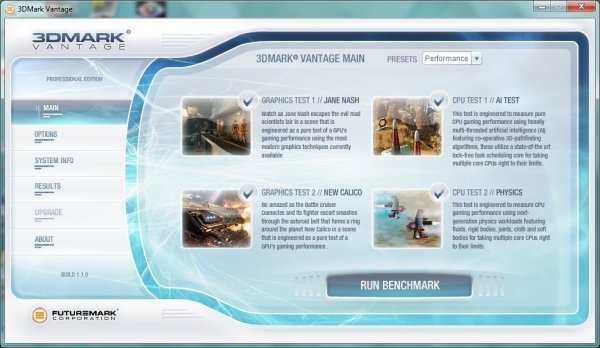 3DMark Vantage tests both processor and graphics performance, and is a good indication of how systems compare. The results are generally more repeatable and consistent than other forms of benchmarking. Vantage uses DirectX 10, and can handle multi-core CPUs.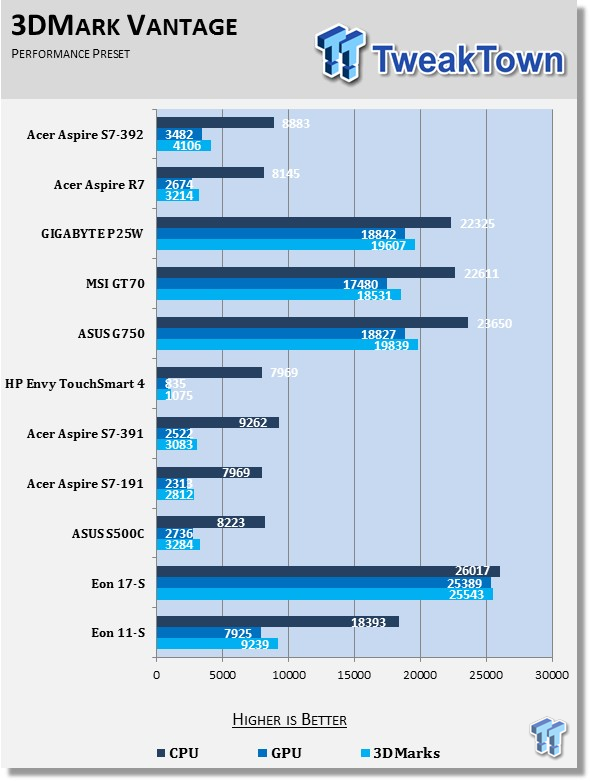 The Acer Aspire S7-392 is the number one Ultrabook we have tested in terms of gaming performance. It produced a 3DMark Vantage score of 4106, with the CPU providing a score of 8883, and the GPU providing a score of 3482, easily besting the other Ultrabooks. While you won't be playing Battlefield 4 on Ultra, many games on low graphics settings should be playable.
3DMark - Cloud Gate Test
Version and / or Patch Used: 1.0.0
Developer Homepage: http://www.futuremark.com
Product Homepage: http://www.futuremark.com/benchmarks/3dmark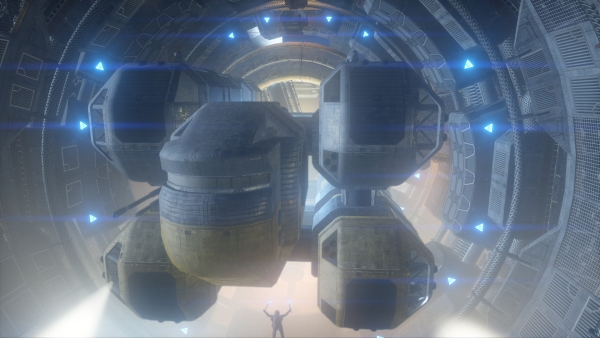 Cloud Gate is a new test that is designed for Windows notebooks, and typical home PCs. Cloud Gate includes two graphics tests, and a physics test. Cloud Gate uses a DirectX 11 engine limited to Direct3D feature level 10 making it suitable for testing DirectX 10 compatible hardware. Cloud Gate will only be available in the Windows editions of 3DMark initially.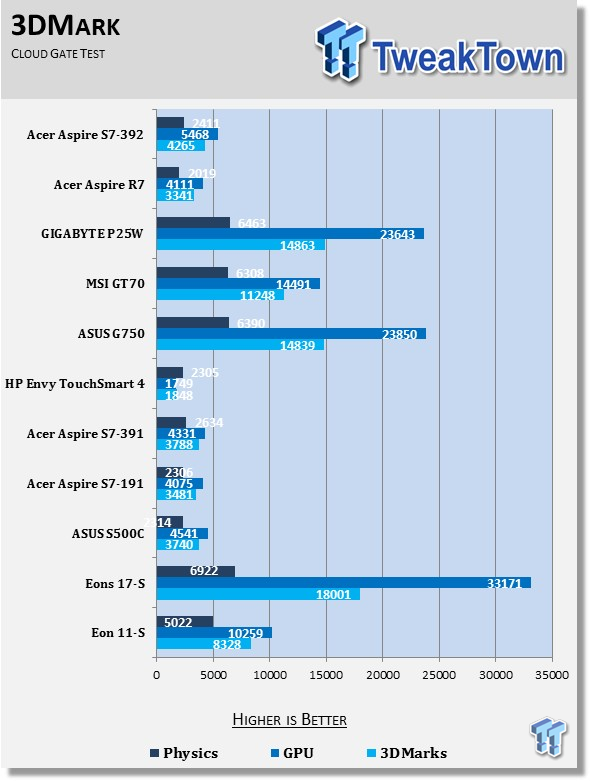 Again, the S7-392 easily tops all of the other Ultrabooks in our chart. The S7-392 produced a combined score of 4265, putting it over 500 points ahead of the next closest Ultrabook, which happens to be its older brother: the S7-391.
System Performance
PCMark 7
Version and / or Patch Used: 1.0.4.0
Developer Homepage: http://www.futuremark.com
Product Homepage: http://www.pcmark.com/benchmarks/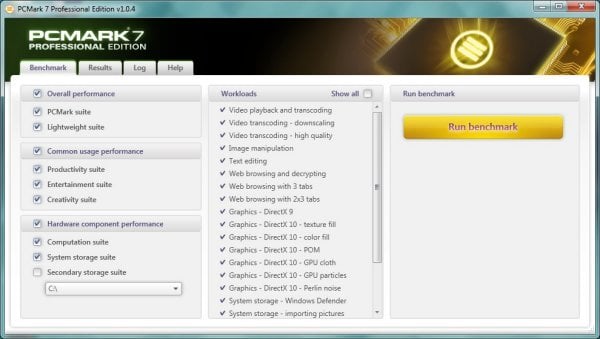 PCMark 7 is a great utility for testing a PC's all-around capabilities. It tests all aspects of the computer, from graphics performance to hard disk performance, and attempts to put a score on it, which is not an easy task.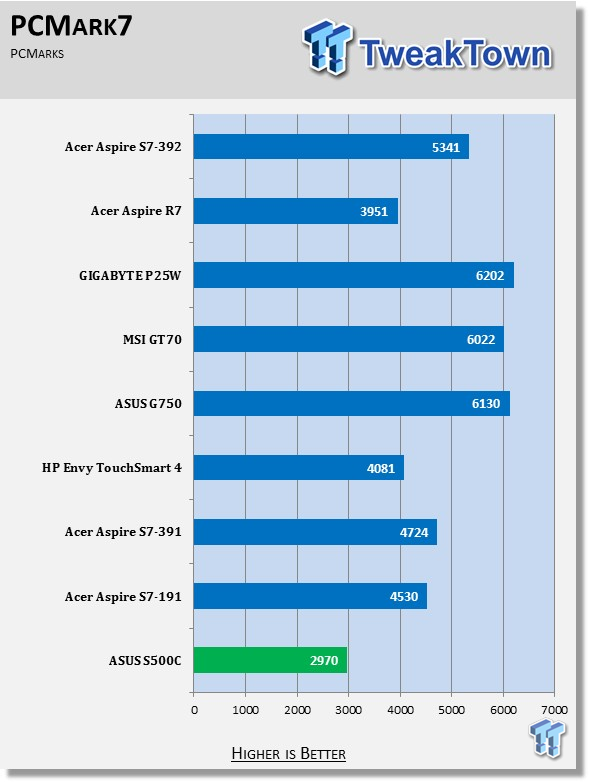 Once again, this benchmark shows that the new Aspire S7-392 beats out all of the other Ultrabooks; including the older S7-391. It produced a 5341, putting it closer to full-fledged gaming and desktop replacement notebooks than any other Ultrabook has come so far.
CrystalDiskMark
Version and / or Patch Used: 3.0 Technical Preview
Developer Homepage: http://www.crystalmark.info
Product Homepage: http://crystalmark.info/software/CrystalDiskMark/index-e.html
Download here: http://crystaldew.info/category/software/crystaldiskmark
CrystalDiskMark is a disk benchmark software that allows us to benchmark 4K and 4K queue depths with accuracy.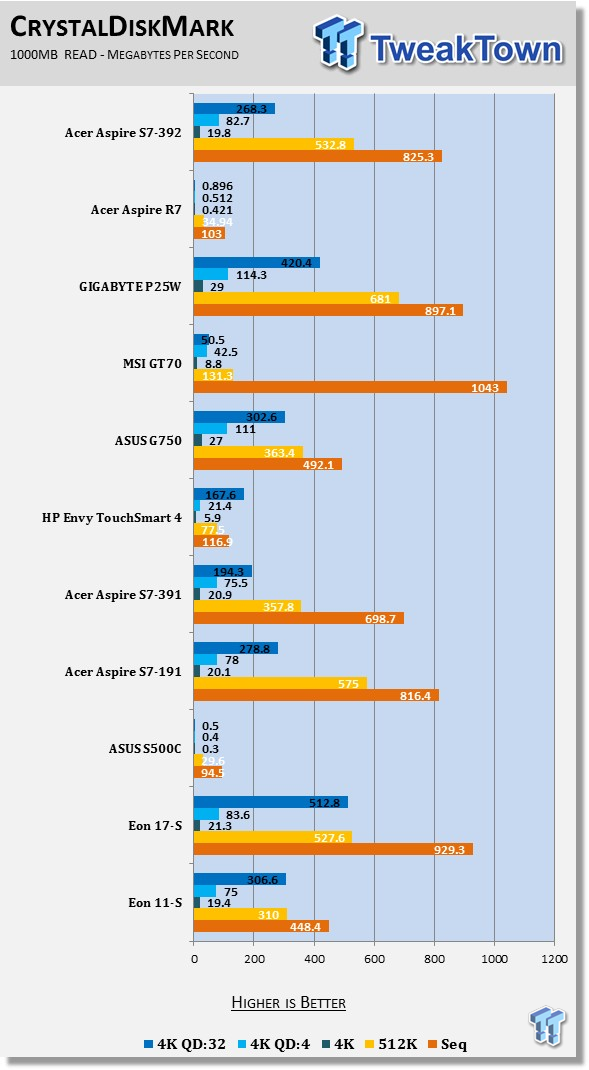 The S7-392 produces an incredible sequential read speed of 825.3/s. This puts it at the top of the Ultrabook heap, and within striking distance of our top gaming notebooks.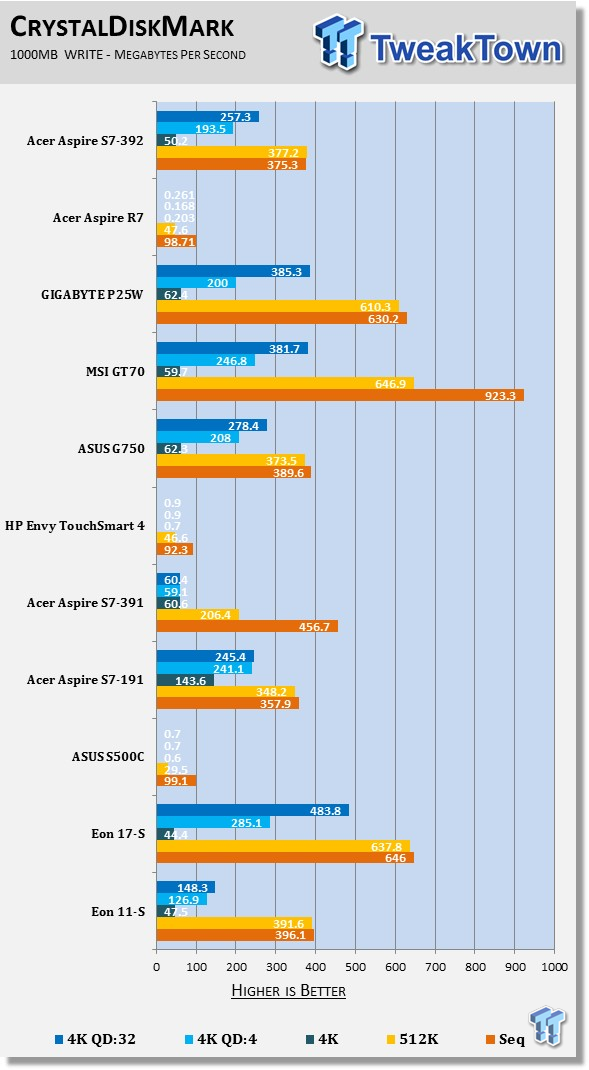 Write speeds aren't quite as impressive, as the S7-392 falls behind the older S7-391 that it is designed to replace. It produced a sequential write speed of just 375.3MB/s.
Battery Life Performance
PowerMark
Version and / or Patch Used: 1.1.1
Developer Homepage: http://www.futuremark.com
Product Homepage: http://www.futuremark.com/benchmarks/powermark/
Download here: http://www.futuremark.com/benchmarks/powermark/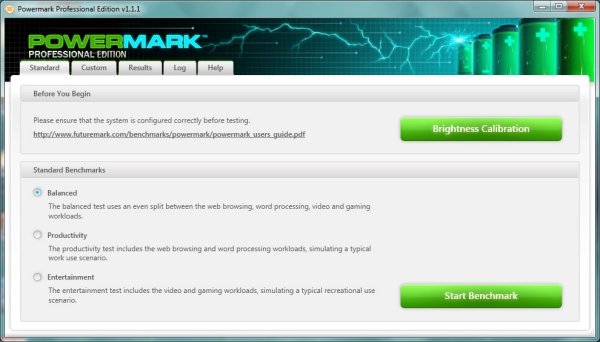 PowerMark is a benchmark produced by Futuremark that simulates different usage scenarios, in order to determine battery life. It loops these different scenarios infinitely until the battery hits 15%, and then gives us an estimated battery life time. For our testing, we use all four different scenarios. These are video playback, gaming, web browsing, and word processing.
The test is run once with the computer's Power Options set to Balanced. You'll notice our graph has been cleared. PowerMark was updated to the latest version for testing, so we removed the test results created with the past version.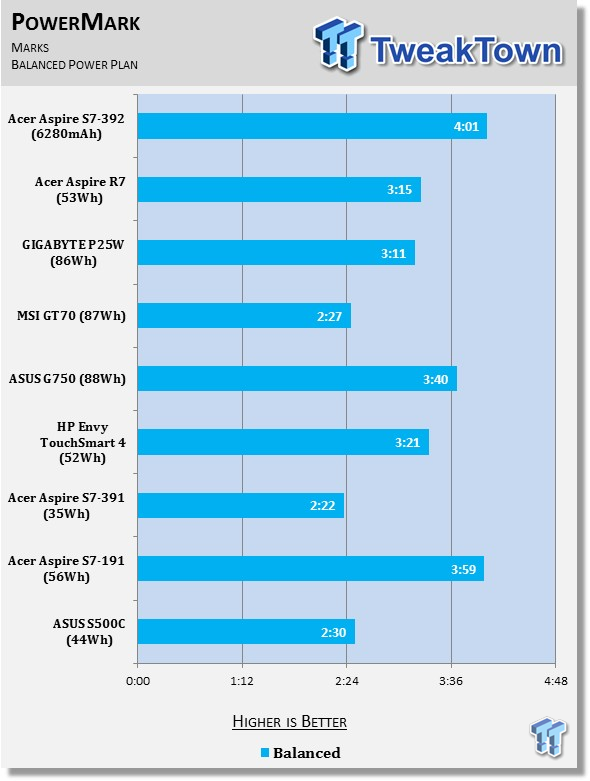 Haswell clearly takes the Acer Aspire S7-392 to a whole new level in terms of battery life. It's the only system to break into the 4-hour runtime category, which is nearly double that of the older S7-391.
Final Thoughts
I'm just going to come out and say it right now: If there has ever been a notebook worthy of the term "Ultrabook," then the Acer Aspire S7-392 is that notebook. From great performance and battery life, to excellent portability and design: the Acer Aspire S7-392 truly has it all.
Not only is it the most powerful Ultrabook we've had the pleasure of testing, but it's been one of the lighter and more portable designs. It's whisper quiet, it runs for hours on end, and it looks stunning.
The full 1080p IPS display is a thing of beauty; offering plenty of brightness and wide viewing angles, combined with 10-point multi-touch input support. The keyboard has been improved quite a bit from the older S7-391, and especially from the smaller S7-191.
Had this Ultrabook been available when I purchased my Haswell-powered Apple MacBook Air, I would have definitely gone for the more expensive and better S7-392. This thing truly defines the term "Ultrabook."
The one place where this notebook lacks is pricing. Coming in at around $1500 at the time of writing-check below for current prices-the system is a bit more expensive than what most people want to spend. However, if you are looking for the best Ultrabook money can buy; look no further than the Acer Aspire S7-392.
For all of the reasons above, and the results shown throughout the review, I have no choice but to award this system the Editor's Choice award. This system is bar-none, the best Ultrabook we have had come through our lab, and I can't wait to see what Acer brings to the table next.
PRICING: You can find the Acer Aspire S7-392 Ultrabook for sale below. The prices listed are valid at the time of writing, but can change at any time. Click the link to see the very latest pricing for the best deal.
United States: The Acer Aspire S7-392 Ultrabook retails for $1,444.99 at Amazon.
Canada: The Acer Aspire S7-392 Ultrabook retails for $1,599.99 at Amazon Canada.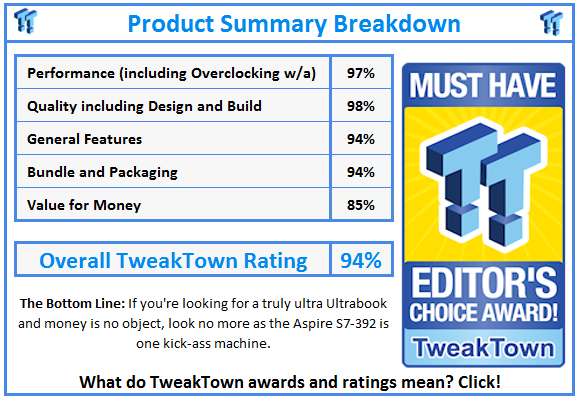 PRICING: You can find products similar to this one for sale below.

United States: Find other tech and computer products like this over at Amazon.com

United Kingdom: Find other tech and computer products like this over at Amazon.co.uk

Australia: Find other tech and computer products like this over at Amazon.com.au

Canada: Find other tech and computer products like this over at Amazon.ca

Deutschland: Finde andere Technik- und Computerprodukte wie dieses auf Amazon.de