Xigmatek Vector P700 700-Watt 80 PLUS Gold Power Supply Review
Xigmatek's Vector P700 PSU performs quite well and presents us with a feature that we've never seen before. Let's take a close look now.
Published
7 minute read time
Introduction, Specifications, Availability and Pricing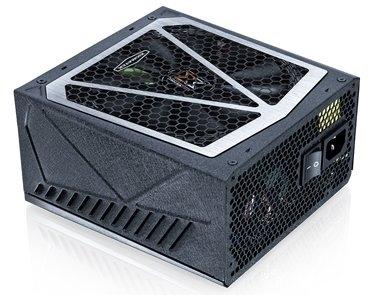 We've taken a look at many units from Xigmatek here at TweakTown; and I must say that I've never really been impressed with their offerings. They seem mostly targeted toward the lower-end of the market, and as an enthusiast myself, I tend to look toward the other end of the market. Aside from that, their performance hasn't been anything that was over the top, and neither has the price. Their power supplies have always just felt like they were another random unit in the pile, and nothing that screamed: "PICK ME, PICK ME!!!"
The new Vector P700 from Xigmatek feels a little different though, and I'm intrigued by just looking at pictures of the unit. It has a little bit of extra flair in the design, and it really pops. It will most certainly stand out in the case as something more than just a power supply.
It also has their Reverse Thrust Fan Technology, which allows the fan to run backwards to help clear some dust. Add in the high efficiency of the unit, and there is more than enough to grab my attention. None of this is worth a darn if it isn't able to keep your system up and running though, so let's check it out and see what it has to offer all the way around.
Specifications, Availability and Pricing

The Xigmatek Vector P700 700W power supply features dual 12V rails. Each rail is rated for 38A, with a combined output of 58A, or 696W. Both the 3.3V and 5V minor rails are rated for 20A each, with a combined output of 75W. This is significantly lower than we've seen out of any power supply in the past, so don't expect to use this for powering an array of 25 SSD's in RAID0. The 3.3V rail is rated for 3A, or 15W. Maximum combined output for the Xigmatek Vector P700 is 700W.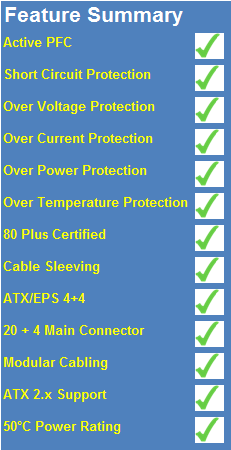 Something that I don't think that we've seen to date is a full feature chart from Xigmatek. The Vector P700 doesn't disappoint on this front, and scores well on everything. There is a full suite of protections, including SCP, OVP, OCP, OPP, and OTP. The P700 is rated for 80 PLUS Platinum efficiency. The unit features both native and modular cabling. All cables are fully sleeved with nylon mesh. The Xigmatek Vector P700 is rated for 100% continuous output at 50C.
At the time of writing, Xigmatek has an MSRP of $189.99 on the Vector P700. This places the power supply towards the upper end of the price spectrum. I searched high and low, and short of a few being sold on EBay, it seems that the Vector P700 just isn't possible to find for sale in the USA. If you can find one for purchase, Xigmatek will back it with a three-year warranty.
Packaging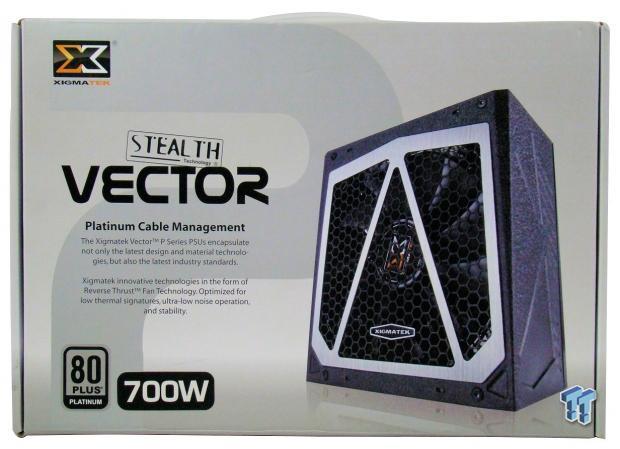 The front gives a great view of the Vector P700 unit. The design is quite different than what we are used to seeing. The fan grill, along with the rounded corners, and depressions in the case, give it a nice bit of flair.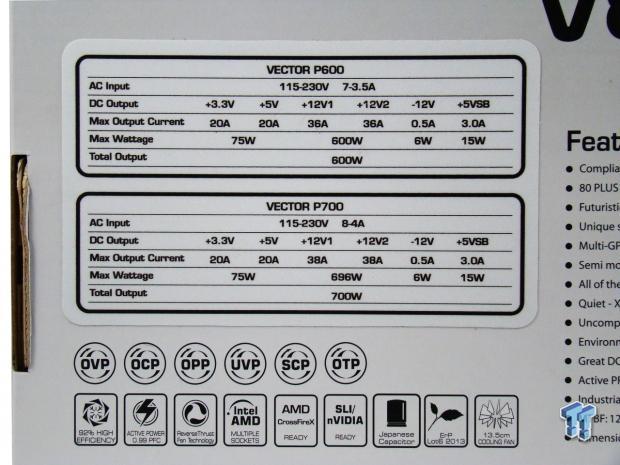 On the back left side of the box, we are presented with the I/O specifications for both of the P series models, along with the protections, and a few features.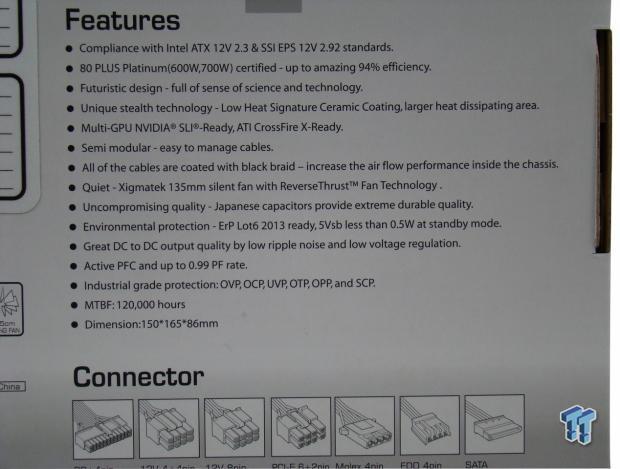 The other half of the back is filled with features and connectors available on the P700. I find it quite comical that the power supply has a "Futuristic design - full sense of science and technology." There is nothing better than getting a sense of something instead of the real thing.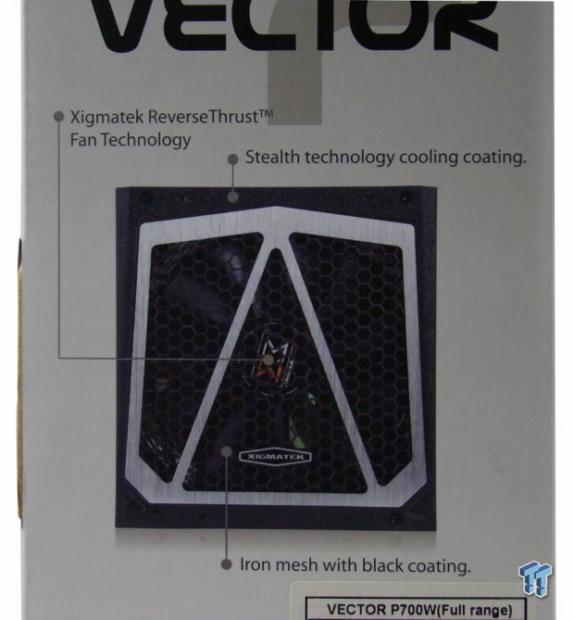 There's a bit more marketing going on this side of the box. I've surely never seen a power supply with black iron mesh for a fan grill...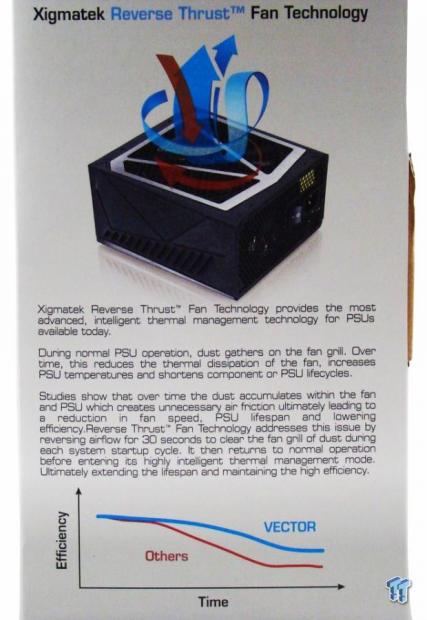 This side gives a good explanation of what the Reverse Thrust Fan Technology does for you. It essentially has the fan run backwards for the first 30 seconds the power supply is turned on, so that it can clear the unit of dust. Assuming that it works, it is quite a good idea. I suspect that the effect of this is minimal for those who never turn off their computers, as it will never get the opportunity to run the fan in reverse.
Inside the Box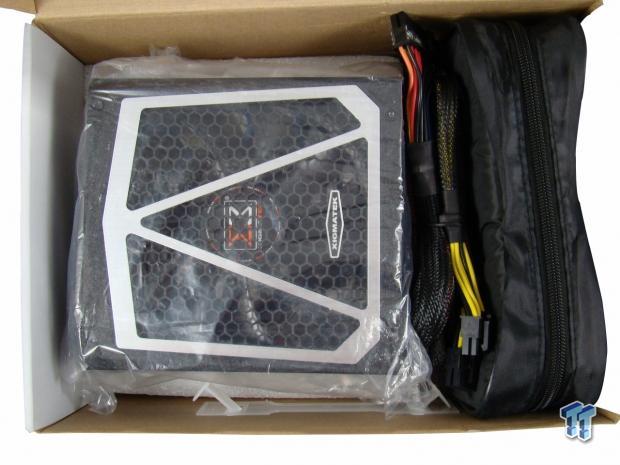 There is a solid amount of foam protecting the power supply. The modular cables take up the reminder of space in the box, to make sure everything is secure.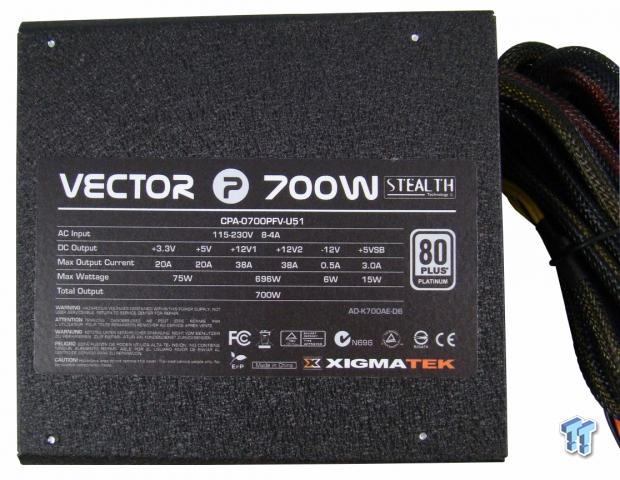 On top of the P700, we find the I/O specification label. We also get a good look at the "Stealth Technology Cooling Coating". It doesn't seem like it is anything different than we've seen from other units, but without the proper equipment to test it, we'll have to take their word for it.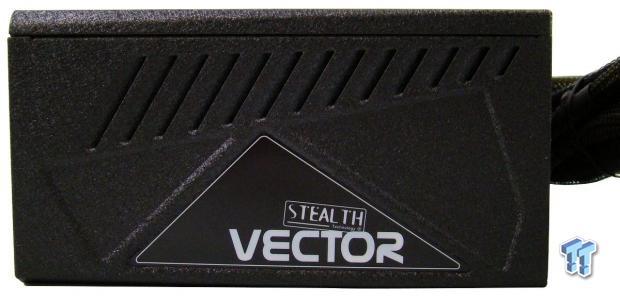 This side of the unit displays the Vector label, and some cooling vents.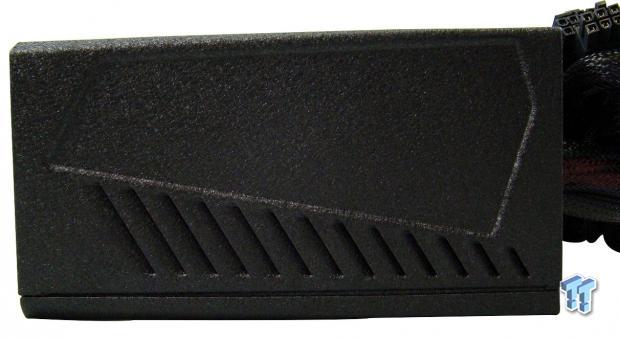 The other side is essentially the same, minus the Vector label.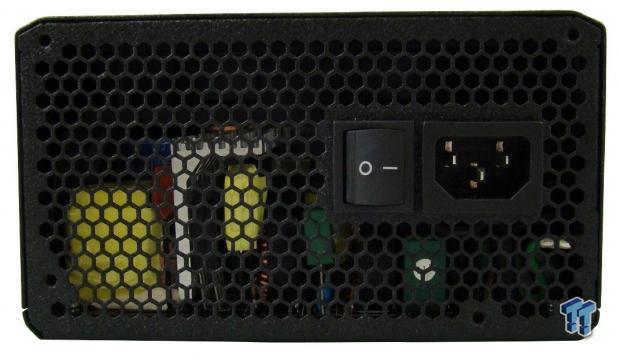 On the back, we find the standard honeycomb mesh, along with AC input, and heavy duty on/off rocker switch.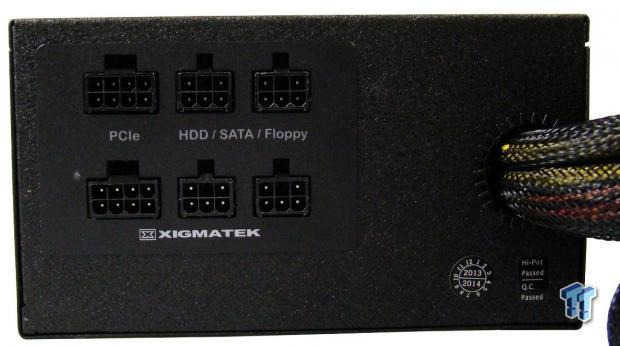 The front of the unit has the modular connectors. They are clearly labeled, but they are not labeled for which rail they pull from.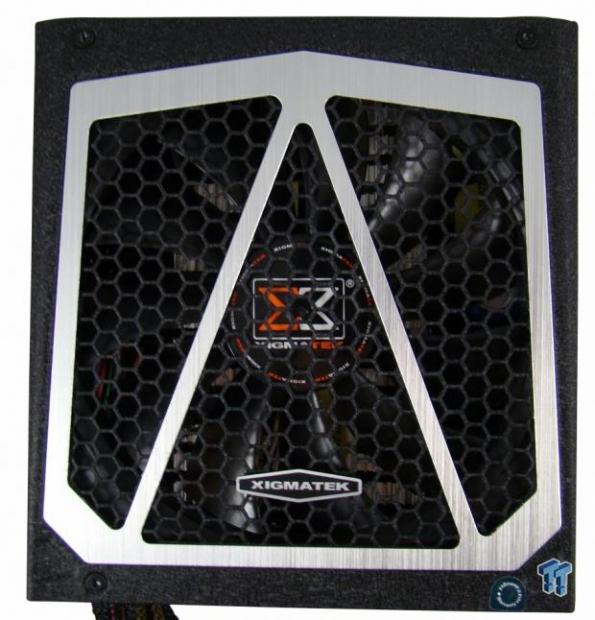 The bottom of the unit has the mesh grill, along with the silver bezel which gives it a bit of flair.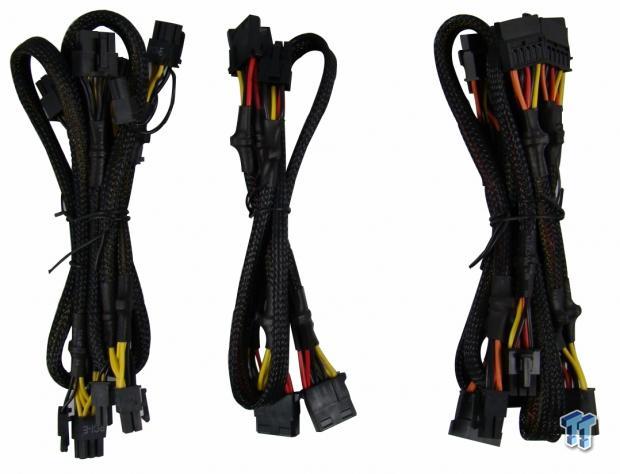 The modular cables are all fully sleeved in black nylon mesh.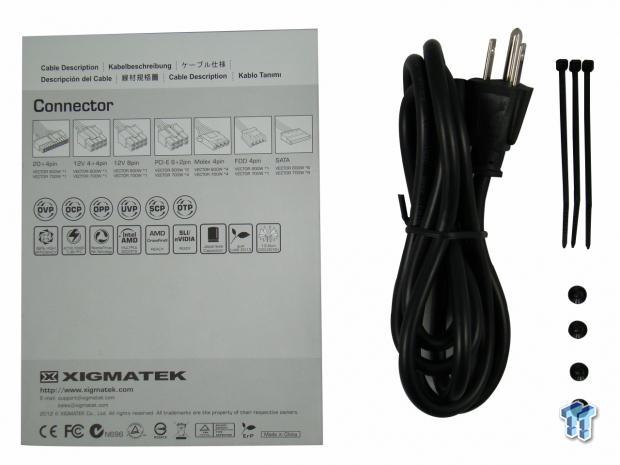 Also included with the power supply are the user manual, the AC input cord, zip ties, and the mounting screws.
Cabling Arrangement and A Look Inside
Cabling Arrangement

The Vector P700 has a relatively simplistic list of cables. It does include dual EPS12V connectors, in case they are needed. Graphics cards can be powered by the four PCI-E connectors over two cables, both of which are modular. Peripherals are handled via four cables; three of which have three SATA connectors, and one with four Molex and a single FDD connector.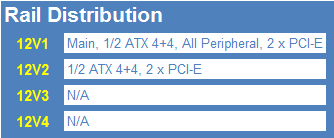 Xigmatek designed the P700 with dual 12V rails. While the cables and connectors aren't labeled, they do a great job of laying it out with a complete pin out of every cable, and what rail they are attached to. 12V1 handles the 24pin Main, half of the ATX 4 + 4 connectors, all of the peripherals cables, and one of the PCI-E cables. The second rail takes care of the other PCI-E cable, and the other half of the ATX 4 + 4 connector. This layout seems like it favors 12V1 a little bit, and it could be balanced a little better if they had moved the peripheral cables to 12V2.
A Look Inside
Once we get inside of the power supply, we find that Xigmatek wants to make sure that there is plenty of passive cooling, and that plenty of fresh air can reach the PCB directly.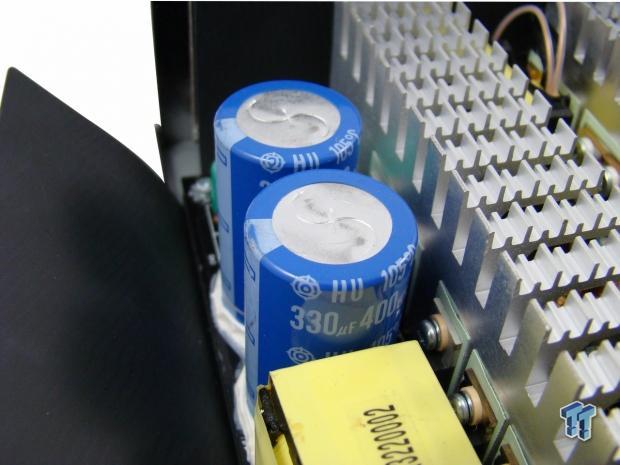 Two Hitachi capacitors reside on the primary side of the power supply.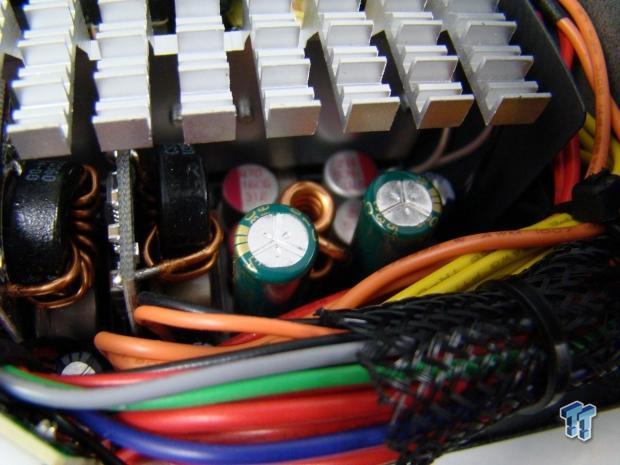 The secondary side is filled with Teapo caps.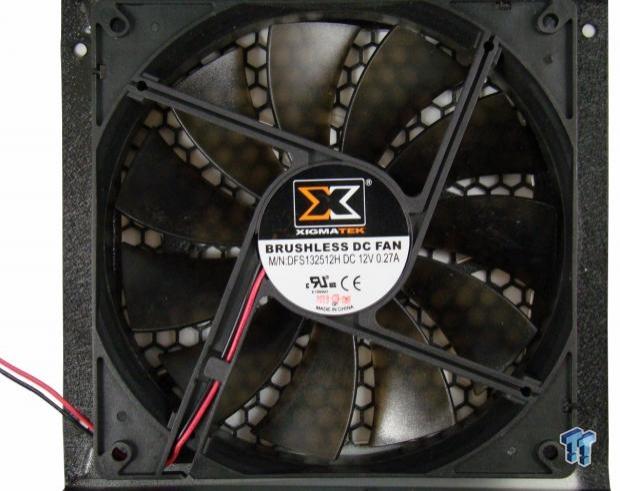 Xigmatek cools the Vector P700 with their own DFS123512H fan.
Test Results and Final Thoughts
Test Results
Our load tests utilize a couple of FAST ATE active load testers, and a variety of other equipment such as an oscilloscope, power conditioner, temperature probe, and a power consumption meter. You can read more about our standard testing approach here.
The tests performed are based around six conceivable setups that are out there, and progressively load down the PSU up to the power supply's limits, or 1000W; whichever comes first. Since our test equipment's limits are higher than that of the Xigmatek Vector P700 700W power supply, we can test it to the maximum.

The above tests represent typical loads that we have measured from various systems, and are meant to give a rough idea of where your computer might fall in line with our tests. Please keep in mind that each system is different, and actual loads can vary greatly; even with similar hardware.

Let's start by taking a look at the voltages, to see how well this unit did during testing. Starting with the 12V1 rail, we see 3% regulation from start to finish, with a total drop of .26V. 12V2 showed very similar results with 3% regulation from start to finish, and a total voltage drop of .28V. The 5V rail managed to stay within 3% of specification, with a total drop of .14V from start to finish. Moving towards the 3.3V rail, we see that regulation was within 3% of specification, with a total voltage drop of .10V.
DC Output quality for the Xigmatek Vector P700 700W was good, and well within specifications. During Test One, we saw 22mV of noise on our scope. When we increased the loads in Test Two, the ripple climbed to 28mV at a little under half load. During Test Four, under a load of 700W, the oscilloscope showed a maximum of 47mV on noise on the 12V rail.
The Xigmatek Vector P700 700W is rated for 80 PLUS Platinum efficiency. This means that the power supply must perform at 90% / 92% / 89% efficiency, at 20% / 50% / 100% loads respectively. As you can see, P700 passed on our bench, and wasn't close to failing at any point.
Final Thoughts
The Xigmatek Vector P700 700W power supply is the fourth unit that we've reviewed from Xigmatek. Up until this point, we've not found anything exciting about their units, and have had no reason to recommend them either. However, the Vector P700 does not fit in with those, and it most certainly stands out, if nothing more than from the perspective design. Many don't see the need for any style in a power supply; however, they often don't see how many can consider their computer a work of art, nor do they see the care that enthusiasts often put into them.
All of that side, the Vector P700 700W has some good performance numbers. All of the rails for the Vector P700 managed to stay within 3% of specification for the voltage regulation. The DC output quality isn't bad either, as everything was under 50mV. We've had much better results, but considering things aren't out of spec until it reaches 120mV, there is nothing to worry about. Finally, we have the efficiency, and the Vector P700 does a great job achieving this.
As a much as I would love to be able to recommend the Vector P700, I find it relatively hard to do so if you simply can't tell them where to purchase it. Aside from that, the Vector P700 is a good unit, and I have very few negatives to say about the unit. I can only hope that this is the beginning of a new standard for Xigmatek's power supplies. If they can keep up the good work it will be a win for everyone, as there will be more quality units for consumers, along with increased profits for Xigmatek.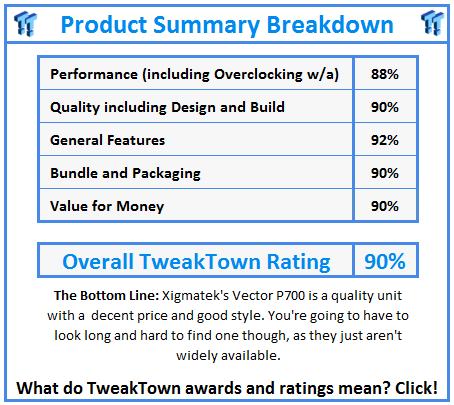 PRICING: You can find products similar to this one for sale below.

United States: Find other tech and computer products like this over at Amazon.com

United Kingdom: Find other tech and computer products like this over at Amazon.co.uk

Australia: Find other tech and computer products like this over at Amazon.com.au

Canada: Find other tech and computer products like this over at Amazon.ca

Deutschland: Finde andere Technik- und Computerprodukte wie dieses auf Amazon.de
We openly invite the companies who provide us with review samples / who are mentioned or discussed to express their opinion. If any company representative wishes to respond, we will publish the response here. Please contact us if you wish to respond.
Related Tags