Acer Aspire R7 Two-in-One Ultrabook Review
Trace takes a look at Acer's Aspire R7 two-in-one convertible Ultrabook. Does the radical design warrant it being on your radar? Let's find out.
Published Jan 22, 2014 8:03 AM CST
|
Updated Tue, Nov 3 2020 7:00 PM CST
10 minute read time
Introduction and Specifications, Configurations and Pricing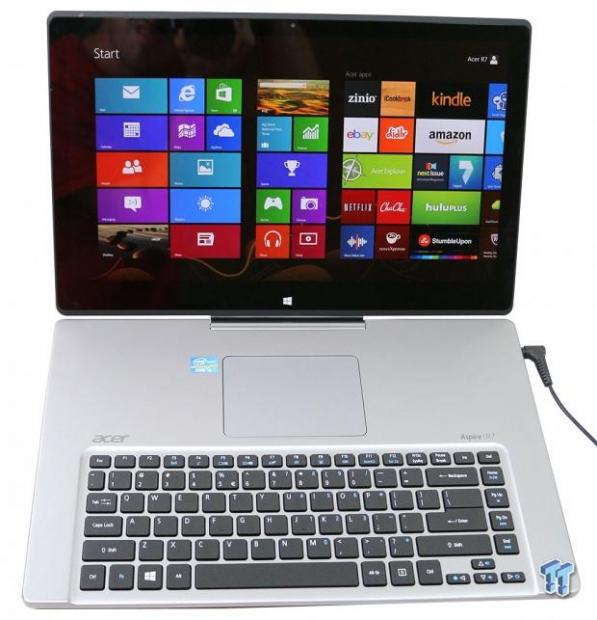 We're getting the chance to take a look at our first two-in-one convertible Ultrabook. Back at IDF, Intel said that the two-in-one convertible systems are going to be hitting the scene heavily this year, much like touchscreen systems did in 2013. Intel bills the two-in-one design as the best of both worlds: Play when you want it; work when you need it.
The Acer Aspire R7 that we have in the lab today diverges from the norm, and features a slightly radical design that makes most people take a second look. Is this radical design too radical for you to get used to, or does the design really help out the two-in-one system? Find out as we continue our review.
Specifications, Configurations and Pricing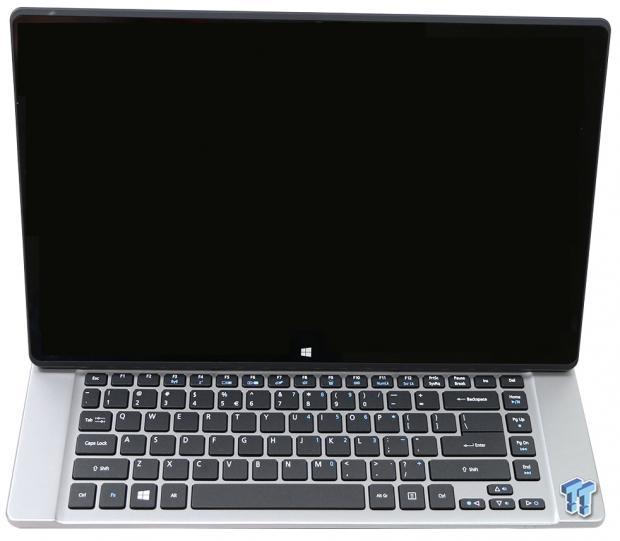 Our Aspire R7 features Intel's Ivy Bridge based Core i5-3337U dual-core CPU. This processor is a dual-core model with Hyper-Threading, which means that it features four threads. It also features TurboBoost, which allows the processor to overclock itself when under a low load.
The i5-3337U is coupled with 6GB of DDR3 RAM, which is more than I would have expected on a system of this budget and performance level. 6GB should ensure a smooth-running system, even with multiple programs and web browser tabs open.
Graphics are provided by Intel's very own HD4000 GPU, a fairly capable graphics chipset that is able to provide enough graphics horsepower for most applications. Though gamers would definitely want to look elsewhere, the HD4000 GPU is capable of playing some games at low settings and resolutions.
Windows 8 is installed upon a 500GB hard drive that is coupled with a 24GB caching SSD; this allows the R7 to meet Intel's strict boot-up speed requirements, in order to be considered an Ultrabook. Acer has managed to cut costs by going with the much cheaper HDD. Unfortunately, this affects performance in a negative way.
Packaging
You can check out the Acer Aspire R7 packaging in the unboxing video below.
Temperatures, Cooling and Noise
The Acer Aspire R7 is a decently hefty laptop, which could play into how well it manages heat.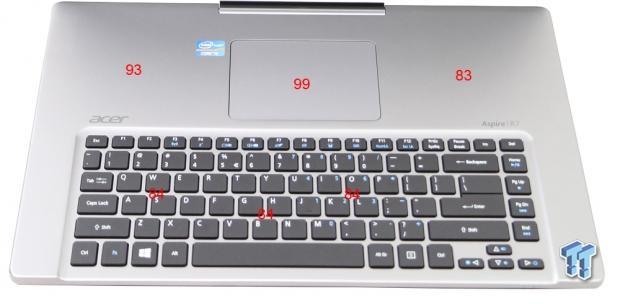 As you can see, on the front of the system we logged a maximum temperature of 99 degrees Fahrenheit. This high temperature was located right underneath the touchpad, which on this system is located above the keyboard. This allowed the keyboard to be located away from the hot components, keeping it a cool 84 degrees.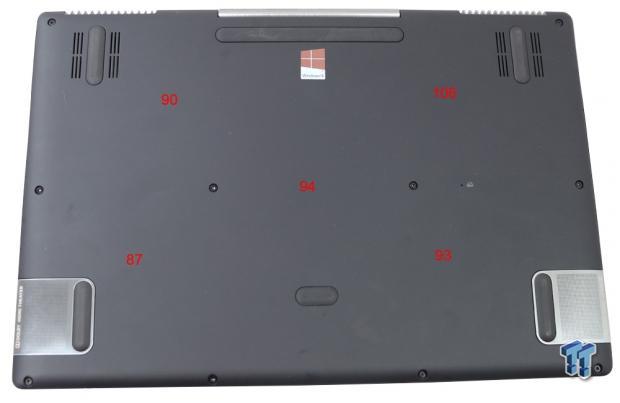 Moving around to the backside, temperatures were slightly worse. The maximum observed temperature was 106 degrees Fahrenheit. However, the rest of the temperatures observed were all less than 95 degrees. Using the system on your lap while fully loaded would still be ill advised.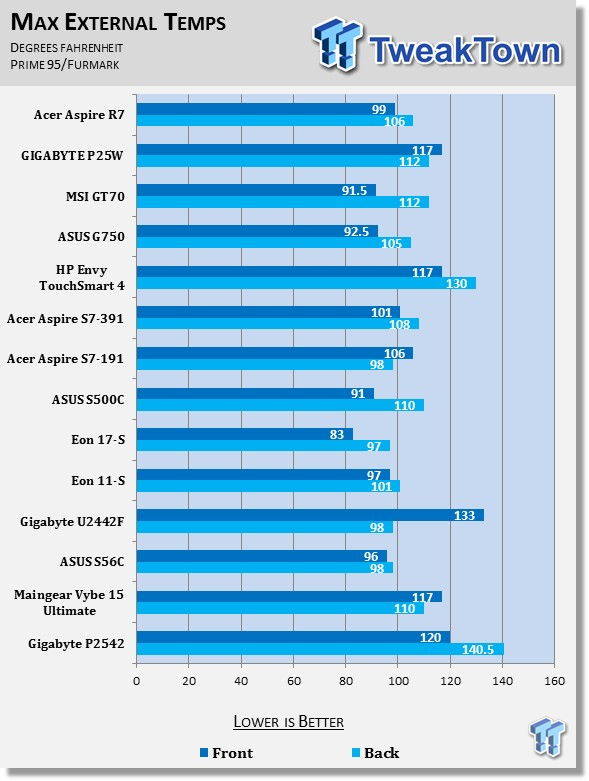 The maximum observed GPU temperature was 80 degrees Celsius; the same as the CPU, as they are on the same die. The CPU reached a maximum of 80 degrees Celsius; this is a bit hotter than I like to see chips running at, but is still one of the lower temperatures we have seen a CPU run at in a notebook.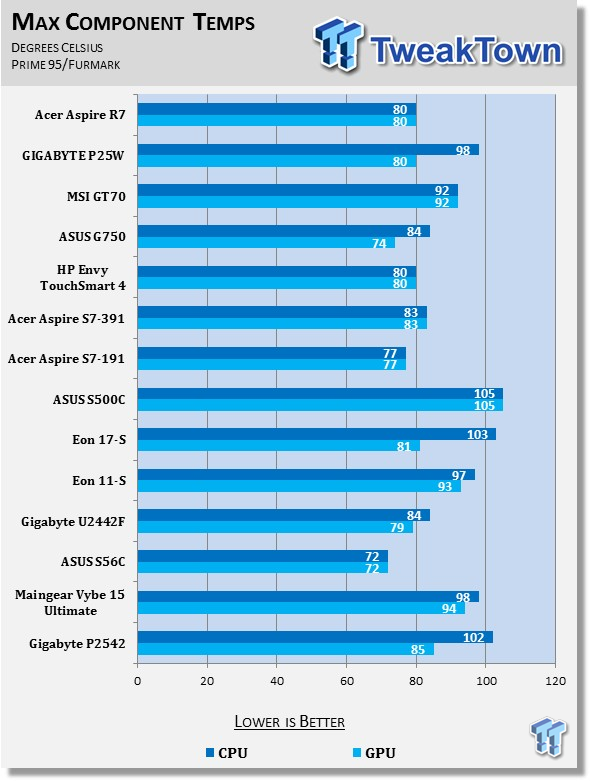 The R7 produced a sound level of 41 decibels; making it one of the quietest notebooks we have had the pleasure of reviewing. Our measurement is taken in front of the laptop at roughly head level. For comparison: 30dB is a totally quiet nighttime in the desert, 40dB is whispering and 60dB is a normal conversation.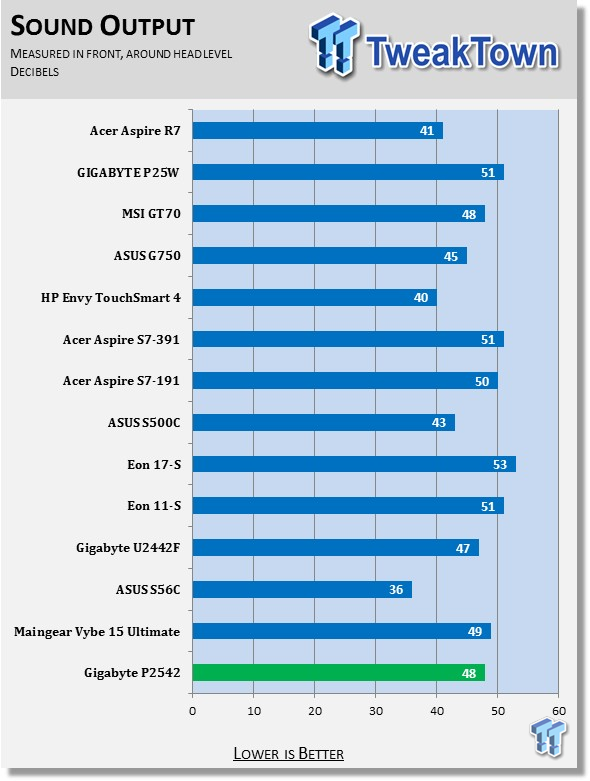 Keyboard, TouchPad, Screen and other User Interfaces
Keyboard and TouchPad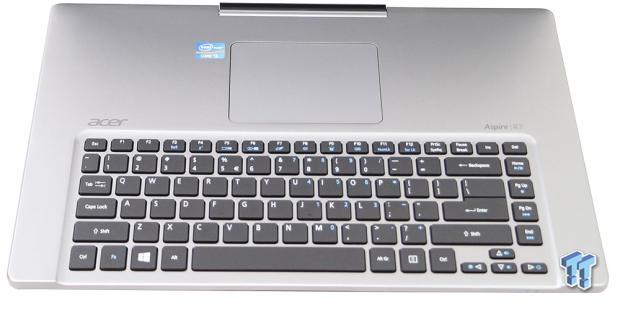 So, let's just talk about the elephant in the room. Yes, the picture above looks odd. Yes, the keyboard and touchpad are in reversed positions. Yes, this is the radical design I was speaking of earlier in the review. Yes, it works quite well.
Due to the way the screen hinges, the screen can easily be adjusted to hide the touchpad, allowing quick text entry, and easy access to the display. When precision cursor work is needed, the screen can be adjusted, and access to the touchpad is restored.
In a lot of ways, this design is an excellent design. Other manufacturers of tablets have created similar systems that featured keyboards, but they usually did not include a touchpad. It does take a bit of getting used to, but the way Acer has implemented the design really does shine.
Key travel and sound are good. The overall typing experience is quite excellent. I experienced zero errors while typing on the keyboard, which is a good sign, and a testament to the keyboard's quality.
The R7 comes with a simple white backlit keyboard, which is something that should be required by the Ultrabook standard.
The touchpad is made from a single piece of material, and it is of good size and texture. The entire touchpad can be depressed to register a left click. A two-finger click will register as a right click.
Screen
The Aspire R7 features a 15.6-inch Full HD display, meaning it pumps out a resolution of 1920x1080. The surface of the screen is of the glossy glass texture, and features a 10-point touchscreen.
Looking at the display from off-angles doesn't seem to affect the color of the screen at all, which is impressive considering I believe this system makes use of a TN panel. Extreme angles are required before anything looks too abnormal.
Testing Methodology
View our full testing methodology article.
- Accessory Port Testing
Ports to which an external storage device can be connected to are tested using HD Tune Pro, to obtain their maximum, minimum, and average read and write speeds. USB 2.0, USB 3.0, and eSATA ports are tested using a Corsair Neutron GTX 240GB SSD that is capable of saturating the theoretical bandwidth available.
The Corsair Neutron GTX is housed inside an Icy Dock external enclosure, which features a SATA I/II/III to USB 3.0 and eSATA converter.
- Gaming Tests
3DMark Vantage is run on the Performance preset, to get a feel for how the computer would manage gaming. The CPU, GPU, and combined scores are reported. A higher overall score is the best, and a high GPU or CPU score shows particular prowess with tasks that use that part of the computer.
3DMark 11 is run on the Performance preset, and the Physics, GPU, and combined scores are reported. This test is only run if the system supports DirectX 11. A higher overall score is the target, though a high individual result shows prowess in a particular area.
3DMark is the latest benchmark by Futuremark. The Cloud Gate test is run with all of the default settings, and the score, GPU score, and physics score are all recorded in the chart. The Cloud Gate test is intended to be run on home desktops, and notebooks.
- System Tests
PCMark 7 is run to get an overall idea of how the system performs as a whole. It tests all aspects of the PC, and puts a score on how well it performs overall. In this test, a low scoring area can affect the overall score, so it's important to read the analysis. A higher score is better.
CrystalDiskMark is run to put a number on how well the system hard disk drive / SSD runs. It measures five different metrics, of which higher is better for all. The higher the numbers, the snappier the operating system will feel; especially if the "4K" number is high, as most operating system files are small files.
- Battery Life
PowerMark is used to measure battery life of the system when set to the "Balanced" power plan. This test simulates several different activities, but uses custom built applications.
Accessory Port Layout and Performance

The left side (from back to front) features the DisplayPort, HDMI port, two USB 3.0 ports, and a headphone jack.

The right side (from back to front) features the Kensington lock, charger port, power button, volume buttons, one USB 2.0 port, and a SD card reader.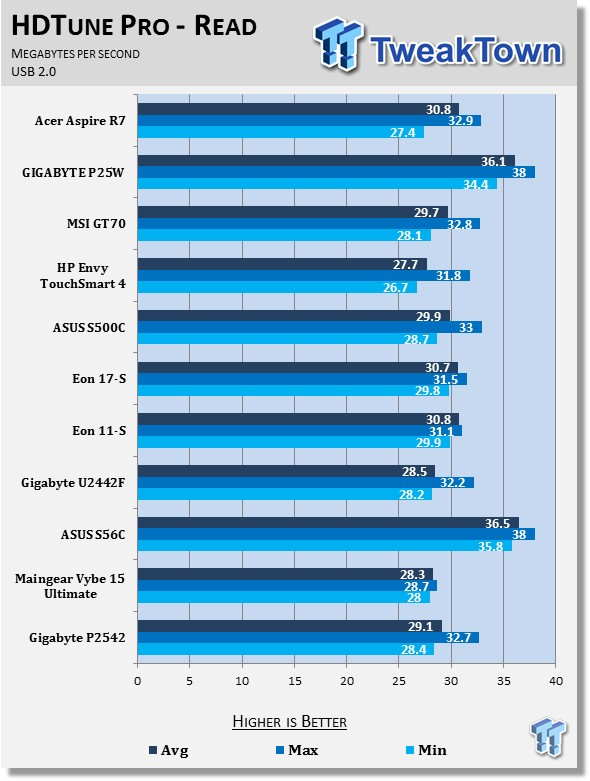 The Aspire R7 produces an average USB 2.0 read speed of 30.8MB/s, which places it towards the upper end of the spectrum of devices we have tested.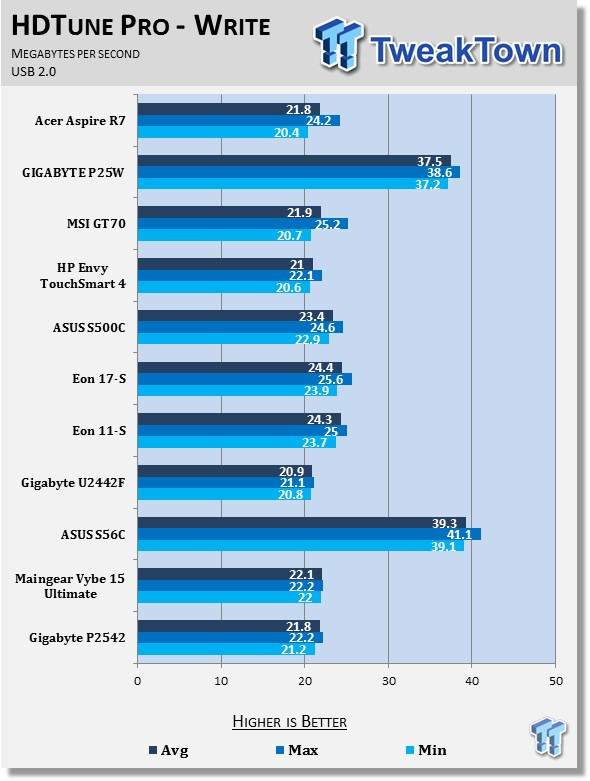 However, when writing via USB 2.0, the Aspire R7 falls slightly behind the average of the pack. The R7 pushes out an average of 21.8MB/s, which is roughly average.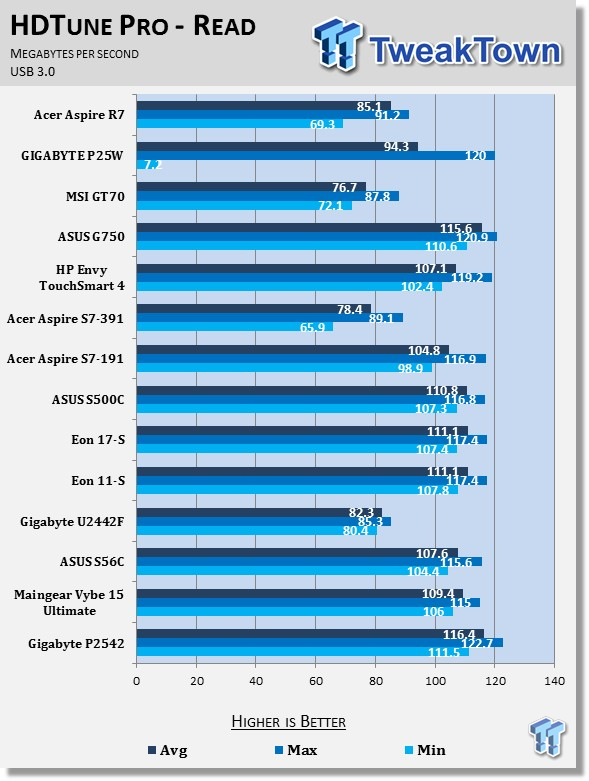 As far as USB 3.0 performance goes, the R7 falls behind the pack, producing a read speed of just 85.1MB/s. While it's not the slowest we've ever tested, it failed to enter into the triple digits like most other systems.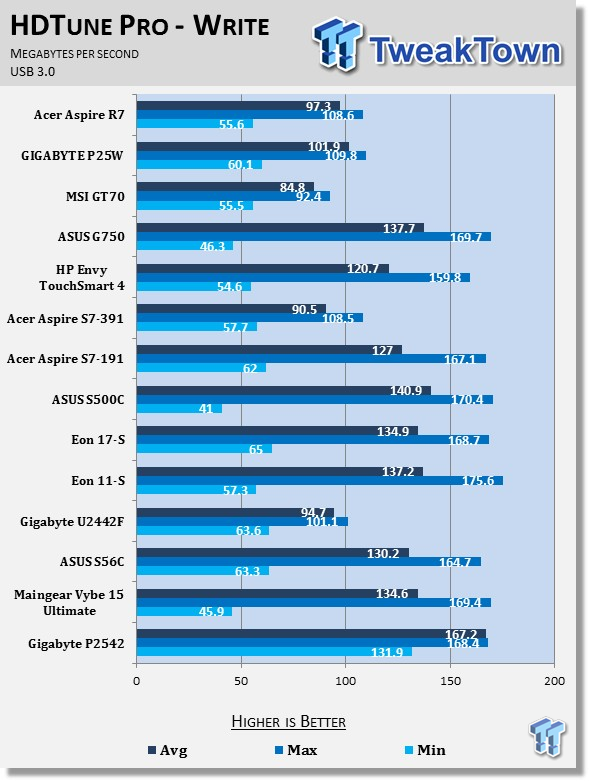 The trend continues with USB 3.0 write speeds that put the system towards the back of the pack. Again, the Aspire R7 failed to enter the triple digits, producing an average write speed of just 97.3MB/s.
Gaming Performance
3DMark Vantage
Version and / or Patch Used: 1.1.0
Developer Homepage: http://www.futuremark.com
Product Homepage: http://www.3dmark.com/3dmarkvantage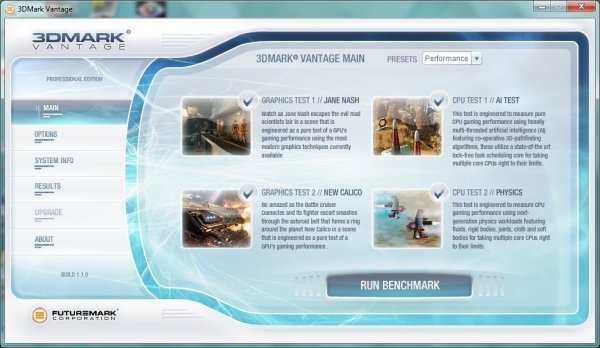 3DMark Vantage tests both processor and graphics performance, and is a good indication of how systems compare. The results are generally more repeatable and consistent than other forms of benchmarking. Vantage uses DirectX 10, and can handle multi-core CPUs.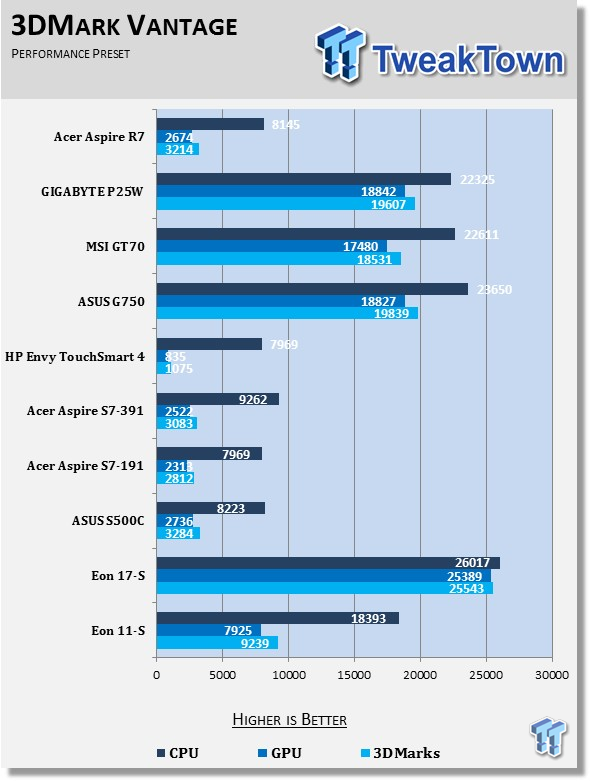 The Acer Aspire R7 produced an overall 3DMark Vantage score of 3214. This puts it just slightly above the rest of the Ultrabooks we've tested, save for the ASUS S500C.
Looking at the individual scores, the R7 managed to produce a GPU score of 2674, and a CPU score of 8145. Neither of these scores are particularly impressive when compared to a gaming machine, but they are roughly equivalent to most Ultrabooks.
3DMark - Cloud Gate Test
Version and / or Patch Used: 1.0.0
Developer Homepage: http://www.futuremark.com
Product Homepage: http://www.futuremark.com/benchmarks/3dmark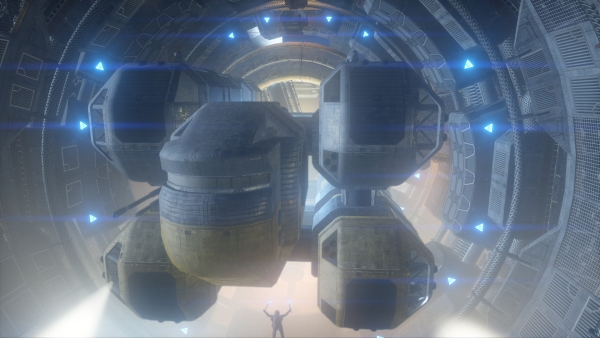 Cloud Gate is a new test that is designed for Windows notebooks and typical home PCs. Cloud Gate includes two graphics tests, and a physics test. Cloud Gate uses a DirectX 11 engine limited to Direct3D feature level 10, making it suitable for testing DirectX 10 compatible hardware. Cloud Gate will only be available in the Windows editions of 3DMark initially.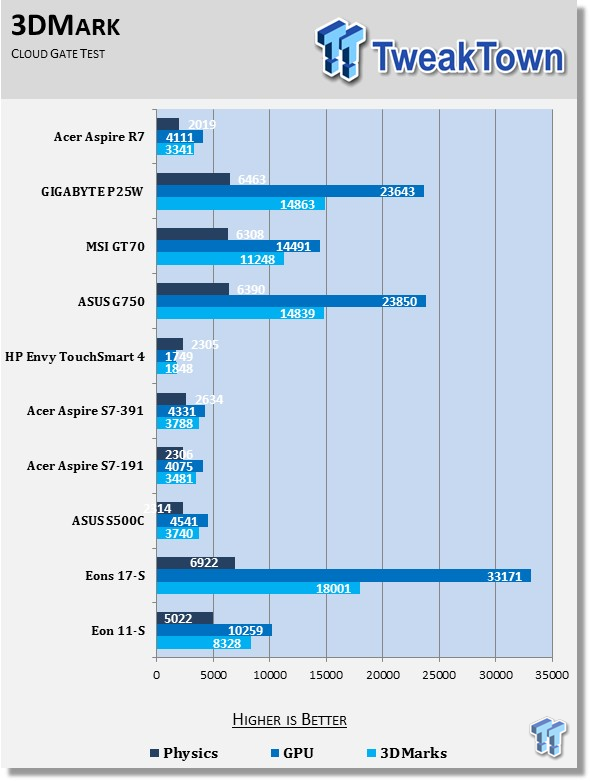 The R7 managed a score of 3341. Looking at the individual scores, the R7 produced a CPU score of 2019, and a GPU score of 4111. In this test, the R7 falls behind the majority of the other Ultrabooks we have in our chart.
System Performance
PCMark 7
Version and / or Patch Used: 1.0.4.0
Developer Homepage: http://www.futuremark.com
Product Homepage: http://www.pcmark.com/benchmarks/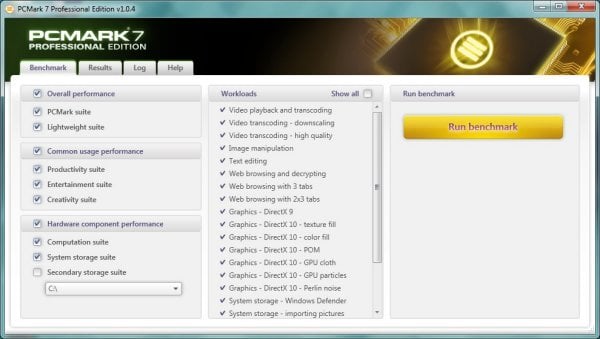 PCMark 7 is a great utility for testing a PC's all-around capabilities. It tests all aspects of the computer, from graphics performance to hard disk performance, and attempts to put a score on it, which is not an easy task.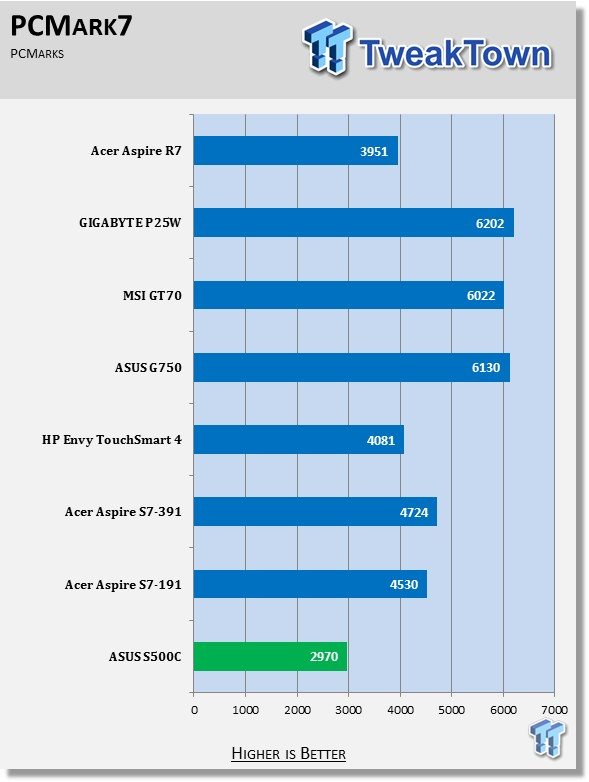 The Acer Aspire R7 produced a somewhat paltry 3951 score in PCMark 7. The only system that did worse is the ASUS S500C, which is another system that opted to use a hard drive over an SSD. The other Ultrabooks, which are equipped with SSDs, bested the score by 500 points or more.
Before you say that this is just a synthetic benchmark: My real-world perceptions back up the numbers. The R7 feels a bit slow and sluggish, which I would definitely attribute to the use of an HDD. Once you've gone SSD, it's nearly impossible to go back.
CrystalDiskMark
Version and / or Patch Used: 3.0 Technical Preview
Developer Homepage: http://www.crystalmark.info
Product Homepage: http://crystalmark.info/software/CrystalDiskMark/index-e.html
Download here: http://crystaldew.info/category/software/crystaldiskmark
CrystalDiskMark is a disk benchmark software that allows us to benchmark 4K and 4K queue depths with accuracy.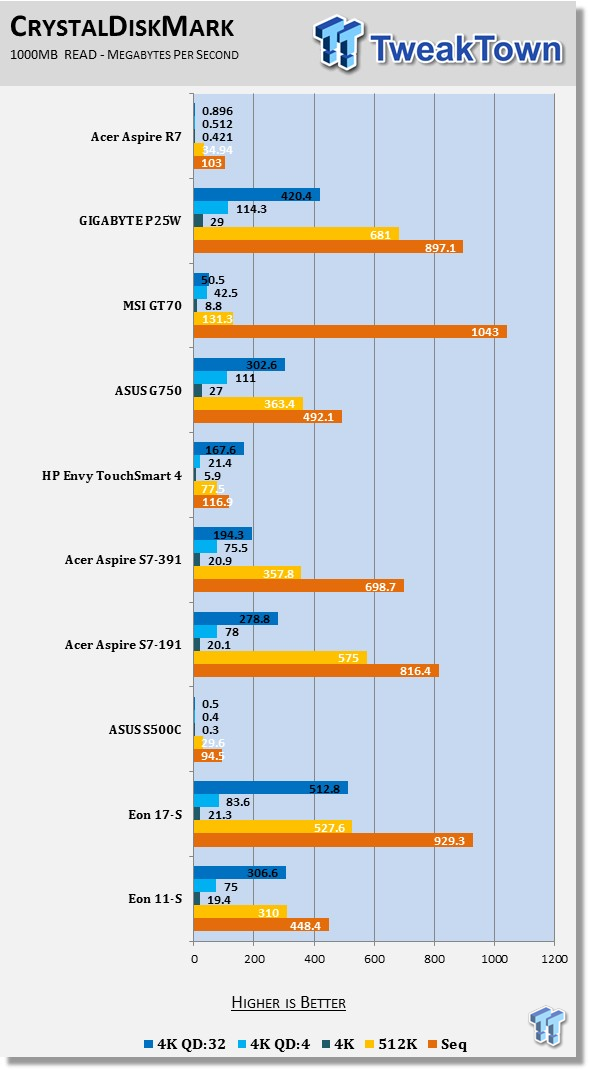 The Aspire R7 manages a sequential read speed of just 103 MB/s. When you start lowering the amount of data read, the picture becomes even bleaker.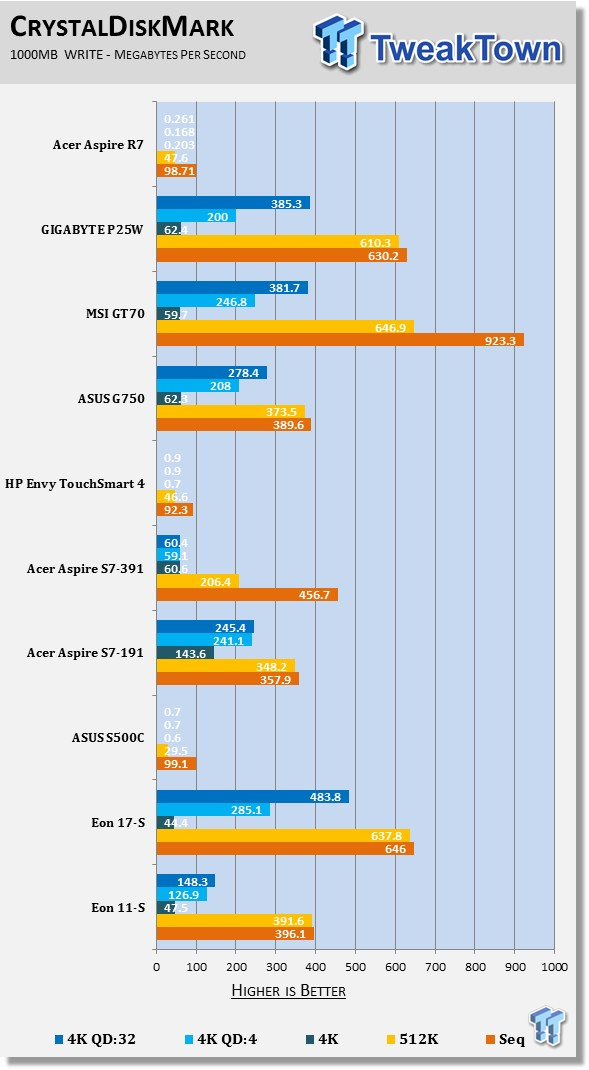 Write speeds were equally as disappointing; the R7 managed just 98.7MB/s sequential write.
Battery Life Performance
PowerMark
Version and / or Patch Used: 1.1.1
Developer Homepage: http://www.futuremark.com
Product Homepage: http://www.futuremark.com/benchmarks/powermark/
Download here: http://www.futuremark.com/benchmarks/powermark/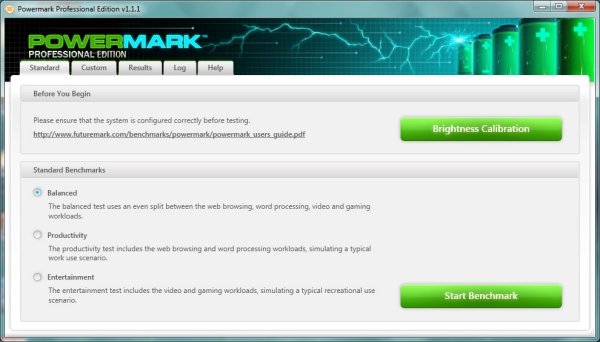 PowerMark is a benchmark produced by Futuremark that simulates different usage scenarios in order to determine battery life. It loops these different scenarios infinitely, until the battery hits 15%, and then gives us an estimated battery life time. For our testing, we use all four different scenarios. These are video playback, gaming, web browsing, and word processing.
The test is run once with the computer's Power Options set to Balanced.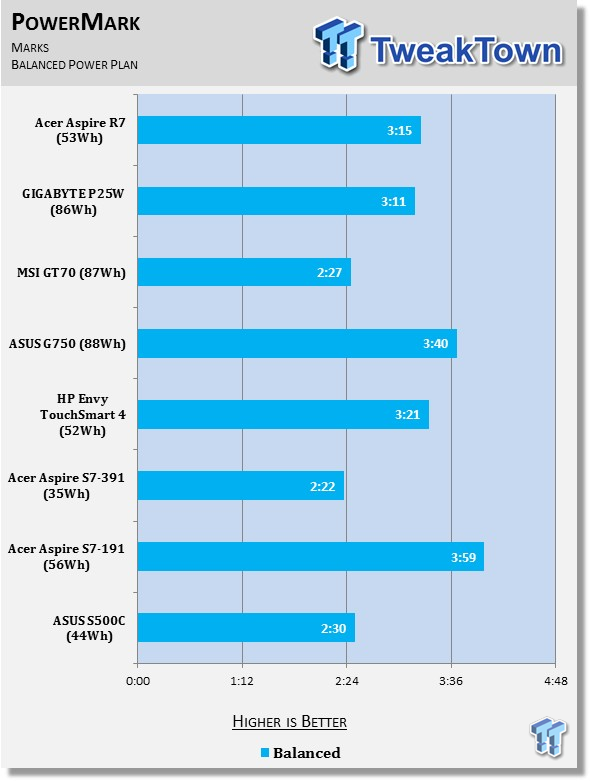 One area that the R7 did excel in is battery life. As you can see in the chart above, the R7 produced a runtime of 3 hours and 15 minutes; one of the highest runtimes we've had for an Ultrabook.
Final Thoughts
As we draw to the conclusion of this review, we're left wondering: "Is this an Ultrabook that should be on my radar?" As always, it depends on the purchaser. I'll do my best to help you decide for yourself.
First we'll start with the bad, and then move to the good. One of the bad things about this system is its weight. It weighs in around 5 pounds, which is definitely noticeable in your backpack. If you're looking for the most lightweight convertible Ultrabook around, then this is definitely not the machine you're looking for. Part of this is due to its 1080p 15.6-inch display. You'll have to decide for yourself whether or not that is worth it to you.
Another issue I have with this machine is the use of an HDD. You've probably noticed throughout my review that I continually mentioned the fact that this system makes use of an HDD, instead of an SSD. As a person who uses SSDs exclusively, I am readily apparent of the difference that an SSD makes. Without one, the machine feels sluggish and slow; despite the use of a caching drive. However, the caching drive does allow for speedy resume from sleep operations. If they were to offer this system with an SSD, I'd be able to give it a stronger recommendation.
Now onto the good: The R7 can easily be converted into a tablet for media consumption, but also retains a full-size keyboard for content creation. The radical design of placing the touchpad above the keyboard allows access to both the keyboard, and the touchscreen. This takes some getting used to, but this is the mode I would use almost exclusively.
Furthermore, the R7 produces fairly good battery life, which is something that is important to have if you are going to be hauling your notebook around with you. The system is also quite quiet, making it a great device to have if you're sensitive to noise.
But, for $1000, I'm a bit hard-pressed to recommend this machine. As I stated above, with an SSD, I could easily recommend this machine. However, without one, the recommendation comes with some hesitance. While the design is solid (the "Ezel" hinge makes sure of that), but the system is just a bit sluggish for my taste. And speaking of sluggishness, the system also comes with a fair amount of bloatware, which could be contributing to the slow feeling.
If you were to buy this system, I would highly recommend you upgrade the HDD to an SSD immediately. This will help unleash the true potential of the system, and make sure you are not waiting on programs to open, or documents to save.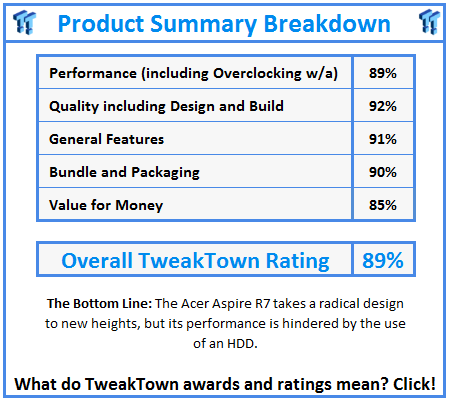 PRICING: You can find products similar to this one for sale below.

United States: Find other tech and computer products like this over at Amazon.com

United Kingdom: Find other tech and computer products like this over at Amazon.co.uk

Australia: Find other tech and computer products like this over at Amazon.com.au

Canada: Find other tech and computer products like this over at Amazon.ca

Deutschland: Finde andere Technik- und Computerprodukte wie dieses auf Amazon.de