2009's Cloudy with a Chance of Meatballs based on the much loved children's book was a labor for love for first time director's Phil Lord and Chris Miller and a financial and critical success for Sony Pictures. Naturally this ensured the film would receive a sequel. Surprisingly, it took four years to cook up, but the second serving of Meatballs is mostly fresh, but as is so common with sequels, does have a whiff of reheat about it. And if you think those puns are bad, wait until you hear the ones in the film!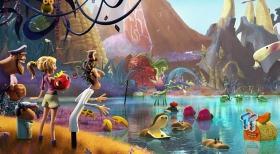 The island of Chewandswallow, abandoned after the FLDSMDFR food replication incident, has continued to propagate and evolve a self-contained ecosystem of foodimals (that is; living and seemingly sentient animals made of food), which have completely taken over in the absence of the townsfolk. The inventor of the FLDSMDFR, Flint Lockwood (Bill Hader) is tapped by famous inventor Chester V (Will Forte) to assist with an expedition back to the island in order to prevent the feared creations from leaving the island and taking over the world, but no one is prepared for what they find there, nor are Chester's intentions necessarily pure of heart.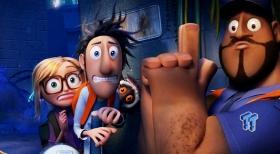 As far as children's entertainment goes, Cloudy With a Chance of Meatballs 2 is perfectly serviceable, even enjoyable for a more mature audience. However, it suffers considerably compared to the vastly superior original, which on release was both original and fresh, and was crafted with clear and obvious reverence for the source material. Sadly, much of this seemed absent this time around, with much of the sharp wit replaced with wave after wave of groan inducing, food-related puns.
Naturally, whilst I recognize this is first and foremost a kid's film, there is nothing wrong with sowing small seeds for adult audiences to retain interest levels. This is something that its predecessor was more mindful of, and successful at.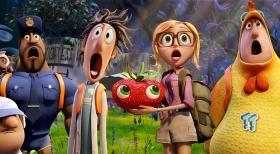 Still, there is enough to occupy most fans of the original - the oft-used, but always hilarious 'Rat Bird' sight gags are back with a vengeance, and the entire cast, save with the recasting of cop Cal Devereaux return. At the end of the day, if the job of a sequel is to provide more of what audiences loved and further the universe that the film operates in, then one can rightly say, 'bon appetite'.