Ever since the dawn of cinema, Hollywood has taken its cues from the literary world, one of the oldest that I can recall being 1926's The Great Gatsby, which was of course remade to great fanfare this year. Still, it seems a surprise that it's taken nearly thirty years to adapt Orson Scott Card's 1985 multi award winning novel Ender's Game, although it's not been from a lack of trying. So, has the wait been worth it? Well, read on, dear reader.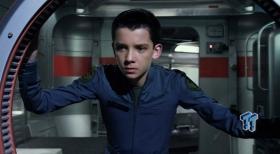 The year is roughly 2136. Fifty years before, Earth was ravaged for its resources by an alien race known as the Formics, until a brave pilot, Mazer Rackham (Ben Kingsley) sacrificed himself on a kamikaze run to destroy the fleet. Fast forward to the future and Earth has amassed a frightening horde of weaponry to pre-emptively strike at the Formic home world in a war to end all future wars.
To lead the attack, the international military, led by Colonel Graff (Harrison Ford) trains a fleet of child soldiers for their quick reflexes and superior problem solving skills. Groomed by the Colonel, Ender Wiggin (Asa Butterworth) quickly rises up the ranks of both his superiors and his young compatriots, but will need to prove he has the endurance to undertake the role of Earth's savior.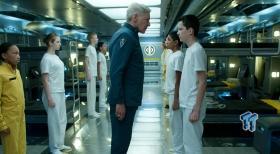 Whilst the international marketing has been quick to dub Ender's Game as "Star Wars meets Harry Potter", I find StarShip Troopers meets Independence Day to be a far more fitting, if much less illustrious descriptor.
For a film that has gone through many differing variations of screenplays, it comes as a surprise that the story structure is so bizarre, with tantalizingly little actually shown to the audience. Additionally, much of the film is film is high on military training, whilst quite light on the climactic space combat, of which what is here is not depicted in what I would describe as a traditional theatrical manner.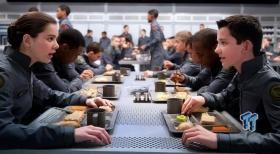 Director Gavin Hood, previously best known for making a snooze-fest out of one of the best comic book characters of all time in X-Men Origins: Wolverine has done a serviceable job with the material and directing the predominantly young cast. Of these, Asa Butterworth is clearly the standout, a young actor who is headed for an illustrious acting career and not just another Jake Lloyd of Phantom Menace fame, who ironically enough was tagged for the role in the aborted 2000 adaptation.
Harrison Ford plays his useful gruff and joyless self, a disappointing turn from a once great and charismatic actor who was evidently cloned sometime around 1990 and replaced with a charmless, yet efficient stand in. Ben Kingsley's Kiwi accent is regrettable, but otherwise the only thing notable about his portrayal of Earth's martyr. Well, that and the facial tattoos.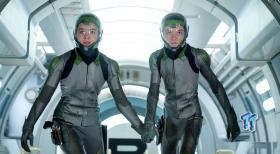 Where the Ender's Game novel series sprawls off into many follow ups, and the films ambiguous ending which leaves the door wide open for more, I suspect that the box office takings will not justify further sequels off the back of this obviously well intentioned, yet ultimately disappointing feature film.