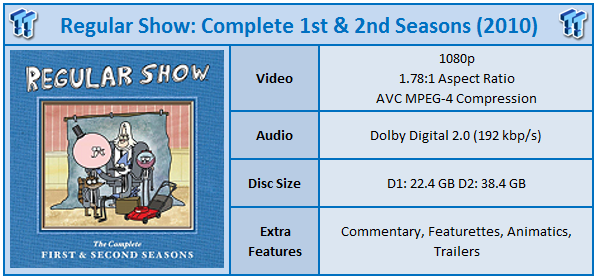 Launched by the Cartoon Network in 2010 alongside Adventure Time, The Regular Show has found favor with a similar demographic, and are undoubtedly the networks most popular shows, spawning a huge market in toys and other merchandise. Despite this, there is substantial difference between the two shows, and personally I give the edge to The Regular Show in the entertainment stakes.
The Regular Show finds lead characters Mordecai (voice by J.G. Quintel); an oversized blue jay and Rigby (voiced by William Salyers); a raccoon, both employed at a local park despite their work avoidance tactics and constantly infuriation of their supervisor Benson, who seems to be a walking gumball machine (voiced by Sam Marin).
With an eclectic bunch of supporting characters including the sweet natured Pops (also Sam Marin), Skips (Mark Hammill) and love interest in Margaret (Janie Haddad) along with an over the top assortment of set pieces and villains, sets the scene for an outrageous series which relies heavily on "in-the-know" references to pop culture and video games which will appeal to a young adult audience.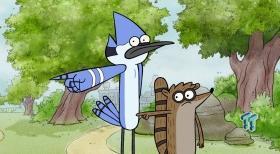 While they will likely appeal to a similar demographic, The Regular Show differs to Adventure Time predominantly in the more traditional narrative, that despite some crazy storylines, is overwhelmingly grounded in reality (even if it is a heightened version) for a majority of the time.
Over the first 40 episodes which are presented here, I think The Regular Show is at its best during these times, whilst referencing (sometimes subtly) and nodding the head to the music, shows and films of generation X's formative years, something which creator J.G. Quintel is clearly fond of and has become a trademark of the show.
Again, I note that that the two disc set released in Australia by Madman Entertainment is a mirror image of the U.S. release from Warner Bros, although I give the edge to the packaging of the local version.
Video
The Regular Show: The Complete First and Second Seasons is presented in the aspect ratio of 1.78:1, encoded with AVC MPEG-4 compression.
The show has a very distinctive palette consisting of watercolor backgrounds, with the character sprites merged on top. This may seem quite simple - and it is - but sub consciously it helps to focus the attention on the characters whilst also making the image look a little richer than the budget would otherwise allow for. This uncomplicated visual look has all encoded quite efficiently.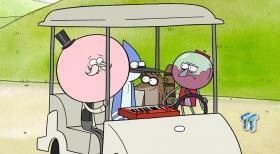 There really is little to complain about here. Sure, there is a few examples of aliasing (although not as severe as affected Adventure Time), but I think most will be quite forgiving. With expectations in check, no one is expecting Disney quality animation here. The image is bright and bold and although a little muted at times, this is more a reflection of intention.
Overall, I think fans who are accustomed to seeing the show in standard definition compared to the strangled bitrate of the SD free-to-air and pay TV broadcasts, or previous DVD releases will be quite pleased by the 1080p transfer here, which at times is even a bit of a revelation.
Audio
The Regular Show: The Complete First and Second Seasons is presented in Dolby Digital 2.0 at 192 kbps.
Much like Adventure Time, Warner Brothers has again failed to master the disc with a lossless audio track, unsurprisingly due to their long resistance to offering lossless tracks for theatrical features. Again, I will note that its certainly debatable how much better Regular Show would be with a lossless track, and it's certainly no fault of the elements provided to Australian distributor Madman Entertainment - but I guess it's the principle.
The assembled track here is certainly perfectly serviceable, probably the nicest thing I can say when a track is sonically quite limited. Happily, I didn't notice any anomalies such as sync issues or cut outs. When Pro-logic mode is engaged, the algorithm creates a bit of surround separation, especially during the song montage segments, but overall there just isn't enough to work with.
Again, the track is absent a specific low frequency channel, but again most amps will wring enough bass from the front channels to divert to the sub given enough volume.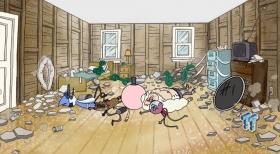 Extras
Marking a significant improvement in both quality and quantity of extra features compared to Adventure Time, there is much more here for fans to get excited about. Let's take a look.
First up, we a total of 42 Audio Commentaries over 40 episodes, meaning that two episodes receive an additional commentary. The participants vary, and include creator J.G Quintel and both voice artists, writers and producers, but all are of a consistently high quality. Only the most dedicated of fans will trawl through the four hours here, but at the very least sampling some is well worth the time investment.
The Animated Student Short is an interesting journey through time, and although the characters are very off model, it's certainly interesting to see the evolution of what the show would become. The Unaired Pilot Episode is further refined before the final version was bedded down.
The Interview with J.G Quintel is kept quite brief, but provides a bit of information not imparted in the audio commentaries. It's surprising to see how young he actually is.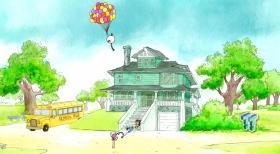 Next are a bunch of very short features which shed a little light on the animation process, including Original Pencil Tests, and a CG Test, although for me the highlight is the 17 minute long JG Pitches "The Power" showing Quintel recreating the pitch to Cartoon Network which kicked the show off in the first place.
Two episodes feature an Animatics reel, although I've never found the presentation of those to be wholly compelling, your experience may differ.
The set is wrapped up with a strange live action Music Video, and an even more baffling Sam Sings Mystery Karaoke followed by a Comic-Con Trailer and two Commercials.