In this day and age, blockbusters films are a dime a dozen. But successful franchises are even more lucrative, but infinitely harder to pull off - especially if they're based on existing literature with pre-built expectations. Despite this, director Gary Ross did a reasonably solid job of translating Suzanne Collins young adult novel The Hunger Games to the screen back in 2011.
Taking the reins this time around is director Francis Lawrence who presents a superior product which builds on the strengths of its predecessors and rights some flaws.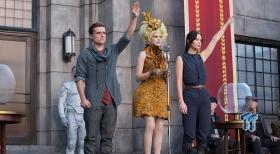 Following the defiant near-suicide of Katniss Everdeen (Jennifer Lawrence) and Peeta Mellark (Josh Hutcherson) at the conclusion of the 74th Hunger Games, the victors are increasingly seen as a symbol of hope amongst the crushed spirits of the desolate districts. Aware to the risk of changing sentiments and threat of an uprising, President Snow (Donald Sutherland) comes down hard on the would-be lovers, recalling them to fight once more in the 75th Hunger Games.
Together with the new games designer Plutarch Heavensbee (Philip Seymour Hoffman), the Capitol hatch a plan to not only tarnish Katniss' pure reputation and thus halt the civilian unrest, but destroy her once and for all in the arena.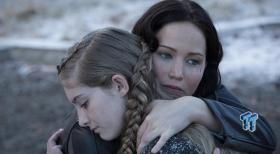 Whilst I took exception to certain elements of the first Hunger Games, including the artificial threats within the competition which struck as poor and overly convenient writing, the rules in Catching Fire are more established, and the stakes infinitely higher, with more thoughtful reflections on the ruins of the dystopic future society and civilian conflict.
Whilst I haven't read Suzanne Collins original novel, I'd also bet that the source material has served as a superior base, which ably assist with the film adaptation.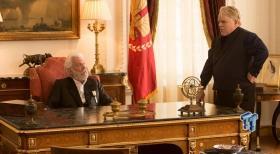 All the key members of the cast return, with no roles being recast. Talented starlet Jennifer Lawrence is particularly strong in the role of the female heroine, who has not shied away from demanding roles since the first Hunger Games, including The Silver Linings Playbook which was received with acclaim and a deserved Academy Award.
Newcomers to the series including Phillip Seymour Hoffman and Jeffrey Wright stamp their own subtle marks on pivotal roles, lending even more gravitas to an already star-studded cast, including Elizabeth Banks, Woody Harrelson and Lenny Kravitz (yes, that Lenny Kravitz).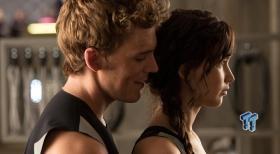 What could have been the awkward near-middle entry in the series, Catching Fire is not only a satisfying film in its own right, but it does a great job of not only presenting a more involving story, which is clearly building to a much bigger and compelling narrative. Sadly however, we'll have to wait an additional two years to see it completed.