D-Link DIR-868L Dual Band AC1750 Wireless Router Review
Today we take a close look at the new uniquely-shaped D-Link DIR-868L Dual Band AC1750 wireless router. Let's see how it performs.

Published Mon, Nov 25 2013 2:01 PM CST
|
Updated Tue, Nov 3 2020 7:00 PM CST
Rating:

89%
Manufacturer: D-Link
Introduction
If you're looking to upgrade your wireless network's capability to the newly released 802.11ac spec, there is certainly no shortage of products to help. In fact, like the days of wireless N, manufacturers are offering multiple devices, filling each performance niche in the market. While this is a good thing for users that want certain speeds and capabilities, it tends to clog up the market and lead to confusion of "what router do I buy?"
As we mentioned above, 802.11ac has introduced several markets for vendors to fill, and as such they have begun to do so with AC600, 750, 1000, 1200, 1300, 1750 and 1900 routers. At any rate you get the idea, the market has expanded rapidly and even more than ever before.
The D-Link DIR 868L is an AC1750 wireless router, as such it is also the top of the line when it comes to D-Link's portfolio. Capable of 1.3Gbps on the 5GHz band and 450Mbps on the 2.4GHz band, the 868L certainly offers, in marketing, top tier performance capabilities.
Though, we won't go into too much detail now as we're not quite sure if it has the increased range that makes the upgrade from 802.11n worthwhile.
Let's take a close look.
Pricing and Availability
As of this writing, the D-Link DIR-868L carries a MSRP of $189.99. However, I was able to find at several online retailers it priced at $169.99.
Availability is quite high at this time with Google shopping listing the router at 15 stores.
D-Link DIR-868L Router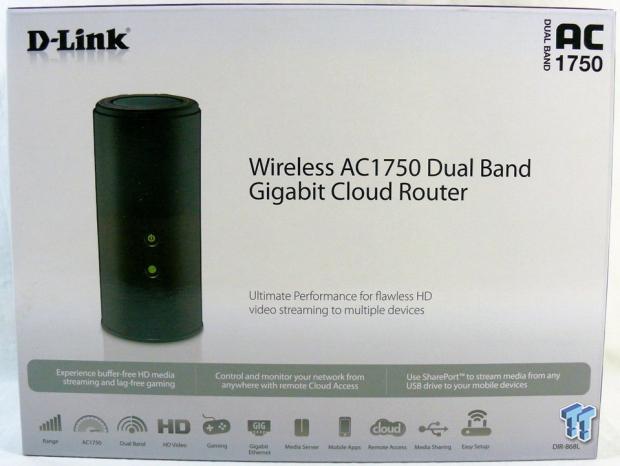 The D-Link 868L arrived in an attractive package, adorned with a photo of the router. Along the bottom of the box, we have several use cases for the router and the top corner quickly tells us this is an AC1750 capable router.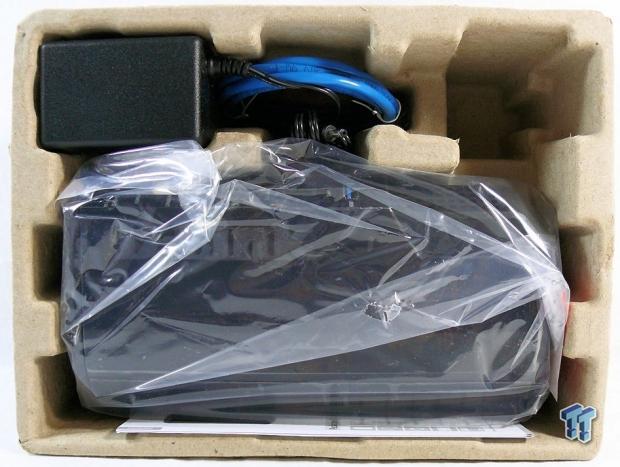 Internally, the router was packaged in an egg crate material, which is pretty standard as far as routers go.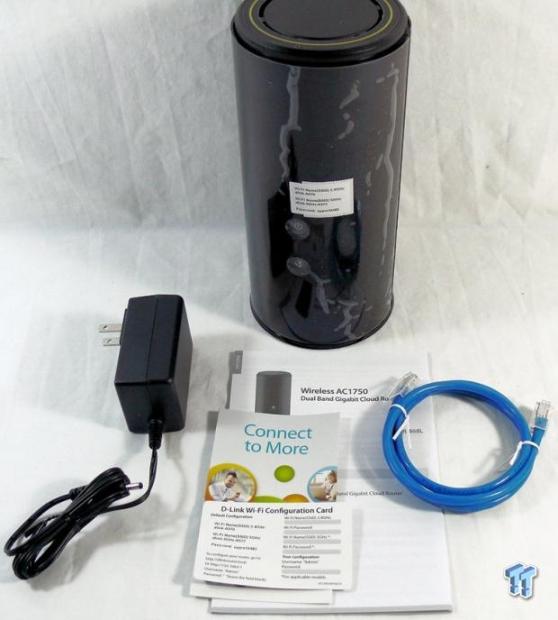 The scope of delivery for the 868L includes, the power adapter, Ethernet cable, along with some reading materials.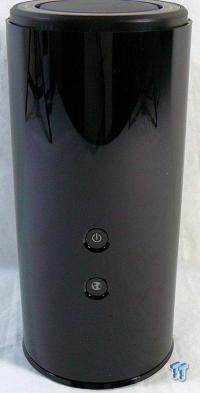 Looking at the 868L, we first notice its unique form factor. On the front, we find the power button and LED indicator for internet connectivity.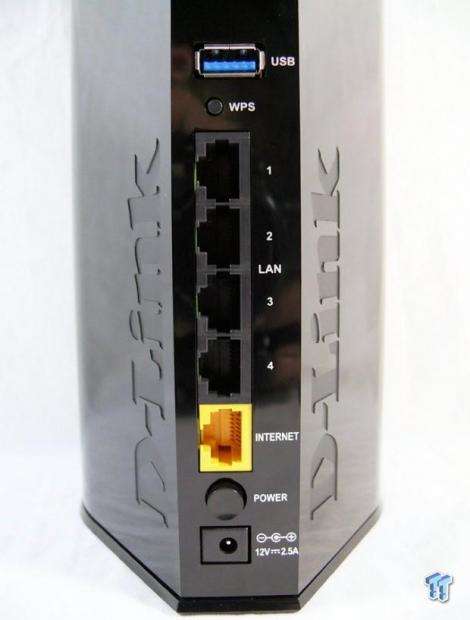 The back of the router features a USB 3.0 port at the top, followed by four gigabit LAN ports and the WAN port in yellow.
Router Setup and Management Interface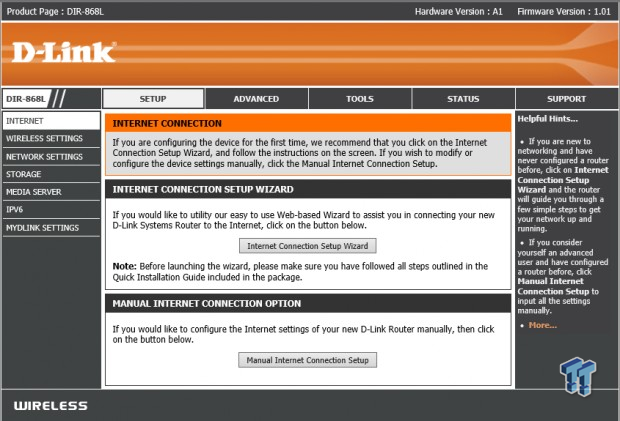 First connection to the 868L leaves us preparing to set it up. Here we have the option of manual or an automated process.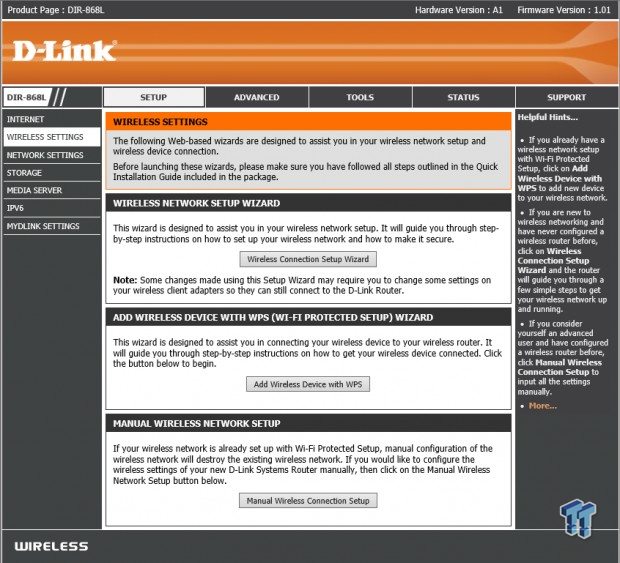 There is also an additional wireless setup wizard. Optionally, you can set your connection up manually.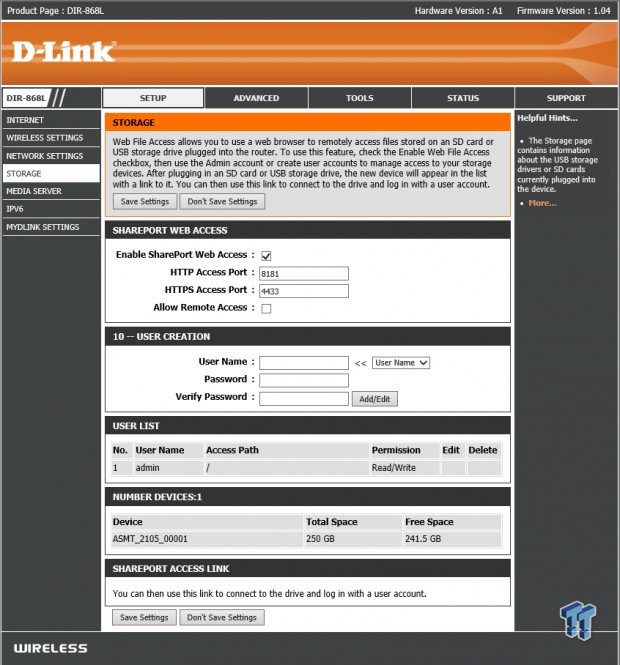 As routers have matured, they have also become a central point for adding storage to your network. Here you can setup users, in addition to the storage medium.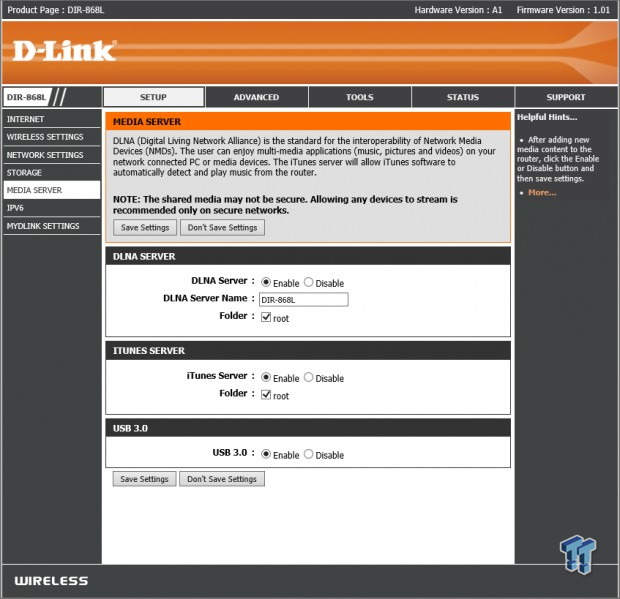 Here we have the media server menu. From within, you can setup the built-in DLNA server, along with the iTunes server and enabling USB 3.0. A side note about USB 3.0 use is the adverse effects that have been documented with the 2.4GHz band. With this, D-Link gives you a pop-up warning when you enable it.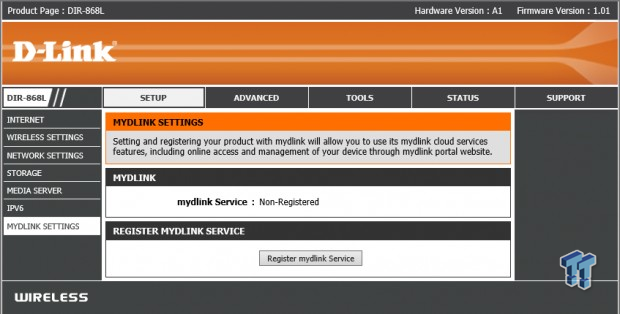 The 868L supports the cloud service myDlink, allowing you to access and manage your router from anywhere in the world. Additionally, you can access the storage on the router on the go.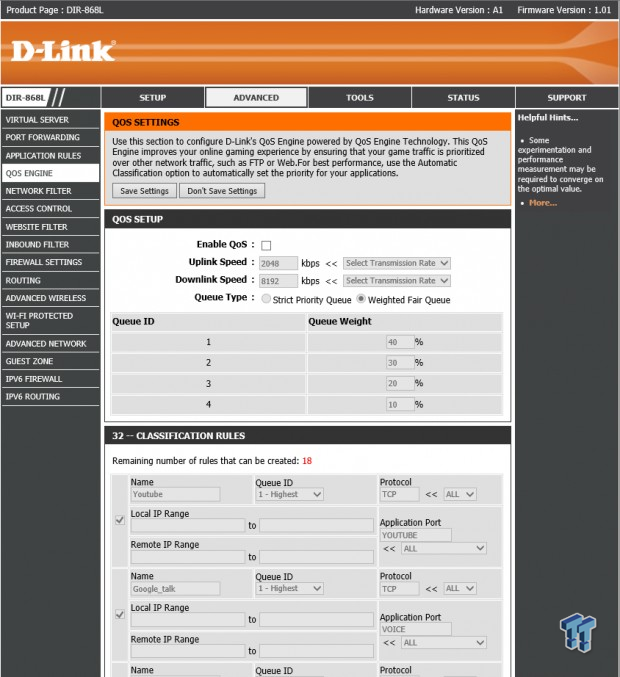 The QoS engine has been widely revamped here, especially if I compare this to my personal router, the DIR-857.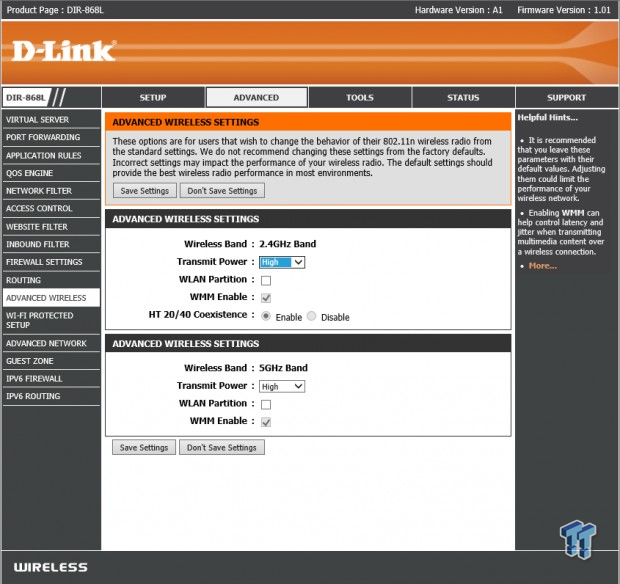 Advanced wireless allows you to control the transmit power for both bands.
Benchmarks - Test System Setup
Test System Setup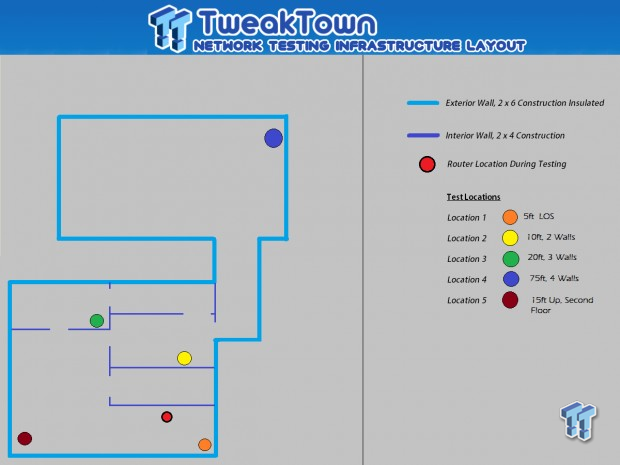 As wireless networking has proliferated in homes and offices around the world, and network vendors keep releasing new devices on a regular basis, you now have so many options that it's hard to make a choice. The truth of the matter is, regardless of how many features a wireless router or access point has, the two most important things about it are its speed and its range.
We test throughput and range in a dual-node network environment consisting of a Custom PC with a GIGABYTE Z77UP5 TH, Intel Core i5 3570K Processor operating at 3.3GHz with 16GB of DDR3 featuring the Startech.com ST1000SPEX42 quad port gigabit network adapter and a single HP ProLiant DL380 G5 Server with Windows Server 2012 R2 and a second Startech.com ST1000SPEX42.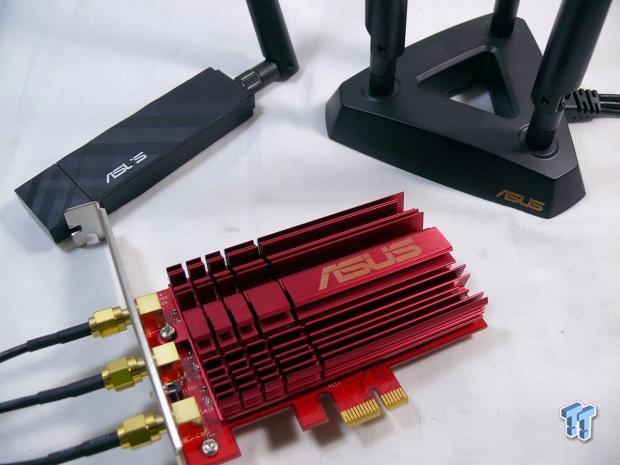 Wireless throughput is tested using the ASUS PCE-AC68 PCI Express Network Adapter. Range is tested with a HP ProBook installed with an ASUS USB-AC56 adapter through USB 3.0.
We perform all tests in a real-world environment. You may get better range and throughput results in a spacious facility with few internal walls or outdoors. Our tests provide a benchmark for estimating the range and throughput of wireless networking devices in an indoor setting, with some obstacles.
Benchmarks - Wired Throughput
Wired Throughput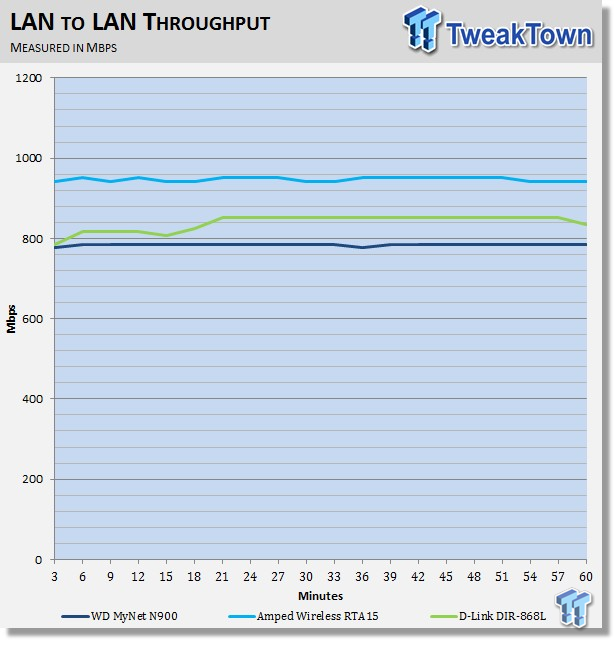 LAN to LAN throughput landed the 868L between our last gen MyNetN900 and the Amped Wireless RTA15.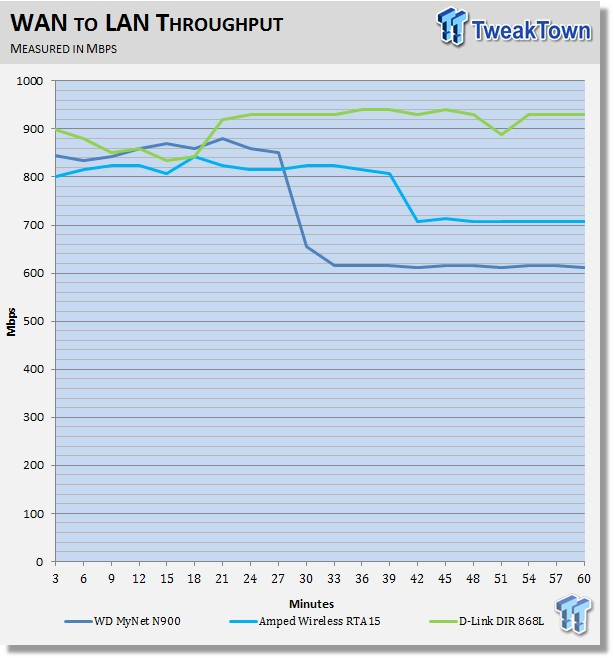 WAN to LAN throughput tests the router's ability to pass traffic from the internet to the switched ports. Here we see the D-Link manage near gigabit wire speeds, topping at 945 Mbps.
Benchmarks - Wireless Throughput
Wireless Throughput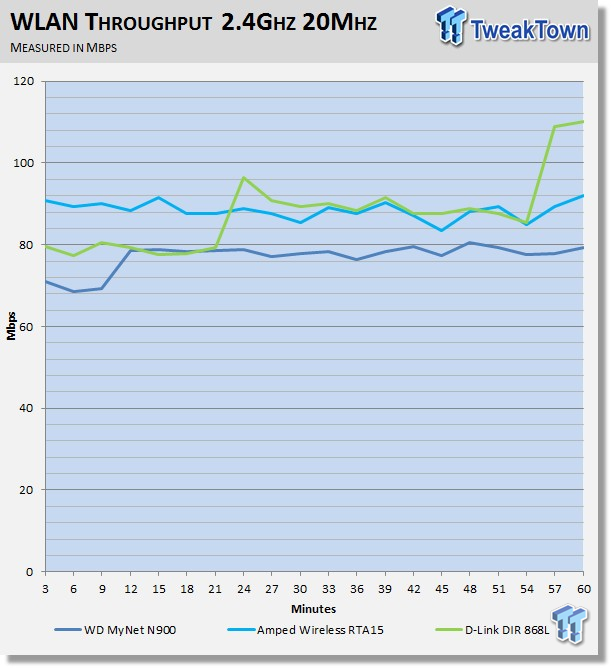 In our first wireless throughput test, the 2.4GHz band at 20MHz width, we find the D-Link peak at 115 Mbps.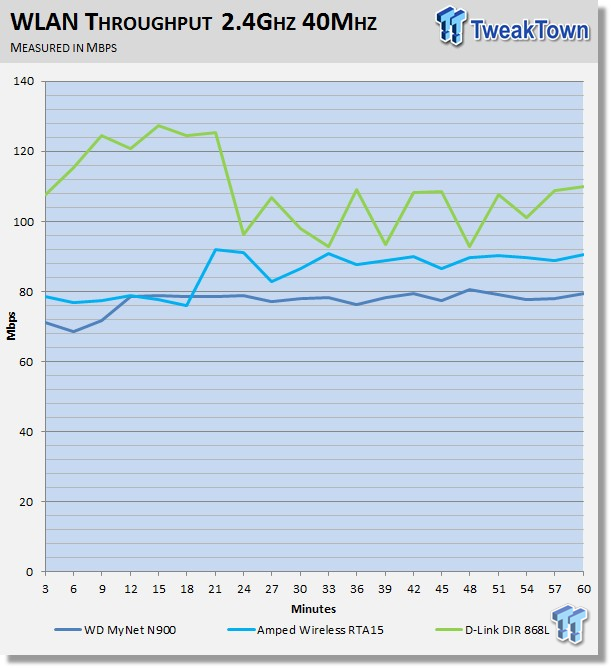 Increasing the channel width to 40MHz nets us an increase of just 10 Mbps, landing the 868L at 125 Mbps.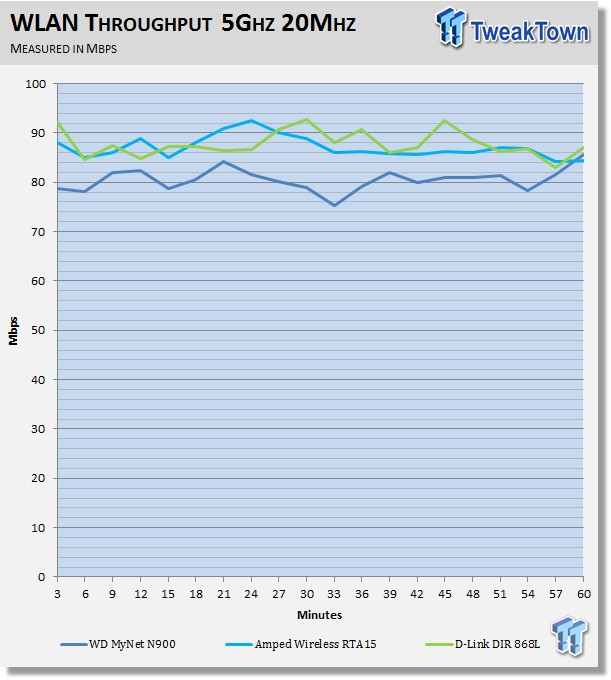 Moving to the 5GHz band at the 20 MHz channel width, we find all routers tangling up. Peak rate for the D-Link 868L was 93 Mbps.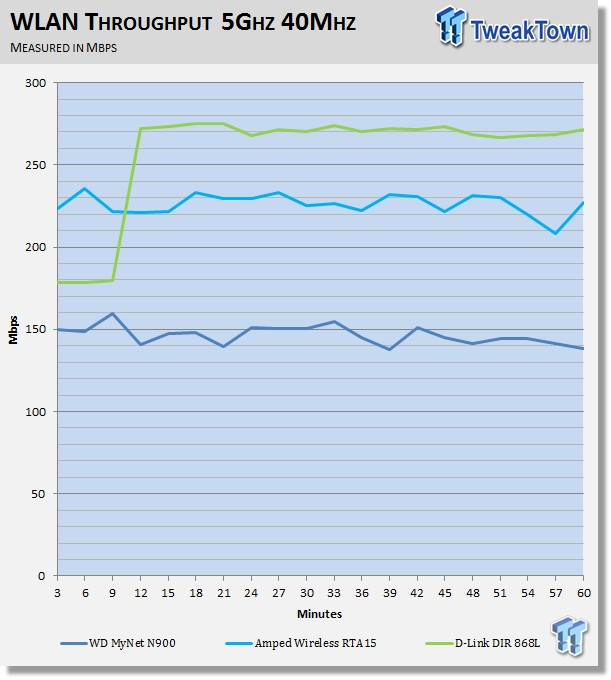 Throughout testing we had left Tx beamforming on, as it is enabled by default on the 868L. Here we note the first performance gain from the use. As you can tell, the performance starts off around 175 Mbps, and after 12 minutes shifts a gear up to 275Mbps.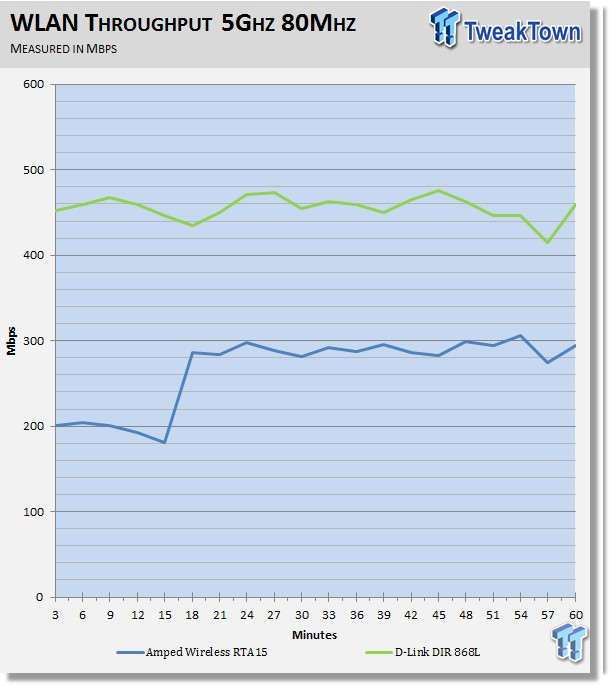 The 868L managed to top our charts thanks to its impressive 1300 Mbps connection rate using the 80MHz width. Throughput of the unit topped at 450 Mbps.
Benchmarks - Wireless Range
Wireless Range
For wireless range, we need to refer back to the Network Infrastructure chart on page four of this review. Each chart herein is based on the locations on the table. To make it simple Location 1 is the closest and within Line of Sight, while Location 4 is the furthest away with many walls in between. Location 5 tests the routers ability to generate enough signal strength to penetrate to the second floor of a home.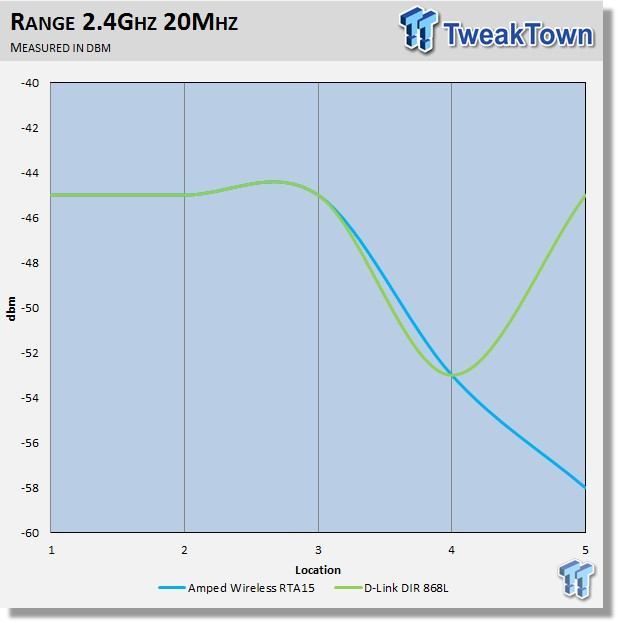 Within our first range test, we find the D-Link offering increased range in location five over previous units.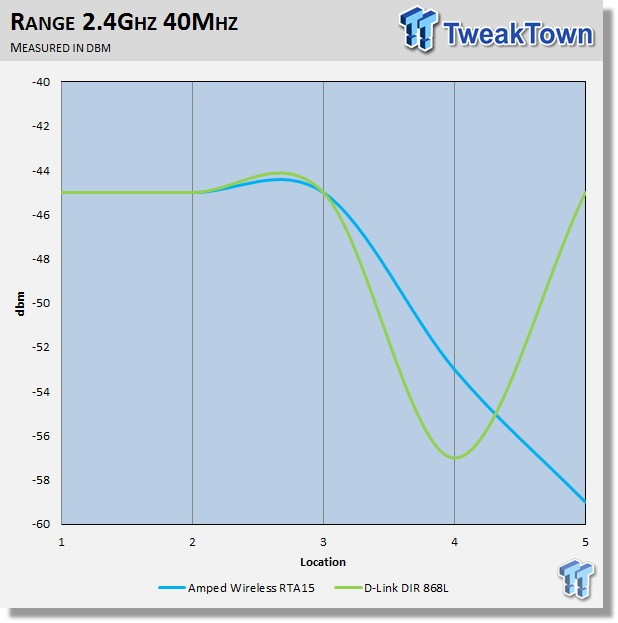 Moving to the 40MHz channel width, 868L suffers slightly at location 4, but excels at all others.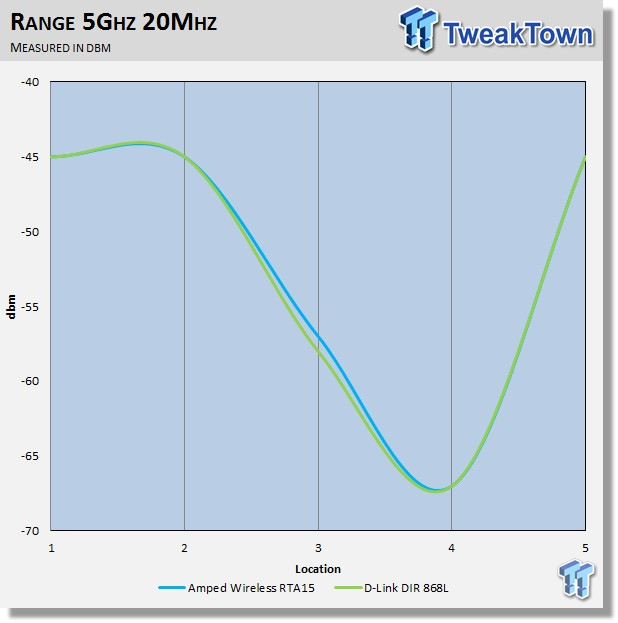 Moving to the 5GHz band, we find a nearly identical pattern between the two tested routers.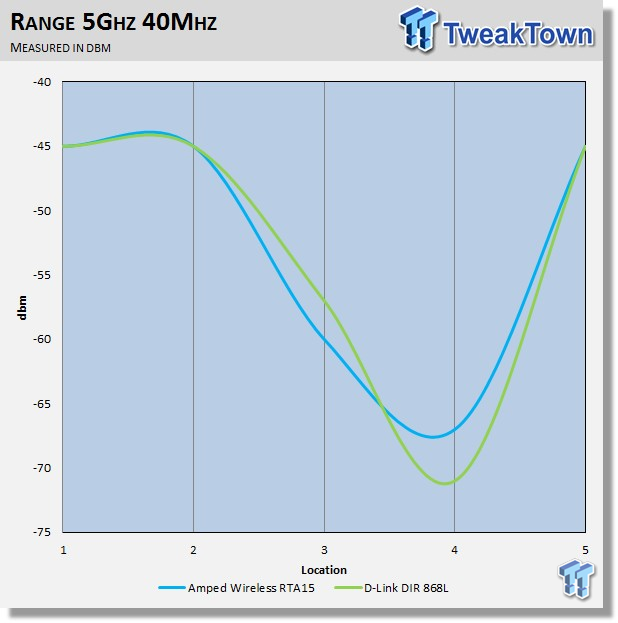 5GHz 40MHz shifts that pattern slightly in favor of the Amped Wireless RTA15.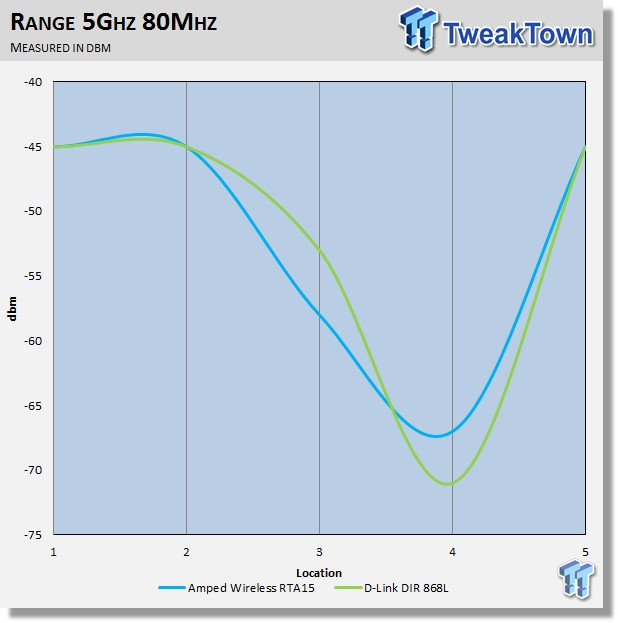 5GHz 80MHz increased the range to location three with a tradeoff at location four.
Benchmarks - Link Speed By Location and Power Consumption
Link Speed by Location
Link Speed by Location offers valuable insight into the working throughput of the router at specific locations.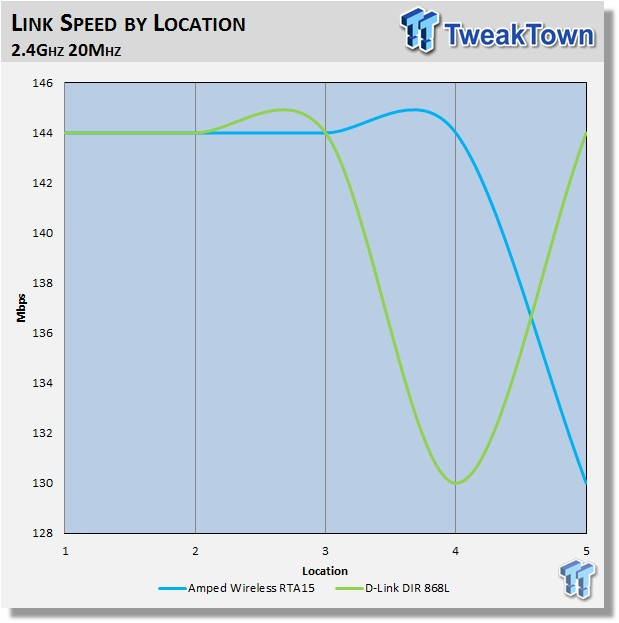 On the 2.4GHz 20MHz band, the 868L connected at a peak rate of 144 Mbps at all locations, minus location 4 where the rate dropped to 130 Mbps.
Moving to 40MHz, the 868L pulls in 300 Mbps at location one, two, three and five, while location four takes in 270 Mbps.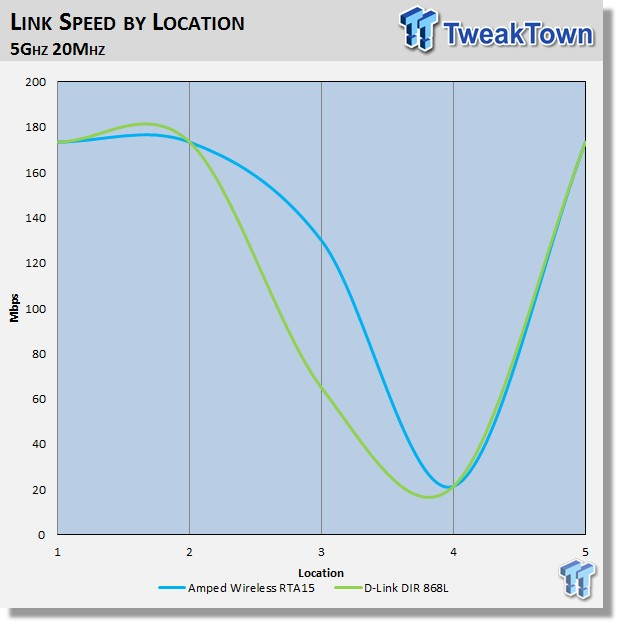 The 5GHz 20MHz band allowed the 868L to connect at 176 Mbps at location one and two. Following this the router dropped off severely with locations three and four eventually returning to 176 Mbps at location 5.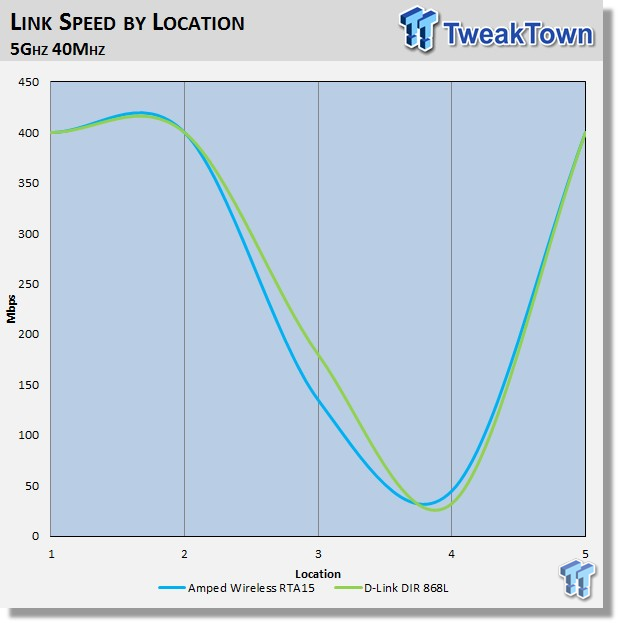 5GHz 40MHz was able to connect at 400Mbps for the first two locations, a drop off ensued thereafter and again returned at location five.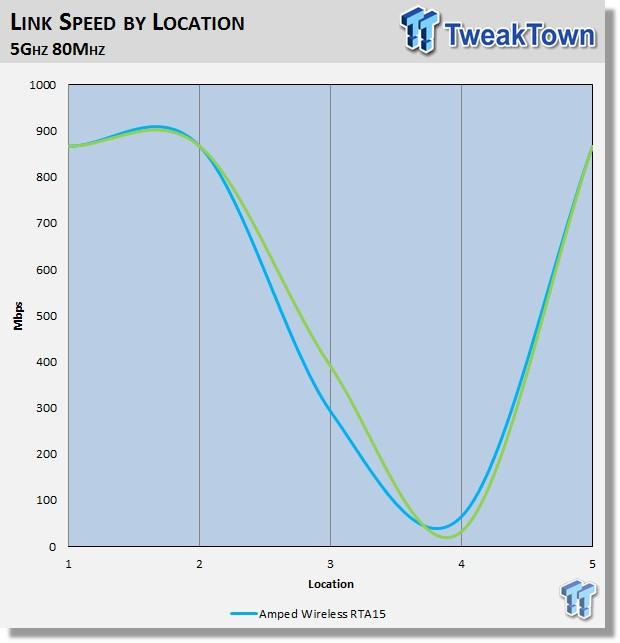 Firing up the 5GHz 80MHz band the 868L connected at 867 Mbps, after which we find the drop off of the 5GHz band.
Power Consumption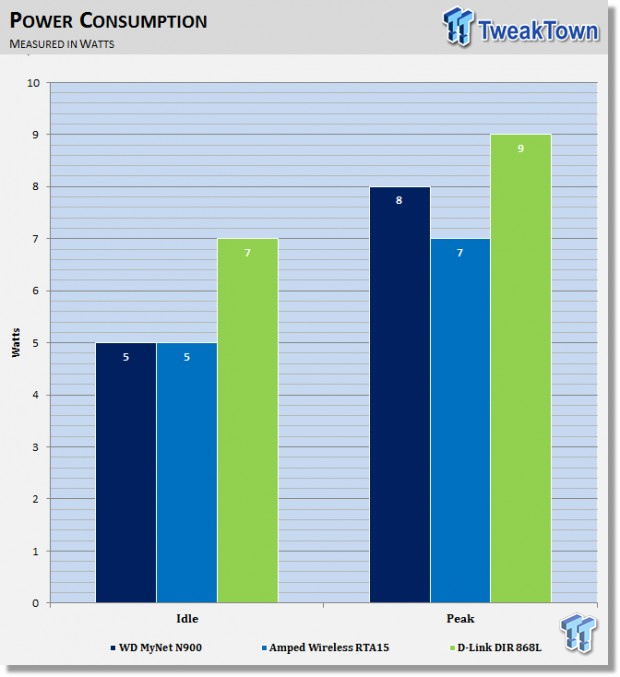 Power consumption figures were taken from our Kill-A-Watt meter throughout testing.
The D-Link 868L peaks at 9 watts, after which the unit idled down to 7 watts.
Final Thoughts
[img]97[/img]
Having not previously touched a D-Link wireless router after the purchase of my 857 802.11n unit a few years back, I was quite surprised at the complete redesign of the "cloud routers". Though, it's not entirely a bad design, it does go away from the typical square form factor we are used to. Whatever the case, I do enjoy the new design as it welcomes the modern art movement into your living space as a functional device.
Performance of the router was a mixed bag. With the 2.4GHz band, we had a great connection with locations 1 through 3, but things took a turn for the worse when we moved outside that 20 foot bubble to location four. The 5GHz band again was exceptional even connecting at 1.3 Gbps in our initial testing, but moving outside the reach of 5GHz, connection rates fell down to a measly 20 - 30 Mbps. Even with that, the D-Link was hands down the best router for connecting to your network from above, on a second floor.
Management features have increased by a fair bit since I last touched a D-Link web UI. Here we have new "cloud" features like myDLINK and SharePort. With SharePort, you can access all your videos, music and photos on the go by connecting a USB storage solution to your router.
Market pricing of the D-Link 868L has the unit at $159.99. Comparable routers in this segment are the Linksys EA6700 at $179.99, the Netgear R6300 at $179.99 and the Buffalo AirStation Extreme 1750 at $139.99.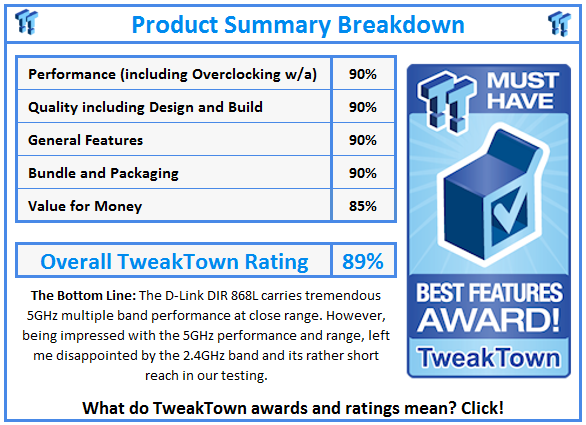 PRICING: You can find products similar to this one for sale below.

United States: Find other tech and computer products like this over at Amazon.com

United Kingdom: Find other tech and computer products like this over at Amazon.co.uk

Australia: Find other tech and computer products like this over at Amazon.com.au

Canada: Find other tech and computer products like this over at Amazon.ca

Deutschland: Finde andere Technik- und Computerprodukte wie dieses auf Amazon.de
We openly invite the companies who provide us with review samples / who are mentioned or discussed to express their opinion. If any company representative wishes to respond, we will publish the response here. Please contact us if you wish to respond.
Related Tags