Introduction, Compatibility and Single Connector Cables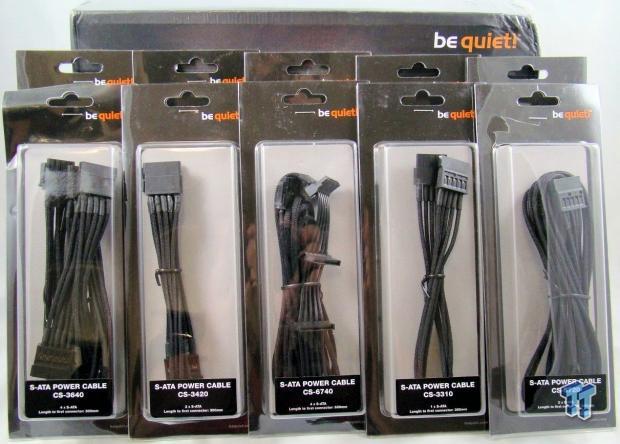 Lately I've been on a mission to uncover many of the unknown accessories that are available for power supplies that few seem to know much about. I frequently get asked about custom cables or alternatives to what comes out of the box with a unit and because they aren't covered directly, many don't know that these cables and accessories are available. Keep in mind that while many of the things that we have covered like these cables from Be Quiet! and the cables from Corsair are either manufacturer or power supply specific.
Some though like the SilverStone cables can be added on to your existing power supply regardless of the make or model.
The power supply cables from Be Quiet! are individually packaged, so you only get what you want when you order them. They are currently unavailable in the States, so if you are reading this and decide you want some, you'll have to source it from somewhere outside the country. Be Quiet! doesn't quite have a release date for these in the USA yet either. As such, keep in mind that the prices listed are via conversion, but our sources tell us that after subtracting the 19% VAT and doing the currency conversion, it will be a good estimate of what they will retail for once they are available over here.
And for those are wondering, that most certainly is a brand new, soon to be reviewed Be Quiet! power supply in the picture above that will show up soon here at TweakTown.
Compatibility
All of these cables from Be Quiet! are specific to their own power supplies. They do not have any add on cables, so you will only be able to use these with a Be Quiet! unit.
Per Be Quiet!'s website, the cables are compatible with "Dark Power Pro P8- , Straight Power E9- , Pure Power L8- or newer / Power Zone all models."
Single Connector Cables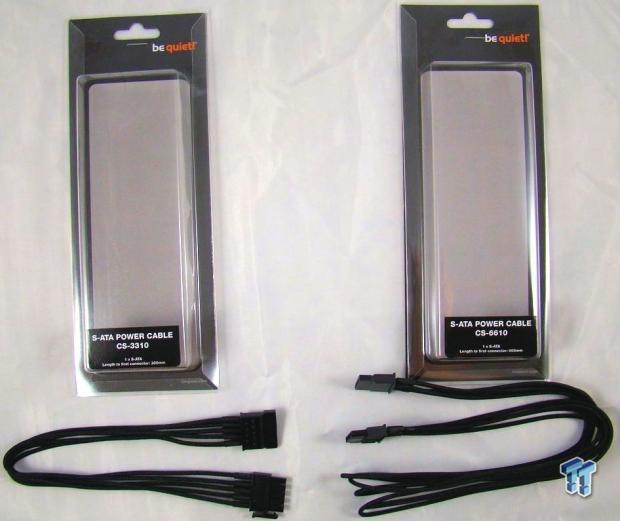 Up first we have the single connector cables. These are perfect for reaching that spot where you only have a single device such as your optical drive or if your case already has a SATA power splitter for the hard drive cages like in the Thermaltake Level 10 GT. They have a 12 inch and 24 inch model.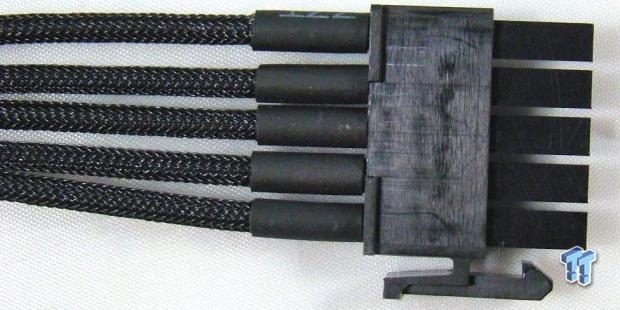 Each cable is individually sleeved with nylon mesh and secured with shrink wrap at each end.
Dual and Quad Connector Cables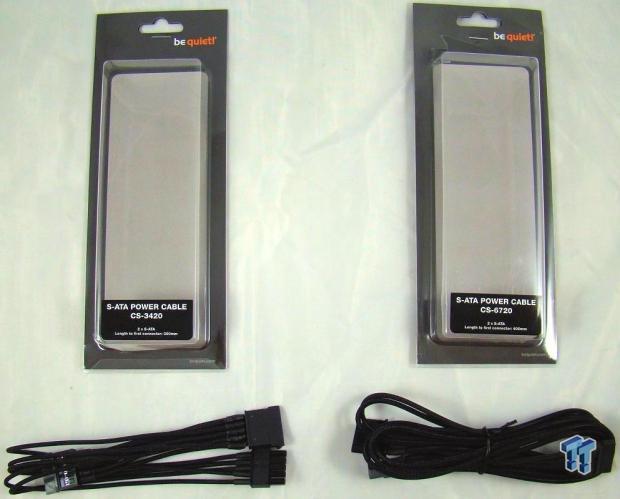 Next up on our list of cables available from Be Quiet! are some dual SATA connector cables. These also come in both 12 inch and 24 inch varieties with a second SATA connector five inches further along the cable.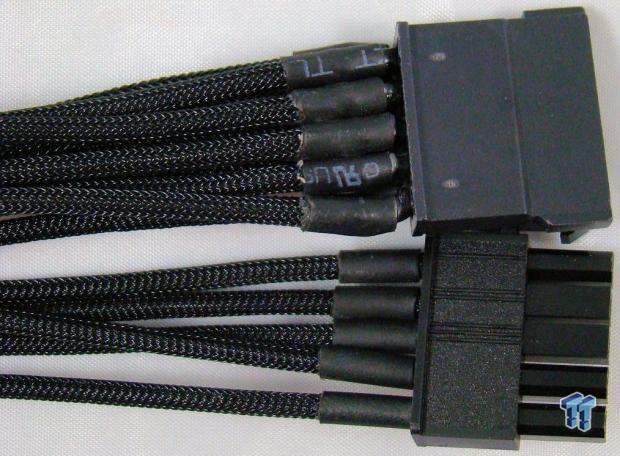 Here you can see the shrink wrap a little better on the ends. These aren't as perfect as what we've seen from others. Also we can see that the shrink wrap doesn't extend all the way down into the connector so it doesn't give the cleanest of looks either.
Quad Connector Cables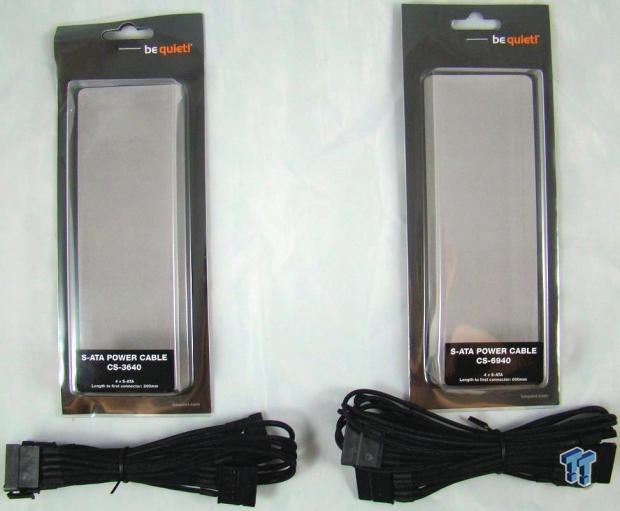 Wrapping up the standard cables from Be Quiet! are their quad connector cables. They are just like the previous connectors that we have seen from them except they have a total of four SATA connectors on them. There is a short and long version like the rest and there is an additional connector every five inches.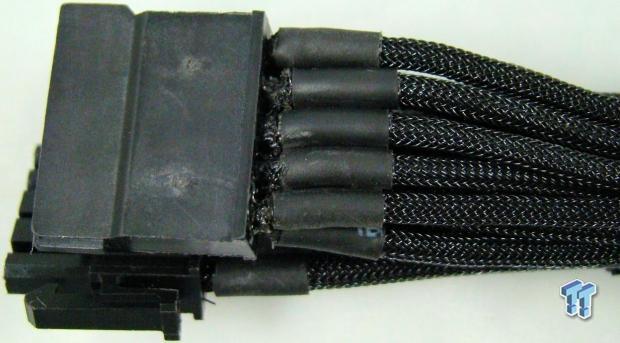 Once again we can see that the shrink wrap doesn't quite make it all the way to the connector. It does, however, do the job at securing the cable sleeving from coming unraveled.
Stacked SATA and Multi-Connector Cables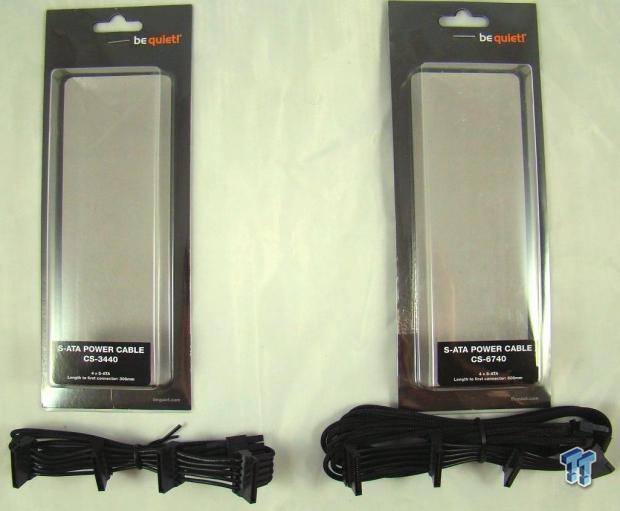 Next up is a look at a few cables that aren't very common, but need to be available for a lot more units. These two cables are meant for hard drive racks as the distance between the SATA connectors is a mere one and three quarter inches. As with all of the other cables that we have seen, they are available in 12 inch and 24 inch cables.

Up close and personal we can see that only the main length of these cables are sleeved and the short spans between the connectors are not. It doesn't detract from the cable's appeal too much, but it doesn't help matters either.
Multi-Connector Cables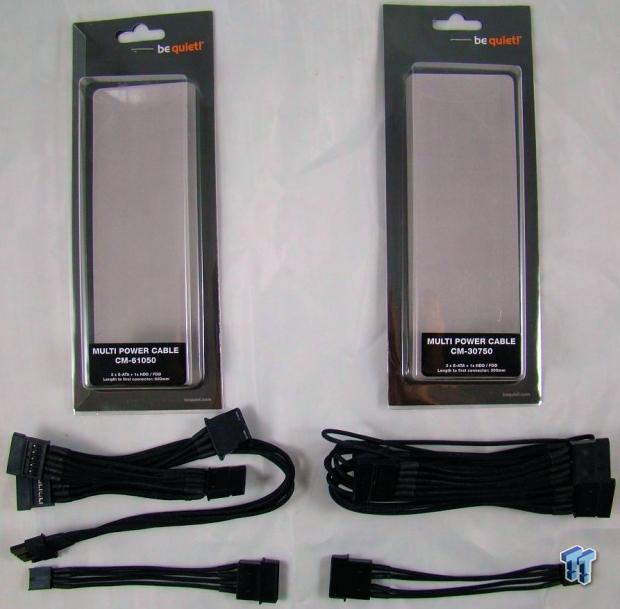 Rounding out the list of additional cables that Be Quiet! offers for consumers are their multi-connector cables. Just as Be Quiet! has done with the rest of their cables, these are available in 12 inch and 24 inch cables with connectors every five inches.

Also included with the Multi-Connector cables is a single Molex to FDD adapter. The only bad thing about this arrangement is that if you need a Molex and FDD connector, it will require another cable since there is only one Molex available. It shouldn't be a problem though as very few things still require either one.
Cable Summary & Prices and Final Thoughts
Cable Summary & Prices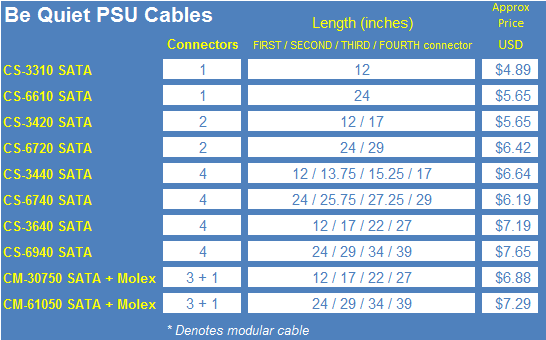 When we wrap all of this up into a single chart, it doesn't seem all that complicated. There is a short and long version of each cable and the lengths are exactly what is needed when trying to keep cable clutter to a minimum. On the downside of all of this is that their cable selection is somewhat limited in that they only offer peripheral cables. It would be nice to see some PCI-E cables in here as well. These cables are also only available in black, so if you're looking for a different color, these cables won't be for you.
Remember at the start I said that we could get some price approximations as to what these cables would cost. If we look at the prices of these at Geizhals, and do the math, we come up with some pretty spectacular prices. As long as this holds true when they make it to the US, we are set to have these cables between $5 and $8 a piece. That is by far the best price that we've seen on these to date.
Final Thoughs
Up until this point, Be Quiet! has thoroughly impressed us with everything that they have had cross our bench. Their power supplies have been fantastic units and we look forward to every chance we get to look at their products. Their selection of cables though doesn't quite represent the same level of quality that we've seen from their power supplies.
A lot of this can been seen in the ends of the cables where the shrink wrap doesn't fit all the way into the connector, the shrink wrap is of various lengths, and the cable selection is limited in that there is nothing outside of black peripheral cables available.
Still though, having custom cables available for purchase is a step above many of the big name power supply manufacturers. You won't find individually sleeved cables available from Antec, Enermax and many more of the industry leaders. A big plus for Be Quiet! is the price that is associated with these cables are phenomenally low all the way around. This isn't set in stone and the prices are sure to vary a little bit when they hit, but we are fairly confident that they are within a dollar or so of what they will be on the shelves.
Hopefully Be Quiet! will expand their lineup in the future and offer a little more variety in both cable selection and color. After that, they will be just as enticing as what we've seen from SilverStone and Corsair.