Supermicro X10SAT Workstation Haswell Xeon Motherboard Review
Supermicro's X10SAT is a versatile workstation-class motherboard that works with Intel's new Xeon E3 V3 product line. Let's take a close look.
Published Fri, Nov 15 2013 8:00 AM CST
|
Updated Tue, Nov 3 2020 7:00 PM CST
Introduction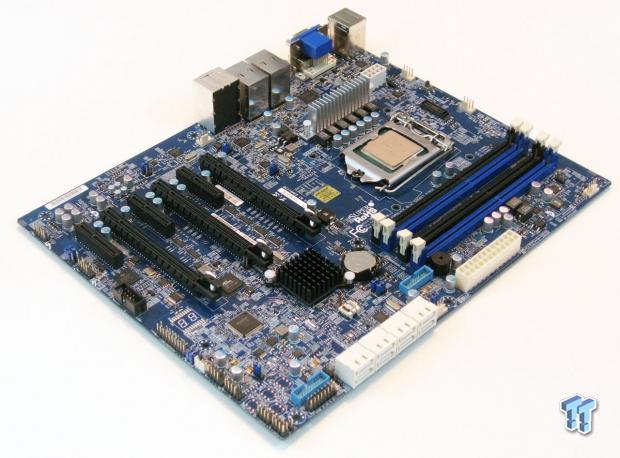 Supermicro released a new workstation board recently, the X10SAT, and we are looking at it today. The board is loaded with features that enable it to fit many different roles in the market place. We see this product working as a workstation, industrial PC and even in some situations, an applications server.
These days, small business needs and requirements are more demanding and applications require systems that are more powerful. Well thought out systems, designed to meet these requirements must perform well, but also do not need to cost high amounts of money. So naturally, a business needs to purchase systems that will be powerful enough, have expansion options for the future and have low running costs.
Supermicro is one of the leaders in server motherboard manufacturing and has developed technology using high quality designs and component that provides systems that are powerful and can fill a wide range of roles in the work place. On top of that, Supermicro builds motherboards that simply just work, and work well.
When deciding on a workstation motherboard, many factors come into play. You should consider support and longevity of the product. There is nothing worse than finding out that the system you purchased today will not support options you decide to add on later. Supermicro provides software updates and excellent customer service so your motherboards will have a long lasting value.
Considering Supermicro's history in motherboard designs of all kinds and the release of the new Intel Haswell CPU's, they have come up with a motherboard that will prove to be a solid performer in the marketplace and give users a high performing system with great value.
To allow many different setup options, the X10SAT has the ability to use both ECC and non-ECC RAM, which allow a greater flexibility in system setup and costs. In addition, three PCIe 3.0 slots give even further options to expand graphics or network cards depending on the requirement of the user.
Let us take a closer look at this new Haswell Xeon supporting workstation motherboard from Supermicro.
Motherboard Specifications
Specifications for the Supermicro X10SAT motherboard are as follows.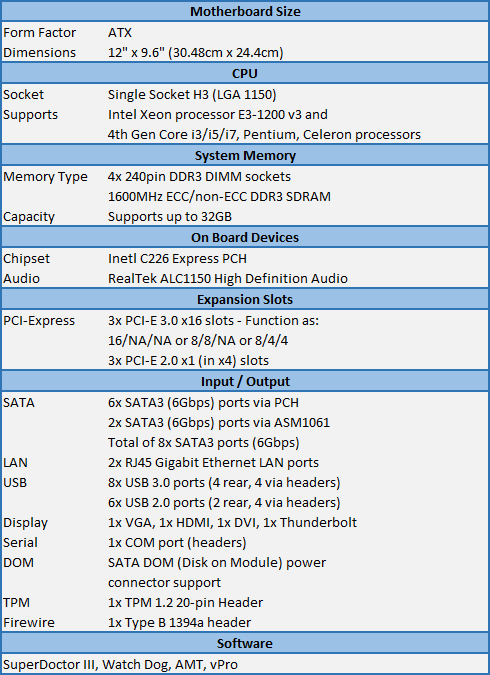 We really like the ability to use ECC or non-ECC RAM on this motherboard, we only wish we could use faster RAM kits.
As you see by the specification list, the X10SAT is a powerful workhorse with lots of options available to the user to expand the system.
It not only can handle a large amount of storage with six SATA 3.0 connectors that can run a RAID setup, but it also has the ability to add a high-end video card, and even a high-speed network card, and that means that this system can grow to fit many different roles.
Motherboard Layout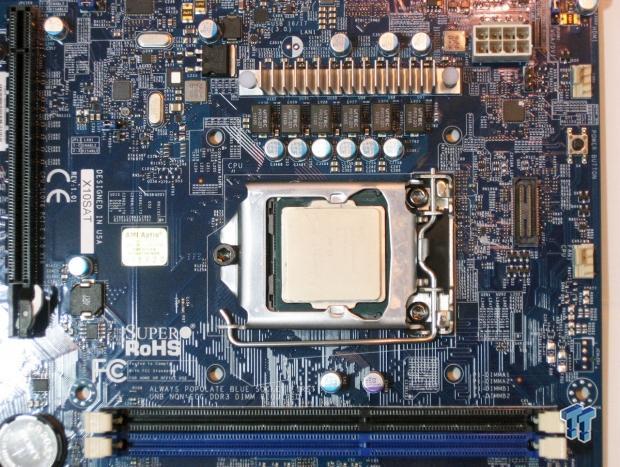 Here we see the main CPU socket area, which is a little bit tight next to the DIMM sockets and the power circuit heat sink. The RAM sockets are orientated across the motherboard and coupled with a close fit for the CPU heat sink, this might cause an airflow problem, but in our testing this was not really an issue.
Just to the right of the CPU socket you can see the Trusted Platform Module/Port 80 Connector. Located at the top right you can see the onboard power switch, which is a nice extra feature to have.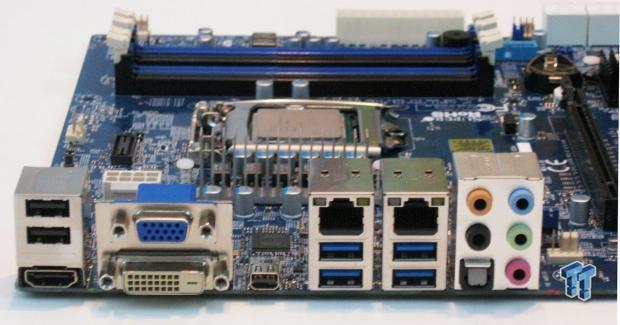 The back I/O panel has a standard layout and includes a CMOS reset button down in between the Thunderbolt port and the first USB/Network stack. We like the idea of having a CMOS reset switch on the back I/O plate and this one has a small button so you do not hit it by mistake.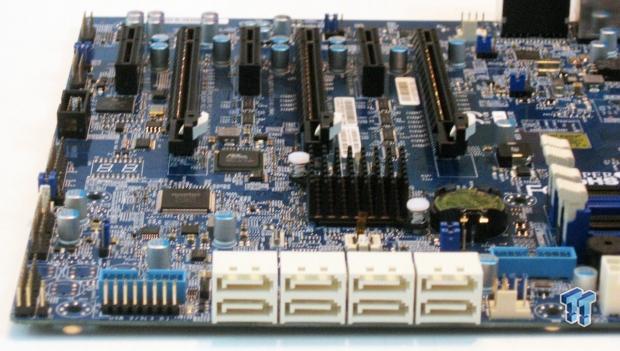 On the front of the motherboard you can see eight SATA3 ports. From left to right are the six SATA3 ports via PCH (RAID 0, 1, 5, 10) and the ASM1061 controls the last two SATA3 ports on the far right.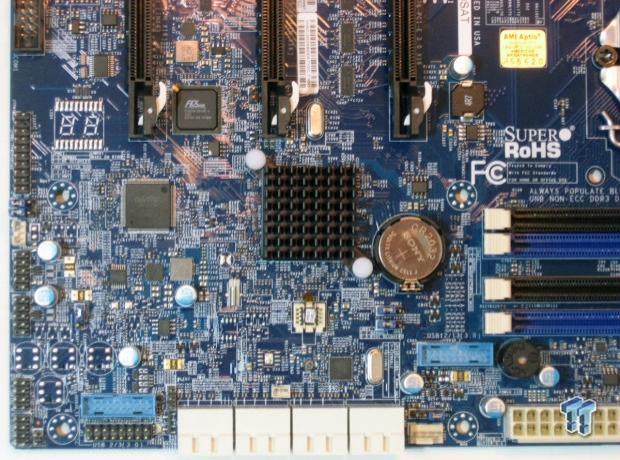 Here is a front left top down view of the X10SAT, which shows the various header locations and the Intel C226 chipset heat sink location. Just below is the BIOS chip, which is in a socket for easy replacement, if needed.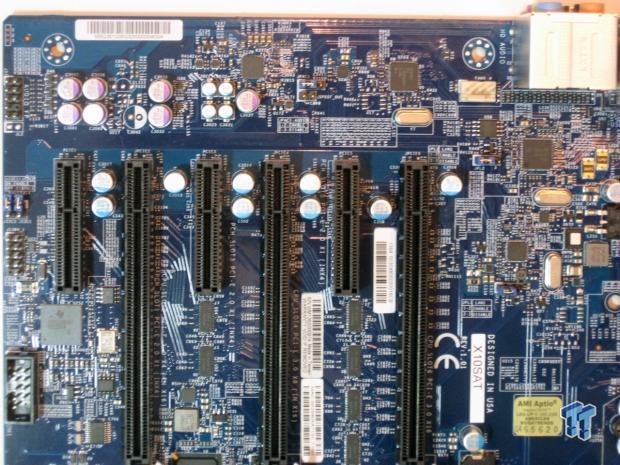 The upper left side of the X10SAT shows again a standard layout with a few jumper to note. On the right side, you can find two blue jumper blocks, which allow you to disable LAN ports 1 and 2, if you need to.
Over on the left side you can find two, blue jumper blocks and these allow you to enable the PCI SMB (System Management Bus), which improves system management for the PCI slots, these are disabled by default.
BIOS
The BIOS screens listed here are pretty much your standard Supermicro BIOS screens to support this platform. We will just take a look a few screens that show some of the features with this motherboard.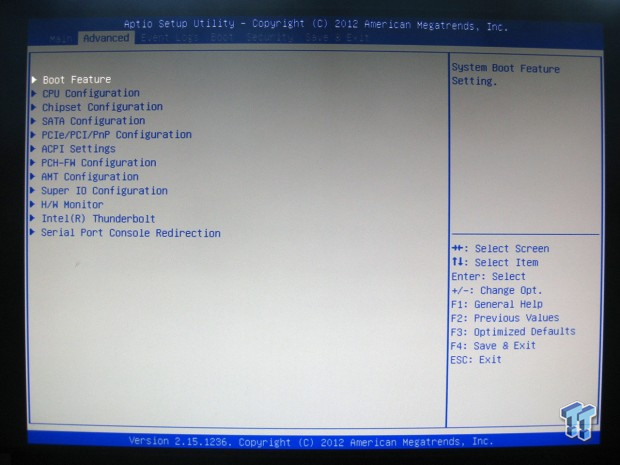 Here we see the main Advanced Tab and adjustable settings.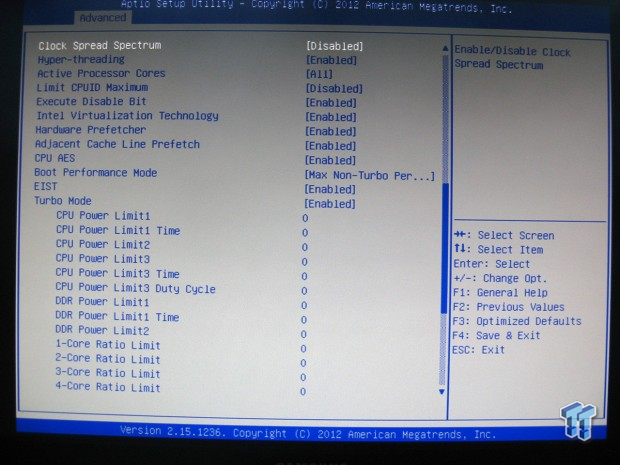 This is the first part of the CPU tab.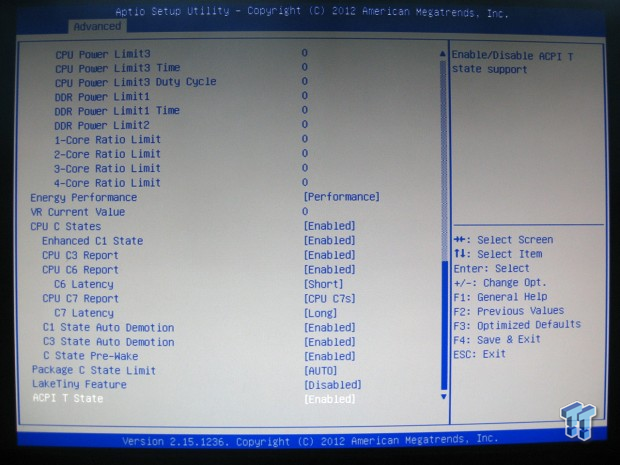 The second part of the CPU tab.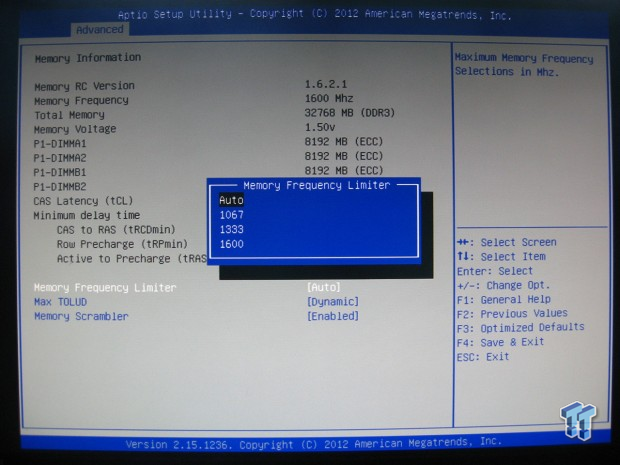 Under the Advanced / System Agent tab, we find the memory configuration options. Options available for memory speed: Auto/1067/1333/1600.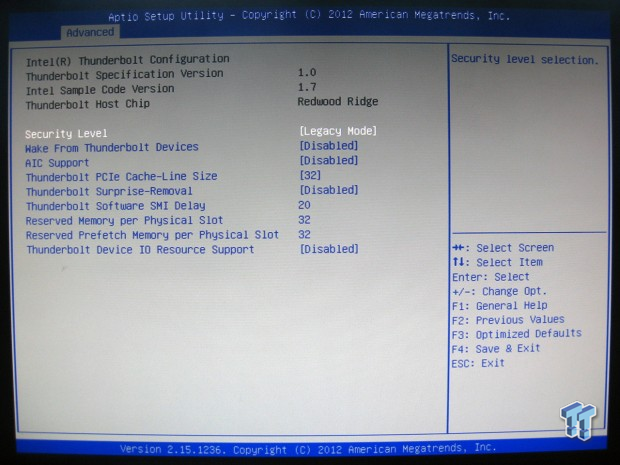 Under the Intel Thunderbolt menu, we find the options available for Thunderbolt devices.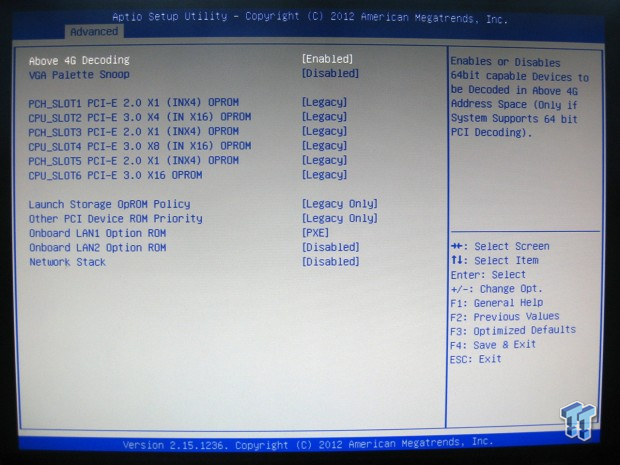 In addition, under PCIe/PCI/PnP Configuration menu, we can see all the options available that you would expect.
Test System Setup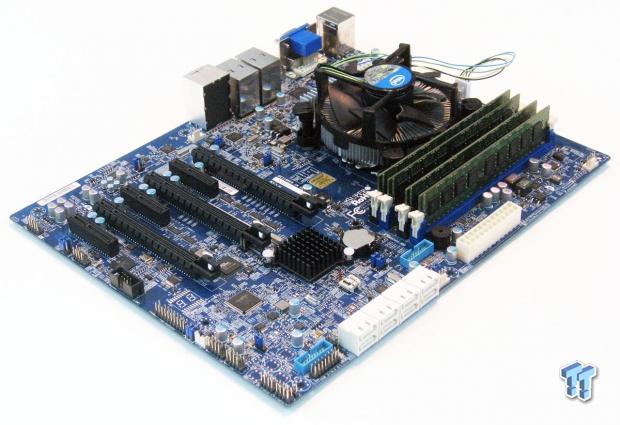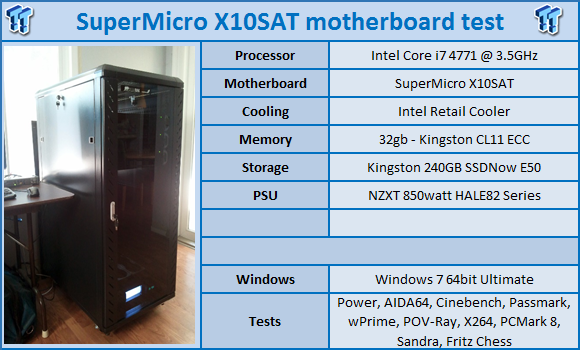 Special thanks to Supermicro, NZXT and Kingston for their support!
The test setup configuration is typical for a workstation or server. The power supply used in these test is much higher wattage than needed for these tests. A 400-watt PSU would be more than enough to power a system like this.
The CPU used in these tests is an Intel Core i7 4771 @ 3.5GHz. We also showed a Xeon processor E3-1285 v3 (8M cache and 3.60GHz) to use as a comparison in performance. The memory installed is 32GB of Kingston CL11 1600MHz ECC RAM.
For all tests that were run, we used optimized BIOS settings for the i7 4771, this includes speed step and other settings turned on to reflect how a system would be used in a production environment.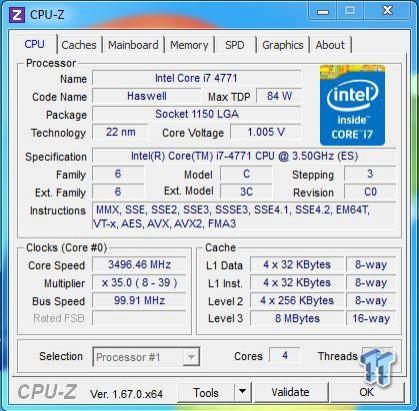 This is the CPUz screen showing the various stats of the i7 4771. As you can see, this CPU has a Max TDP of 84 watts and core voltage of 1.005V, which means this CPU runs nice and cool under low voltage.
System Benchmarks
PCMARK 8 is the latest version in the series of PC benchmarking tools by Futuremark. Fully compatible with Windows 8 and can be run under Windows 7.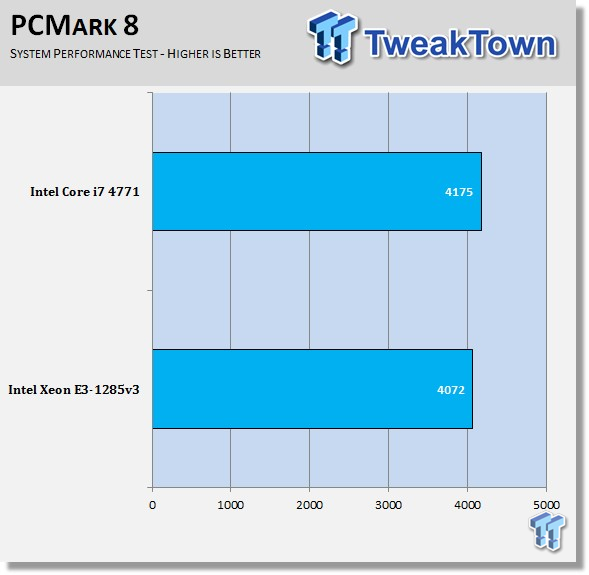 As you can see in the PCMark 8 tests, both the i7 4771 and E3-1285v3 are very close in performance with the i7 4771 getting slightly better results. These two CPU's are very close in specifications with only 100MHz different in stock and turbo speeds.
SiSoftware Sandra 2013 SP6 is the latest version in the series of PC benchmarking tool by SiSoftware. Sandra 2013 tests the performance of your PC by running a whole series of tests ranging from CPU, Memory, Storage, and Graphics benchmarks to come up with a final number as a rating of the systems performance.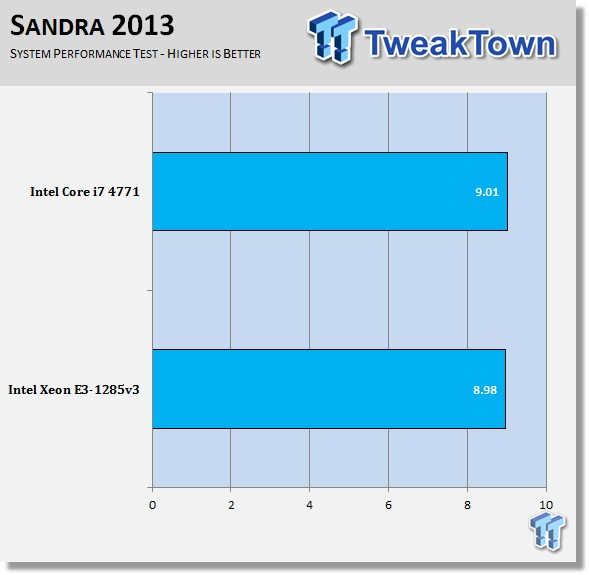 Again, we see only a slight difference between the two CPU's. As usual, running these tests multiple times will net slightly different scores so these CPU's are about equal in this test.
Passmark performance test runs 32 tests ranging from CPU, 2D & 3D graphics, disk and memory tests to come up with an overall system ranking that allows you to determine how fast your computer is in comparison with other systems.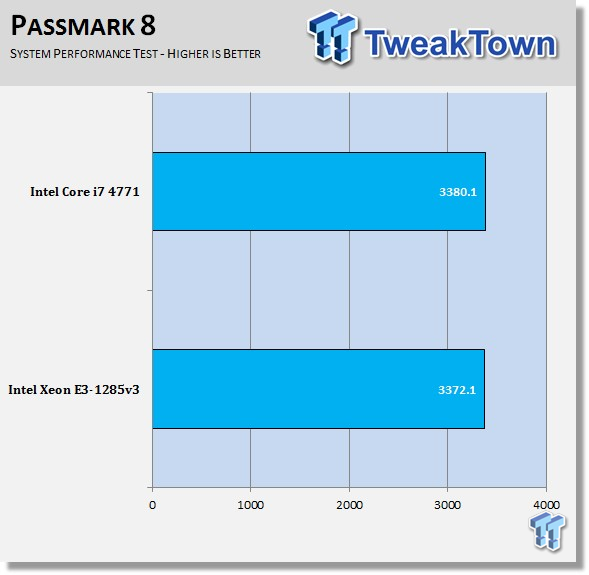 Here we see only a slight difference between these two CPU's, which is something that will be common in the rest of the tests.
DPC Latency Checker analyses the computer system ability to handle real-time data streams. It is useful to find the causes of interruptions in real-time audio and video streams known as dropouts.
Note: DPC Latency Checker does not show the correct results in Windows 8 or Server 2012 systems because of how the implementations of kernel timers operate in these operating systems. We ran each test for 5 minutes and recorded the max latency over this period. Results from 0-1000 are good, while higher than 1000 show that the system might have a problem.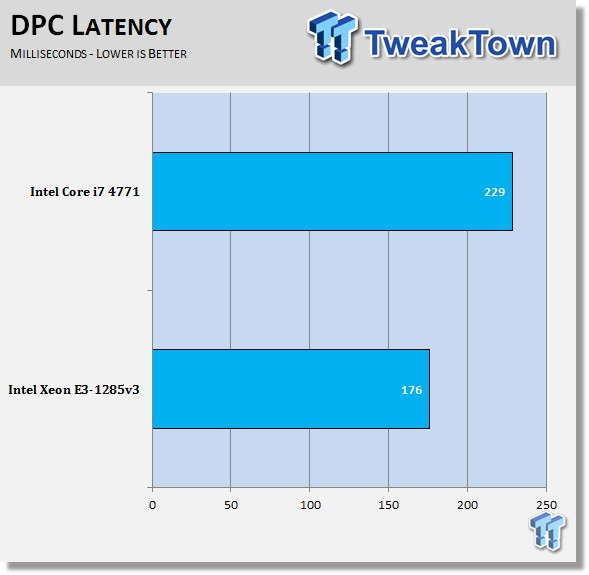 Even though there is a little over 100 point difference here for DPS results, this is very close and well under the 1000 millisecond threshold.
CPU Benchmarks
CINEBENCH is a real-world cross platform test suite that evaluates your computer's performance capabilities. The test scenario uses all of your system's processing power to render a photorealistic 3D scene. This scene makes use of various different algorithms to stress all available processor cores. You can also run with a single core mode to give a single core rating.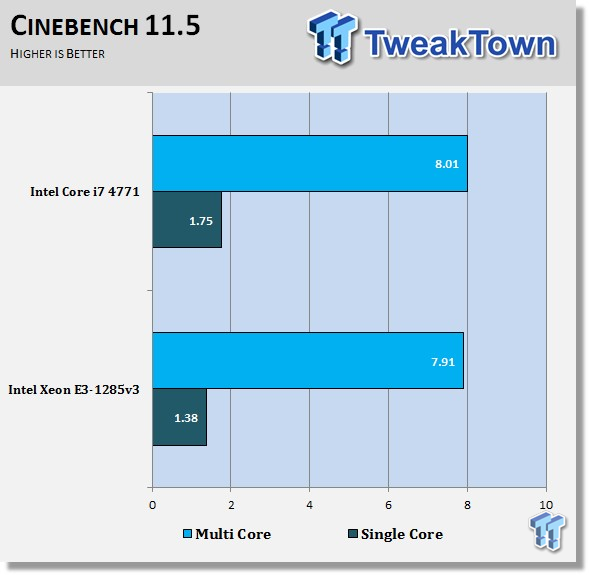 We find very close results, but with slightly better score with the i7-4771.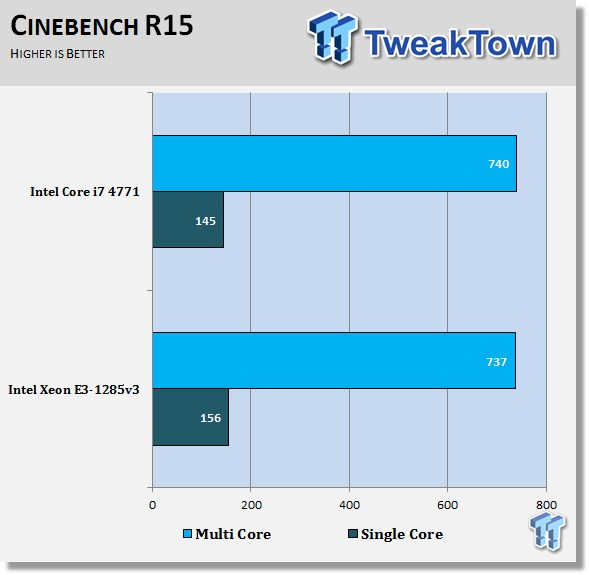 Again we find very close results, but with slightly better score with the i7-4771.
wPrime is a leading multithreaded benchmark for x86 processors that tests your processor performance. This is a great test to use to rate the system speed, also as a stress test to see how well the system cooling is performing.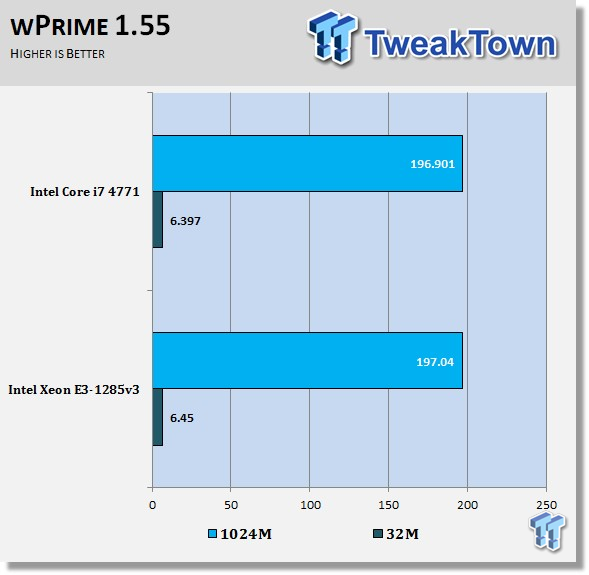 This is a very good test and you can see that these CPU's perform very well.
The Persistence of Vision Ray-Tracer creates three-dimensional, photo-realistic images using a rendering technique called ray tracing. Ray tracing is not a fast process by any means, but it produces very high quality images with realistic reflections, shading, perspective and other effects.
This is a very good test to stress CPU threads and check memory stability and overclocks to see if the system is stable. The latest version 3.6 is a free download and has a benchmark utility that we have run for these tests. Results displayed showing the average PPS (pixels per second) that the render took.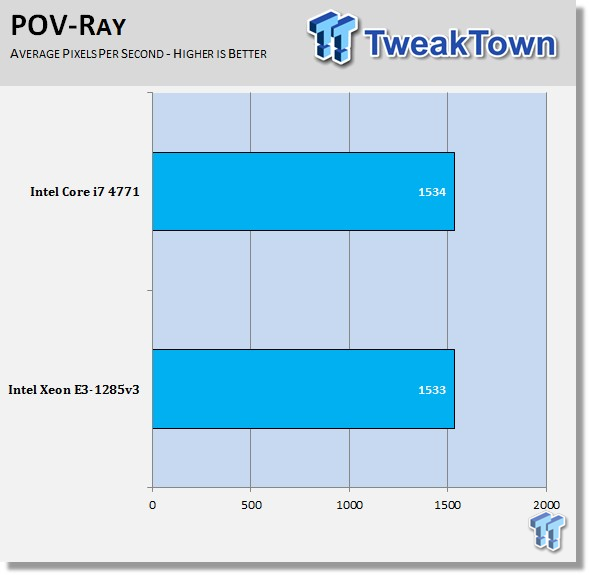 Just a very slight difference in results here that shows for the POV-Ray test results there are almost no difference in CPU's.
X264 HD Benchmark measures how fast your computer can encode a 1080p video clip into a high quality x264 video file. This benchmark uses multi-core/threaded system very efficiently and is a good memory stability test.
Results in this test are the average of each pass performed four times.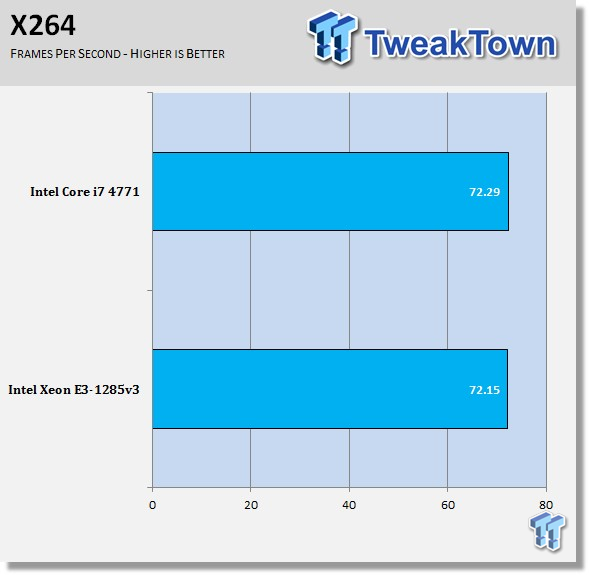 Again, we see just a very slight difference in results between the two CPU's.
A good benchmark to run is Fritz Chess to compare CPU's.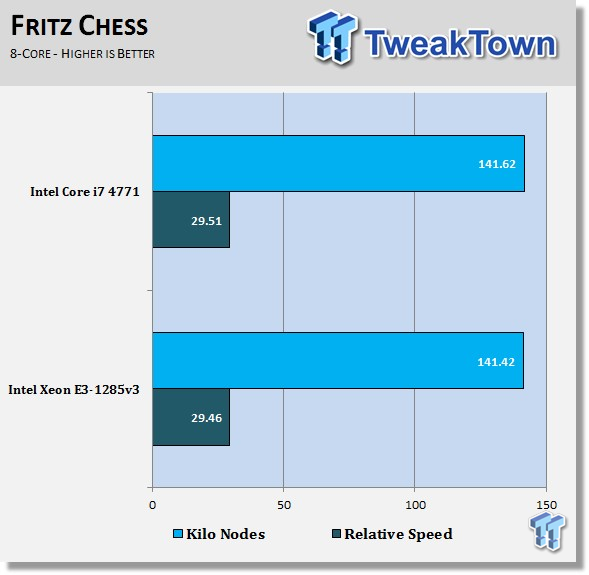 As far as pure crunching power goes, these two CPU's fall right in line with each other, and again show no real difference.
Memory Benchmarks
Memory bandwidth benchmarks (Memory Read, Memory Write, and Memory Copy) measure the maximum achievable memory data transfer bandwidth.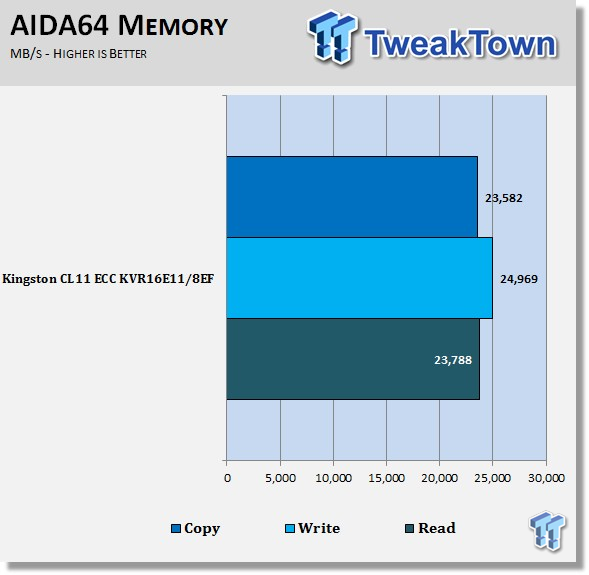 AIDA64 memory tests show the Kingston CL11 ECC 1600MHz RAM kits perform pretty well and provide error correction with a 2-3 percent performance hit vs. non-ECC RAM.
Total System Power Use
We used the WattsUp Pro meter in these tests, which allowed us to measure power use direct from the wall. This meter also uses a USB cable to connect to a computer and Logger Pro software to graph the readings while we ran our tests.
To test total system power use we used AIDA64 Stability test to load the CPU and then recorded the results.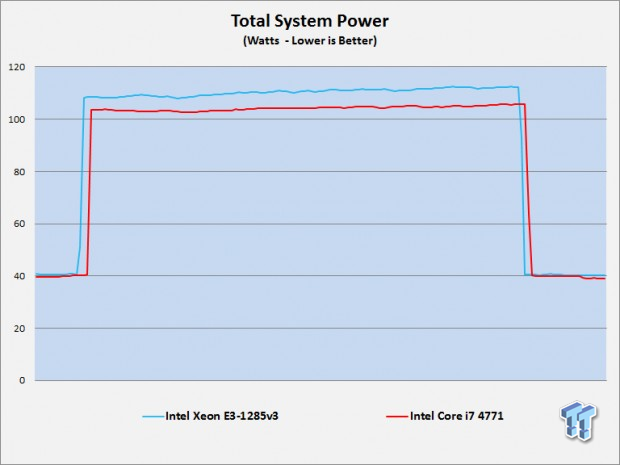 A good feature of both the i7 4771 and E3-1285v3 is the low power use of these CPU's. The chart shows no real difference between the two at idle and max loads, and that is to be expected.
Final Thoughts
When you require a solution that can fill many different application needs, it is nice to have a product that can cover a wide range of requirements. With one motherboard to cover different roles, it not only reduces costs, but also greatly simplifies support needs.
The Supermicro X10SAT sits in a very nice position to be both an entry-level workstation or expanding the load out and turning this platform into a high-end system with lots of powerful options. I think many of us have run systems that at some point in time needed extra storage or attached devices and this motherboard has plenty of options for that.
We really like the fact that these systems would work well in an office environment because of how little noise and heat they produced. Power use is also a concern today and the system tested peaked out at 106 watts under heavy loads, idle power use was about 40 watts. This shows that the X10SAT and the new Intel Haswell CPU's provide a powerful system that has a low running cost, which is very nice.
Another option you always seem to run out of is USB ports. Having eight USB ports gives you plenty of ports to expand the system with from printers to backup drives or just about anything else.
We find little to complain about with the Supermicro X10SAT, except for maybe the BIOS. It is not that the BIOS is bad, but rather it just seems outdated looking. However, it does serve its purpose well and you really do not need to get into the BIOS very often.
SuperDoctor III allows you to monitor systems running headless and vPro technology, which allows you to administer these systems without too much fussing around.
Now the price for the X10SAT looks to be in the range of $250 to $300 depending on where you look. This might be a tad bit high, but you are getting a very solid motherboard, so we do not think it is a real concern at this time.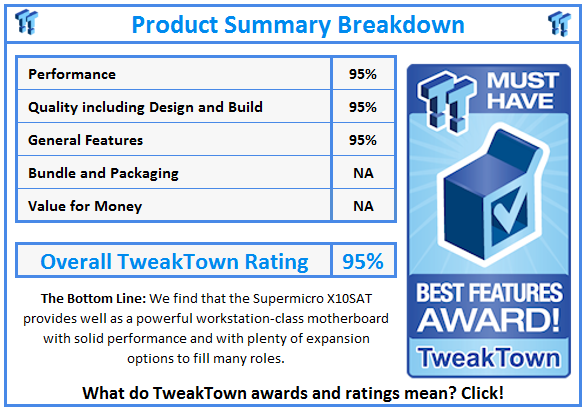 PRICING: You can find products similar to this one for sale below.

United States: Find other tech and computer products like this over at Amazon.com

United Kingdom: Find other tech and computer products like this over at Amazon.co.uk

Australia: Find other tech and computer products like this over at Amazon.com.au

Canada: Find other tech and computer products like this over at Amazon.ca

Deutschland: Finde andere Technik- und Computerprodukte wie dieses auf Amazon.de