SilverStone ST65F-G 650-Watt 80 PLUS Gold Power Supply Review
We take a look at one of SilverStone's lower wattage offerings to see if their low-end is just as good as their high-end. Let's dive in and see.
Published Nov 15, 2013 2:29 PM CST
|
Updated Tue, Nov 3 2020 7:00 PM CST
6 minute read time
Introduction, Specifications, Availability and Pricing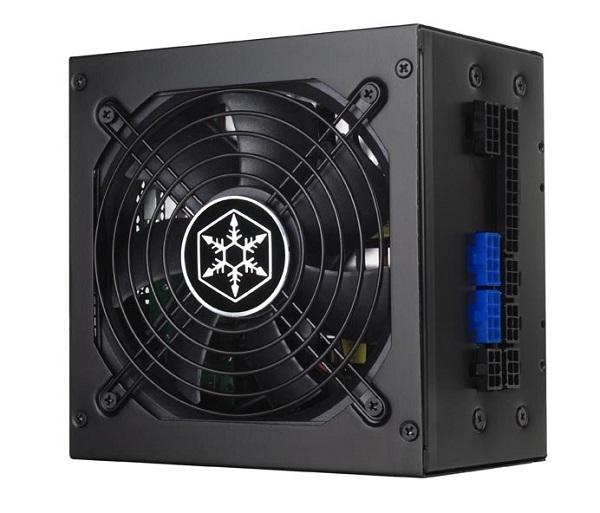 Not too long ago we reviewed the ST45SF-G from SilverStone. It is the smallest power supply we have ever looked at by dimensions and it proved to be quite a special piece of hardware considering its size. While that may have been the smallest power supply that SilverStone offers, it isn't the only lower wattage unit that they have.
Today we have the ST65F-G. This unit has a slightly larger footprint than the ST45F-G, but it is still one of the smallest ATX form factor power supplies on the market. It offers enough power and connectors to take care of a system with dual video cards and does so with 80 PLUS Gold efficiency.
Aside from the size, it shares the same features that we've come to love with the Strider Gold Evolution series of power supplies and as such, we expect this to be a great power supply.
Specifications, Availability and Pricing
SilverStone's ST65F-G features a single 12V rail rated for 54A or 648W of power. The 3.3V rail is rated for 22A, while the 5V rail is rated for 20A. The minor rails are rated for a maximum combined output of 150W. The 5VSB is rated for 2.5A or 12.5W. Maximum combined output for the ST65F-G is 650W.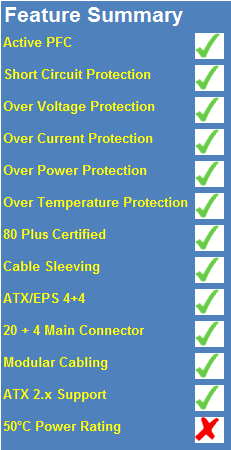 SilverStone has never been one to skimp on the features and the ST65F-G is no exception. The ST65F-G features a full range of protections including SCP, OVP, OCP, OPP and OTP. The ST65F-G is rated for 80 PLUS Gold efficiency. The ST65F-G is a fully modular power supply and all cables for the unit are fully sleeved. Finally, the ST65F-G is not rated for 100% continuous output at 50C, but SilverStone rates it for 100% at 40C.
SilverStone lists the ST65S-G with an MSRP of $124.99. That does make it a little bit more on the expensive side, but you can save a few bucks if you look around. Newegg currently has the unit with a $10.00 mail-in rebate and $5.99 shipping, so you can save about five bucks. The SilverStone ST65F-G has a three year warranty, which we feel is a little short in this day and age.
Packaging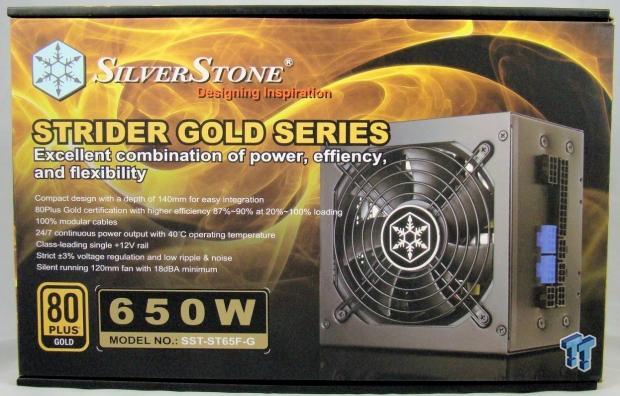 Here we see SilverStone's typical black and gold packaging. The front gives us a quick list of features including that it has 3% voltage regulation and is very quiet.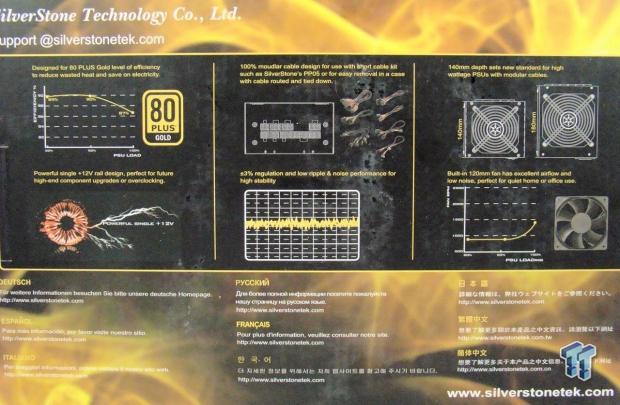 Spinning things around to the back, we see some of the point from the font in more detail with graphs and pictures. We also can tell that the unit is fully modular.
On the top of the box, we are presented with the connectors available with the ST65F-G.

When we flip things over to the bottom, we are presented with a bit more information including the I/O specifications.
Inside the Box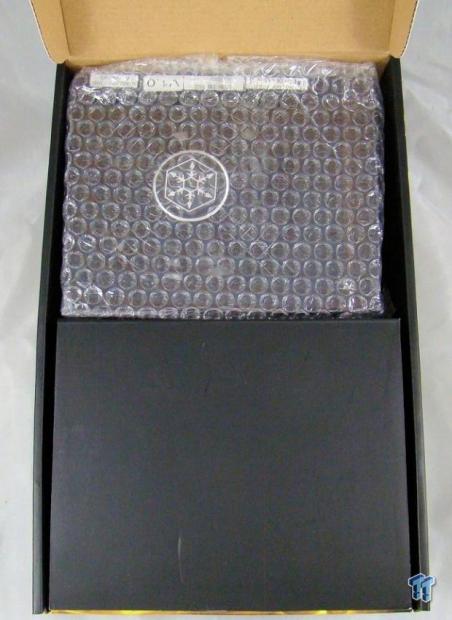 The ST65F-G come packed with some bubble wrap to protect it with all of the accessories segregated by some cardboard.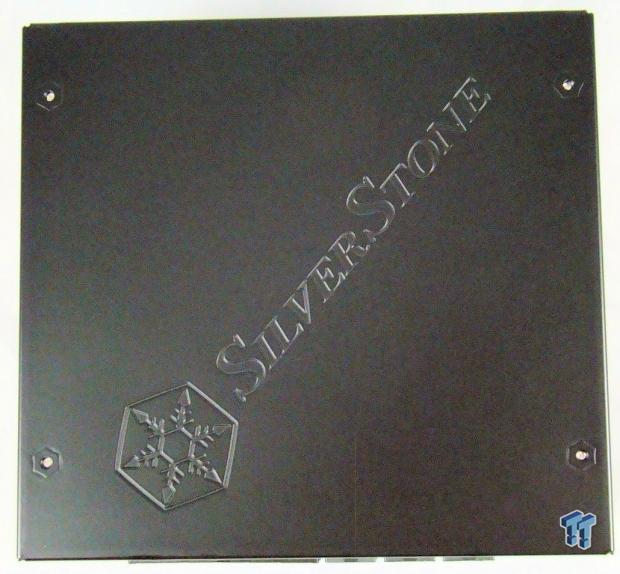 SilverStone's image is stamped into the top of the enclosure. The unit features SilverStone's standard smooth semi-gloss black finish.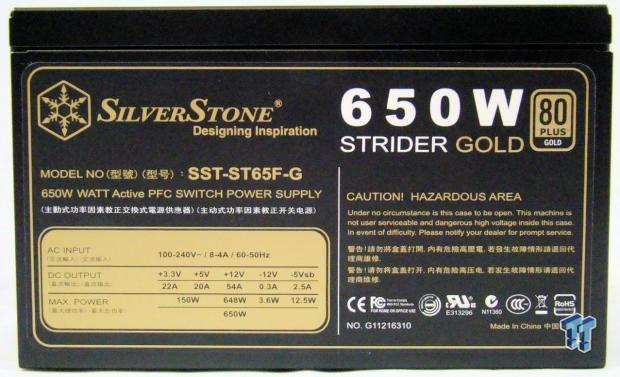 One side of the ST65F-G is blank, while the other features the I/O specifications of the power supply.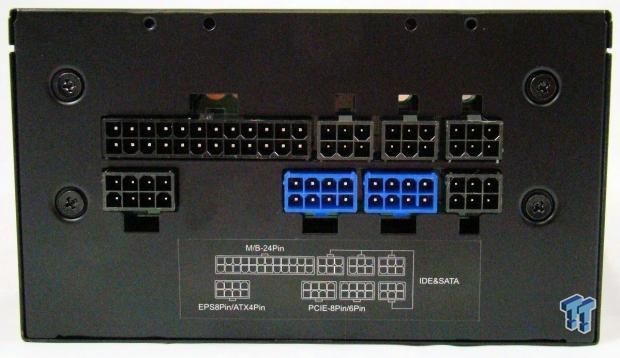 There isn't anything special going on with the front of the unit. The sticker clearly labels all of the connections and the blue connectors correspond with the PCI-E cables.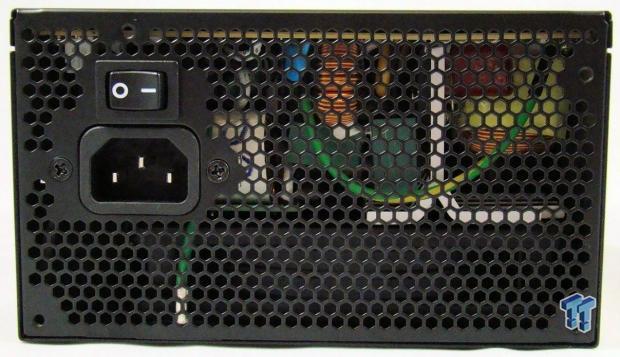 The back doesn't have anything out of the ordinary either. There is the standard honeycomb mesh grill with AC input and on/off rocker switch.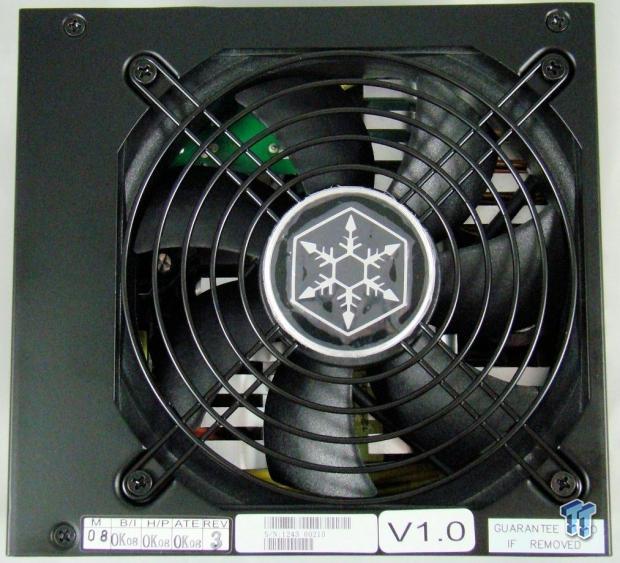 Part of the reason for the power supply being so small is that it utilizes a 120mm fan.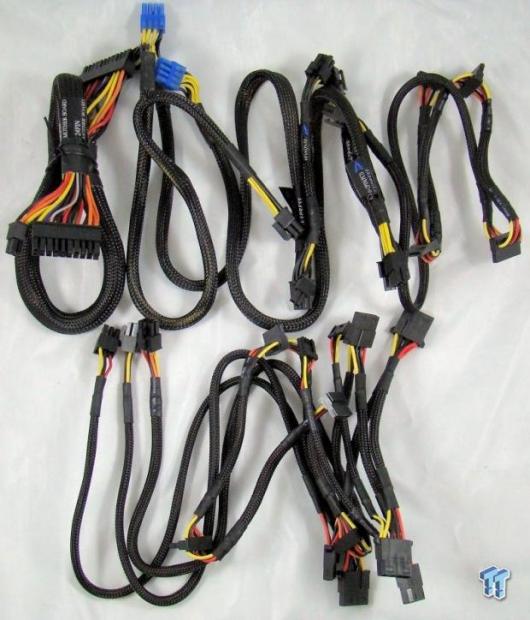 All of the cables are fully sleeved with the exception of about the first inch of each end. This helps greatly with the flexibility of the cables.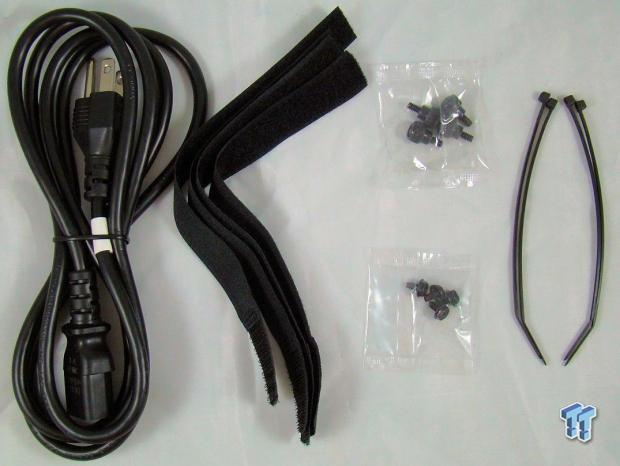 Aside from the standard mounting screws and AC input cord, SilverStone throws in some reusable Velcro cable ties, zip ties and thumb screws as well.
Two manuals are included with the ST54F-G. The one on the left is more specific to the ST65F-G, while the one on the right is more of a generic and universal manual.
Cabling Arrangement and A Look Inside
Cabling Arrangement

Things are kept very simplistic with the cables and connectors. The ST65F-G has a single ATX 4+4 pin connector for the motherboard but features two cables with a pair of PCI-E connectors to support up to two video cards.
Peripherals are handled via four cables that proved eight SATA connectors, six Molex and two FDD connectors. It may not be too much, but it is more than enough to make use of all 650W available.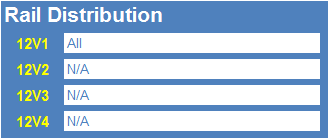 Rail distribution is as simple as it gets with a single 12V rail. There is no need to worry about load balancing here.
A Look Inside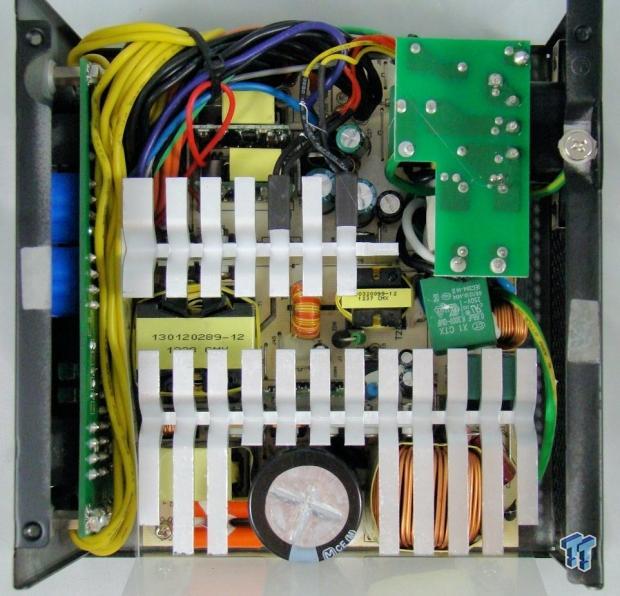 Opening things up, we see a simplistic design with a pair of heat sinks. Smaller units like these don't put off as much heat and don't need any overly complicated cooling solutions.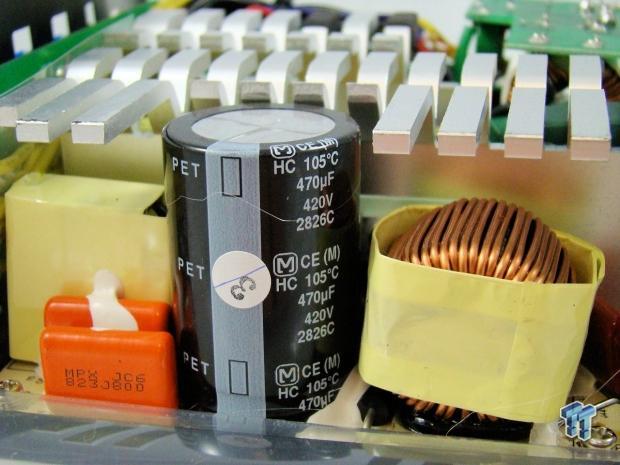 A single Nippon Chemi-con bulk capacitor sits on the primary side of the power supply.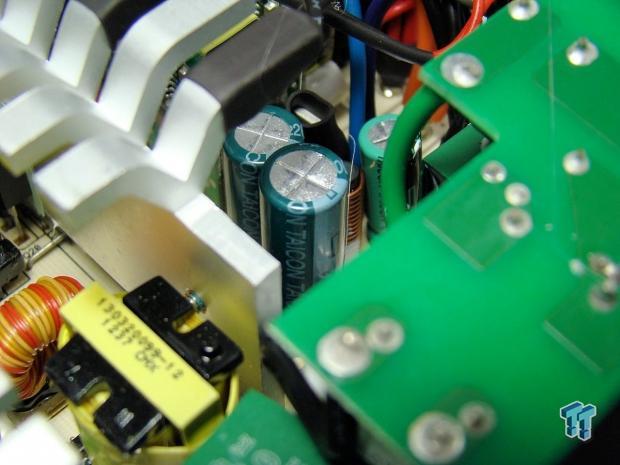 Taicon capacitors adorn the secondary side of the ST65F-G. We don't normally see non-Japanese capacitors from SilverStone.
SilverStone uses the ADDA 120mm fan model AD1212MS-A71GL to actively cool the power supply.
Test Results and Final Thoughts
Test Results
Our load tests utilize a couple of FAST ATE active load testers and a variety of other equipment such as an oscilloscope, power conditioner, temperature probe and a power consumption meter. You can read more about our standard testing approach here.
The tests performed are based around six conceivable setups that are out there and progressively load down the PSU up to the power supply's limits or 1000W, whichever comes first. Since our test equipment's limits are higher than that of the SilverStone ST65F-G 650W power supply, we can test it to the maximum.

The above tests represent typical loads that we have measured from various systems and are meant to give a rough idea of where your computer might fall in line with our tests. Please keep in mind that each system is different and actual loads can vary greatly even with similar hardware.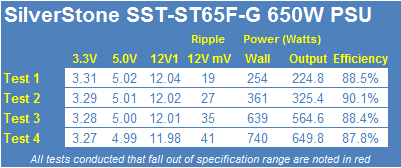 Let's start by taking a look at the voltages to see how well this unit did during testing. Starting with the 12V rail, we see 1% regulation from start to finish with a total drop of .06V. The 5V rail managed to stay within 1% of specification with a total drop of .03V from start to finish. Moving towards the 3.3V rail, we see that regulation was within 1% of specification with a total voltage drop of .04V.
DC Output quality for the SilverStone ST65F-G 650W was good and well within specifications. During Test 1, we saw 19mV of noise on our scope. When we increased the loads in Test 2, the ripple climbed to 27mV right at half load. During Test 4 under a load of 650W, the oscilloscope showed a maximum of 41mV on noise on the 12V rail.
The SilverStone ST65F-G 650W is rated for 80 PLUS Gold efficiency. This means that the power supply must perform at 87%/89%/87% efficiency at 20%/50%/100% loads respectively. As you can see, the SilverStone ST65F-G 650W passed on our bench, and wasn't close to failing at any point.
Final Thoughts
SilverStone has built quite a reputation with us here at TweakTown. Everything that they've shown us as far as their power supplies are concerned have always been top notch. From their heavy hitters like the ST1200-G to their tiny ST45SF-G, their power supplies are great examples of what to look for when seeking a quality power supply.
The ST65F-G is another great unit from SilverStone and it holds up to all of the standard and performance characteristics that we've come to expect. The voltage regulation is superb for this unit. All three rails managed to stay within 1% of specifications, which is something that only a handful of units we've seen have ever been able to accomplish. That being said, we've also seen better noise suppression from SilverStone before and we have to say we had hoped for a little bit better performance here.
We also have not seen any non-Japanese capacitors out of SilverStone before and we can't help but wonder if this attributed to the higher than normal noise on the 12V rail that we usually see with SilverStone's units. It is worth mentioning 41mV is still below half of the threshold specified and we're only even talking about this because of the years of precedent that SilverStone has set forth with the unit's we've had our hands on.
The ST65F-G isn't exactly cheap, either. For a 650W power supply, it is definitely more toward the pricey side and we expected this higher price to provide us with the same build quality that we've seen from them in the past. Overall though, the ST65F-G is a good unit, but it is priced a little bit high for what it offers.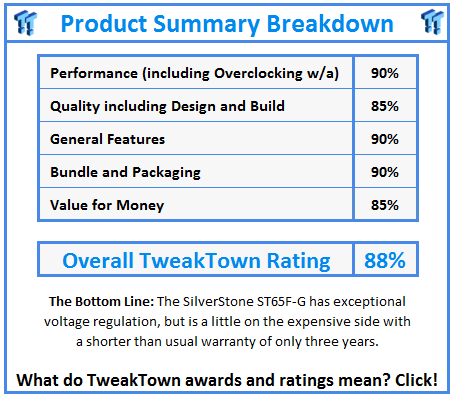 PRICING: You can find products similar to this one for sale below.

United States: Find other tech and computer products like this over at Amazon.com

United Kingdom: Find other tech and computer products like this over at Amazon.co.uk

Australia: Find other tech and computer products like this over at Amazon.com.au

Canada: Find other tech and computer products like this over at Amazon.ca

Deutschland: Finde andere Technik- und Computerprodukte wie dieses auf Amazon.de