OCZ Technology Fatal1ty 750-Watt 80 PLUS Bronze Power Supply Review
OCZ has done a refresh of their Fatal1ty power supply series, but it may not have been for the better. Let's take a close look at the new PSU now.
Published
7 minute read time
Introduction, Specifications, Availability and Pricing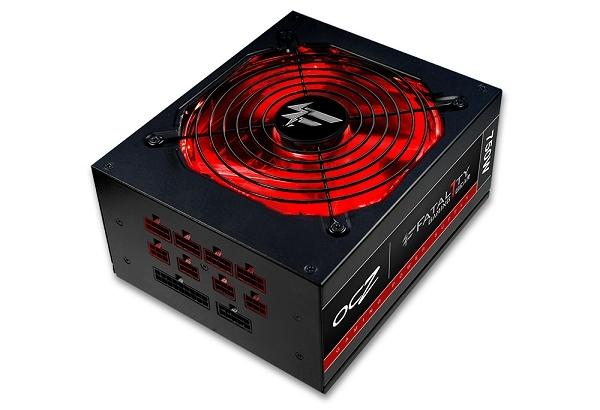 A year and a half ago, OCZ did an update to their Fatal1ty series of power supplies. They took a bold leap and offered the first power supply on the market with individually sleeved cables. On top of that, they stepped up the quality of the unit with better components and increased efficiency. The unit was well received and ended up being a choice power supply for many.
Fast forward to today and OCZ has once again refreshed the Fatal1ty series of power supplies. This time around, they've taken the power supply and given it full modularity. Unfortunately, it doesn't retain the full individual cable sleeving that it had in the previous version. It now features a power cable that is fully sleeved and the remainder of the cables are now of the flat ribbon type.
This seems like a bit of a downgrade and even more so when you consider that the 750W model we are reviewing today is only rated for 80 PLUS Bronze efficiency, when last year's model was rated for Gold efficiency.
The unit still bears the signature of the infamous gamer Jonathan Wendel though, so that has to count for something, right? Keep reading to find out.
Specifications, Availability and Pricing

The OCZ Fatal1ty 750W power supply features a single 12V rail that is rated for 62.5A or 750W, which means the power supply is capable of 100% output on the 12V rail. Both the 3.3V and 5V rails are rated for25A each with a combined maximum output of 150W. The 5VSB rail is rated for 3A of 15W. Maximum combined output for the power supply is 750W.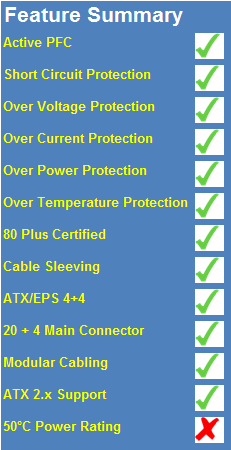 As far as the features go, the Fatal1ty 750W is filled with almost everything that we look for. There is a full suite of protections including SCP, OVP, OCP, OPP and OTP. OCZ had changed from a partially modular to a full modular unit with this iteration of the series. All cables are either fully sleeved or of the flat ribbon type. The Fatal1ty 750W bears the 80 PLUS Bronze certification for efficiency, which is two steps down from the previous generation's Gold rating. Finally, while OCZ does not rate the Fatal1ty 750W for 100% continuous output at 50C, they do rate it for so at 45C.
OCZ lists the Fatal1ty 750W with an MSRP of $109.99. Even though the unit has been out for well over a month, it doesn't seem to have dropped at all. In fact, the cheapest we have been able to find the power supply has been at Newegg, which has it for the $109.99 MSRP, but also tacks on an additional $7.35 shipping fee for a total of $117.34. OCZ backs the Fatal1ty 750W with a five year warranty.
Packaging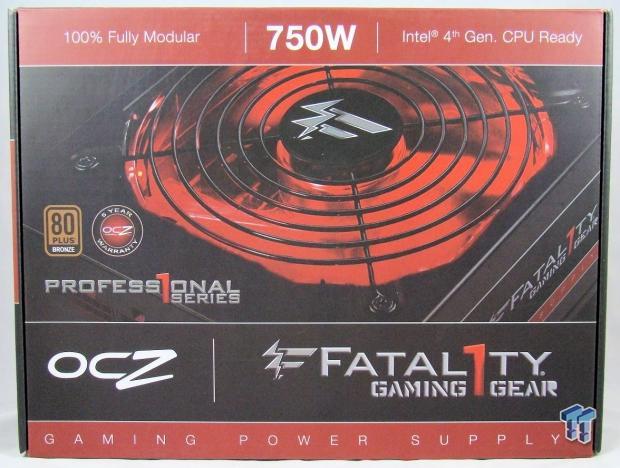 Moving on to the packaging, we find the usual black and red that accompanies everything that is branded with the Fatal1ty name. On the front, the words Professional Series most certainly stand out.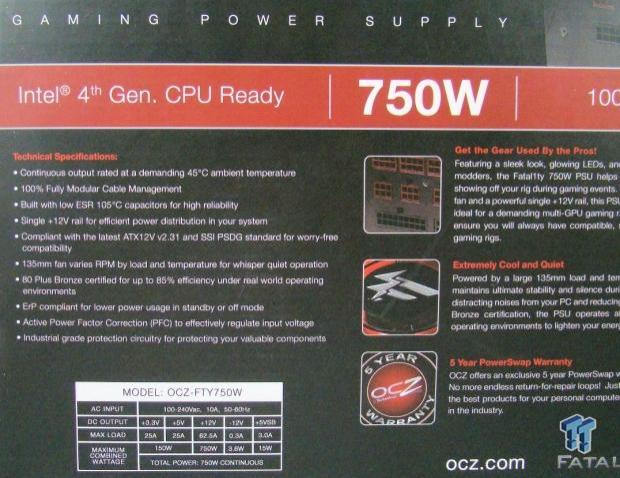 The back gives us some decent information on the unit such as being rated for 100% continuous output at 45C and having a single 12V rail. We also see the I/O specifications here.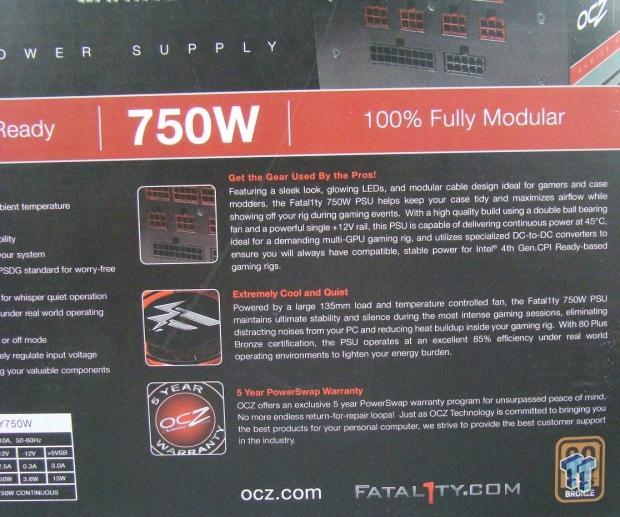 We also find a few more detailed pieces of information. Apparently with this unit you also get "gear used by the pros." We'll have to see about that because the pros that I know use some very high quality gear and accept nothing but the best.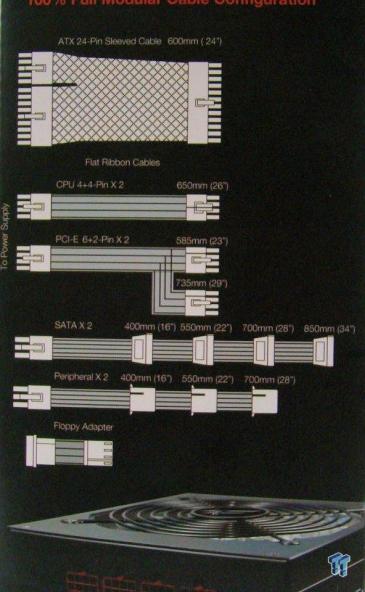 This is perhaps the best cable and connector chart that I have ever seen. It lists cables, connectors, and quantities along with length in both metric and English units.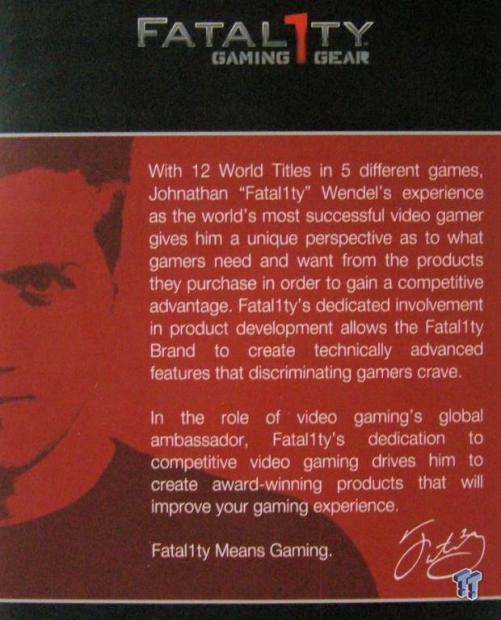 For those who aren't aware who Johnathan Fatal1ty Wendel is, this side of the box does a very good job of explaining it.
Inside the Box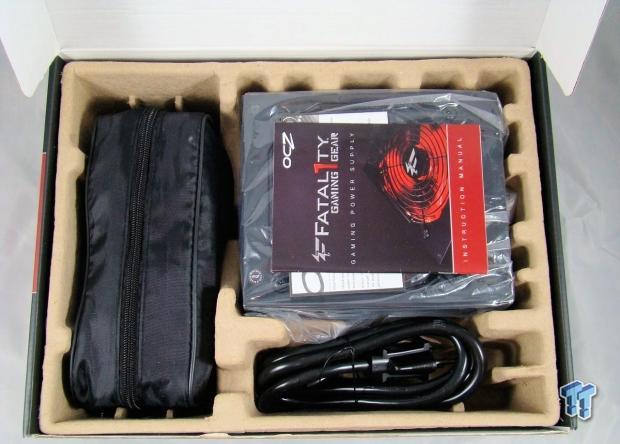 Everything inside is well packed. While it isn't the thickest foam that we've come to love from so many other products, the cardboard still does a fantastic job when used like this.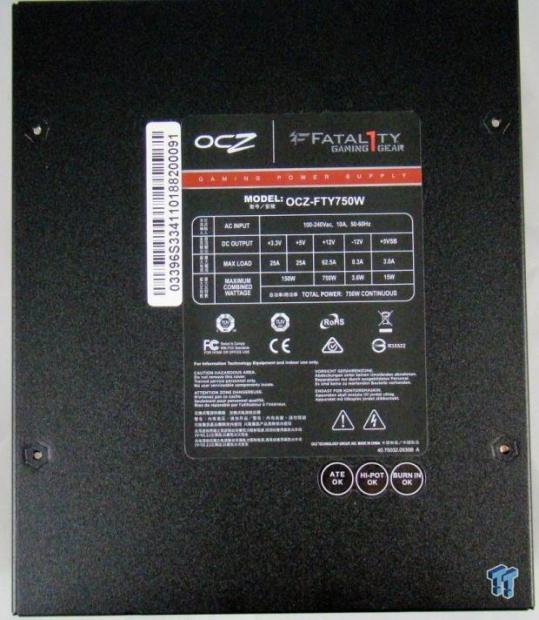 The top of the Fatal1ty 750W power supply features the I/O label and serial number. We can also see the semi-gloss black finish that is on the unit.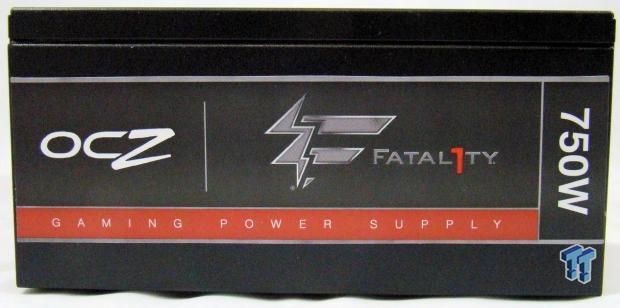 Both sides of the power supply feature the same logo. The other side is simply flipped up down to accommodate being installed in the bottom of the case.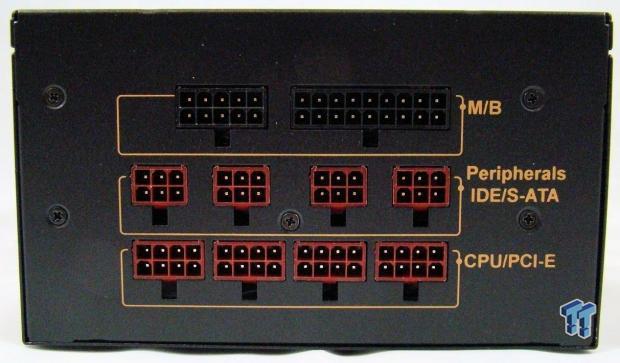 All modular connections are labeled rather well. There will be no confusion when trying to connect cables to the power supply.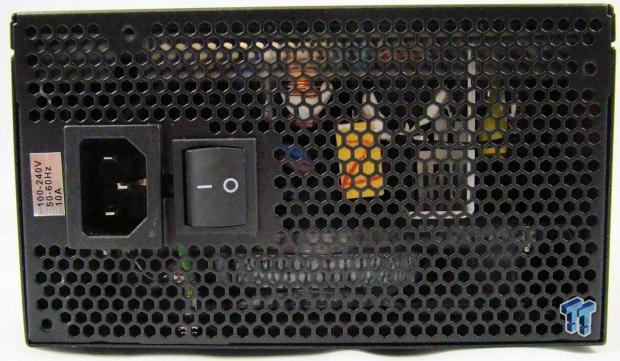 The back features a standard honeycomb mesh grill. Aside from the AC input, we also find a heavy duty on/off rocker switch.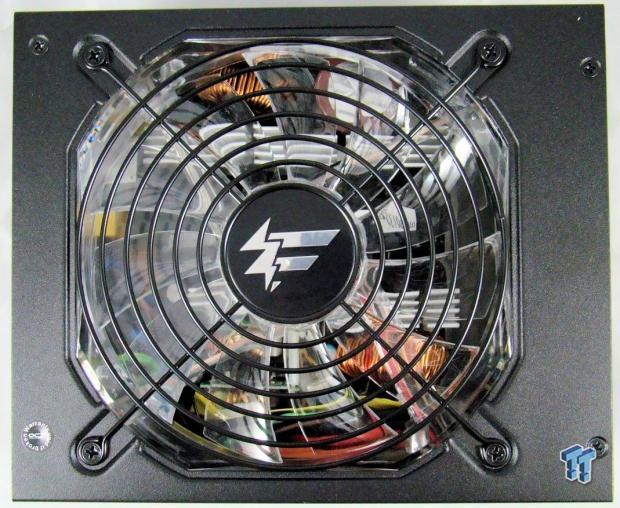 The bottom presents us with a standard wire grill protecting the 135mm LED fan.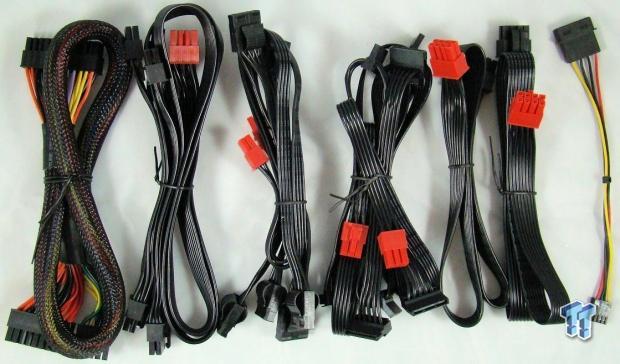 The 24-pin ATX cable is fully sleeved, while the remainder of the cables are of the flat ribbon type.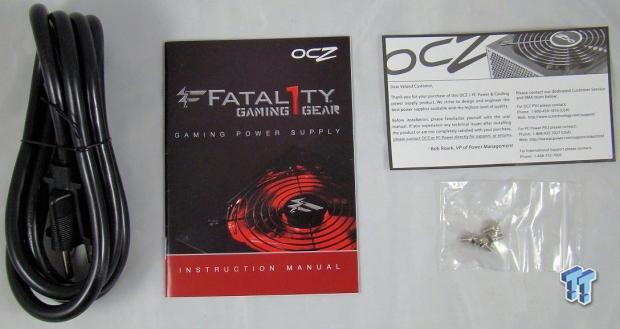 Rounding out the contents of box are the AC input cord, user manual, contact information card and mounting screws.
Cabling Arrangement and A Look Inside
Cabling Arrangement

Cabling for the OCZ Fatal1ty 750W power supply is relatively simple. All cables are fully modular. The power supply features two separate ATX 4+4 cables, which is nice for those who have motherboard that can utilize them.
PCI-E connectors are given in the form of four connectors over two cables. There are also eight SATA connectors split over two cables and six Molex connectors on two more cables. Finally, OCZ has included a Molex to FDD adapter in case it is needed.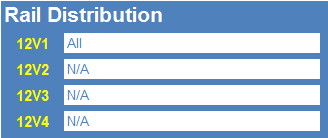 Rail distribution is as simple as it gets with a single 12V rail. There is no need to worry about load balancing here.
A Look Inside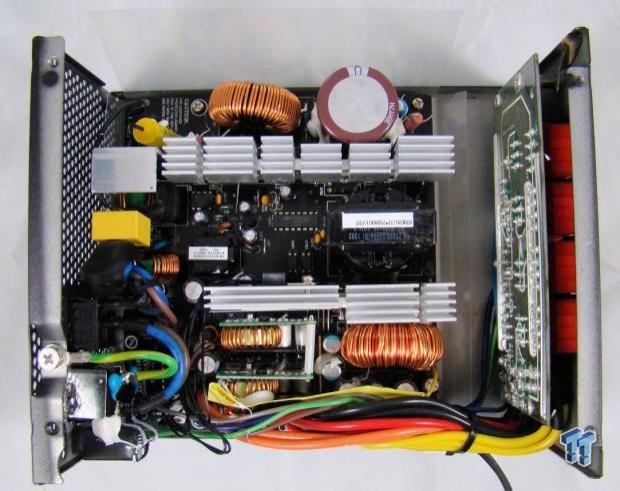 There isn't anything special going on inside with the OCZ Fatal1ty 750W power supply. As you can see, the board is designed to feature a reduced component count and is much shorter than the actual enclosure, meaning that it could be smaller if they wanted to make it that way. There are two heat sinks that run the length of the power supply to provide passive cooling for the unit.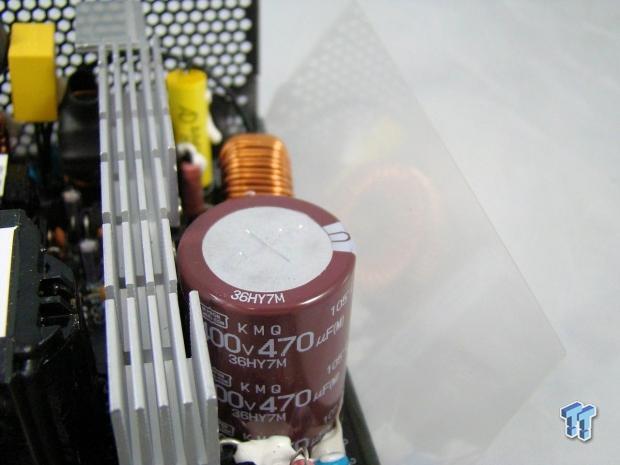 A single Nippon Chemi-con bulk capacitor sits on the primary side of the power supply.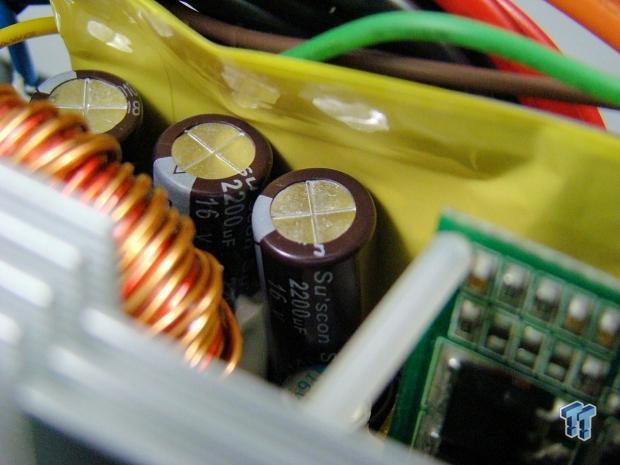 The secondary side is littered with Suscon caps. The few times that we've seen these in the past, we've not had great ripple or voltage regulation results with them.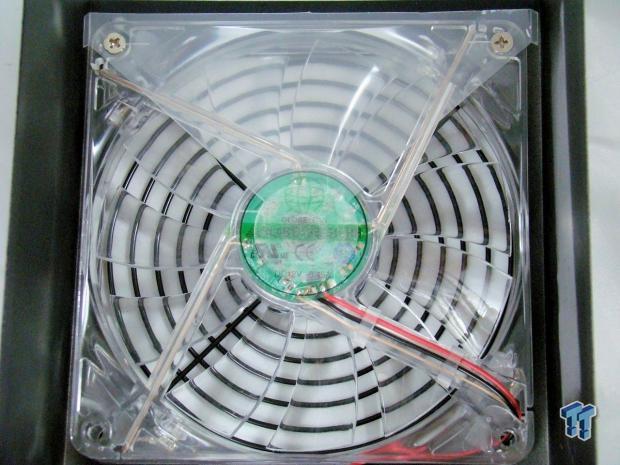 Globe Fan provides the active cooling for the Fatal1ty 750W power supply. It is a 135mm fan, model RL4B B135-512HH.
Test Results and Final Thoughts
Test Results
Our load tests utilize a couple of FAST ATE active load testers and a variety of other equipment such as an oscilloscope, power conditioner, temperature probe and a power consumption meter. You can read more about our standard testing approach here.
The tests performed are based around six conceivable setups that are out there and progressively load down the PSU up to the power supply's limits or 1000W, whichever comes first. Since our test equipment's limits are higher than that of the OCZ Fatal1ty 750W power supply, we can test it to the maximum.

The above tests represent typical loads that we have measured from various systems and are meant to give a rough idea of where your computer might fall in line with our tests. Please keep in mind that each system is different and actual loads can vary greatly even with similar hardware.
Let's start by taking a look at the voltages to see how well this unit did during testing. Starting with the 12V rail, we see 3% regulation from start to finish with a total drop of .28V. The 5V rail managed to stay within 3% of specification with a total drop of .016V from start to finish. Moving towards the 3.3V rail, we see that regulation was within 3% of specification with a total voltage drop of .12V.
DC Output quality for the OCZ Fatal1ty 750W was within specifications. During Test 1, we saw 19mV of noise on our scope. When we increased the loads in Test 3, the ripple climbed to 39mV at a little over half load. During Test 5 under a load of 750W, the oscilloscope showed a maximum of 52mV on noise on the 12V rail.
The OCZ Fatal1ty 750W is rated for 80 PLUS Bronze efficiency. This means that the power supply must perform at 82%/85%/82% efficiency at 20%/50%/100% loads respectively. As you can see, the OCZ Fatal1ty 750W passed on our bench, and wasn't close to failing at any point.
Final Thoughts
Last year, OCZ did a fantastic job in bringing the Fatal1ty 1000W power supply to market and it raised the standard quite a bit as to what we would expect in the future from the Fatal1ty series of power supplies. Not only did the unit perform well, but it was built well and looked great too. Topping it off, the individually sleeved cables on all of the wires was great to see.
This year's iteration of the Fatal1ty series of power supplies just doesn't seem like it is a step forward, but more like a step backward. Taking a look at performance numbers alone, the unit does much worse than what we saw last year. All of the rails have dropped to within 3% of ATX specifications concerning voltage regulation. DC output quality has taken a much worse dive, climbing all the way to 52mV at full load. Making things a little worse is that while the efficiency is right where is should be for the rating the power supply carries is that the rating is two full tiers lower than what we received last year from OCZ.
The build quality isn't particularly fantastic either. When looking at the box, I felt like I was going to be presented with top notch equipment, especially after reading "professional quality" on the front and "gear used by the pros" on the back. I can tell you with utmost certainty that you'll never catch a power supply of this quality in something that the pros use and I'm actually surprised to see something with Suscon capacitors even bear the Fatal1ty name. They show too as the voltage regulation and DC output quality just isn't what we'd hoped to see.
Don't take all of this to mean that the Fatal1ty 750W power supply from OCZ is a bad unit. It is in fact a good unit at a cheap price. Unfortunately, due to branding and marketing, we find that we just aren't being delivered anything close to what we were expecting, and this holds even more truth when we consider what we've been given in the past. We felt that OCZ was really on track with last year's unit and hoped they would build upon that.
Instead we've been given less with less price. There are already plenty of units that can give us less for less on the market though so hopefully OCZ can rectify this and give us something better with the next generation of Fatal1ty units.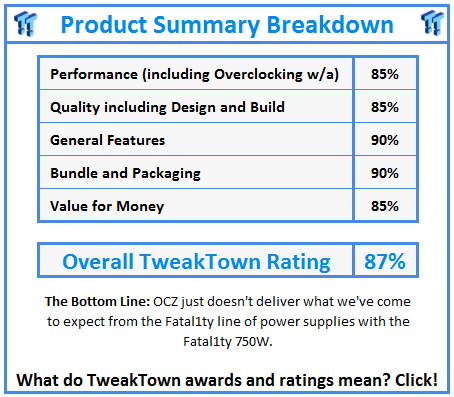 PRICING: You can find products similar to this one for sale below.

United States: Find other tech and computer products like this over at Amazon.com

United Kingdom: Find other tech and computer products like this over at Amazon.co.uk

Australia: Find other tech and computer products like this over at Amazon.com.au

Canada: Find other tech and computer products like this over at Amazon.ca

Deutschland: Finde andere Technik- und Computerprodukte wie dieses auf Amazon.de
We openly invite the companies who provide us with review samples / who are mentioned or discussed to express their opinion. If any company representative wishes to respond, we will publish the response here. Please contact us if you wish to respond.
Related Tags