Introduction & Hardware Specifications and Pricing

Recently, Buffalo announced the launch of the LinkStation 400 series. Delivering 2TB - 8TB of storage capacity, the LinkStation is a plug-n-play solution for those that want easy to setup network storage. The features don't end there though, Buffalo offers a DLNA certified device with the LinkStation 420, making it a streaming solution as well. Additional features include Nova Backup professional for Windows and the inclusion of a Time Machine backup solution for Apple users.
In addition to the tremendous capacity options, the LinkStation also serves as your basic NAS appliance offering data redundancy through RAID 1 and increased performance through RAID 0. A personal cloud service is also offered with each LinkStation with apps available for iOS and Android platforms.
Let's dive in now and take a close look at the 8TB model.
Hardware Specifications and Pricing
Modern NAS servers have moved beyond data storage through a wire network. In order to get the most out of a NAS, you need to look at the extra I/O hardware and the mountain of potential software features.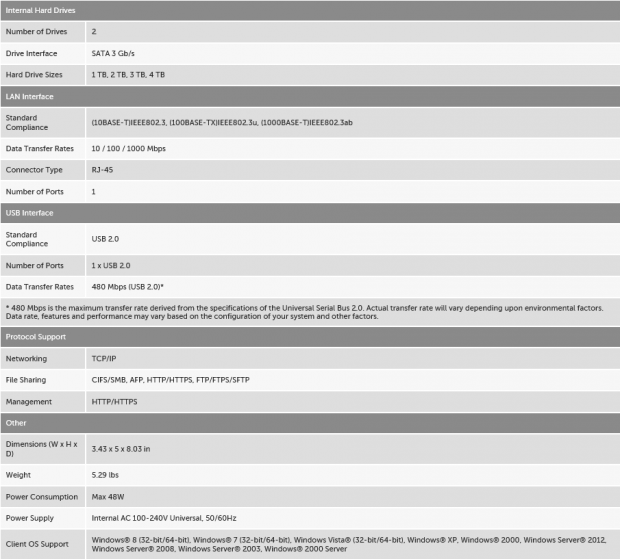 The LinkStation 420 is offered as a two bay NAS appliance, while there is a diskless option, most models come with drives installed. Here we have between 2TB and 8TB of capacity ready to go to serve your needs. Included on the back of the unit is a single Gigabit LAN port with an additional USB 2.0 port for connecting printers or USB based storage. Protocol support includes file sharing options such as CIFS/SMB, AFP, HTTP and FTP.
Pricing of the 8TB Buffalo LinkStation at this time is set at $599.99. Additional capacities are available with the 2TB, 4TB and 6TB models coming in at $249.99, $349.99 and $469.99 respectively. The LinkStation 420 is warrantied for a period of three years.
Software Features
NAS products are equal parts hardware performance and software features. One compliments the other in a balanced product. You need more hardware performance to run more software features at the same time.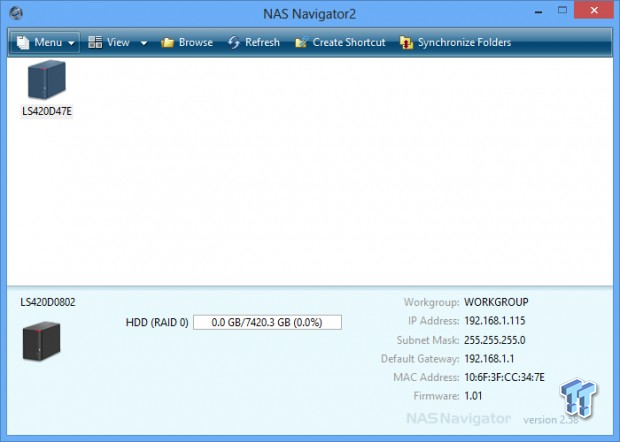 As with most NAS appliances, the LinkStation too has a software "finder" application. This allows quick setup of the NAS to get you off and running in no time.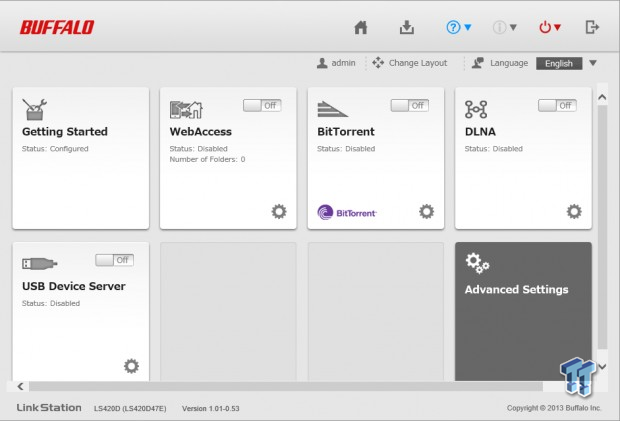 Diving into the web based administration, we have the basic settings menu, with the ability to switch over to advanced mode. From the basic menu you can setup a number of services such as DLNA, BitTorrent and the USB device server.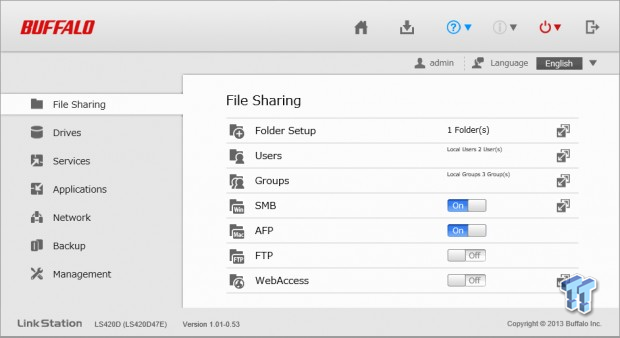 The advanced menu for the LinkStation offers an expanded set of tools to configure your NAS. Within the file sharing menu, you can setup folders for sharing in addition to managing SMB, AFP and FTP services.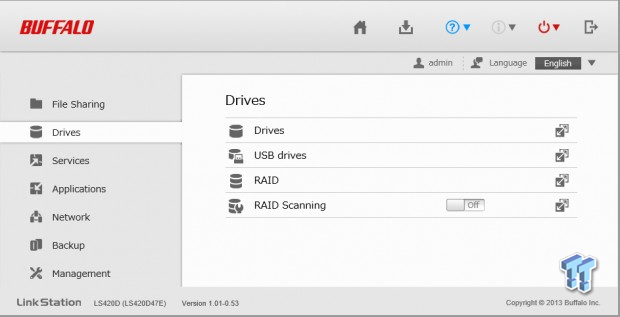 Within the drives menu, the ability to setup USB storage and RAID arrays is made available.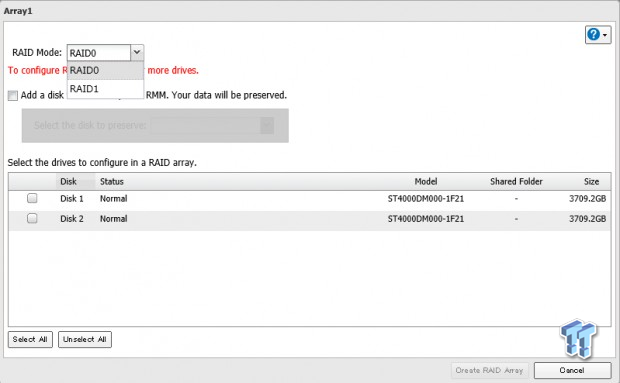 RAID setup options include RAID 0 and RAID 1.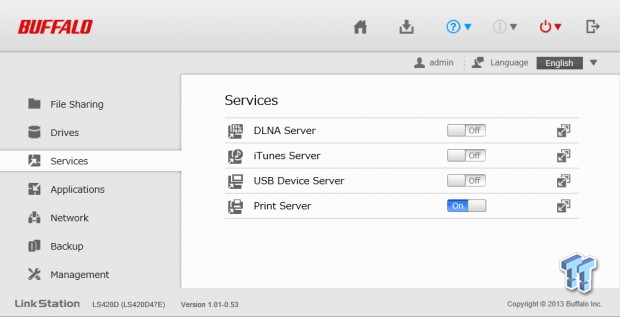 Services for the LinkStation include DLNA, iTunes server, along with the USB device server and print server.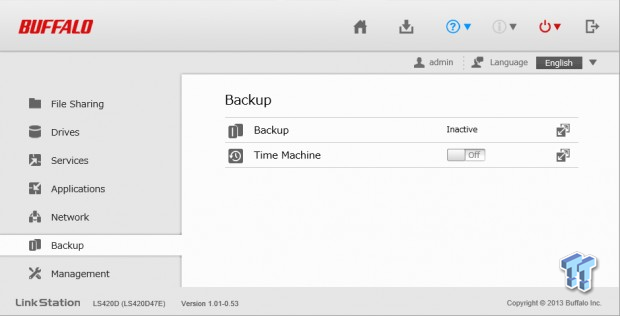 The backup menu allows you to setup Time Machine to backup your Apple devices, and in addition to this we have the standard backup service for Windows machines.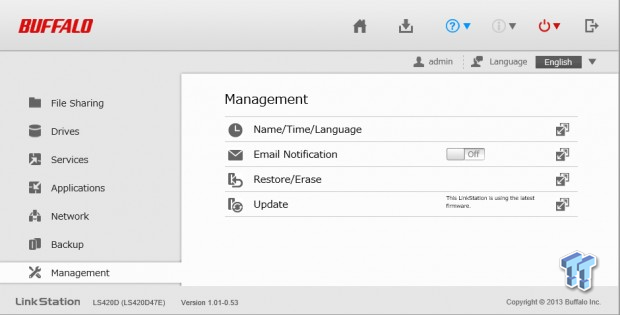 Within the management tab, the ability to setup the data and time along with email notification is made available.
Packaging and the LinkStation 420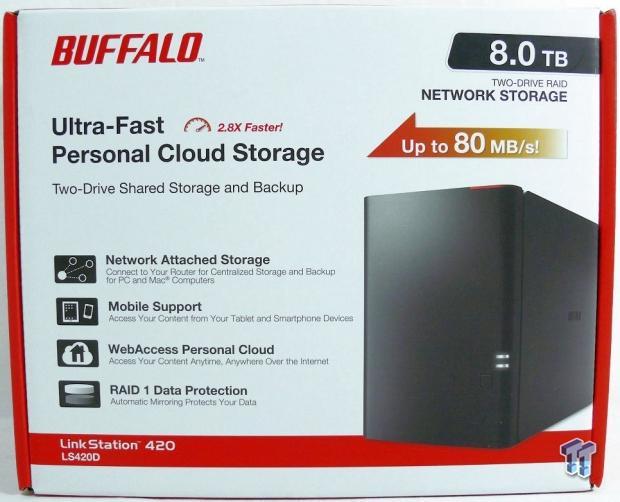 The LinkStation 420 arrives with colorful box art, similar to what we have found with the DriveStation DDR, which we reviewed a few months back. Marketing on the front of the box mentions 80 MB/s performance, along with capabilities of the unit as NAS storage with its RAID 1 data protection.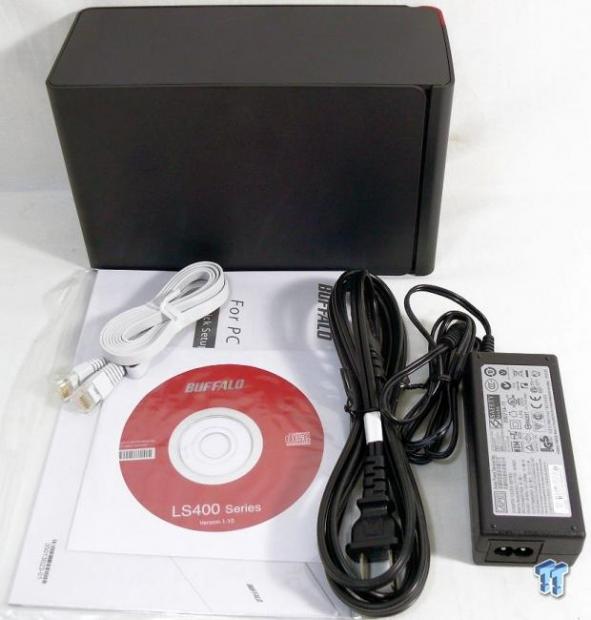 Included with the LinkStation 420, we find a flat ethernet cable, power adapter, and user manual with software disk.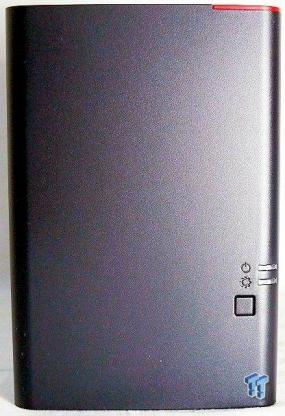 The Buffalo LinkStation 420 is similar in appearance to the DriveStation series. On the front, we have the power button.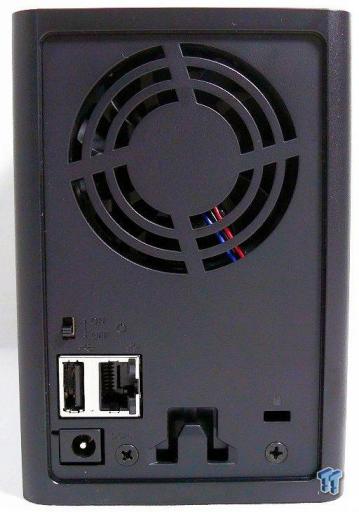 On the back of the appliance, we have a single Gigabit ethernet port with a USB 2.0 available as well.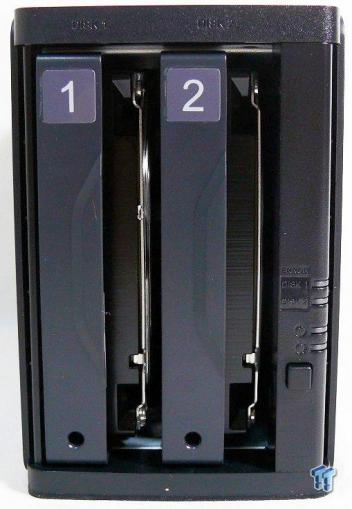 The front of the LinkStation 420, after removed shows the drives houses in the drive trays.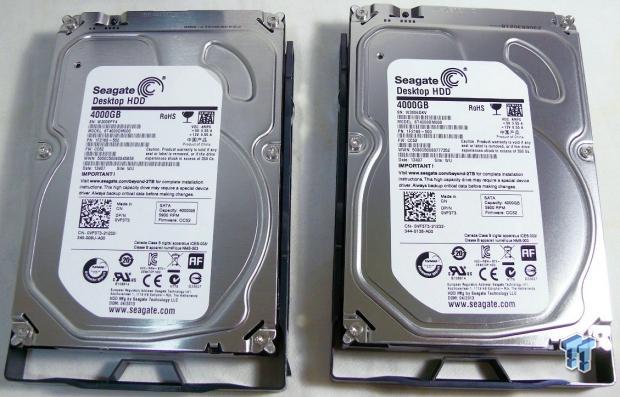 Our LinkStation included dual Seagate Desktop HDDs in the 4TB capacity.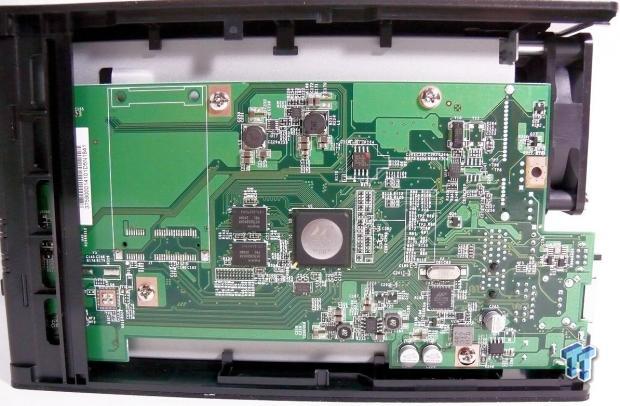 Removing the casing from the LinkStation, we find the Marvell Armada 370 SoC next to 512MB of DRAM.
Test System Setup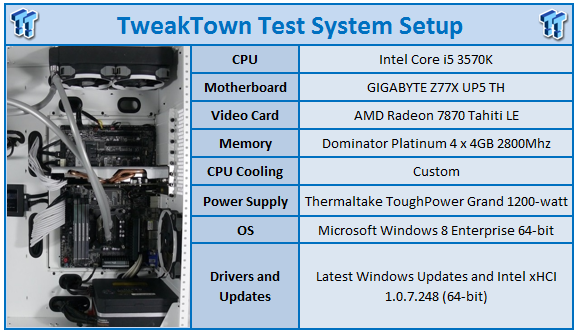 Our Consumer NAS test 'system' is setup similar to what you have at home. Here we have the base of a GIGABYTE Z77X UP5 TH housing an Intel Core i5 3570K with 16GB of RAM supporting. Our operating system of choice is Windows 8 x64 Enterprise with all available updates and patches installed on a Corsair Neutron 256GB SSD.
On the networking side we utilize the Intel PRO1000 PT Server Adapter with a direct connection to each NAS appliance. This eliminates the need for a switch and any bottlenecks that may occur.
This level of testing wouldn't be possible without the help and support from several companies, many of which have little to do with NAS products. We would like to thank Corsair, GIGABYTE and Western Digital for their much-appreciated support.
Intel NASPT
The Intel NAS Performance Toolkit (NASPT) is a file system exerciser and analysis tool designed to enable direct measurement of home network attached storage (NAS) performance. Designed to emulate the behavior of an actual application, NASPT uses a set of real-world workload traces gathered from typical digital home applications. Traces of high definition video playback and recording, office productivity applications, video rendering/content creation and more provide a broad range of different application behaviors.
Benchmarks - Single Client Throughput
Workload
HD Video Play - 720p HD stream from Windows Media Player* 256kB reads
2HD Video Play - 2x playback
4HD Video Play - 4x playback
HD Video Record - 720p HD stream, 256kB writes
File Copy From NAS - 4GB file copy, 64kB reads
File Copy To NAS - 64kB writes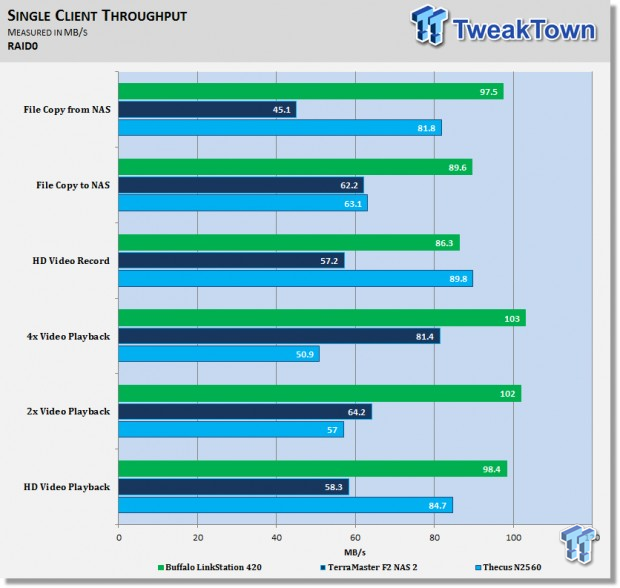 Above, we have the results from our RAID 0 testing. Here we see the LinkStation 420 excel in every aspect. 4x HD Video Playback came in at 103 MB/s, with both file copy operations above 89 MB/s.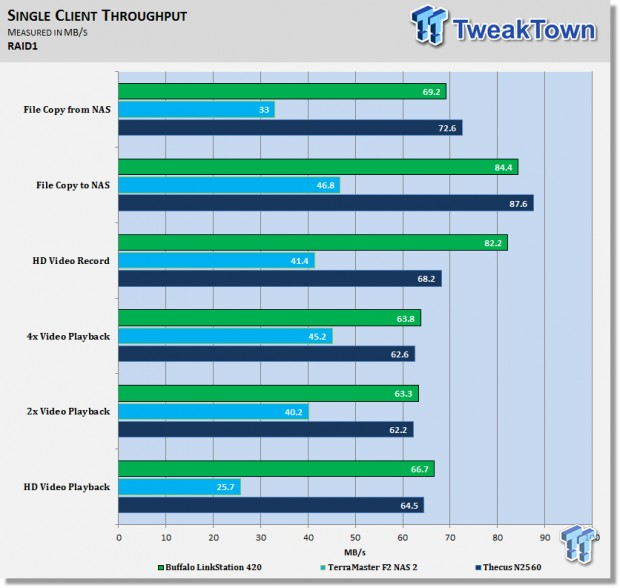 RAID 1 performance was equally impressive, and again quicker than other comparable systems in our testing. Here we have HD Video playback at 66.7 MB/s, with file copy operations coming in at 84.4 MB/s to the NAS and 69.2 MB/s from the NAS.
Benchmarks - Random and Sequential Workloads
Our 4K Random read/write workload consists of 16 threads all at QD16, results our measured in IOPS (Input Output Operations per Second).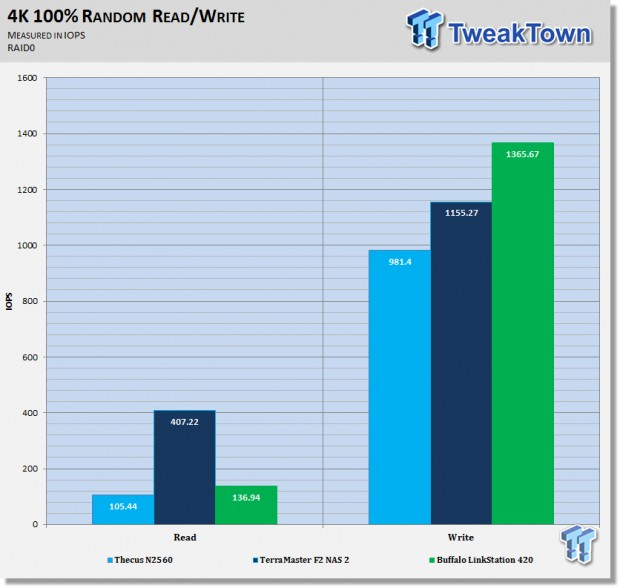 Above, we found the LinkStation did quite well in 4K write operations coming in well above both the Terra Master and Thecus units. Read operations came in at 136.9 IOPS.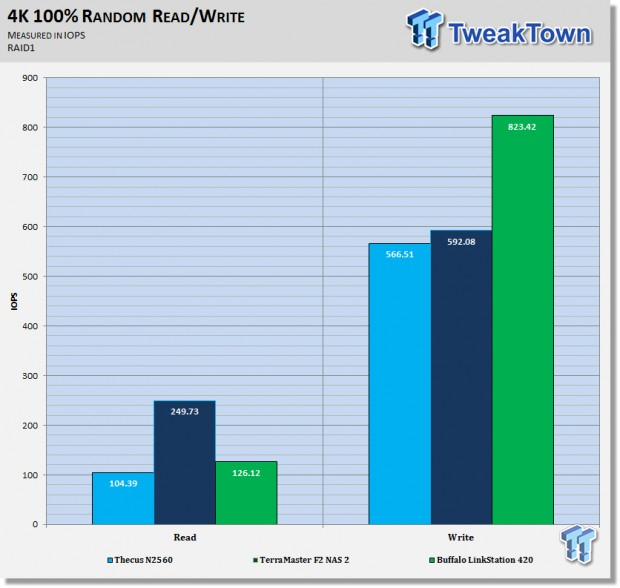 RAID 1 again had the LinkStation doing quite well with random write, here we have 823 IOPS.
Our Sequential read/write workload is centered on 1MB transfer sizes again with 16 threads and a Queue Depth of 16.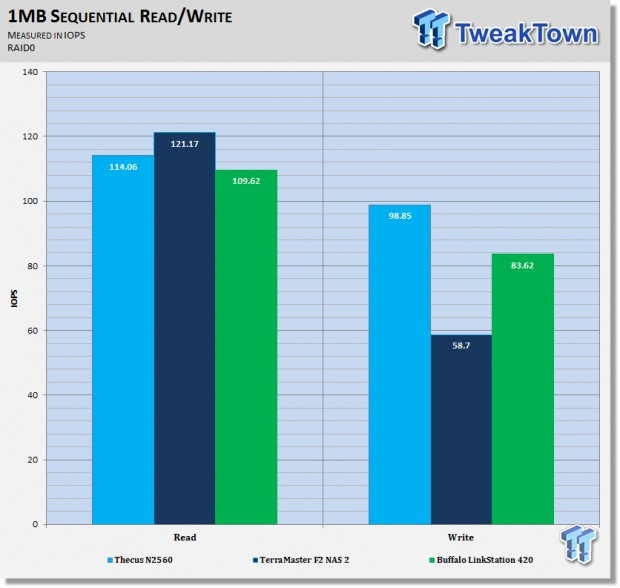 In RAID 0 sequential testing, the LinkStation was on par with other NAS appliances in our charts, coming in at 109 read IOPS and 83 write IOPS.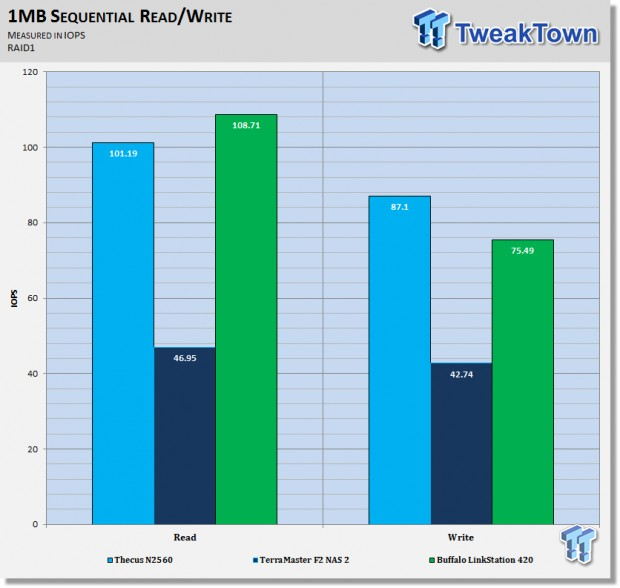 RAID 1 allowed the LinkStation 108 read IOPS and 75 write IOPS, giving it the top spot in sequential read and second in write.
Benchmarks - Power Consumption and Acoustics
Our power consumption testing involves running the power supply from the NAS through the output on our Kill-A-Watt meter. Results are recorded at several intervals including idle, peak and after the drives enter standby.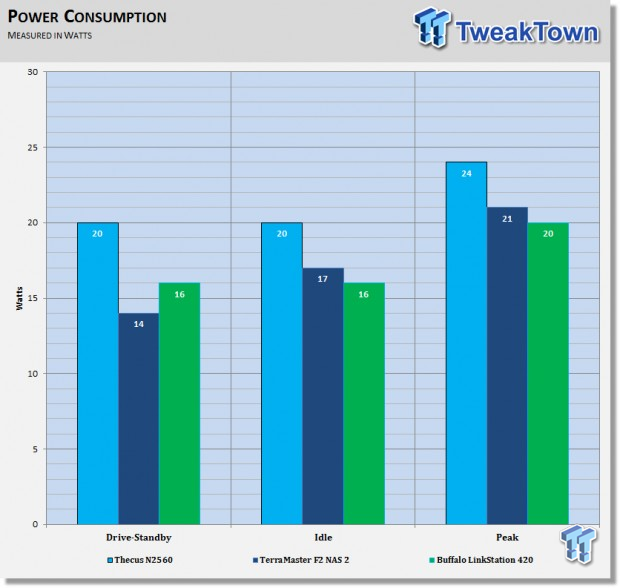 Above we can see the power consumption of the LinkStation. Peak power consumption came in at 20 watts, while Idle and stand-by came in at 16 watts. The LinkStation does not offer the ability for the drives to enter a low power state.
Acoustics are measured from a distance of one foot with our IEC Type II Sound Level Meter.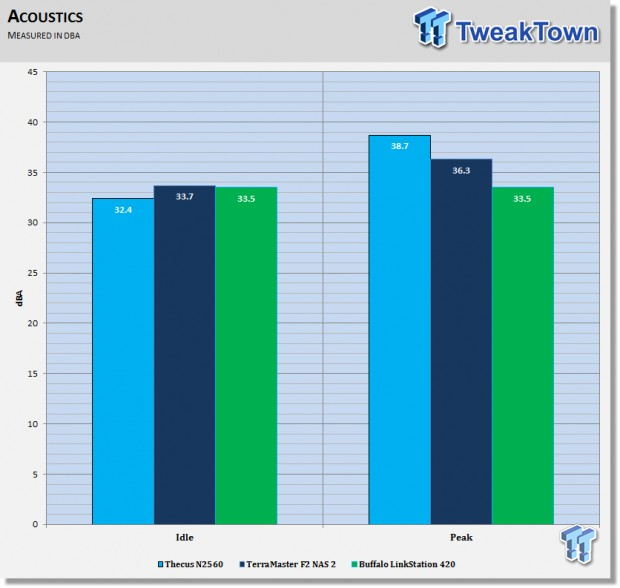 Acoustics for the LinkStation came in at 33.5 dBA for its peak and 33.5 dBA for idle. The fan speed is constant with this unit, but maintains silence throughout.
Final Thoughts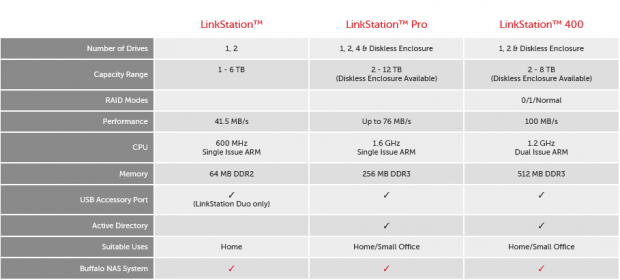 The newest addition to the LinkStation family offers great flexibility with a unit that comes in a plug-n-play form factor. This time around Buffalo came in focused on a high performance solution, and I must say they delivered, with the LinkStation coming in well above other SoC based NAS appliances in our charts.
In addition to the performance, the LinkStation offers an ample amount of durability. While most of the unit is built from plastic, it doesn't feel cheap, and I don't believe any corners were cut when manufacturing the unit.
From within the software, the LinkStation unit opens up a host of capabilities such as a DLNA media server, along with a web based cloud server for accessing your data on the go. This makes the LinkStation of the best plug and play solutions in my chart, especially if you don't want the hassle that can come with more expensive diskless units.
Pricing at this time for the 8TB LinkStation 420 is set at $599.99. Buffalo warranties the LinkStation 420 for a period of three years.