Introduction
Introduction & Hardware Specifications and Pricing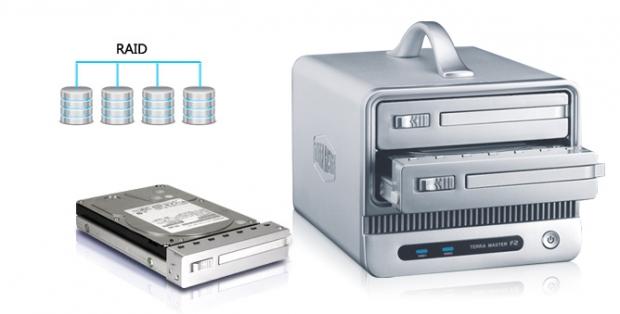 Every once in a while, we get the opportunity to review new products from vendors that are in the process of gauging the market. TerraMaster is a professional storage company based in China, which has garnered success in over 40 countries worldwide. They offer a wide range of products including two to eight bay network storage solutions, along with your typical Firewire and eSATA/USB DAS storage.
Building off what the company learned with the first release of the F2 NAS, TerraMaster went back to the drawing board, adding in a much cleaner and refined firmware, along with removing the DAS feature through USB 3.0. This allowed TerraMaster to focus on the NAS implementation rather than having a multi-functional device that caused so many issues in the original design.
Today we spend some time looking closely at the new F2 NAS 2 from TerraMaster.
Hardware Specifications and Pricing
Modern NAS servers have moved beyond data storage through a wire network. In order to get the most out of a NAS, you need to look at the extra I/O hardware and the mountain of potential software features.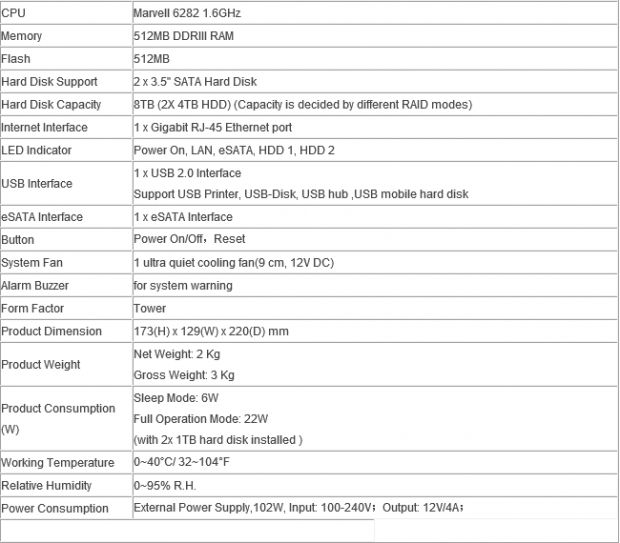 The foundation of the F2 NAS 2 lies in the Marvell 6282 SoC that is clocked to a nice 1.6GHz. 512MB of DDR3 memory complements the NAS, with an additional 512MB of NAND flash holding the OS. This unit accepts two 3.5" HDDs, offering 8TB of capacity in today's market.
On the back of the unit, you will find a single Gigabit Ethernet port, along with a USB 2.0 and eSATA port for connecting printers or external hard drives.
Pricing of the F2 NAS 2 comes in with a MSRP of $199. TerraMaster offers a one year warranty on the F2 NAS 2.
Software Features
NAS products are equal parts hardware performance and software features. One compliments the other in a balanced product. You need more hardware performance to run more software features at the same time.

To setup the TerraMaster F2 NAS 2, we entered the web setup menu by entering the IP address into our web browser. This menu system is a much needed upgrade to the previous implementation and allows a streamlined setup process.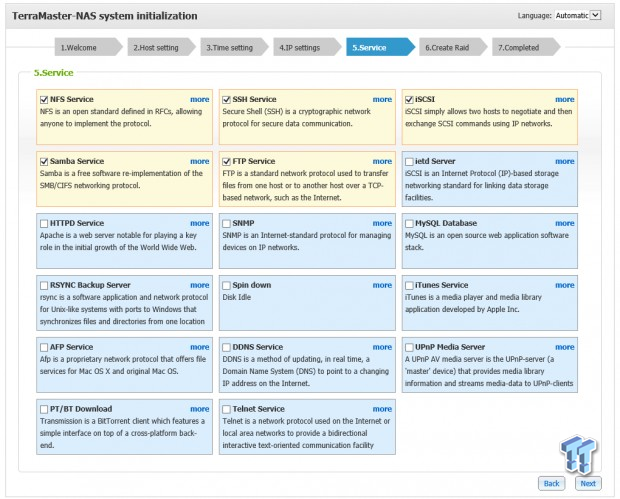 Moving through setup, the fourth menu item allows you to enable the services you will use.

Initial RAID setup is configured in the sixth menu, here you will find options for RAID 0, RAID 1 along with single disk mode and JBOD.

After initial setup, the web admin page redirects and allows you to login.

Entering the administration panel, you will find an interface that resembles the old QNAP setup.

The System Administration tab allows you to adjust network settings, control power management features, along with direct access to the firmware update function.

Access Right Management allows configuration of users and user groups. Additionally you can setup shared folders and user quotas.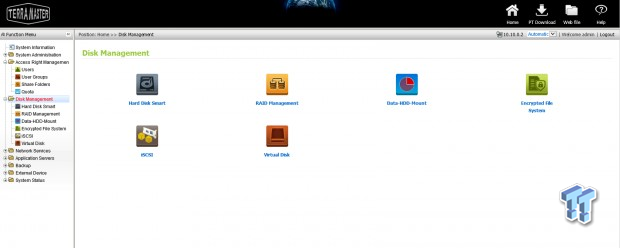 Disk Management allows you to setup your preferred RAID mode. Other features include drive encryption and iSCSI.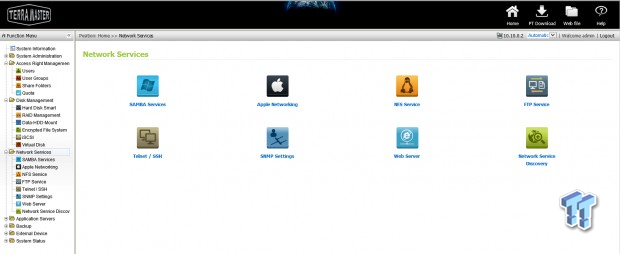 The Network Services menu carries the configuration for many of the network services we have come to love. In here, we have SAMBA, AFP, NFS, FTP and SSH to name a few.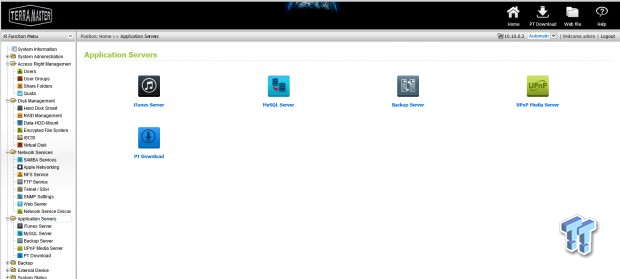 Within the Application Server menu, TerraMaster has added a slew of server apps. MySQL, PT Download and iTunes Server are included.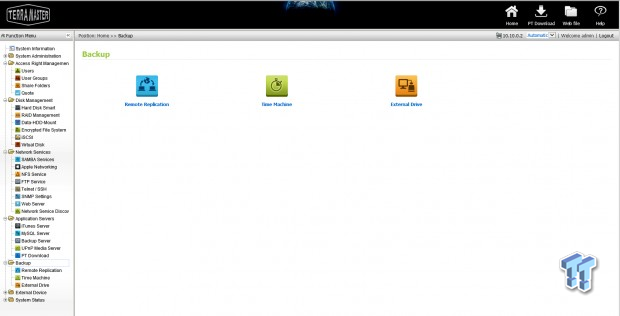 Moving over to the backup menu, we find remote replication through Rsync, along with Time Machine for Apple users.
Packaging and the F2 NAS 2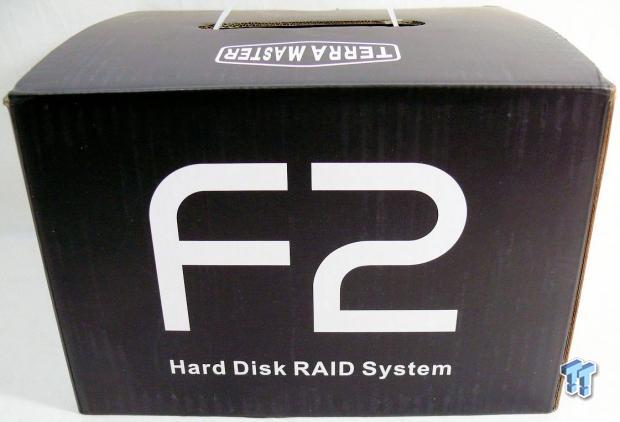 The TerraMaster F2 NAS 2 shares the same package design as the previous model. Here we have a solid black box with the large F2 on the front.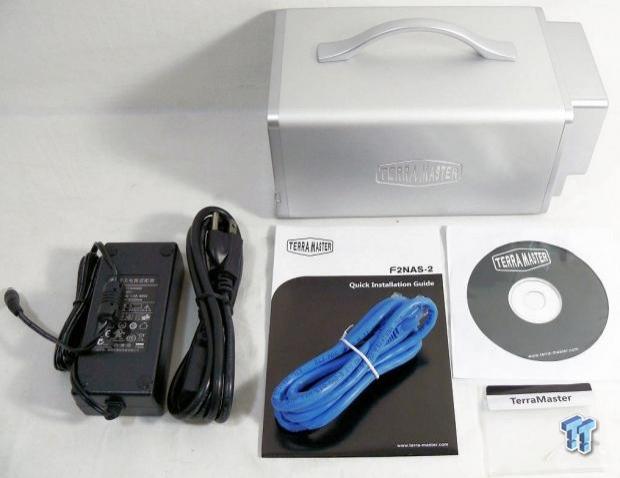 Included with the F2 NAS 2, you will find the power adapter, Ethernet cable, installation guide, along with the finder software on disk.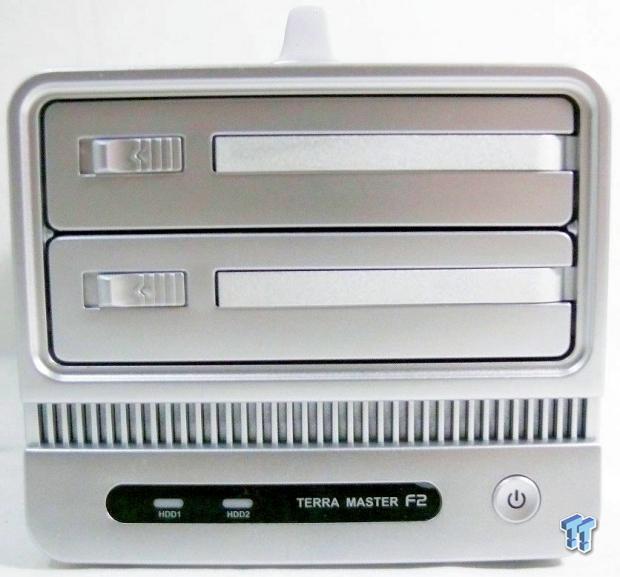 The front of the NAS houses two drive bays placed to the top, below is the power button and activity lights.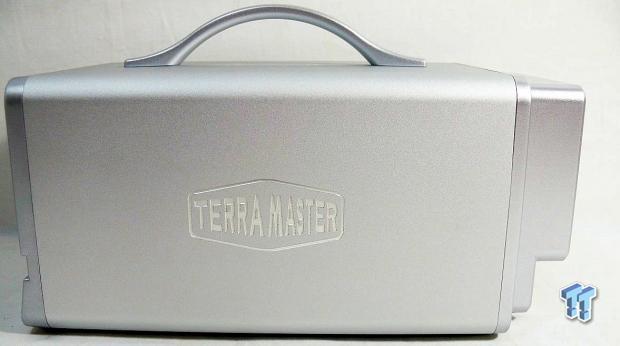 The TerraMaster is a single piece design with the entire body of the device built from one piece of aluminum with the ends being plastic.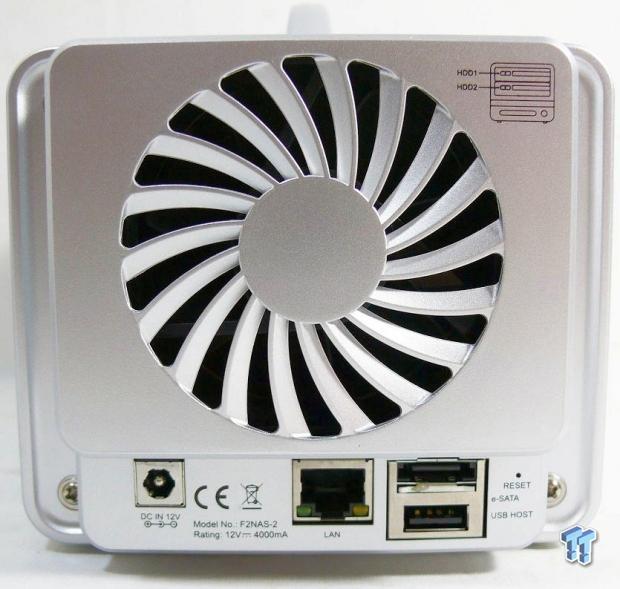 The back of the NAS houses a 92mm fan to cool the chassis and hard drives. Below we find all the connectivity with the Gigabit ethernet port, eSATA and USB host.
Test System Setup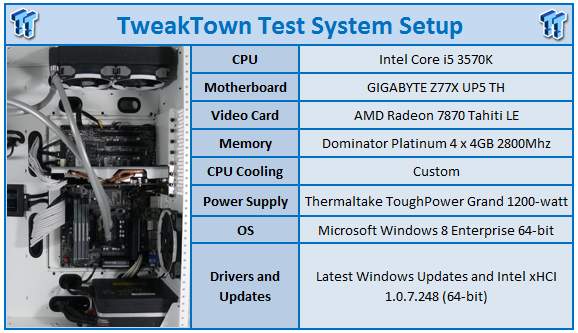 Our Consumer NAS test 'system' is setup similar to what you have at home. Here we have the base of a GIGABYTE Z77X UP5 TH housing an Intel Core i5 3570K with 16GB of RAM supporting. Our operating system of choice is Windows 8 x64 Enterprise with all available updates and patches installed on a Corsair Neutron 256GB SSD.
On the networking side we utilize the Intel PRO1000 PT Server Adapter with a direct connection to each NAS appliance. This eliminates the need for a switch and any bottlenecks that may occur.
This level of testing wouldn't be possible without the help and support from several companies, many of which have little to do with NAS products. We would like to thank Corsair, GIGABYTE and Western Digital for their much-appreciated support.
Intel NASPT
The Intel NAS Performance Toolkit (NASPT) is a file system exerciser and analysis tool designed to enable direct measurement of home network attached storage (NAS) performance. Designed to emulate the behavior of an actual application, NASPT uses a set of real-world workload traces gathered from typical digital home applications. Traces of high definition video playback and recording, office productivity applications, video rendering/content creation and more provide a broad range of different application behaviors.
Western Digital RED - The NAS HDD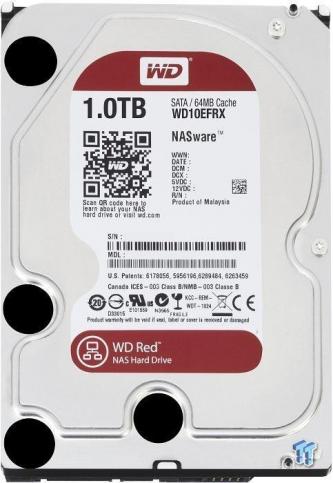 TweakTown uses Western Digital RED 1TB hard drives for all of our NAS tests. You can read our full review of the Western Digital RED 1TB here.
Benchmarks - Single Client Throughput
Workload
HD Video Play - 720p HD stream from Windows Media Player* 256kB reads
2HD Video Play - 2x playback
4HD Video Play - 4x playback
HD Video Record - 720p HD stream, 256kB writes
File Copy From NAS - 4GB file copy, 64kB reads
File Copy To NAS - 64kB writes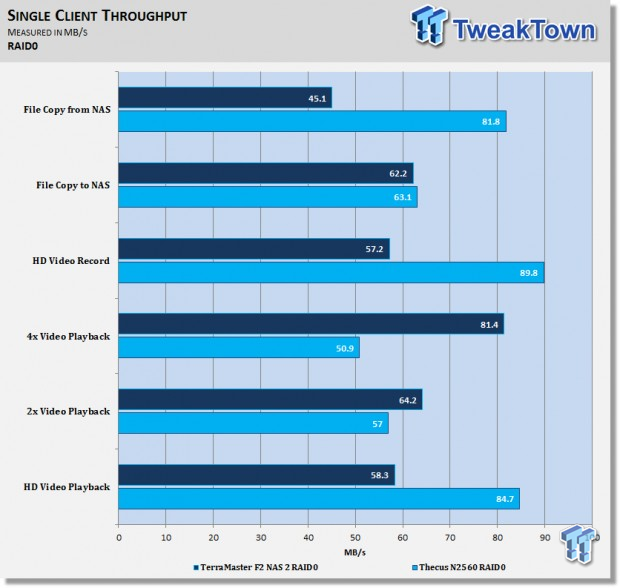 Above, we have our results from our RAID 0 single client testing. Here we see the F2 NAS 2 do quite well, scaling throughout the HD Video Playback testing to a peak of 81.4 MB/s. File copy to the NAS matched what we found with the Thecus N2560 at 62 MB/s.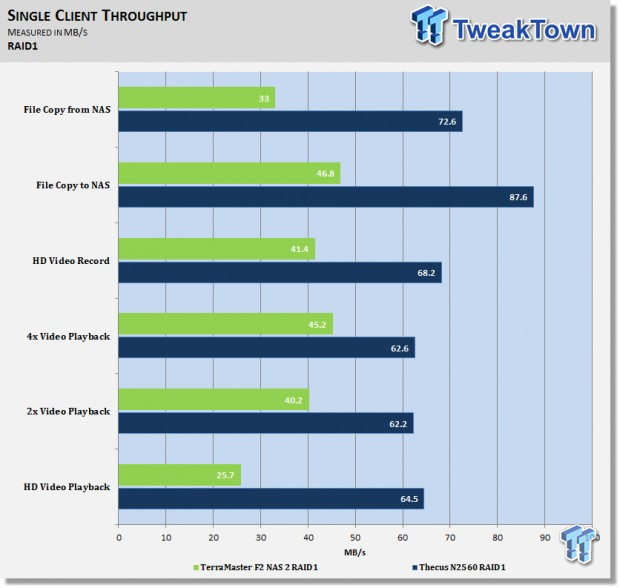 RAID 1 results were fairly decent. Here we have the F2 NAS 2 reaching 45 MB/s in our 4x HD Video Playback and 46 MB/s in File Copy to NAS.
Benchmarks - Random and Sequential Workloads
Our 4K Random read/write workload consists of 16 threads all at QD16, results our measured in IOPS (Input Output Operations per Second).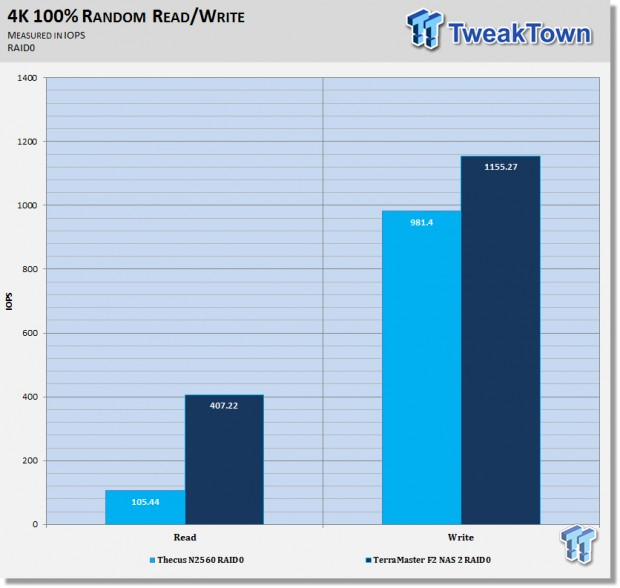 The TerraMaster really excelled in our workload testing, pulling in an impressive 1155 IOPS write and 407 IOPS read in RAID 0.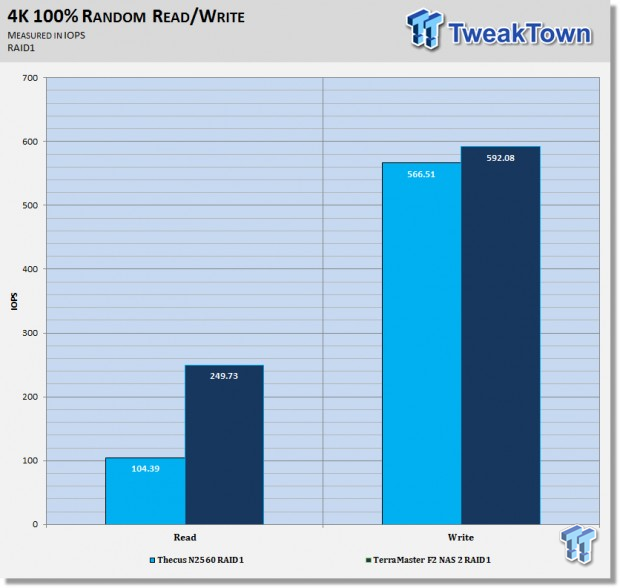 RAID 1 with the F2 NAS 2 was again impressive, here we have 592 IOPS write and 249 IOPS read.
Our Sequential read/write workload is centered on 1MB transfer sizes again with 16 threads and a Queue Depth of 16.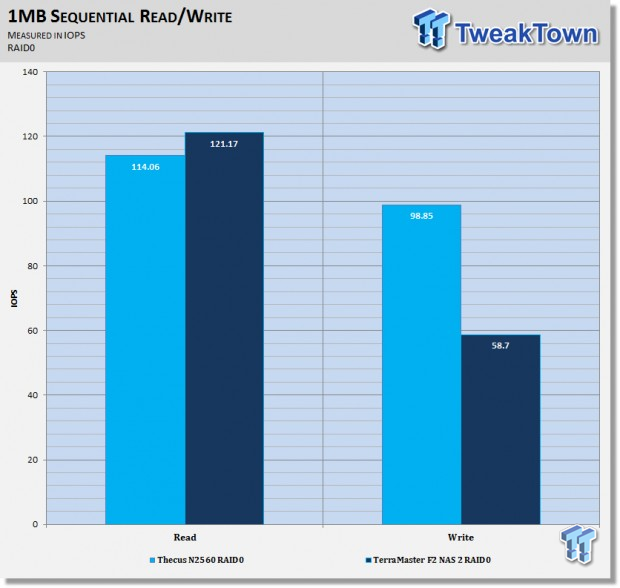 Our RAID 0 sequential workload results from the TerraMaster F2 NAS 2 had the NAS trading blows with the Thecus NAS. Here we have 121 IOPS read for the F2, slightly above the 114 from the N2560. In write testing positions switch and we have the TerraMaster NAS coming in at 58 IOPS, where the Thecus unit is capable of 98 IOPS.
Sequential testing in RAID 1 left the TerraMaster with 46 IOPS read and 42 IOPS write, well below the comparable Thecus N2560.
Benchmarks - Power Consumption and Acoustics
Our power consumption testing involves running the power supply from the NAS through the output on our Kill-A-Watt meter. Results are recorded at several intervals including idle, peak and after the drives enter standby.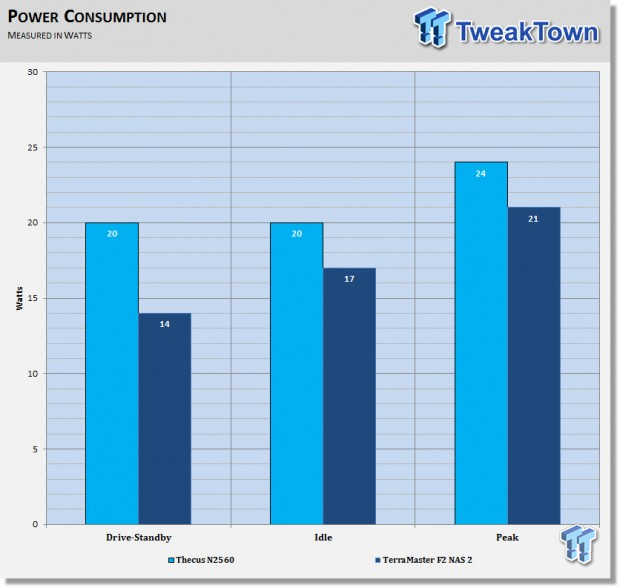 Power consumption of the F2 NAS 2 was refreshing to say the least. Here we found the NAS to reach a peak of 21 watts during testing, with an average of 17 watts idle and 14 watts after the drives entered standby.
Acoustics are measured from a distance of one foot with our IEC Type II Sound Level Meter.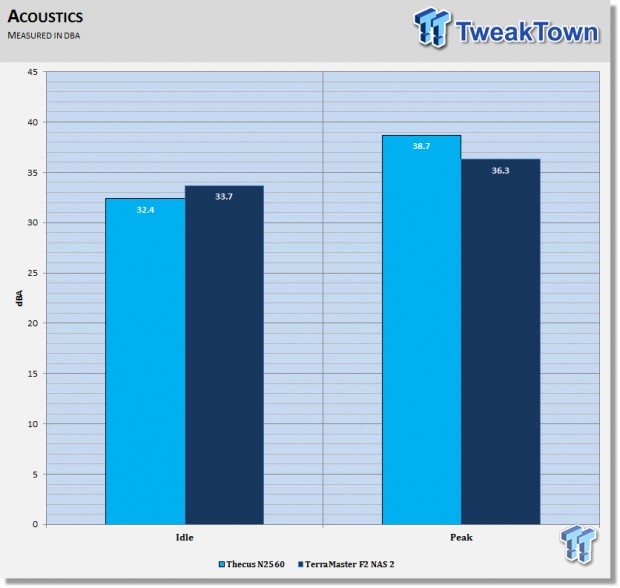 Acoustics came in with an idle 33.7 dBA and 36.3 dBA at its peak.
Final Thoughts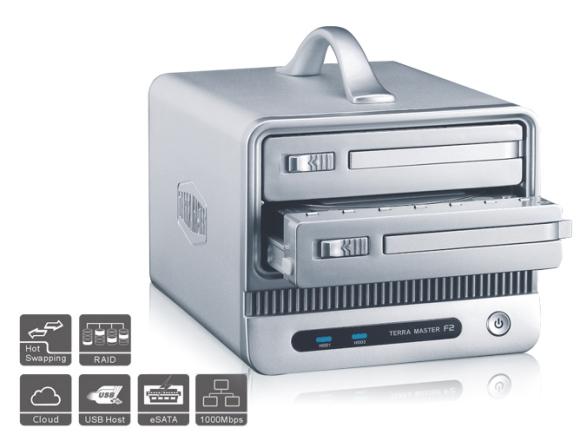 TerraMaster's second effort of the F2 NAS, now the F2 NAS 2, shows the company's ongoing effort to improve its products. Areas where the first design failed, this new model excels, and we are left with a complete product.
In the previous product, the NAS administration GUI was incomplete and lacked a ton of features. Now, with this new interface, we have the complete experience with features like iSCSI, MySQL and a rich volume management that really enriches the overall user experience.
Performance throughout testing was on par with expectations. Throughout most testing the F2 NAS 2 went back and forth with the Thecus N2560, but truly excelled in power consumption where the unit consumed just 21 watts at peak.
Pricing at this time for the 2-bay F2 NAS 2 as a diskless solution comes in at $199 with a one year warranty. Comparable products in the market include the TS-220 from QNAP and LinkStation 420 from Buffalo, both of which come in at or above the $199 price point from TerraMaster.