Most of you probably haven't heard of the brand or company LUXA2, but you would've heard about its parent company: Thermaltake. LUXA2 describes itself as a 'premier designer and manufacturer of unique and functional mobile accessories', and that is what it's trying to deliver with the Groovy Wireless Stereo Speaker that we're looking here.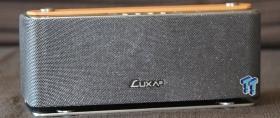 LUXA2 makes countless mobile accessories, ranging from smartphone cases to portable batteries, to this portable, Bluetooth wireless speaker sets. LUXA2 probably isn't the first company you'd think of when looking at the portable speaker market, but if the Groovy Wireless Stereo Speaker is anything to go by, you might want to start paying attention. LUXA2 has a stylish, light, 'groovy' and very capable wireless stereo speaker on its hands, so let's jump right into the review.
LUXA2 has provided its Groovy Wireless Stereo Speaker with some decent specifications, where we have Bluetooth 2.1 connectivity and an 1800mAh rechargeable lithium polymer battery. The Groovy Wireless Stereo Speaker features a beautiful brushed aluminum body, and includes a leather carry handle, which is interchangeable with a spare handle that comes in the package.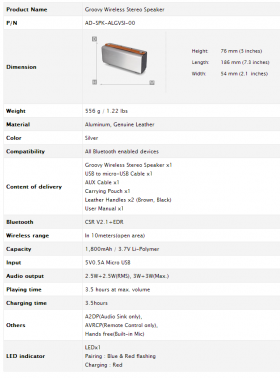 Connectivity is extended from Bluetooth to include wired connectivity in case your device doesn't feature Bluetooth, so LUXA2 has provided an auxiliary input. LUXA2 has made the midrange and woofer from polyethylene fiber glass, which gives it some punch in the audio department, considering it's both portable and light.
One of the extra features that LUXA2 has given the Groovy speaker is the ability for it to act as a speakerphone. This just involves your smartphone being connected to the Groovy speaker through Bluetooth, and then once you're in a call, the audio will blast out of the Groovy speakers, and pick up your voice through its built-in microphone.
LUXA2 has slapped an MSRP of $89 on the Groovy Wireless Stereo Speaker, which is not too bad at all in my opinion. It's the perfect accessory for when you're on the road, or going to a friend's house and don't want to blast a proper stereo and just want to fill the room with audio. As for availability, we got a very early sample, so you should find this hitting retailers in the coming weeks across the world.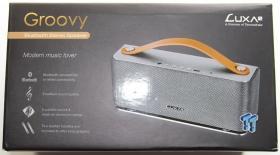 Taking the LUXA2 Groovy speaker out of the box, I don't know why, but I expected a power cord. I knew it was a portable speaker, but that habit of expecting an audio device to have a power cable was still itching inside of me.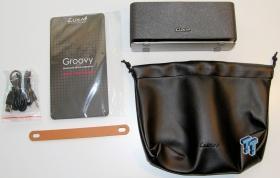 Once it's out of the box, you realize that all that's included is the Groovy Wireless Stereo Speaker itself, and a leather pouch to keep it safe. My sample arrived the day I was leaving for a weekend away with my family, so it was the perfect time to test it out.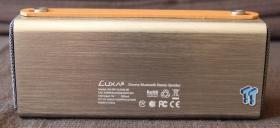 Going around the Groovy Wireless Stereo Speaker, we have the front of the device with a beautiful mesh front and LUXA2 branding. Up the top we have that unmistakable replaceable leather handle, as well as a bunch of buttons. From left to right we have the auxiliary port, power button, volume down button, call pause/start button, volume up, the microUSB port for charging, and lastly, the microphone.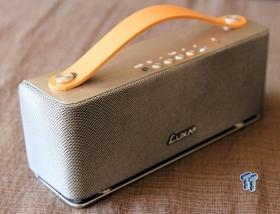 The leather handle doesn't look like much, but I found it quite comfortable and useful to carry around while I used it. I'm a big listener of movie soundtracks, as it's calming to listen to while I'm writing away at news, reviews and articles. I listened to quite a few of my favourite albums on the Groovy speaker, loving the quality. Shifting gears into bass heavy music, the LUXA2 Groovy speaker still impressed.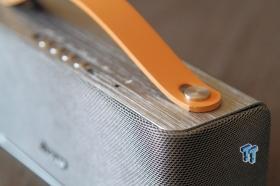 It's really simple to setup, and I really enjoyed the audio quality being blasted from the LUXA2 Groovy Wireless Stereo Speaker. I didn't think it would pack that much of a punch, but it really did. Everything from trance, to orchestral sound tracks down to by Kanye West, the Groovy speaker handled it all brilliantly.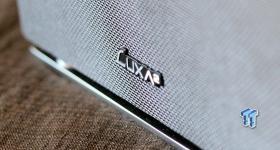 The look - I loved the physical look and styling that LUXA2 has donned over the Groovy Wireless Stereo Speaker. It looks great, and that is something that LUXA2 strive for - they have it here in spades.
Audio performance - for something that is battery-powered, the Groovy speaker is quite impressive. We have around four hours of playback at nearly full volume, with another 30-45 minutes of play time if you're not blasting it so loud that your house is filled with music.
Ease of use - The Groovy speaker is just simple to use, really. This is a big selling point, as virtually anyone who can use a smartphone can setup the LUXA2 Groovy speaker. A few buttons to be pressed, enable Bluetooth, play your music and voila - you're done.
Slight audio issues - The LUXA2 Groovy would sometimes 'crackle' when playing music, even if it's playing at around 30% volume. I found this strange, and couldn't find myself repeating the issue, it was completely at random.
I have thoroughly loved LUXA2's Groovy Wireless Stereo Speaker, when from the beginning I didn't think I would. I think this comes from the preconceived thought that this would be a 'cheaper' product, or couldn't blast so much great-sounding, er, sound from a battery-powered device, but boy was I wrong.
I'm glad I was wrong, because I was so pleasantly surprised by what LUXA2 has done with the Groovy speaker. It's both gratifying and amazing that I can have yet another device that I thought I wouldn't use become part of my weekly kit.
The LUXA2 is a great device that you can take along with you to a small party, or on a trip away. Having around 3.5 hours (average) use, it can become a great device as 3.5 hours of constant music blasting away can get quite tiring.
LUXA2 did a great job on the styling of the device, and the amount of power it packs in the sound department. I absolutely loved the premium look and feel, and think that LUXA2 hit a homerun in that department, too. If you're after a portable speaker and don't want to spend more than $90, LUXA2 has what you're looking for with the Groovy Wireless Stereo Speaker.