Coming just a few months after the release of the nearly identical Olympus Has Fallen, Roland Emmerich's explosion fest White House Down comes busting out of the gate with a noticeable increase in not only production values, star power in Channing Tatum and Jamie Foxx, and visual effects quality, but also a net increase in entertainment value to boot.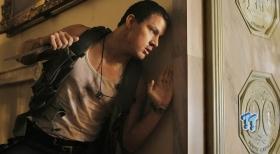 Capitol Policeman John Cale (Channing Tatum) is facing an uphill battle to earn the respect of his political enthusiast young daughter (Joey King), but when Cale pulls some strings to obtain a job interview with Secret Service head Carol Finnerty (Maggie Gyllenhall) and tickets to visit the White House, Cale is granted a momentary reprieve from her lack of interest.
While turned down for the job due to his dearth of qualifications, Cale takes the opportunity of a White House tour, which soon takes a turn for the worse when the nearby Capitol building is destroyed and the White House put into lock down. When the building is attacked by mercenaries, assisted by a devious insider, soon the only man that may be able to assist the leader of the free world (Jamie Foxx) is the one that just got turned down...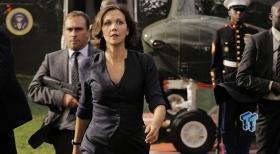 Despite its similarities, what differentiates White House Down from Olympus Has Fallen is the unique change in tone, which results in two very different movies. While Olympus strives for a hard-action thriller in the vein of Die Hard (at least, when they were good), Down is a much lighter and enjoyable roller coaster ride which never takes itself too seriously, with numerous jokes punctuating moments of tenseness.
Director Roland Emmerich is either loved or reviled and never in between. Whilst I concede that his best work is made in conjunction with his previous producing partner Dean Devlin (Independence Day and StarGate), I always enjoy his keen visual sense and penchant for explosive, over the top action. In this regard, White House Down proves no different to other entries in his filmography.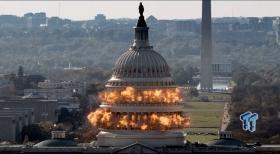 Whilst I don't necessarily 'get' the appeal of heart throb Channing Tatum, he puts reasonable effort into both run and shooting, whilst concurrently spouting affable sarcasm. One the other hand, Jamie Foxx runs on autopilot, with precious little of his subtle talents on show. Whilst I hesitate to claim that he's necessarily wasted in the role, admittedly anyone could have played it. The real stand out is child actor Joey King whom at the tender age of 14 already has a string of blockbusters such as The Dark Knight Rises, Oz: The Great and Powerful and Battle Los Angeles to her name.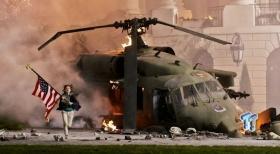 Overall White House Down proves to be a fun, post-blockbuster season entry, which is as subtle as any of Roland Emmerich's pictures. That's to say, not at all.