Thecus N2560 2-bay Consumer NAS Appliance Review
Thecus offers the N2560 as an all-in-one media and storage solution. Let's take a look as we put it through our testing phase to see how it performs.

Published Sep 18, 2013 9:11 PM CDT
|
Updated Tue, Nov 3 2020 7:00 PM CST
6 minute read time
Introduction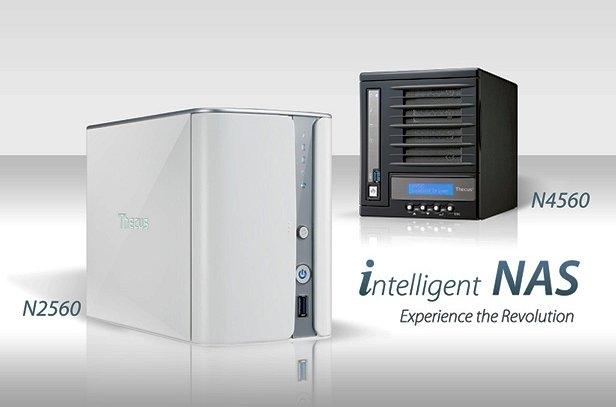 Over the past few months or even year, most NAS reviews you have read have some sort of reference to the boom in the NAS market. While this is true, one of the largest contributors to the NAS "boom" is the NAS companies themselves. Shifting away from the overly complicated NAS firmware of old days, opting for a more consumer-friendly interface, NAS manufacturers opened up another market for themselves.
Furthering this aggressive move, Thecus has now designed an entire line-up of NAS appliances specifically for the average consumer. The N2560 is an upgrade of the previously launched N2520. Featuring the latest Intel Atom CE5335 SoC and 2GB of DRAM, these appliances are targeted at modest home users that want to have their storage and media experience within one device.
Within this review, we will also detail our first experience with Thecus OS 6, the new NAS OS that enables a desktop feel similar to other NAS manufacturers.
Hardware Specifications and Pricing
Modern NAS servers have moved beyond data storage through a wire network. In order to get the most out of a NAS, you need to look at the extra I/O hardware and the mountain of potential software features.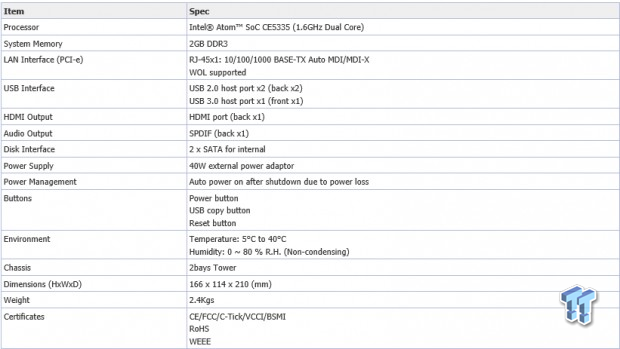 The foundation of which the N2560 is built upon lies in the Intel Atom CE5335 1.6GHz dual-core SoC. Paired next to this you will find 2GB of DDR3 DRAM. The back of the unit houses a single Gbit LAN connection with Wake-On LAN support. Additionally, you will find dual USB 2.0 ports, SPDIF and a single HDMI port for media functionality.
Pricing of the 2-bay Thecus N2560 at this time is set at $339.99 with a larger 4-bay (N4560) available for $519.99. Retail availability of these units is expected sometime in October 2013.
Software Features
NAS products are equal parts hardware performance and software features. One compliments the other in a balanced product. You need more hardware performance to run more software features at the same time.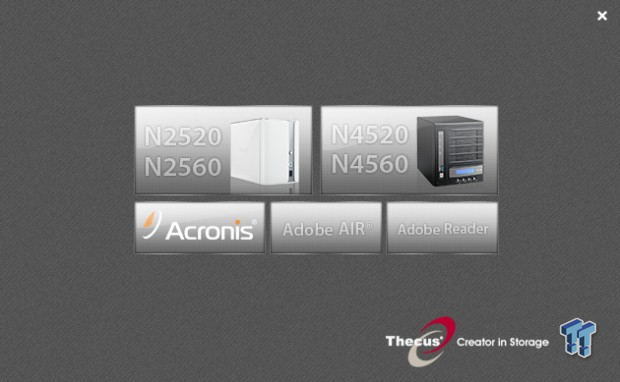 As with most NAS appliances, Thecus too has a software "finder" application. This allows quick setup of the NAS to get you off and running in no time.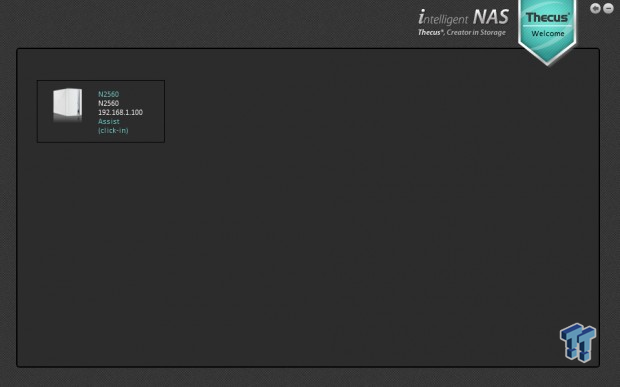 The finder too is a new design from Thecus, above you can see the software quickly found our NAS and got us setup rather quickly.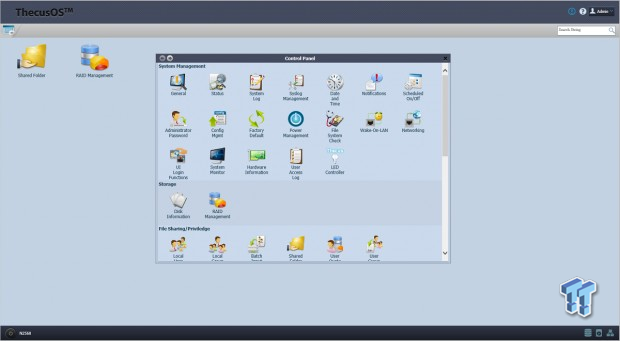 The new Thecus OS 6 is still very much a work in progress as you can see above its largely a blank slate apart from the two icons that remain in the desktop area. Above, near the Thecus branding, you will find a small icon that will expand the menu seen in the picture. From within, you have the ability to manage the NAS through several applications.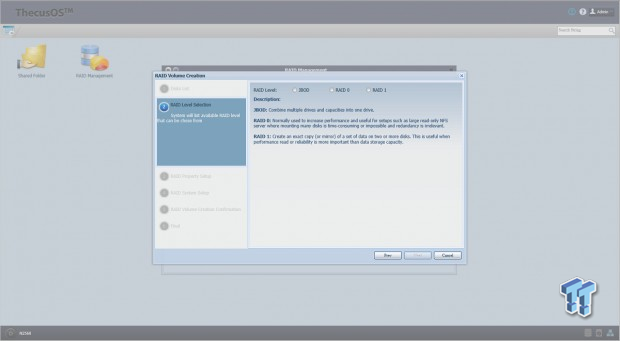 RAID setup shares a familiar menu that was seen on previous Thecus OS versions. Here we have the options of RAID 0, 1 and JBOD.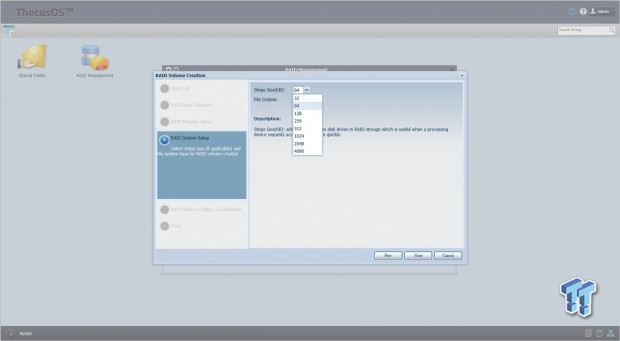 If choosing a RAID 0 configuration, Thecus allows you to select the stripe size from 32K to 4096K.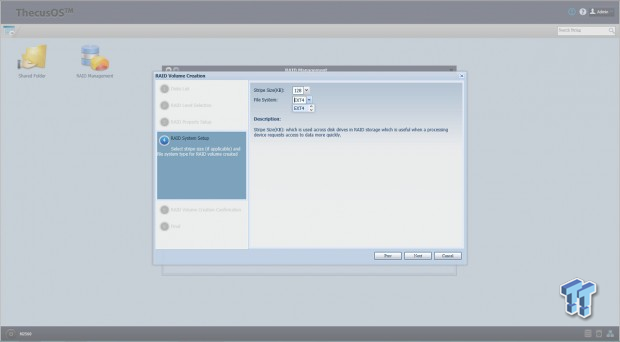 Previous to this review, I have had a number of opportunities to review Thecus products. One of the standout features was the inclusion of the Zeta-byte file system. Here though, Thecus has gone with EXT4, as the standalone option.
Packaging and the N2560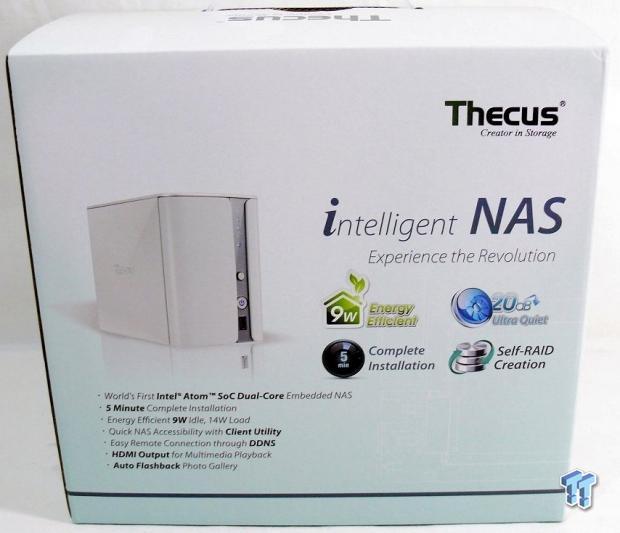 The packaging too, has undergone a facelift. Here we have attractive box art underlining many of the features encompassed in the NAS.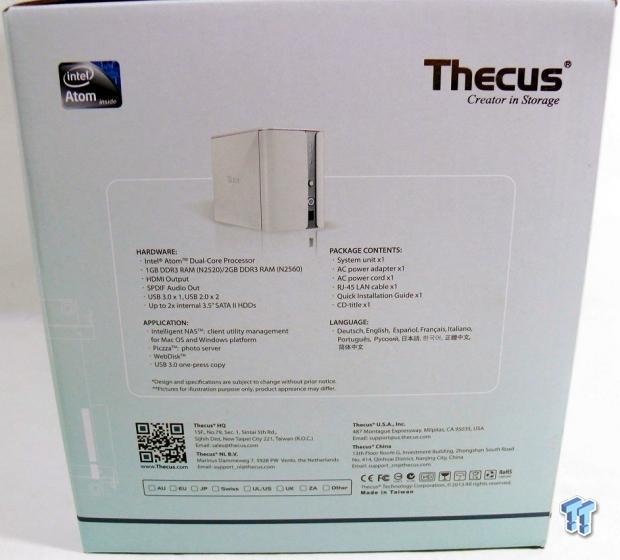 The side of the packaging details the contents of the box.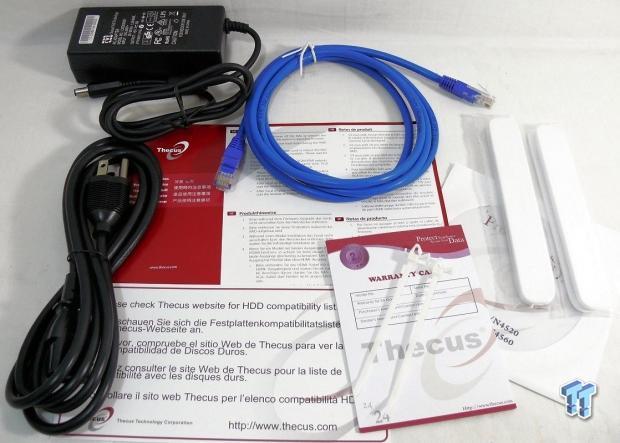 Included with the N2560 you will find the power adapter, Ethernet cable, drive sleds and user and startup guides.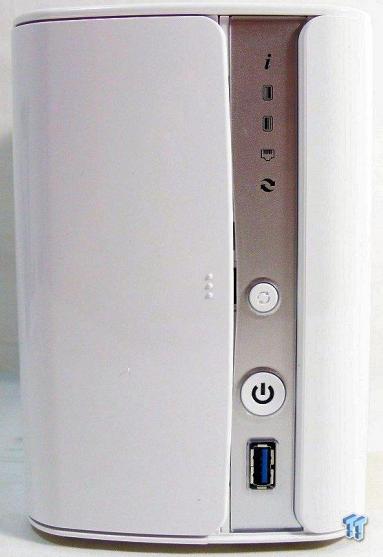 The N2560 is quite a different product than what we are used to seeing from Thecus or any NAS manufacturer for that matter. Instead of the standard box deployment, Thecus has gone the extra mile and designed the N2560 to blend in with the modern decor of households.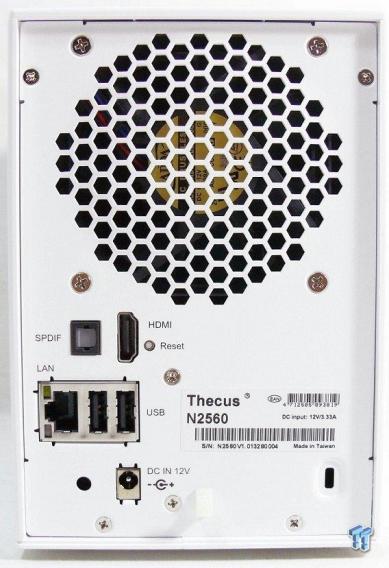 The back of the NAS houses all the I/O connectivity a household would need. Here we have SPDIF and HDMI at the top, followed by Gbit Ethernet and dual USB 2.0 ports.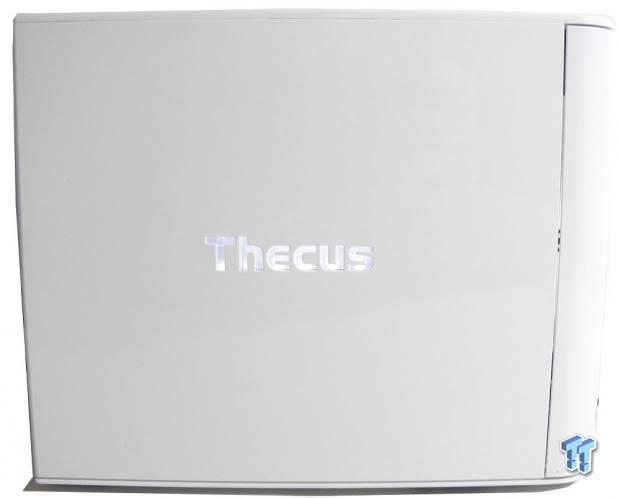 Another unique design concept found within the housing of the N2560 is the LED feature. Here we have the Thecus logo cut out and lit up with white lighting.
Test System Setup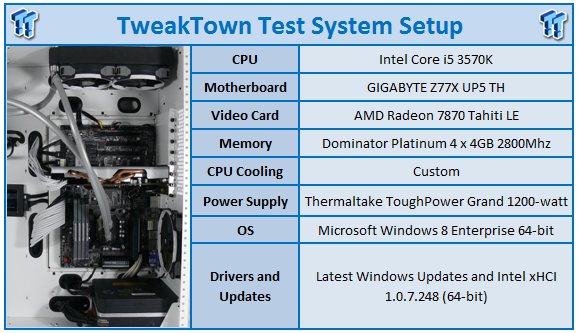 Our Consumer NAS test 'system' is setup similar to what you have at home. Here we have the base of a GIGABYTE Z77X UP5 TH housing an Intel Core i5 3570K with 16GB of RAM supporting. Our operating system of choice is Windows 8 x64 Enterprise with all available updates and patches installed on a Corsair Neutron 256GB SSD.
On the networking side we utilize the Intel PRO1000 PT Server Adapter with a direct connection to each NAS appliance. This eliminates the need for a switch and any bottlenecks that may occur.
This level of testing wouldn't be possible without the help and support from several companies, many of which have little to do with NAS products. We would like to thank Corsair, GIGABYTE and Western Digital for their much-appreciated support.
Intel NASPT
The Intel NAS Performance Toolkit (NASPT) is a file system exerciser and analysis tool designed to enable direct measurement of home network attached storage (NAS) performance. Designed to emulate the behavior of an actual application, NASPT uses a set of real-world workload traces gathered from typical digital home applications. Traces of high definition video playback and recording, office productivity applications, video rendering/content creation and more provide a broad range of different application behaviors.
Western Digital RED - The NAS HDD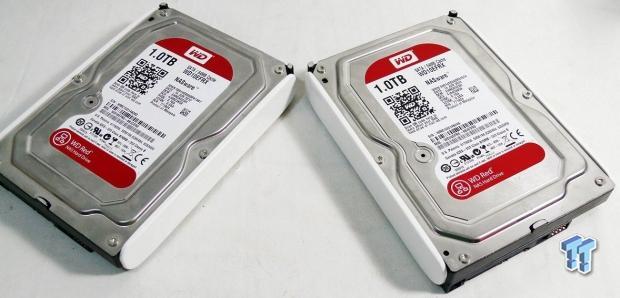 TweakTown uses Western Digital RED 1TB hard drives for all of our NAS tests. You can read our full review of the Western Digital RED 1TB here.
Benchmarks - Single Client Throughput
Workload
HD Video Play - 720p HD stream from Windows Media Player* 256kB reads
2HD Video Play - 2x playback
4HD Video Play - 4x playback
HD Video Record - 720p HD stream, 256kB writes
File Copy From NAS - 4GB file copy, 64kB reads
File Copy To NAS - 64kB writes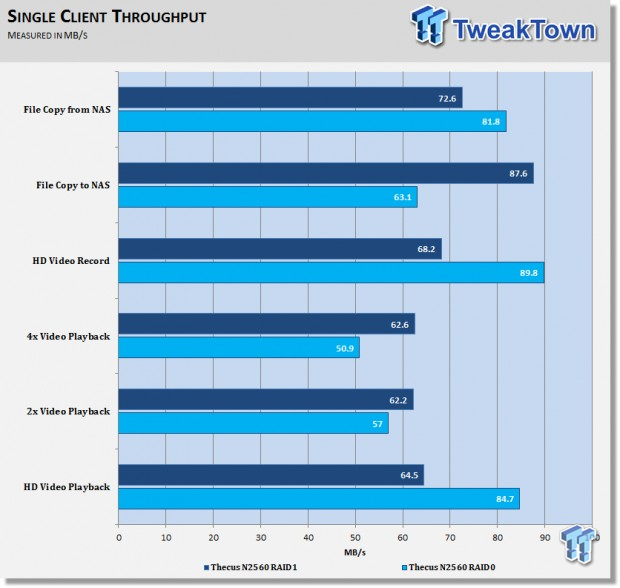 Above we have the results of our single client workload (NASPT). In both RAID 0 and RAID 1, the Thecus N2560 did quite well with 84 MB/s in our RAID 0 HD Video Playback test.
HD Video Record was equally impressive at 89.8 MB/s in RAID 0. RAID 1 performance was pretty linear across the board in all tests as seen above, though file copy operations were a strong point.
Benchmarks - Random and Sequential Workloads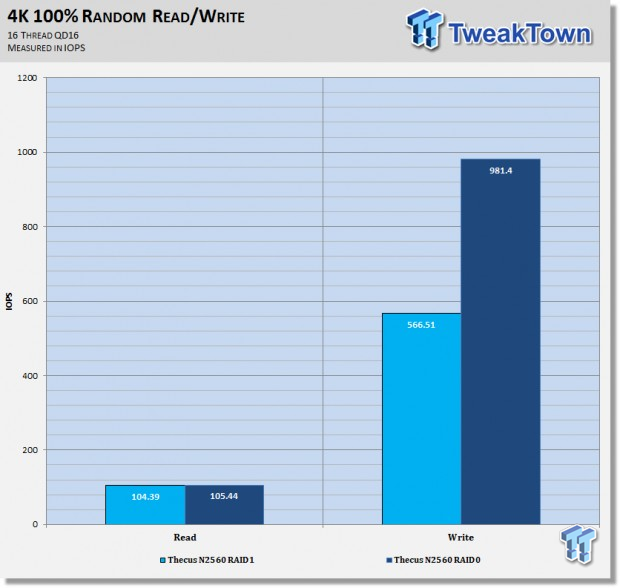 Our 4K Random read/write workload consists of 16 threads all at QD16, results our measured in IOPS (Input Output Operations per Second).
Looking above we can see the N2560 did quite well in RAID 0, topping out well above 950 IOPS write. Read performance on the other hand was linear across both RAID 0 and RAID 1.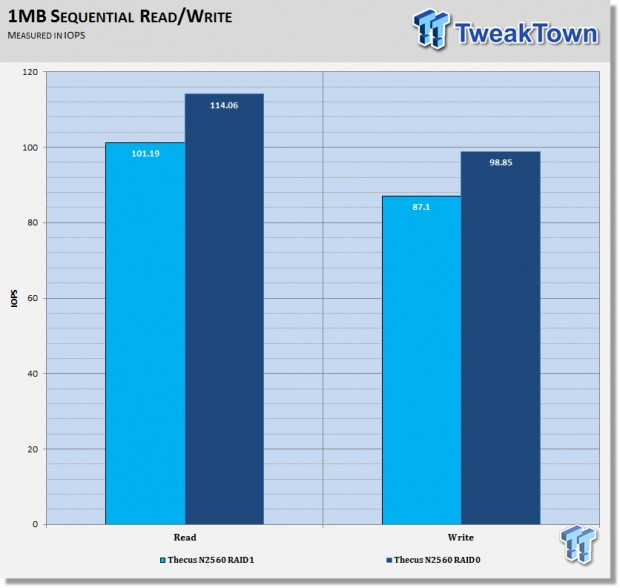 Our Sequential read/write workload is centered on 1MB transfer sizes again with 16 threads and a Queue Depth of 16.
Above, in our results, we found the N2560 to do rather well, capable of 114 read IOPS and 98 write IOPS in RAID 0. RAID 1 presented us with 101 read IOPS, followed by 87 write IOPS.
Benchmarks - Power Consumption and Acoustics
Our power consumption testing involves running the power supply from the NAS through the output on our Kill-A-Watt meter. Results are recorded at several intervals including idle, peak and after the drives enter standby.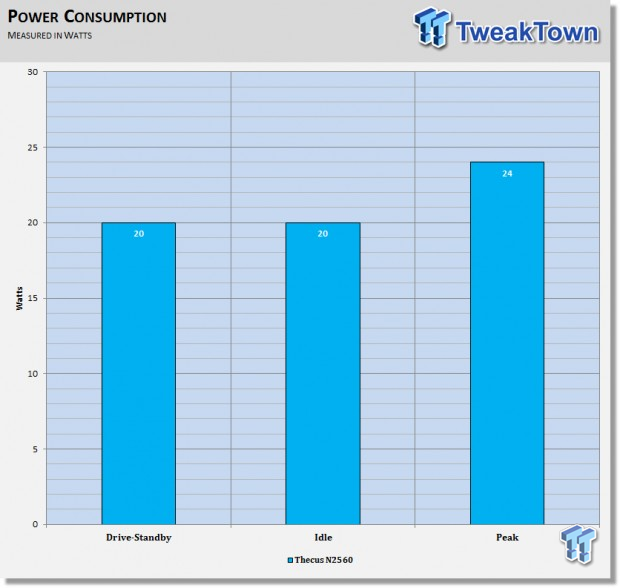 Above, we have our results from the power consumption testing. The first thing you may notice is drive-standby measuring in at the same as our idle recording. This is due to the feature currently not working in the latest build of Thecus OS 6 build 208.
Peak power consumption was measured at 24 watts during our workload testing.
Acoustics are measured from a distance of one foot with our IEC Type II Sound Level Meter.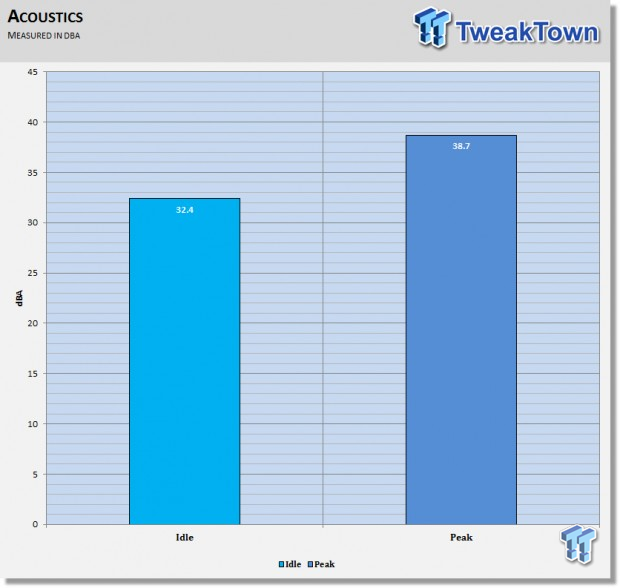 Upon initializing the N2560, we measured a peak fan noise of 38.7 dBA.
From there the NAS calmed down and maintained a 32.4 dBA operation.
Final Thoughts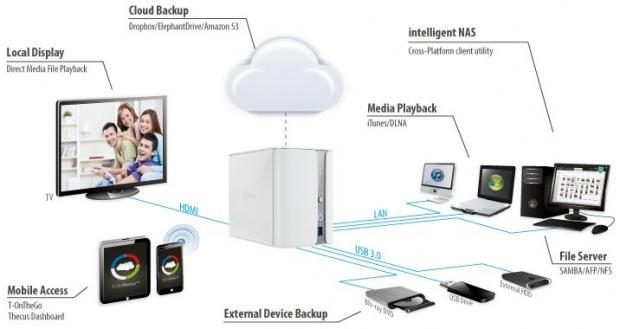 The newly or soon to be released Thecus N2560 is a rather unique NAS in that it shows the direction the NAS market is heading. For the longest time, power users and enthusiasts have been building home servers catering to their own personal needs for storage outside the backup drive in the PC.
Having a standalone option like the Thecus N2560 has its benefits in that it can serve up media through the onboard XBMC client straight to your television. Additionally, if you have media devices in rooms across your household, the N2560 has the internal power through its use of the Intel Atom SoC to stream video in HD quality to multiple devices.
Another focus with devices like the N2560 is the "cloud". We have been hearing about the cloud a lot in the last few years, and our Senior Storage Editor, Chris Ramseyer, even wrote one of the best articles on the "cloud" here at TweakTown. Thecus in launching OS 6 for their NAS systems also launched a new "Cloud" app called T-OnTheGo. This application allows you to manage files, read documents in addition to watching video and flipping through pictures straight from your Thecus NAS, while you're on the road.
However, everything isn't peaches and cream with the N2560. The NAS build quality is excellent and what I have come to expect from a brand like Thecus, but the OS that lies within is largely unfinished. Now there is no doubt in my mind that the underlying issues will be worked out with upcoming revisions of ThecusOS 6.
Pricing at this time for the 2-bay N2560 allows for a MSRP of $339 as a diskless solution. Comparable products in market have the QNAP TS-269L priced much higher at $449.99, which makes the Thecus N2560 intriguing to say the least, especially to those looking for an all-in-one solution, at what turns out to be a good price.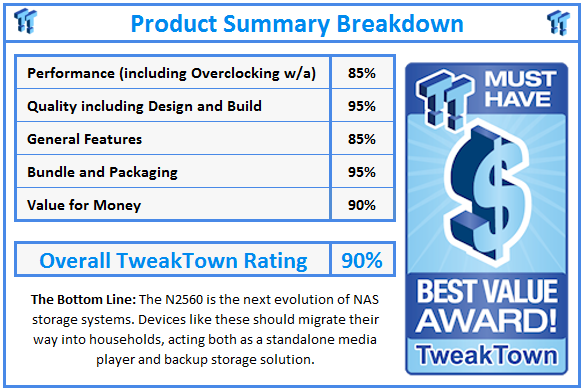 PRICING: You can find products similar to this one for sale below.

United States: Find other tech and computer products like this over at Amazon.com

United Kingdom: Find other tech and computer products like this over at Amazon.co.uk

Australia: Find other tech and computer products like this over at Amazon.com.au

Canada: Find other tech and computer products like this over at Amazon.ca

Deutschland: Finde andere Technik- und Computerprodukte wie dieses auf Amazon.de
We openly invite the companies who provide us with review samples / who are mentioned or discussed to express their opinion. If any company representative wishes to respond, we will publish the response here. Please contact us if you wish to respond.