Super Flower Leadex Platinum 1000- 80 PLUS Platinum PSU Review
Super Flower delivers what is without a doubt one of the top three power supplies that we've ever seen with the Leadex Platinum 1000W.
Published
7 minute read time
Introduction, Specifications, Availability and Pricing
Super Flower is a name that those of us here at TweakTown are quite familiar with. Long time readers should be familiar with them too, but as we've only covered a few of the power supplies with actual Super Flower branding, it could be that you've not heard of them.
In case you haven't, they are a huge OEM outside of the USA, and since their expansion in 2006, are becoming more prominent in the United States. Over the years they have manufactured and worked with numerous companies to produce power supplies such as TTGI, Kingwin, NZXT and more.
The unit we have under review today is their new Leadex Platinum 1000W unit. We first caught glimpse of this power supply at Computex 2013 and knew we were going to want to take a look. Oddly enough, Super Flower had colored the unit black back then and now we have a white one on our bench today.
This is the first time that we've had our hands on a fully modular unit from Super Flower, and as we've always had great things to say about Super Flower units, we can't wait to see what this unit has to offer inside and out. Let's start looking at its specifications so that we can get to opening the box.
Specifications, Availability and Pricing

The Super Flower Leadex Platinum 1000W power supply features a single 12V rail rated for 83.3A or 999.6W which for all practical purposes is 100% of the rated output of the power supply. Both the 3.3V and 5V are rated for 20A each and have a combined maximum output of 100W. The 5VSB rail is rated for 2.5A or 12.5W. The Leadex Platinum 1000W has a maximum combined output of 1000W.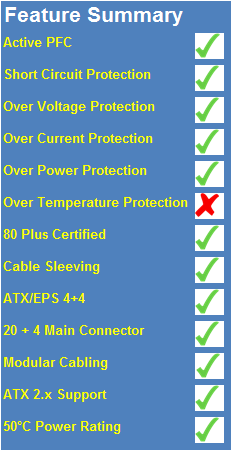 Sans the OTP, the Leadex Platinum 1000W scores green across our Feature Summary. The Leadex Platinum features SCP, OVP, OCP and OPP. While it doesn't feature OTP directly, the proprietary protection chip is set up so that even without OTP, one of the other protections will trip before OTP would stop the power supply. As such, it isn't really even necessary. The Leadex Platinum 1000W is rated for 80 PLUS Platinum efficiency. All cables are fully modular and are fully sleeved or of the flat ribbon type. Finally, the Leadex Platinum 1000W is rated for 100% continuous output at 50C.
You won't directly find the Leadex Platinum 1000W for sale in the US, at least not yet. Super flower hasn't had much luck bringing their own branded units to the US market yet. What they have had great success with is selling them to other manufacturers, who simply rebrand them and nothing else. On top of this, it isn't expected to be available till around October, so you'll have to wait a bit if you want to get your hands on one.
The MSRP on the Leadex Platinum 1000W is $249. That price is a little steep considering there are currently 1000W Super Flower Golden King rebrands on the market for less, so the Leadex better have some tricks up its sleeve to be worth the extra cash. Super Flower warrants the Leadex Platinum with a five-year warranty.
Packaging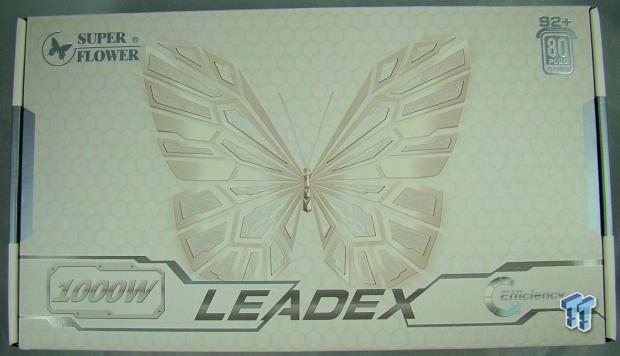 The Super Flower butterfly has been given a redesign and adorns the front of the Leadex Platinum box. Aside from efficiency and wattage, nothing more can be discerned from the front of the packaging.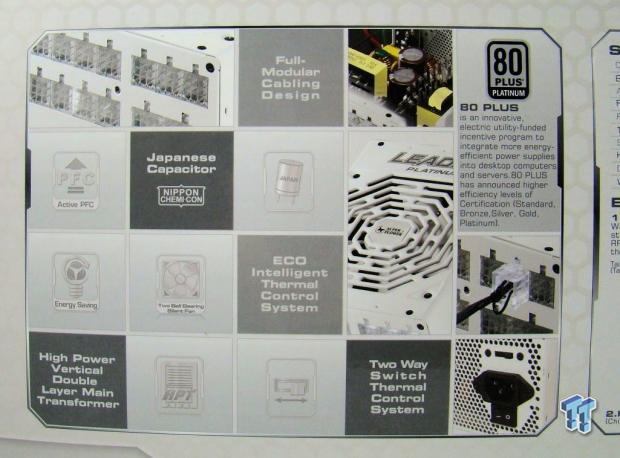 The left half of the back gives us a collage of images to highlight features of the unit and throw in a few images of the power supply.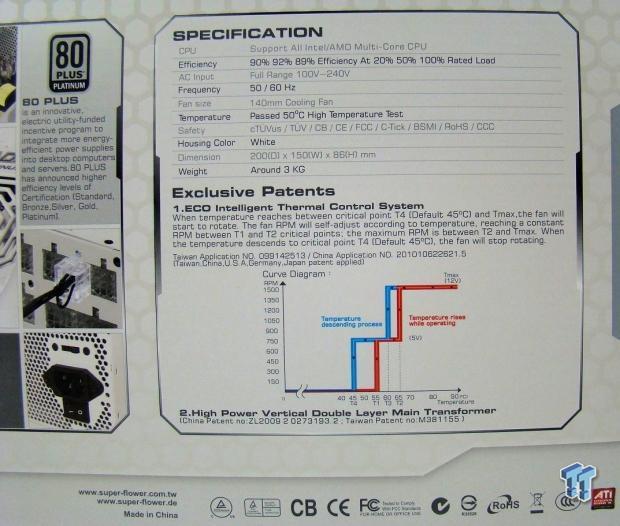 To the right we find some more specifications. We also see that the power supply features a few more components that are patented and will be exclusive to Super Flower power supplies. It won't be much longer and you will see Super Flower slugging it out with the likes of Seasonic and Enermax.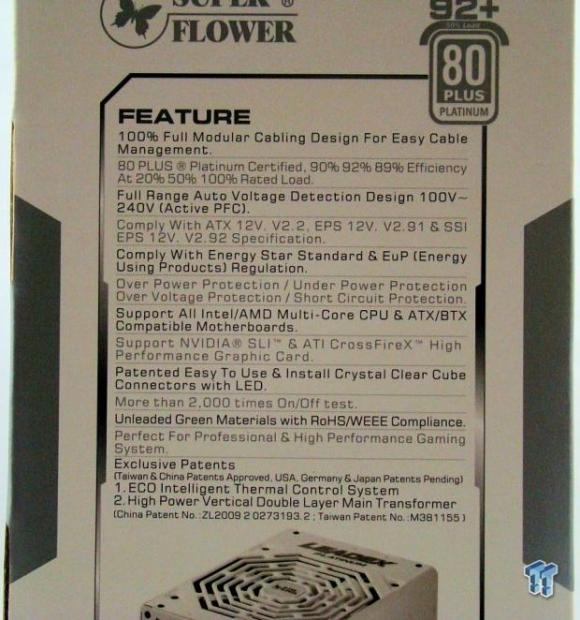 This is the only other side of the box that gives us any information, although it is more just a rehash of what we've already seen.
Inside the Box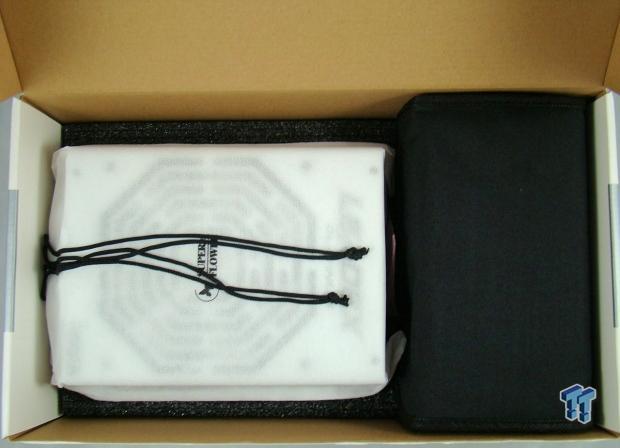 Simplicity and elegance are what is seen when opening the box, along with plenty of foam to protect the unit.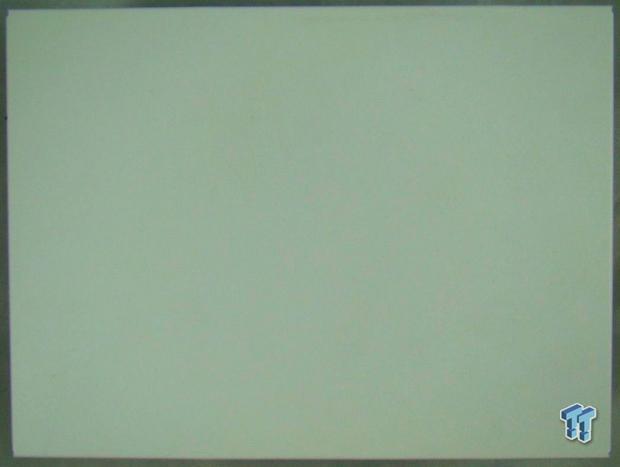 The power supply is pure white with the top being blank.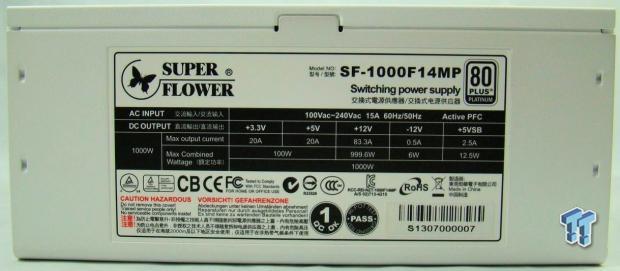 This side houses the I/O specification label. This is also the first time we have seen the official designation of SF-1000F14MP, which is the actual part number of the power supply.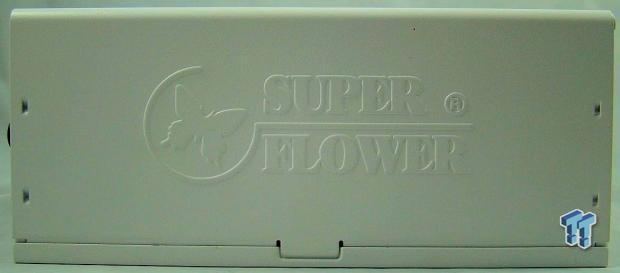 The other side has the Super Flower logo stamped in it and is inverted when compared to the other side.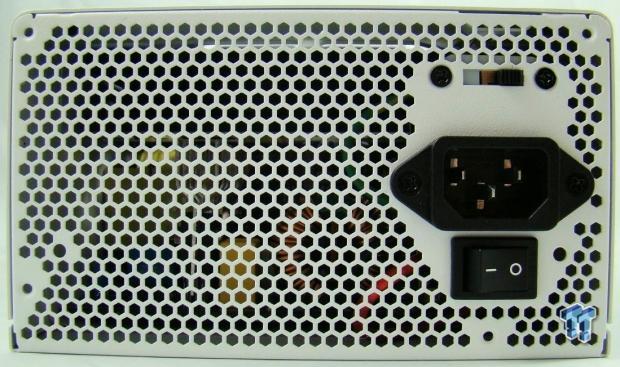 There isn't anything special on the back, aside from the switch, which allows you to change how the fan operates. The way it sits, the fan will not spin until needed. Flipping the switch ensures that the fan is always running.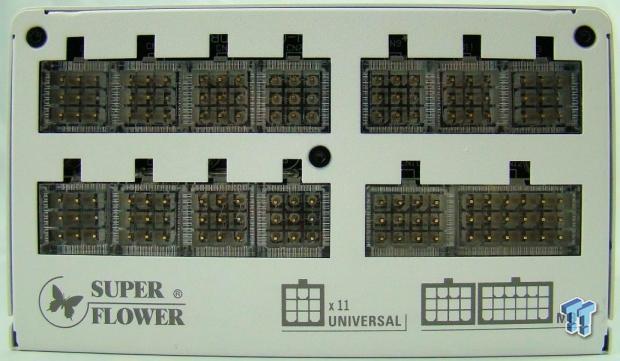 The front features all of the modular connections. These are Super Flower's Crystal Cube connectors on steroids. Yes, those are LED's that you see and they light up when the unit is powered on. Note that all of their connectors are universal with the exception of the motherboard connector.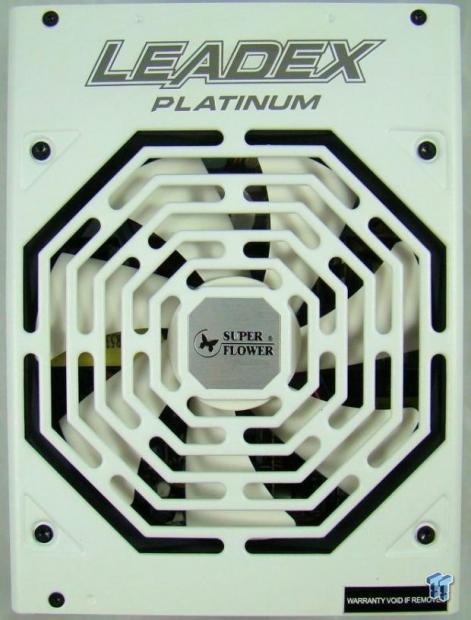 Finally we see the 140mm fan that cools the Leadex Platinum power supply. The fan grill resembles more of a maze than it does a grill and is a very nice touch to the unit.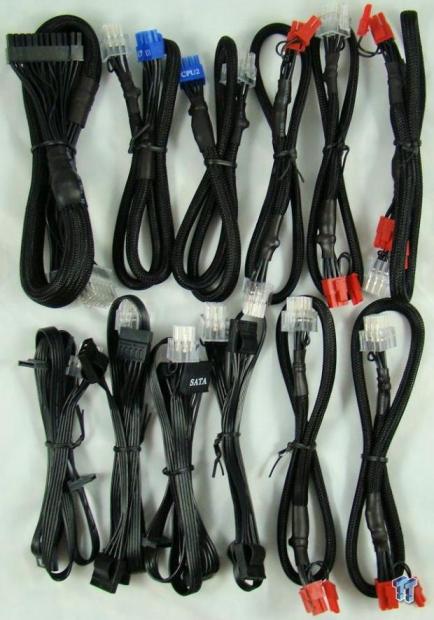 All cables are modular for the Leadex Platinum 1000W and are either fully sleeved or of the flat ribbon type.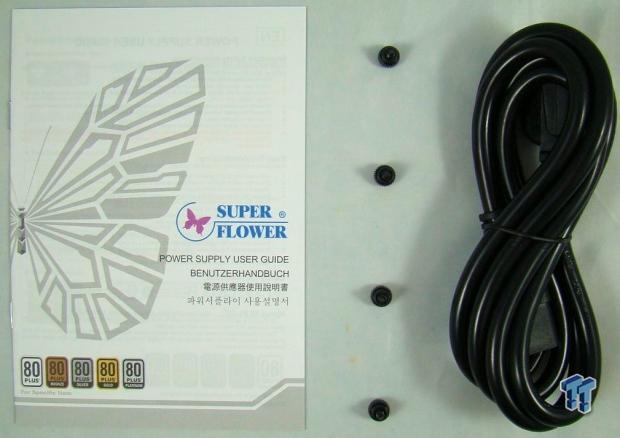 Included with the Leaded Platinum 1000W is the user manual, mounting thumbscrews and AC input cord. I was rather surprised there were no pieces included for cable management.
Cabling Arrangement and A Look Inside
Cabling Arrangement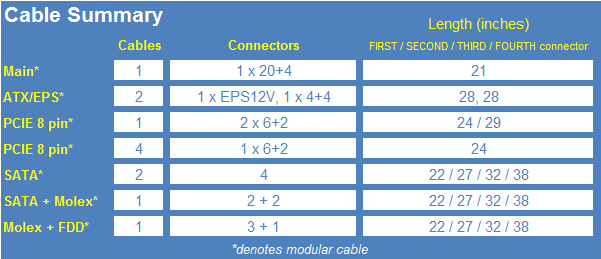 The cable selection for the Leadex Platinum 1000W is pretty standard, especially for a Super Flower power supply. The unit features dual ATX/EPS12V connectors. PCI-E cables are handled over five cables with a total of six connectors. Having the single cables is a nice touch in case you need a PCI-E connector for a motherboard or have a GPU that requires a third. Aside from that, you'll find ten SATA, four Molex, and a single FDD connector to provide peripheral power over four more cables.

Rail distribution is as simple as it gets with a single 12V rail. There is no need to worry about load balancing here.
A Look Inside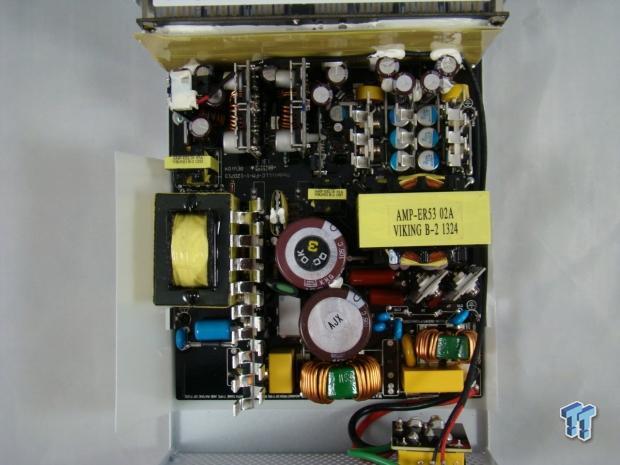 Internally we find a very simplified PCB with what may be small heat sinks, but they are literally all over the place to ensure that there is plenty of passive cooling.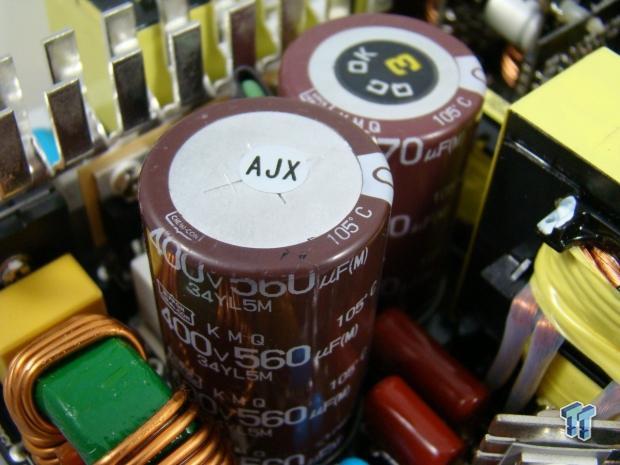 A par if Nippon Chemi-Con capacitors sit on the primary side of the power supply.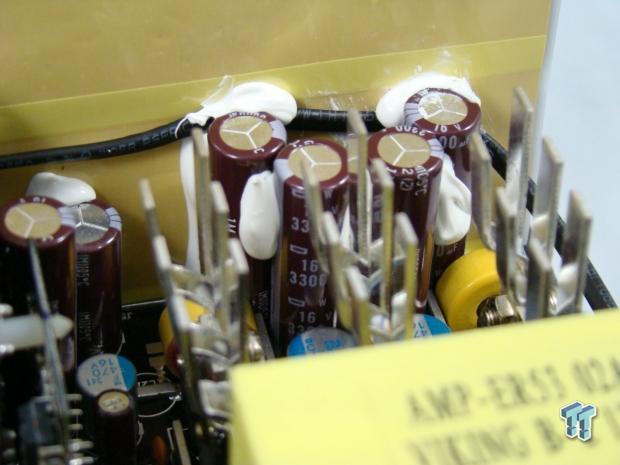 The secondary side is filled with Nippon Chemi-Con capacitors as well.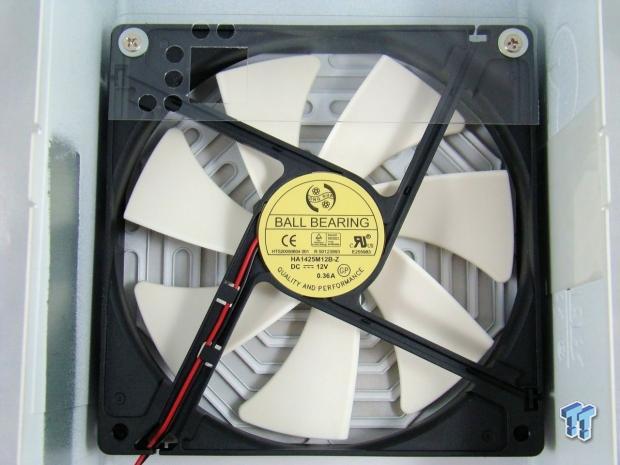 Super Flower often utilizes Ong Hua fans to cool their power supplies and the Leadex Platinum isn't any different. This time around we have the 140mm HA1425M12B-Z present.
Test Results and Final Thoughts
Test Results
Our load tests utilize a couple of FAST ATE active load testers and a variety of other equipment such as an oscilloscope, power conditioner, temperature probe and a power consumption meter. You can read more about our standard testing approach here.
The tests performed are based around six conceivable setups that are out there and progressively load down the PSU up to the power supply's limits or 1000W, whichever comes first. Since our test equipment's limits are equal to that of the Super Flower Leadex Platinum 1000W power supply, we can test it to the maximum.

The above tests represent typical loads that we have measured from various systems and are meant to give a rough idea of where your computer might fall in line with our tests. Please keep in mind that each system is different and actual loads can vary greatly even with similar hardware.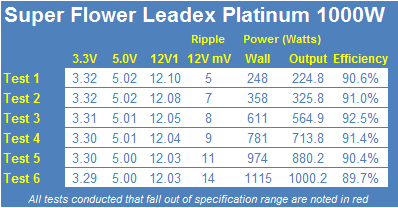 Let's start by taking a look at the voltages to see how well this unit did during testing. Starting with the 12V rail, we see 1% regulation from start to finish with a total drop of .07V. The 5V rail managed to stay within 1% of specification with a total drop of .02V from start to finish. Moving towards the 3.3V rail, we see that regulation was within 1% of specification with a total voltage drop of .03V.
DC Output quality for the Super Flower Leadex Platinum 1000W was amazing and well within specifications. During Test 1, we saw 5 mV of noise on our scope. When we increased the loads in Test 3, the ripple climbed to 8mV at around half load. During Test 6 under a load of 1000W, the oscilloscope showed a maximum of 14V on noise on the 12V rail.
The Super Flower Leadex Platinum 1000W is rated for 80 PLUS Platinum efficiency. This means that the power supply must perform at 90%/92%/89% efficiency at 20%/50%/100% loads respectively. As you can see, the Leadex Platinum 1000W passed on our bench, and wasn't close to failing at any point.
Final Thoughts
After going through all of the motions that I do with any PSU review, the Leadex Platinum 1000W is one of the few power supplies that I've ever reviewed that simply left me speechless on where to start and how on earth I was going to find something wrong with it. It really is that good of a power supply, and that's simply the best way to put it.
Externally, the Leaded Platinum is just about everything you'd want. If anything, it may be a bit too white and the lack of a switch to turn off the LED's on the cables might turn a few off. Aside from that, the Leaded Platinum is gorgeous and will look great no matter what your build is. The drawback to some will be that it is somewhat of a longer unit and I do not know why Super Flower chose to go with a longer housing as the PCB is much shorter than the housing.
The performance of the Leadex Platinum 1000W is what really set's it over the top. The voltage regulation is simply amazing, with all three rails showing within 1% or less of specification. On top of that, the 5V rail may just be the most stable rail of any power supply that we've ever seen. The icing on the cake has to be the noise suppression, though. I had to zoom in quite a bit on the scope to make sure that there was even any ripple present and I even had to get out another power supply to test with to make sure it was functioning properly. When something performs so well that it makes you think your test equipment is faulty, you've got a sure sign that something is simply going to be badass with no exceptions.
Being that I'm still left a little speechless, I realize I've already said what needs to be said to wrap things up. The Super Flower Leadex 1000W power supply is just badass. There's no way around it. I simply want to know when it will be available in the USA so that I can recommend it over and over again to all my friends, family and clients that need an awesome 1000W PSU unit.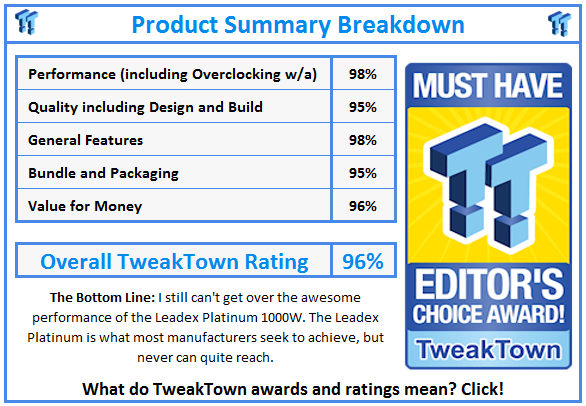 PRICING: You can find products similar to this one for sale below.

United States: Find other tech and computer products like this over at Amazon.com

United Kingdom: Find other tech and computer products like this over at Amazon.co.uk

Australia: Find other tech and computer products like this over at Amazon.com.au

Canada: Find other tech and computer products like this over at Amazon.ca

Deutschland: Finde andere Technik- und Computerprodukte wie dieses auf Amazon.de