ASUS Republic of Gamers ROG G750 Gaming Notebook Review
We take our first-ever look at an ASUS ROG gaming notebook. Is this Intel Haswell wielding beast worthy of the ROG badge? Let's find out.
Published Mon, Aug 12 2013 8:03 AM CDT
|
Updated Tue, Nov 3 2020 7:00 PM CST
Rating:

90%
Manufacturer: ASUS
Introduction and Specifications, Configurations and Pricing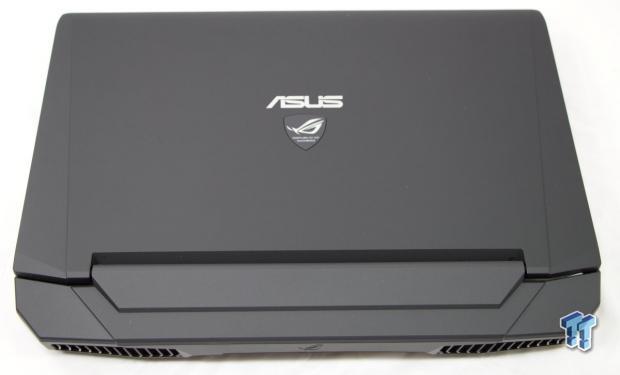 We're taking our first-ever look at an ASUS Republic of Gamers gaming notebook here on TweakTown. For those who don't know, ASUS' Republic of Gamers (ROG from here on out) badge is given to products that perform exceptionally well, especially so for gamers.
Is ASUS' latest addition to the ROG family worth the ROG badge? We put it through its paces here on TweakTown to find out just how well it performs. This no-limits gaming notebook packs a serious punch, but how does the value stack up?
Read on and we'll find out together whether or not the ASUS ROG should be on your gaming notebook radar. Note: We've removed the MobileMark performance and battery life benchmark.
Specifications, Configurations and Pricing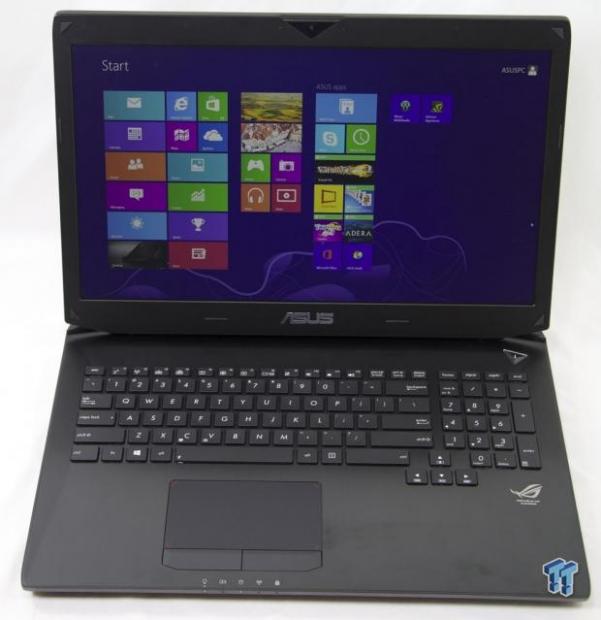 The ASUS ROG we have in the lab, specifically the G750JX-DB71, comes packing the new Intel Haswell-powered i7-4700HQ mobile quad-core processor. This should enable even the most powerful gaming laptops to get a boost in battery life. It features four cores and eight threads and comes clocked at 2.4GHz with TurboBoost 2.0 up to 3.4GHz.
Coupled with the 4700HQ is 16GB of DDR3L RAM. 16GB of RAM should be plenty for any gaming application and is good enough for most professional-level applications.
Graphics are provided via a discrete NVIDIA GTX 770M with 3GB of vRAM. The GTX 770M is a very capable video card and will perform similarly to the older GTX 670M, as they are both based upon the same chip. It may not be enough to power Crysis at full settings, so we'll have to see just how it performs.
Despite being equipped with Windows 8, the ASUS ROG G750JX does not feature a touch-enabled screen. It does, however, come with a full HD 1920x1080 panel with a matte surface coating.
The ASUS ROG features a 240GB SSD that is partitioned into two 120GB partitions. Mass storage is provided by a 1TB spinning hard disk, which is also split into two partitions.
Packaging
You can check out the ASUS ROG packaging in the unboxing video below.
Temperatures, Cooling and Noise
The ASUS ROG is a huge laptop. As such, it should keep temperatures and noise to a minimum. Even with all of the hardware stuffed into this laptop, the palm rests should remain cool to the touch.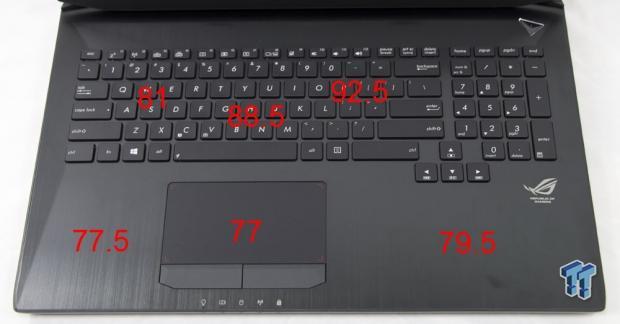 As you can see, on the front of the system, we logged a maximum temperature of 92.5 degrees Fahrenheit. This high temperature was located away from the WSAD keys, which is good news for gamers.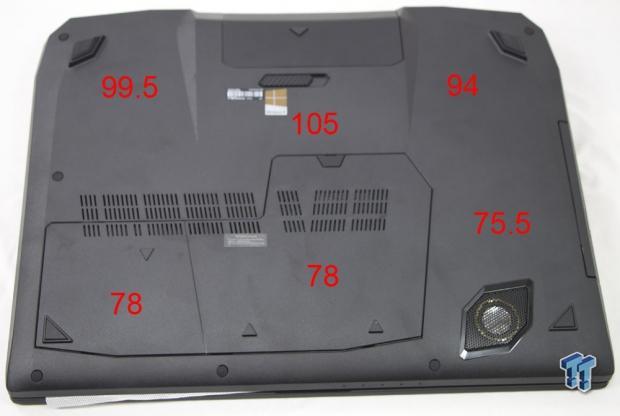 Moving around to the backside, temperatures were slightly worse. The maximum observed temperature was 105 degrees Fahrenheit. 105 degrees isn't too ridiculous of a result, though extended use on the lap should still be avoided.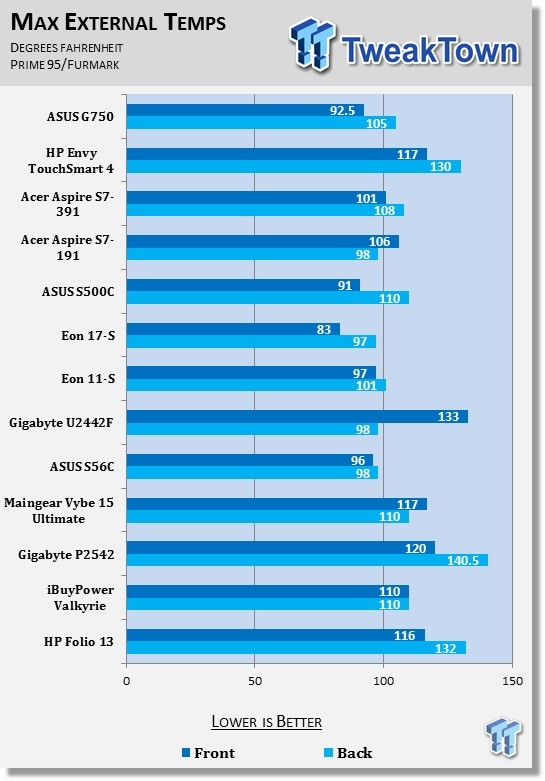 The maximum observed GPU temperature was 74 degrees Celsius. The CPU reached a maximum of 84 degrees Celsius. This laptop performed towards the top of the pack, despite packing some of the best hardware of any of the reviewed systems.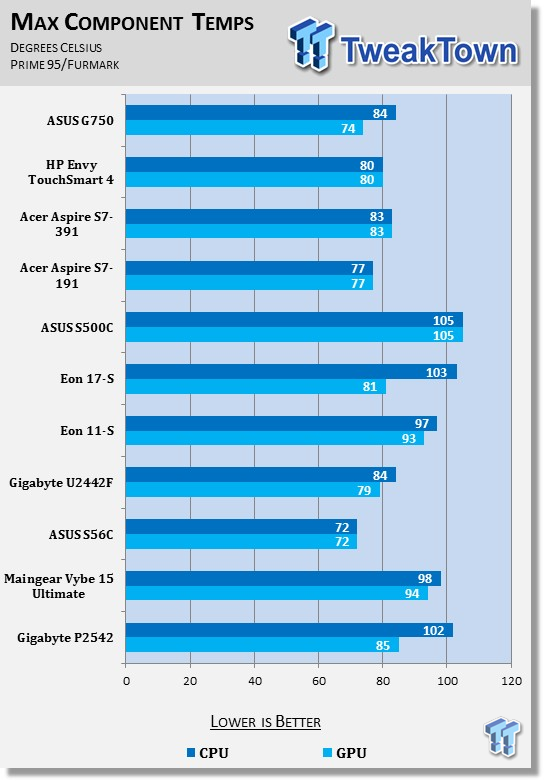 The ASUS ROG produced a sound level of 45 decibels in our measurement, making it one of the quietest machines we have tested. Our measurement is taken in front of the laptop at roughly head level. For comparison, 30dB is a totally quiet night time in the desert, 40dB is whispering and 60dB is a normal conversation.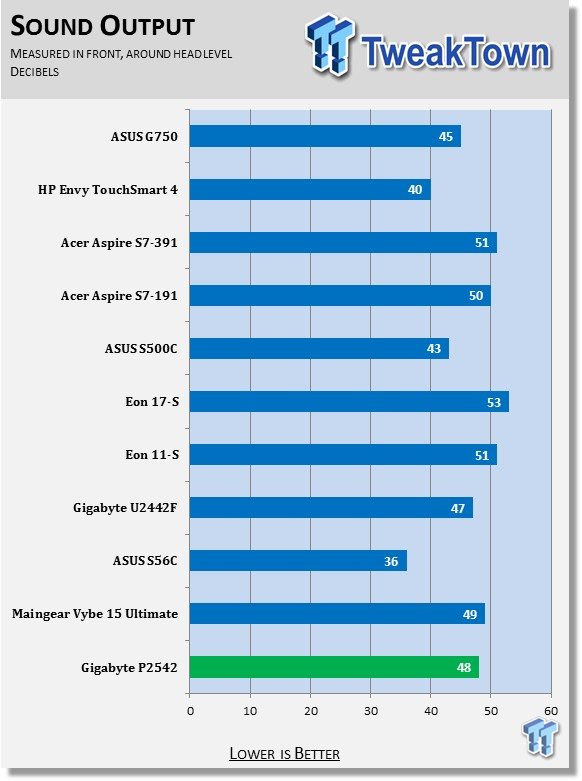 Keyboard, TouchPad, Screen and other User Interfaces
Keyboard and TouchPad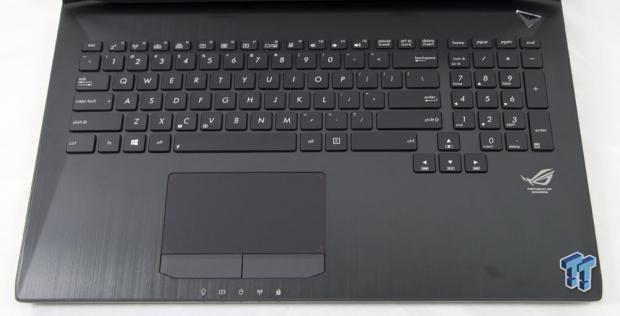 The ASUS ROG G750 comes with the now-standard island style keyboard. The keyboard is definitely comfortable to use and feels more like a desktop keyboard than a laptop keyboard, something I count as a big plus.
The keys have a great travel distance thanks to the system's thickness, though the keyboard has quite a bit more flex than I would expect to see from a system of this caliber. Considering the palm rest is aluminum, I really wouldn't expect the flex. The flex is much less pronounced around the WSAD keys, at least, so gamers won't have to worry as much about it.
Key travel and sound are good. The overall typing experience is enjoyable, though the keyboard's keys feel as though they are slightly too far apart. The keys have a smooth texture on the surface and appear to be slightly concave. The surfaces of the keys are black, which cause them to blend in with the surround. They have a good tactile feel that I could type on for hours.
The ASUS ROG G750's keyboard comes with a backlight, a feature that I love on any system. The ROG G750 provides three different brightness settings, which adds a premium feel to the system.
The touchpad is made from three pieces of material, with a large piece being the touch-enabled portion of the touchpad. The left and right click buttons are mirror images of each other, but they both sound and feel slightly cheap.
The touchpad is recessed down into the palm rest of the machine ever so slightly. The touchpad surface has a different texture than the surround, which allows you to quickly detect whether you are on the touchpad or not.
Screen
The ASUS ROG G750 features a massive 17.3-inch display with a full HD 1920x1080p resolution. The surface features a matte coating, which helps reduce glare. Despite running Windows 8, the panel is not touch-enabled.
Color reproduction on the ASUS ROG G750 isn't as good as an IPS display. It appears to make use of a TN panel, though color reproduction doesn't suffer too badly when looking at the display from an off angle.
Testing Methodology
View our full testing methodology article.
- Accessory Port Testing
Ports to which an external storage device can be connected to are tested using HD Tune Pro to obtain their maximum, minimum and average read and write speeds. USB 2.0, USB 3.0 and eSATA ports are tested using a Corsair Neutron GTX 240GB SSD that is capable of saturating the theoretical bandwidth available.
The Corsair Neutron GTX is housed inside an Icy Dock external enclosure which features a SATA I/II/III to USB 3.0 and eSATA converter.
- Gaming Tests
3DMark Vantage is ran on the Performance preset to get a feel for how the computer would manage gaming. The CPU, GPU and combined scores are reported. A higher overall score is the best and a high GPU or CPU score shows particular prowess with tasks that use that part of the computer.
3DMark 11 is run on the Performance preset and the Physics, GPU and combined scores are reported. This test is only run if the system supports DirectX 11. A higher overall score is the target, though a high individual result shows prowess in a particular area.
3DMark is the latest benchmark by Futuremark. The Cloud Gate test is ran with all of the default settings and the score, GPU score, and physics score are all recorded in the chart. The Cloud Gate test is intended to be run on home desktops and notebooks.
- System Tests
PCMark 7 is run to get an overall idea of how the system performs as a whole. It tests all aspects of the PC and puts a score on how well it performs overall. In this test, a low scoring area can affect the overall score, so it's important to read the analysis. A higher score is better.
CrystalDiskMark is run to put a number on how well the system hard disk drive / SSD runs. It measures five different metrics, of which higher is better for all. The higher the numbers, the snappier the operating system will feel, especially if the "4K" number is high, as most operating system files are small files.
- Battery Life
PowerMark is used to measure battery life of the system when set to the "Balanced" power plan. This test simulates several different activities, but uses custom built applications.
Accessory Port Layout and Performance

The left side, from back to front, features the Kensington lock, two USB 3.0 ports, DVD drive and SD card reader.

The right side, from back to front, features the power port, VGA port, Ethernet port, HDMI port, Thunderbolt port, two USB 3.0 ports, and the microphone and headphone ports.
The ASUS ROG G750 doesn't feature any USB 2.0 ports, so those tests were omitted.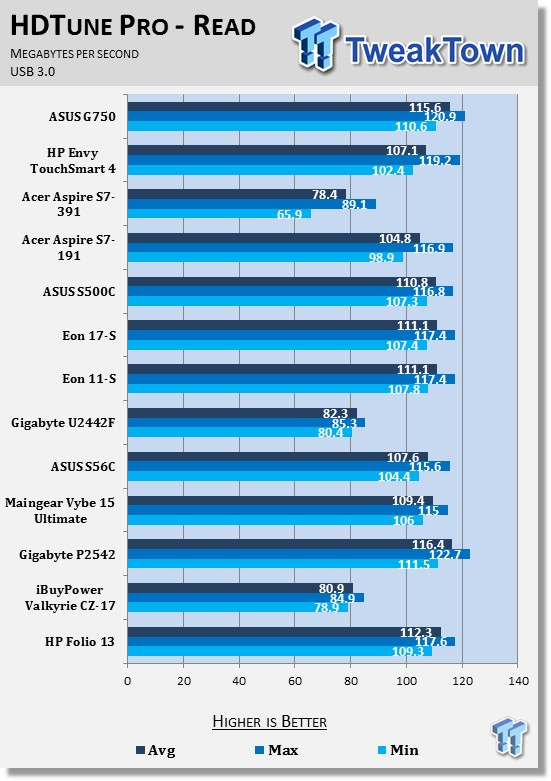 As far as USB 3.0 performance goes, the ASUS ROG G750 takes the top position with an average read speed of 115.6 MB/s.
The ASUS ROG G750 also puts up respectable USB 3.0 write speeds, putting the system squarely in third place with average write speeds of 137.7 MB/s.
Gaming Performance
3DMark Vantage
Version and / or Patch Used: 1.1.0
Developer Homepage: http://www.futuremark.com
Product Homepage: http://www.3dmark.com/3dmarkvantage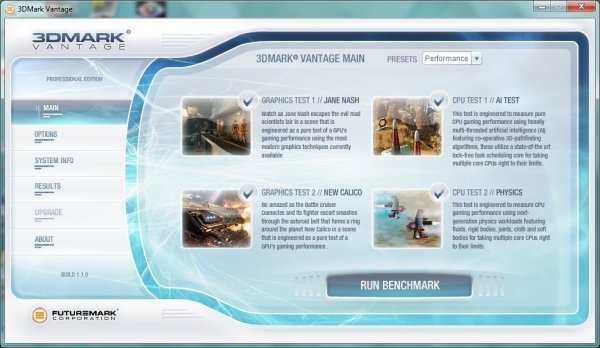 3DMark Vantage tests both processor and graphics performance and is a good indication of how systems compare. The results are generally more repeatable and consistent than other forms of benchmarking. Vantage uses DirectX 10 and can handle multi-core CPUs.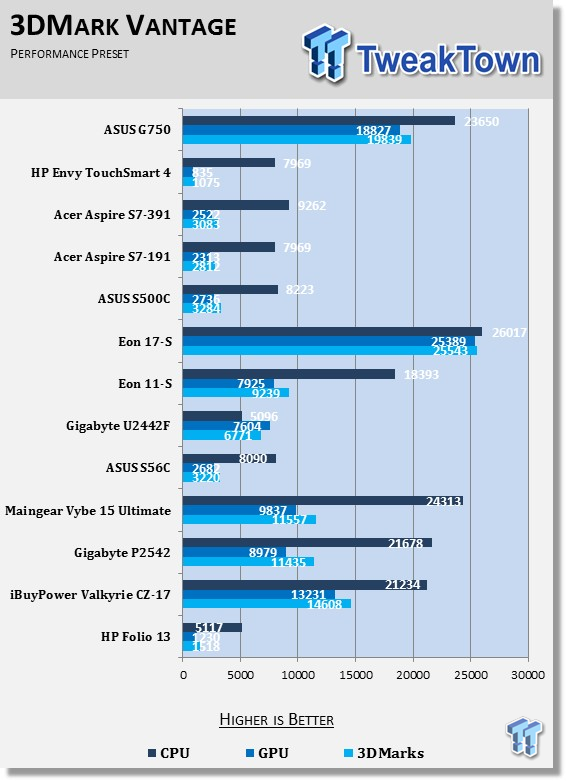 The ASUS ROG G750 put up the second best 3DMark Vantage score of any of the laptop systems we have tested. Scoring a whopping 19,839 Marks, the G750 should be capable of taking on most games at reasonably high detail levels.
Digging into the individual scores, we can see that the new Haswell processor performs about on par with the previous generation of CPUs. The benefits of the new architecture should become abundantly clear in the battery life test.
3DMark 11
Version and / or Patch Used: 1.0.1.0
Developer Homepage: http://www.futuremark.com
Product Homepage: http://www.3dmark.com/3dmark11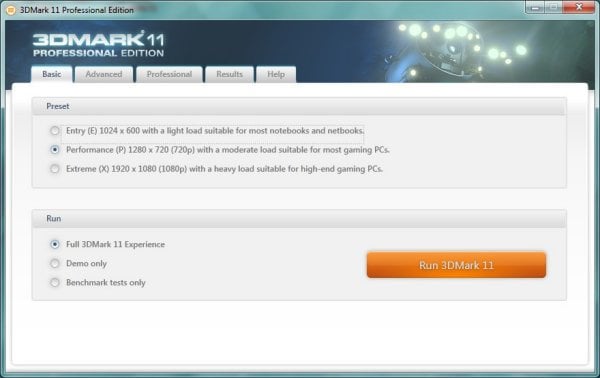 3DMark 11 is the latest version of the world's most popular benchmark. Designed to measure your PC's gaming performance 3DMark 11 makes extensive use of all the new features in DirectX 11 including tessellation, compute shaders and multi-threading. Trusted by gamers worldwide to give accurate and unbiased results, 3DMark 11 is the best way to consistently and reliably test DirectX 11 under game-like loads.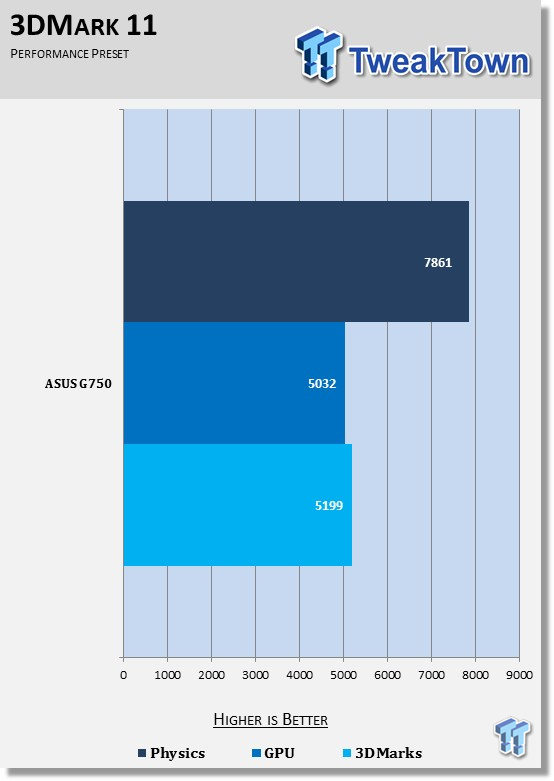 Due to our updating of the 3DMark 11 benchmark, previous scores have been archived.
As you can see in the chart above, the ASUS G750 scored a respectable 5,199. For comparison's sake, that's the second best score we've seen between the old version and current version of the benchmark. Only the Eon 17-S beat it.
3DMark - Cloud Gate Test
Version and / or Patch Used: 1.0.0
Developer Homepage: http://www.futuremark.com
Product Homepage: http://www.futuremark.com/benchmarks/3dmark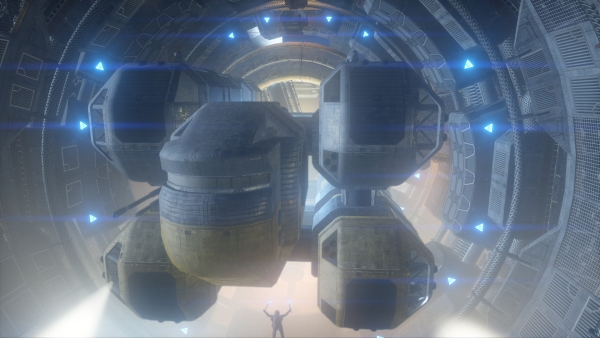 Cloud Gate is a new test that is designed for Windows notebooks and typical home PCs. Cloud Gate includes two graphics tests and a physics test. Cloud Gate uses a DirectX 11 engine limited to Direct3D feature level 10 making it suitable for testing DirectX 10 compatible hardware. Cloud Gate will only be available in the Windows editions of 3DMark initially.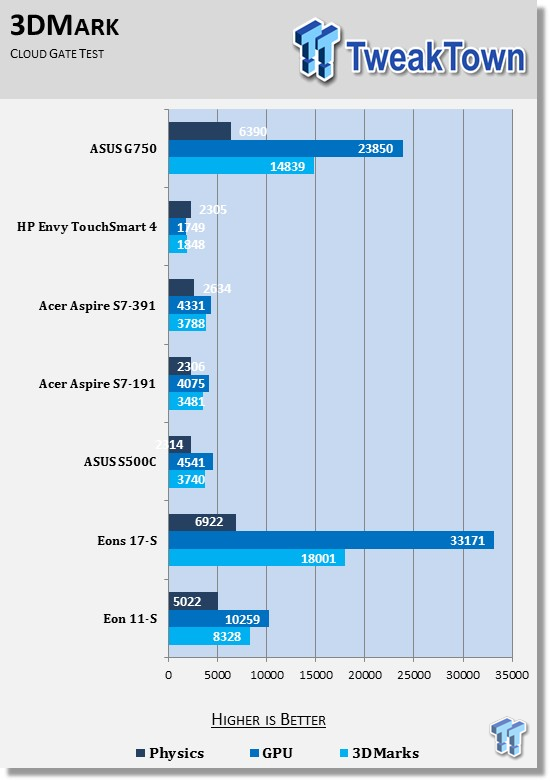 The ASUS G750 is consistently scoring second place behind the older Eon 17-S. In the Cloud Gate benchmark, the G750 put up a score of 14,839, a respectable score in comparison to the other systems.
Battlefield 3
Developer Homepage: http://www.dice.se/
Product Homepage: http://www.battlefield.com/battlefield3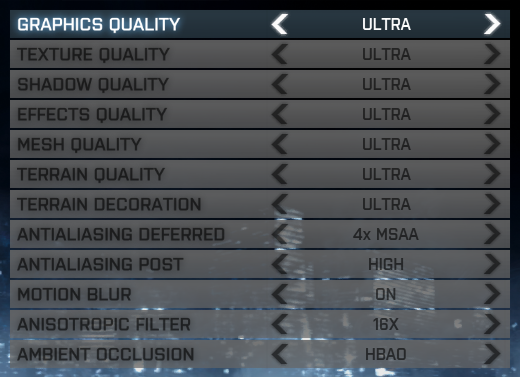 Battlefield 3 is one of the most requested benchmarks, so we have finally added it. Frame rates are recorded for 60 seconds starting in the first part of campaign when the character picks up the gun and is played through until just after the train explodes. The game is played three times in that manner with the results being averaged together and reported.
Settings are 1920x1080 for the resolution with the "Graphics Quality" set to Ultra.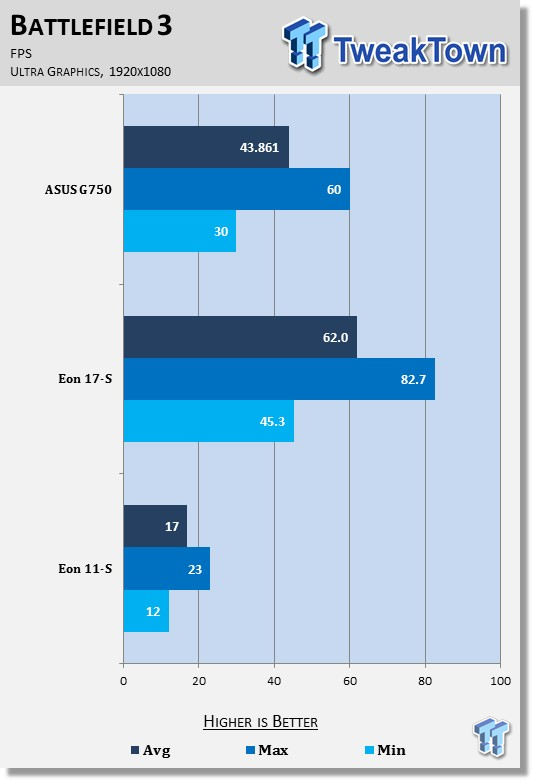 You can see that the G750 is capable of playing Battlefield 3 on Ultra settings. It produced an average frame rate of 43.8, which is above the 30 FPS threshold often thought needed for smooth gameplay.
Crysis 3
Developer Homepage: http://crytek.com/
Product Homepage: http://www.crysis.com/us/crysis-3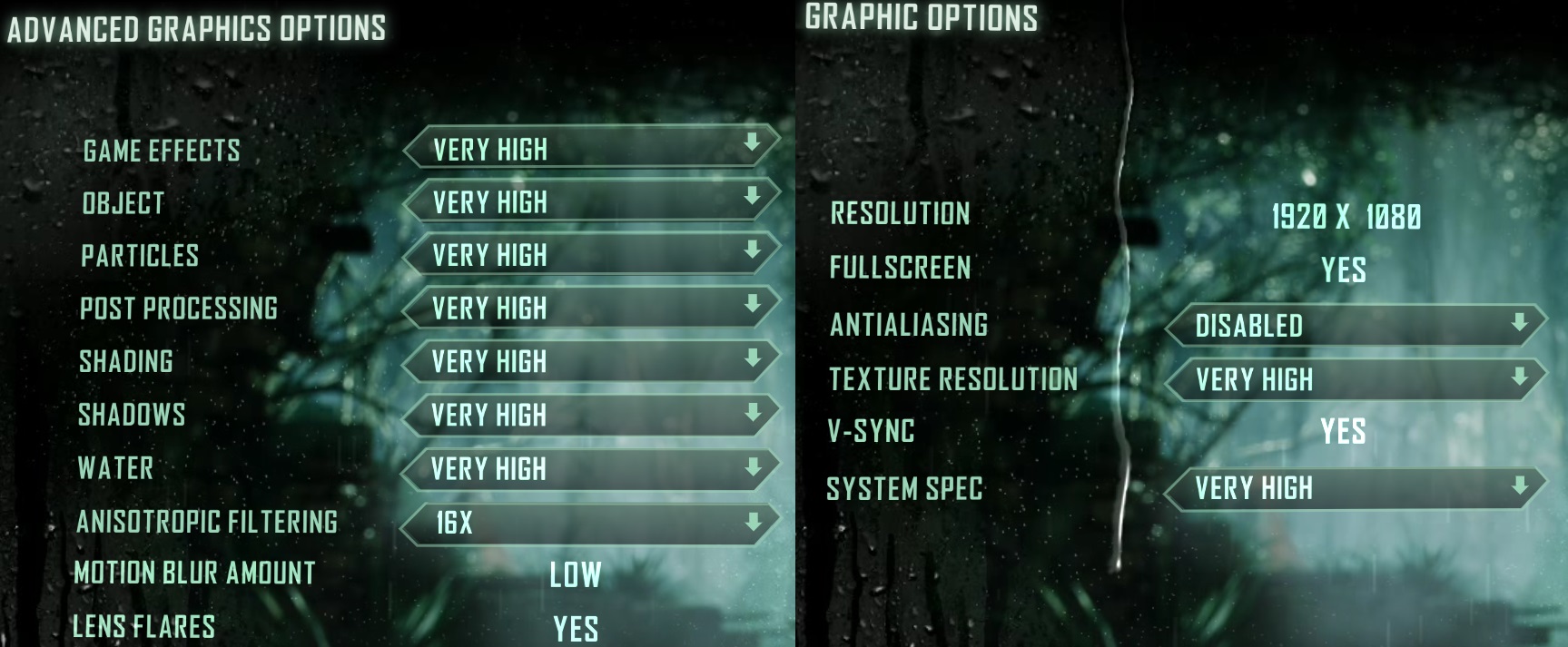 Crysis 3 is run at 1920 x 1080 resolution with the graphics specifications set to "Very High." No anti-aliasing is used. See picture above for full details. The test is ran three times due to higher variability than the other benchmarks. FRAPS is used to record 60 seconds worth of FPS data and recording starts at the start of the campaign and finishes most of the way up the tower. The game is played in a similar manner each time.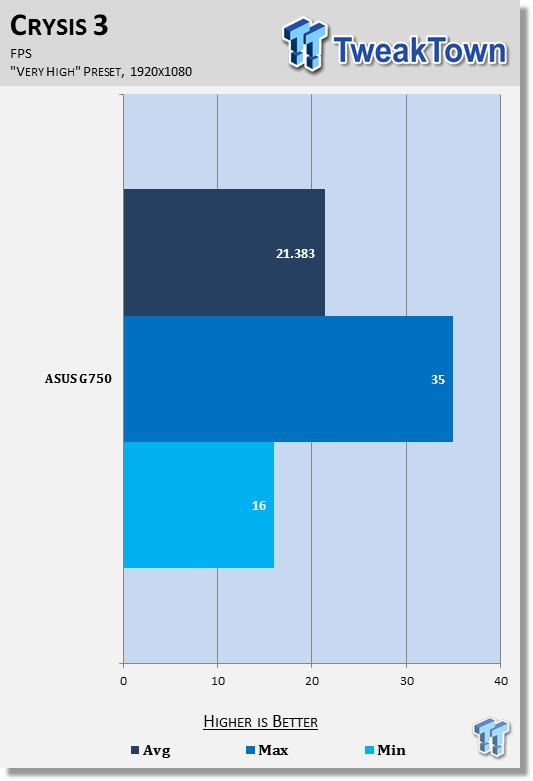 Crysis 3, however, is a different story. It produced an average frame rate of 21.4 FPS, putting it below the 30 FPS threshold. Turning down the detail level would boost the FPS and allow the game to be playable.
System Performance
PCMark 7
Version and / or Patch Used: 1.0.4.0
Developer Homepage: http://www.futuremark.com
Product Homepage: http://www.pcmark.com/benchmarks/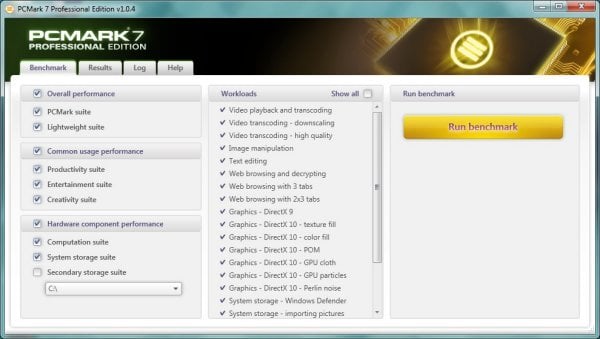 PCMark 7 is a great utility for testing a PC's all-around capabilities. It tests all aspects of the computer, from graphics performance to hard disk performance and attempts to put a score on it, which is not an easy task.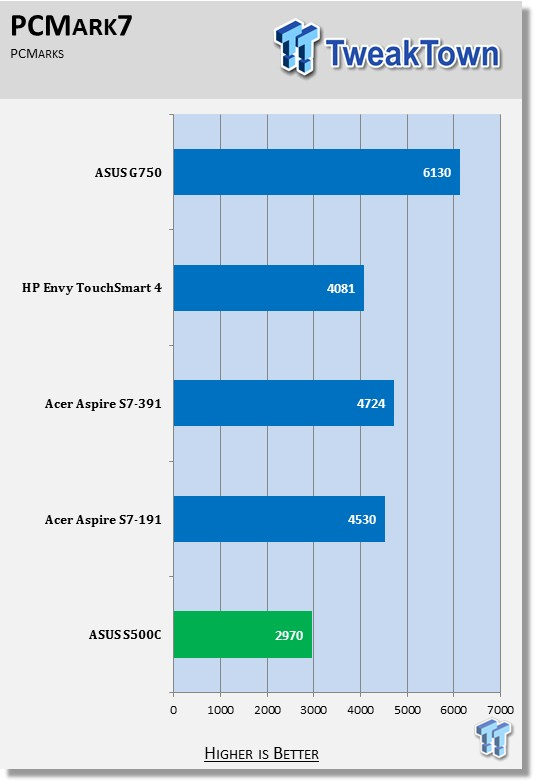 We updated PCMark 7 since testing the Eon 17-S, so we are unable to compare the performance of the ASUS G750 to it. However, the G750 manages to produce the top score of any system, beating out all of the other systems we have tested with the latest version of PCMark 7 by a wide margin.
CrystalDiskMark
Version and / or Patch Used: 3.0 Technical Preview
Developer Homepage: http://www.crystalmark.info
Product Homepage: http://crystalmark.info/software/CrystalDiskMark/index-e.html
Download here: http://crystaldew.info/category/software/crystaldiskmark
CrystalDiskMark is a disk benchmark software that allows us to benchmark 4K and 4K queue depths with accuracy.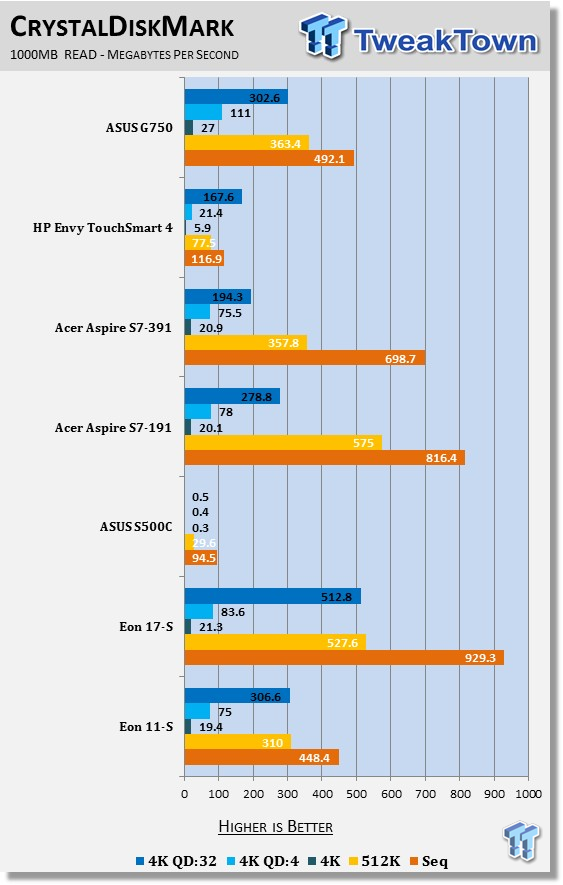 The G750 produces respectable numbers in terms of read speed thanks to its SSD. It lands around the middle of the pack, with the Eon 17-S and Aspire S7s beating it out by wide margins.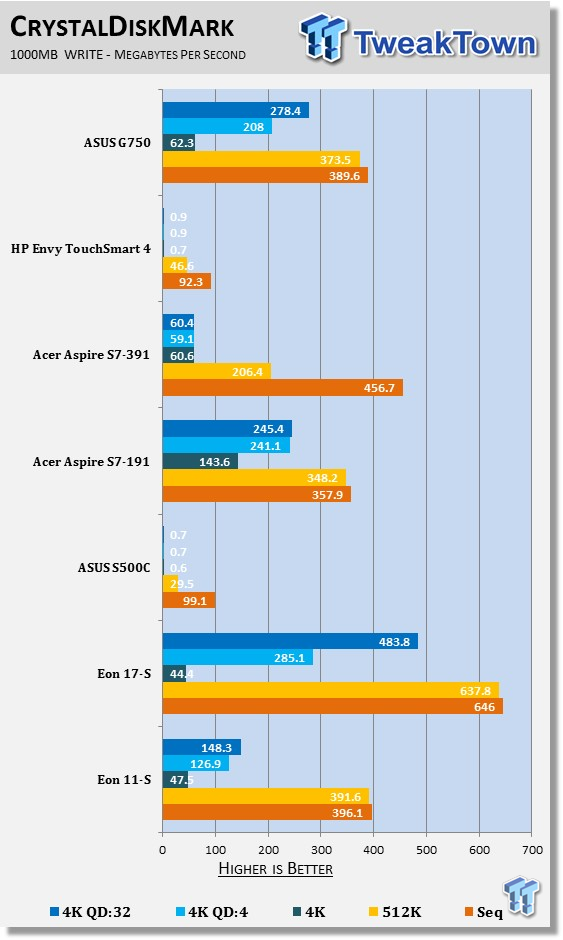 The same trend is seen with write speeds, though the G750 moves up and only the Eon 17-S and Aspire S7-391 beat it by wide margins.
Battery Life Performance
PowerMark
Version and / or Patch Used: 1.1.1
Developer Homepage: http://www.futuremark.com
Product Homepage: http://www.futuremark.com/benchmarks/powermark/
Download here: http://www.futuremark.com/benchmarks/powermark/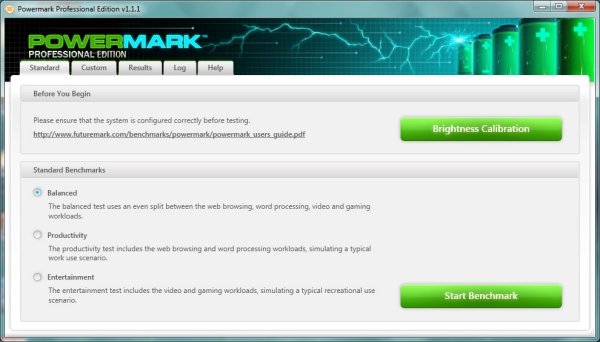 PowerMark is a benchmark produced by Futuremark that simulates different usage scenarios in order to determine battery life. It loops these different scenarios infinitely until the battery hits 15% and then gives us an estimated battery life time. For our testing, we use all four different scenarios. These are video playback, gaming, web browsing and word processing.
The test is ran once with the computer's Power Options set to Balanced. You'll notice our graph has been cleared. PowerMark was updated to the latest version for testing, so we removed the test results created with a past version.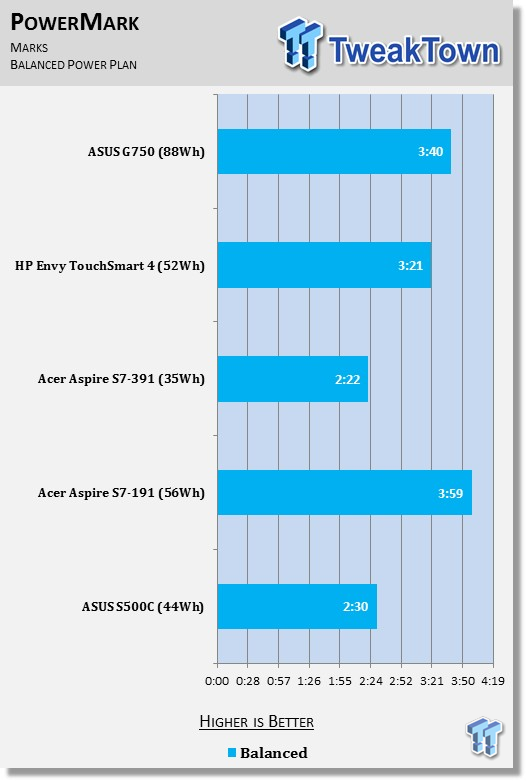 Intel's new Haswell architecture really pays off here.
The G750's battery lasts nearly as long as the Aspire S7-191, which featured an extended battery attachment. Otherwise, the G750 places towards the very top of the heap - impressive for a gaming machine.
Final Thoughts
I'm really quite impressed with ASUS G750 ROG laptop. The stylish case is inspired by aircraft design and features a dual-fan design to keep system temperatures down and expand system longevity.
As most of my readers will know, I'm not a fan of huge desktop replacement laptops, but they do have an eccentric market. The G750 is quite heavy and large, but packs a serious hardware punch that just wouldn't be possible in a smaller form-factor.
I'm pretty happy with the keyboard that ASUS has equipped the G750 with, but there is a fair amount of flex present away from the WSAD keys. The multi-brightness keyboard backlight adds a premium feel to a system that comes with a premium price tag.
Battery life is also impressive, especially considering the hardware. The system really benefits from Intel's new Haswell architecture. In our PowerMark benchmark, the G750 beats out nearly every other system in our chart, an impressive feat for a gaming machine to achieve.
Build quality on the G750 feels solid, save for the keyboard flex. The system's temperatures are within reasonable limits and the system does a good job of keeping heat away from the important WSAD keys.
A notebook is always better than desktop for taking to LAN parties as they are infinitely more portable, but if you're looking for something to haul around daily, it might not be the best choice.
Putting Windows 8 onto a system without a touchscreen is also not the best idea and I would much prefer Windows 7 to be installed on the system. Either that, or ASUS should equip the G750 with a touchscreen.
One other thing that I really like about the G750 is that the system features that rubberized paint that is used on cell phones. It also adds a nice premium feel to the system. For a mere $1,900, you could pick up the G750 today and it would be an excellent choice.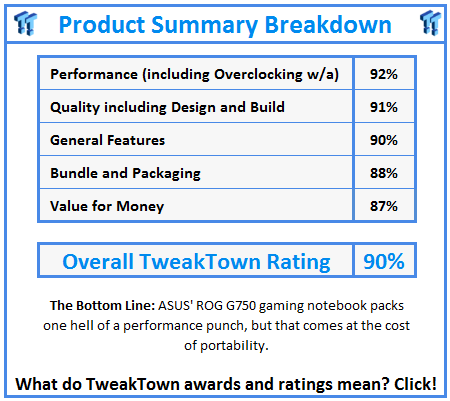 PRICING: You can find products similar to this one for sale below.

United States: Find other tech and computer products like this over at Amazon.com

United Kingdom: Find other tech and computer products like this over at Amazon.co.uk

Australia: Find other tech and computer products like this over at Amazon.com.au

Canada: Find other tech and computer products like this over at Amazon.ca

Deutschland: Finde andere Technik- und Computerprodukte wie dieses auf Amazon.de