Introduction, PP04 kit, and PP05 Kit
There are quite a number of reasons to get into power supply accessories when doing some case modding. The first reason is to tidy things up on the inside. If you can clean up the cable clutter, you can increase airflow and reduce the temperatures inside your case by quite a bit. Aside from that, many do it for the aesthetics. Whether you're doing it to please yourself by taking pride in your work or to show off your awesome rig through the window in your case, the power supply can add or remove quite a bit from what you're trying to accomplish.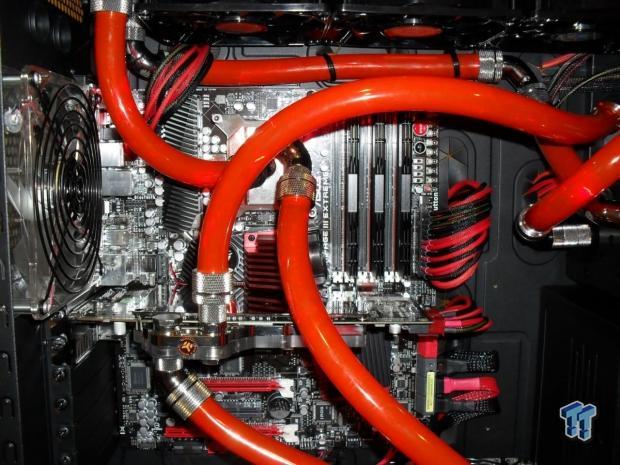 If you do it right, the above picture is something that is achieved through a lot of hard work and planning. The problem is that many don't want to go through that much work or they just might not have the tools and knowledge to make it happen. We previously published a guide on DIY Cable Sleeving, but what if you simply don't have the time or still aren't confident in your abilities to make things turn out the way you want them to?
SilverStone has a few possible answers to this, whether you own a SilverStone power supply or not. They offer both kits and extensions in various colors that will help most accomplish a much cleaner and better looking case interior.
PP04 Kit

First up on the plate is the PP04 kit. This kit is simply an extension of the 24-pin Main and ATX 4+4 connectors. These won't help with sleeving, but they will help with routing your cables. I can't count the number of times I've tried to route cables behind a motherboard tray only to find that things were just a few inches short of being able to keep things tidy while still making the connection, especially on the ATX 4+4 pin cable.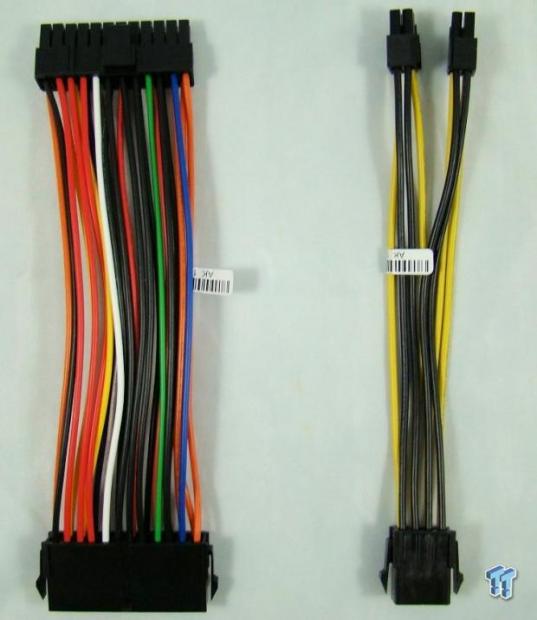 The cables aren't sleeved or labeled. They are simply an extension of what you've already got. What you see is what you get. Nothing more, nothing less.

Both cables will give you an additional seven inches of cable to play with. The MSRP for the PP04 cable kit is $12.99. These are fully compatible with any standard ATX power supply.
PP05 Kit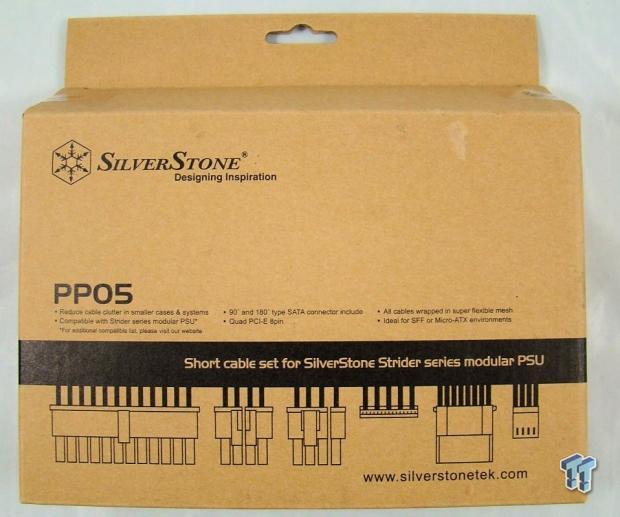 Sometimes things are just way too long and you're left with a rat's nest of cables in the middle of your case. It not only looks ugly, but it blocks clean airflow. The PP05 short cable kit will solve that. It is designed for all SilverStone Strider power supplies.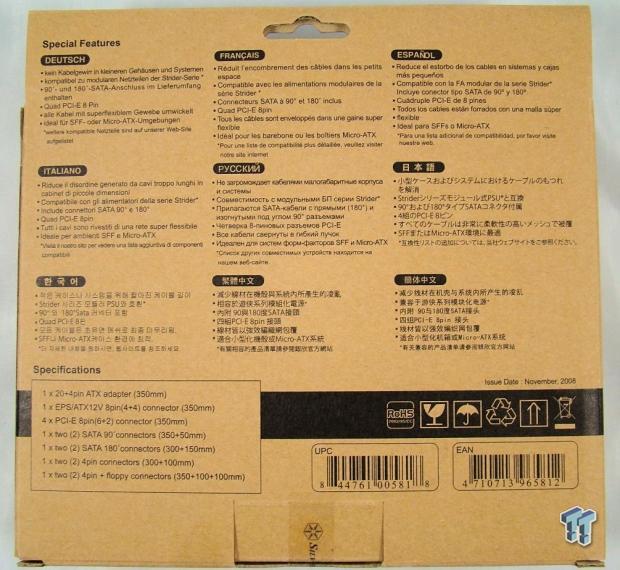 The back gives us the cables that are available on the inside along with their connectors and lengths.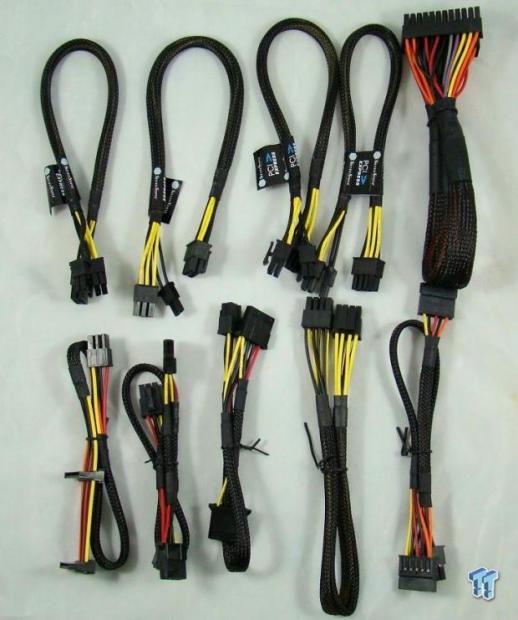 The cables inside are sleeved with standard nylon mesh, but you can tell they are much shorter.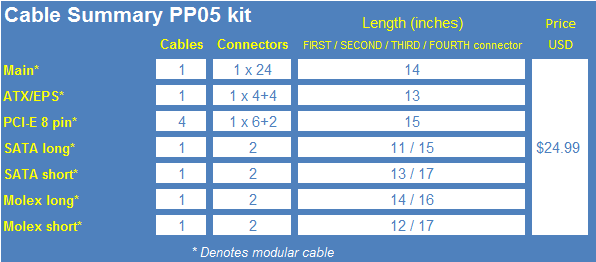 This chart gives you a good idea of exactly what is provided by the kit. There is still enough here to power a pair of video cards, along with plenty of drives. The PP05 cable kit will set you back $24.99.
PP06 Cables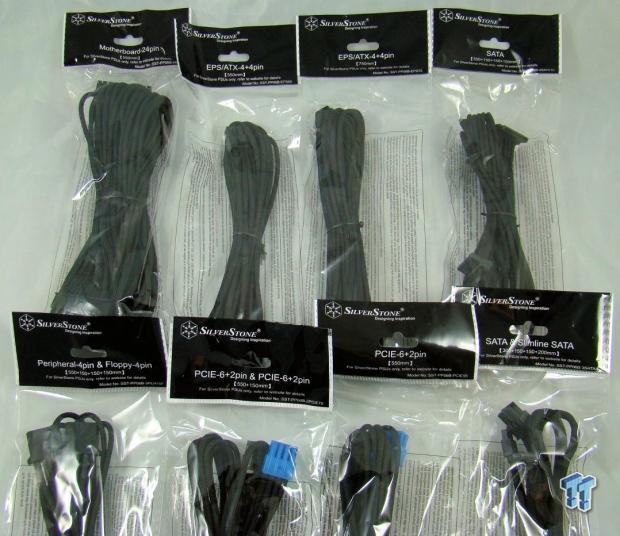 If you aren't looking for shorter cables or unsleeved extensions, SilverStone offers the PP06 cables. The PP06 series of cables are designed to be fully compatible with all Strider series power supplies and are full length cable replacements. The standard cables provided by SilverStone are not individually sleeved.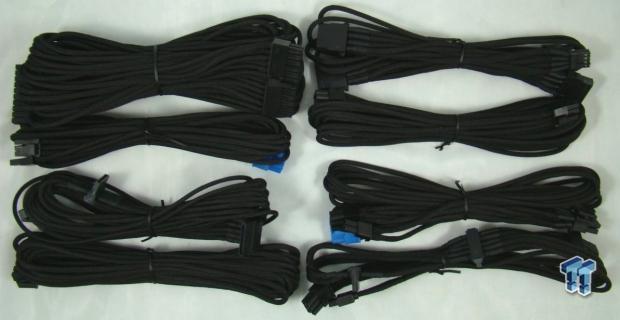 Just removing the cables from their packaging makes them look much more appealing than cables that have a single wrap around the entire bundle. The sleeving is a much softer nylon than the hard, loose, plastic nylon mesh that comes with the stock cables.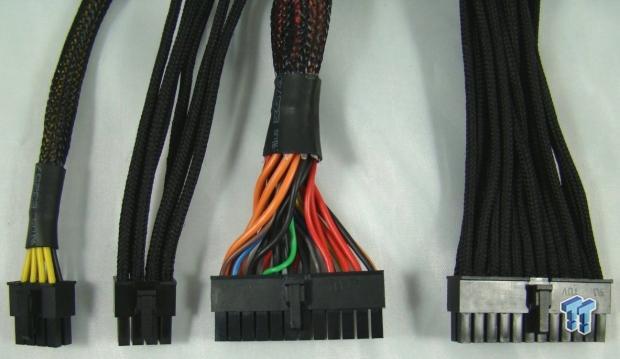 Here we see an ATX 4+4 and 24-pin Main connector in stock form and individually sleeved form. There is a huge difference in visual appeal and the individually sleeved cables are much more flexible than the stock cables. Note the end of the sleeving is not secured with shrink wrap.

The breaks in the sleeving where there are additional connectors all have shrink wrap to secure the sleeving. With the softer nylon wrap, you have to be careful not to snag the sleeving or else it might start to fray a little.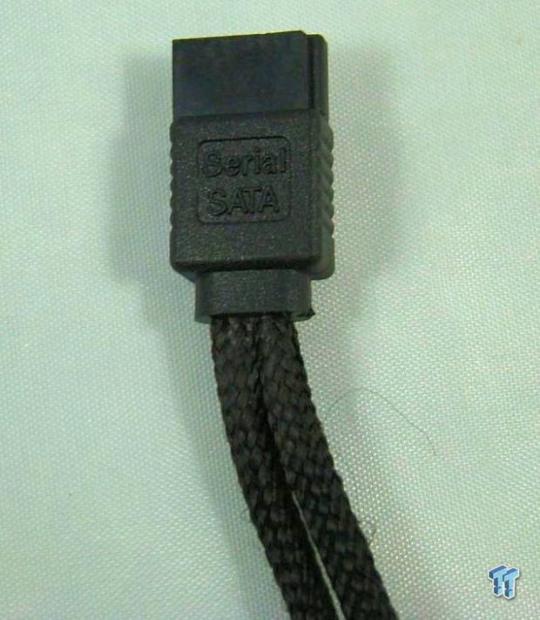 Something that we haven't seen from any power supply manufacturer to date is a cable to support Slimline SATA. For those unfamiliar with it, it is a new connector designed to support thinner 2.5" SATA drives. Western Digital is the only one using it right now, but it should start to become more prevalent very soon.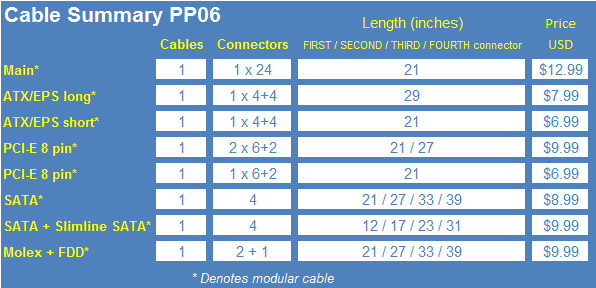 Most of the cables for the PP06 series are right within what you would normally find out of the box. The prices aren't too bad considering what you get, ranging from $6.99 to $12.99. This can start to add up quick if you aren't paying attention, but if you're short on time or lack the confidence to get the job, it is nice to have the option available.
PP07 Red Cables and PP07 White Cables
PP07 Cables - Red
If you don't have a SilverStone power supply, you don't need to worry. SilverStone offers the PP07 series of cables which are extensions that plug into what you already have. They are guaranteed to fit any standard ATX power supply.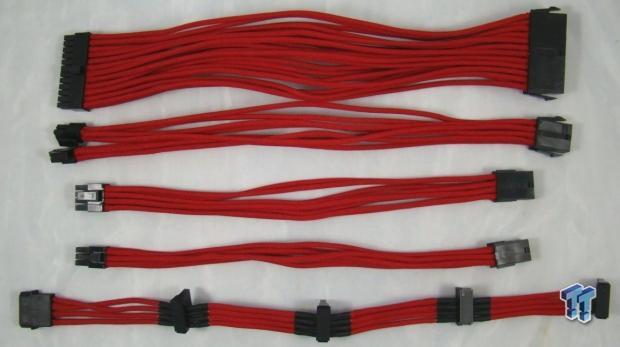 Just as with the PP06 cables, the PP07 cables use a soft nylon mesh to sleeve the cables. Here we find them in red.
Just as with the PP06 cables, the sleeving is secured with shrink wrap whenever there is a connector in the middle of the cable.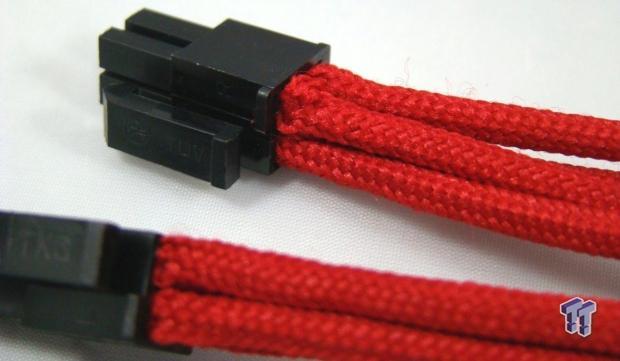 Shrink wrap isn't used on the ends of each cable though and there are some cables that it really shows.
PP07 Cables - White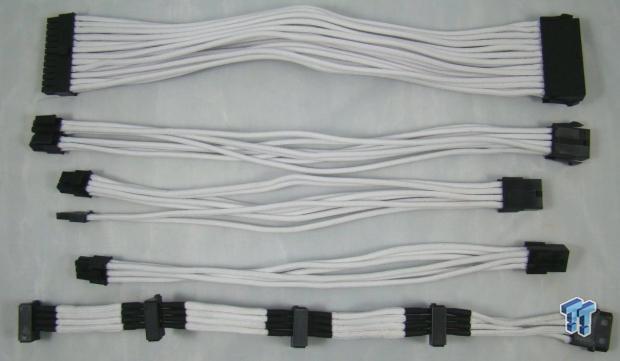 SilverStone also offers the PP07 series in white in case that is what you're after.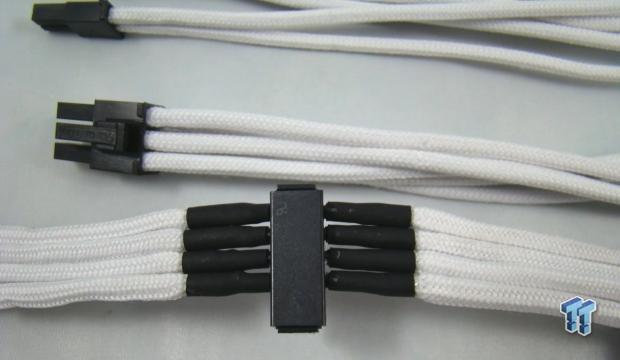 Again we find the connections in the middle of the cable have shrink wrap on them.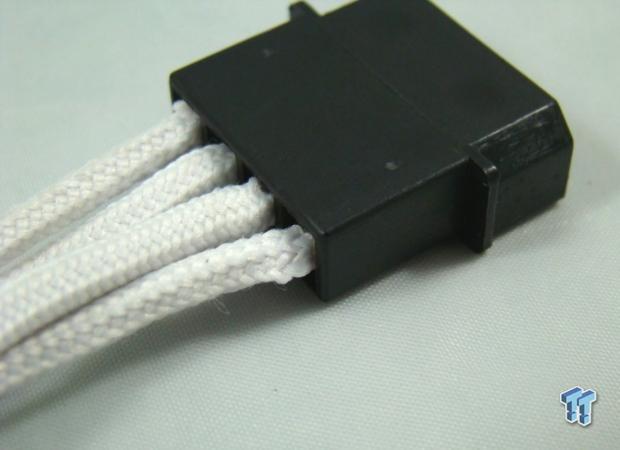 The ends on the white sleeved cables are just the same... without shrink wrap.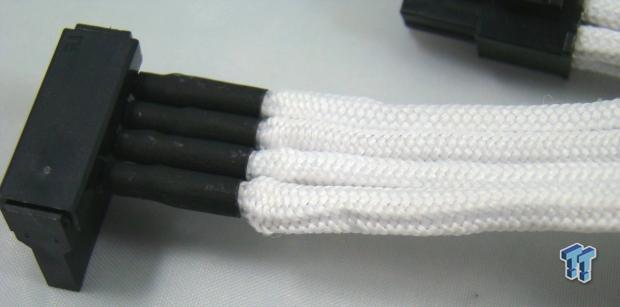 The cables that end with 90 degree SATA connectors are an exception because they aren't crimped to a pin, but instead press fit inside the end of the connector.

The PP07 series doesn't offer quite as many options as the PP06 series, but it should be more than enough to get the job done. The prices are a tad cheaper too, ranging from $5.49 to $10.99.
CP06 Cable, CP09 Cable and Final Thoughts
CP06 Cable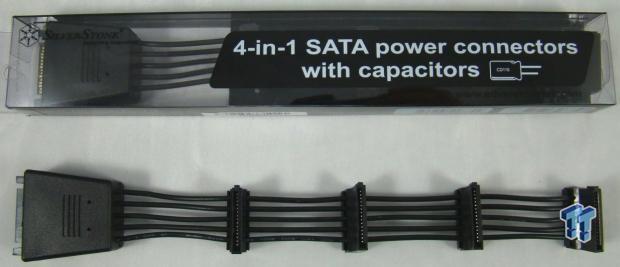 For years I've complained about power supplies not coming with a cable that reduces the length between connectors for hard drives that are stacked right on top of each other. They often leave three to four inches of extra cable between the connectors when hooking up four or five drives.
The CP06 cable prevents this, reducing the distance between connectors to about 1.6 inches. It also has two capacitors in the large end that connects to the power supply. This helps ensure constant, stable voltage to the drives that are connected to it. The CP06 cable has an MSRP of $9.99.
CP09 Cable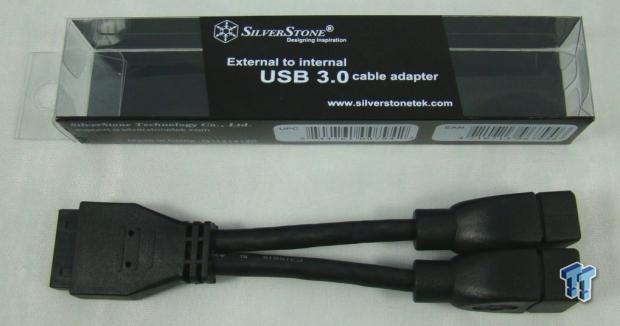 While this cable isn't power supply related, it can help clean up the case clutter a little bit. If you're like most enthusiasts, you adopt new technology quite rapidly. If you were an early adopter of USB 3.0 and bought a case that had front USB 3.0 ports, chances are that it simply has cables that run out of the back and plug into the rear motherboard ports instead of connecting to the header on the motherboard.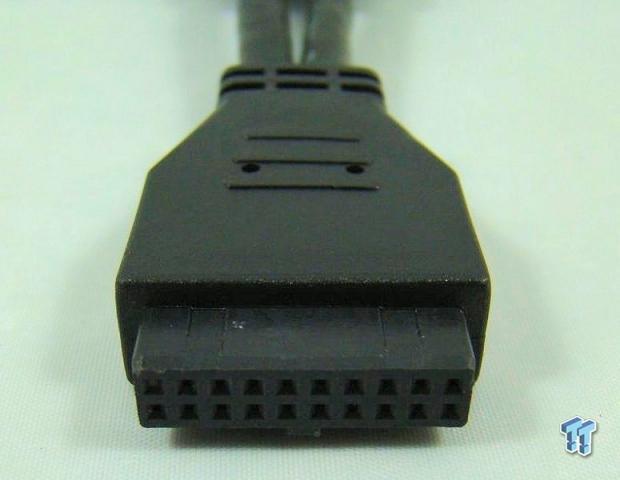 Throw the CP09 cable inside your computer and you can connect directly to the header on the motherboard.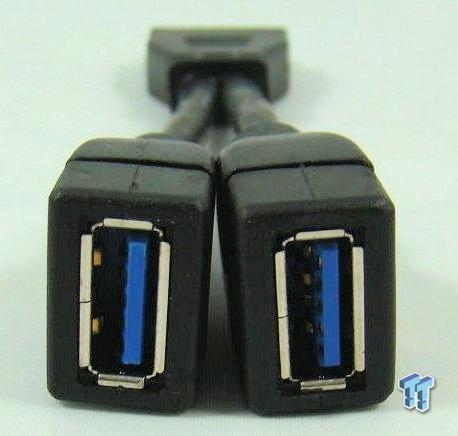 You'll then be left with two USB 3.0 female connectors on the inside of the case. With some routing, you can almost make it look as if your case has wiring meant specifically for the header on the motherboard. The CP09 cable has an MSRP of $9.99.
Final Thoughts
SilverStone has come a long way throughout the years and has worked hard to define their place among the best of the best in the power supply industry. Going above and beyond is often what separates those at the top and those that are near the top. These little things are just what helped SilverStone get to where they are today as their customers greatly appreciate their offerings.
SilverStone has offered the PP04 and PP05 kits for quite some time now and I know many that have used them, especially in small form factor cases. They are relatively cheap, especially the PP05 kit, which has all the cables needed to completely rewire most computers. The PP06 cables, which are specifically for SilverStone power supplies, are a much needed addition, as they offer that custom touch to really make things stand out - I wish they were offered in more colors than just black.
The above statement is especially true since SilverStone offer the PP07 cable extensions in red and white. I see no reason why they shouldn't offer the PP06's in other colors, too. Add in the CP06 and CP09 cables and you've got a complete set of cables for any power supply and case to remove clutter, while adding a lot of style to your machine. The PP06 and PP07 cables can start to add up quickly in price if you aren't paying attention, but that is often the price of buying something premade instead of doing it yourself. Time is money, but saving time is sometimes just as expensive.
Overall I'm quite pleased with what SilverStone has to offer for power supply accessories, even if the prices for some of the cables are a bit high. I do hope that they not only continue making them for quite some time, but also expand their line to include more colors and perhaps an individually sleeved short cable kit.