Introduction, Specifications, Availability and Pricing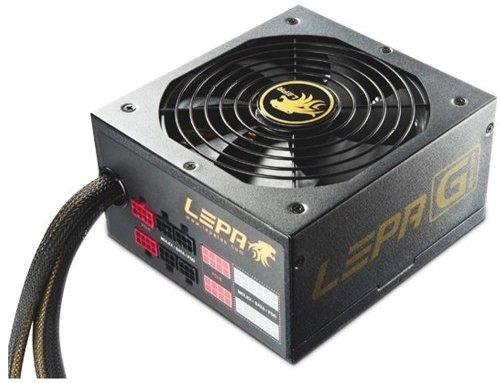 Hopefully by now, our readers are becoming somewhat familiar with the LEPA name. For those who haven't heard of them yet, LEPA is a sister company of Enermax. It should come as no surprise that all of the units that we have reviewed up till this point have simply been Enermax rebrands. What better way to make a name for yourself right out of the gate than to take some of the best units on the market, change the label to your own, and offer it at a lower price? It has worked well so far, but what we have in store for today is a deviation from that strategy.
Today we are reviewing the new LEPA G850-MAS. It is a single 12V rail Gold rated power supply with both native and modular connectors. What is really interesting is that LEPA has turned to CWT to manufacturer the G850-MAS for them instead of Enermax.
I haven't heard back from LEPA on this yet, but I can only assume that Enermax will more than likely focus on higher-end units, while LEPA will handle the mid to lower-end units. That is only speculation at this point, but one should most certainly be able to see the similarities between these two companies compared to what goes on with OCZ and PC Power & Cooling.
I'll dig deeper into that situation at a later date and see what I can find out, but for now, let's just focus on the G850-MAS and see what it is made of.
Specifications, Availability and Pricing

Outputs for the LEPA G850-MAS are quite typical for that of an 850W unit. It features a single 12V rail rated for 70A or 840W. Both the 3.3V and 5V rails are rated for 20A each with a combined maximum output of 100W. The 5VSB rail is rated for 3A or 15W. Maximum combined output for the LEPA G850-MAS is 850W.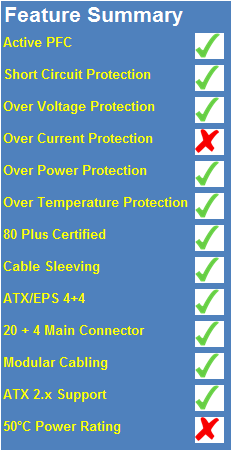 The LEPA G850-MAS does a good job of populating our feature summary, but doesn't quite get it all the way full. It features SCP, OVP, OPP and OTP. While it doesn't natively feature OCP, it should be noted that OPP provides the same protection as OCP on a single rail power supply. This means that even though it isn't technically listed, it does have the protection. The G850-MAS is certified for 80 PLUS Gold efficiency, but it does not carry a 50C power rating. LEPA instead rates the G850-MAS for 100% continuous output at 40C.
LEPA has an MSRP of $169.99 on the G850-MAS power supply. The price puts it squarely in the middle of the road for 850W Gold rated power supplies. As always, a little bit of searching will make sure that you save some money. In this case, you can a little over $26 when you order from Provantage and get it for a total of $143.68 after shipping at the time of writing. LEPA backs the G850-MAS with a three year warranty.
Packaging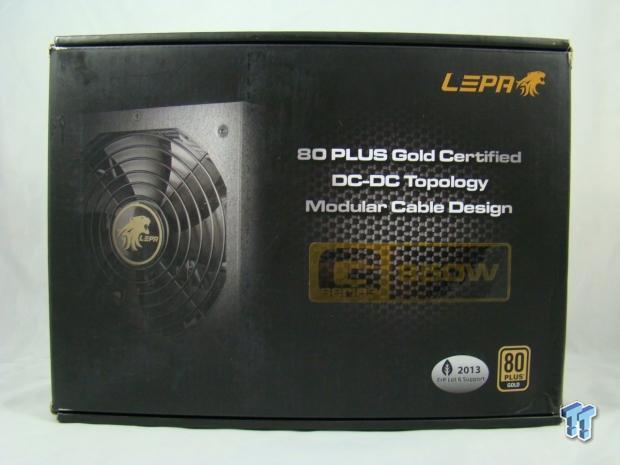 There isn't much to be gained from the front of the packing for the G850-MAS aside from wattage and that it is 80 PLUS Gold certified.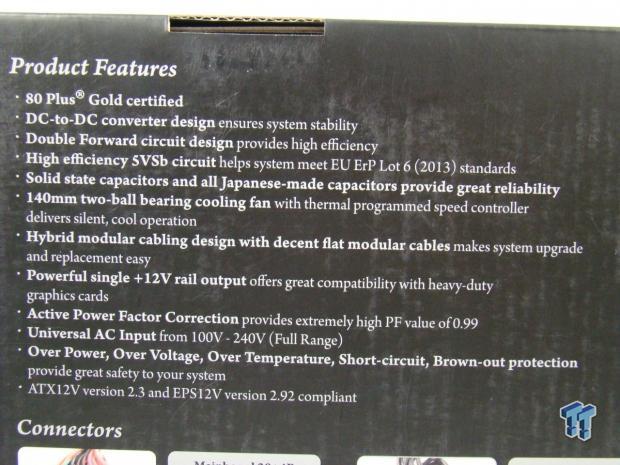 When we turn things around, we find a list of features in the top left corner. The big things to note here are the inclusion of all Japanese made caps, hybrid modular cabling and a list of protections offered.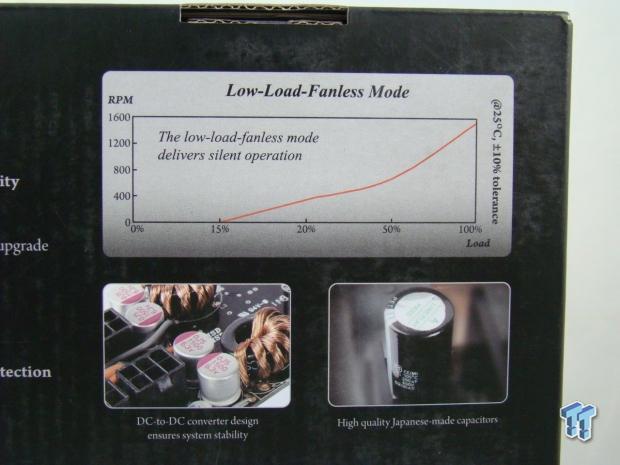 Shifting to the right a little, we find a chart relating to unit load and fan speed. Below this are a few pictures from inside the unit showing solid state and Japanese made capacitors inside the unit.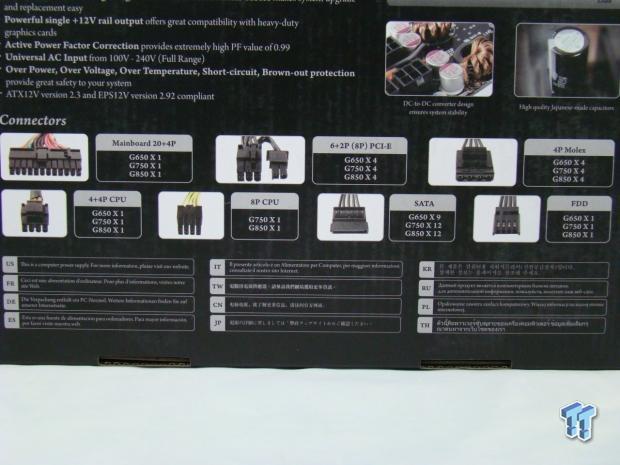 Rounding out the information on the back is a list of connectors offered by the power supplies in the series.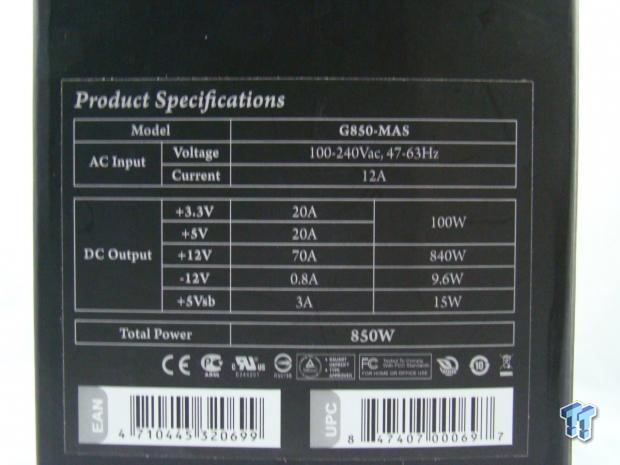 This side of the box gives us the I/O specifications for the G850-MAS power supply.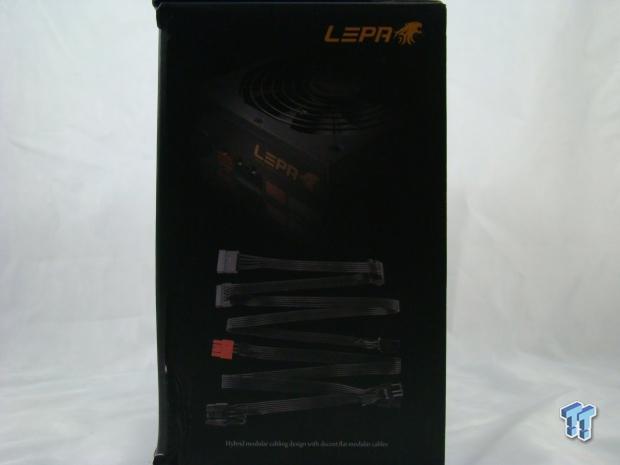 The other side gives us a teasing glimpse of the unit and the flat modular cables utilized with the G850-MAS.
Inside the Box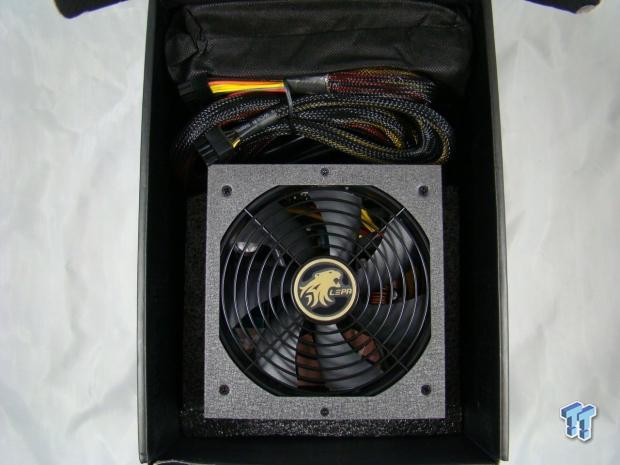 Opening the box, we find the power supply surrounded by at least a half an inch of foam on all sides, providing plenty of protection to the unit during shipping.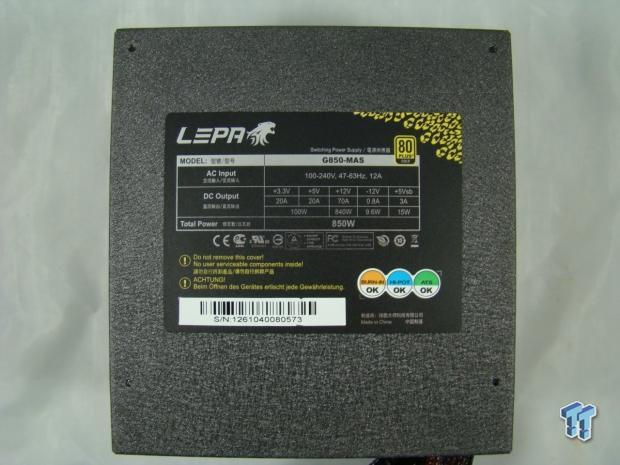 The G850-MAS features the usual Enermax metallic gray texturized finish that we've seen on most of their power supplies for the last few years. The top houses the I/O specification label and serial number.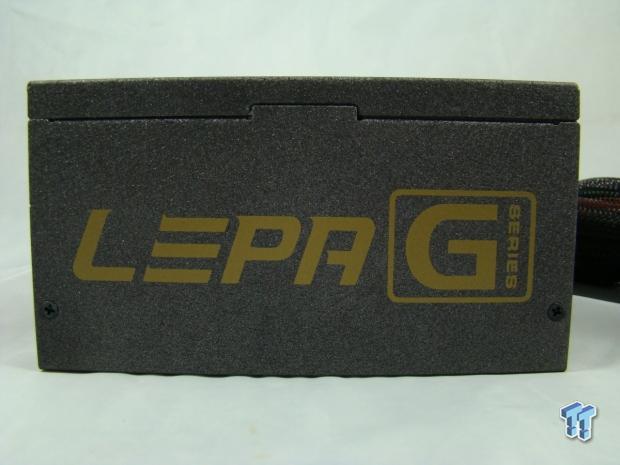 Both sides feature the same LEPA G Series logo with the other being inverted so that it is displayed properly if mounted in the bottom of a case instead of the top.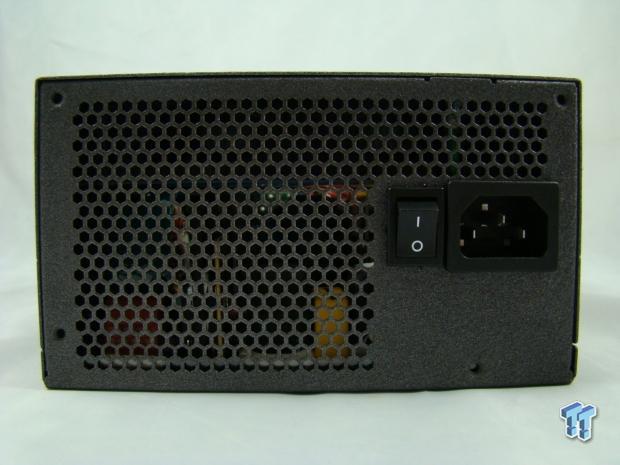 Moving to the back, we don't find anything special. The only things back here are the AC input and honeycomb mesh grill to allow the exhaust out of the power supply.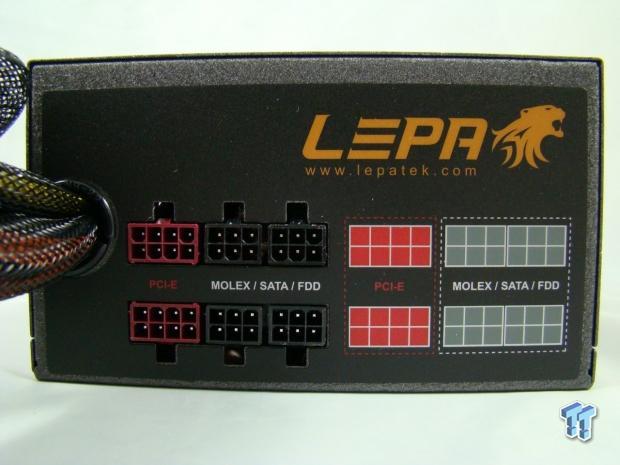 The front presents us with the modular connectors for the G850-MAS. Not only are the connectors color coded and labeled, but LEPA takes the extra step and makes sure that you don't forget it by labeling them a second time.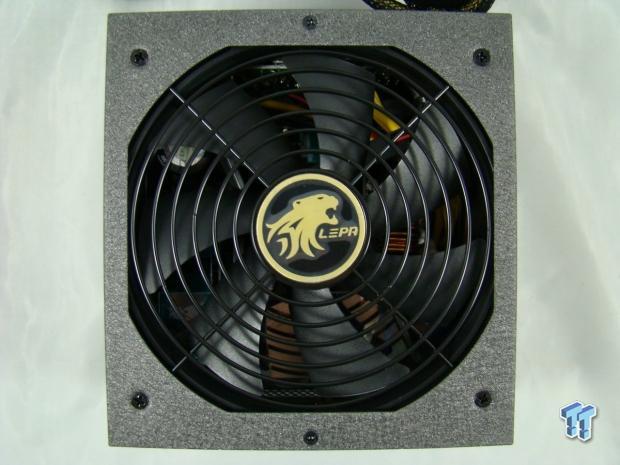 The bottom of the G850-MAS power supply houses the 140mm fan and black wire grill to protect it.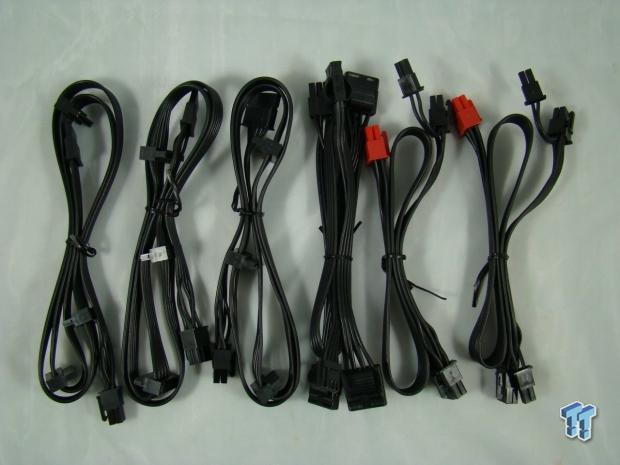 All of the modular cables are of the flat ribbon type.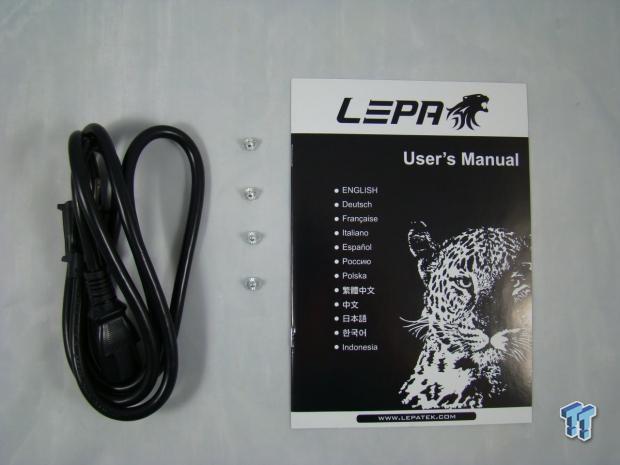 There isn't much included with the G850-MAS. The only things you'll find will be the AC input cord, mounting screws and user manual.
Cabling Arrangement and A Look Inside
Cabling Arrangement

LEPA doesn't do anything special with the cables and connectors. Things are quite standard with four PCI-E connectors over two cables, 12 SATA connectors over three cables, and four Molex connectors plus an FDD connector on one more cable. Also present are two 8-pin motherboard connectors and the 20+4 pin connector natively wired to the power supply.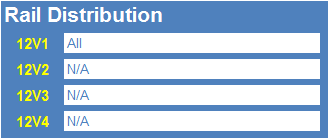 Rail distribution is as simple as it gets with a single 12V rail. There is no need to worry about load balancing here.
A Look Inside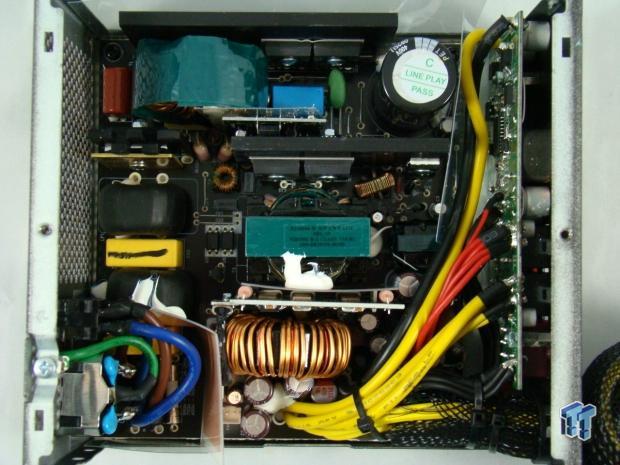 The LEPA G850-MAS is made by CWT and you can tell that it is nearly identical to the recently reviewed Thermaltake SMART 750W. Just as was with it, the reduction of components and increased efficiency of these units reduce the requirements for passive cooling, so there isn't much going on here in that manner.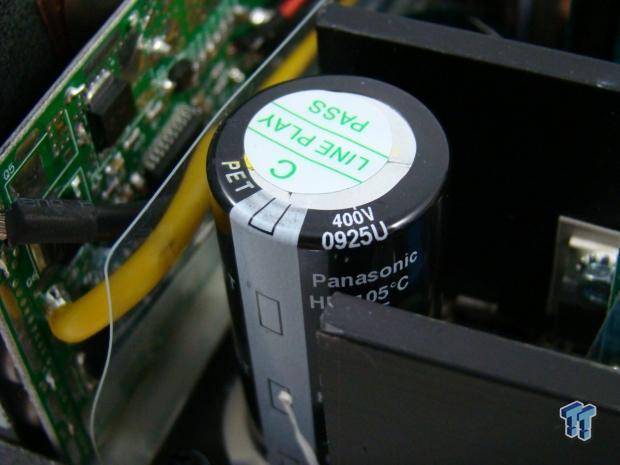 A single Panasonic bulk capacitor sits on the primary side of the power supply.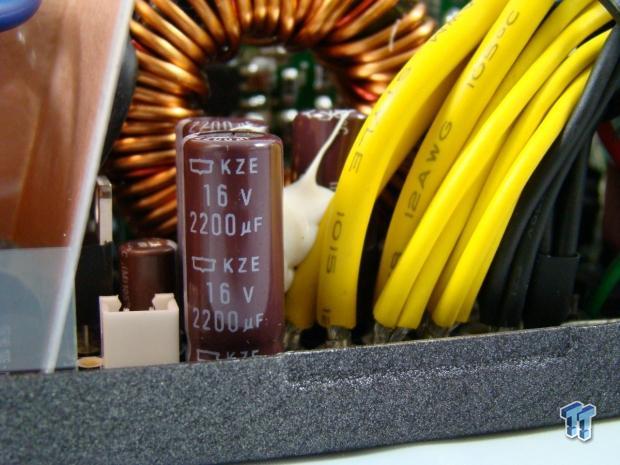 The secondary side is littered with a bunch of Nippon Chemi-Con caps.
LEPA uses the Yate Loon D14BH-12 fan to provide the active cooling for the G850-MAS.
Test Results and Final Thoughts
Test Results
Our load tests utilize a couple of FAST ATE active load testers and a variety of other equipment such as an oscilloscope, power conditioner, temperature probe and a power consumption meter. You can read more about our standard testing approach here.
The tests performed are based around six conceivable setups that are out there and progressively load down the PSU up to the power supply's limits or 1000W, whichever comes first. Since our test equipment's limits are higher than that of the LEPA G850-MAS 850W power supply, we can test it to the maximum.

The above tests represent typical loads that we have measured from various systems and are meant to give a rough idea of where your computer might fall in line with our tests. Please keep in mind that each system is different and actual loads can vary greatly even with similar hardware.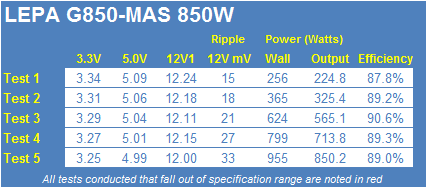 Let's start by taking a look at the voltages to see how well this unit did during testing. Starting with the 12V rail, we see 2% regulation from start to finish with a total drop of .24V. The 5V rail managed to stay within 2% of specification with a total drop of .10V from start to finish. Moving towards the 3.3V rail, we see that regulation was within 2% of specification with a total voltage drop of .09V.
DC Output quality for the LEPA G850-MAS 850W was good and well within specifications. During Test 1, we saw 15mV of noise on our scope. When we increased the loads in Test 3, the ripple climbed to 21mV at a little over half load. During Test 5 under a load of 850W, the oscilloscope showed a maximum of 33mV on noise on the 12V rail.
LEPA G850-MAS 850W is rated for 80 PLUS Gold efficiency. This means that the power supply must perform at 87%/89%/87% efficiency at 20%/50%/100% loads respectively. As you can see, G850-MAS 850W passed on our bench, and wasn't close to failing at any point.
Final Thoughts
It still seems a bit odd to me that a company that has full R&D and production facilities to manufacture some of the best power supplies on the planet, would turn to a direct competitor to manufacture a product for them, but that is exactly what LEPA has done with the G850-MAS, by utilizing CWT to make the power supply for them. Regardless of who makes the power supply and whose label is on the unit, the LEPA G850-MAS is a good unit.
As far as performance is concerned, the G850-MAS is quite a good unit. The power supply manages to keep voltage regulation within 2% across the board for all rails. The DC output quality is very good too, showing no more than 33mV of noise on the 12V rail at full load. Even the efficiency is right where it should be, showing that the unit is deserving of the 80 PLUS Gold rating.
The problem is we've been through this many times and it just happens over and over and over again. The unit performs well, has a decent set of features, and even has a decent price on it. The G850-MAS is an all-around good unit from start to finish, no matter how you look at it. Unfortunately there are plenty of good units already on the market. LEPA is just crowding the market a bit more with the inclusion of the G850-MAS - it doesn't do or have anything to set itself apart from what is already there.
The biggest draw to the G850-MAS for many is simply going to be brand loyalty. It will sell better than others when it goes on sale and it will sit on the shelves, while the others around it go on sale themselves. If you're looking for a good unit that doesn't stand out from the rest, the G850-MAS is well worth your time, consideration, and money... especially if you can find it on sale.