Patriot Viper PC3-19200 16GB Dual Channel Memory Kit Review
Patriot sent over a Viper DDR3 kit of RAM for the new Z87 platform. We see just what it's capable of today when put to the test.
Published Fri, Jul 12 2013 12:01 AM CDT
|
Updated Tue, Nov 3 2020 7:00 PM CST
As we've mentioned a few times already, a new chipset to the market means that we see new kits of RAM. We must admit, though, the launch of the Intel Z87 platform has been a little slower than we expected. We've seen a couple of kits, but normally we'd think a lot more would be coming through for review.
This becomes an even stronger thought with the improvement on the Internal Memory Controller that is brought with the latest generation of Intel chips. When we saw the Ivy Bridge platform launch, we saw a surge in high performance memory kits due to the stronger IMC that was offered. With an even stronger IMC being seen in the latest generation of Haswell chips from Intel, we're surprised that we're not seeing more RAM released.
We do wonder if one of the main reasons we're not seeing a massive surge of memory kits, though, is because companies aren't able to get enough chips at these new high speeds to create the models they want. With 3000MHz DDR being something that seems to be achievable on many CPUs, it's possible that getting a hold of the ICs to create a decent amount of RAM at this speed is difficult. Instead it might take a few months before we see companies offering us a much larger range of new kits.
With all that said, though, let's move away from talking about RAM in general, and start to talk about what exactly we're dealing with today. Towards the end of last year we saw Patriot show of the Viper 3 series in the form of the Limited Edition Intel Extreme Masters memory kit.
Today we're looking at another kit which is part of the new Viper 3 series, but has just been released for the all new Z87 platform. Taking a look below you can see the heatsink design is as you'd expect identical to what we saw from the IEM kit we looked at last year. Of course the big difference is that this one comes in red. Along with coming in red, though, you can also get the kit in black or blue depending on your preference.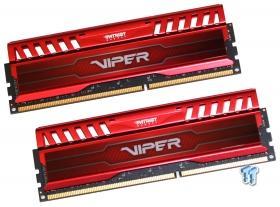 One of the first things we notice is the PCB color and it's fantastic to see that Patriot has opted for black. Against the red heatsink it looks great and against a black heatsink it would also look fantastic.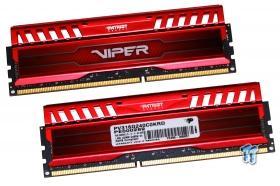 You can see both sides are very similar with the Patriot logo at the top of the heatsink and while both have the Viper logo in the middle, one side is covered with a sticker that gives us a run down on some of the important information. If we move in a little closer we can see just exactly what we're dealing with here today.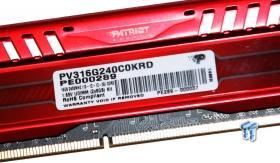 Starting from the top you can see the PV316G240C0KRD model number which tells us a bit of information, but moving below we can see just exactly what we're dealing. Below that you can see we've got a 16GB kit that comes in at 2400MHz DDR or PC3-19200. As for the timings, we're dealing with a 10-12-12-30 @ 1.65v kit that consists of 2x 8GB modules.
Having just finished testing the GIGABYTE Z87X-OC motherboard, we thought that we'd pull out the kit of RAM that was sitting in that and replace it with the Patriot Viper kit we've got on hand today. We headed into the BIOS and set the kit to Profile 1 under the XMP options and proceeded to reboot the system.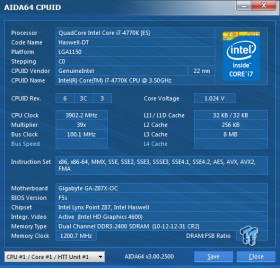 Not surprised our system fired up straight away, you can see above the kit running at 2400MHz DDR with the timings at 10-12-12-31-2T. Under AIDA64 we ended up with Read / Write numbers of 34,905 MB/s / 37,498 MB/s, Copy speed of 33,726 MB/s and latency of 43.3ns. Performance didn't really hold any surprises. With everything looking good out of the box, it was time to head back into the BIOS to see just what we could get out of this kit.
If you had a chance to look at some of our recent motherboard coverage, you would know that we got the chance to get a hold of a new CPU that's capable of running at a higher core clock. Unfortunately we don't know the quality of the IMC and until we ultimately get a kit that is guaranteed to do a certain speed, we probably won't know just exactly its maximum limitation is. It's also important to remember that just because a CPU can clock higher on the core, it doesn't necessarily mean that it also carries with it a stronger IMC. Saying that, though, we intend to find out just what we're able to get out of this Patriot kit of RAM today on our new i7 4770K CPU.
Back in the BIOS, we headed over to the memory multiplier section and increased it. We hit 2800MHz DDR and ran into no problems. We then jumped up to 2933MHz, which is the next option, but didn't have any luck. At this speed our system wouldn't boot. So, with 2800MHz DDR being the starting point, we then headed back into the BIOS to adjust the CPU BCLK to see if we could get anything else out of the kit.
Messing around with the BCLK we couldn't get anything else out of the kit. As we moved the memory divider, though, the motherboard also took care of the timings and when we moved to 2800MHz DDR the timings loosened from 10-12-12-30-2T to 11-13-13-35-2T. With no room left on the MHz front, we thought we'd see if we could do anything with the timings.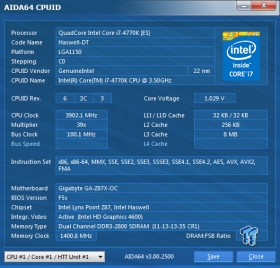 After messing around a little bit trying to go to 10-13-13-35-2T and 11-12-12-30-2T and having no luck, we ended up finally being able to drop the Command Rate from 2T to 1T. As you can see above we ended up with our kit running at 2800MHz DDR with an 11-13-13-35-1T setup. Under AIDA64 we ended up with Read / Write numbers of 33,815 MB/s / 43,847 MB/s, Copy speed of 35,931 MB/s and latency of 40.7ns.
The numbers above are quite interesting. While we manage to get a good jump in raw MHz, you can see that the loosened timings have brought down read numbers ever so slightly. If we look at the copy write numbers, though, we can see a decent increase in performance. while copy speed also manages to see a nice little bump. Another area where we see a nice performance increase is in latency, which sees a drop of almost 10%.
With those two tests looking good we headed into the BIOS one more time to do a little bit more overclocking. In this case we bumped up our CPU speed by a good chunk to see just what kind of performance we could get. What's really interesting, though, is that the latest Intel platform has brought very little to extra memory bandwidth when overclocking is thrown into the mix.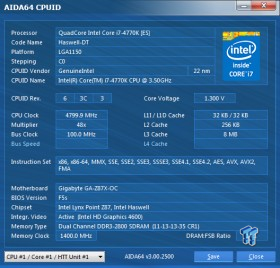 Looking above you can see we're running at the same 2800MHz DDR that we had just finished testing at with the same 11-13-13-35-1T timing setup. The big difference here, though, is instead of our i7 4770K running at 3.9GHz, it's now running at 4.38GHz via a 48x multiplier. Under AIDA64 we ended up with Read / Write numbers of 33,854 MB/s / 43,781 MB/s, Copy speed of 36,153 MB/s and latency of 39.3ns.
Just as we expected, you can see that the numbers are nearly identical. We see a little fluctuation here and there, but nothing much to get excited about when it comes to raw MB/s. Saying that, though, you can see the overall latency does get a bit of a drop and now comes in at under 40ns. We don't see those big write number improvements, though, that we saw on the previous generation Intel chips.
In typical Patriot fashion, the company has put together a nice kit of RAM. While we would normally move from this point and get into the price of the kit, it's unfortunately not yet available. We expect to see it in the next few weeks.
If previous pricing is anything to go off, the kit should come in at a good level. Being a 2400MHz DDR kit means that it's not going to carry a massive price premium like kits that go into the 2800MHz DDR and 2933MHz DDR range. Of course we'll have a slightly bump in the price due to the fact we're dealing with a 16GB kit, but overall it's nothing that should shock us.
The heatsink quality is good and does the job. If red isn't your color, then you'll be able to pick up a black or blue version when they're available. We're glad that Patriot has opted for the black PCB as it makes the kit look so much better, and while it might only be atheistic, it's always a decision we appreciate.
While not yet available, the Patriot Viper PC3-19200 16GB kit looks to be a good option. The kit looks great, performs as you'd expect out of the box and manages to offer some strong overclocking headroom with an extra 400MHz DDR seen and the ability to lower the Command Rate to 1T.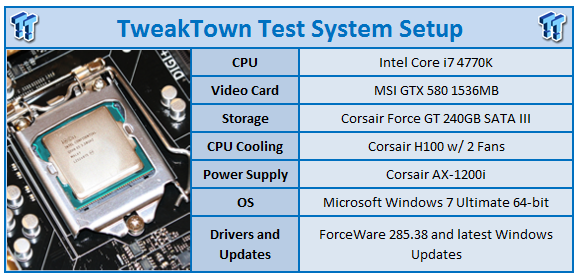 PRICING: You can find products similar to this one for sale below.

United States: Find other tech and computer products like this over at Amazon.com

United Kingdom: Find other tech and computer products like this over at Amazon.co.uk

Australia: Find other tech and computer products like this over at Amazon.com.au

Canada: Find other tech and computer products like this over at Amazon.ca

Deutschland: Finde andere Technik- und Computerprodukte wie dieses auf Amazon.de