G.Skill TridentX PC3-23400 8GB Dual Channel Memory Kit Review
We check out the latest G.Skill TridentX kit with a massive 2933MHz DDR clock out of the box, designed for the new Haswell Z87 platform.
Published Jun 19, 2013 6:02 PM CDT
|
Updated Tue, Nov 3 2020 7:00 PM CST

While Corsair has chosen to launch a new series of RAM in the form of the Vengeance Pro which has done a good job of impressing us with its PC3-14900 and PC3-19200 16GB kits, if you're looking for something even faster, we might just have the modules for you today from the folks at G.Skill.
G.Skill hasn't opted for a new series and instead is using the most recent series that was launched during the middle of last year - the TridentX series. We've looked at a couple of kits under this series and they've all done a pretty good job. Today, though, we're looking at the fastest TridentX kit to date.
The TridentX kit we're looking at today isn't just the fastest out of the box kit we've seen from this series, but the fastest out of the box kit, period. Taking a look at the kit you'll notice nothing you haven't really seen before, if you've had a chance to look at the TridentX series before. You can see we've got the black heatsink with the red fin across the top. Of course we also love the fact that G.Skill (like Corsair) has opted for the black PCB, which looks fantastic against the heatsink design.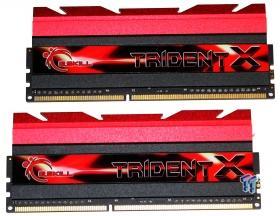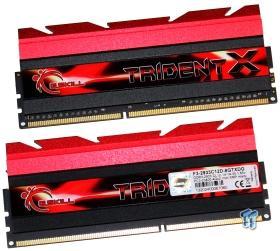 If we take a quick look at both sides you can see that they're fairly similar with the G.Skill TridentX logo on both sides. Of course one side has the TridentX name slightly covered with a sticker that gives us a run down on some of the main specifications in regards to the modules.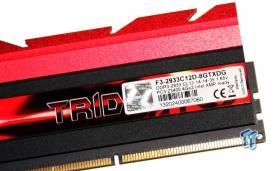 Looking above you can see the F3-2933C12D-8GTXDG model number and some of the main details. PC3-23400 translates to a massive 2933MHz DDR and is the fastest out of the box kit we've had to date. Before that the fastest kits we had seen came in at 2800MHz DDR. One of those kits came from Corsair, while the other came from Kingston.
Due to the high speed out of the box we're dealing with more relaxed timings, which come in at 12-14-14-35-2T @ 1.65v. Along with the more relaxed timings, we're also dealing with an 8GB kit, instead of the usual 16GB. This again tends to be a bit of a trade-off that is seen on higher speed kits. We're hoping to see 2933MHz DDR 16GB kits soon.
With the memory installed, it was time to head into the BIOS and fire up the XMP profile. While this is the fastest kit we've tested to date, with what we had heard from people at Computex, getting this speed shouldn't be an issue with the new i7 4770K. We set the XMP profile, hit F10, said to save the changes and rebooted. Straight away we booted without a single issue. We got straight into Windows and below you can see everything was running correctly.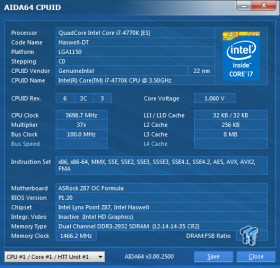 Under AIDA64 we ended up with Read / Write numbers of 29,070 MB/s / 25,337 MB/s, Copy speed of 25,495 MB/s and latency of 41.6ns. The results look good, but we need to just cover them compared against the Corsair kit we looked at recently. The lower clocked PC3-19200 Corsair Kit actually managed to come out with stronger read times at stock. What was interesting, though, was when we overclocked the kit, we went from around the 35,000 MB/s mark down to 26,000 MB/s. Above you can see that our read speeds on the G.Skill kit are above that.
While the copy speed of both kits are quite similar, the write numbers have improved by a decent chunk, and latency has been reduced by 3.5ns, which is a decent reduction. We won't deny that at the moment the RAM performance numbers are a little all over the place. To be completely honest, we've even seen our CPU numbers a little all over the place when it has come to our motherboard testing. As we've already mentioned a few times, though, as we test more and more boards and RAM and move through more BIOS updates, we hope the consistency comes together better.
With stock testing done, it was time to move onto the overclocking. With such a high out of the box memory clock, we didn't know how we would go moving much higher. The first thing we tried was the 3000MHz DDR divider. We hit F10 and rebooted, but unfortunately didn't have any luck, as our system refused to boot back up.
We headed back into the BIOS and started to mess around with the timings and voltage a little. We moved to 1.71v with no luck and also moved to a 13-15-15-35-2T setup, but again we didn't have any joy getting our system to boot up again. It just seemed no matter what, 3000MHz DDR wasn't going to boot for us on this particular kit. We're not too sure if this was our CPU or the memory kit itself.
From what we know 3000MHz DDR should be achievable on a lot of processors, but we know that our overclock on the particular CPU isn't the best, so it's possible that our IMC isn't the strongest either. Saying that, we're already on the hunt for a stronger CPU in both the clock and the IMC department, as we know that 3000MHz+ DDR kits are already coming to us for testing.
As always we tried the next best thing which was BCLK adjustment. Because there's not a whole lot of room from 2933MHz DDR to 3000MHz DDR, we continued not having any luck in that area. Finally we did the only thing we could do and that was mess around with the timings a little bit to see if we could get them running a bit more aggressively.
The first thing we did was move to a 1T Command Rate. We hit F10 and rebooted with no problems. With that working fine, we headed back into the BIOS to see if we could do anything with the rest of the timings. We didn't expect much since we moved to 1T already, but of course it was all worth a try.
In the end we tried 11-13-13-35-1T, 11-14-14-35-1T and 12-13-13-35-1T, but all of these timing settings wouldn't post. We also tried to bump the voltage up to 1.71v again, but continued not having any luck. In the end we settled with the 12-14-14-35-1T setup, which can be seen below.
Under AIDA64 we ended up with Read / Write numbers of 29,194 MB/s / 25,420 MB/s, Copy speed of 25,793 MB/s and latency of 41.2ns. Across the board you can see the reduction to the 1T command rate gave us a slight boost in all areas. Nothing huge, but a little jump is seen across the board, including a reduction in the latency.
Before we finish up we always like to head back into the BIOS and overclock our CPU to see just how much performance we can get out of the particular kit. So far, though, we've noticed that overclocking our CPU has done little to added performance. While we saw on the previous Z77 platform that overclocking the CPU brought a decent boost in some areas, the latest Z87 chipset doesn't get the same benefits, at least at this stage of the game.
So heading back into the BIOS we adjusted our CPU multiplier up to 46x and increased the voltage in the necessary CPU areas. Looking below you can now see our i7 4770K comes in at 4598.4MHz or pretty much a flat 4.6GHz even.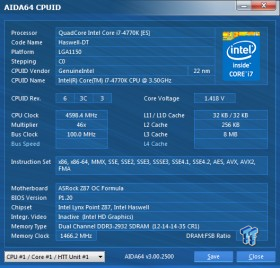 Under AIDA64 we ended up with Read / Write numbers of 29,146 MB/s / 25,465 MB/s, Copy speed of 26,081 MB/s and latency of 40.6ns. As we've seen with our other testing, overclocking the CPU does very little for extra performance. You can see a bit of fluctuation or a slight improvement in some areas, but nothing that really stands out when it comes to transfer rates. The one area that continues to see a slightly improvement, though is the latency, which is now under 41ns.
When it comes to looking at the performance of the G.Skill kit here today, we must admit that it's been the most consistent when it comes to the numbers. Saying that, though, it's important to note that we didn't move away from the stock MHz, something we've done with our other kits. Instead we only worked on the timings and the CPU speed.
This is a really nice kit of RAM, but we can't deny the simple fact that it's not going to be for everyone. While 2933MHz DDR shouldn't be an issue for most people on the new Haswell platform, most will probably find that they'd prefer a 16GB kit over this 8GB version - especially when you consider the $399.99 price tag that is associated with this particular kit.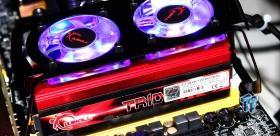 While you also do get the dual fan cooling solution, the simple fact is that $400 for an 8GB kit of RAM is a lot of money. At the same time, if you're after something that's fast out of the box and has the ability to run 1T, then this is a fantastic option. Especially when you see people achieve well over 3000MHz DDR with this particular kit when paired with a Haswell CPU that carries a strong IMC.
G.Skill, as always, has put together a really nice kit of RAM, but speed comes at a cost. Not only do you pay big dollars, you're also taking a hit in the amount of RAM that you'll have in your system. Most people will probably more than likely prefer to go with a kit that's a little slower, but carries twice the capacity. Of course though, there's always those who just want to have blazing fast RAM, and G.Skill have those people covered here.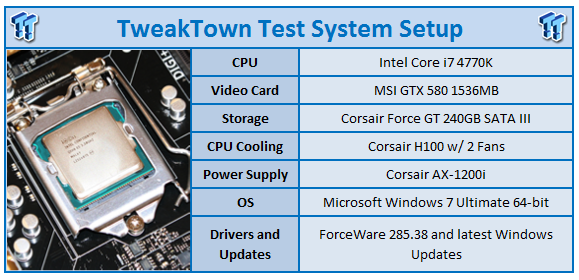 PRICING: You can find products similar to this one for sale below.

United States: Find other tech and computer products like this over at Amazon.com

United Kingdom: Find other tech and computer products like this over at Amazon.co.uk

Australia: Find other tech and computer products like this over at Amazon.com.au

Canada: Find other tech and computer products like this over at Amazon.ca

Deutschland: Finde andere Technik- und Computerprodukte wie dieses auf Amazon.de