Corsair Vengeance Pro PC3-19200 16GB Dual Channel Memory Kit Review
If you liked the Vengeance Pro kit we looked at the other day, but want something faster, we might have the kit for you.
Published Jun 18, 2013 12:12 PM CDT
|
Updated Tue, Nov 3 2020 7:00 PM CST

The other day we got a chance to check out the new Vengeance Pro PC3-14900 memory kit from Corsair. If you found yourself impressed with what was being offered, but thought that you'd might like to have a bit more speed out of the box, then we might have just the kit for you here today.
Today we'll be looking at another other Vengeance Pro kit from Corsair which, as you can see below, shares an almost identical setup to the previous kit. The main difference you might notice is the red highlight on the kit instead of the silver color on the other. Like other people have mentioned to us, we've got to say the red really does look fantastic against the black heatsink and black PCB.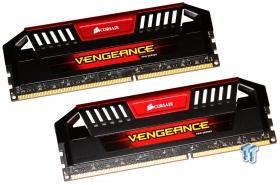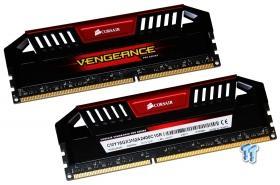 You can see we've got the Corsair logo across the top of both sides, while one side has the Vengeance Pro series logo on it. If we flip over to the other side you can see we've got another sticker instead of the Vengeance Pro, which gives us a run down on what exactly we're dealing with.
Diving in closer you can see the CMY16GX3M2A2400C10R model number which already tells us a fair bit of information. Running across the bottom of the sticker, though, we get a bit more detail on just what exactly we're dealing with here today.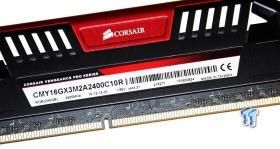 Starting from the left you can see we've got a 16GB kit which is achieved via two 8GB modules. The out of the box speed is 2400MHz DDR and the timings are 10-12-12-31-2T @ 1.65v. As you'd expect the timings are a bit looser than the 1866MHz DDR kit we looked at the other day, which came in with a CL9 setup.
While this is the highest speed kit we've used on our new i7 4770K processor, we didn't expect to have much trouble as we've already heard consistently good stories about the quality of the Internal Memory Controller (IMC) on the latest generation of Intel Haswell chips.
With that said we installed the memory into our testbed, went straight into the BIOS and set our XMP Profile to the default. Looking below you can see everything was running fine with our timings at 10-12-12-31-2T, while running at 2400MHz DDR.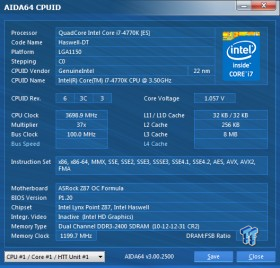 Under AIDA64 we ended up with Read / Write numbers of 35,936 MB/s / 21,615 MB/s, Copy speed of 25,595 MB/s and latency of 45.1ns. This is some strong performance and if we look against the other Vengeance Pro kit, we can see some extremely strong gains in the read numbers along with a decent chunk taken off the latency result as well. What's interesting, though, is that the write and copy speeds are down slightly. As we test more and more Z87 RAM we'll begin to figure out the consistency of results. For now it's a little too early to tell.
As always once we've done the stock testing we move into the overclocking side of things. The next step up from the 2400MHz DDR divider is the 2600MHz DDR. We moved up to that and our system wouldn't boot. We wanted to mess around a bit and see if we could get our system working at this speed, so we jumped back into the BIOS and started to mess with the timings a little bit.
We eventually got our system into Windows at 11-13-13-35-2T @ 1.7v and ran AIDA64 with no problems. After sitting in Windows a little bit, though, our system ended up crashing. It seemed that even with the more relaxed timings, it wasn't going to be 100% stable. We could've loosened them up even more, but we didn't want to move too far away from the stock timings.
The problem is we couldn't really work our way back down from 2600MHz DDR as it meant reducing our BCLK to below 100. Because of that we moved back to the 2400MHz DDR divider and started to head north with the BCLK. We knew we wouldn't get a ton of headroom with the BCLK, but hopefully enough to give us some extra MHz.
We ended up pushing our BCLK up to 104 and this in turn pushed our memory to an even 2500MHz DDR with everything at the same timings and our memory voltage running at just 1.65v again. You can see below our settings in Windows. Of course the BCLK increase also meant our CPU was pushed up slightly as well to 3846.9MHz.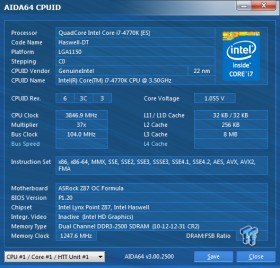 Under AIDA64 we ended up with Read / Write numbers of 26,099 MB/s / 22,465 MB/s, Copy speed of 23,775 MB/s and latency of 43.3ns. The results here are quite interesting and it will be interesting to see what happens as we test more and more memory in the coming weeks. You can see the read numbers and copy numbers take a dive, with the read numbers taking quite a significant drop. The write numbers on the other hand get an increase and the latency is also reduced.
We tested multiple times and we tested the stock speeds again multiple times and outside a slight bit of fluctuation, there was really no change in the results. With that done we would normally push up our CPU speed. Because we knew, though, that from a MHz stand point there was some more room, we just couldn't get to it because of the BCLK and Memory Divider options, we figured we'd attack the timings instead.
The first thing we did was move from 2T to 1T. That is always a nice little change and we got into Windows with no problems. Once we did that we hit up the other timings. We moved to a CL9 setup, but straight away our system wouldn't boot. We messed around for a little while in the BIOS trying to see if we could do much with the timings, but once we moved to the 1T setup, nothing else wanted to move.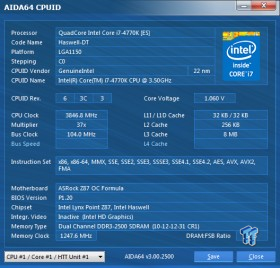 Under AIDA64 we ended up with Read / Write numbers of 26,125 MB/s / 22,515 MB/s, Copy speed of 23,897 MB/s and latency of 43.0ns. The results here are consistent with what we saw when we moved to 2500MHz DDR in the sense that the read and copy speeds have dropped from the original numbers.
Comparing the last two results with each other, though, you can see the 1T Command Rate has offered us slightly improvements across the board in every area. You can see the MB/s has gone up slightly in all areas, while the latency has also been reduced slightly.
Finally we headed back into the BIOS one more time and adjusted our CPU multiplier to 44x which brought our CPU clock in at 4576MHz. If you remember in our last review of the Corsair Vengeance Pro, we saw barely any change when CPU overclocking was thrown into the mix. Under AIDA64 we ended up with Read / Write numbers of 26,120 MB/s / 22,492 MB/s, Copy speed of 23,842 MB/s and latency of 42.7ns. You can again see that little change is seen when overclocking the CPU. Apart from the latency being reduced slightly again, we can see across the board nothing more than a bit of fluctuation.
RAM overclocking on the latest platform is becoming quite interesting with results going a little all over the place. As always, with more and more memory tested, we'll get a better idea of just what exactly is going on. The next kit we're looking at will carry a 2933MHz DDR clock out of the box and it will be interesting to see what exactly happens with those results.
Comparing the 2400MHz DDR Vengeance kit to the 1866MHz DDR one here today, you can see that we got some strong gains in both the read numbers and the latency. When it comes to pricing, the 2400MHz DDR kit is going to set you back an extra $45 when compared to the 1866MHz DDR kit.

It's a little bit of a tough one when deciding what to do. We can't deny that some people really prefer to just go out and buy these faster MHz kits, especially when you consider the price difference isn't too bad at this level. It's not until you start going past the 2600MHz DDR realm that it really starts to hurt the wallet.
You really can't go too wrong with the Corsair Vengeance Pro memory on a whole. Something we'll be keeping an eye on in the coming weeks, though, is the performance numbers when overclocking is thrown into the mix. Keep an eye out as we explore this more and more as we expand our range of memory kits tested on the new Haswell platform.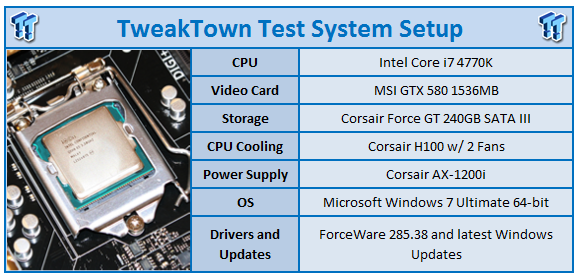 PRICING: You can find products similar to this one for sale below.

United States: Find other tech and computer products like this over at Amazon.com

United Kingdom: Find other tech and computer products like this over at Amazon.co.uk

Australia: Find other tech and computer products like this over at Amazon.com.au

Canada: Find other tech and computer products like this over at Amazon.ca

Deutschland: Finde andere Technik- und Computerprodukte wie dieses auf Amazon.de