Corsair Vengeance Pro PC3-14900 16GB Dual Channel Memory Kit Review
Our first Intel Z87 memory kit comes from Corsair and is part of the new Vengeance Pro line. Let's dive in and check it out.
Published Jun 17, 2013 11:16 AM CDT
|
Updated Tue, Nov 3 2020 7:00 PM CST

Anytime we see a new platform we see companies bring with it new RAM kits to suit. Like the Z77 platform that came before it, RAM for the new Intel Z87 Express platform is being pushed strongly with most companies offering new speeds and series kits at launch. While we're already sitting on a couple of different kits from various companies, the first one we're going to be looking at today comes Corsair.
While the Vengeance series has been around for a while now, the introduction of the new Z87 platform has brought with it the new Vengeance Pro series of RAM.
Looking below you can see the overall design, while new, isn't anything too wild. The heatsink height is pretty standard. One thing that really stands out, though, is the black PCB. Against the black heatsink it looks great, and while we know it's only cosmetic, it's something that always grabs our eye. There's nothing more of an eyesore than a nice black heatsink or any other color for that matter, with an ugly green PCB.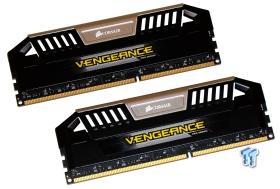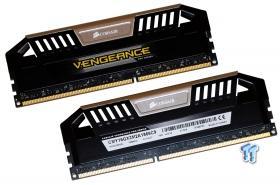 Looking at the RAM you can see the metal sleeve across the top has the Corsair logo on both sides. One side has the Vengeance Pro Series label, while the other gives us key information.
While the CMY16GX3M2A1866C9 model number gives us a fairly good idea of what's going on, you can see below that we're dealing with a 16GB kit that comes in the form of two 8GB modules.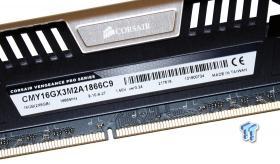 As for the speed, the stock clocks are 1866MHz DDR with a 9-10-9-27-2T setup that requires just 1.5 volts, lower than the standard 1.65 volts that we see on a lot of other higher-end modules. With the modules looked at it was time to install them into our ASRock Z87 OC Formula motherboard to make sure everything was working fine.
With the kit installed, we headed into the BIOS and simply set the XMP profile for the module. Looking below you can see once we got into Windows with no problems and everything was running fine.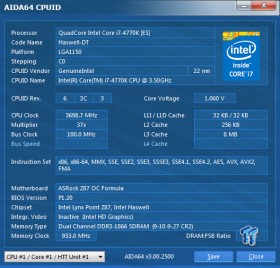 Under AIDA64 we ended up with Read / Write numbers of 28,095 MB/s / 29,321 MB/s, Copy speed of 27,778 MB/s and latency of 50.2ns.
When it came to the memory overclocking side of things it's all a bit new for us on this new platform. Like the Z77 platform, though, which bought a strong increase to memory overclocking, the new Z87 takes that a step further with some truly amazing memory speeds being reached by overclockers around the world.
This being our first kit of RAM that we've overclocked we didn't know what to expect. Coming in at 1866MHz DDR at stock we jumped up to 2200MHz DDR to see how we went. Straight away our system wouldn't boot. From there we moved down to the 2133MHz DDR divider. While our machine booted, as soon as we got into Windows, we found ourselves greeted with a BSOD.
So, we headed back into the BIOS and moved down to the 2000MHz DDR divider. Straight away our machine booted as we expected and got into Windows with no problem. We ran our AIDA64 CPU benchmark and found no issue with the kit running at this speed.
With that all looking good we headed back into the BIOS to play with the BCLK on our 4770K for the first time. We jumped up to 102 and kept moving by .5 increments. We got to 105 and our system stopped booting. We moved back to 104.5 and while we booted with no issue, we got a BSOD before Windows was fully loaded. We then moved back to 104 and got into Windows with no trouble. We fired up AIDA64 and straight away our benchmark ran with no issues.
Looking above you can see with the memory divider set to 2000MHz DDR and the BCLK being pushed up to 104, our memory comes in at a reasonable 2079MHz DDR, a good 200MHz DDR+ overclock from the 1866MHz DDR stock clock.
Under AIDA64 we ended up with Read / Write numbers of 31,368 MB/s / 32,598 MB/s, Copy speed of 30,756 MB/s and latency of 45.9ns. Overall you can see a bit of movement in all areas. Unlike the Z77 platform, there isn't just one area that just jumps up. Instead you can see across the board a nice increase in all areas and a nice reduction in the latency speed.
Once we found the overclock, we headed into the BIOS and increased our CPU speed as high as possible. Of course this clock can vary a bit due to the fact that the BCLK is thrown into the mix often. Keeping with the same timings and 104 BCLK, our memory remained at 2079MHz DDR.
Looking above, though, you can see we pushed our CPU multiplier up to 44x. Combined with the 104 BCLK, this brought our CPU speed up to 4574.6MHz. Not a bad overclock, but a little shy of the 4.7GHz clock we got when leaving the BCLK alone in our standalone review.
Under AIDA64 we ended up with Read / Write numbers of 31,302 MB/s / 32,648 MB/s, Copy speed of 30,937 MB/s and latency of 46.0ns. This is of course the first time we've done memory overclocking on the new platform and it's interesting to see that overclocking the CPU does almost nothing to memory performance. In the past we'd see a strong jump in the read and write speeds, but here you can see that performance is almost identical. The only thing we're dealing with is a bit of fluctuation in all our results.
Our first look at the new Corsair Vengeance Pro looks to be a good one with some strong performance being seen. I think the most interesting thing to note, though, is that unlike previous platforms that saw a jump in memory performance when overclocking the CPU, the new Haswell platform doesn't really get that.
At $144.99 the CMY16GX3M2A1866C9 kit comes in at a good price. 16GB of RAM continues to be enough for most people and 1866MHz DDR is a speed that is fast, but isn't going to cost you an arm and a leg. The new heatsink looks great and in typical Corsair fashion, the overall quality of the kit is very high.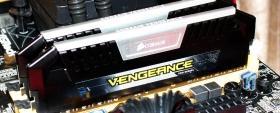 If you don't want to bust the bank account open and just want an overall good quality kit that comes in at a strong price point and offers speed that will be perfect for most, this is a really nice option. This is just a strong all around kit that ticks the box for most people out of the box. Along with that you can see we've also got some overclocking potential too, which makes the kit even more attractive with over 2000MHz DDR being reached.
We're looking forward to testing more and more of the Vengeance Pro kits as we know that Corsair will be offering speeds as high as 2933MHz DDR in time. Until then, though, if you're looking for something that isn't so insane, this is a great option to throw into your new Haswell build.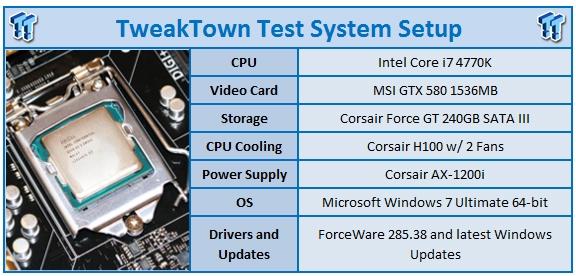 PRICING: You can find products similar to this one for sale below.

United States: Find other tech and computer products like this over at Amazon.com

United Kingdom: Find other tech and computer products like this over at Amazon.co.uk

Australia: Find other tech and computer products like this over at Amazon.com.au

Canada: Find other tech and computer products like this over at Amazon.ca

Deutschland: Finde andere Technik- und Computerprodukte wie dieses auf Amazon.de