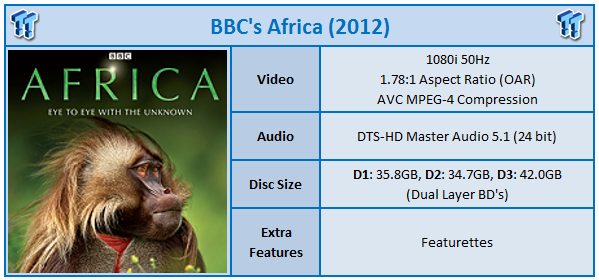 David Attenborough's epic natural history documentaries have for many years now been a staple event on the BBC network's calendar, but following the huge success of the Planet Earth series on Blu-ray (which to this day holds the record of highest selling documentary on the format), another noteworthy Blu-ray has been released.
Africa consists of six 45 minute episodes which looks at specific areas of the continent; including Kalahari, Savannah, Congo, Cape and the Sahara, focusing on the wildlife, threats and challenges that face the fragile eco systems exclusive to each. Full of stunning footage, which both boggle the mind and pull at the heart strings, Africa brings home to viewers just how much the animal kingdom has in common with humanity, and have the power to both uplift and respect.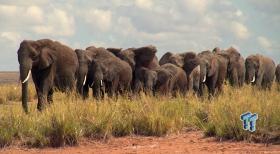 Used in a way to further the narrative and not call attention to itself, Africa nonetheless makes significant use of cutting edge technology to bring home many rarely seen images. Most notably, advances in ultra-sensitive photography from the Lunax Starlight camera enables us to see the communal nature of a herd of Hippopotamus for the first time - images which stunned researchers and shone new light on a species thought well understood.
Video
Africa is presented in the film's original aspect ratio of 1.78:1, 1080i 50Hz, encoded with AVC MPEG-4 compression. Due to the use of 50Hz video frequency, viewers from NTSC regions will not be able to playback the discs on standard displays and should therefore purchase the release locally, which has been converted to 24p.
Whilst there are occasional artifacts which take the form aliasing as a result of the 1080i encoding, some, or all of these may be inherent in the source material and the varying models of the approximately 500 HD cameras utilized in the production, specific display panels and projectors will handle the necessary descaling with differing degrees of success.
Overall however, I was extremely pleased with the image quality of Africa, both from a technical standpoint, and a photographic standpoint. Colors are bold and brilliant, and seemingly accurate to the subject matter. Images are crisp and clear and every frame bristles with detail - from the strands on a lions mane, to thousands of flocking birds, all of which no doubt push video encoders to their limits.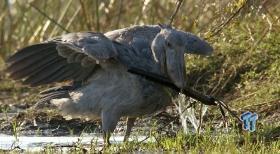 Audio
Africa is presented in DTS-HD Master Audio 5.1, at 24 bits.
For a documentary release, expectations for a barn storming audio track were kept somewhat diminished, and with that in mind it is easy to be impressed! David Attenborough's narration is kept front and center, with the main soundstage supported by the majority of action, whilst general ambience and semi-frequent directional effects fill the surrounds. Low frequency effects are rare, but assist where necessary.
Overall a pleasing effort, although it would have been great for Roadshow to present a narration free 5.1 track as an added option.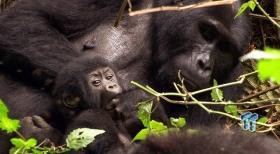 Extras
Sadly, BBC have neglected the opportunity to include a mountain of extra features, however each episode features an Eye to Eye featurette which takes the form of behind the scenes footage which explain the logistical issues of filming in challenging environments, and often include the filmmakers pleasure at having achieved a certain shot. At 10 minutes each, times by six - Eye to Eye is essentially an hour long documentary, which at the end of the day isn't too shabby at all.