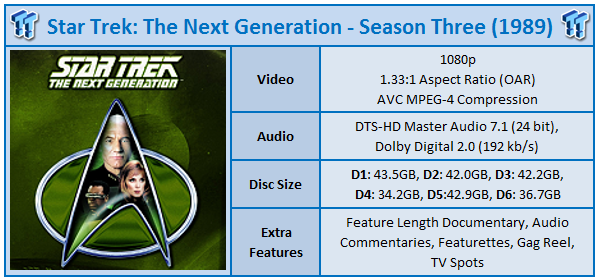 For many fans, the third season of CBS's Star Trek: The Next Generation signified the point where the series turned a corner and solidified its position alongside its older sibling in the pantheon of classic TV science fiction.
Due to significant behind the scenes changes, including a new head writer in Michael Piller, many of the 26 episodes of the series third season Next Generation have gone on to become fan favorites, including the cliffhanger episode The Best of Both Worlds, which represented a new direction to span stories over multiple episodes, allowing for more creative story arcs and an audaciously dramatic escalation for the series. Other episodes such as Deja Q which focusses on the playful threat of the character Q, the prime directive fracturing Who Watches The Watches, along with Yesterday's Enterprise and Sins of the Father are all well written episodes, which more aggressively court the philosophy and thought provoking nature of the best of Star Trek.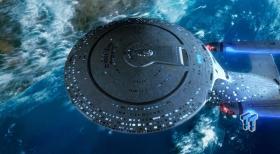 But even smaller flourishes such as new costumes, a new director of photography, more advanced film stock and the return of Gates McFadden as Doctor Crusher all added to a more advanced Next Generation experience, and one that looks much more in line with the series feature film adventures.
Video
Star Trek: The Next Generation - Season Three is presented in the series' original intended aspect ratio of 1.33:1 encoded with AVC MPEG-4 compression.
As I foreshadowed in the introduction, viewers will be immediately drawn to the updated visual look of the third series, owing to a change in director of photography in Marvin Rush whose preference for a brighter and more vibrant image makes the image pop, along with a change in Kodak film stock, which featured much smaller emulsion and significantly less grain, resulting in a sharper and better defined image.
Just like its predecessors, season three has been completely reassembled and re-composited by the in house team at CBS Digital and they've done a spectacular job of piecing it all together. The elements are in great condition, with no scratches or aberrations and rock solid stability. There are very occasional white film artifacts, but they aren't too distracting. The image is generally very sharp, bar the occasional soft focus or zoomed in shot.
Overall, the third season of The Next Generation is the best to hit Blu-ray yet.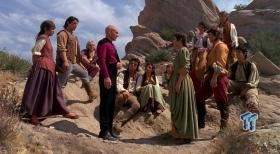 Audio
Star Trek: The Next Generation - Season Three is presented in DTS HD Master Audio 7.1 at 24 bits, alongside the original broadcast stereo audio tracks in Dolby Digital 2.0 (192 kb/s).
Similar to all season releases thus far, the audio has been expanded to full 7.1 by going back to the original audio stems. There's really little to say - this is by far and away the best the series has ever, and will likely ever sound. For those that prefer to replicate the original broadcast stereo tracks, they'll be pleased that their needs are catered for.
I didn't detect any audio sync issues and dialogue is generally mastered at a good level. Surround channels are utilized more aggressively than expected, phaser beams emanate seamlessly from the front to the rear soundstage and swooshing and zooming sound effects frequently appear in the rear tracks serving to add real weight and dimension to the experience.
Low frequency output is generally present throughout, underscoring some of the more dramatic sequences.
The soundtrack, composed by Dennis McCarthy, is rather distinctive and wholly classic Trek, although at times it does feel admittedly dated. It's mixed rather well and sounds glorious, freed from its stereo confines.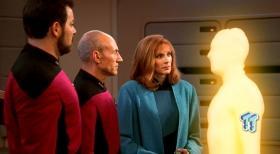 Extras
Just when you think director's Roger Lay and Robert Meyer Burnett can't top themselves with their sensation extra features, they come and do this. Let's take a look at the collection here.
Four episodes feature Audio Commentary, although two feature on the same episode - Yesterday's Enterprise. Hosted by a range of Trek luminaries, including three with Michael and Denise Okuda, it's a real kick to be able to experience Trek commentaries and these don't disappoint.
The bulkiest extra is the three part, 90 minute long Resistance Is Futile: Assimilating Star Trek The Next Generation Documentary, which discusses most everything you could want to know about the changes both behind and in front of cameras in the third season. I particularly found interesting the commentary from Gates McFadden about returning to the series one year after being fired, and the rifts in the writing room before Michael Piller brought the group together. Make no mistake, this is a truly superb extra, an honest to God gift created by fans, for the fans, that all must watch.
Other, lesser Blu-rays sets would be satisfied with that, but CBS have gone one better with the hour long Inside The Writers Room, which reunites key Next Generation writers Naren Shankar, Rene Echevarria, Brannon Braga and Ronald Moore, moderated by Family Guy creator and Trek fan Seth McFarlane. It's a relaxed and frequently comedic affair, but one with shines real light on the writing process and the act of cracking an episode. A highlight was a discussion on what an eighth season would have seen, threads which were later picked up in post-series feature films.
Next are two brief tribute featurettes; the first A Tribute To Michael Piller has fellow cast and crew reminiscing their memories on the much loved writer, and the second In Memoriam: David Rappaport who filmed a few minutes of footage of the episode The Most Toys before taking his own life. His Kivis Fajo would have been quite different to Saul Rubinek's portrayal as seen in the scenes, which have been edited together along with final episode footage.
The previously released DVD features stand out a little, with quite a bit of overlap, but presented here for completeness sake. Mission Overview: Year Three gives a 17 minute cap of the series, while Selected Crew Analysis: Year Three takes a microscope to some of the character arcs and new revelations from this season. The Memorable Missions and Production Briefing Featurettes take a brief look at some of the new behind the scenes elements which are expanded upon in far greater detail (and far more honesty) in the longer Resistance Is Futile Documentary
Finally we have an eight minute Gag Reel, which is once again taken from the camera negative and presented in 1080p, along with SD Episodic Promos for each episode.