Star Trek Into Darkness (2013) Cinema Review
"You think your world is safe? It is an illusion, a comforting lie told to protect you. Enjoy these final moments of peace, for I have returned, to have my vengeance."

Published Sun, May 19 2013 11:41 AM CDT
|
Updated Tue, Nov 3 2020 7:00 PM CST

In 1990, the year before his death, Star Trek creator Gene Roddenberry told the L.A. Times, "There's a good chance that when I'm gone, others will come along and do so well that people will say, 'Oh, that Roddenberry. He was never this good." Casual audiences might agree, but for the many lifelong Star Trek fans, J.J. Abrams franchise revival opened an interesting aside for a franchise fast approaching 50 years of age, but hardly represents a return to form of the core Star Trek ethos; the sense of wonderment, philosophical ideals and the promise of a brighter future.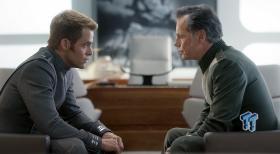 Three years on from 2009's franchise reboot, whose plot controversially created an alternate timeline allowing the series to take certain liberties with established canon and events and grow into its own version of Trek, J.J. and company return with Into Darkness; a title both ill-fitting and borderline offensive to long term fans, which attempts quite desperately to appeal to firm and casual fans alike, whilst also appealing to a younger and hipper demographic, who find the franchise the antithesis of 'sexy'.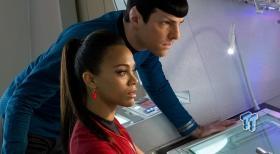 Following a suicide blast at Starfleet HQ and subsequent aerial attack resulting in the murder of Starfleet commanders masterminded by turncoat Starfleet agent John Harrison (Benedict Cumberpatch), the Enterprise crew headed by Captain James T. Kirk (Chris Pine) are re-commissioned to mount a mission to assassinate Harrison at his hiding place on Kronos, the Klingon home world. Kirk being Kirk refuses to accept orders at their face value and decides to take Harrison hostage. After a brief battle, Harrison unexpectedly gives himself up, willingly boarding the Enterprise as a prisoner. Unfortunately, it's quickly revealed that neither the mission, nor Harrison are quite as expected, with the crew of the Enterprise finding itself in the middle of a much larger plot and grave danger.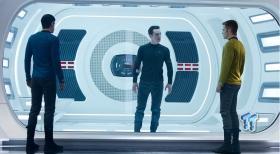 For the uninitiated, Star Trek circa 2013 is an entertaining science fiction adventure, which commands viewers attention right from the opening scenes. But saddling itself with the name Star Trek automatically attaches 50 years of baggage and does this film no favors. The truth is, this modern incarnation of the franchise has little in common with it older siblings. Star Trek has always gladly worn its heart on its sleeve with the epitaph of 'thinking man's sci-fi', but ruminating about the plot only reveals the numerous holes that riddle the script, not least the mind messing alternate timeline, which try as I might to explain to my non-fan girlfriend, really struggled to do.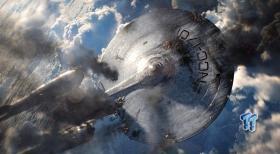 The next section discusses spoilers - you've been warned.
In true J.J. Abrams fashion, there's a few surprises, but perhaps the worst kept is that of the true identity of the mysterious John Harrison - he's Khan Noonien Singh from both the Original Series episode 'Space Seed' and the feature film The Wrath of Khan. But Khan was never an Englishman, nor does Benedict Cumberpatch looks resemble previous Khan actor Ricardo Montalban. Try explaining that to newcomers - and that's the whole problem with the film. It tries to be all things to all people and it just doesn't make sense. Why try and shoehorn Trek lore into a film and then not even attempt to make it cohesive? For every cameo by a tribble or inflection of a classic phrase, we have another franchise contradiction or out of character motivation.
Having been tapped to direct Star Wars Episode VII for LucasFilm, it seems that J.J. Abrams will now slink off from the franchise that he's revealed he was never a fan of, leaving the gates open for someone else to take the reins. I can only hope that that person will stay true to the core ethos of Star Trek rather than continue to churn out what amounts to, admittedly entertaining, but otherwise generic science fiction action, trading on the basis of Star Trek's branding.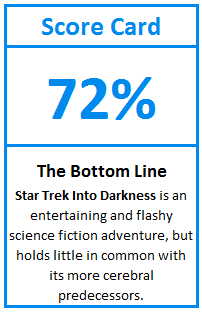 PRICING: You can find products similar to this one for sale below.

United States: Find other tech and computer products like this over at Amazon.com

United Kingdom: Find other tech and computer products like this over at Amazon.co.uk

Australia: Find other tech and computer products like this over at Amazon.com.au

Canada: Find other tech and computer products like this over at Amazon.ca

Deutschland: Finde andere Technik- und Computerprodukte wie dieses auf Amazon.de
We openly invite the companies who provide us with review samples / who are mentioned or discussed to express their opinion. If any company representative wishes to respond, we will publish the response here. Please contact us if you wish to respond.