Thermaltake EVO Blue 2.0 850-Watt 80 PLUS Gold Power Supply Review
Thermaltake takes brings a bit of flair to market with the updated EVO Blue 2.0 850W power supply. We all know that bling means nothing without performance when it comes to computing, so let's find out if this one has both.
Published May 18, 2013 12:03 AM CDT
|
Updated Tue, Nov 3 2020 7:00 PM CST
6 minute read time
Introduction, Specifications, Availability and Pricing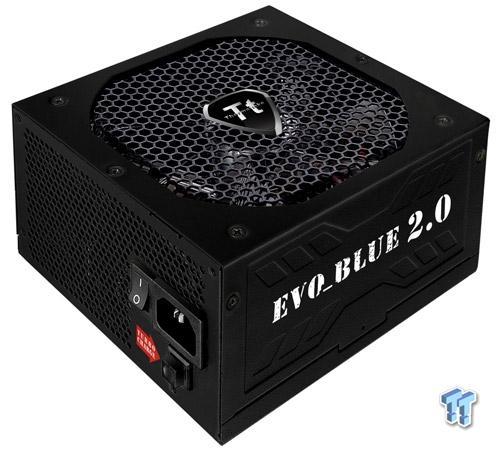 Thermaltake is a name synonymous with gaming and enthusiasts and with good reason. The company arguably makes some of the best components and accessories on the market that cater to a very wide audience. As far as their power supplies are concerned, we've always looked at their higher-end offerings here at TweakTown such as the Toughpower Grand and Toughpower XT units. These units are spectacular if you're looking for the absolute best that Thermaltake has to offer, but what if you just don't have that kind of money to spend?
That's where the EVO Blue 2.0 series comes into play. The EVO Blue 2.0 is available in both black and military green colors as well as 650W, 750W and 850W models. It features a multi-color 140mm crystal LED fan which is sure to entice a few who like to show off their rigs. It also features their FanDelayCool technology that keeps the fan running for 15-30 seconds after the system is shut down to help remove residual heat from within the power supply.
There are a few more things to cover that make the EVO Blue 2.0 a little bit more unique, so let's get to what the 850W model has to offer and stop wasting time.
Specifications, Availability and Pricing

The Thermaltake EVO Blue 2.0 850W power supply features a single 12V rail capable of delivering 70A of power or 840W. Both the 3.3V and 5V rails are rated for 20A each with a combined maximum output of 100W. The 5VSB rail is rated for 3A or 15W. Maximum combined output for the power supply is 850W.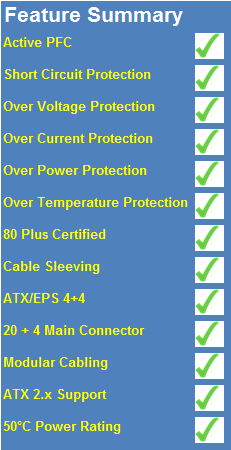 No protections are skimped on as the unit features SCP, OVP, OCP, OPP and OTP. The power supply is 80 PLUS Gold certified. It features both native and modular cables, all of which are of the flat ribbon type including the motherboard connector. Thermaltake also rates the EVO Blue 2.0 850W for 100% continuous output at 50C.
Thermaltake says the MSRP for the EVO Blue 2.0 850W power supply is $179.99. Newegg comes in at the cheapest price online, but also tacks on $5.99 for shipping bringing the total to $185.98 at the time of writing. This puts it very middle of the road for an 850W unit so let's hope that there is a bit more on the inside that helps separate the EVO Blue 2.0 from the competition a bit to make it worth the investment. Thermaltake backs the EVO Blue 2.0 series with a five year warranty.
Packaging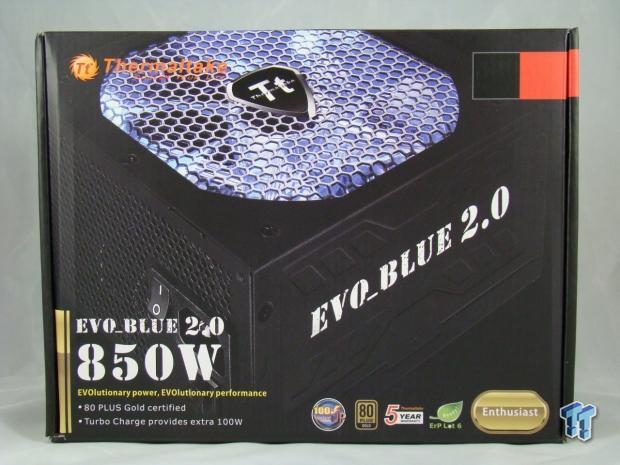 Thermaltake offered us our choice of color for the EVO Blue 2.0 and we chose the black model figuring it would be the more popular option. One of the things of interest on the front is the claim of "Turbo Charge provides extra 100W." We'll deal with that in a little bit.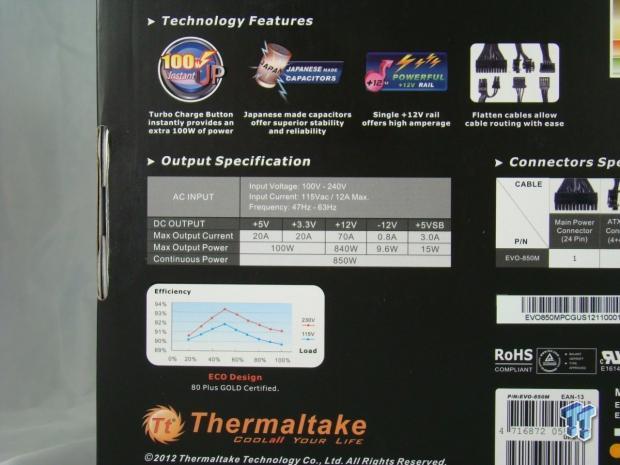 On the back we find some pictorial information as well as the I/O specifications for the power supply. Again we are told about the Turbo Charge feature. Sounds interesting...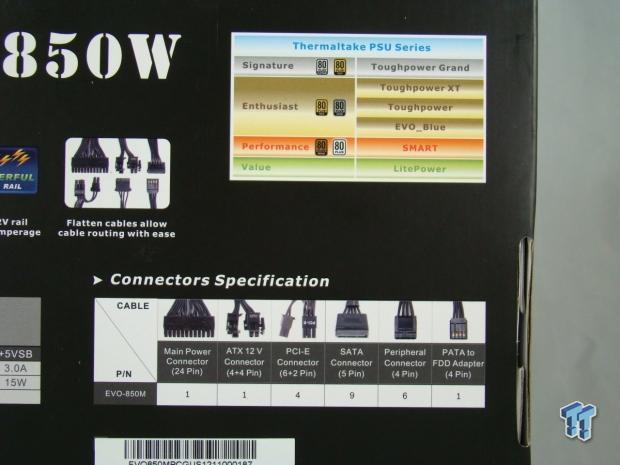 The other half gives us the connector availability and a chart showing where the EVO Blue series rates in terms of their product hierarchy. As the EVO Blue sits right in the middle, we should probably expect a tiny bit less build quality and performance, with some savings on our pockets hopefully.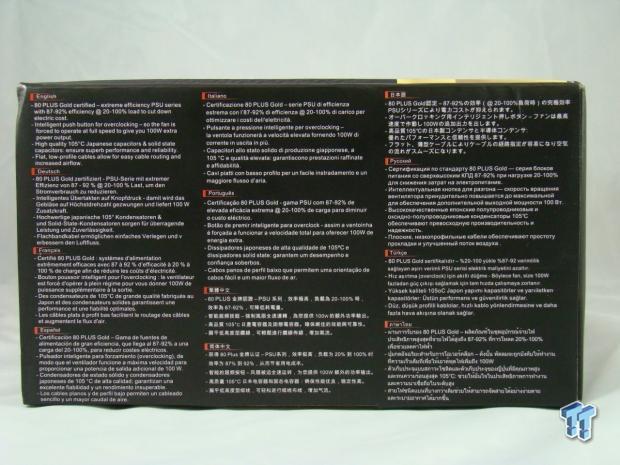 While the top, bottom and one side are void of information, this side reiterates what has been stated before and does so in many languages.
Inside the Box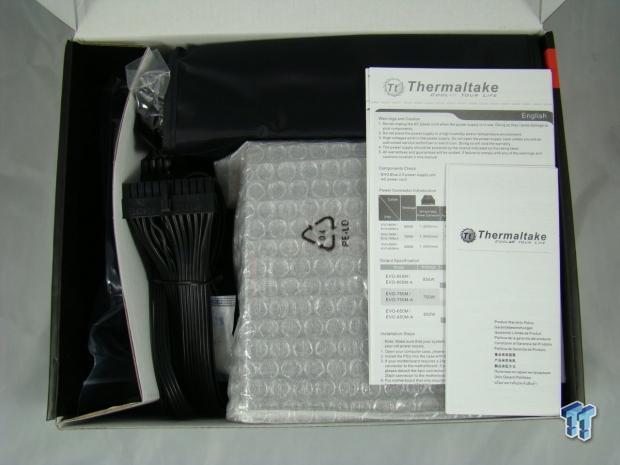 The inside includes a little less protection than we would like to see, but nevertheless, it proved to be enough to get our unit safely to our doorstep.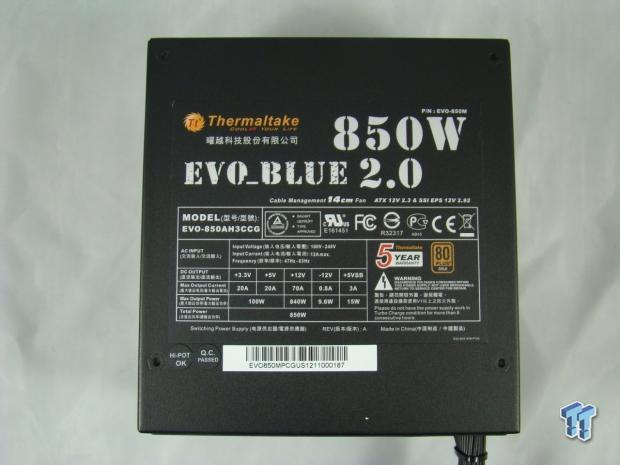 Thermaltake uses a semi-glass black finish on our unit which you can see along with the I/O specification label on the top of the EVO Blue 2.0 850W PSU.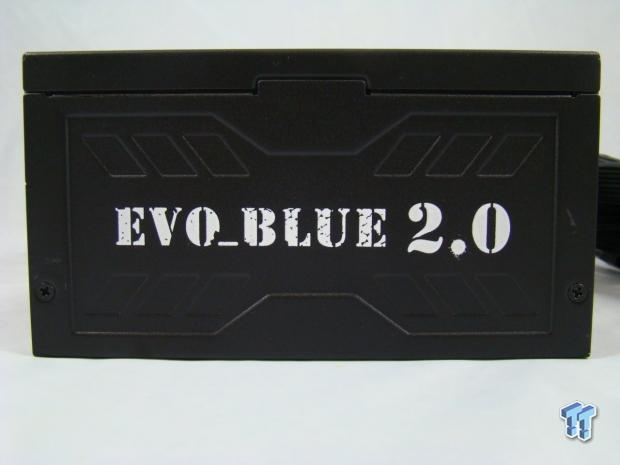 Both sides feature the same EVO Blue 2.0 logo with X pattern stamped into the metal. It is inverted on the other side.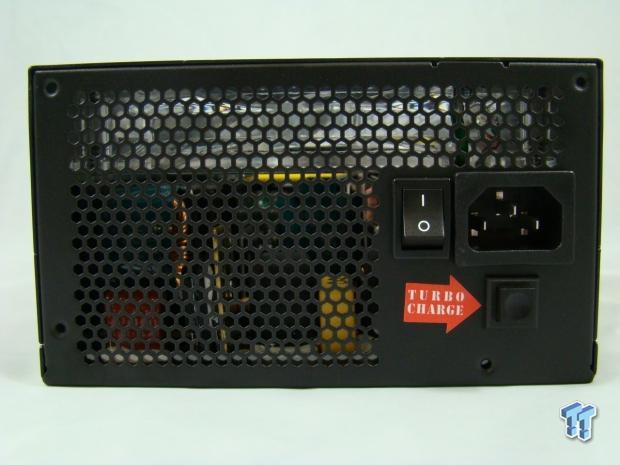 Moving to the back, we find the standard honeycomb mesh grill with AC input and on/off rocker switch. We also find the Turbo Charge button. You push it to get a 100-shot of nitrous... wrong subject. The button simply changes the color of the fan and forces it to operate at max speed, hence increasing cooling.
As such, Thermaltake feels that it is safe enough to pull 950W out of the unit when enabled. Essentially this means the power supply is underrated and probably so that it could hit the 80 PLUS Gold mark instead of being a 950W Silver unit. As the power supply is rated and advertised as an 850W model that is exactly how we will test it.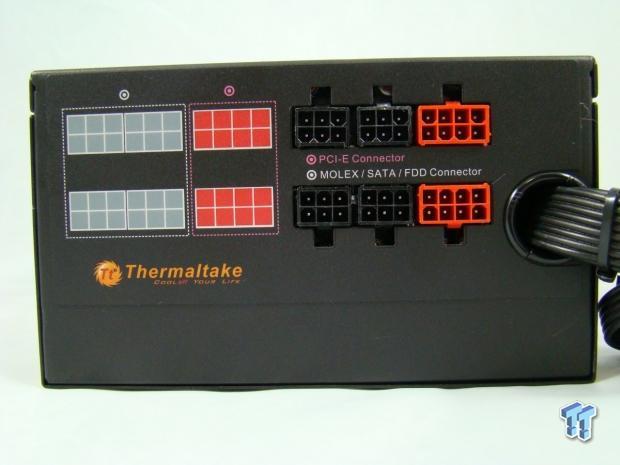 Towards the front we find the modular connectors as well as the flat native cables that extend all the way into the power supply.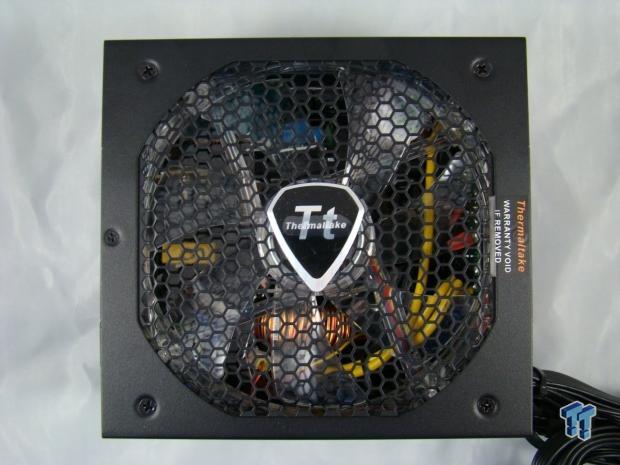 The bottom of the unit houses the 140mm clear LED fan that cools the EVO Blue 2.0 power supply.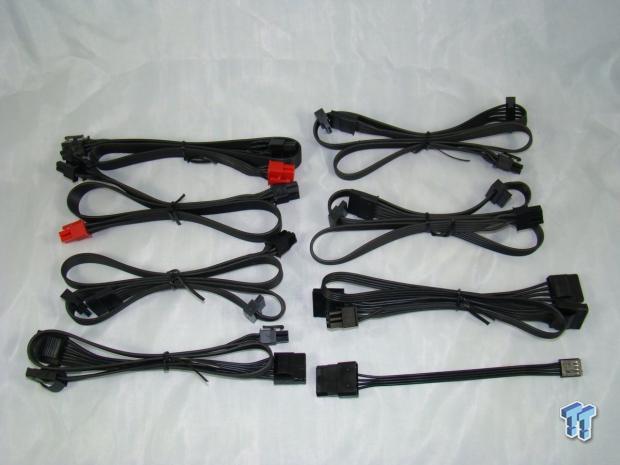 All of the modular cables are of the flat ribbon type.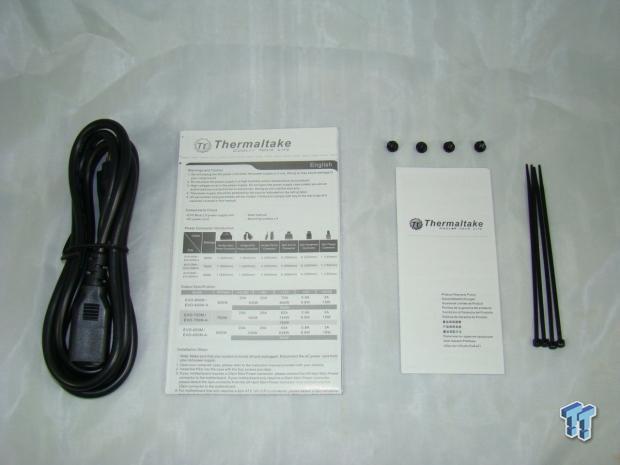 Also included with the unit are zip-ties, mounting screws, AC input cord, user manual and warranty card.
Cabling Arrangement and A Look Inside
Cabling Arrangement

The cable and connector availability for the EVO Blue 2.0 850W power supply is almost perfect. While the cables and connectors are there to power almost everything that you can think of an 850W power supply doing, it does lack a second ATX 4+4/EPS12V connector in the event that one is needed. It would be nice to see this included as a modular cable.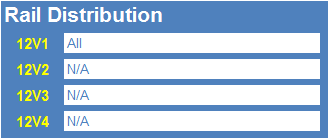 Rail distribution is as simple as it gets with a single 12V rail. There is no need to worry about load balancing here.
A Look Inside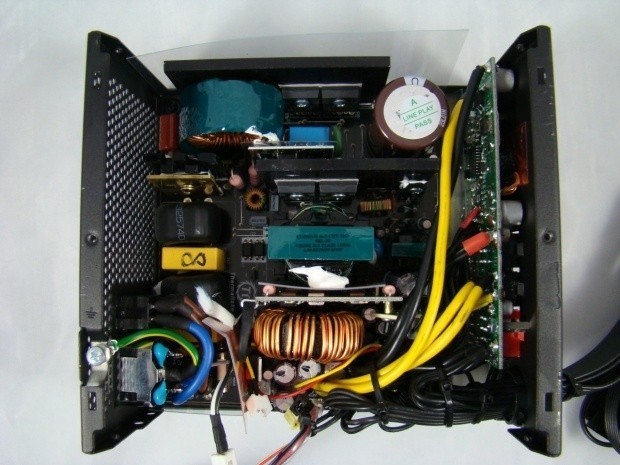 Inside we find that things are rather busy despite having a simplified PCB. Considering the Turbo Button capabilities of the unit, we are surprised that there aren't better heat sinks to aid in the passive cooling of the unit.
A single Nippon Chemi-Con capacitor sits on the primary side of the power supply.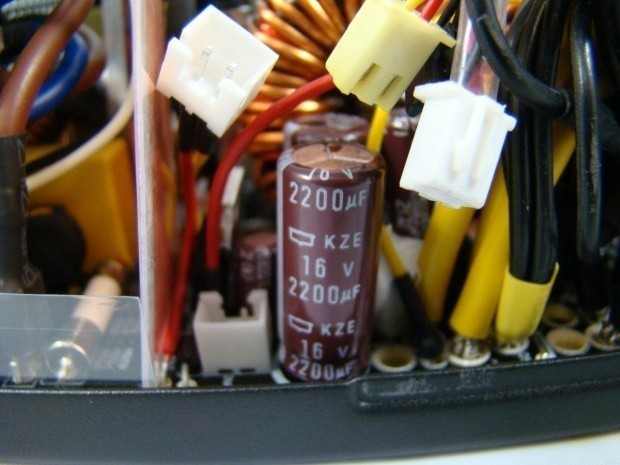 The secondary side is littered with more Nippon caps.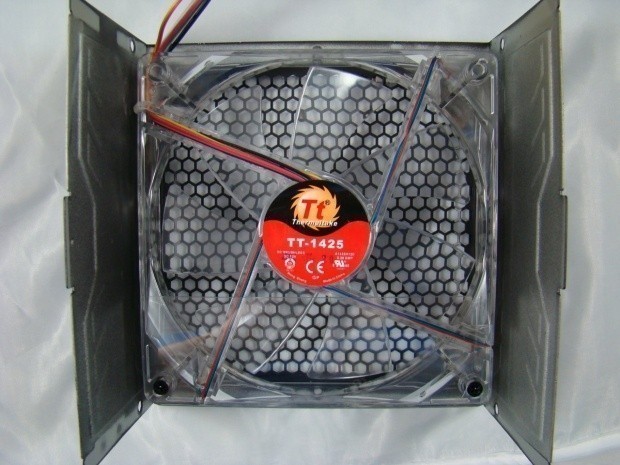 Thermaltake uses their own TT-1425 140mm clear LED fan to provide the active cooling for the power supply.
Test Results and Final Thoughts
Test Results
Our load tests utilize a couple of FAST ATE active load testers and a variety of other equipment such as an oscilloscope, power conditioner, temperature probe and a power consumption meter. You can read more about our standard testing approach here.
The tests performed are based around six conceivable setups that are out there and progressively load down the PSU up to the power supply's limits or 1000W, whichever comes first. Since our test equipment's limits are higher than that of the Thermaltake EVO Blue 2.0 850W power supply, we can test it to the maximum.

The above tests represent typical loads that we have measured from various systems and are meant to give a rough idea of where your computer might fall in line with our tests. Please keep in mind that each system is different and actual loads can vary greatly even with similar hardware.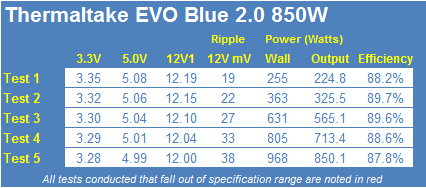 Let's start by taking a look at the voltages to see how well this unit did during testing. Starting with the 12V rail, we see 2% regulation from start to finish with a total drop of .19V. The 5V rail managed to stay within 2% of specification with a total drop of .09V from start to finish. Moving towards the 3.3V rail, we see that regulation was within 2% of specification with a total voltage drop of .07V.
DC Output quality for the Thermaltake EVO Blue 2.0 850W was good and well within specifications. During Test 1, we saw 19mV of noise on our scope. When we increased the loads in Test 3, the ripple climbed to 27mV at around half load. During Test 5 under a load of 850W, the oscilloscope showed a maximum of 38mV on noise on the 12V rail.
The Thermaltake EVO Blue 2.0 850W is rated for 80 PLUS Gold efficiency. This means that the power supply must perform at 87%/90%/87% efficiency at 20%/50%/100% loads respectively. As you can see, the EVO Blue 2.0 850W passed on our bench, and wasn't close to failing at any point.
Final Thoughts
The 750W to 850W power supply market is perhaps one of the most crowded segments for a power supply to compete in. As such, it is hard for a power supply to stand out from the crowd, as there is almost certainly something already on the market that does what you're trying to do. That means you either have to do it better, cheaper, or both to make your unit more than "just another power supply".
That is exactly the problem with the EVO Blue 850W power supply. Starting with price, it is sitting right in the middle of the pack, so it can't quickly pull ahead there. As far as build quality and performance is concerned, they are both great. Unfortunately (for Thermaltake), I can still point you to power supplies in the same market segment that have the same build quality and performance, but do it for less money. Some of them even have better performance and efficiency.
What that leaves the EVO Blue 2.0 850W power supply with to stand out are aesthetics. It isn't much considering the nature of power supplies, but there are times when it is important. As the EVO Blue 2.0 features an LED fan, it is obviously meant to be seen and when you add in the color choice of the unit it does help make the unit stand out a bit. That is the key to the success of the EVO Blue 2.0.
It has the aesthetic edge over the competition while still performing well at a decent cost. It is one of a handful of units with an LED fan in the 850W market that I could find.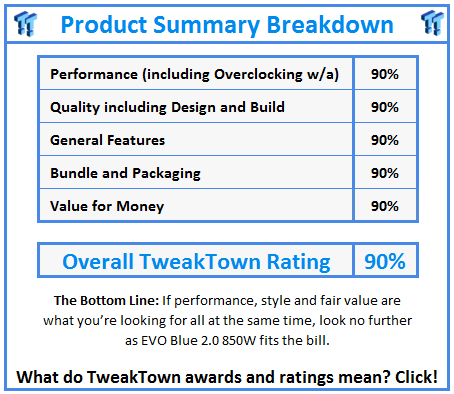 PRICING: You can find products similar to this one for sale below.

United States: Find other tech and computer products like this over at Amazon.com

United Kingdom: Find other tech and computer products like this over at Amazon.co.uk

Australia: Find other tech and computer products like this over at Amazon.com.au

Canada: Find other tech and computer products like this over at Amazon.ca

Deutschland: Finde andere Technik- und Computerprodukte wie dieses auf Amazon.de