Introduction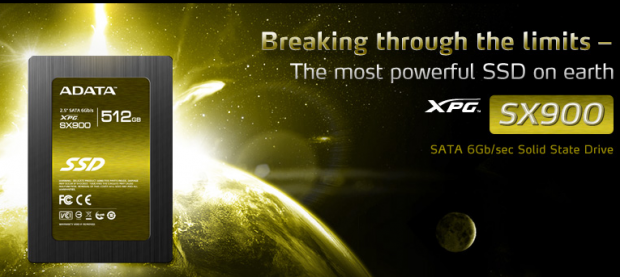 We're looking at the ADATA SX900 for the first time today. The SX900 hit the market with the SP900 last year, but the SP900 review didn't go as ADATA planned. Just days ago ADATA fixed their issue with TRIM by releasing new firmware for a number of SandForce SF-2000 based SSDs. The new firmware, 5.0.7a, is new to us. We expected ADATA to launch 5.0.6, but they leaped straight to this release, one that we didn't even know of prior to ADATA handing it out. TRIM is fixed, but the angels aren't exactly singing.
We've all seen notices that state products can change without notice. Most of the time we don't even pay attention, but the notices are on just about everything. Most of the time the changes are small, such as a new resistor from a different vender here, or a different diode or capacitor there. We've only seen a significant component changed a few times and the end results have always been pretty bad. How many Ford parts can you put on a Ferrari and still call it a Ferrari?
The ADATA SX900 we're looking at today is nothing like the SX900 from 12 months ago. The controller has changed, the new SX900 ships with LSI SandForce's new B02 stepping SF-2281 controller. B02 doesn't change performance at all on its own other than battery life. The B02 stepping uses less power so you get longer battery life - nothing to complain about there. I'll take an Enzo with the full horse power and the battery life of a Prius, sure thing!
The ADATA SX900 has another change, 20nm NAND flash. When the first SX900 hit the market, it shipped with Intel branded 25nm sync flash. AnandTech's review sample was a 128GB model just like ours, but it shipped with 16 NAND flash chips. Two months after the AnandTech review was published, another review went live at Legit Reviews. That sample, a 128GB again, shipped with just eight NAND flash chips that were not branded at all.
Today we have a new type of SX900. This unit has the SandForce B02 controller, eight unbranded NAND flash chips and we're told the flash is 20nm IMFT. ADATA started packaging their own wafers last year and they say the wafers are coming from Micron. Intel and Micron share the same manufacturing facility in a joint owned venture called IMFT. ADATA isn't the first company to buy wafers from IMFT so no issue there, the problem is we don't have a secret decoder ring to tell what the these chips actually are.
For most of us, it doesn't really matter. It's an SSD and we're only going to buy one of them. A few of us are a bit more brazen... little rascals we are. Ever since Intel released RAID 0 TRIM drivers, a fair number of people have bought one drive to start with and another later. With SSDs the trick is to buy two identical drives and with ADATA SSDs, well... good luck with that.
Specifications, Pricing and Availability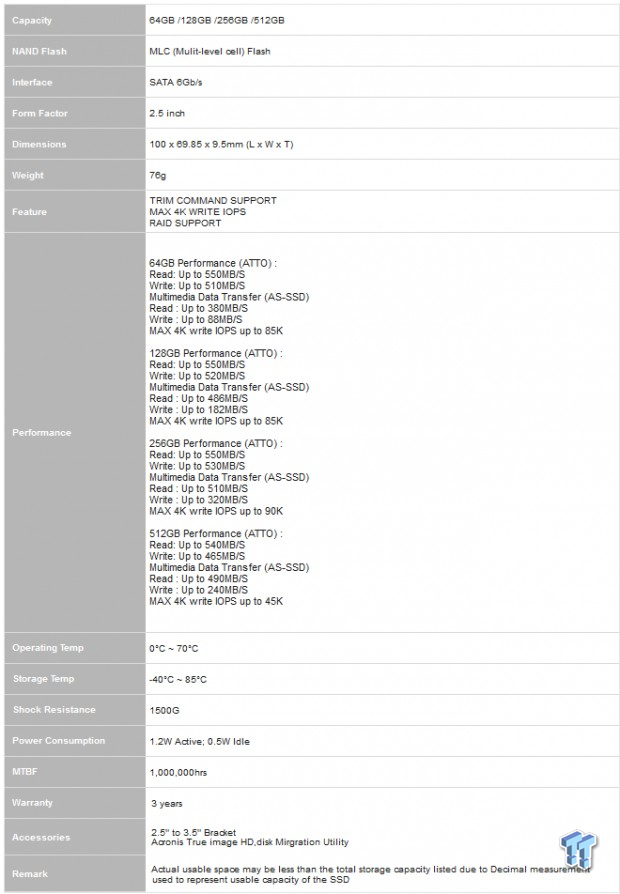 ADATA released the SX900 in four capacity sizes - 64GB, 128GB, 256GB and 512GB. At this time we can't say how many of the capacity sizes will get the B02/20nm make over, but we know the 128GB model already has it. Our sample shipped from the ADATA warehouse in California so there is no guarantee your drive from an e-tailer will be the new revision.
So, how can you tell if your SX900 has the new low power B02 controller, you ask? The only real way is to open the case and look for yourself because the new drive, and the old drive, look identical. They even share the same model number. As far as ADATA is concerned, it's the same drive, but someone looking to run RAID with an older SX900 and a new SX900 will care because the new third of a quarter size PCB and number of flash chips don't performance the exact same. In the same vein, someone looking for B02 battery life performance, a 20 to 30 minute increase in our Lenovo W530 with a six-cell battery, would like to know what drive he or she are actually using as well.
Looking over the ADATA XPG SX900 spec sheet, we see that ADATA broke the drives performance down by capacity size. This is a big positive after seeing a handful of manufacturers give a blanket set of performance numbers for all the capacity sizes. TRIM support is listed as a feature and for the first time with this model, it's actually true.
Our 128GB SX900 has a claimed sequential read speed of 550MB/s and a sequential write speed of 520MB/s. ADATA lists performance for AS-SSD and calls it Multimedia Data Transfer, but since AS-SSD uses incompressible data, we'd call it incompressible data performance since not all media is compressed to the same levels SandForce's architecture compresses to and not all compressed data is media data.
Newegg currently has the SX900 128GB in stock for $114.99. They also have the other capacity sizes - 64GB ($79.99), 256GB ($199.99) and 512GB ($389.99). All XPG SX900 models have a three year warranty, Acronis True Image HD Data Migration Software (via download), desktop adapter bracket, mounting screws and a paper manual.
ADATA just announced their entire SSD product line would convert over to a 7mm z-height. Our sample shipped in a 9.5mm package so it may take a bit of time for the existing stock to move to the new 7mm package. Yes, yet another potential version of the SX900.
Packaging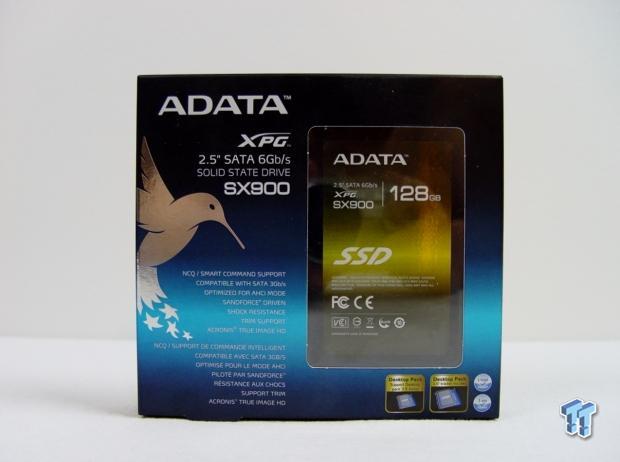 The SX900 ships in an attractive package, but I'm fond of this color blue to start with. ADATA did a good job with listing features on the front of the package as well.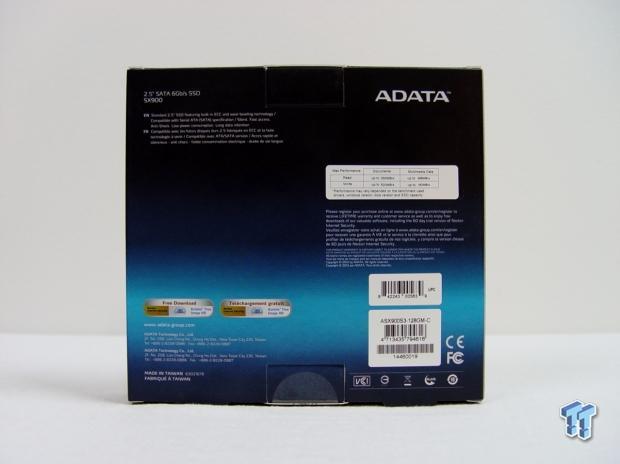 The back of the package lists the package contents and drive specifications.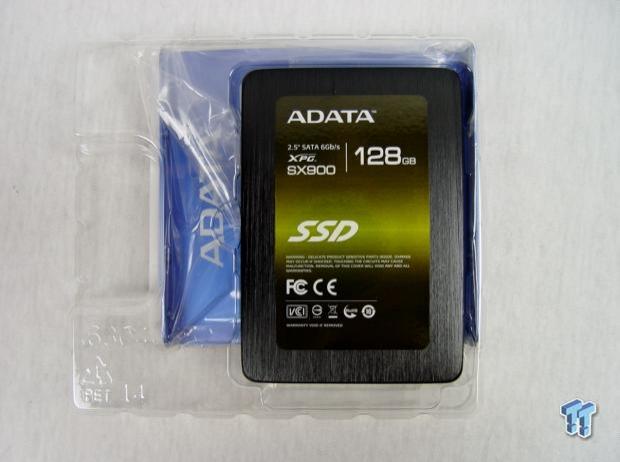 Inside we found a nice tight package with all of the components separated so your drive can't be scratched during shipping.
The accessory package consists of a paper manual, desktop adapter bracket, screws and a code for Acronis True Image HD that's printed on the SSD's label.
ADATA SX900 128GB SSD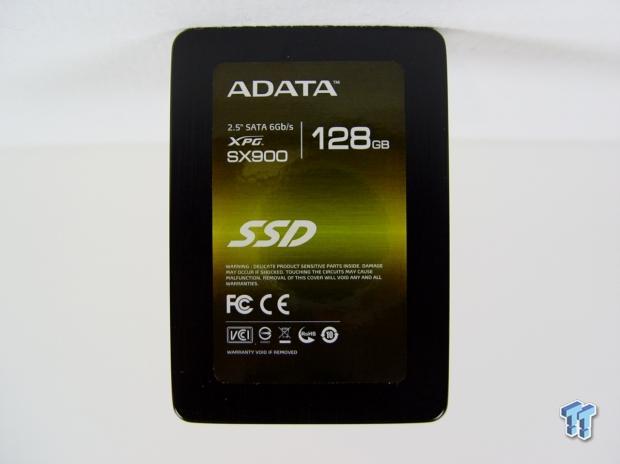 After hitting the market more than a year ago, we get our first look at the XPG SX900. We specifically asked for the 128GB capacity size since we learned that batch has the new B02 stepping controller.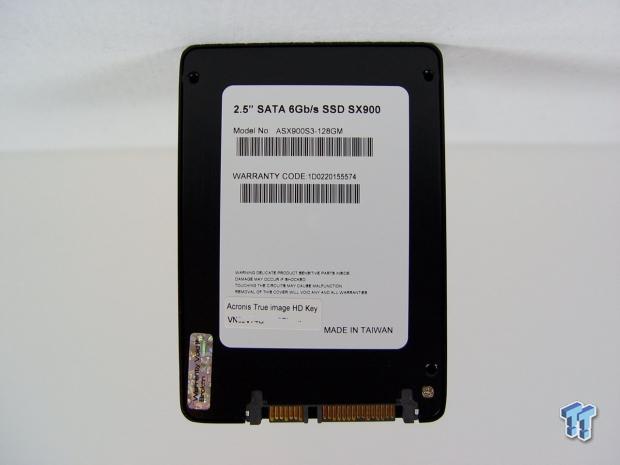 The back of the drive lists the model number, warranty code which would be like a serial number and the Acronis key.
All of the mounting positions on the bottom are where they should be, but one is covered up by the warranty sticker.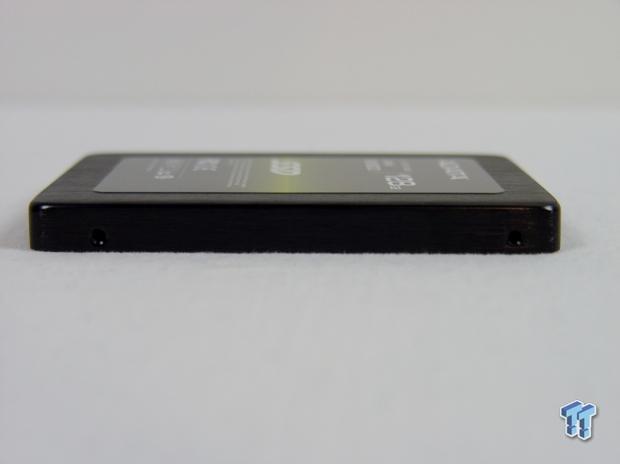 As we mentioned on the specifications page, our sample is a 9.5mm z-height, but ADATA announced a change to all 7mm in the coming weeks.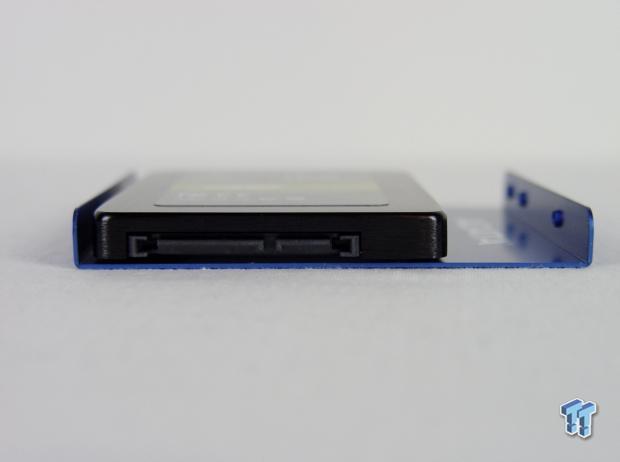 The included desktop adapter bracket offsets the drive to the side so the SATA power and data connections are closer to your 3.5" form factor drives. This makes wiring easier.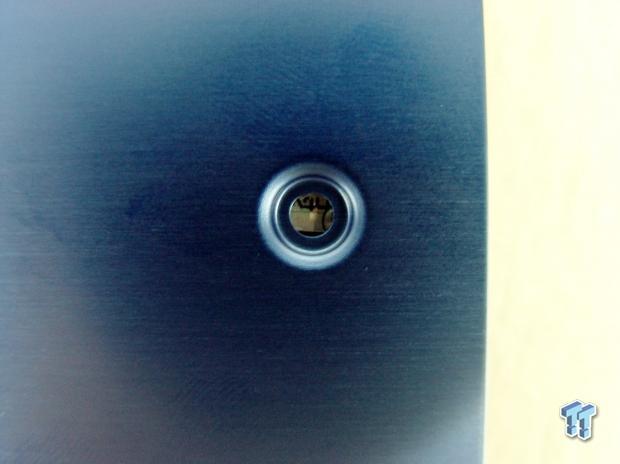 I really don't need to harp on the security sticker covering the mounting hole. If you ever catch grief from ADATA's RMA department, then send them back to this article for this image.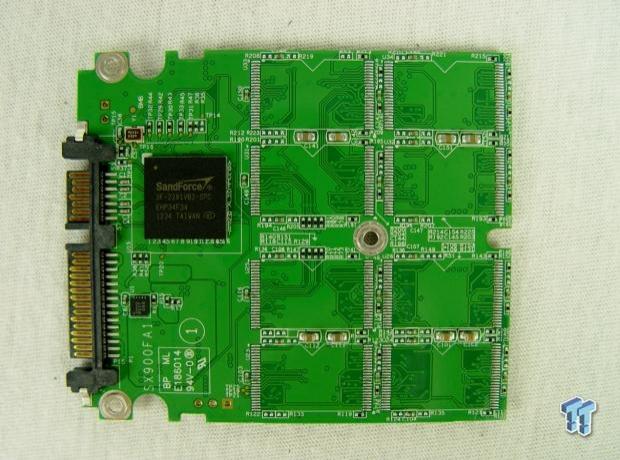 The ADATA SX900 is the first retail product with the LSI SandForce SF-2281VB2, aka stepping B02. There are eight NAND flash chips on this particular drive and all of them are on the same side of the PCB.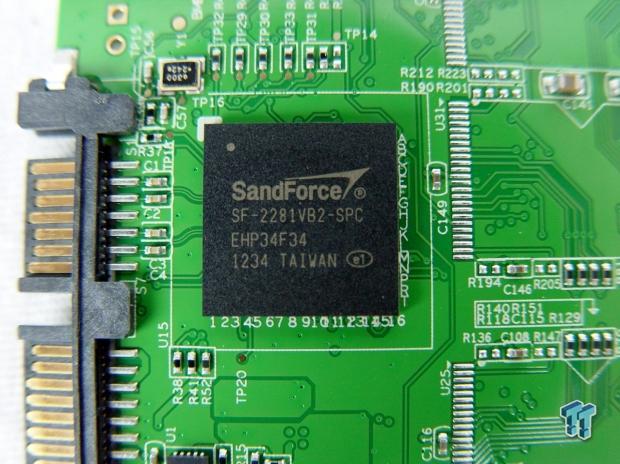 Here is a nice close up of LSI SandForce's new SF-2281 controller. The controller shows VB2 and that means it's the new B02 stepping. The difference is refinements during the manufacturing process that lead to reduced power consumption.
ADATA is now packaging NAND, which is good news for them since it reduces costs, but bad news for diligent reviewers trying to double check every nook and cranny. The numbers don't give us a lot of information since we don't have a decoder sheet. ADATA tells us this is IMFT 20nm synchronous flash and we can see it has a TSOP package. We've tested a handful of new 19nm and 20nm drives with LSI SandForce controllers and the results have been mixed. In the 128GB capacity size, the Kingston V300 and OCZ Technology Vertex 3.20 come to mind, and both were slower than their 19/20nm parts.
Benchmarks - Test System Setup and ATTO Baseline Performance
Desktop Test System
[img]50[/img]
Lenovo W530 - Mobile Workstation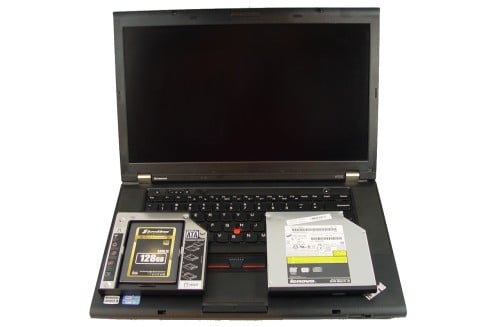 We use two systems for SSD testing. The desktop runs a majority of the tests and the Lenovo W530 runs the notebook power tests as well as the real-world file transfer benchmark.
ATTO Baseline Performance
Version and / or Patch Used: 2.34
ATTO is used by many disk manufacturers to determine the read and write speeds that will be presented to customers.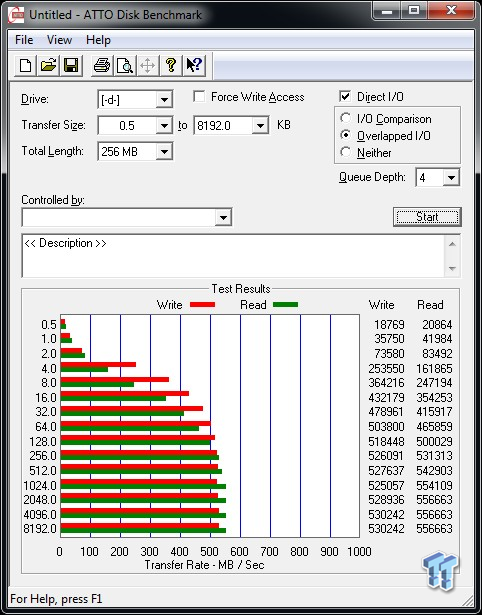 In ATTO we achieved over 556MB/s read and 530MB/s write speeds. This is faster than ADATA's product specifications, but as well all know, maximum ATTO performance is just one aspect of SSD performance.
Benchmarks - Sequential Performance
HD Tune Pro
Version and / or Patch Used: 4.00
Developer Homepage: http://www.efdsoftware.com
Product Homepage: http://www.hdtune.com
HD Tune is a Hard Disk utility which has the following functions:
Benchmark: measures the performance
Info: shows detailed information
Health: checks the health status by using SMART
Error Scan: scans the surface for errors
Temperature display
HD Tune Pro gives us accurate read, write and access time results and for the last couple of years has gained popularity amongst reviewers. It is now considered a must have application for storage device testing.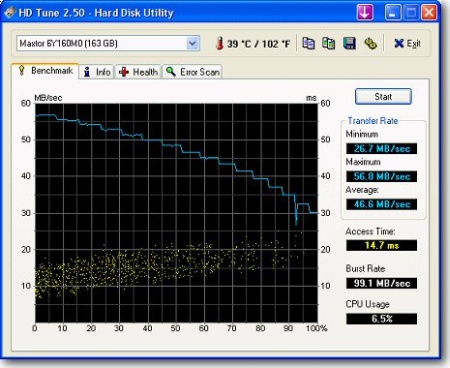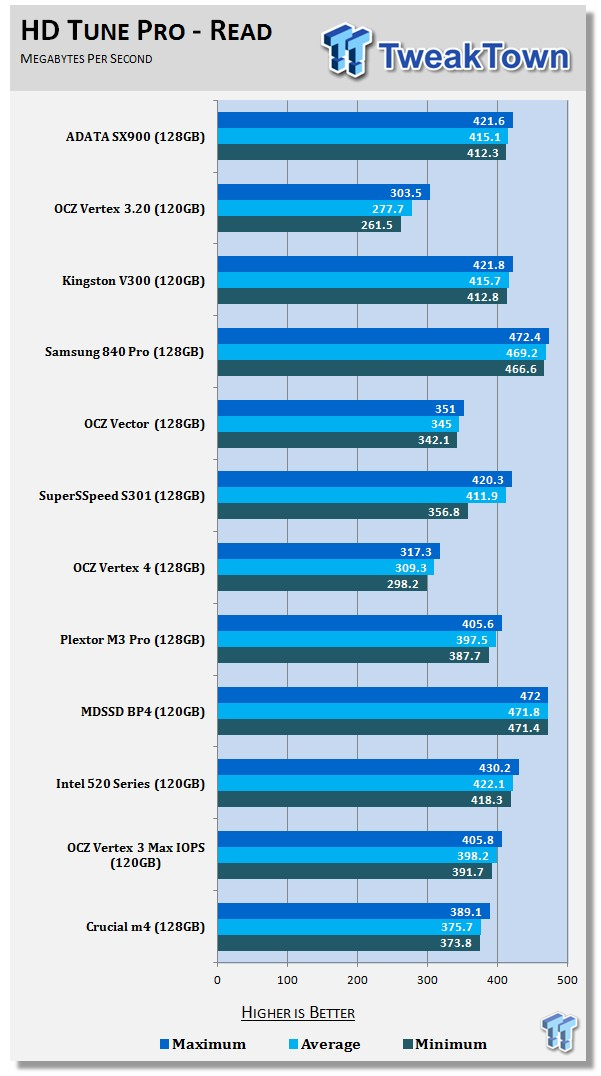 Sequential read performance with compressible data has always been a strong card for SandForce based drives and the ADATA SX900 doesn't break with tradition. We scored an average of 415MB/s with the maximum and minimum speeds very close to the average result.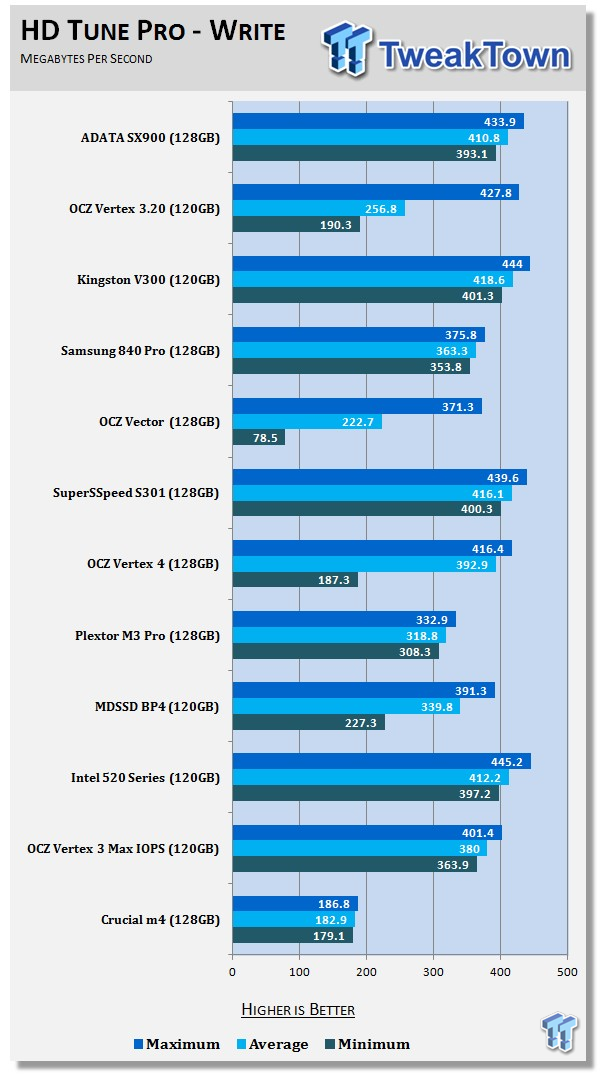 The write performance is where we noticed issues with the OCZ Vertex 3.20, another SandForce based drive using Intel 20nm flash. At Computex last year we tested early 19nm Toggle and early 20nm IMFT flash and found that 19nm Toggle was much faster across the board. IMFT brought their flash to market several months after Toshiba, but they closed the gap and these two competing technologies are now truly competitive.
The SX900's new firmware, 5.0.7a, looks like it increases performance quite a bit over the initial firmware release for Vertex 3.20.
HD Tach - Sequential Write Performance after Random Writes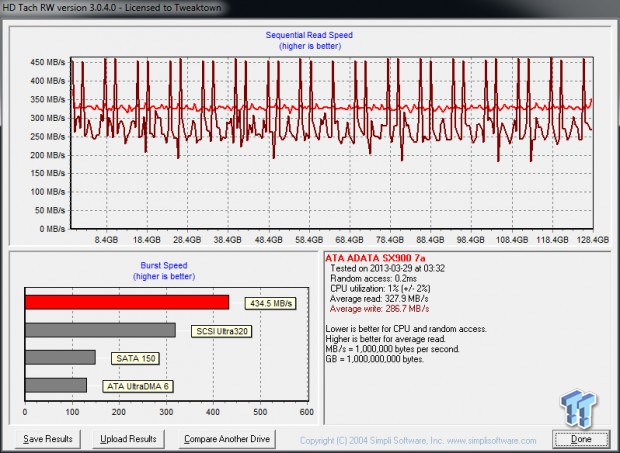 The write performance decreases quite a bit after our random tests in HD Tune Pro. Here we see HD Tach run right after several random data tests and the 128KB sequential write speed is down to 286MB/s.
Benchmarks - AIDA64 Random Access Time
AIDA64 Random Access Time
Version and / or Patch Used: 1.60
Developer Homepage: http://www.aida64.com
Product Homepage: http://www.aida64.com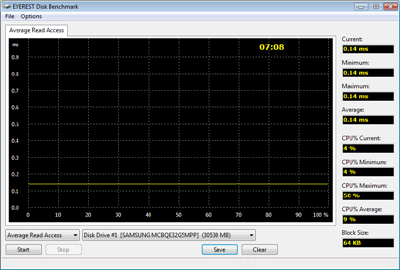 AIDA64 offers several different benchmarks for testing and optimizing your system or network. The Random Access test is one of very few if not only that will measure hard drives random access times in hundredths of milliseconds as oppose to tens of milliseconds.
Drives with only one or two tests displayed in the write test mean that they have failed the test and their Maximum and possibly their Average Scores were very high after the cache fills. This usually happens only with controllers manufactured by Jmicron..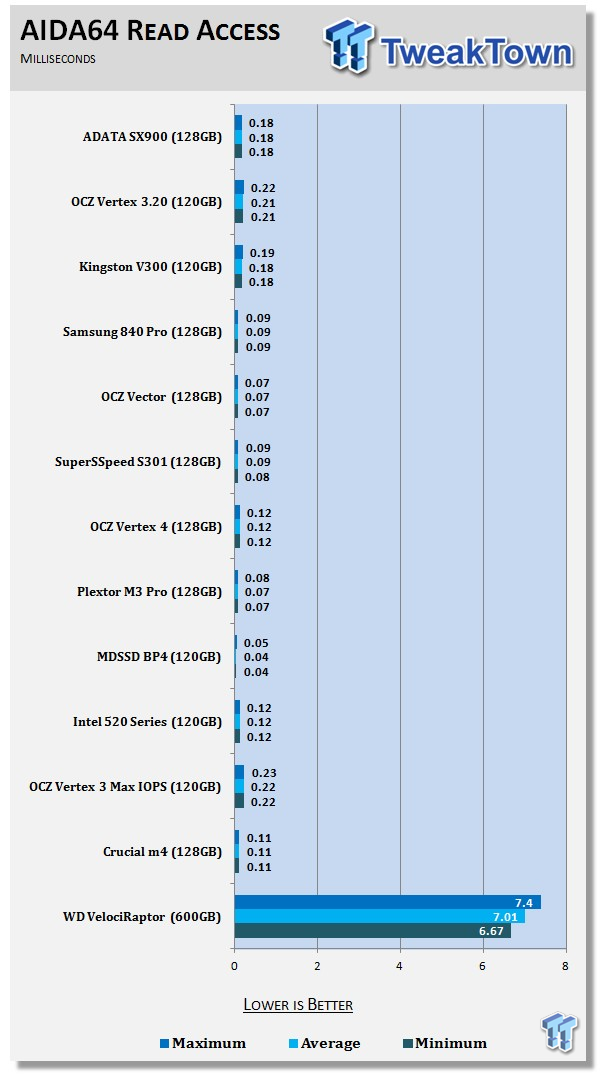 The ADATA SX900 128GB we're looking at today is unlike anything else on the market right now. The new firmware coupled with the new controller stepping makes it so we can't compare any other drive with the same main components.
The read latency stays on par with the Toshiba Toggle flash Kingston V300 and both are better than the Vertex 3.20.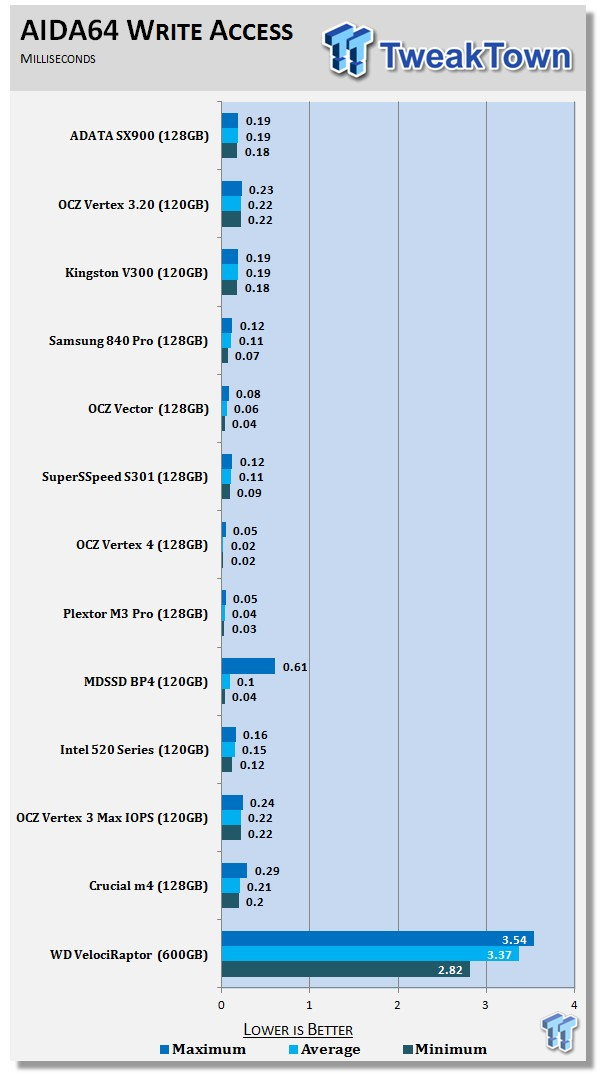 The same can be said for write latency, but if you look further down the chart, the Intel 520 Series manages to deliver lower latency in both tests.
Benchmarks - Anvil Storage Utilities
Anvil Storage Utilities
Version and / or Patch Used: RC6
So what is Anvil Storage Utilities? First of all, it's a storage benchmark for SSDs and HDDs where you can check and monitor your performance. The Standard Storage Benchmark performs a series of tests, you can run a full test or just the read or the write test or you can run a single test, i.e. 4K DQ16.
Anvil Storage Utilities is not officially available yet but we've been playing with the beta for several months now. The author, Anvil on several international forums has been updating the software steadily and is adding new features every couple of months.
The software is used several different ways and to show different aspects for each drive. We've chosen to use this software to show the performance of a drive with two different data sets. The first is with compressible data and the second data set is incompressible data. Several users have requested this data in our SSD reviews.
0-Fill Compressible Data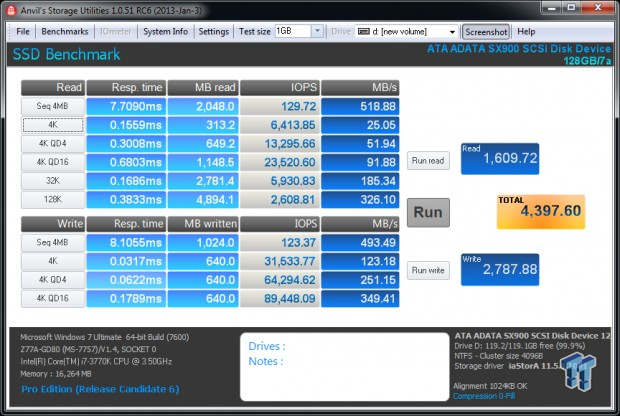 Incompressible Data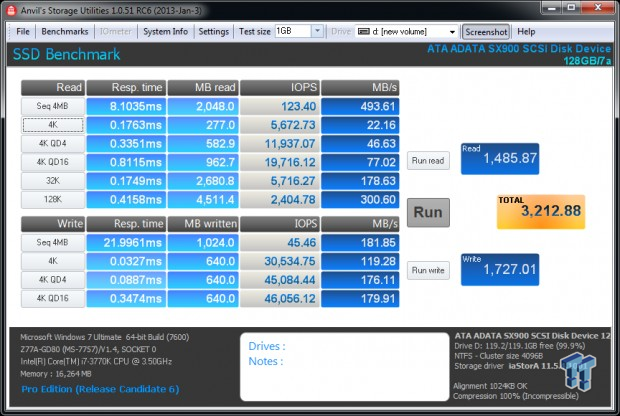 The SandForce architecture means compressible and incompressible data performance is quite a bit different when writing data. Reading data doesn't take as large of a hit.
Read IOPS through Queue Depth Scale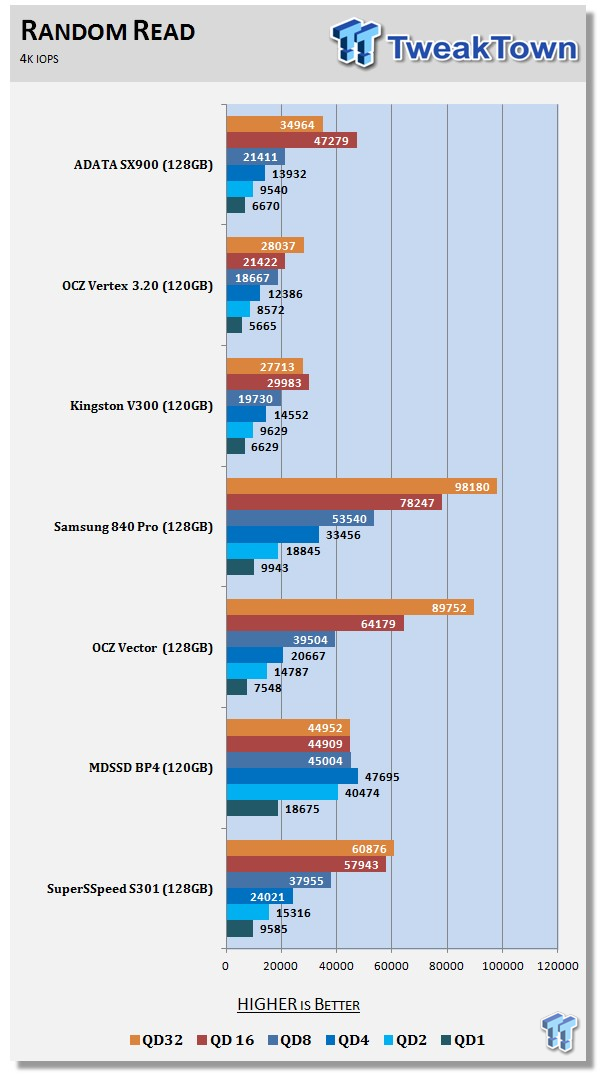 Well hello there, it's nice to see random read IOPS make a return on SandForce controlled drives. We suspect this has more to do with the new firmware than the hardware after speaking to other reviewers with older SX900's running with 5.0.7a firmware.
Scaling Write IOPS through Queue Scale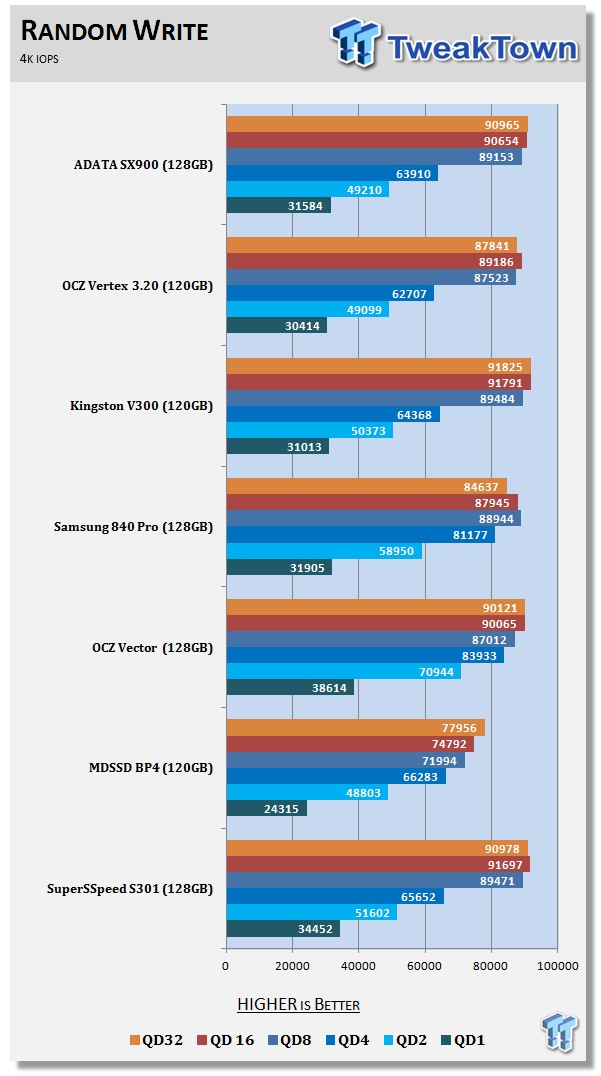 The SX900 delivers solid write IOPS performance and competes with Samsung's 840 Pro at high queue depths.
Benchmarks - CrystalDiskMark
CrystalDiskMark
Version and / or Patch Used: 3.0 Technical Preview
Developer Homepage: http://crystalmark.info
Product Homepage: http://crystalmark.info/software/CrystalDiskMark/index-e.html
Download here: http://crystaldew.info/category/software/crystaldiskmark
CrystalDiskMark is a disk benchmark software that allows us to benchmark 4K and 4K queue depths with accuracy.
Key Features:-
* Sequential reads/writes
* Random 4KB/512KB reads/writes
* Text copy
* Change dialog design
* internationalization (i18n)
Note: Crystal Disk Mark 3.0 Technical Preview was used for these tests since it offers the ability to measure native command queuing at 4 and 32.
Here we see incompressible data used in scaling queue depths at 4KB. The SX900 blasts well past Vertex 3.20 and V300. At a single queue depth SX900 delivers over 35MB/s, but the other drives catch back up as the queue depth increases. Reading sequential data that's incompressible is another area where the SX900 trumps the other two new SandForce based drives.
Of the three new SandForce based drives, the SX900 has a higher incompressible data write ceiling or brick wall as I call it. In the 120/128GB capacity size, SandForce based drives have a performance wall, you can easily spot every SandForce/MLC based drive in this chart by the horizontal line of performance, where the drive just won't give anything more.
Benchmarks - PCMark Vantage Hard Disk Tests
PCMark Vantage - Hard Disk Tests
Version and / or Patch Used: 1.0.0
Developer Homepage: http://www.futuremark.com
Product Homepage: http://www.futuremark.com/benchmarks/pcmark-vantage/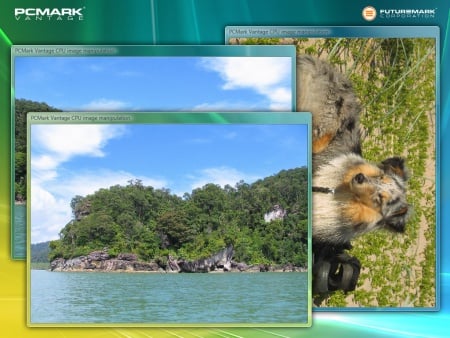 PCMark Vantage is the first objective hardware performance benchmark for PCs running 32 and 64 bit versions of Microsoft Windows Vista. PCMark Vantage is perfectly suited for benchmarking any type of Microsoft Windows Vista PC from multimedia home entertainment systems and laptops to dedicated workstations and high-end gaming rigs. Regardless of whether the benchmarker is an artist or an IT Professional, PCMark Vantage shows the user where their system soars or falls flat, and how to get the most performance possible out of their hardware. PCMark Vantage is easy enough for even the most casual enthusiast to use yet supports in-depth, professional industry grade testing.
FutureMark has developed a good set of hard disk tests for their PCMark Vantage Suite. Windows users can count on Vantage to show them how a drive will perform in normal day to day usage scenarios. For most users these are the tests that matter since many of the old hat ways to measure performance have become ineffective to measure true Windows performance.

HDD1 - Windows Defender
HDD2 - Gaming
HDD3 - Windows Photo Gallery
HDD4 - Vista Startup
HDD5 - Windows Movie Maker
HDD6 - Windows Media Center
HDD7 - Windows Media Player
HDD8 - Application Loading
Moving into the real world data tests we see that in this capacity size the real world performance doesn't change that much from the top tier 840 Pro and Vector parts to the new mainstream SSDs with SandForce controllers.
From now till the start of Q2, SandForce partners plan to dominate the mainstream market with last year's performance parts at lower prices. In Q2 we'll see m.2 or Next Gen Form Factor (NGFF) parts enter the market and the top tier performance market will heat up again.
Benchmarks - PCMark Vantage - Drives with Data Testing
For a complete breakdown on the Drives with Data Testing please read this article. You will be able to perform this test at home with the files provided in the article - full instructions are included.
- Brief Methodology
SSDs perform differently when used for a period of time and when data is already present on the drive. The purpose of the Drives with Data testing is to show how a drive performs in these 'dirty' states. SSDs also need time to recover, either with TRIM or onboard garbage collection methods.
Drives with Data Testing - 25%, 50%, 75% Full States and Dirty / Empty Test
Files needed for 60 (64GB), 120 (128GB), 240 (256GB)
60GB Fill - 15GB, 30GB, 45GB
120GB Fill - 30GB, 60GB, 90GB
240GB Fill - 60GB, 120GB, 160GB
Empty but Dirty - a test run just after the fill tests and shows if a drive needs time to recover or if performance is instantly restored.

SandForce based drives have always done well in our real world with real world data on disk test. No, that wasn't a typo. These are real world tests with data on them just like SSDs are asked to perform in your real world computer environment. The SandForce architecture compresses the data it can before storing it on the flash.
As flash fills the drives become slower so the less data you have on it, the faster it remains. This is one of the main reason why the SF-2281 is still a performance controller even after hitting the market over two years ago.
Benchmarks - BootRacer
BootRacer - System Boot Time
Version and / or Patch Used: 4.0
Developer Homepage: Greatis
Product Homepage: BootRacer
Download here: http://www.greatis.com/bootracer/download.htm
Note: In this test we use the Lenovo W530 Mobile Workstation loaded with an operating system and several program files. The data on the drive at the time of the test is 45GB. The second test, 50GB Free, was ran with the drives filled with block data until only 50GB of free capacity remained.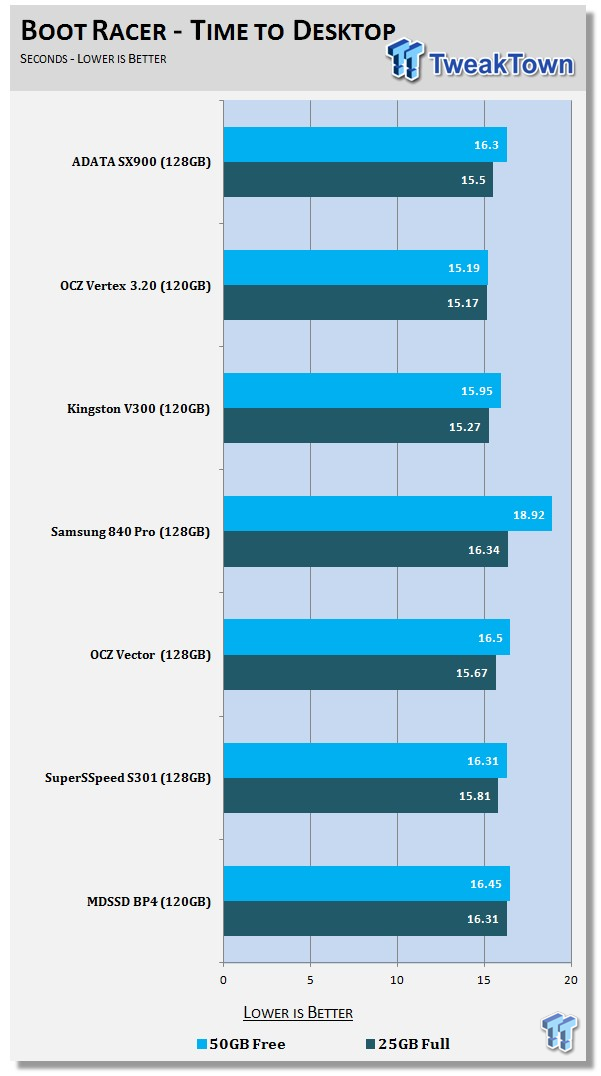 The SX900 doesn't vary boot times a lot in the two different capacity fill states. The difference is less than a second.
Benchmarks - DiskBench
DiskBench - Directory Copy
Version and / or Patch Used: 2.6.2.0
Developer Homepage: Nodesoft
Product Homepage: DiskBench
Download here: http://www.nodesoft.com/diskbench/download
Note: In this test we use the Lenovo W530 Mobile Workstation and a SuperSSpeed S301 SLC 128GB SSD to move a 15GB block of data to and from the target drive. This is part of our real world test regiment. Roughly 45GB of data resides on the target drive before the '15GB Block' is transfer. The 15GB Block is the same data we built for the Data on Disk Testing and is a mix of compressible and incompressible data.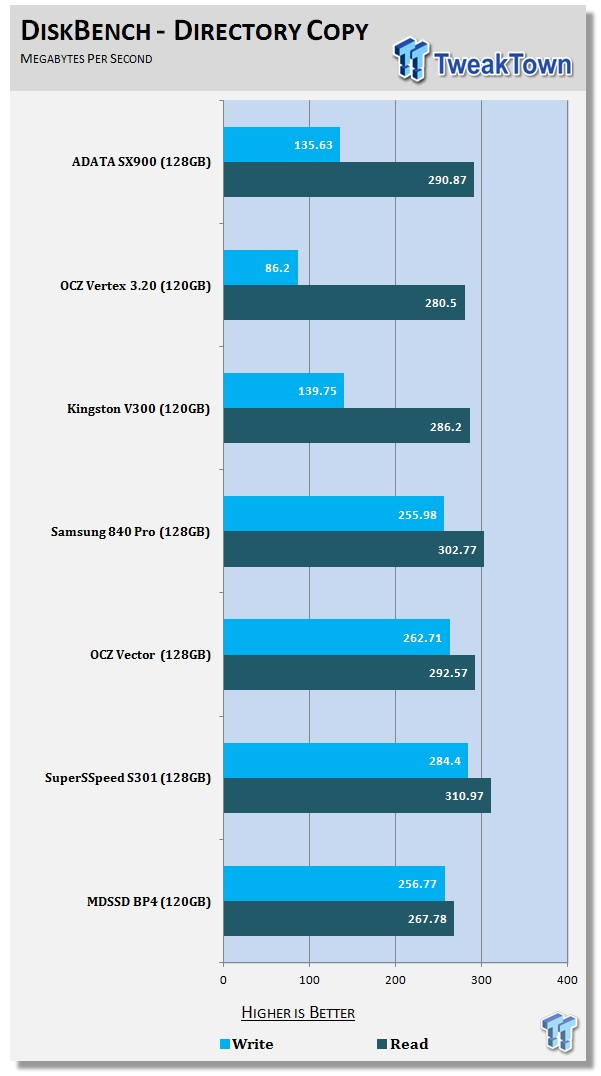 Transferring mixed sequential, random, compressible and incompressible data to the drives (writing data) seems to be an issue with new 19/20nm class drives, at least in this capacity size.
Benchmarks - Power Testing
Bapco MobileMark 2012 1.5
Version and / or Patch Used: 2012 1.5
Developer Homepage: http://www.bapco.com
Test Homepage: http://www.bapco.com
MobileMark 2012 1.5 is an application-based benchmark that reflects usage patterns of business users in the areas of office productivity, media creation and media consumption. Unlike benchmarks that only measure battery life, MobileMark 2012 measures battery life and performance simultaneously, showing how well a system design addresses the inherent tradeoffs between performance and power management.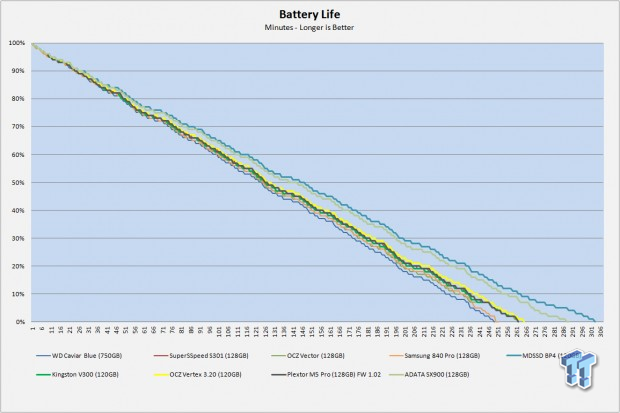 Here we see the new B02 controller doing what it's meant to do in our Lenovo W530 with a six cell battery. The six cell is the small one, we didn't want to run this test on the large Lenovo 9-cell batteries since five hours was enough to show the differences in battery life.
The SX900 didn't break the record set by Kingston's B02 mSATA prototype and didn't match the new Phison controlled MyDigitalSSD BP4, but it sure did leave the V3.20 and V300 behind.
PCMark Vantage HDD Test - Power Draw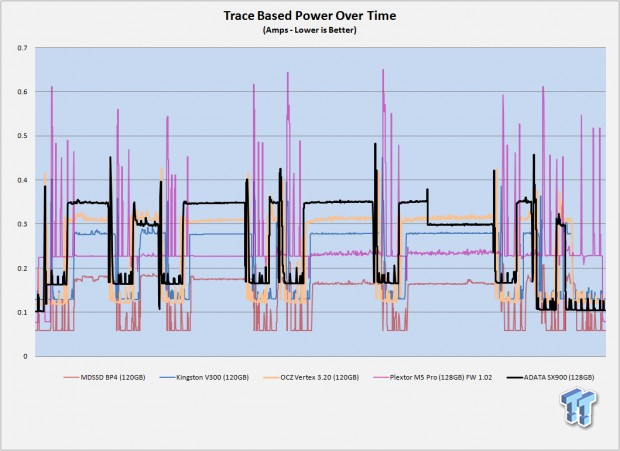 In this chart the ADATA SX900 is in black so that you can see it easier. We also see where the SX900 picks up the additional battery life, when the drive is sitting idle. The idle performance is lower than the other SandForce based drives. When working hard though the SX900 draws more power than most of the others, something we put squarely on the voltage regulators ADATA chose.
We've yet to see a company really build the ultimate notebook drive with the best components in every category, but the ADATA SX900 is getting close.
Final Thoughts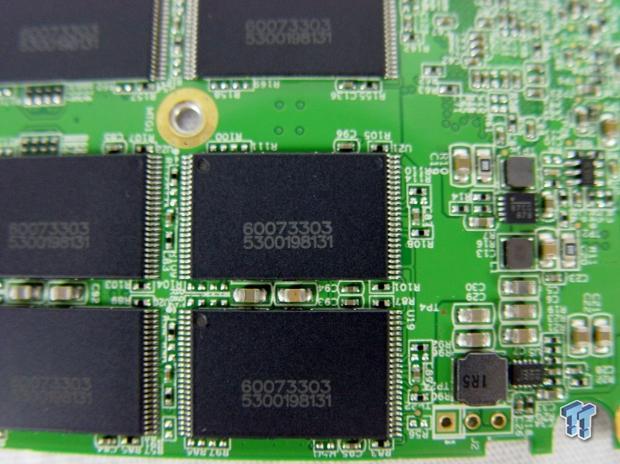 We really have to look at the SX900 two ways. The first comes from the enthusiast in me who would be pissed off about buying an SX900 last year and just now getting TRIM support. Along the same line, the SX900 has at least three different builds, so unless you bought all of your drives for RAID at the exact same time, your chances of getting matched pairs for RAID are like trying to win big at a carnival game. You are not going home with the giant stuffed bear for your girlfriend! ADATA still advertises the SX900 as "The most powerful SSD on Earth", so enthusiasts must still be on their radar. The advertisement shows an SX900 in space and that's about the only place where that claim can be made - someone's head is way above the clouds.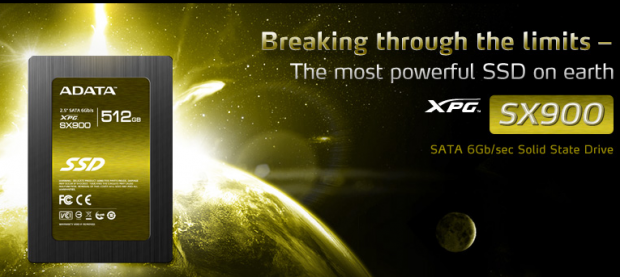 Back on solid ground, the SX900 is a strong competitor for the mainstream crown. It delivers solid performance at a good price point. SX900 is not a Samsung 840 Pro or OCZ Vector, but it doesn't cost as much either. Keeping with the mainstream theme, it delivers better battery life than either of the two drives mentioned above and it doesn't have that absolutely awful latency found on the Samsung 840 120GB.
The battery life is the real standout feature on the new SX900, but it's not like you can buy an SX900 and even know what you are getting. There are three major components to an SSD - firmware, controller and flash, and the drive we reviewed today only shares the firmware with the unknown other SX900 configurations that have shipped. We know of two others making it three... that we know of! We asked before how many Ford parts you can fit on a Ferrari and it still be called a Ferrari. Well, if battery life is your concern then how many Ferrari parts can you fit on a Ford?
We would love to be able to point to some type of indication that says the drive you want has the new B02/20nm parts, but there isn't one. Hopefully ADATA will take this mini rant to heart and revise some type of product numbering scheme - hello VERSION 2, SX901, SX900.5, or something!
The sad thing is somewhere inside ADATA an engineer was smart enough to build a really good SSD, but once the project was passed on, the significance of the part was hidden behind a marketing budget. ADATA thought the new 7mm z-height was a big enough improvement to release a press statement, but the increased battery life wasn't. I bet you can guess what the new SX900 7mm's product name is.