Rosewill SilentNight 500-Watt 80 PLUS Platinum Power Supply Review
Rosewill comes swinging back at the plate, this time with a fanless power supply guaranteed to keep things quiet.
Published Apr 20, 2013 11:01 AM CDT
|
Updated Tue, Nov 3 2020 7:00 PM CST
6 minute read time
Introduction, Specifications, Availability and Pricing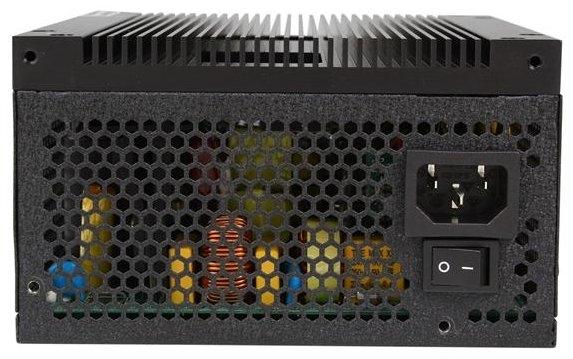 We've already seen two quality units from Rosewill this year, but we aren't done yet. We intend to cover as many of their products as we can just to find out if there are any lines being cut along the way or if their whole lineup is packed full of solid units. The two units we've looked at so far have come from different OEM's - Super Flower and ATNG. The unit we have today is another Super Flower rebrand.
The Rosewill SilentNight 500W is a fanless 500W power supply designed for those seeking a lower wattage, highly efficient unit with zero sound. If this sounds familiar to you, it might be due to use covering several fanless units in the past. The Kingwin Stryker 500W is one power supply that comes to mind for most and that is because it is identical to that of this unit. Both are from Super Flower and we expect to see almost identical results from the Rosewill. I've personally used the Kingwin Stryker in my HTPC for over a year now and not only is it 100% silent as advertised, but it has performed flawless as well.
Specifications, Availability and Pricing

The Rosewill SilentNight 500W features a single 12V rail rated for 41.5A or 498W of power. Both the 3.3V and 5V rails are rated for 20A each with a combined maximum output of 100W. The 5VSB rail is rated for 2.5A or 12.5W. Maximum combined output for the Rosewill SilentNight 500W is 500W.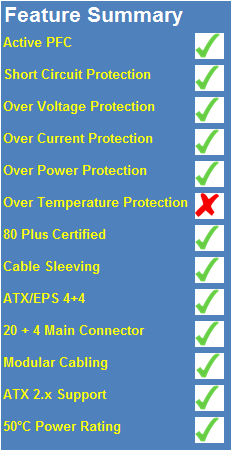 For a 500W unit, the SilentNight 500W is packed full of features. Of the list we look for, the only one not present is OTP. I'm still not sure as to why Super Flower never put this in their design, but I can tell you that these units run surprisingly cool. Even after days of use, I can open my case and rest my hand on the heat sink of the power supply and it is barely warm - however, do not try this at home! The Rosewill SilentNight 500W features both native and modular cabling, all of which are fully sleeved or of the flat ribbon type. The power supply is rated for 80 PLUS Platinum efficiency and 100% continuous output at 50C.
Rosewill lists the SilentNight with an MSRP of $179.99, but it is currently listed for $159.99 on Newegg. Shockingly, this is the same price that the Kingwin Stryker 500W is going for. Nobody seems to have the SilentNight in stock and Rosewill let me know they expect it to be available again in May. Rosewill backs the SilentNight 500W unit with a five year warranty.
Packaging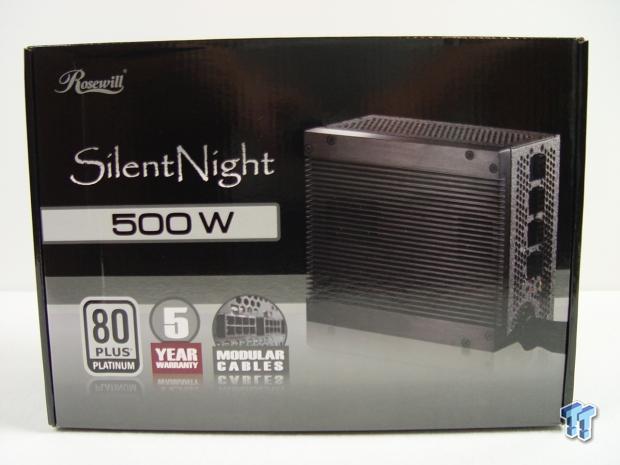 As we've discussed previously, there is generally a lack of information on Rosewill's packaging, but that is slowly changing. From the front we find a great shot of the unit and some very basic information on the unit.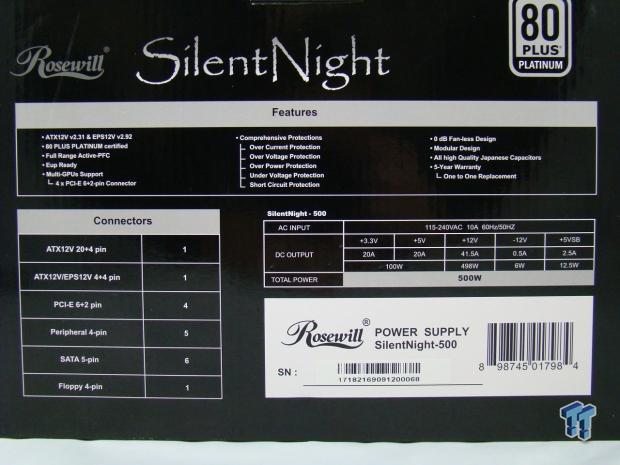 The back presents us with a very basic feature list, connector availability and I/O specifications for the power supply.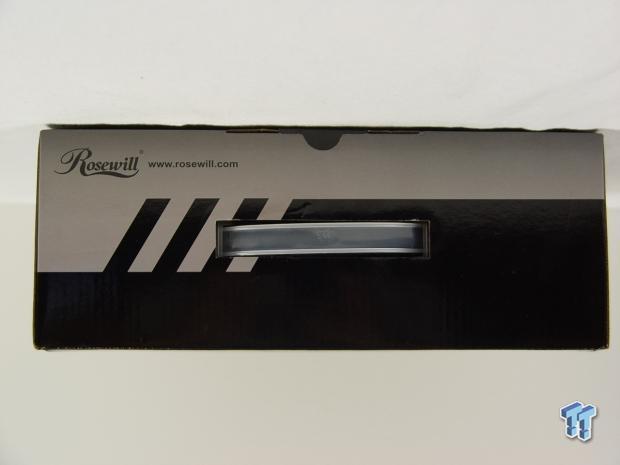 Both the top and bottom are blank minus the carrying handle and the Rosewill URL.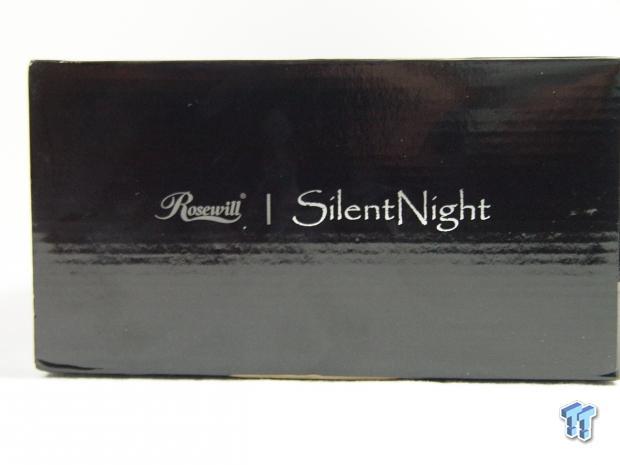 Both sides feature the same Rosewill and SilentNight logos, but nothing more.
Inside the Box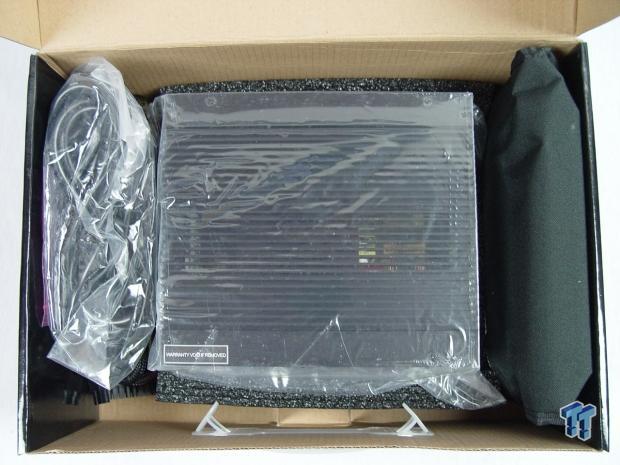 Inside we find that the power supply is protected on all sides with foam. On the left are the natively wired cables and the AC input cord and the right has a bag that contains the modular cables.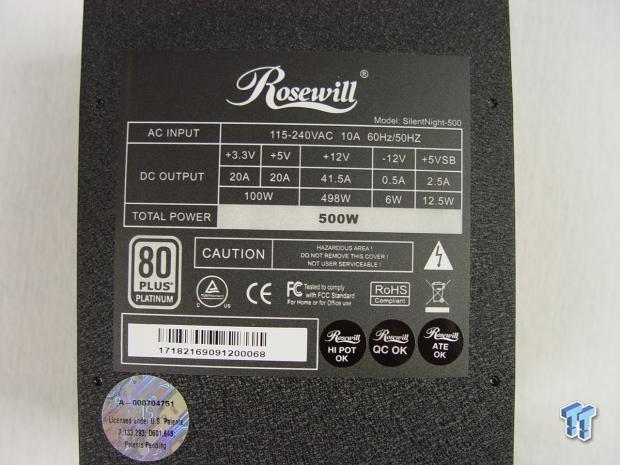 As usual, the top features the I/O specification label and gives us a look at the matte black finish used on the SilentNight 500W.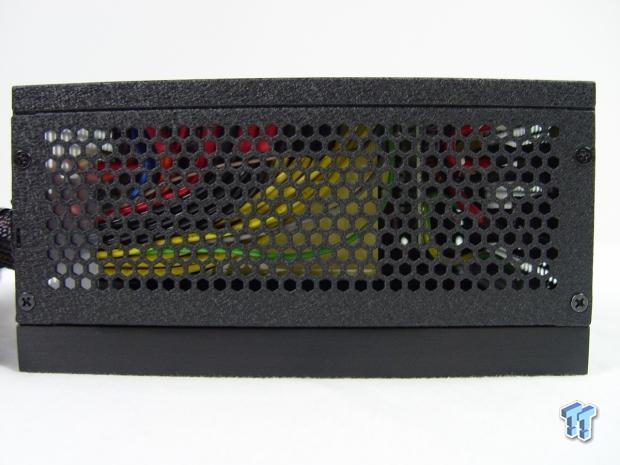 Both sides feature as much ventilation as possible and allow air to move freely around the unit.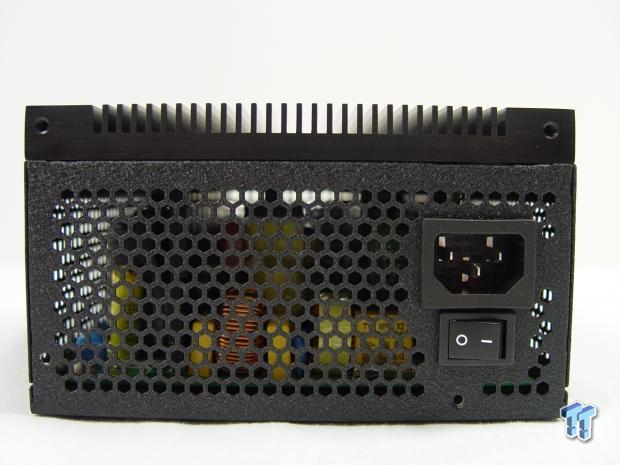 The back is perforated just as much. Aside from the AC input and on/off rocker switch, there is nothing obstructing the airflow. You can also get a good view of the passive heat sink that sits on the top of the unit in place of the fan.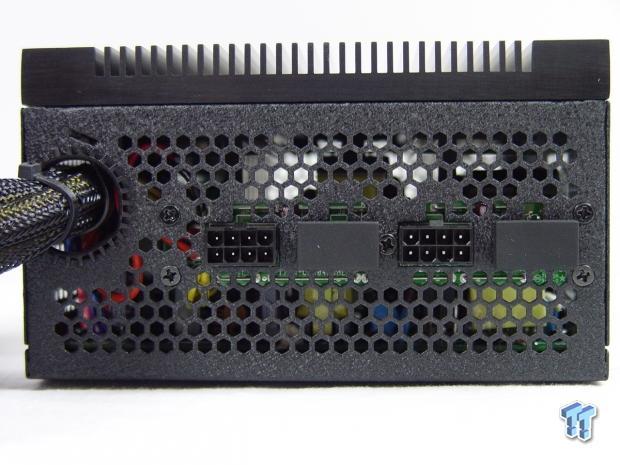 The front provides even more perforation for ventilation. The four modular connectors come covered with rubber dust caps and two have been removed for the purpose of taking the picture.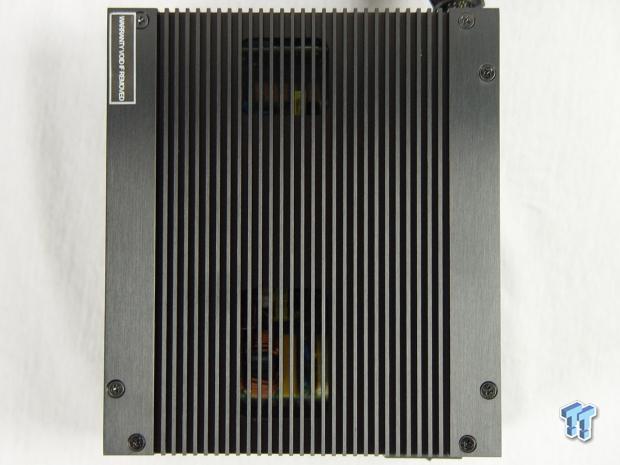 Moving to the top of the power supply, you can tell that the black anodized heatsink has a few holes in it to increase the ability for heat to leave the unit on areas that can't have a heat sink attached to them.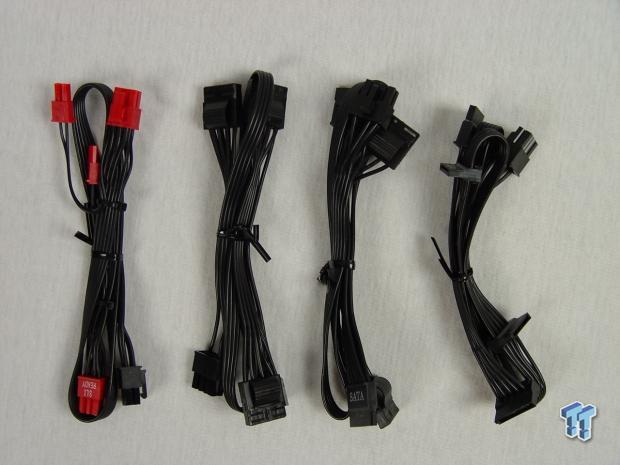 Included with the power supply are four modular cables of the flat ribbon type.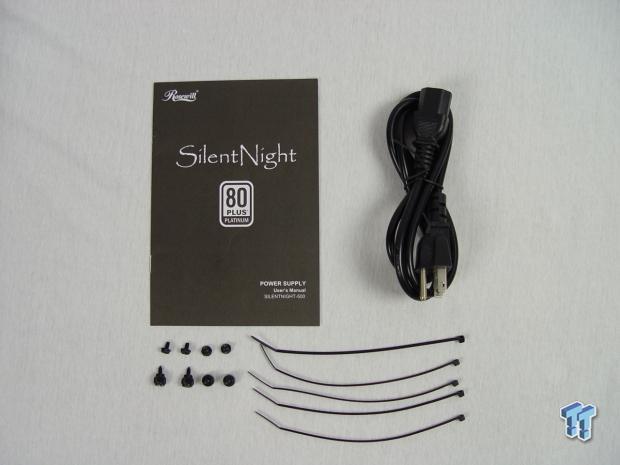 Also included is the user manual, AC input cord, mounting screws, thumb screws and zip ties.
Cabling Arrangement and A Look Inside
Cabling Arrangement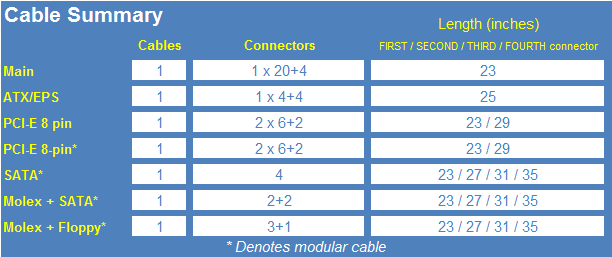 The cable summary lets you know that there are plenty of cables and connectors for just about anything that you can throw at the SilentNight 500W. Quad PCI-E connectors, six SATA connectors, five Molex connectors and a single FDD connector are all present. If you need more than that, you're probably going to need to look at a different power supply.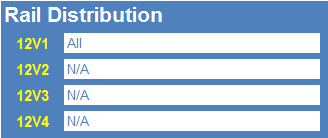 Rail distribution is as simple as it gets with a single 12V rail. There is no need to worry about load balancing here.
A Look Inside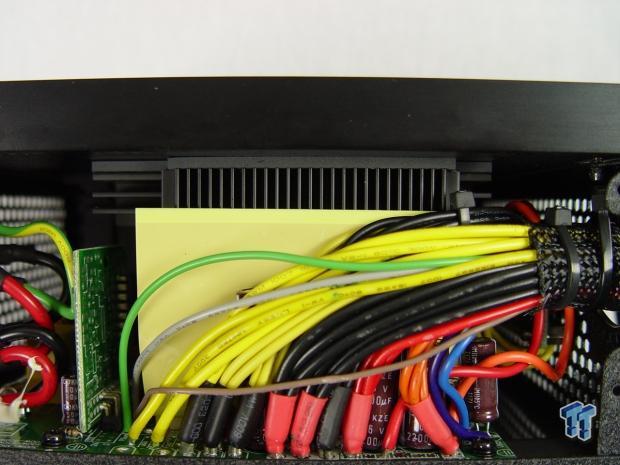 Loads of heat sinks are present inside the SilentNight 500W. The TIM between the internal heat sinks and the heat sink on top of the power supply makes it almost impossible to remove so we left it on that way the unit was not damaged prior to testing.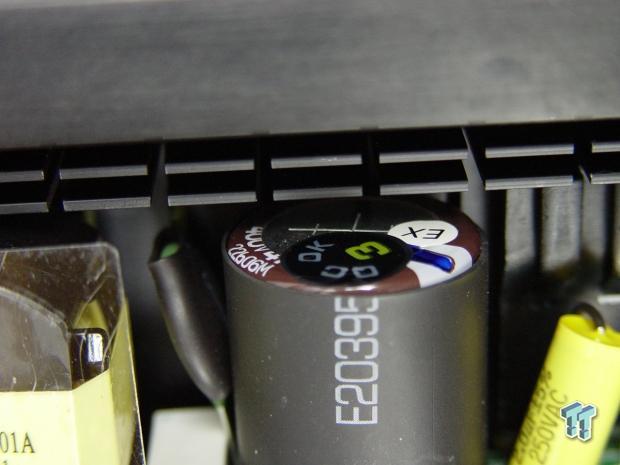 A single Nippon Chemi-Con capacitor sits on the primary side of the power supply.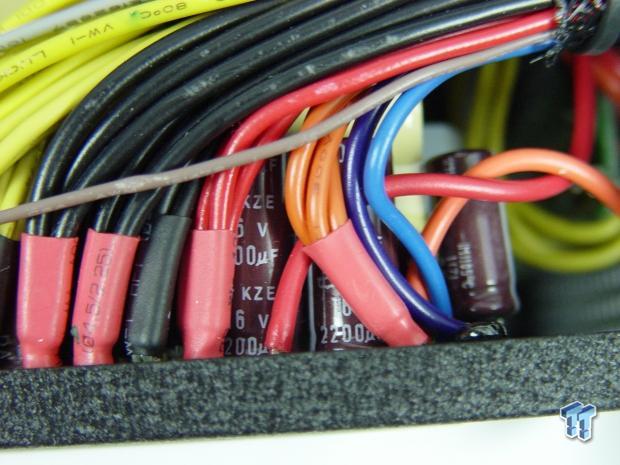 The secondary side of the power supply features many more Nippon Chemi-Con caps. No fan is present as the SilentNight 500 is passively cooled.
Test Results and Final Thoughts
Test Results
Our load tests utilize a couple of FAST ATE active load testers and a variety of other equipment such as an oscilloscope, power conditioner, temperature probe and a power consumption meter. You can read more about our standard testing approach here.
The tests performed are based around six conceivable setups that are out there and progressively load down the PSU up to the power supply's limits or 1000W, whichever comes first. Since our test equipment's limits are higher than that of the Rosewill SilentNight 500W power supply, we can test it to the maximum.

The above tests represent typical loads that we have measured from various systems and are meant to give a rough idea of where your computer might fall in line with our tests. Please keep in mind that each system is different and actual loads can vary greatly even with similar hardware.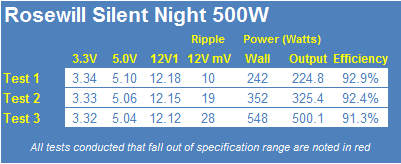 Let's start by taking a look at the voltages to see how well this unit did during testing. Starting with the 12V rail, we see 2% regulation from start to finish with a total drop of .06V. The 5V rail managed to stay within 2% of specification with a total drop of .06V from start to finish. Moving towards the 3.3V rail, we see that regulation was within 2% of specification with a total voltage drop of .02V.
DC Output quality for the Rosewill SilentNight 500W was great and well within specification. During Test 1, we saw 10mV of noise on our scope. When we increased the loads in Test 2, the ripple climbed to 19mV at a little over half load. During Test 3 under a load of 500W, the oscilloscope showed a maximum of 28mv on noise on the 12V rail.
The Rosewill SilentNight 500W is rated for 80 PLUS Platinum efficiency. This means that the power supply must perform at 90%/92%/89% efficiency at 20%/50%/100% loads respectively. As you can see, the SilentNight 500W passed on our bench, and wasn't close to failing at any point.
Final Thoughts
The Rosewill SilentNight shined all the way through from start to finish. The unit is built exceptionally well inside and out. It may cost a bit more than most 500W power supplies, but silence often comes with a cost when you want it to perform well and stay reliable. As I said before with the Kingwin unit, the only thing that I don't like about the unit is that it lacks Over Temperature Protection, but with the unit being active in my HTPC for over a year with little to no active cooling on that side of the case, there is no worry here due to how cool the power supply runs.
Performance was spot on as well. Voltage regulation is nice and tight all the way through and DC Output quality is just what you'd expect from such a unit too and stays low. Even the efficiency of the unit is exactly what you'd expect for a unit that is certified as 80 PLUS Platinum certified. Even the five year warranty helps give insight that it is every bit of a quality unit and you'll be covered for years to come in the rare even that something happens to it.
Had Rosewill been on the ball with bringing the Super Flower power supply to market under their name much sooner, I'd happily award it with the same Best Features Award the Kingwin Stryker 500W was given over a year ago. Unfortunately, changing the sticker on the unit and putting it on the shelf a year later just isn't going to give it that same level of recognition to those who did it first.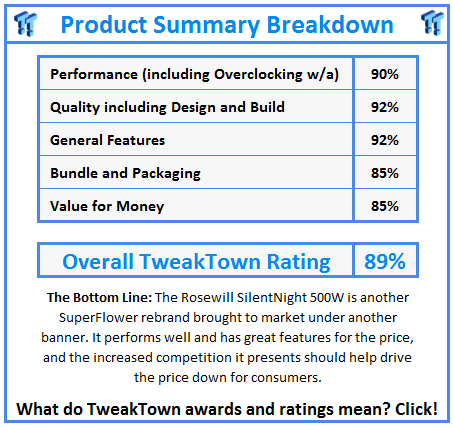 PRICING: You can find products similar to this one for sale below.

United States: Find other tech and computer products like this over at Amazon.com

United Kingdom: Find other tech and computer products like this over at Amazon.co.uk

Australia: Find other tech and computer products like this over at Amazon.com.au

Canada: Find other tech and computer products like this over at Amazon.ca

Deutschland: Finde andere Technik- und Computerprodukte wie dieses auf Amazon.de