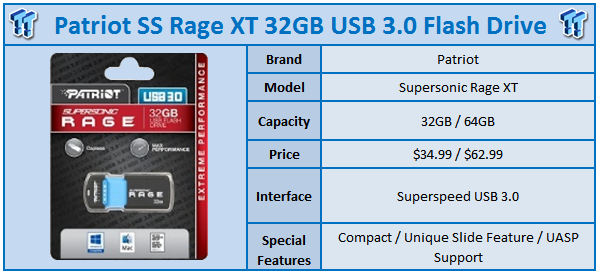 When it comes to flash drives there is no doubt in my mind that USB 3.0 has pushed this compact form factor to the mainstream. Previous to this we were stuck with slow and arduous drives that took hours to transfer a batch of files, to the point where USB ports were only good enough for mice, keyboards and the occasional webcam.
Now that we have made the transition to USB 3.0, with many manufacturers jumping on-board including Patriot, we now have the ability to transfer files faster than ever before, reaching speeds upwards of 300MB/s.
In the lab today we have one of the latest drives to come out of the factory in Fremont California, the home of Patriot Memory. The Supersonic Rage XT follows the same design concept as the previous Xporter Rage USB 2.0 drive that Patriot released many years ago. This compact, yet durable drive houses 32GB of flash memory inside a plastic shell with full slide articulation.
The Patriot Supersonic Rage XT supports the full array of operating systems with Windows ME/2000/XP/Vista/7 and 8 support next to Linux 2.4+ and Mac OS X 9+.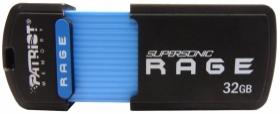 Looking over the Rage XT, our first impression is of the size of this drive, being the smallest we have seen to date. The drive carries Patriots' new blue and black color scheme with brand identifiers of Supersonic Rage in the 32GB flavour. In this closed position the drive measures in at 53.6mm.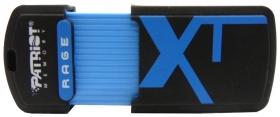 On the flip side where we normally see all the legal jargon, we instead see a large XT logo.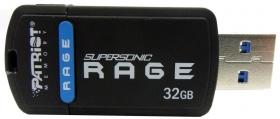 In somewhat of a backwards fashion the Rage XT slides together to reveal the USB 3.0 connection. The overall size of this drive in its extended position is 53.6mm, the same as it was in its closed form. Pulling back on the drive again safely tucks it away.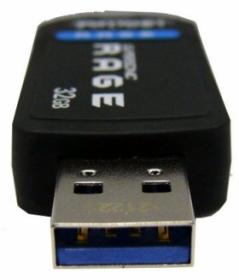 The USB 3.0 connection here shows the same blue coloring as all 3.0 peripherals with the overall width of the drive measuring in at 22mm.

Looking over the PCB we find the Phison controller to the left with a single 16GB flash package to the right.
The backside houses a single 16GB NAND flash module, bring our total to the 32GB capacity. The NAND used in this drive labelled TU57G2LAKA is Toshiba MLC.

Taking a closer look at the controller used in this drive that is labelled PS2251-03, it's a Phison controller that markets itself as a high speed USB 3.0 to NAND flash controller, supporting 3x/2x and 1x nm flash memory while being ONFI 2.2 compliant.
One of the lesser known features of running Microsoft's new operating system Windows 8 is the native capability of USB Attached SCSI or UASP. To start my benchmarking procedure I secure erased the Patriot Rage XT, as I do all drives.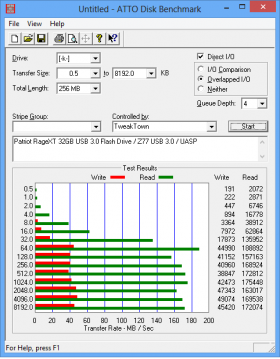 ATTO is commonly used for marketing performance of hard drives and solid state drives alike. Taking a look at our results from the Rage XT we peaked just shy of marketing specifications for this drive. At 188MB/s read and 49 MB/s write, this isn't the quickest drive we have tested, but it does offer performance five to ten times better than USB 2.0.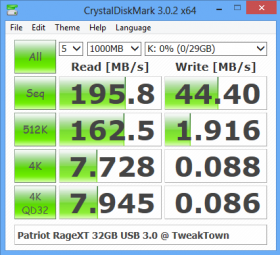 CrystalDiskMark's default testing uses a set of random data or incompressible data, there is also an option for 0xfill or compressible data. We will use the standard data set for our purposes.
Managing a nice 195MB/s read the Rage XT exceeded its marketing specs on this front, where 180MB/s was advertised on the packaging. 44MB/s write fell just short of marketing set at 50MB/s. 4K numbers were somewhat disappointing and furthering this was 4K at QD32.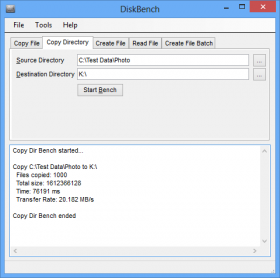 Disk Bench is a rather simple program that benchmarks real-world file transfers between drives. For this test I made up three data sets, one consisting of 1000 pictures totalling 1.5GB, the second consisting of four MP4 movies with a total file size of 8.65GB. The last data set consists of Microsoft Windows 7 x64 install w/ SP1.
Transferring photos proved be a nice workout for the Rage XT, where we managed a slow 20MB/s taking 1 minute 16 seconds to transfer our batch of 1000 photos.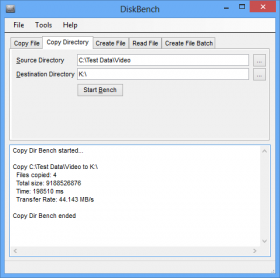 The Rage XT did manage to transfer our video files at a faster rate, but in the end the amount of time consumed doing this task was nearly three and a half minutes.
Our Windows install transferred to the Rage XT at 42MB/s with a total completion time of 95 seconds.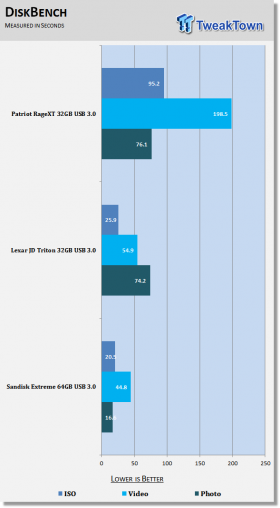 The Patriot Rage XT truly is a unique drive in that it encompasses a great design. I'm sure most of you have plugged in a flash drive in the past that had a wonky slide mechanism that was just worn out, leading you to hold onto the slide while plugging it in. The Rage XT reverses the traditional slide mechanism in that you are pushing the actual USB 3.0 connection through the front plastic housing, giving you a secure connection that will never flake out. Furthering this unique design the Rage is covered with a soft rubber to enhance durability and protect against life's everyday mishaps.
Performance of this drive was as advertised and while it may not be the fastest on the market, it does offer speeds of 195MB/s read and 44MB/s write as seen in our testing.
To get yourself one of these Patriot Rage XT drives you will set yourself back $34.99 for the 32GB and $62.99 for the larger 64GB model. This drive in both the 32GB and 64GB flavours are warrantied from Patriot at five years. Pricing puts this drive from Patriot in a great market segment with the 32GB model specifically, you won't find a faster drive at a cheaper price with the added bonus of a five year warranty from a top-tier company like Patriot.