Origin EON11-S Gaming Notebook Review
We take a look at Origin's pint-sized EON11-S. This capable machine packs a quad-core CPU and 650M into an 11-inch chassis. Wow.
Published
15 minute read time
Introduction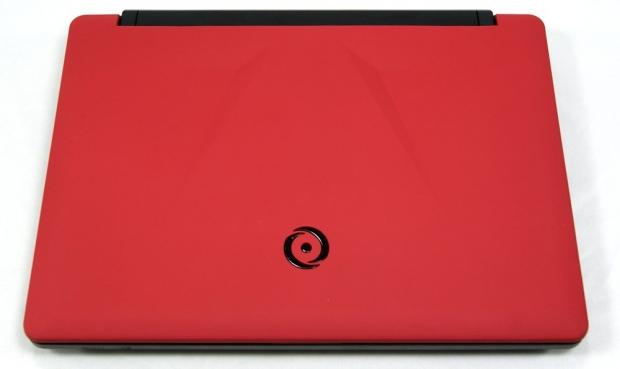 I'd like to extend a warm welcome to Origin. Pretty fresh on the scene as a company, the experience of the founders goes way back to Alienware, before the Dell buyout. After seeing the way the company was going, they left Alienware and eventually started Origin.
Origin was founded in 2009, so they've really only been around three years. In this short span of time, they've managed to produce some really high-quality products, which I would feel proud to be using.
Today's review is of Origin's pint-sized EON11-S gaming notebook. This tiny 11-inch beast is solidly made and really impresses me with the amount of hardware they were able to cram into an 11-inch chassis.
There are a few drawbacks to a tiny machine such as this, but you can't beat its portability. The thing is light and compact; exactly what a system needs to be for me to want to carry it around everywhere.
Specifications, Configurations, Pricing and Packaging
Specifications, Configurations and Pricing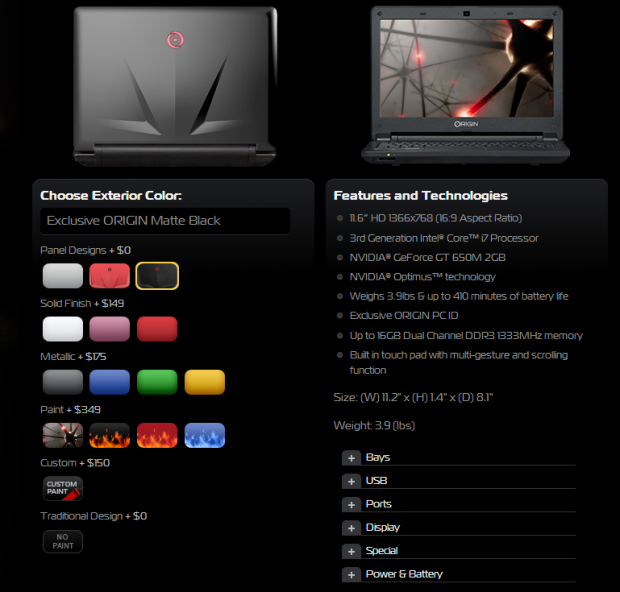 Our review system is packing the older Intel Core i7-3720QM, which is no longer available. Origin is now shipping the Core i7-3740QM, a slightly faster iteration of the 3720QM, for the same price. It also features an NVIDIA GT 650M with 2GB of vRAM, 8GB of DDR3 RAM and a 256GB Samsung 830 Series solid state drive. Currently available models will feature the newer and faster 256GB Samsung 840 Pro Series SSD, which is one of the fastest 256GB SSD's on the market at the time of writing. It comes installed with Windows 8.
The approximate price for a system like ours is $1,544, though that will vary with the various sales Origin runs, along with the decrease of prices by suppliers. Origin machines are highly customizable, meaning that you can pretty much put whatever you want into the system, provided you have the cash to do so.
If you'd like to get an idea of some of the customizations available, you should check out Origin's website where you can customize the system. You can also give Origin a call and they will help you build a system to fit your needs.
Packaging
Packaging was more than sufficient to protect the laptop during transport. It featured a strong cardboard box surrounding the laptop, which was suspended in the middle by cardboard around the edges.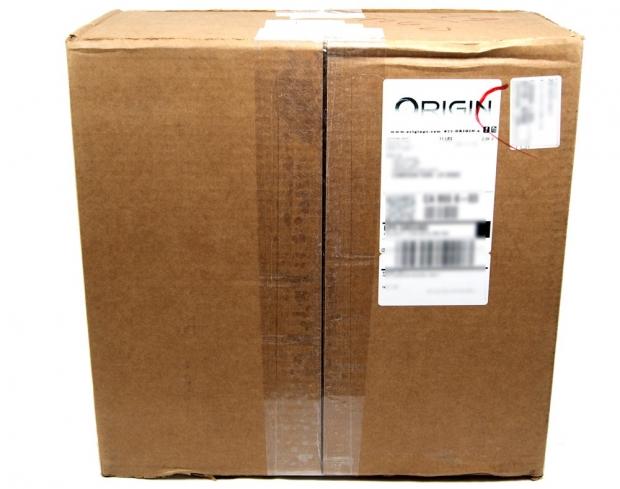 It uses a newer way of packaging, which features a cellophane-like sheet to hold the system in suspension. It really seems like it would protect the system from the prerequisite bumps and bruises that come with shipping a package.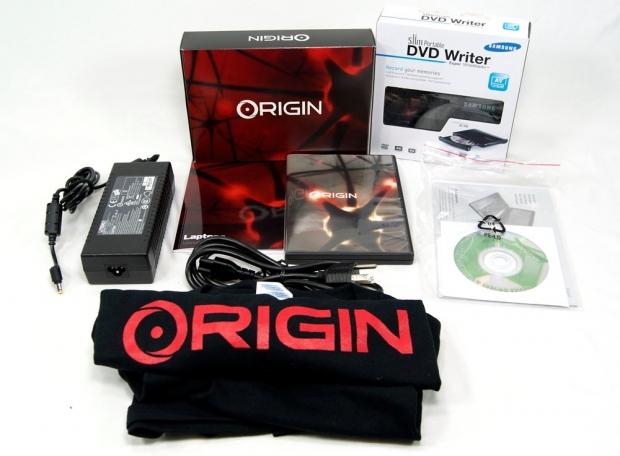 Above you can see the items that are included in the package.
Temperatures, Cooling and Noise
Packing this much performance into such a small chassis will obviously have some downsides or everyone would be doing it. The usual downside to packing lots of hardware into a small package is heat and power consumption.
Origin has done an excellent job with the cooling system on the EON11-S and made some smart engineering decisions that make this a great portable gaming system.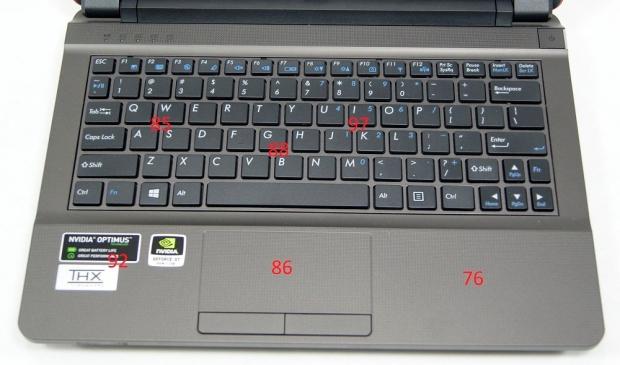 As you can see, on the front of the system, we logged a maximum temperature of 97 degrees Fahrenheit. It should be noted that this max temperature was located away from the WSAD gaming keys, which remained fairly cool in our testing.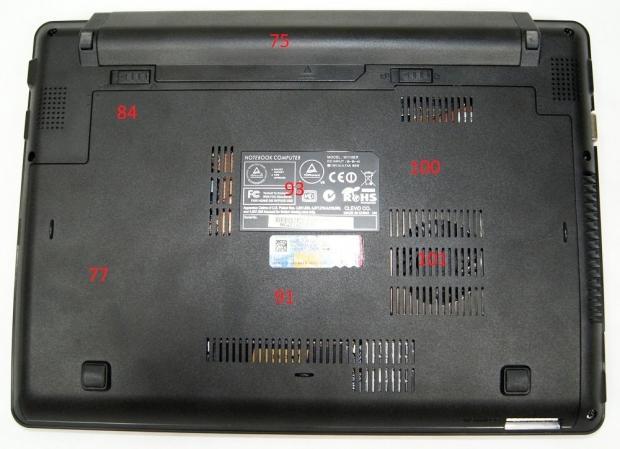 Moving around to the back side, temperatures were higher. The maximum observed temperature was 101 degrees Fahrenheit. This is not unreasonable and is actually quite incredible for a small machine, such as the EON11-S.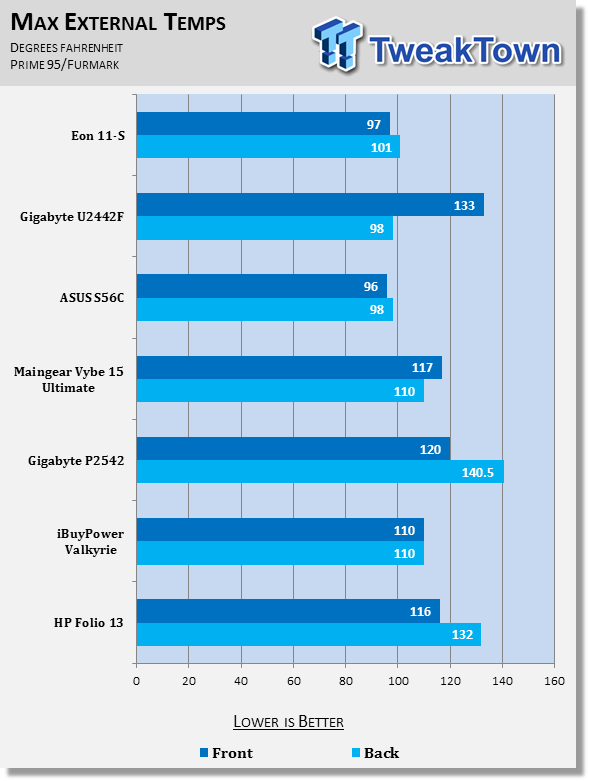 The maximum observed GPU temperature was 93 degrees Celsius, a temperature well within the limits for a video card. The CPU reached a maximum of 97 degrees Celsius, a temperature that is quite a bit higher than I would like to see a system running at. While mobile chips are designed to withstand higher temperatures, this is a bit high.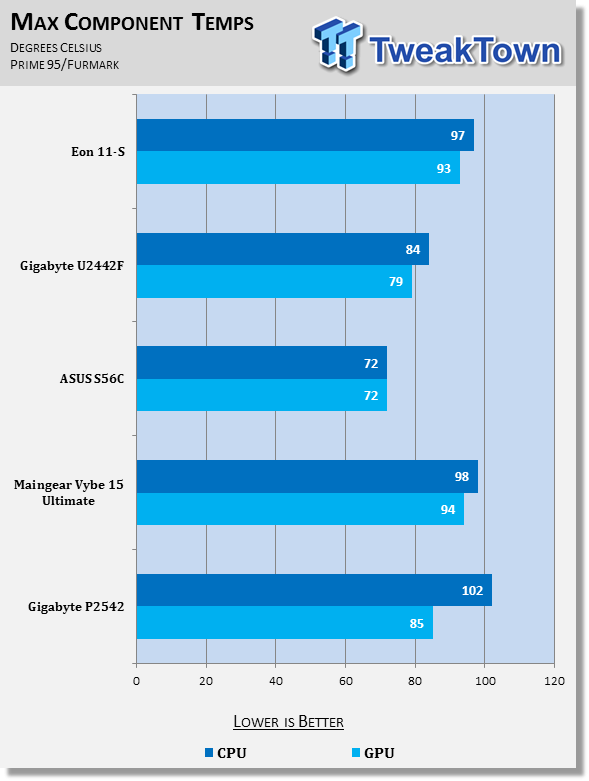 All-in-all, the system itself stays relatively cool considering the components that are included inside.
The EON11-S produced a sound level of 51 decibels in our measurement. This is the loudest system we've tested, though 51 decibels is not really too loud. It's good to note that this system does not have the typical whine associated with small fans.
Our measurement is taken in front of the laptop at roughly head level. For comparison, 30dB is a totally quiet night time in the desert, 40dB is whispering and 60dB is a normal conversation.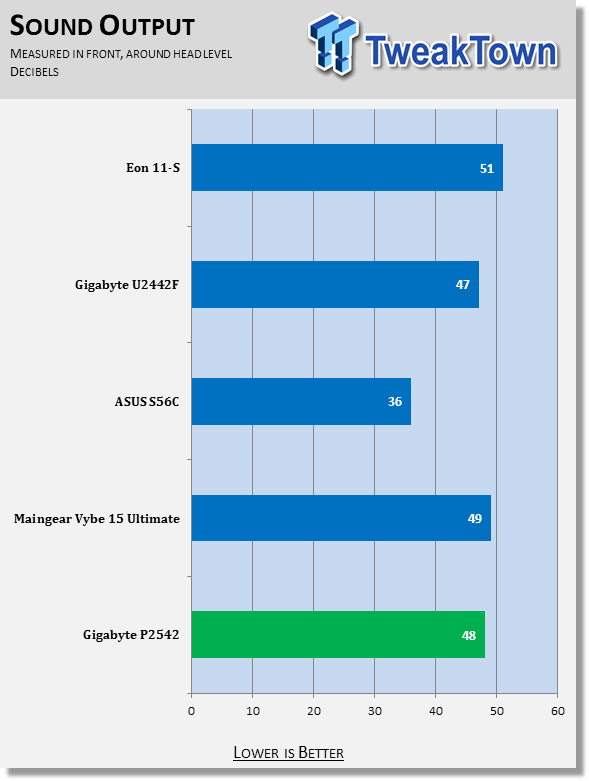 Keyboard, TouchPad, Screen and other User Interfaces
Keyboard and TouchPad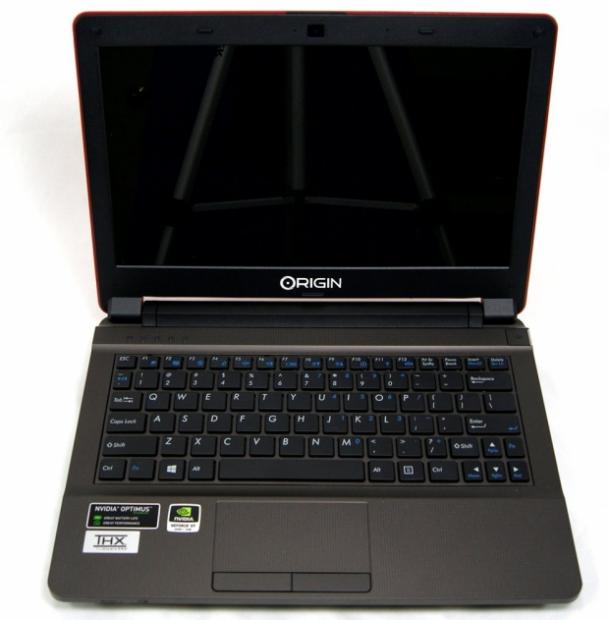 The EON11-S features the now-typical island-style keyboard. One of the usual problems when transitioning to a smaller system is that the keyboard becomes smaller, thus making it harder to type on. Switching to the EON11-S is no different and I feel that the system's keyboard could have been stretched a little bit to make the keys bigger.
Typing on the system does feel a bit cramped, though this will come with any system of this size. Other than this fact, the keys articulate very well. The typing experience is excellent and I was able to quickly adapt to the keyboard and not make many typos while typing this sentence.
I do, as always, wish that this keyboard was backlit, though I know that is asking a lot. They've already crammed so much computing power into this tiny chassis that asking for a backlit keyboard just seems plain rude, but I would have still liked to see this inclusion.
The keys are a bit grainy which helps with the tactile feel when typing. Additionally, the keys have a good amount of travel and bottom out without making too much noise, even when flying across the keys.
There is some small flex across the entirety of the keyboard, though not enough to cause any major issues when typing. The majority of the flex is beneath the space bar and WSAD keys, though I wouldn't recommend this system for the hardcore gamer.
The touchpad is a three-piece assembly. The touchpad portion and click buttons are three different pieces. The left and right click buttons are two separate pieces of smooth plastic, which is different that the surrounding rubberized texture.
The touch-sensitive area of the touchpad is slightly recessed in from the palm rests, though it continues the same texture that is on the palm rest. The only thing setting it apart is the ever-so-slight recessing. The touchpad has a nice feeling and isn't too sticky when trying to move the cursor.
Screen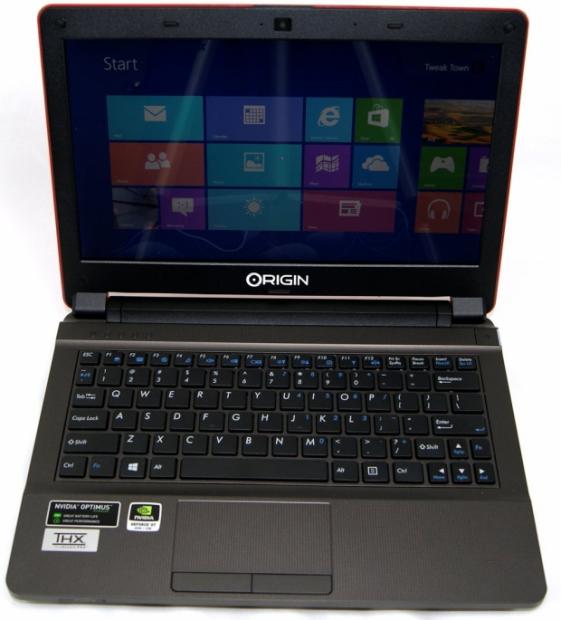 The 11.6-inch screen fitted by Origin to the EON11-S is a 1366x768 panel. While this resolution is the bane of my existence, trying to put a higher resolution on a screen this small would have caused text to become all but unreadable.
Viewing angles aren't the best, but they aren't horrible either. Moving vertically is the worst for the screen, with colors changing fair rapidly. Moving horizontally, the panel fares better, though it does shift colors as you move further out of line.
Colors are vibrant and seemingly well reproduced. Of course, no TN panel will ever be able to compete with an IPS on viewing angle or color reproduction. There shouldn't be any surprises when looking at pictures on the screen, and games look good.
Testing Methodology
View our full testing methodology article.
- Accessory Port Testing
Ports to which an external storage device can be connected to are tested using HD Tune Pro to obtain their maximum, minimum and average read and write speeds. USB 2.0, USB 3.0 and eSATA ports are tested using a Corsair Neutron GTX 240GB SSD that is capable of saturating the theoretical bandwidth available.
The Corsair Neutron GTX is housed inside an Icy Dock external enclosure which features a SATA I/II/III to USB 3.0 and eSATA converter.
- Gaming Tests
Battlefield 3 is run at 1920 x 1080 resolution with the graphics preset set to "Ultra." The test is ran three times due to higher variability than the other benchmarks. FRAPS is used to record 60 seconds worth of FPS data and recording starts when the character first picks up the gun at the start of the campaign and usually finishes shortly after the train explosion. The game is played in a similar manner each time.
3DMark Vantage is ran on the Performance preset to get a feel for how the computer would manage gaming. The CPU, GPU and combined scores are reported. A higher overall score is the best and a high GPU or CPU score shows particular prowess with tasks that use that part of the computer.
3DMark 11 is run on the Performance preset and the Physics, GPU and combined scores are reported. This test is only run if the system supports DirectX 11. A higher overall score is the target, though a high individual result shows prowess in a particular area.
3DMark is the latest benchmark by Futuremark. The Cloud Gate test is ran with all of the default settings and the score, GPU score, and physics score are all recorded in the chart. The Cloud Gate test is intended to be run on home desktops and notebooks.
- System Tests
PCMark 7 is run to get an overall idea of how the system performs as a whole. It tests all aspects of the PC and puts a score on how well it performs overall. In this test, a low scoring area can affect the overall score, so it's important to read the analysis. A higher score is better.
MobileMark 2012 is another test run to get a feeling for the system performance taken as a whole. MobileMark 2012 uses real-world applications as part of the benchmark. We use the Office Productivity suite which includes applications like Adobe Acrobat and Microsoft Word. The test also reports battery life as all tests are run on battery. Higher is better for both results.
CrystalDiskMark is run to put a number on how well the system hard disk drive / SSD runs. It measures five different metrics, of which higher is better for all. The higher the numbers, the snappier the operating system will feel, especially if the "4K" number is high, as most operating system files are small files.
- Battery Life
PowerMark is used to measure battery life of the system when set to "Balanced" and "Performance" power plans. This test simulates several different activities, but uses custom built applications.
Accessory Port Layout and Performance

The left side, from back to front, features the Ethernet port, VGA port, HDMI port, headphone and microphone jacks and two USB 3.0 ports.

The right side, from back to front, features the power port, a USB 2.0 port and the Kensington lock.
The card reader is tucked up front on the left side.
HD Tune Pro
Version and / or Patch Used: 5.00
Developer Homepage: http://www.efdsoftware.com
Product Homepage: http://www.hdtune.com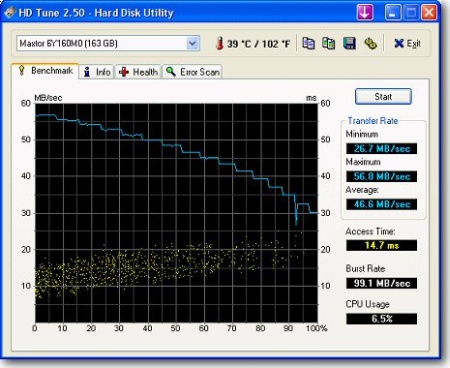 HD Tune is a Hard Disk utility which has the following functions:
Benchmark: measures the performance
Info: shows detailed information
Health: checks the health status by using SMART
Error Scan: scans the surface for errors
Temperature display
HD Tune Pro gives us accurate read, write and access time results and for the last couple of years has been gaining popularity amongst reviewers. It is now considered a must have application for storage device testing.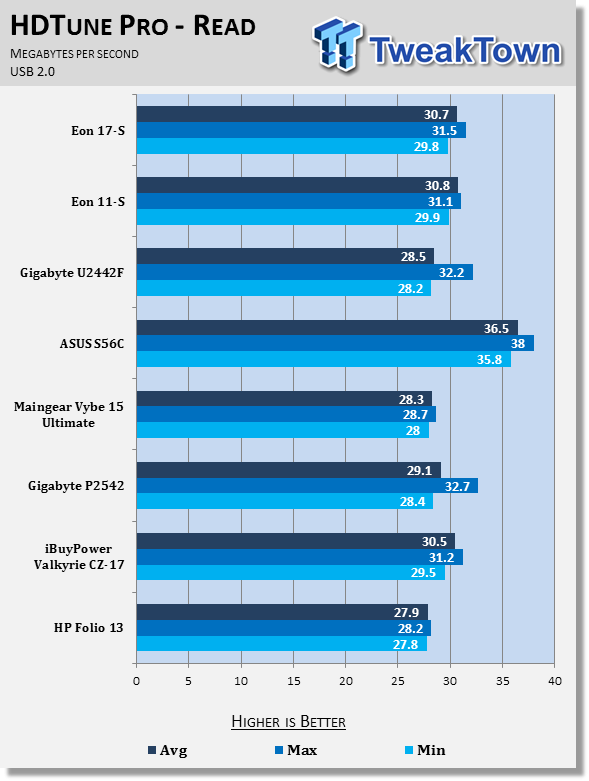 The EON11-S neither pulls ahead, nor falls behind, in our USB 2.0 test. It puts up a pretty standard average of 30.8 MB/s.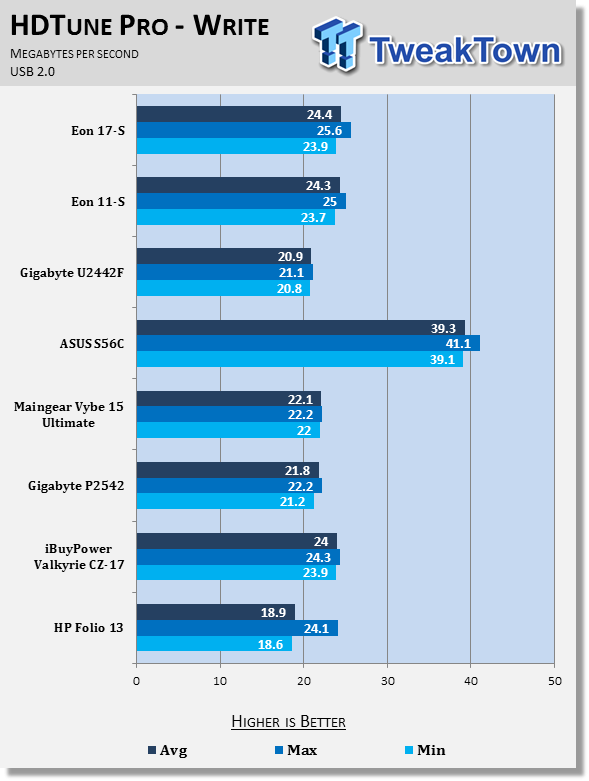 Again, nothing exactly surprising or exciting happening with the EON11-S' USB 2.0 write performance. It is definitely one of the higher performing machines, though not by a wide margin.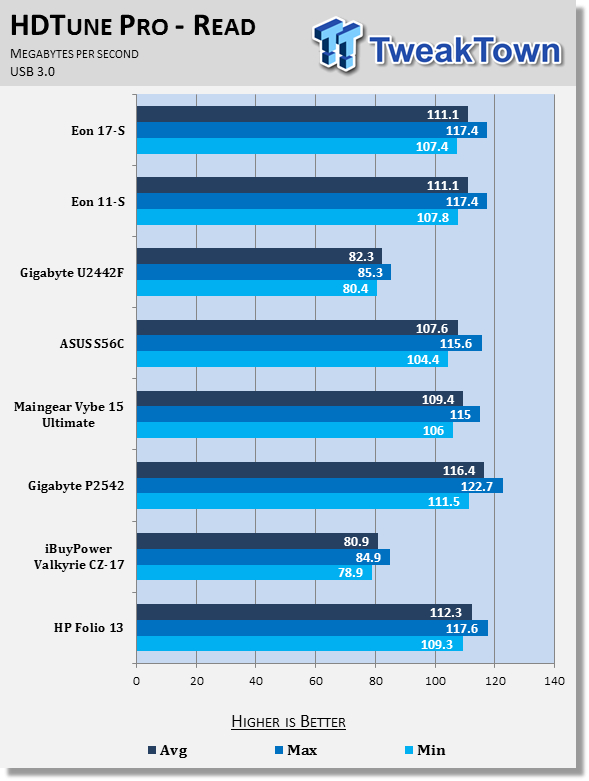 Moving to USB 3.0, the EON11-S manages to hang with the other systems and stay towards the top of the pack.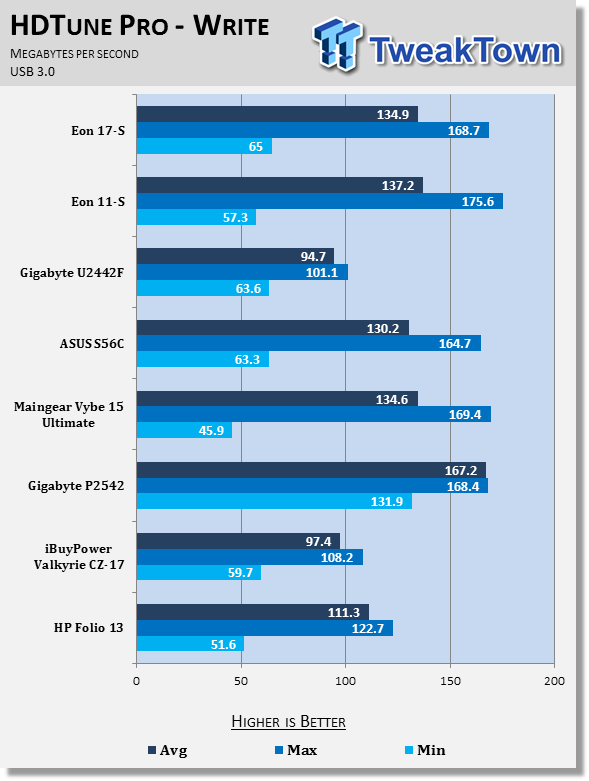 USB 3.0 write performance is pretty good on the system. It comes in in second place, with the competition not too far behind. The GIGABYTE P2542G machine continues to hold the lead with nearly 30MB/s faster performance.
Gaming Performance
3DMark Vantage
Version and / or Patch Used: 1.1.0
Developer Homepage: http://www.futuremark.com
Product Homepage: http://www.3dmark.com/3dmarkvantage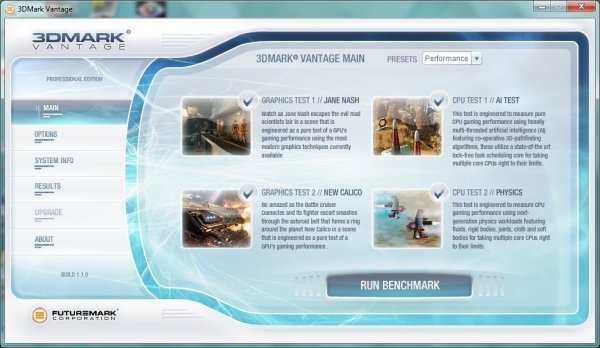 3DMark Vantage tests both processor and graphics performance and is a good indication of how systems compare. The results are generally more repeatable and consistent than other forms of benchmarking. Vantage uses DirectX 10 and can handle multi-core CPUs.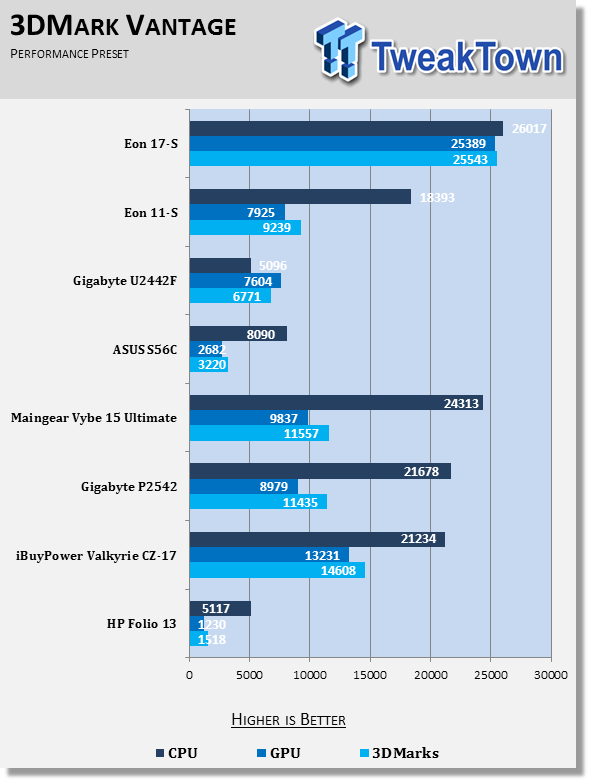 The Eon 11-S puts up a respectable fight in 3DMark Vantage. While the 11.6-inch system didn't have a fighting chance at some of the larger systems, it manages to hang with the larger 15.6-inch systems.
Considering the size of the system, it did quite a bit better than I would have thought possible. Origin has done a great job of stuffing computing power into this tiny chassis.
3DMark 11
Version and / or Patch Used: 1.0.1.0
Developer Homepage: http://www.futuremark.com
Product Homepage: http://www.3dmark.com/3dmark11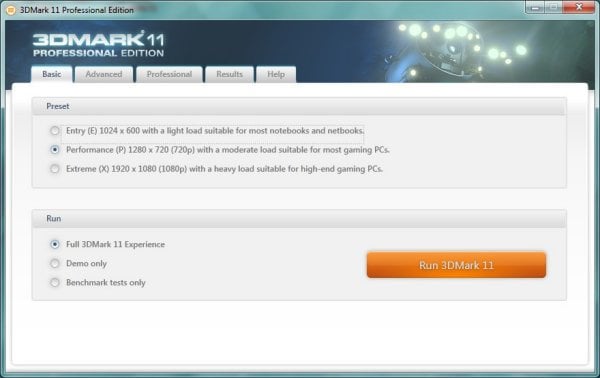 3DMark 11 is the latest version of the world's most popular benchmark. Designed to measure your PC's gaming performance 3DMark 11 makes extensive use of all the new features in DirectX 11 including tessellation, compute shaders and multi-threading. Trusted by gamers worldwide to give accurate and unbiased results, 3DMark 11 is the best way to consistently and reliably test DirectX 11 under game-like loads.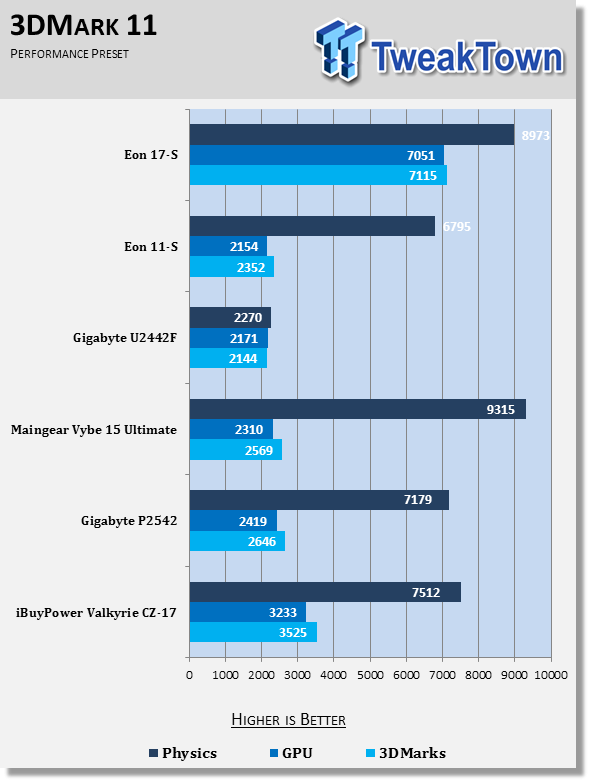 The EON11-S continues to fall in line where it should. It continues to hang with the larger 15.6-inch systems, but is unable to close the gap on the larger 17-inch systems. There's only so much computing power you can pack into 11.6-inches.
Looking at the individual scores, the GPU performs right on par with other systems that feature the same GPU.
3DMark - Cloud Gate Test
Version and / or Patch Used: 1.0.0
Developer Homepage: http://www.futuremark.com
Product Homepage: http://www.futuremark.com/benchmarks/3dmark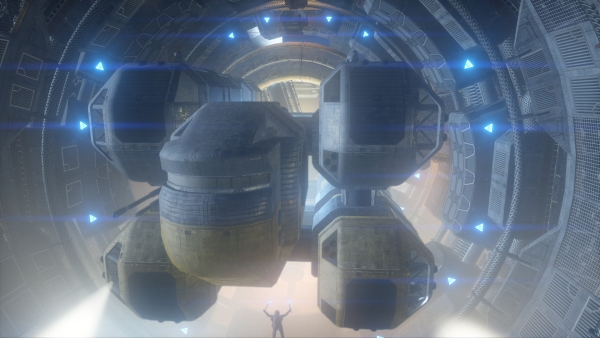 Cloud Gate is a new test that is designed for Windows notebooks and typical home PCs. Cloud Gate includes two graphics tests and a physics test. Cloud Gate uses a DirectX 11 engine limited to Direct3D feature level 10 making it suitable for testing DirectX 10 compatible hardware. Cloud Gate will only be available in the Windows editions of 3DMark initially.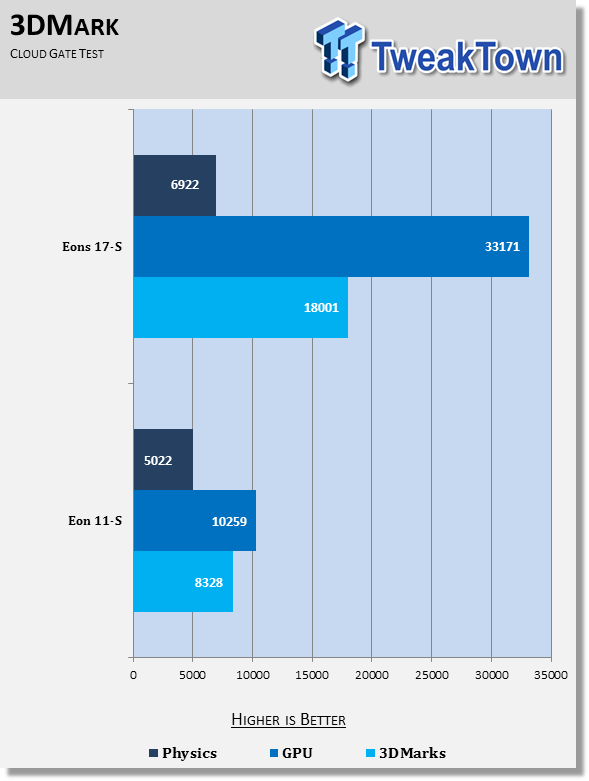 This is the newest version of Futuremark's benchmark. As such, we only have two systems in the results. As you can see, the EON11-S is easily outclassed by its bigger brother, the Eon 17. There isn't anything really surprising about these results.
Battlefield 3
Developer Homepage: http://www.dice.se/
Product Homepage: http://www.battlefield.com/battlefield3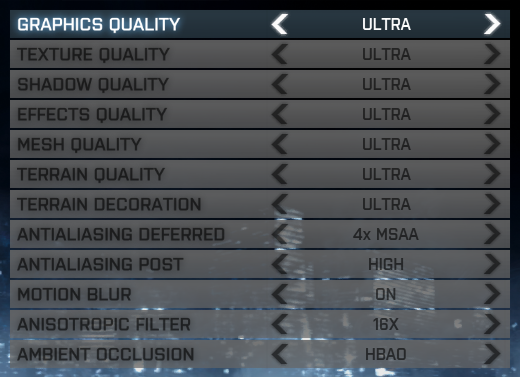 Battlefield 3 is one of the most requested benchmarks, so we have finally added it. Frame rates are recorded for 60 seconds starting in the first part of campaign when the character picks up the gun and is played through until just after the train explodes. The game is played three times in that manner with the results being averaged together and reported.
Settings are 1920x1080 for the resolution with the "Graphics Quality" set to Ultra. If a computer doesn't support 1080p, an external monitor is plugged in and the computer set to only output to that monitor.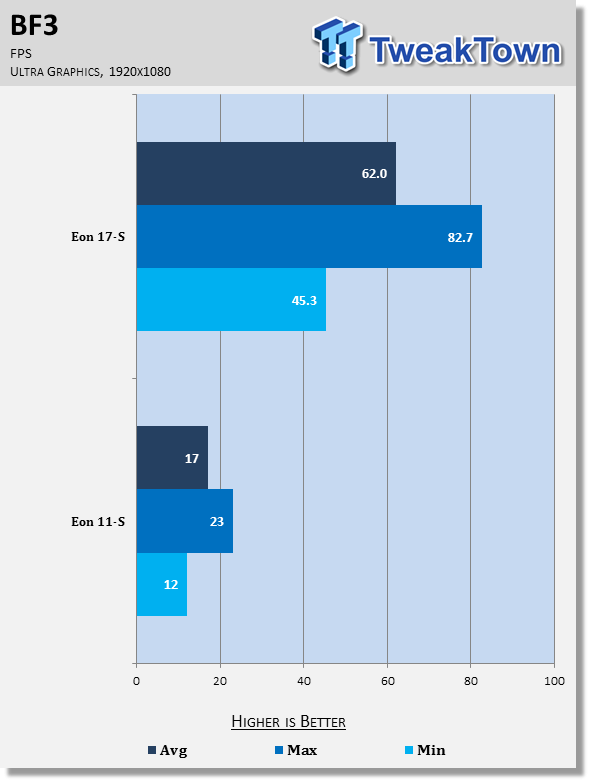 Another new test to the laptop testing suite, Battlefield 3 is a real system crusher, at least for notebooks. Again, we only have the two systems that have been through the lab and put up numbers, though this will soon change.
The EON11-S is again outclassed by its bigger brother, though the numbers put up by the EON11-S would be better if you were gaming at the system's native resolution of 1366x768.
System Performance
PCMark 7
Version and / or Patch Used: 1.0.4.0
Developer Homepage: http://www.futuremark.com
Product Homepage: http://www.pcmark.com/benchmarks/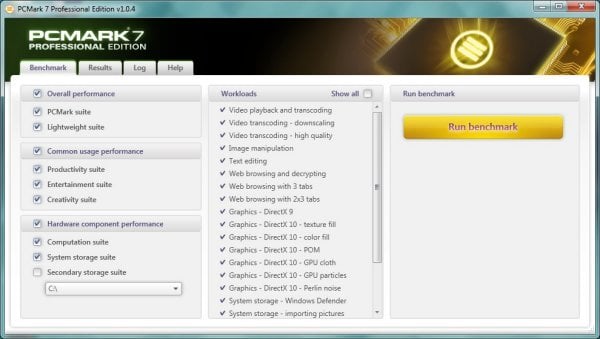 PCMark 7 is a great utility for testing a PC's all-around capabilities. It tests all aspects of the computer, from graphics performance to hard disk performance and attempts to put a score on it, which is not an easy task.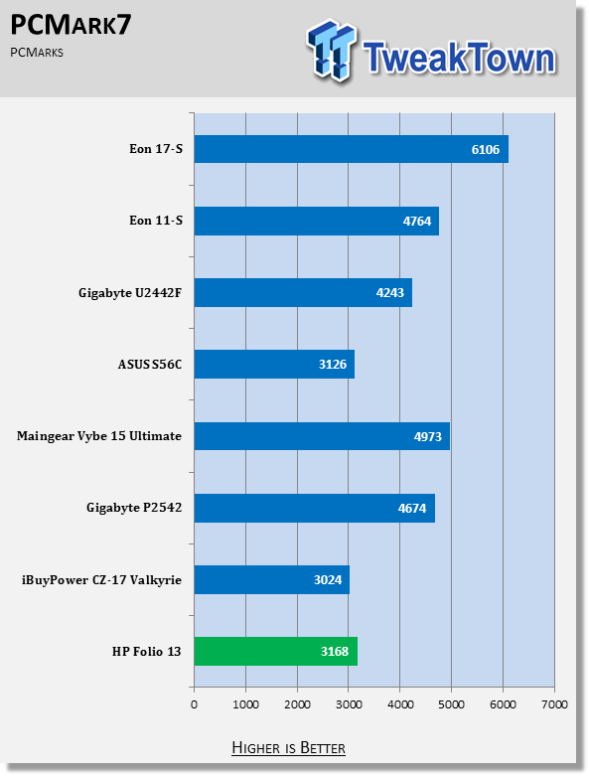 The EON11-S excels in our system testing. Producing a score of 4764, it comes in third place out of the systems we have tested. Above it is the Eon 17, which features dual SSD's in RAID 0 and the Maingear Vybe, which also features very similar components to the EON11-S.
Mobile Mark 2012
Version and / or Patch Used: 1.0.0.118
Developer Homepage: http://www.bapco.com
Product Homepage: http://bapco.com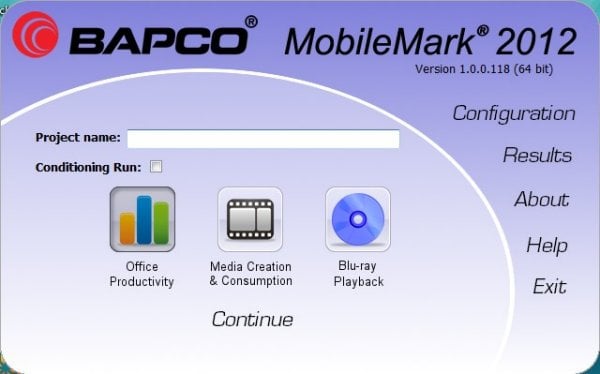 MobileMark 2012 is a premier benchmarking tool produced by BAPCo. It has several different scenarios built-in and allows you to choose which to run. It runs the test on battery life so that it produces both a score for the performance aspect and a run time for battery life.
For our testing, we chose the Office Productivity line of testing. The "Performance Qualification Rating" and battery life (in minutes) is reported below in the charts.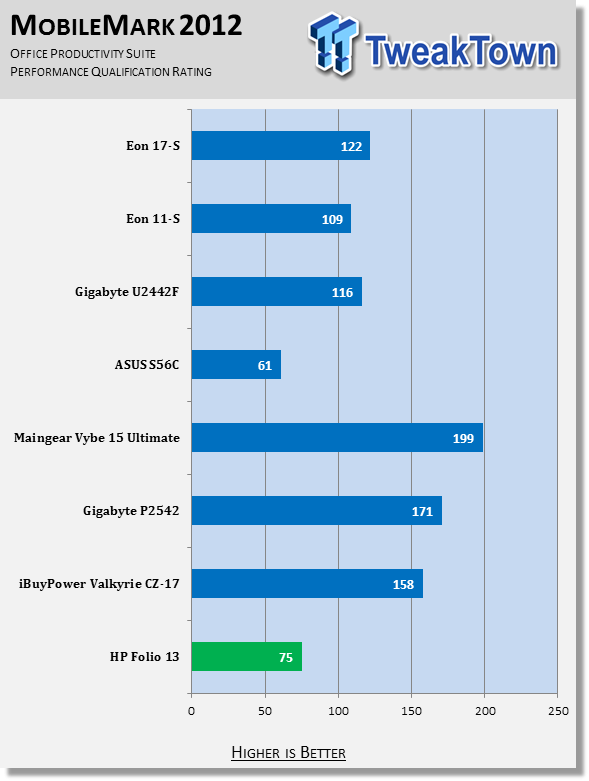 The EON11-S doesn't perform nearly as well in this system test and it's not exactly clear why not. It manages to beat out most of the Ultrabooks, but can't come close to the machines it has been hanging with all day. That said, this system is more than capable for everyday use.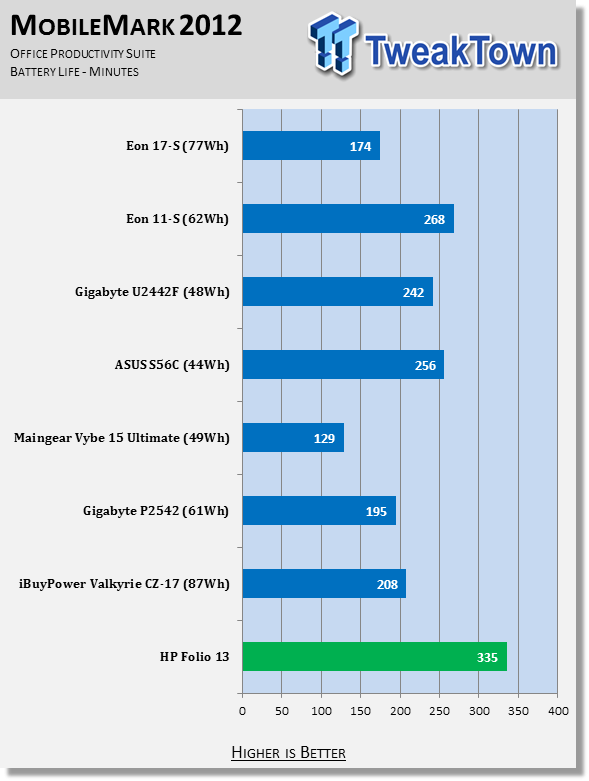 The EON11-S does perform very well when it comes to battery life, however. With a runtime of 268 minutes, the system comes in second place. It out-performs every Ultrabook in our charts, save for the very battery efficient HP Folio 13. 268 minutes is more than four hours of battery life, enough for even the longest college class.
CrystalDiskMark
Version and / or Patch Used: 3.0 Technical Preview
Developer Homepage: http://www.crystalmark.info
Product Homepage: http://crystalmark.info/software/CrystalDiskMark/index-e.html
Download here: http://crystaldew.info/category/software/crystaldiskmark
CrystalDiskMark is a disk benchmark software that allows us to benchmark 4K and 4K queue depths with accuracy.
Key Features:-
* Sequential reads/writes
* Random 4KB/512KB reads/writes
* Text copy
* Change dialog design
* internationalization (i18n)
Note: Crystal Disk Mark 3.0 Technical Preview was used for these tests since it offers the ability to measure native command queuing at 4 and 32.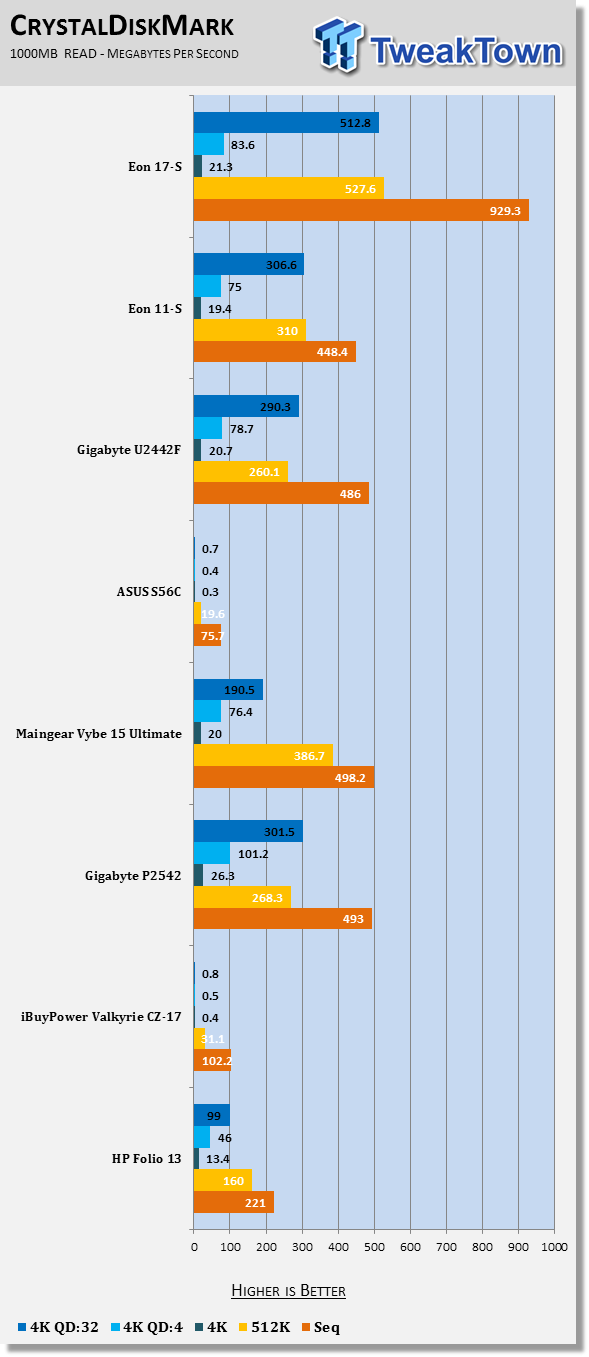 The EON11-S is equipped with one of the fastest solid-state drives that we have had grace our labs. It's not quite as fast as a couple of the others, but it's really close.
It's important to note that our test system has an outdated drive which has been upgraded to the latest online (256GB Samsung 840 Pro) for the same price. This means your system will produce better numbers than these, as the 256GB Samsung 840 Pro is one of the fastest consumer drives on the market, at the time of writing.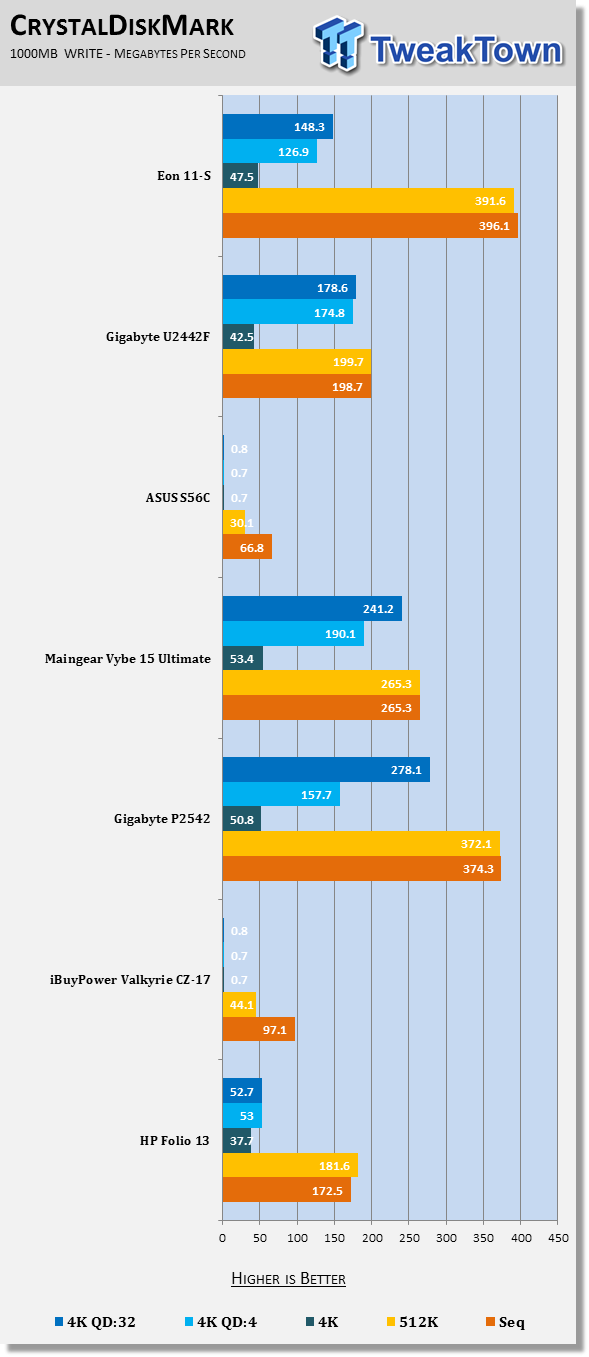 The EON11-S continues to put up some incredible write speed numbers. Again, it's important to note that new systems are shipping with an upgraded solid-state drive that costs the same amount of money (as mentioned above), so your system should do even better.
Battery Life Performance
PowerMark
Version and / or Patch Used: 1.1.1
Developer Homepage: http://www.futuremark.com
Product Homepage: http://www.futuremark.com/benchmarks/powermark/
Download here: http://www.futuremark.com/benchmarks/powermark/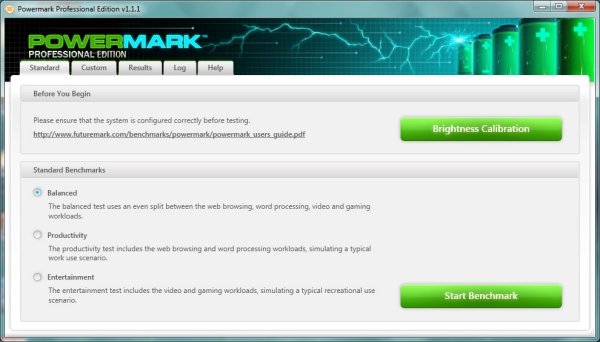 PowerMark is a benchmark produced by Futuremark that simulates different usage scenarios in order to determine battery life. It loops these different scenarios infinitely until the battery hits 15% and then gives us an estimated battery life time. For our testing, we use all four different scenarios. These are video playback, gaming, web browsing and word processing.
Tests are ran twice, once with the computer's Power Options set to Balanced and another with the computer's Power options set to High Performance.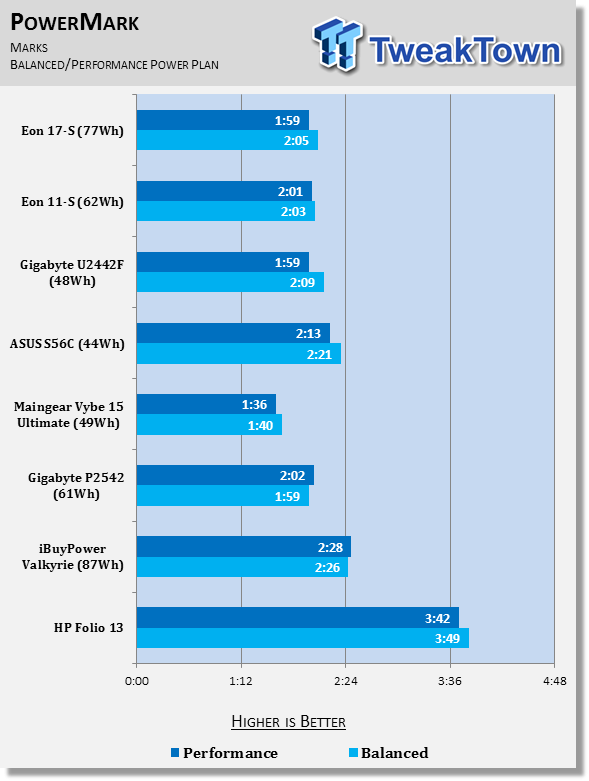 After doing so very well in the MobileMark battery life test, the EON11-S actually disappoints a bit in the PowerMark battery life test. It manages to last for just over two hours, which isn't all that great. It's 62Wh battery powers the higher-performance components for the same length of time as most of our Ultrabooks.
That said, the PowerMark test tends to be less favorable to the systems and usually is shorter than what you experience in real life usage.
Final Thoughts
I'm going to preface this conclusion with a disclaimer: I prefer small notebooks as opposed to giant desktop replacements. With that said small systems still have to measure up to the same standards put forth by the review.
Small systems are usually at a disadvantage in most of these tests due to the space constraints imposed to keep the system small. However, through most of our testing, the Origin Eon-11S managed to keep pace with systems that out-class it in size. I'm extremely happy that Origin managed to smash a quad-core processor into an 11.6-inch machine. This makes it the most portable quad-core machine we've ever had come through our lab. Processing power is still important for those doing animation, CAD and other processor-intensive tasks.
While the screen leaves some to be desired, upping the resolution by very much would result in things being way too small to read. It would be nice to see the machine fitted with a matte screen to cut down on glare, though this isn't a deal breaker. I've always said that 1366x768 resolution is the bane of my existence, but on an 11.6-inch screen, it looks pretty good. Things appear sharp, though there is a limit to how many different items you can fit on-screen at one time.
The keyboard isn't the best if you're going to be using it heavily, but with some practice you could get over the cramped feeling. It does provide a nice, albeit cramped, typing experience and works just fine for gaming. As I noted previously, it doesn't have a backlight, but this is to be expected in a machine as small as this.
The solid-state drive that Origin has equipped this review machine with is more than fast enough, though you will be limited with how much data you can carry around with you as it only has one drive slot. You'll also be using an external drive for any optical disks you may still need. Our review sample shipped some time ago now and newer versions of this laptop will ship with a faster 256GB Samsung 840 Pro SSD, one of the fastest consumer drives on the market currently.
8GB of RAM is plenty of RAM and follows my general rule of thumb of 1GB per thread, though you can of course up this to 16GB if you need it for your specific application.
Battery life, as shown by the MobileMark test, is one of the longest we've seen out of a system, so you'll have a great experience taking this on the road with you. It's light, portable, and stylish and fits into nearly any backpack. For women with extremely large purses, you may even be able to fit it into your purse.
I can't leave this review without saying that I absolutely love the backside of the screen. The red color that Origin has used is fabulous and is painted on with that rubberized paint that is sometimes used on a mobile phone. It makes carrying the device that much easier, and it just feels great.
Another interesting note is that all work done by Origin is free regardless of whether you are in warranty or not. An out-of-warranty PC is repaired for just the cost of parts. Origin also offers 24/7 US-based phone support.
I can highly recommend both the system and the company. Due to the absolutely awesome performance, all-around quality, and reasonable price tag exhibited from this pint-sized machine, I've awarded the Origin EON11-S with our Editor's Choice award.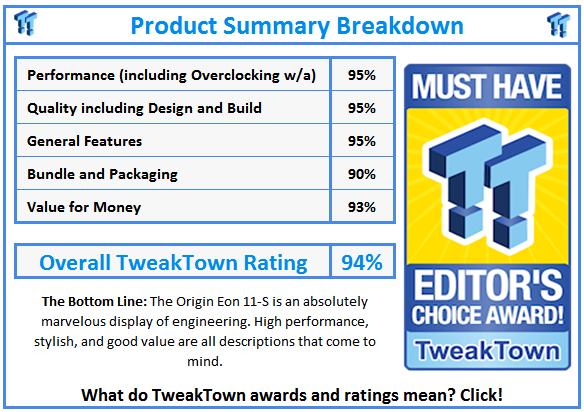 PRICING: You can find products similar to this one for sale below.

United States: Find other tech and computer products like this over at Amazon.com

United Kingdom: Find other tech and computer products like this over at Amazon.co.uk

Australia: Find other tech and computer products like this over at Amazon.com.au

Canada: Find other tech and computer products like this over at Amazon.ca

Deutschland: Finde andere Technik- und Computerprodukte wie dieses auf Amazon.de
We openly invite the companies who provide us with review samples / who are mentioned or discussed to express their opinion. If any company representative wishes to respond, we will publish the response here. Please contact us if you wish to respond.