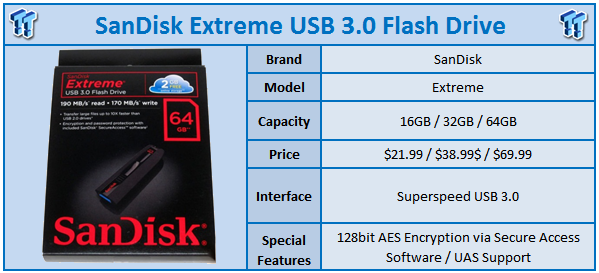 Back in November our resident storage editor Chris Ramseyer had the chance to take a look at the SanDisk Extreme SSD, a drive that to this day is one of the highest performing on the market. So, it is only right that we at TweakTown would bring you the next evolution of "Extreme" from SanDisk, albeit much smaller, but still Extreme.
Last spring SanDisk made its grand entrance into the USB 3.0 flash drive market with the drive we are testing today, the SanDisk Extreme USB 3.0 flash drive. Sporting capacities from 16GB to 64GB, the Extreme comes out of the box dawning a clean, compact design with sequential read and write speeds of 190MB/s and 170MB/s respectively.
For those of you that wish to have a more secure environment when transferring sacred data to and from PCs, SanDisk has outfitted the Extreme with 128-bit AES encryption via their Secure Access software. Compatibility of this product is Extreme as well with Windows XP/Vista/7 support along with Mac OSX 10.5+, although you will need a quick download for Secure Access on Mac OSX.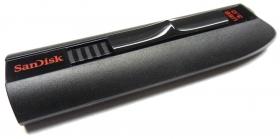 First impressions of the SanDisk Extreme are of its sleek yet simple exterior. Furthering this sleek approach SanDisk has opted for a compact design as well, by adding the slide feature that safely tucks away the USB 3.0 connection inside the case.

The back of the drive shows the model of the flash drive along with information such as the serial and model numbers. You will also find the capacity of the drive listed here - ours is the 64GB model.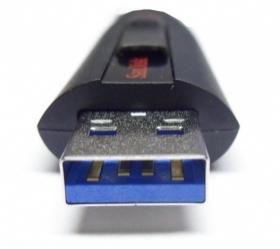 Sliding out the USB male connection extends the drive to a full three inches, seen above, and the blue coloring of the port indicates its USB 3.0 compatibility.

As I would not like any of you to destroy your flash drives and waste you're hard earned money, please refrain from attempting this yourself. Disassembling the Extreme was rather easy yet meticulous, but alas I did manage to get it apart and have for your enjoyment images of the internals. Seen above we have the foundation of a blue PCB, the USB 3.0 controller mounted to the left and flash controller to the right.

The backside of the PCB houses a single 64GB NAND flash module. Being SanDisk labelled, we know its toggle mode NAND.

Looking closer at the components on this Extreme's PCB, the flash controller is labelled 20-82-00270-1 and may look familiar to some since it was used in the ReadyCache SSD from SanDisk. The USB 3.0 controller sitting to the right is manufactured by Fujitsu and integrates USB3.0 to SATA bridge and PHY's along with a 32-bit RISC processor to respond to requests from USB host.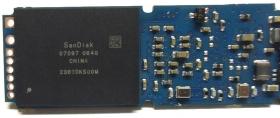 The NAND flash package is labelled 07097 064G. I was unable to find out any further information on it as of this writing.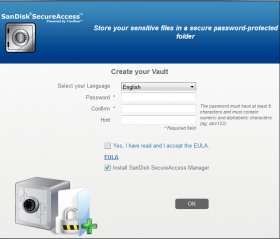 Initial setup of the SecureAccess software if you choose to use it is pretty straight forward. Using alphanumeric characters enter a password that fits your needs - something you won't forget would be preferable.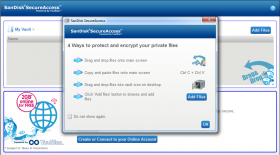 You will then be greeted with a splash screen, giving you options for transferring files. The easiest method, by far, is the drag and drop.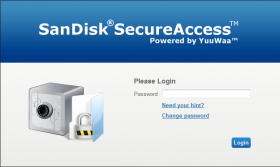 After securely transferring your data to the drive, upon removal, and reinserting the drive, you will be greeted by a password protected login that will give you access to all your files.
One of the lesser known features of running Microsoft's new operating system Windows 8 is the native capability of USB Attached SCSI or UASP. To start my benchmarking procedure I secure erased the SanDisk Extreme, as I will all drives I test in the future.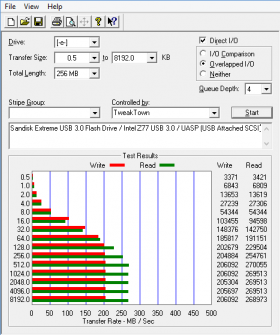 ATTO is commonly used for marketing performance of hard drives and solid state drives alike, above you can see that the SanDisk Extreme was a very capable drive. We managed to squeeze out 269MB/s read and just over 206MB/s write, a far cry from the 190/170 numbers that are advertised on the package.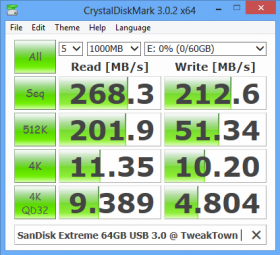 CrystalDiskMark's default testing uses a set of random data or incompressible data, there is also an option for 0xfill or compressible data. We will use the standard data set for our purposes. Again we see strong performance with the SanDisk Extreme, sequential reads were consistent at 268MB/s, while sequential writes stayed fast at 212MB/s. 4K numbers were equally impressive - for a flash drive.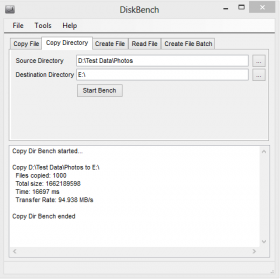 Disk Bench is a rather simple program that benchmarks real-world file transfers between drives. For this test I made up three data sets, one consisting of 1000 pictures totalling 1.5GB, the second consisting of four MP4 movies with a total file size of 8.65GB. The last data set consists of Microsoft Windows 7 x64 install w/ SP1.
The SanDisk Extreme is certainly an impressive drive, with the first of our real-world testing showing us it capabilities as a daily driver. At 94.94MB/s I don't think you'll be pulling your hair out waiting for those pictures to transfer - at least not like the days of USB 2.0.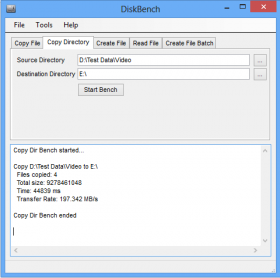 Copying our movies over proved to be even quicker, with the SanDisk pulling it off in just over 44 seconds.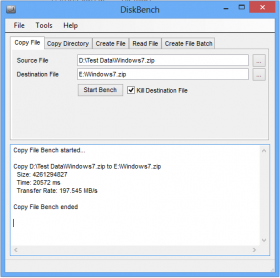 Transferring our set of Windows install files happened to complete even quicker - 21 seconds for the full 4GB install.
To start, there is certainly something to be said about using this drive with particular USB 3.0 controllers. I had a number of issues getting this drive to show up on my P67 based motherboard, where I found myself with a non-functioning device when USB 3.0 turbo mode was enabled in the BIOS. After searching the web for answers, I found that there does appear to be an issue using the Renesas u720200 USB 3.0 host controller with "Turbo". Our Z77 test system, however, had no such issues.
Being that this was my only issue, we can focus on some of the great features that encompass this entry into the USB 3.0 flash drive market for SanDisk - one being the SecureAccess drive encryption that works very well. Quick drag and drops of your important data leave it secured on the flash drive should you misplace it, although I feel there should be some sort of limit to the number of access attempts made on the drive.
Performance of the Extreme was much better than advertised, coming in at 270MB/s and 206MB/s rather than the advertised 190MB/s and 170MB/s with UASP enabled. Again the key here is the UASP - that comes natively on Windows 8.
SanDisk has also priced this drive very well, at $69.99 for the 64GB version you are paying just over $1 per GB. While there are other USB 3.0 enabled flash drives on the market at a lower initial cost, there aren't many manufactures that offer a lifetime warranty, and this alone should give you reason to take a good look at the Extreme from SanDisk.