Introduction, Specifications, Availability and Pricing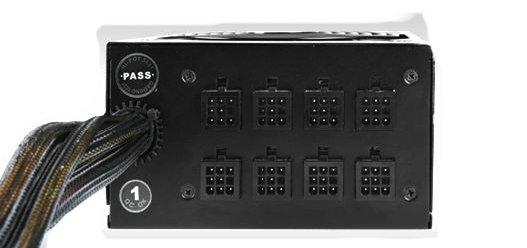 Today we are taking a look at our second unit from Sentey. Most of our readers aren't going to know who they are since the company is relatively small, and they are making a name for themselves as they go along. Sentey is a company whose headquarters resides in Florida with an operations center in California and manufacturing in China. The company is also expanding distribution centers in Latin America and is poised to make quite a name for itself. Currently the company offers a wide selection of computer cases, coolers, video cards and power supplies.
The unit that we have in question today is the upcoming LTP1000-SM. It is a 1000W single rail unit rated for 80 PLUS Platinum efficiency. Beyond that, it offers one heck of a warranty at seven years. That doesn't mean too much if it can't handle the heat, so let's start looking at how the power supply stacks up on paper, then move into the testing.
Specifications, Availability and Pricing

Most of the power for the Sentey LTP1000-SM is delivered via the single 12V rail, rated for 83A or 996W. Both minor rails are rated for 20A each and have a combined maximum output of 100W. The 5VSB rail is rated for 2.5A or 12.5W which is half a watt lower than what we are used to seeing. Maximum combined output for the power supply is 1000W.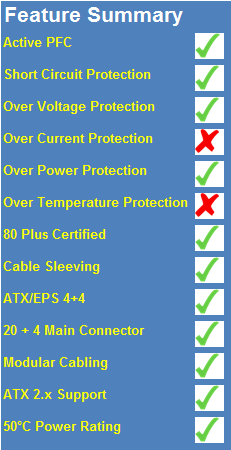 I was really surprised to see that both Over Current Protection and Over Temperature Protection are missing from the LTP1000-SM, especially considering this is a rebranded Super Flower Golden King unit and all of the others we've covered have had at least one of the two the protections present. Aside from the two missing protections, everything else is present. The power supply features both native and modular cabling, all of which is either fully sleeved or of the flat ribbon type. The LTP1000-SM is rated for 80 PLUS Platinum efficiency as well as 100% continuous output at 50C.
The Sentey LTP1000-SM isn't available for purchase in the USA, but we've been told to expect the unit in March. Once it hits the shelves, you can expect it to have an MSRP of $219.99. This puts it comparatively priced against other similar power supplies. Sentey will back it with a seven year warranty should the need ever arise.
Packaging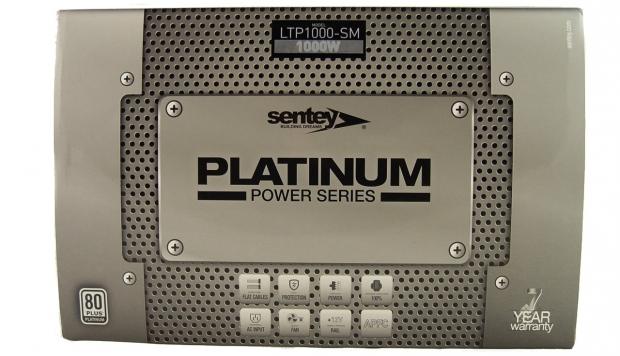 The front of the packaging doesn't give us a glimpse at the product itself, but does list several features, efficiency, wattage and warranty information.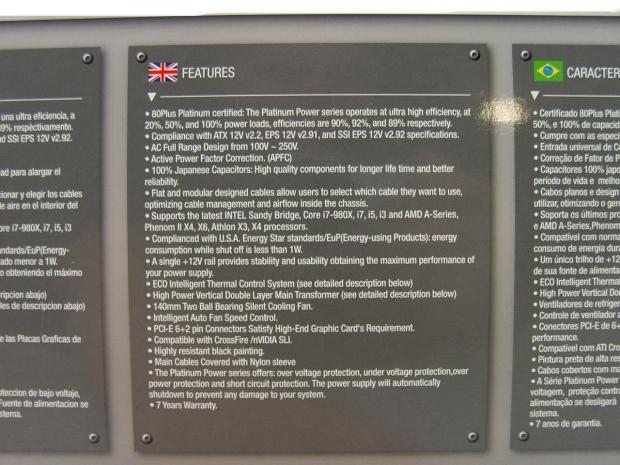 More features can be found listed in text form on the back of the box.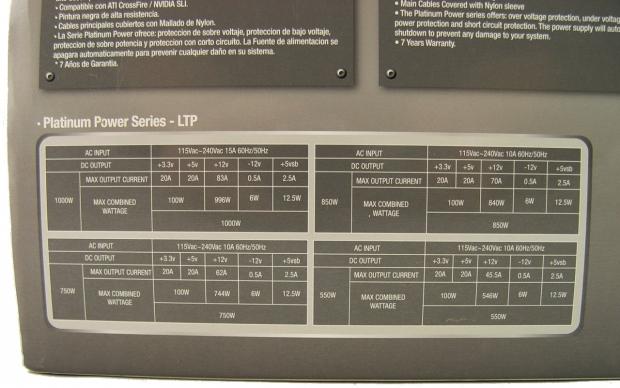 The bottom left of the back side gives us the I/O specifications for all of the LTP series of power supplies.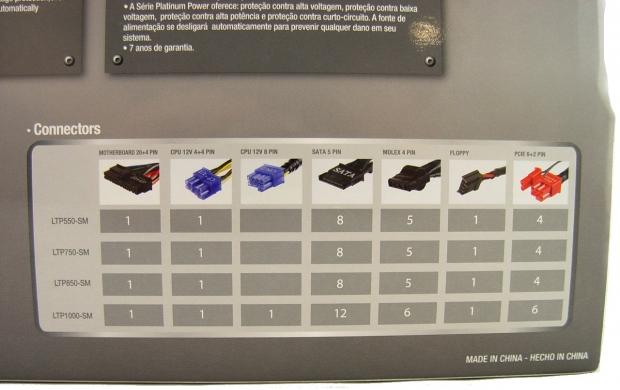 Also present on the back is a list of connectors available on the LTP series of power supplies.

The top of the box is a blank slate, but you can see that our package did take a bit of damage in shipping. I enjoy receiving packages in this manner as it gives us some sort of indication as to how well the unit is packed on the inside.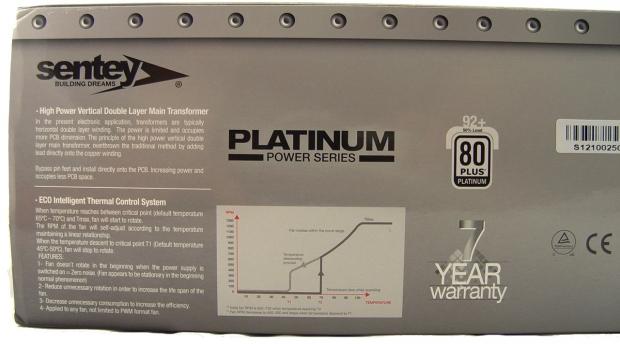 The bottom of the box gives us some more information, especially about the thermal management of the power supply.
Inside the Box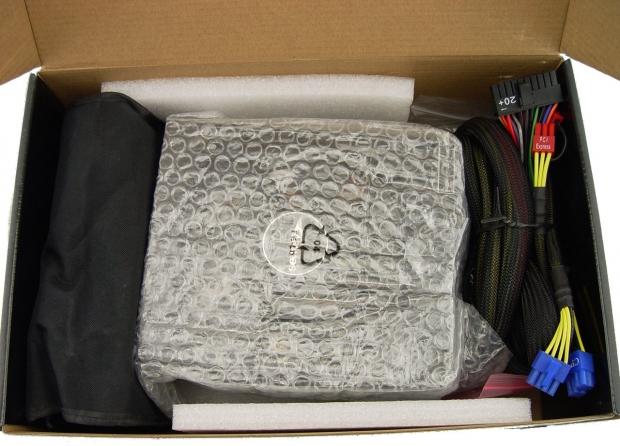 After taking the top layer of foam padding out of the box, this is what you are left with. Lots of foam doesn't always mean things are safe if it isn't in the right places.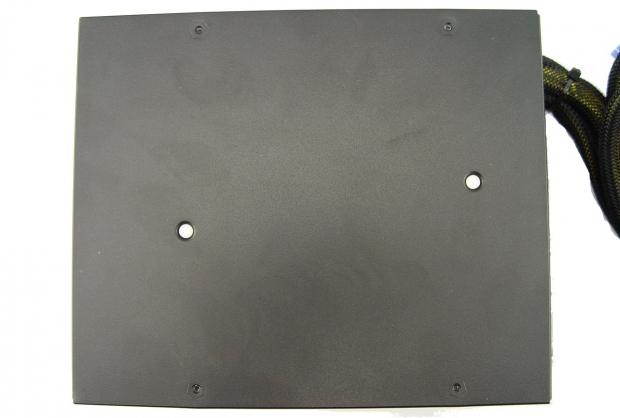 The power supply is finished in a semi-gloss black and as you can see, it is quite easy to leave fingerprints on the unit.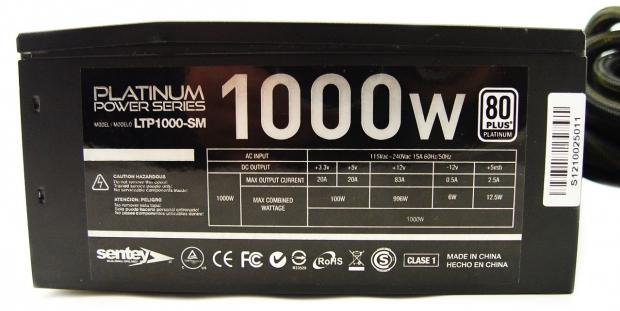 As was said above, lots of foam doesn't do any good if it isn't in the right places. Thankfully just pushing on the raised area was enough to straighten things out. If I had bought this from Newegg or somewhere else, I wouldn't be happy to have received it in this condition.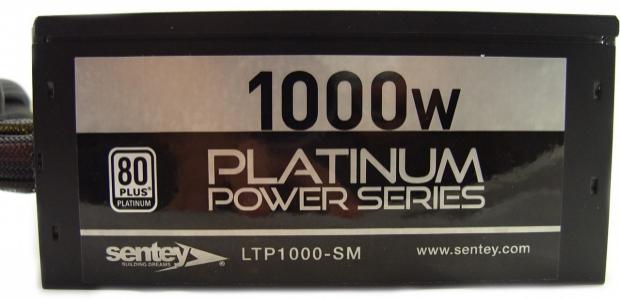 The other side presents us with the product logo. There is no I/O specification label on the unit that we received.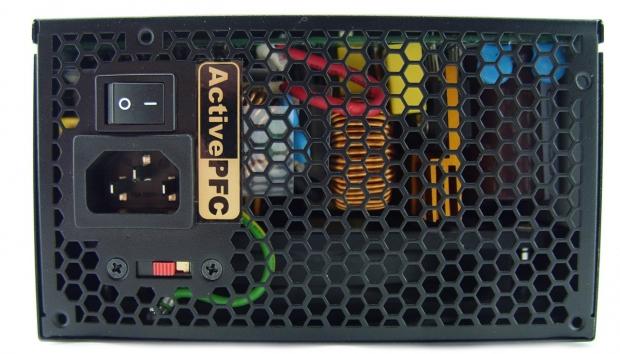 Moving to the back, we find the standard honeycomb mesh grill with AC input and heavy duty on/off rocker switch. Also present is an unlabeled switch to control when the fan activates.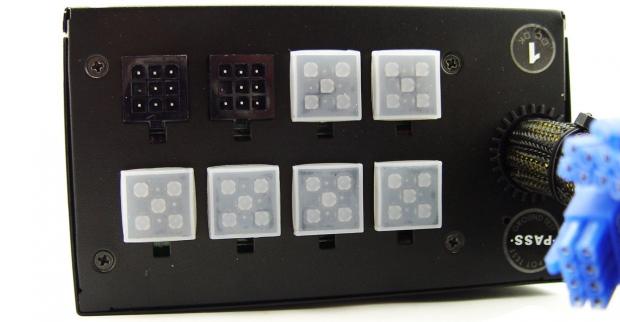 If you needed more confirmation that this is a Super Flower based unit, here are the cube connectors with rubber covers that we've seen on their power supplies for quite some time now.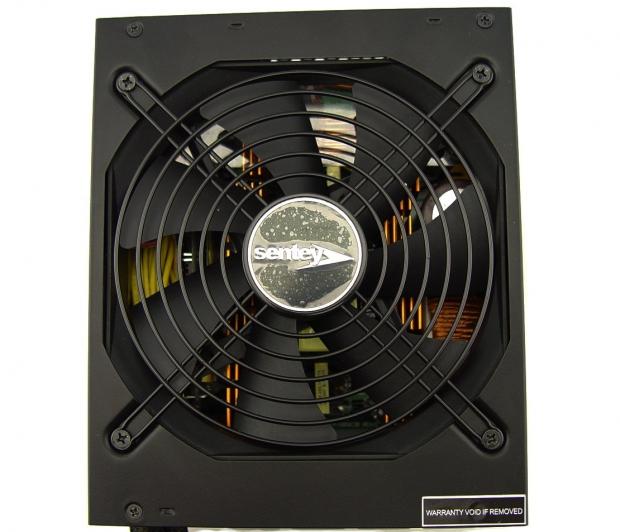 Cooling is provided via the 140mm fan with wire mesh grill.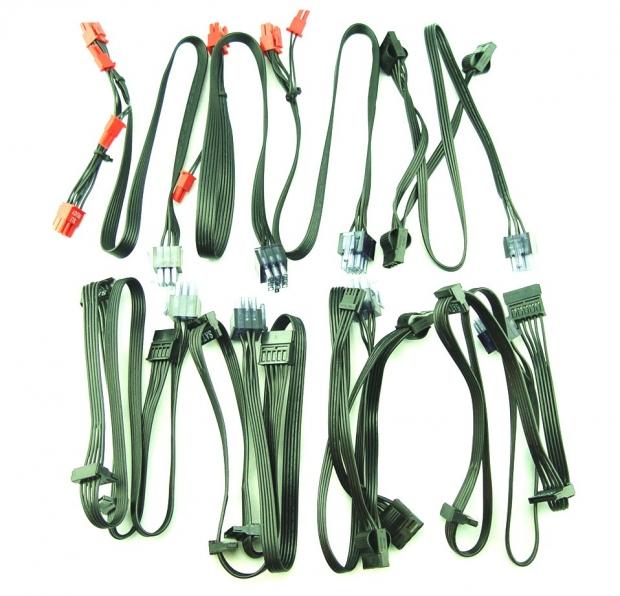 All modular cables are of the flat ribbon type.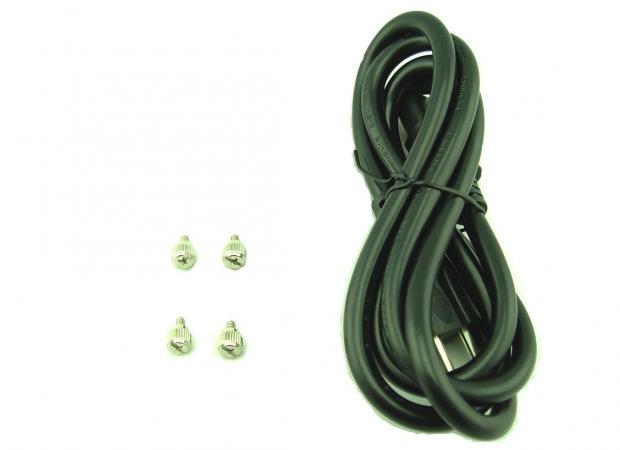 Also included with the power supply is the mounting screws and AC input cord.

Rounding out the contents of the box are the warranty card and the user manual.
Cabling Arrangement and A Look Inside
Cabling Arrangement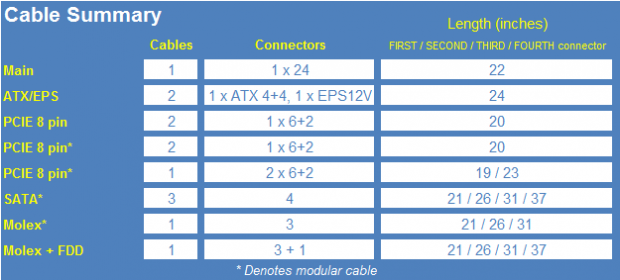 Sentey does a great job of giving you quite a bit of flexibility with the cables and connectors included. Dual ATX 4+4 / EPS12V connectors are present if needed and there are enough PCI-E connectors to run a trio of GPUs. Twelve SATA and six Molex connectors will take care of most of your peripherals and in case you need it there is a single FDD connector, too.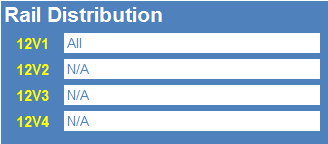 Rail distribution is as simple as it gets with a single 12V rail. There is no need to worry about load balancing here.
A Look Inside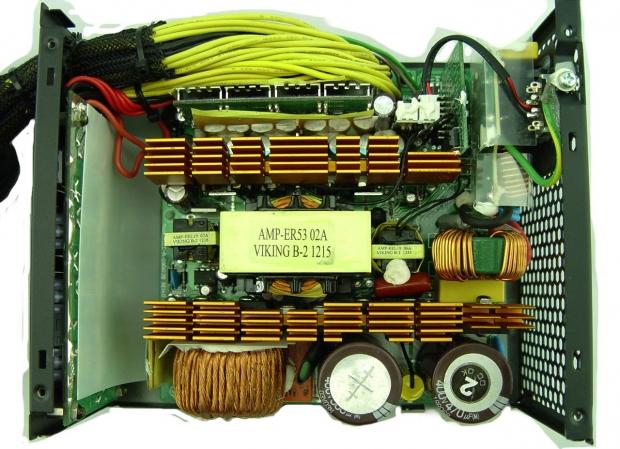 As we always have with a Super Flower based PSU, a pair of heat sinks are present that run the length of the LTP1000-SM power supply.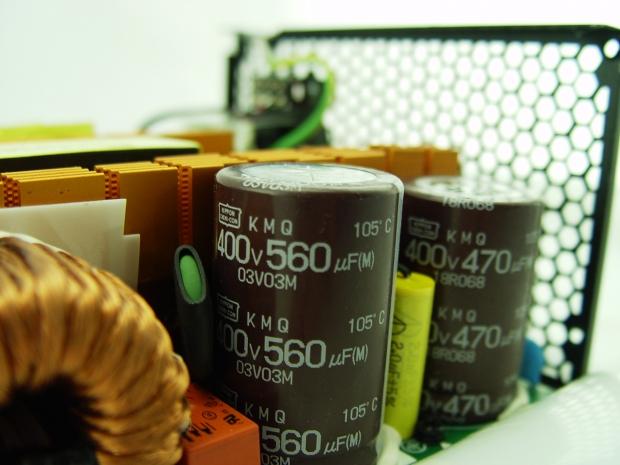 Two Nippon Chemi-Con capacitors sit on the primary side of the power supply.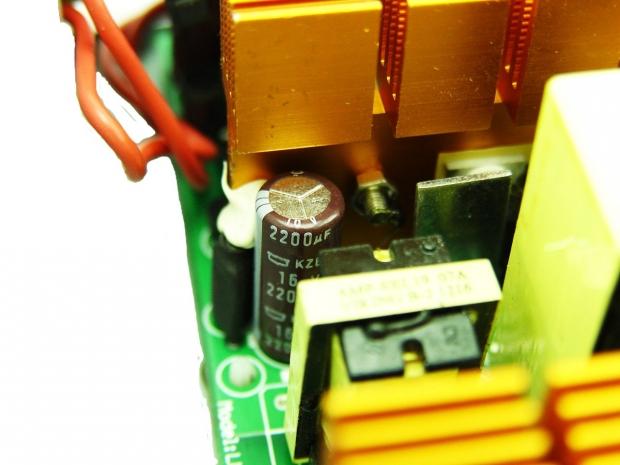 Nippon Chemi-Con capacitors are present on the secondary side of the LTP1000-SM as well.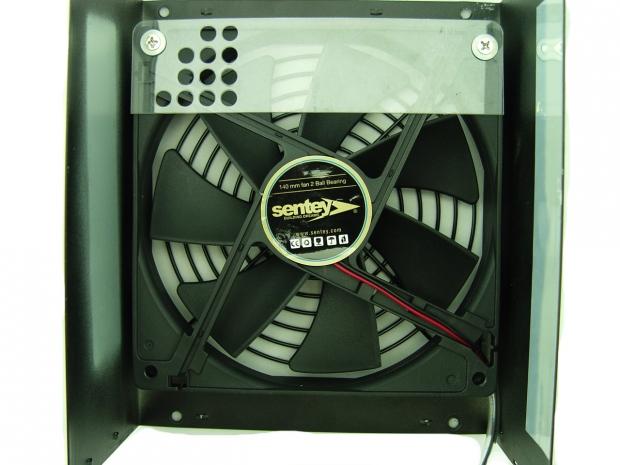 Sentey utilizes its own 140mm dual ball bearing fan for cooling the power supply.
Test Results and Final Thoughts
Test Results
Our load tests utilize a couple of FAST ATE active load testers and a variety of other equipment such as an oscilloscope, power conditioner, temperature probe and a power consumption meter. You can read more about our standard testing approach here.
The tests performed are based around six conceivable setups that are out there and progressively load down the PSU up to the power supply's limits or 1000W, whichever comes first. Since our test equipment's limits are equal to that of the Sentey LTP1000-SM 1000W power supply, we can test it to the maximum.

The above tests represent typical loads that we have measured from various systems and are meant to give a rough idea of where your computer might fall in line with our tests. Please keep in mind that each system is different and actual loads can vary greatly even with similar hardware.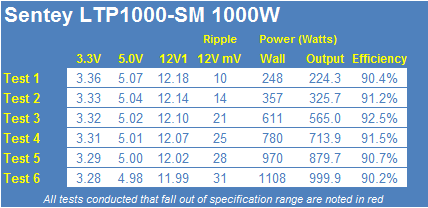 Let's start by taking a look at the voltages to see how well this unit did during testing. Starting with the 12V rail, we see 2% regulation from start to finish with a total drop of .19V. The 5V rail managed to stay within 2% of specification with a total drop of .09V from start to finish. Moving towards the 3.3V rail, we see that regulation was within 2% of specification with a total voltage drop of .08V.
DC Output quality for the LTP1000-SM 1000W was excellent and well within specification. During Test 1, we saw 21mV of noise on our scope. When we increased the loads in Test 3, the ripple climbed to 21mV at a little under half load. During Test 6 under a load of 1000W, the oscilloscope showed a maximum of 31mv on noise on the 12V rail.
The Sentey LTP1000-SM 1000W is rated for 80 PLUS Platinum efficiency. This means that the power supply must perform at 90%/92%/89% efficiency at 20%/50%/100% loads respectively. As you can see, the LTP1000-SM passed on our bench, and wasn't close to failing at any point.
Final Thoughts
Just as Sentey did with the GSP850-SM, they made a wise choice in seeking out Super Flower to once again be their OEM. The Golden King power supplies have proven to be absolutely amazing given the price and performance that they offer. The LTP1000-SM that we received is one of the best that we have seen to date on top of it all.
The Voltage regulation is within 2% of specification across the board. DC output quality doesn't get much better either unless you are willing to spend quite a bit more for a power supply. Rounding things out as far as performance is concerned is the efficiency of the unit, and it performs at 80 PLUS Platinum levels, just as advertised. Sentey is bringing the unit to the market at a nice price point too, and when combined with the slighter longer warranty than most offer, it should be a winner.
All of that doesn't mean the power supply is without issues, though. The lack of OTP and OCP shouldn't be overlooked, especially when you're shelling out over $200 for a 1000W power supply. Sentey has some packaging issues that need addressed as well or else I fear they are going to be experiencing some higher than usual returns on new units, even if it is just cosmetic.