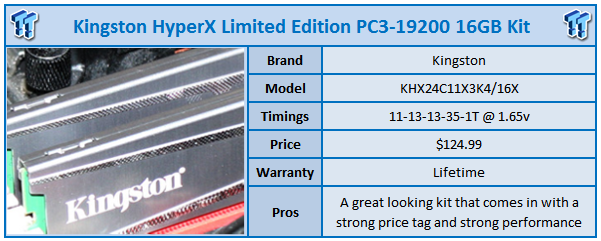 Starting off 2013 I really wasn't sure what we'd be seeing from companies when it came to review samples because that core component category tends to be a little quieter than normal. Last year was slightly different, though, as we saw AMD launch the HD 7000 series with the HD 7900 series coming out just before the Christmas holidays then more and more models coming out in the following months.
What I didn't think we'd see, though, is a bunch of RAM come in for testing. Recently we had a chance to look at the new Kingston Beast series in the form of a 16GB PC3-19200 kit. Along with that we recently checked out the ADATA Gaming Series V2.0 16GB kit which also carried with it a PC3-19200 speed.
Today, though, we move away from the recent Dual Channel kits we've looked at and look at a Quad Channel kit from Kingston that falls into yet another new series. With the X79 platform so established, it's been ages since we've seen a Quad Channel kit, with the last one being a 32GB kit from G.Skill, which really impressed us.
We've recently seen Kingston release some new series and today we're looking at another one. Celebrating a massive 10 years of the HyperX name we've today got the new Kingston HyperX Limited Edition kit with a pretty sexy looking heatsink going on. Along with that we find ourselves giving a brief *sigh* as we see the company again opt for a green PCB instead of a black one. Are you guys listening to us?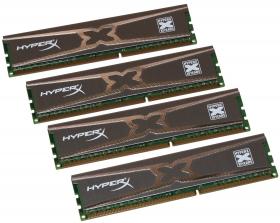 Looking above we can see that the heatsink follows a similar design as we see on the Genesis series of RAM which has the LOVO, PnP and Blu kits all fall under it. Today, though, we see the new HyperX Limited Edition series that falls underneath it.
Flipping over a pair of the modules we can see what's going on with the heatsink. The overall design of the heatsink is similar on each side with the silver cross being shown to make an X in the middle. On one side you can see the HyperX logo on the left and on the other side you can see we've got a nice little HyperX 10 Years logo on the right, which looks cool.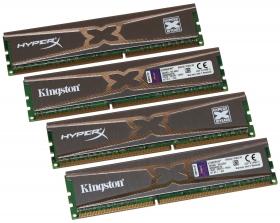 On the other side of the kit we've got the Kingston logo on the left and on the right hand side you can see a sticker that gives us a rundown on the main information that we'll be looking at in just a second. Overall, though, we've got a pretty good looking heatsink that sits nice and low which is always good news for those with larger than normal CPU coolers.
Moving in a little closer to the sticker you can see we've got a whole bunch of information being shown, but most of it won't mean a whole lot with the model number across the top being the only piece of information that is helpful. Instead of breaking that down, though, we'll just get into what exactly we're dealing with.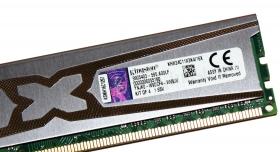 On the speed front we're dealing with a PC3-19300 kit that translates to a strong 2400MHz DDR. On the timing side of things the kit comes in at 11-13-13-30-1T at 1.65v. Considering the speed of the kit these are fairly standard timings and should bring with it some good performance. As you saw earlier we're dealing with a Quad Channel kit with four 4GB modules making up a total of 16GB.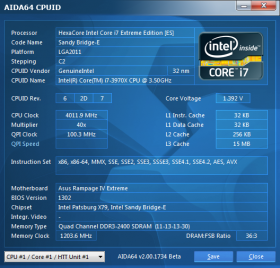 Heading into the BIOS we setup the speed and the timings of the kit manually. We then saved everything and rebooted. Just as you'd hope our machine fired up straight away and as you can see above in our AIDA64 CPUID screenshot everything is running correctly.
Under AIDA64 we ended up with Read / Write numbers of 20,245 MB/s / 15,540 MB/s, Copy speed of 17,573 MB/s and latency of 44.4ns. As you'd expect these numbers line up just as you'd expect and in typical fashion come in behind Dual Channel kits on the Z77 platform. This is nothing new as we've always seen Dual Channel perform exceptionally well on the latest Intel platform.
Since we've tested stock performance, it was time to head back into the BIOS and see what we could do with overclocking. Unlike the Z77 platform, we don't have the same divider range. After 2400MHz DDR, our next option is 2666MHz DDR. We didn't expect this to work since our test CPU is limited to around 2600MHz (memory speed) and with no surprise after it was set we rebooted and found our testbed wouldn't boot.
With the next divider not working it was time to head back into the BIOS, move to the 2400MHz DDR divider again, and work with the BCLK. The only way to really do it is slowly increase the BCLK and reboot till we can either no longer boot or not get into Windows.
Slowly working our way up from the stock 100 BCLK we ended up getting to a strong 106.3 BCLK. As you can see below, this pushed the RAM up to 2551MHz DDR with the same 11-13-13-30-1T setup. It also pushed the CPU clock speed to 4252MHz.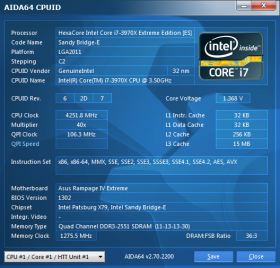 Under AIDA64 we ended up with Read / Write numbers of 21,415 MB/s / 16,414 MB/s, Copy speed of 18,849 MB/s and latency of 42.1ns. Across the board you can see improvements in every area along with a reduced latency time.
As always there's one more thing we always try to do when we overclock and that is push the CPU speed up with the overclocked RAM to see just how much performance we can get out of the kit. We know our CPU is good for around the 4.7GHz mark so leaving our BCLK at 106.3 we upped the multiplier to where our CPU would sit at around 4.7GHz. Unfortunately our machine wouldn't post.
Working down our multiplier we had trouble getting a post out of our machine till we reached around the 4.3GHz mark. Considering this is only slightly above the clock we got with the default divider we decided to go back to the drawing board and take a slightly different approach.
We loaded our normal 4.7GHz OC Profile on our ASUS test motherboard and started at 100 BCLK again. We moved our BCLK up and CPU multiplier down trying to stay as close to the 4.7GHz mark. We knew that our memory clock would be a little lower, but we hoped that the increased CPU speed from 4252MHz would be enough to still give us a boost in performance.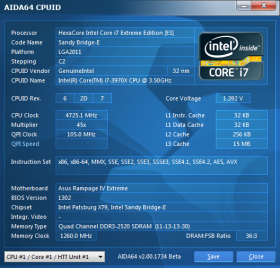 In the end we got a 45x CPU multiplier and a 105 BCLK. This pushed our CPU to 4725MHz and using the 2400MHz DDR divider you can see above our RAM came in at 2520MHz DDR. Only slightly lower than the 2551MHz DDR we achieved above. Our CPU was running almost 500MHz faster, though.
Under AIDA64 we ended up with Read / Write numbers of 22,550 MB/s / 18,238 MB/s, Copy speed of 20,417 MB/s and latency of 40.7ns. While our memory speed wasn't quite as fast as our previous test, you can see that across the board our numbers have improved and by a nice little chunk. Still this comes as little surprise to us as we often see the increased clock speeds on our CPU brings with it the largest gains.
Kingston have put together a really nice kit of RAM here today and coming in at $124.99 for this Quad Channel kit makes it look even more attractive. The heatsink is nice and it's great to see them mark it with a 10th Anniversary label.
While not a part of the new higher end Predator Series, the 2400MHz DDR clocks with its CL11 timings provide some very strong performance. As for the overclocking side of things we can see performance in this area is very strong as well. This is great news considering the X79 platform isn't known for being as strong on the RAM overclocking front when compared to its younger brother, the Z77 platform.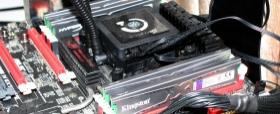 Like most RAM kits we see from companies these days this is another great option for people looking for a strong performing 2400MHz DDR kit. How this one differs to most others that we've looked at recently, though, is the fact it's a Quad Channel kit instead of the typical Dual Channel kits we've been seeing. All round the new Limited Edition HyperX kit is a strong addition to the already strong line up from Kingston.