ADATA XPG Gaming Series V2.0 PC3-19200 16GB Dual Channel Memory Kit Review
ADATA is back in our labs and today we check out its XPG Gaming Series V2.0 PC3-19200 16GB dual channel RAM kit to see how it performs.
Published Fri, Feb 1 2013 2:00 AM CST
|
Updated Tue, Nov 3 2020 7:01 PM CST
Rating:

95%
Manufacturer: ADATA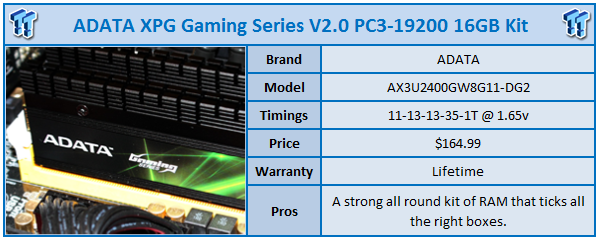 It's been a while since we've seen a kit of RAM from ADATA with the last one being seen back in October. The 8GB PC3-17000 XPG Gaming Series kit did a good job of impressing us with strong out of the box performance thanks to a default 2133MHz DDR clock along with a decent overclock, which saw the kit achieve 2580MHz DDR.
Today we're looking at a kit that again is part of the XPG Gaming Series, and this particular one is part of the V2.0 series, which has more of a focus on higher clock speeds and overall a higher end heatsink.
Looking at the kit the first thing we notice is the decision of ADATA to go down the path of a black PCB, which we love. Like we always say, it's only a cosmetic thing, but it's the decision for companies to put these great looking heatsinks on modules that is against a green PCB, and it is something that never looks great.
You can see above the black PCB against the black and green heatsink makes for a really good looking module. Along with that, though, one of the great things about the Gaming Series V2.0 is the quality of the heatsink. While most companies just opt for the heatsink to be placed together with a clip like setup, this type has two screws that help keep the heatsink together. This just makes for an overall better quality feel.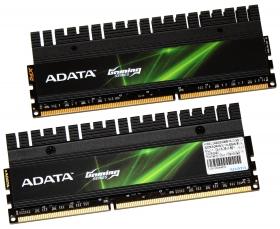 Taking a closer look at the modules you can see both sides are fairly similar. We've got the same black and green sticker on both sides with the ADATA logo on the left and the Gaming Series logo sitting just next to that. We can see on the right side we've got a sticker that gives us a run down on some of the main information.
Moving closer in we're able to see exactly what we're dealing with today. Starting from the top we've got the model that gives us a fair idea of what exactly we've got, but below that you can see we're dealing with a 2400MHz DDR kit of PC3-19200. Next to that you can see we've got two 8GB modules which makes helps make up a 16GB kit.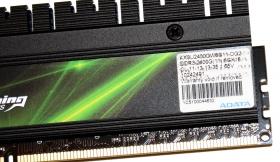 Below that you can see the timings. Coming in at 2400MHz DDR it comes as no surprise that the timings are a little loose with an 11-13-13-35 setup that requires 1.65v to get up and running.
With the modules looked at it's time to install them into our testbed and check out the performance. Heading into the BIOS and firing up the XMP profile we get straight into Windows with no problem just as we'd expect. We fire up AIDA64 and check out the CPU ID information to make sure everything is looking right.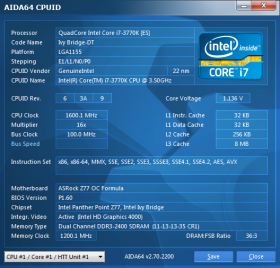 As you can see above we're running at 2400MHz DDR and here we also discover that we're dealing with a 1T Command Rate instead of the typical 2T rate we see on these higher speed kits. Of course when it comes to Command Rate lower is better so the 1T number is a nice surprise.
With everything looking good it's time to get into the numbers. Under AIDA64 we ended up with Read / Write numbers of 22,562 MB/s / 20,686 MB/s, Copy speed of 24,833 MB/s and latency of 34.2ns.
Looking above you can see our numbers line up just as you'd expect. There are no real surprises so we headed back into the BIOS and got into some overclocking. Since we're at 2400MHz DDR already the first thing we did was change the memory divider to 2600MHz DDR and let the ASRock Z77 OC Formula take care of the timings. This resulted in our test system booting up straight away.
In Windows we headed over to the CPUID area to see the timings, and with no surprise, we see the timings became looser. We weren't too worried about that at the moment, though, as we want to see if there's any more headroom in the overclocking side of things.
Heading back into the BIOS we jumped up to the 2666MHz DDR divider and with no real surprise we couldn't get our machine to boot. We know that our CPU maxes out around the mid 2600MHz DDR mark so this didn't come as a shock to us. Heading back to the 2600MHz DDR divider, we then messed around with the BCLK to see if we could get anything out of it. Starting at a 103 BCLK our machine didn't boot. We moved down to 102 and 101, and both times our machine wouldn't boot. It seems that the kit didn't want to move past the 2600MHz DDR clock, even with relaxed timings.
Since 2600MHz DDR was working with no problems we moved to see if we could make the timings slightly more aggressive and move back to the 1T Command Rate. Looking below you can see we got the timings back to the default 11-13-13-35-1T clocks at 2600MHz DDR, which is nice.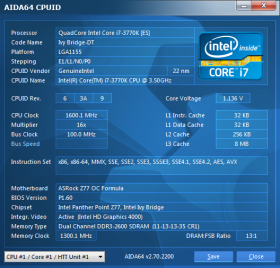 We tried to go slightly more aggressive, but like the aforementioned BCLK adjustments, we didn't have any luck. Still this is a solid 200MHz DDR overclock with fairly good timings. With that done we headed back into AIDA64 and had a look at the numbers. Under AIDA64 we ended up with Read / Write numbers of 22,759 MB/s / 20,821 MB/s, Copy speed of 23,757 MB/s and latency of 32.5ns.
You can see performance jumps slightly in the read and write areas while latency is also improved. When it comes to the Copy speed you can see it's dropped back a little, which is due more to fluctuation than anything else. Still, overall, we see a slight boost in performance.
The last task was to head back into the BIOS and adjust the CPU multiplier to give a boost in CPU speed. Jumping straight up to a 47x multiplier we end up in Windows at 4.7GHz, and you can see below with the RAM still running at a very solid 2600MHz DDR 11-13-13-35-1T.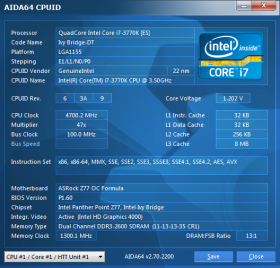 Under AIDA64 we ended up with Read / Write numbers of 24,896 MB/s / 23,070 MB/s, Copy speed of 24,539 MB/s and latency of 30.6ns. You can see across the board we see a nice boost in performance with decent jumps in the read and write speeds along with improved latency, once again.
Overall ADATA put together a really nice looking kit that ticks pretty much all the right boxes. The black PCB looks great against the heatsink that ADATA use here. Along with that, though, the heatsink quality is just awesome and definitely stands out against a number of competitors thanks to the screw setup that helps make it extremely strong.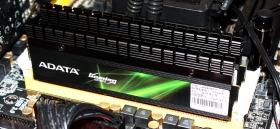 At $164.99 pricing is fairly typical for a 16GB kit that comes in at 2400MHz DDR. The value becomes even better, though, when you consider we're dealing with a 1T Command Rate kit that manages to keep that setting when overclocked to 2600MHz DDR. If you're looking for a strong kit of RAM that looks great, performs well and just overall does an excellent job in all areas, then the ADATA Gaming Series V2.0 2400MHz DDR kit should be one that you check out for sure.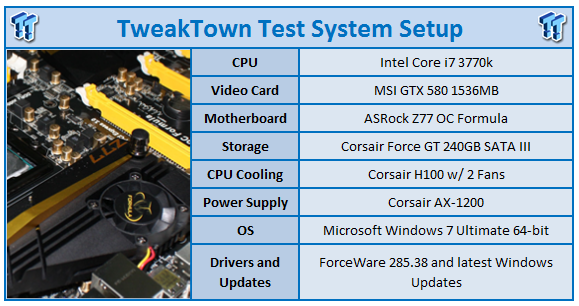 PRICING: You can find products similar to this one for sale below.

United States: Find other tech and computer products like this over at Amazon.com

United Kingdom: Find other tech and computer products like this over at Amazon.co.uk

Australia: Find other tech and computer products like this over at Amazon.com.au

Canada: Find other tech and computer products like this over at Amazon.ca

Deutschland: Finde andere Technik- und Computerprodukte wie dieses auf Amazon.de