Sound Blaster Axx SBX20 Bluetooth Portable Speaker Review
Creative Labs' long lasting line of Sound Blaster products is being constantly refreshed and today we have one of the latest products in that line; the Sound Blaster Axx SBX20, a portable Bluetooth speaker.
Published Fri, Feb 8 2013 2:43 AM CST
|
Updated Tue, Nov 3 2020 7:01 PM CST
Creative Labs have had a huge range of audio equipment on the market over the years, covering just about every facet of gaming audio as well as branching out into the realm of personal and portable audio as well. The shift from awesome sound cards and multimedia speaker systems into the world of headsets and portable speakers has been a stepped progression for Creative Labs, but it seems as though they are fairly dedicated to the market now. And the reduction in speaker system's and sound card solutions overall from that company is another clue to the new found direction that Sound Blaster is headed.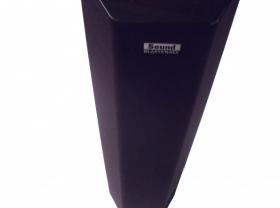 All of this does make a degree of sense because we are now well and truly in a world of portable devices and people are spending more time on the go and not just fixed in one position as they once were. Now consumers have more and more tablets, smartphones and laptops - it's a matter of catering to a market.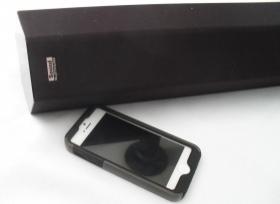 The Sound Blaster Axx SBX20 is a portable speaker that stands quite tall with controls built into the top and a thin cloth covering the sides of the unit.

The SBX20 is quite a heavy speaker which is always a good sign in our experience and seems to be built from good quality materials. The only label on the unit is a small Sound Blaster emblem on the top. Facing the rear of the unit is a USB power connection, a headphone jack and an AUX connection for devices not featuring Bluetooth. There is also a small bass port that is actually oblong rather than circular like most.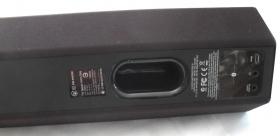 Also of interest is the iPhone app that can be scanned via the barcode QR on the box and downloaded via your smartphone in order to control the SBX20. This app allows for basic controls over the unit. Interestingly though, this app is being used to sync the unit with the smartphones 'iPod' function, which we felt was arguably better than the actual app is. We suspect this allows for multi-platform use and may be necessary for Google Android users, but don't quote us on this.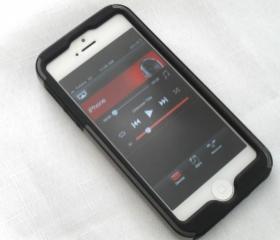 On the surface the SBX20 looks like an interesting product on its own, but as a successor to previous Sound Blaster Bluetooth solutions, it does have something to prove today. In terms of connecting the unit for use we had no problems whatsoever, and were able to get things going in a couple of moments, thanks to a well-designed Bluetooth system that syncs quickly and easily. For connection of other devices there is the AUX port, but today for testing we used the Bluetooth functionality with an iPhone.

From a technical perspective the SBX20 is a feature laden product in its own right that promises to deliver a lot. Probably the most notable of all the features is the SB-Axx1 processor which basically is the thing that makes the SBX20 sound good even if the input quality of the audio is not fantastic.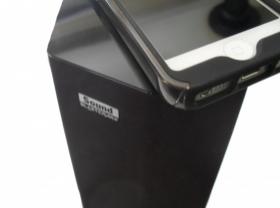 In the past we have been pleased with the Bluetooth processing ability of several similar products tested from Sound Blaster. This is why we have little to no doubt that they will be able to make the SBX20 sound great. In terms of other features of interest is the call function which allows you to make and receive calls using the SBX20 and even tailor a sweet spot for your own voice using another built in function. Lastly of interest here is the control software that can be downloaded for use on a smartphone. Now we do agree this is a good idea in principal, we did not find the app to be overly intuitive nor really interesting to use. But many may well enjoy it more than we did.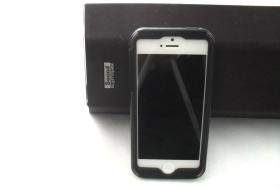 The SBX20 is a well built and fantastic sounding portable speaker. It packs in a lot of technology into a small package that can be taken wherever is needed. Playing back of music is a very enjoyable experience overall with great sounding tones throughout and plenty of power when things heat up. Overall we did like the SBX20 for much of what it can do and think that it has a place in a very busy market, which is now the portable speaker market. We would however like to see only one of these speakers for sale from Creative Labs' Sound Blaster division rather than three, which as far as we can see is a little overkill, in as we have just said is an already fully stocked area of the market.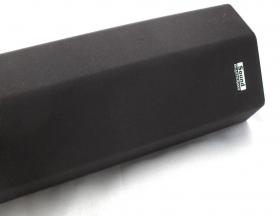 Listening to music through the SBX20 is a very enjoyable experience overall, with the majority of the audio we played back during testing being of a very respectable quality. The low-end (bass), while not being huge, is certainly enough to provide a good sense of depth and enjoyment when listening to various types of music. However, there are going to be certain types of bass heavy music that do strain the smaller drivers in the SBX20, so be warned there. This is not a bass monster by any means and this should be considered when deciding on whether to buy the SBX20.
The high-end was quite good for the most part with a nice airy feel to it, and not a real harshness that can detract from the listening experience. The high-end was also very smooth and controlled which is a hallmark of Sound Blaster as we have come to see for ourselves. The mid-range is great in a word, and was very impressive when listening to vocals with a nice timbre to the sounds and plenty of smooth mid-range clarity that gives the sound a very life like and captivating quality.
During our testing we had no issue with the Bluetooth function as we were able to get it up and running quickly. We also found that the algorithms charged with processing the audio were fantastic as has been the case in the past with Sound Blaster, who must be almost industry leaders in developing high-end consumer audio from wireless solutions.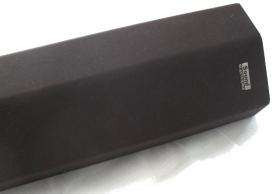 The SBX20 is a really well thought-out evolution of many years work from the Sound Blaster team, who has arguably developed one of the best methods of playing back audio using Bluetooth that we have tested. The processing done inside the SBX20 is a secret weapon in itself and should be guarded as such by Creative Labs. We can see this technology taking off big time, but not until some further clarity is gained in this very crowded area of the market. And this is a good segway into our only gripe, which is that Sound Blaster has made not one, but three different models of this speaker. This is simply too many in our opinion and could detract from the shining light, being the SBX20. Keep things simple so that the true message does not get diluted too much, that's our advice.
But that really is a small issue within what is a very respectable product that we are sure will do quite well. It gets our recommendation.

PRICING: You can find products similar to this one for sale below.

United States: Find other tech and computer products like this over at Amazon.com

United Kingdom: Find other tech and computer products like this over at Amazon.co.uk

Australia: Find other tech and computer products like this over at Amazon.com.au

Canada: Find other tech and computer products like this over at Amazon.ca

Deutschland: Finde andere Technik- und Computerprodukte wie dieses auf Amazon.de