Star Trek: The Next Generation - Season Two (1988) Blu-ray Review
"Engage!" Star Trek: The Next Generation - Season Two (1988) Blu-ray Review.

Published Sat, Dec 22 2012 5:02 PM CST
|
Updated Tue, Nov 3 2020 7:01 PM CST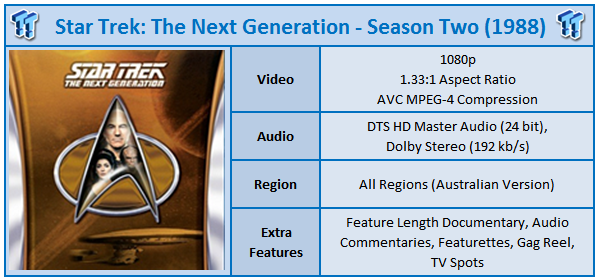 Following the surprise embrace of the Star Trek revival; The Next Generation, a follow up series was quickly commissioned, but a few hiccups remained to be dealt with. Actress Gates MacFadden was fired from the production and replaced. The looming writers strikes reduced the series down to 22 episodes (even with the horrid clip show) and caused the production to franticly search for usable scripts, even dipping into some written for the aborted Star Trek Phase II TV series from the 1970's.
Where season one unsurprisingly struggled to find its feet, season two hits the ground running with a more confident run of episodes, that even the writers' strike couldn't stall. Perhaps the most regarded of the series two episodes is The Measure of a Man, where Data is put on trial to assess his humanity (or lack thereof) and Q Who? which introduces one of the deadliest adversaries the Federation will face - the Borg.
Whilst most Next Generation fans rightfully recognize the third season as the point where the series really ratchets up to its highest gear, there is still a lot to like about season two, and no self respecting fan can afford to not add the first two series to their library - especially when CBS has gone to such immense lengths to remaster the series. And when you take a look at the loving care that has gone into crafting some of, if not the best, extra features ever prepared for a Star Trek release, you'll rightly recognize this set as a must have.
Video
Star Trek: The Next Generation - Season Two is presented in the series' original intended aspect ratio of 1.33:1 (4x3), encoded with AVC MPEG-4 compression.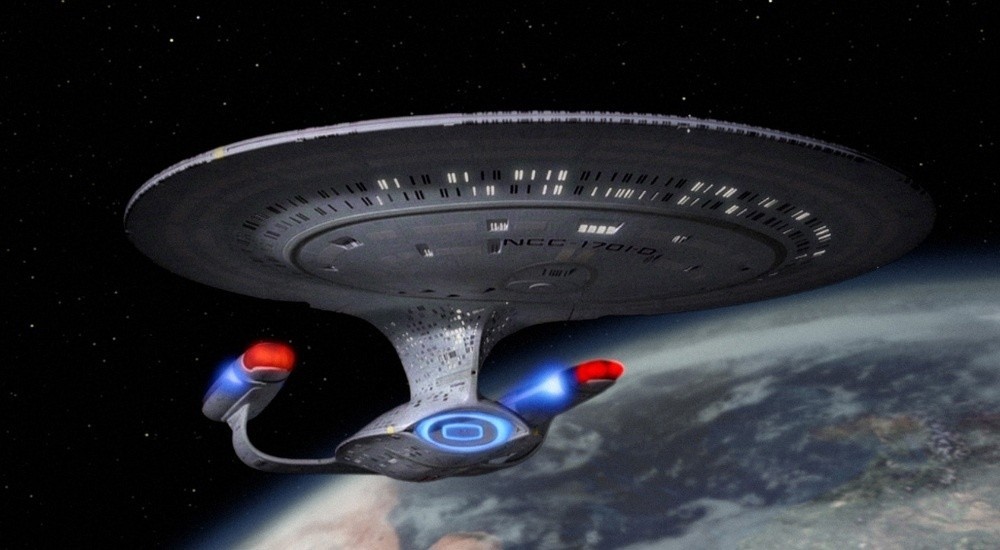 After the high standards set by the first season, fans will know what to expect with season two. Or do they? Owing to the accelerated production of newly remastered series (2013 will see three seasons instead of the two planned), CBS Home Video has moved remastering offsite to HTV Illuminate, a production facility responsible for some good remastering efforts such as Young Frankenstein and Scarface, but also some terrible ones, including the grain removed disasters Patton and Star Wars Episode One: The Phantom Menace. Sadly, their efforts, due to budgets, schedules or talent, has fallen invariably short of the incredibly high standards set by Star Trek: The Next Generation Series One. Amongst some of the issues are inferior digital matte paintings (including poorly detailed planets), at least one instance of element misalignment, and digital noise reduced visual effects sequences.
That said season two is still light years ahead of the original standard definition release. There is an incredible amount of newly visible detail in each and every shot, with a significant improvement in color fidelity and vibrancy.
Similar to season one, there is a fair amount of visible film grain (apart from certain aforementioned visual effects scenes), and while production experimented with different film stocks, some episodes including the season opener The Child feature significant amounts. Whilst it's noticeable, it's hardly distracting.
On balance, season two is a good remastering effort which fans are lucky to be able to enjoy. It's just that it falls short of the miraculous work performed by CBS Digital in house.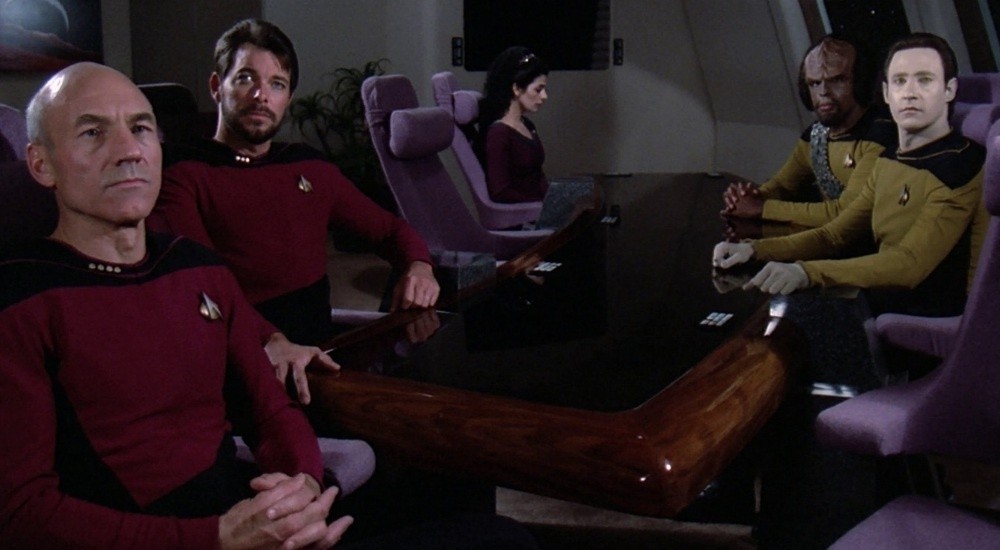 Audio
Star Trek: The Next Generation - Season Two is presented in DTS HD Master Audio 7.1, at 24 bits, and the original stereo audio tracks in Dolby Digital 2.0 (192 kb/s).
Just the same as season one, whilst the show was originally presented in Dolby Stereo, the audio track has been expanded to a full 7.1 experience, by utilizing the original mag tracks. While not quite as breathtaking as the video restoration, this is by far and away the best the series has ever sounded and will likely ever sound. For those that prefer to listen to the original stereo audio tracks, they'll be pleased they are still catered for.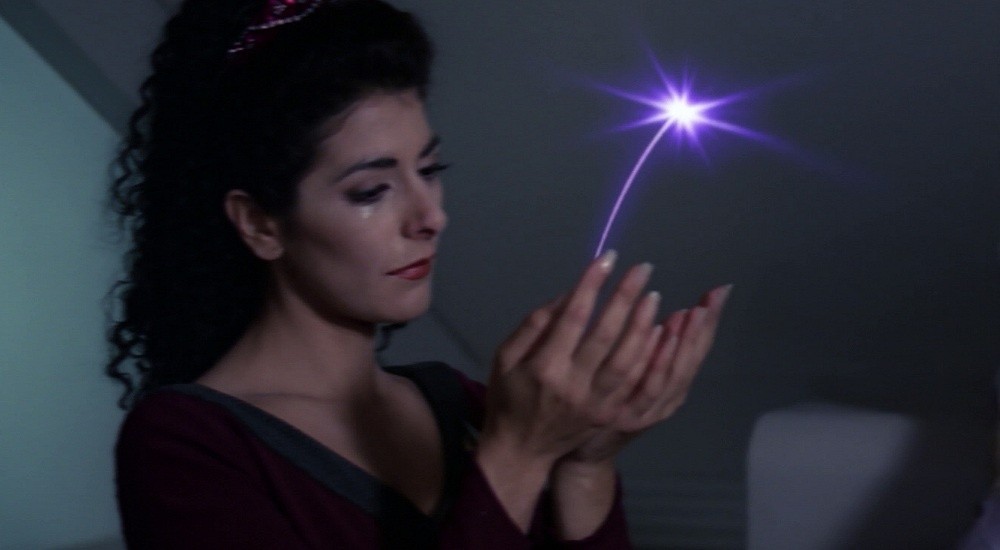 Season two features an inherently upgraded sound mix, no doubt aided by a larger budget and advances in available technology. It's also noteworthy that season two featured a re-recording of the main theme which sounds more involving in its remixed capacity. Fortunately, season two doesn't suffer from any of the same audio issues (dubbed 'anomalies' by distributor Paramount) that the initial release of the first season did.
Overall, no one will be disappointed by the efforts in the sound department.
Extras
Despite such loving attention given to the remastering efforts of series one, for many fans the highlight of the set was the spectacular new extra features produced by self confessed Star Trek nuts Roger Lay and Robert Meyer Burnett. Thankfully, the duo return to provide some wonderful new features that in some ways are even more impressive than those produced for the first season. Let's jump in.
First up is the two part 80 minute long Continuing Star Trek: The Next Generation documentary. It's rather unprecedented for a TV series to be given such meaty documentaries, but once again Lay and Burnett don't disappoint. Basically, anyone who is anyone fronts the cameras for new interviews, in addition to vintage behind the scenes footage and fans and commentators, including Family Guy creator Seth MacFarlane. There is such a wealth of information imparted, including a detailed discussion on how the producers dealt with the impending writers strike and dipped into material produced for Phase Two and diehard fans will be intrigued to see never before seen test footage from the unmade show. Really, this is a must watch.
Next up is the 60 minute long Reunification: 25 Years after Star Trek: The Next Generation documentary. Robert Meyer-Burnett hosts a forum that quite literally reunites the key cast for a breezy, and highly enjoyable discussion on life, age and of course, Trek. It's quite clear that these guys hold each other in the highest regard - there are no Original Series rivalries here. It's an absolute joy, and when the time is up you'll not to have to see it end.
The 10 minute Gag Reel is quite hilarious, with some quite insane facial expressions from Jonathan Frakes and line fluffing by Michael Dorn, the Energized! Season Two Tech Update featurette discusses the production differences of the season and the 1988 Reading Rainbow vintage featurette hosted by LeVar Burton which gives the younger target audience a good overview of the series production.
New to season two, two episodes feature Audio Commentaries for the episodes Q Who? and The Measure of a Man. Speaking of the latter episode, it's presented here on Blu-ray for the first time in a 13 minute longer extended cut, reconstructed from the original 35mm footage. These are new scenes that have never been released before and that it's featured on one of the most regarded episodes is an even bigger plus.
Finally, we have the archive of original DVD features, in the format of brief featurettes. First up is Departmental Briefing: Year Two, which looks at, amongst other things, the series new villain; The Borg. Inside Starfleet Archives: Penny Juday Star Trek Coordinator which looks at the props and sets that Paramount have archived on the lot, Mission Overview: Year Two gives a breezy look at the ch-ch changes, and Selected Crew Analysis: Year Two features some brief, now 10 year old interviews with key members of the cast which lightly touch on their relevant characters.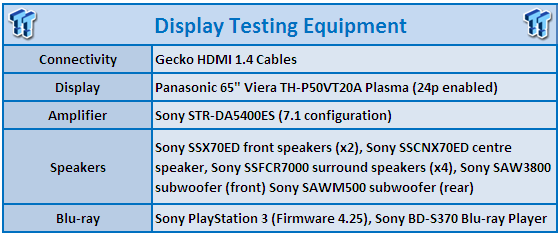 PRICING: You can find products similar to this one for sale below.

United States: Find other tech and computer products like this over at Amazon.com

United Kingdom: Find other tech and computer products like this over at Amazon.co.uk

Australia: Find other tech and computer products like this over at Amazon.com.au

Canada: Find other tech and computer products like this over at Amazon.ca

Deutschland: Finde andere Technik- und Computerprodukte wie dieses auf Amazon.de
We openly invite the companies who provide us with review samples / who are mentioned or discussed to express their opinion. If any company representative wishes to respond, we will publish the response here. Please contact us if you wish to respond.
Related Tags