Google/LG Nexus 4 Smartphone Review - the best smartphone in the world
Google's latest flagship Nexus 4 smartphone gets reviewed, and we think it's the best Android smartphone yet.

Published
10 minute read time
Introduction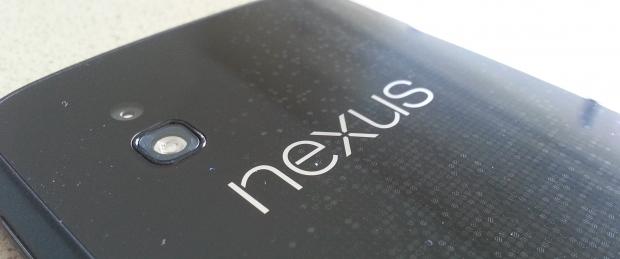 Google's Nexus catalog has just grown by two members in the past couple of weeks, with the introduction of the Nexus 4 smartphone, and the Nexus 10 tablet. Today we're checking out the latest and greatest flagship smartphone from Google.
The search giant has partnered up with LG on this Nexus 4 smartphone, and is the first phone to ship with the latest iteration of Google's mobile OS, Android 4.2 Jelly Bean.
I'm based in Australia, and was refreshing the Google Play store page every 15 minutes or so on the launch day, November 13, and was lucky enough to score one in the huge buying rush for one. It was only after I had secured a Nexus 4 handset and began reading online that others missed out, that I discovered they sold out in Australia in less than 20 minutes. The Nexus 4 sold out in the UK in 15 minutes, and lasted just 35 minutes in the US.
Google's Nexus 4 is the fourth Nexus-branded smartphone released with the first one manufactured by HTC and dubbed Nexus One. The second and third Nexus smartphones were dubbed Nexus S and Galaxy Nexus, respectively, and were both manufactured by Samsung. LG were chosen as the fourth manufacturer, for the best Nexus yet.
Read on and find out why I think the Nexus 4 is the best smartphone in the world.
Specifications, Pricing and Availability
LG's Nexus 4 is a powerhouse of a smartphone, it's not the absolutely best-specced smartphone on the market, but it is damn close. As you can see from the below chart, it is powered very nicely.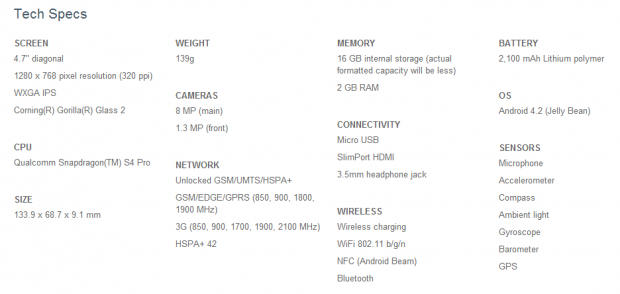 We're looking at a 4.7-inch 1280x768-pixel WXGA IPS display with Corning Gorilla Glass 2, Qualcomm's Snapdragon S4 Pro processor - a quad-core chip clocked at 1.5GHz (the APQ8064 to be precise), 2GB of RAM, an 8-megapixel rear-facing camera, and a 1.3-megapixel front-facer. The usual 802.11 b/g/n Wi-Fi, Bluetooth, NFC (Android Beam) and something special: wireless charging.
Wireless charging is a pretty awesome feature, and we've seen that in other phones that have just hit the market. Unfortunately the Nexus 4 doesn't come with the wireless dock to charge the phone wirelessly, it is an optional accessory. You can't fault Google or LG for not providing this in the box, as it is most likely one of the reasons the phone has hit an amazing price point.
The Nexus 4 comes in two sizes, 8GB and 16GB but features no form of expandable storage. This is one of the downfalls of the Nexus 4 - but there's not many at all after this.
Price-wise, the Nexus 4 is one of the best, if not the best priced smartphone on the market to-date. At $299 for the 8GB model and $349 for the 16GB model - it's simply unbeatable. The iPhone 5 is double that price, and most competing Samsung smartphones are also double that price - kudos, Google and LG, kudos indeed.
Well, that might be hard. Considering it sold out in under an hour across the world, I think we'll be waiting a little while before these bad boys are back in stock. I don't think Google anticipated this much demand for it - but it was there.
Nexus 4 buyers have already thrown their phones onto eBay, with some prices hitting three times what it was purchased for. This is not out of the question, as if you want the latest and greatest Nexus 4, and don't want to wait - you'll pay for it. It just makes me that much happier I was able to snag one for the stock price. I'm also the most impatient person in the world, and I didn't want to wait, either.
Out of the Box Experience and Look and Feel
Out of the Box Experience
Opening up the box and grabbing the Nexus 4 out of it like an excited boy on Christmas morning, was a joyous experience. Here are some shots of the box itself.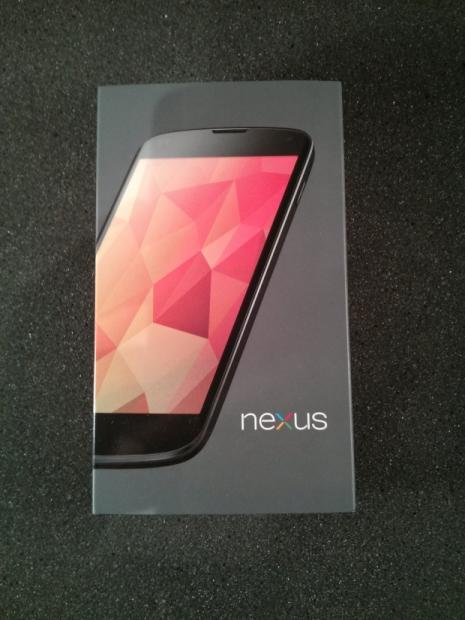 First, the front of the box.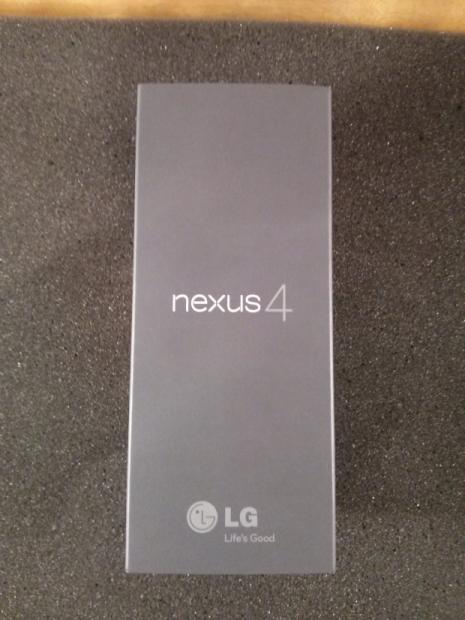 The side of the box showing nothing much at all apart from "Nexus 4".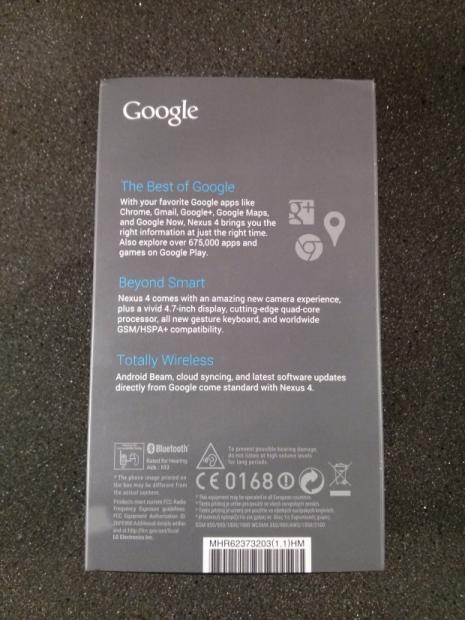 The rear of the box talks more about the features inside the Nexus 4, as well as some of the features of Android 4.2 Jelly Bean.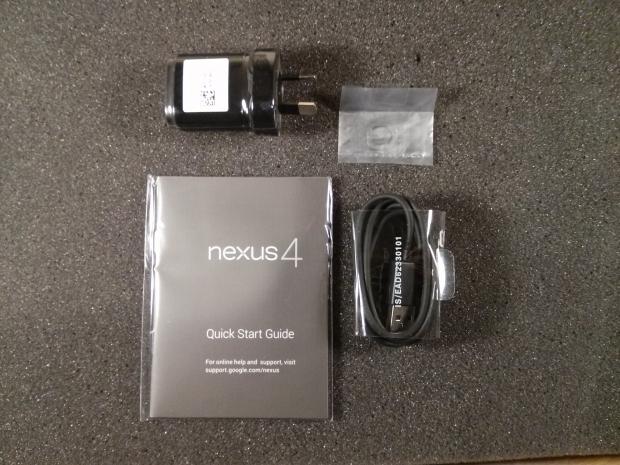 Inside the box you'll find a Quick Start Guide, microUSB to USB cable, the power adapter (depending on the country you're in, this will change) as well as a tool to open the SIM card tray.
Upon powering up the Nexus 4, I did stumble across something quite weird - it only included Android 4.1 Jelly Bean out of the box, when it is meant to ship with Android 4.2.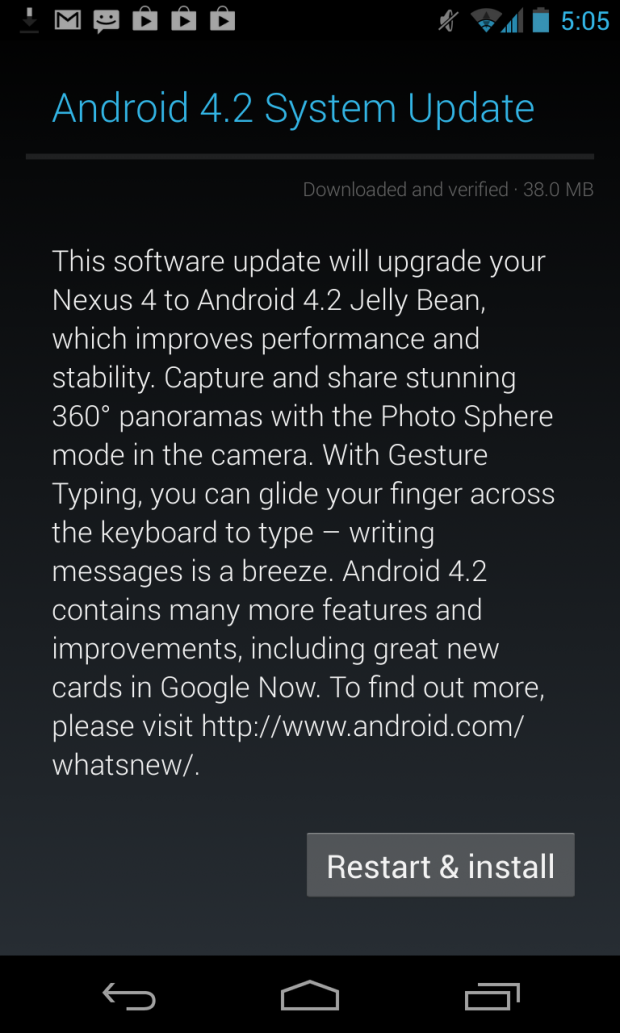 Not that this killed the experience, but one of the first things I did was jump into the Camera app to see the cool new "Photo Sphere" mode that only Android 4.2 includes, and noticed it wasn't there. After playing outside with my daughter, my phone vibrated and I was prompted with an "Android 4.2 System Update" message - a 38MB download. Not a show-stopper, but I did expect Android 4.2 out of the box.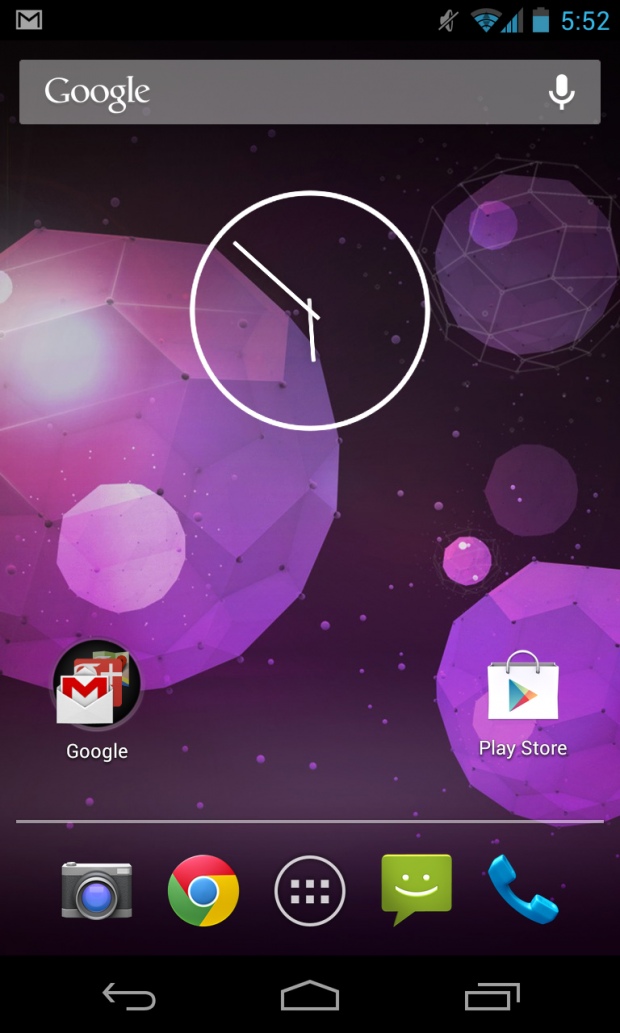 Once downloaded, installed, and rebooted - here is what you're prompted with. The new-look, Android 4.2 Jelly Bean. I don't know if you'd notice from a picture, but the dock icons are smaller than they are on Android 4.1 - which I didn't like at first, but you get used to it quite quickly.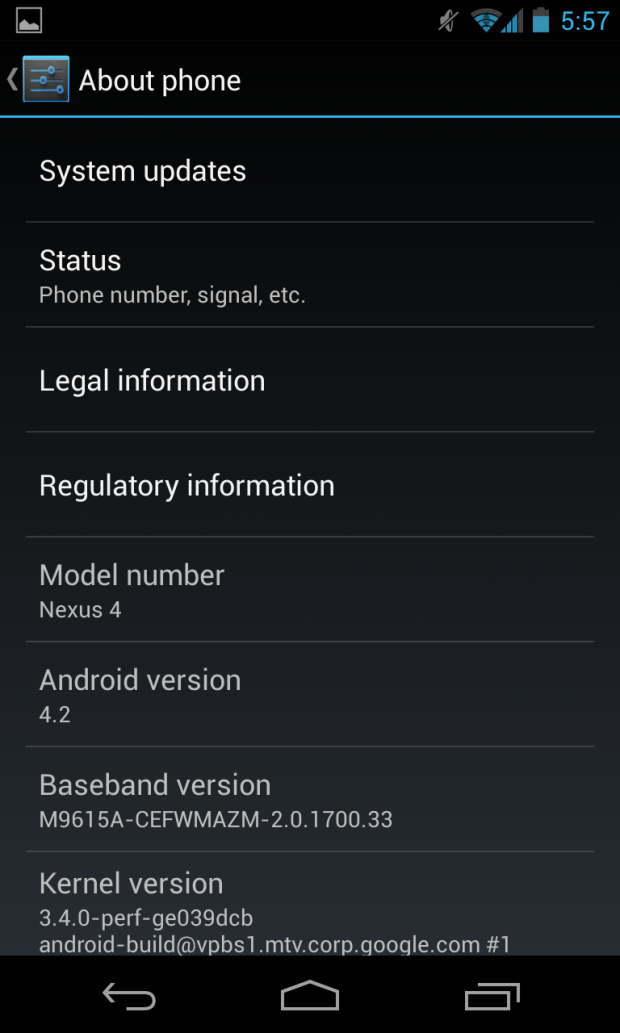 A screenshot verifying that it's rocking Android version 4.2.
I'm going to keep the Android 4.2 Jelly Bean talk out of the Nexus 4 review, as we have a separate review of the new mobile OS which you'll be able to read on TweakTown soon.
The Look and Feel of the Nexus 4
I didn't think by reading about the Nexus 4 before launch that I would enjoy the feel of it, but boy was I wrong. The feel of a smart device is a very, very personal thing - and everyone will feel differently. Some people love the feel of the iPhone 4S, but don't like the iPhone 5. Some people love the Galaxy S III, but can't stand the feel of the Galaxy S II.
I came from a Galaxy S II, and the Nexus 4 feels like a solid, well built, powerhouse of a smartphone. The Nexus 4's sides are beautifully curvy. The back panel is spoiled with a glassy finish, which looks incredible in the right light.
The 4.7-inch screen looks just as gorgeous, and the curved edges feel great in the hand when using it. Overall, the feel of the Nexus 4 is a definite cut above the rest - to me, nothing else compares right now. Google and LG have done the Nexus brand a good deed here.
I can't state enough just how premium this device feels - for $349, it is one of the most premium handsets I've had the joy of reviewing. It feels solid - but not too heavy, and not too light - it is smooth to the touch both on the back and front, it just excels in all areas of its look and feel.
The Nexus 4 screen measuring in at 4.7 inches doesn't feel too big, as the design of the phone makes it sit in your hand much more comfortably. The iPhone 5 was just taller - but not wider, and in my hands always felt weird. The Nexus 4 feels great.
Taking a look at the Nexus 4 itself, we'll go around the phone showing off its various ports and buttons.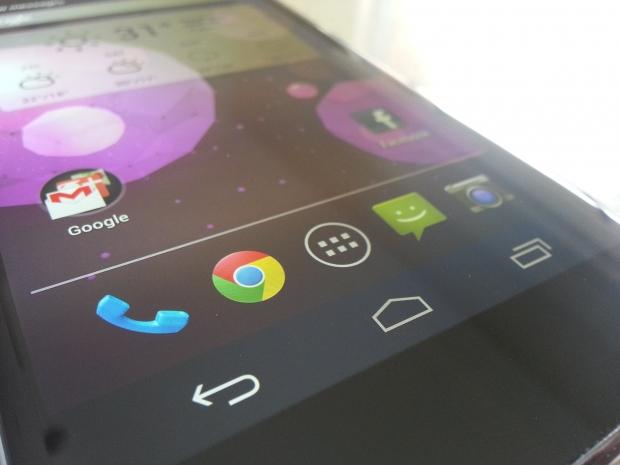 First up we'll show you the software buttons for the Nexus 4 - as it has no back or home buttons in physical form.

Here we have the volume rocker on the left, and the SIM card tray on the right. This is on the left side of the Nexus 4.

Here we have the micro USB port - of which I'm a big fan, all of my previous chargers can be used which I love. No proprietary crap here, folks!

On the top of the phone itself we just have the 3.5mm headphone/audio jack.
Features
To put it bluntly - the Nexus 4 is one of the most feature-laden smartphones on the market. When you next talk about a "smartphone", the Nexus 4 should be at the top of this conversation. The iPhone 5 has some great specs, but feature-wise, it feels so lacking when compared to the beautifully wrapped world of Google.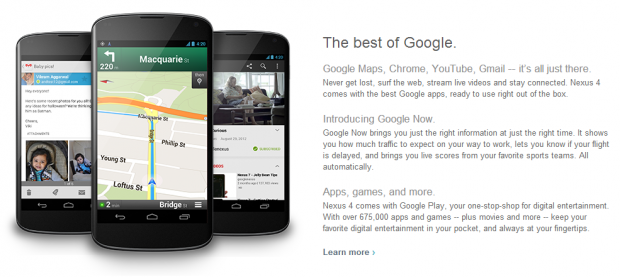 Not only do we have the amazingly powerful GMail client, but we also have other Google-owned properties such as YouTube, Drive, Google+, and my personal browser of choice; Chrome. On top of this, Android 4.2 Jelly Bean has Google Now, which is more powerful than ever on the Nexus 4. It can show you local weather, traffic directions (and delays), live scores from your favorite sports team and even flight information. Google Now is one of the hidden gems of Android 4.1 and 4.2 Jelly Bean.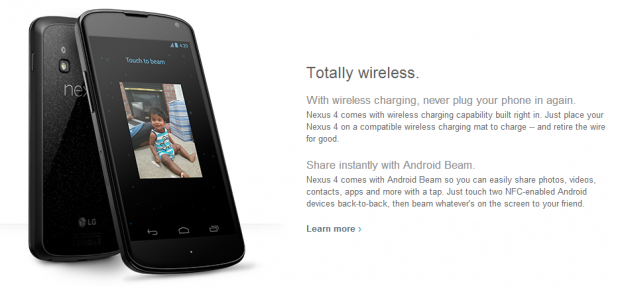 The 8-megapixel camera on the back is a huge improvement over the original Nexus smartphone, and much better than the Galaxy S II's camera, and on par with the Galaxy S III's camera, too. I've taken some photos with the camera, and I'll provide a few here as examples, with a bunch more in the photos at the end of the review.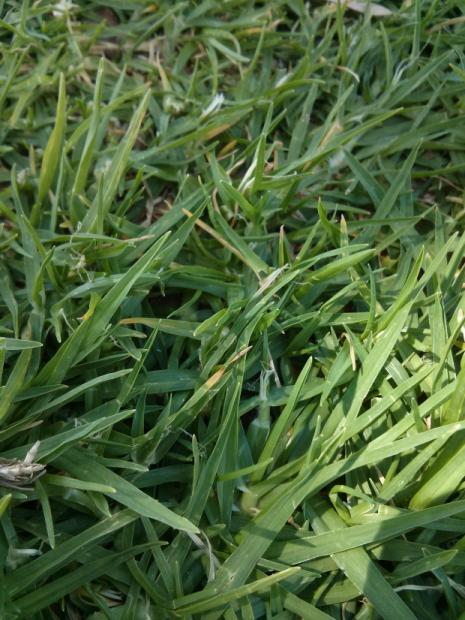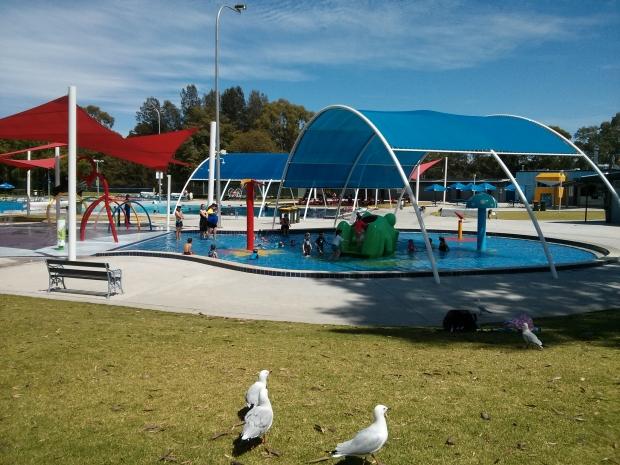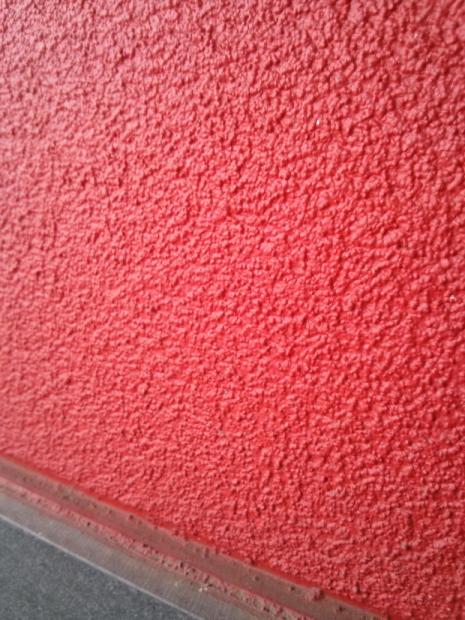 The Nexus 4 is plagued with the same "purple haze" issue that the iPhone 5 experiences, unfortunately.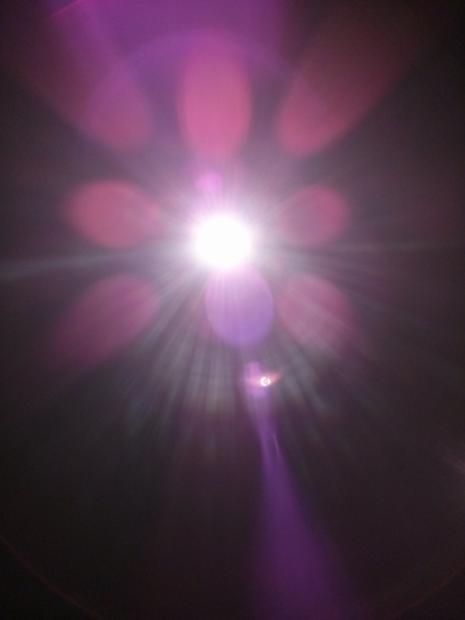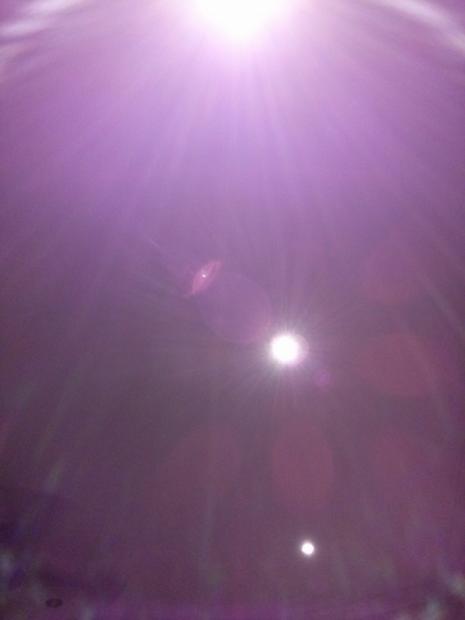 Next up we have some video tests using the Nexus 4 on both the front- and rear-facing cameras.
And finally we have some Panorama shots taken with the Nexus 4.


Performance
Thanks to the Nexus 4's powerful quad-core processor and 2GB of RAM, we didn't run into a single performance hiccup. This beautiful, fluid speed is also thanks to Google's "Project Butter", which made its debut with Android 4.1 Jelly Bean, and something I fell in love with on the Nexus 7 tablet.
Project Butter operates the entire OS at 60 frames per second - and it truly makes a difference - sliding between screens, the app draw, or between apps themselves just feels... natural. Going back to anything else or another OS can feel so slow and old.
Battery life wasn't too bad, but I wasn't overly impressed with it, either. It seems that as smartphones are getting more powerful, with features being crammed in by the metric tonne, battery life takes a dive. The iPhone 5 was a culprit with that, sporting its 4G LTE connectivity and larger screen, and the Nexus 4 is no different.
I didn't get a complete day out of it, with half of the time I was reviewing it I had the screen brightness alternating between full brightness and auto brightness. I found at auto brightness I could squeeze an hour or so more out of the device under heavy usage - but it was nothing to write home about.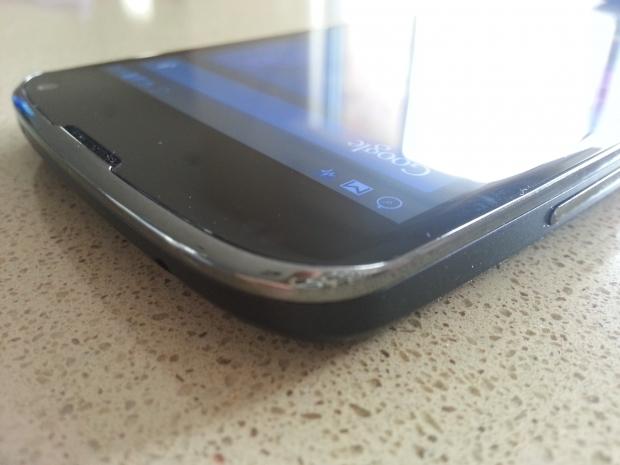 General performance on the phone was mind-blowing - yes, I'm going there. Android 4.1 ushered in something Google liked to deliciously name "Project Butter". Project Butter makes the entire OS side of things run at a silky smooth 60 frames per second. This makes the entire OS feel oh-so-smooth, and this coupled with the quad-core processor and 2GB of RAM in the Nexus 4 is truly a culmination of hardware and software having a few great drinks together.
I never experienced a slow point in the OS, even when running 20+ apps at once. I would quickly go between Facebook, Gmail, the Camera, Flipboard, Instagram and countless other apps - all without the Nexus 4 skipping a beat. It was just an amazing experience feeling no slowdown whatsoever. I'm not even talking about a stutter in the 5 days I took to get a 'personal' feel of the device.
One thing you'll find with our smart device reviews is something I stated from the start - we're not just going to pump out a review in a day or less like some other websites. We're not just going to throw benchmark numbers at you. I use the smart devices I review for a 4-7 day period, to get a "real-world" feel of it. This is the type of experience you, as a consumer, will receive in that same time.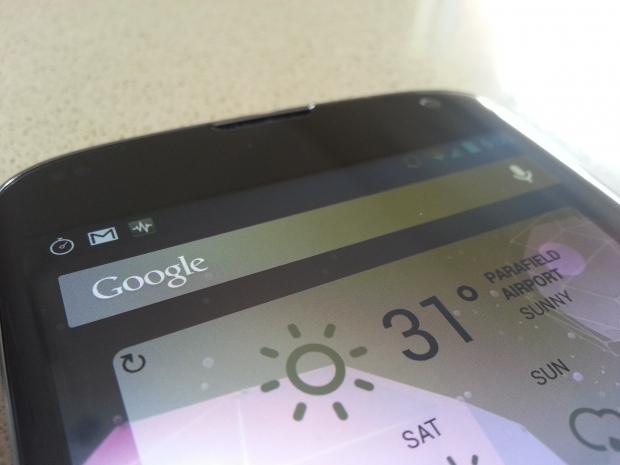 Sure, we could throw benchmark numbers at you - but for smart devices, do you really care? The iPhone 5 can beat the Nexus 4 in benchmarks, but the Nexus 4 feels faster. There are slightly better specced smart devices on the market (higher-clocked CPUs), but the Nexus 4 feels faster, and smoother.
Over my 5 days with the Nexus 4 - I fell in love. It has become an even bigger extension of my life, with its super smooth performance, multi-tasking grunt, gorgeous screen, amazing feel, and slick software. The Nexus 4 is that good.
Final Thoughts
I thought for my final thoughts I'd do a run down of the Nexus 4 on video, with my personal thoughts on the device and to show off some of the multi-tasking grunt it has.
Then we're going to come into a situation of - should YOU buy a Nexus 4? The answer is yes. A very, very big yes. This is the absolute best Android smartphone on the market, bar none. No other smartphone competes with this, and even if it did - the Nexus 4 is just $299/$349 (8/16GB).
So even if there is another contender ready to step into the ring, it gets KO'd on the first hit with its price. Even Apple can't come remotely close to this in terms of pricing. Google's powerhouse software is also another pillar of Android - Maps, Gmail, Navigation, Google Now, Search, Google (the search engine) and YouTube.
Apple have, what, iTunes and a half-baked, half-assed Maps app. Google have not only released one of the best specced smartphones out, they've also given it their best mobile OS yet, and put it at a price point that no one can begin to compete with. Sure, we can expect Samsung to release a Galaxy S IV early to mid next year, but I would guess this would be priced at a minimum of $599, and include their third-party TouchWiz UI. Google's Nexus 4 comes with just a plain, stock, and very fast Android 4.2 with no edited or modified third-party UI. This is one of the huge, huge benefits of a Nexus-branded device.
Remember, Google own Motorola Mobility now. If I had to take a guess, I think we're going to see Motorola turn into the Nexus arm of Google, pumping out incredible hardware for Google going into the future. If Google can coerce LG into making the Nexus 4, and subsidizing it through the Play store for just $299 - imagine what we'll see when they can do it in-house, with their own company... the possibilities are truly endless.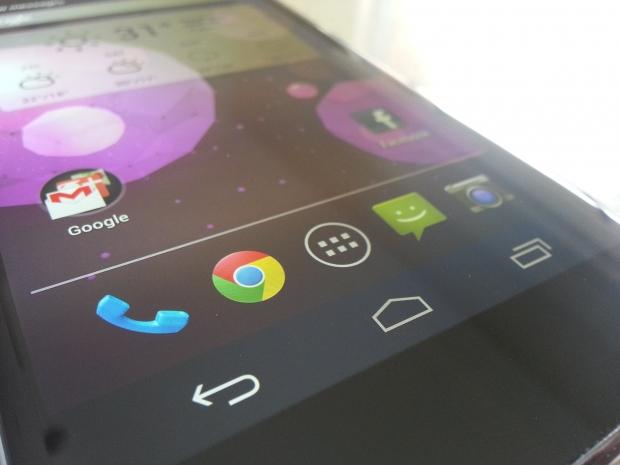 Did you hear that Apple, Samsung and every other competitor? Google is playing with the hardware game, and you're all going to be playing catch up from now on. There is no other smartphone on the market that even competes with the Nexus 4. The problem is, reviewers and consumers will all have differing opinions. So while mine is a very strong YES YES YES for the Nexus 4, someone else who is tied into the iOS world with iTunes and iPods, iPads, and iPhones will have a completely different opinion.
That doesn't make the Nexus 4 not worthy of the "best smartphone in the world" title from me - because I'm here, and I'm shouting from the rooftops - it truly is the best smartphone money can buy right now, and for just $299, the money to buy it is a pittance compared to the competition.
Now that you've read this review, go to the Google Play store and order yourself a Nexus 4 - no matter what phone you own right now, you'll still be impressed - best of all, it's just $299.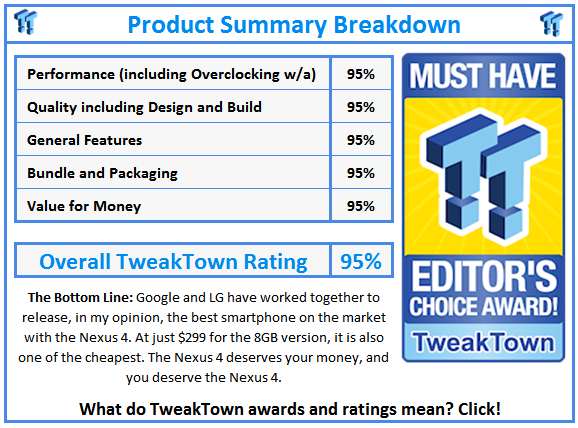 PRICING: You can find products similar to this one for sale below.

United States: Find other tech and computer products like this over at Amazon.com

United Kingdom: Find other tech and computer products like this over at Amazon.co.uk

Australia: Find other tech and computer products like this over at Amazon.com.au

Canada: Find other tech and computer products like this over at Amazon.ca

Deutschland: Finde andere Technik- und Computerprodukte wie dieses auf Amazon.de
We openly invite the companies who provide us with review samples / who are mentioned or discussed to express their opinion. If any company representative wishes to respond, we will publish the response here. Please contact us if you wish to respond.