Introduction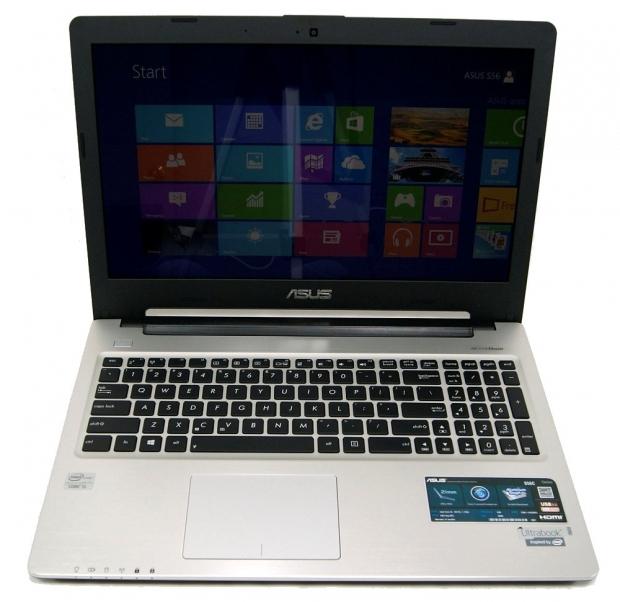 Most computer enthusiasts know who ASUS is and what they make. If you don't, here is a little refresher. ASUS is a renowned computer component manufacturer, producing a gamut of products including motherboards, monitors and video cards.
They've made quite the name for themselves by producing quality products and standing behind them when they fail. In more recent times, ASUS has stepped into the market of producing notebooks and today we see if this same dedication to quality transfers over to the new range of products.
Today's testing will pit the ASUS S56C (now installed with Windows 8) against other Ultrabooks and gaming machines alike so you can decide for yourself it it's something that will meet your needs. It's main competition, both in price and specification, is the HP Folio 13, which will be seen at the bottom of most charts.
They both feature a dual-core Intel processor, with the ASUS featuring the newest generation and the HP Folio 13 utilizing the previous. With that in mind, let's take a look at the ASUS S56C and see how it compares to the other systems we've had through the lab so far.
Specifications, Configurations, Pricing and Packaging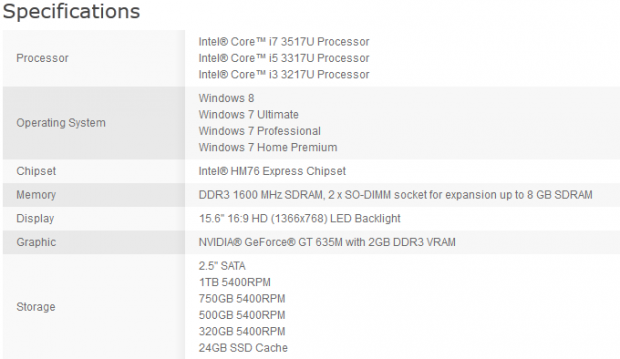 The budget-conscious ASUS S56C won't blow you away with its specifications. It uses a run-of-the-mill Intel dual-core processor, the i5-3317U to be exact, which is an ultra-low voltage processor, denoted by the U at the end of the name. This processor only consumes 17W of power, which bodes well for this machine's battery life.
You won't be playing many games, at least not at high settings, with the S56C as it only uses the on-board HD 4000 graphics processor chip produced by Intel. While this GPU is more than capable for desktop work, playing modern games with any sort of detail level will certainly be a challenge.
The system features 6GB of RAM running at 1600MHz in a 2GB + 4GB configuration. This allows users to upgrade the 2GB stick later to boost the system to 8GB of RAM should it be needed. The system uses a 750GB 5,400 RPM drive paired with a 24GB mSATA SSD. The SSD is used to cache files to speed up certain operations, such as booting and waking up.
The ASUS S56C comes with some of the other accoutrements that have come to be expected in a laptop. It features an 802.11b/g/n wireless card, along with Ethernet, to get you connected to the internet. One feature especially welcome in an Ultrabook is an optical drive, which the ASUS S56C does come with.
It's a rather incredible feat that ASUS was able to cram an optical drive into such a slim chassis. Speaking of the chassis, it's a 15.6-inch model made from aluminum and plastic. It looks good and should last a long time.
Our particular model, the S56CA-DH51, has an MSRP of $699, though it can be found online for around $679. ASUS doesn't offer customization to order, but they do provide different models of the system depending on the market.
Packaging
The packaging is likely to provide enough protection to the machine to make it through most shipping journeys. It could use a bit more foam or other protection around the edge, though for most people, it should arrive safely.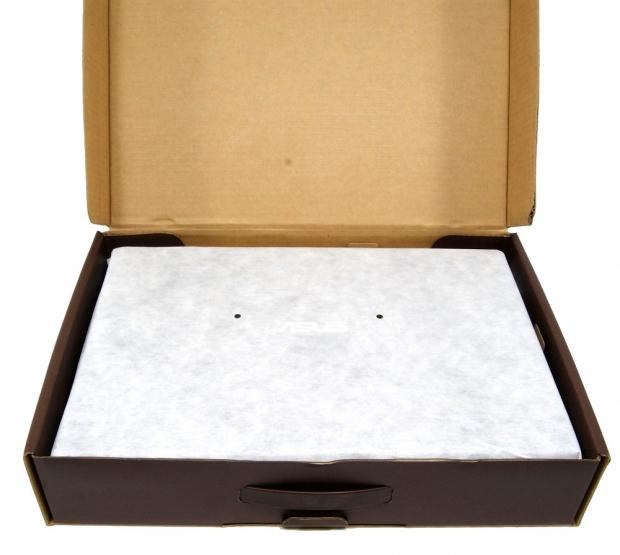 The system comes wrapped in a white cloth-like protector to keep it safe from scratches and other small bumps and bangs. Underneath the system, the charger, manual, and other accessories are neatly packed away.
The box in the picture above arrived inside another box, providing the system two layers of defense. The smaller box was supported inside the larger box with thin pieces of foam, providing more protection to the machine during shipping.
Temperatures, Cooling and Noise
The system, no doubt due in part to its ULV processor, managed to keep relatively cool during operation. Even through our strenuous torture testing, the system only got up to 96 degrees Fahrenheit on the front, though that was directly in the center of the keyboard.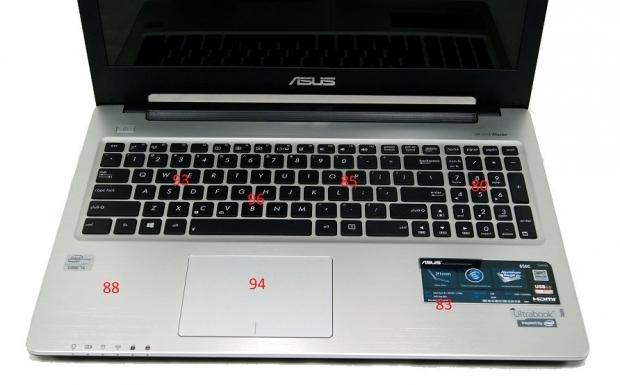 On the flipside, we recorded a maximum of 98 degrees Fahrenheit, which is the coolest system we've ever had through our labs. 98 degrees, while warm, shouldn't pose any problems for direct contact unless exposed for prolonged periods of time.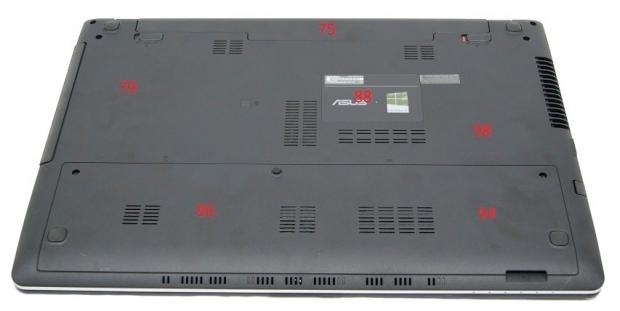 The cooling system on the ASUS S56C doesn't have much heat production to cope with, but it still did an excellent job. It managed to keep the i5-3317U, and its on-board graphics chip, at a cool 72 degrees Celsius, the lowest we've recorded in the labs.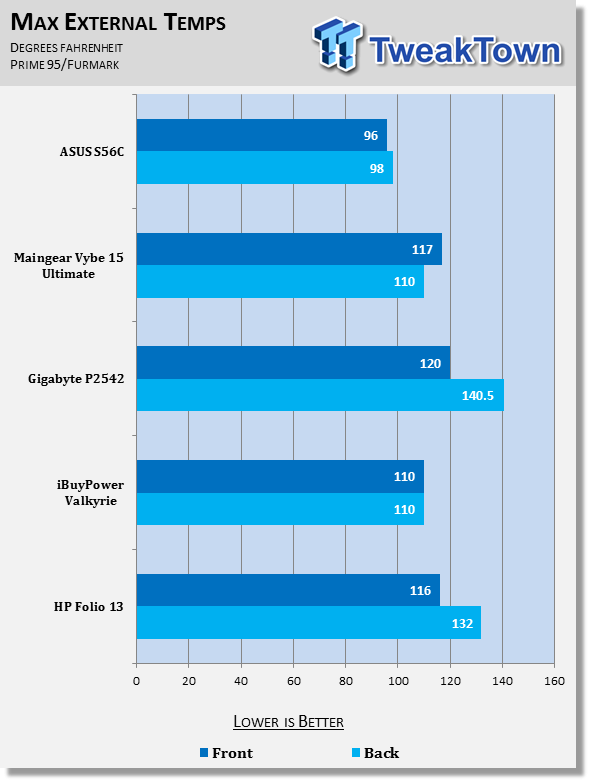 Note that the HD 4000 temperature was not actually reported. The reported CPU temperature was used as a stand-in since the two are together on a single piece of silicon in the newer Intel CPUs.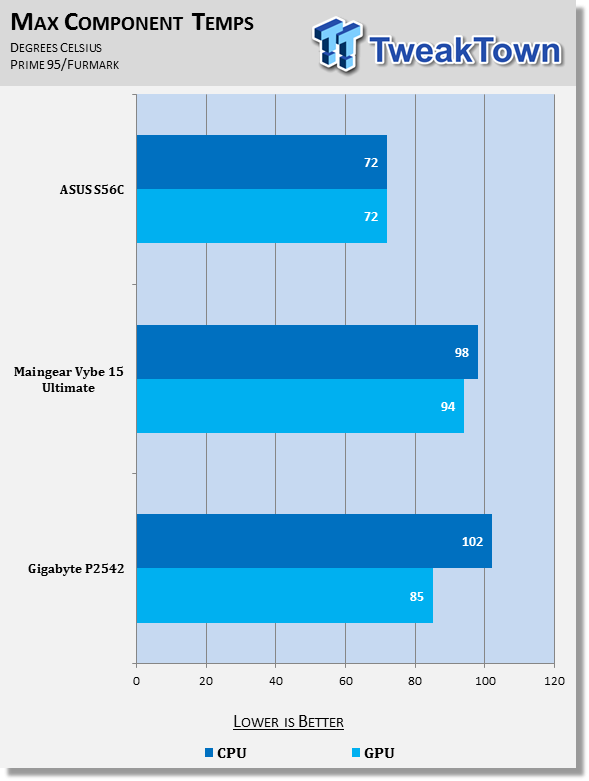 Impressively, the cooling system was whisper quiet. It was so quiet that it was hard to hear it running. We measured the sound output at a mere 36 decibels, a remarkable result. Our measurement is taken in front of the laptop at roughly head level. For comparison, 30dB is a totally quiet night time in the desert, 40dB is whispering and 60dB is a normal conversation.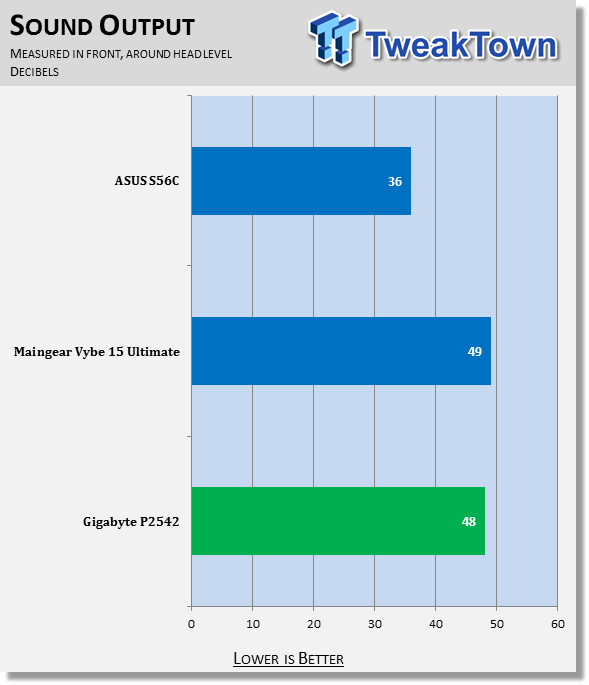 Keyboard, TouchPad, Screen and other User Interfaces
Keyboard and TouchPad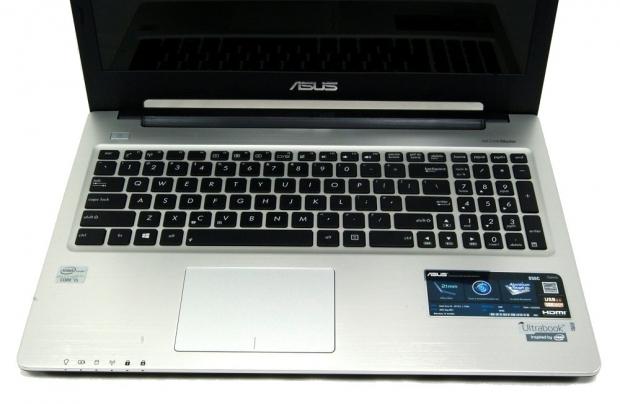 The S56C comes with the now-typical Chiclet-style keyboard that is common on almost every laptop system made. I was pleasantly surprised by the keyboard, as my previous experience with budget-oriented laptops had left a bad taste in my mouth when it came to the keyboard.
Thanks to the aluminum construction, the keyboard equipped on the system felt solid everywhere, with no noticeable flex present. This makes typing even more enjoyable and makes me feel as though the system is of higher quality or a higher price tag.
I didn't experience a large amount of typos, nor did I experience any discomfort while using the system. It was an overall enjoyable typing experience, complemented by the inclusion of a full 10-key, also known as a number pad.
The keys appear to be near-perfectly flat and have a slightly grainy texture to them. They make audible clicks when typing, though not loud enough to wake someone up sleeping next to you. One of my few complaints about the keyboard is the keys feel a bit mushy when bottoming out. There doesn't seem to be a solid stop at the bottom, something some typists will miss.
If this is an Ultrabook, I would like to see Ultra features such as a backlit keyboard. However, since this is a budget system, a backlit keyboard isn't a glaring omission, though it would be something to set this machine apart from the competition.
The touchpad is a single piece assembly. It's a rather large touchpad and the whole area can be used to move the mouse, given that you start outside the button region of the touchpad. The entire piece can be pushed down, similar to a MacBook touchpad. The entire touchpad is smooth, and the only thing that offsets it from the rest of the palm rest is the fact that it is slightly recessed in. It also has a slightly slicker texture than the surrounding aluminum, which allows for easier mouse movements.
Screen
The ASUS S56C comes with a 15.6-inch screen that outputs 1366 x 768 (720p) resolution. It comes with a glossy texture, which makes reflections and glare a bit of a problem. Overall, the screen was decent, though I still have a passion of hate for large screens with low resolutions.
1366 x 768 really doesn't belong on a screen above 14-inches, and now, even that is a stretch. With 5-inch displays pushing 1080p, there really is no excuse not to equip it with a higher resolution screen, other than it driving the cost up.
Testing Methodology
View our full testing methodology article.
- Accessory Port Testing
Ports to which an external storage device can be connected to are tested using HD Tune Pro to obtain their maximum, minimum and average read and write speeds. USB 2.0, USB 3.0 and eSATA ports are tested using a Corsair Neutron GTX 240GB SSD that is capable of saturating the theoretical bandwidth available.
The Corsair Neutron GTX is housed inside an Icy Dock external enclosure which features a SATA I/II/III to USB 3.0 and eSATA converter.
- Gaming Tests
3DMark Vantage is ran on the Performance preset to get a feel for how the computer would manage gaming. The CPU, GPU and combined scores are reported. A higher overall score is the best and a high GPU or CPU score shows particular prowess with tasks that use that part of the computer.
3DMark 11 is run on the Performance preset and the Physics, GPU and combined scores are reported. This test is only run if the system supports DirectX 11. A higher overall score is the target, though a high individual result shows prowess in a particular area.
- System Tests
PCMark 7 is run to get an overall idea of how the system performs as a whole. It tests all aspects of the PC and puts a score on how well it performs overall. In this test, a low scoring area can affect the overall score, so it's important to read the analysis. A higher score is better.
MobileMark 2012 is another test run to get a feeling for the system performance taken as a whole. MobileMark 2012 uses real-world applications as part of the benchmark. We use the Office Productivity suite which includes applications like Adobe Acrobat and Microsoft Word. The test also reports battery life as all tests are run on battery. Higher is better for both results.
CrystalDiskMark is run to put a number on how well the system hard disk drive / SSD runs. It measures five different metrics, of which higher is better for all. The higher the numbers, the snappier the operating system will feel, especially if the "4K" number is high, as most operating system files are small files.
- Battery Life
PowerMark is used to measure battery life of the system when set to "Balanced" and "Performance" power plans. This test simulates several different activities, but uses custom built applications.
Accessory Port Layout and Performance

The left side, from back to front, features the power port, exhaust port, VGA plug, HDMI plug, Ethernet jack and USB 3.0 port.

The right side, from back to front, features the Kensington lock, CD drive, two USB 2.0 ports, and a combo headphone/microphone jack. As you can see, the DVD drive is slightly misaligned and something I would probably send the machine in for service for.
HD Tune Pro
Version and / or Patch Used: 5.00
Developer Homepage: http://www.efdsoftware.com
Product Homepage: http://www.hdtune.com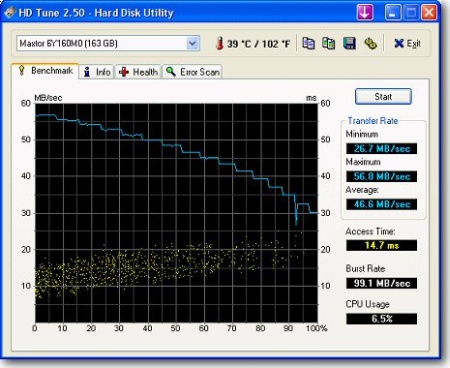 HD Tune is a Hard Disk utility which has the following functions:
Benchmark: measures the performance
Info: shows detailed information
Health: checks the health status by using SMART
Error Scan: scans the surface for errors
Temperature display
HD Tune Pro gives us accurate read, write and access time results and for the last couple of years has been gaining popularity amongst reviewers. It is now considered a must have application for storage device testing.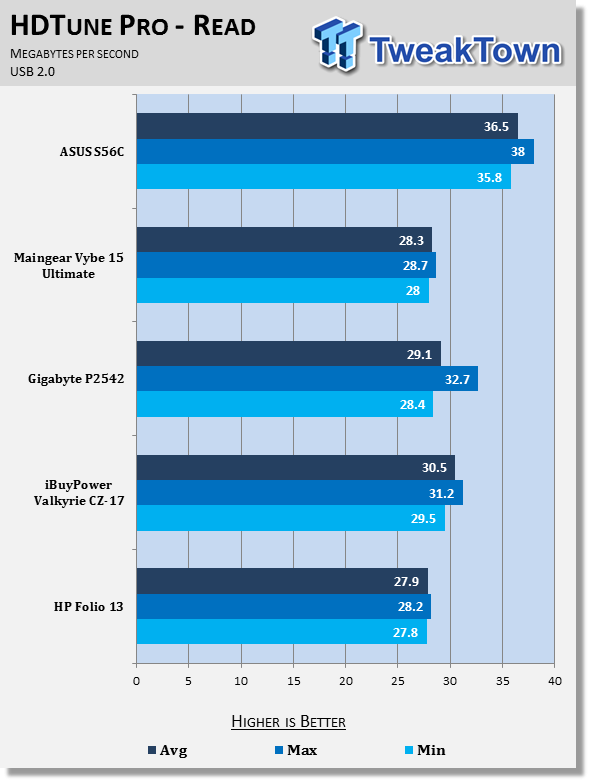 The ASUS S56C absolutely smacks the other systems when it comes to USB 2.0 read performance. It performs 7MB/s or more faster than the other systems. 7 MB/s is a big deal when you consider it's over 20 percent higher.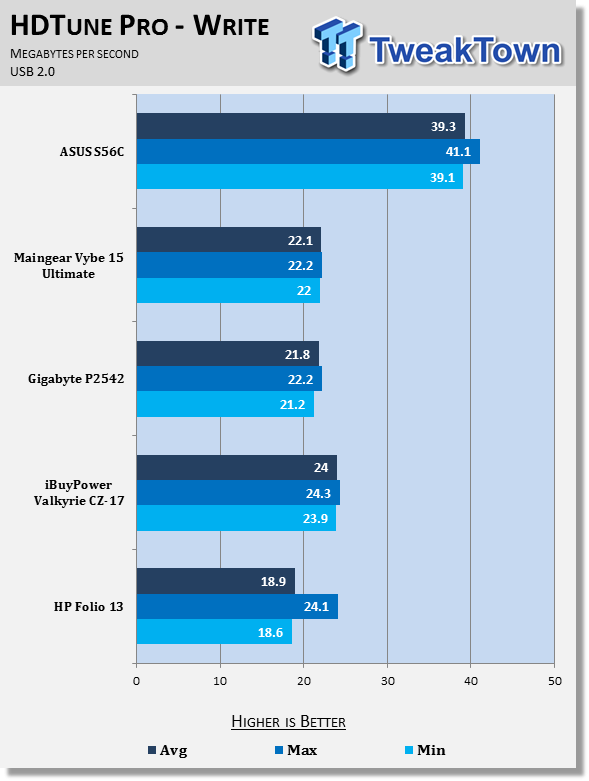 USB 2.0 write performance is also stellar. It's over double that of the HP Folio 13, and 15MB/s faster than the next fastest system.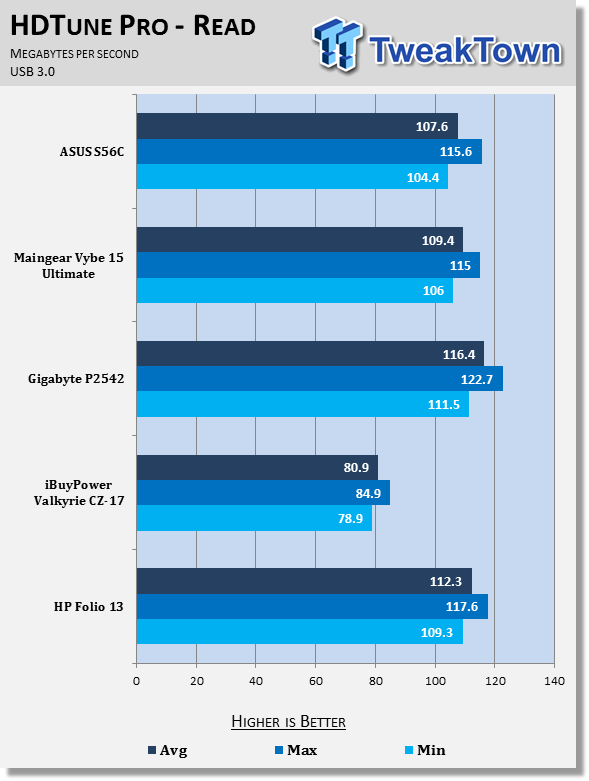 On USB 3.0 read performance, the ASUS S56C performs within the pack, neither being a standout nor a massive loser. There's definitely nothing to be concerned about here.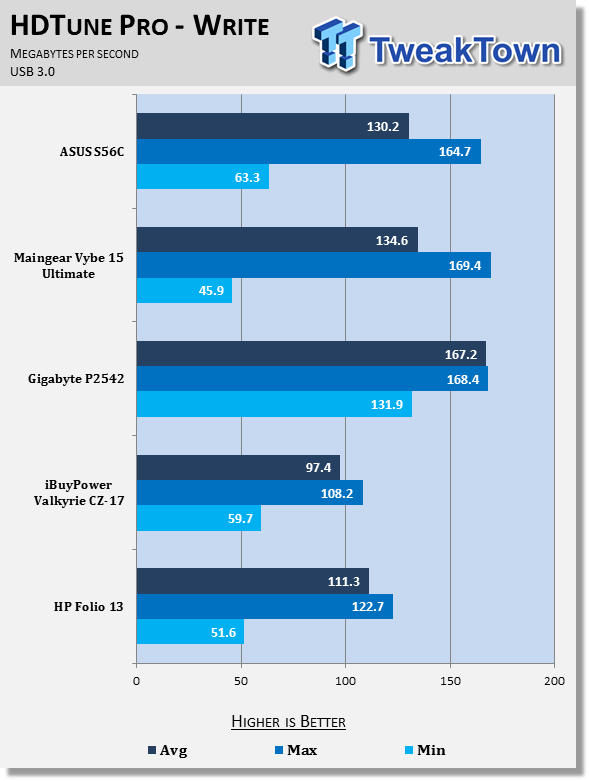 USB 3.0 write speed also falls somewhere into the middle of the pack. It beats out the HP Folio 13, it's only real competition in the charts, though not by any crazy amount. The performance across the board is all pretty similar.
Gaming Performance
3DMark Vantage
Version and / or Patch Used: 1.1.0
Developer Homepage: http://www.futuremark.com
Product Homepage: http://www.3dmark.com/3dmarkvantage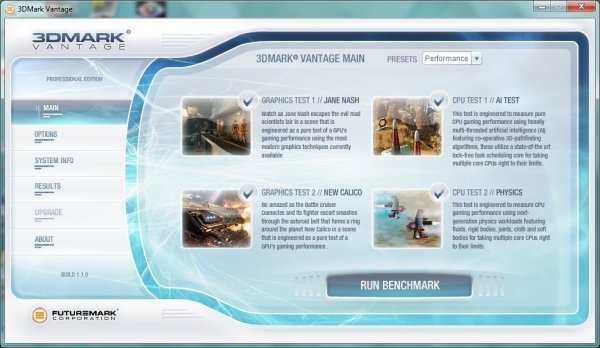 3DMark Vantage tests both processor and graphics performance and is a good indication of how systems compare. The results are generally more repeatable and consistent than other forms of benchmarking. Vantage uses DirectX 10 and can handle multi-core CPUs.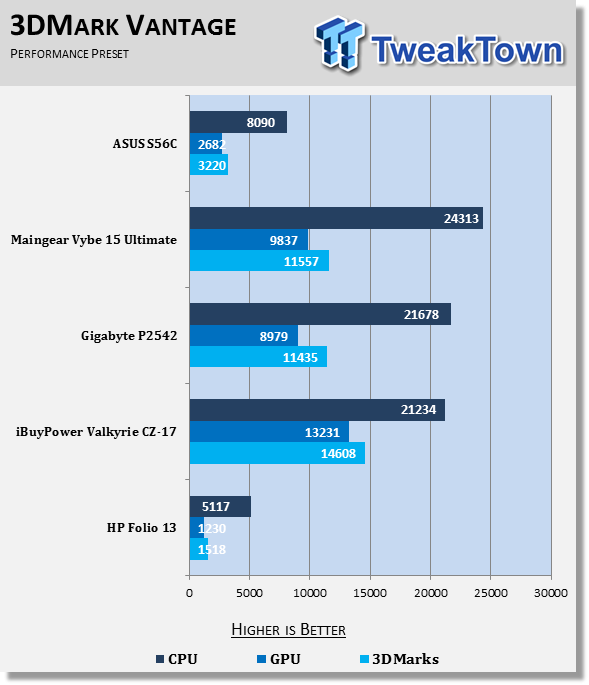 Of course, being an Ultrabook, most people won't be purchasing this system to play games on. It's really not designed to do more than some casual gaming, and this test really highlights that fact.
It performs better than the HP Folio 13 thanks to the updated processor. It receives roughly 3,000 more points in the CPU test, and doubles the GPU performance of the HP Folio 13.
Intel really made some progress with the new HD 4000 graphics that are included on the Ivy Bridge CPU, though it still can't compete with the dedicated parts that are present in the other systems we have reviewed.
3DMark 11
Version and / or Patch Used: 1.0.1.0
Developer Homepage: http://www.futuremark.com
Product Homepage: http://www.3dmark.com/3dmark11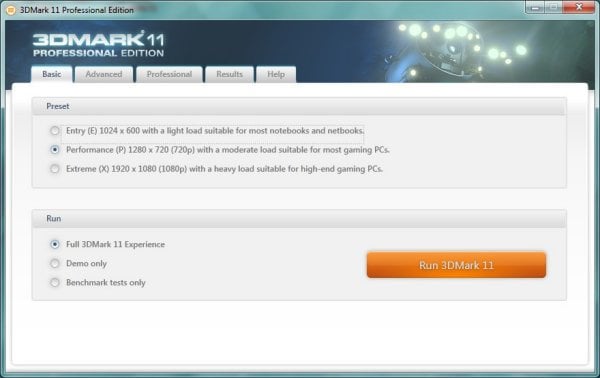 3DMark 11 is the latest version of the world's most popular benchmark. Designed to measure your PC's gaming performance 3DMark 11 makes extensive use of all the new features in DirectX 11 including tessellation, compute shaders and multi-threading. Trusted by gamers worldwide to give accurate and unbiased results, 3DMark 11 is the best way to consistently and reliably test DirectX 11 under game-like loads.
3DMark 11 is not ran on our Ultrabooks due to the demanding graphics of the benchmark.
System Performance
PCMark 7
Version and / or Patch Used: 1.0.4.0
Developer Homepage: http://www.futuremark.com
Product Homepage: http://www.pcmark.com/benchmarks/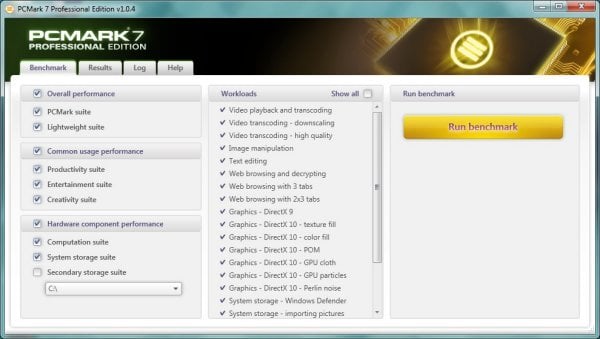 PCMark 7 is a great utility for testing a PC's all-around capabilities. It tests all aspects of the computer, from graphics performance to hard disk performance and attempts to put a score on it, which is not an easy task.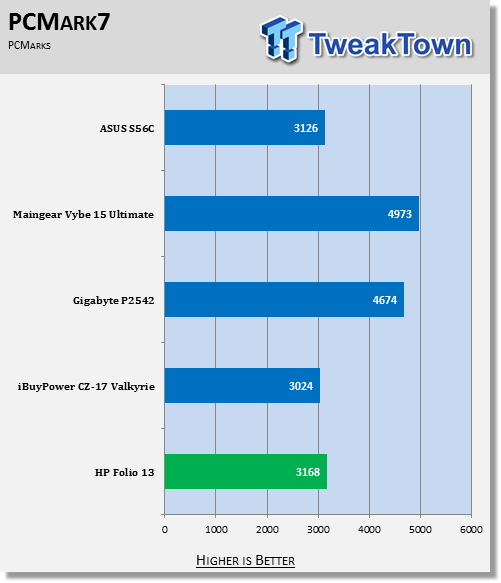 The ASUS S56C really doesn't impress when it comes to PC Vantage score. It actually performs worse than the HP Folio 13, though by a small margin that really isn't statistically significant. I'm sure the score is hampered by the fact that it mates an HDD with an SSD since the SSD is only used for caching.
Mobile Mark 2012
Version and / or Patch Used: 1.5
Developer Homepage: http://www.bapco.com
Product Homepage: http://bapco.com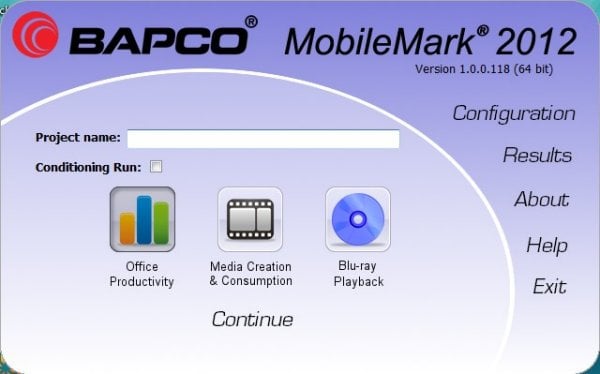 MobileMark 2012 is a premier benchmarking tool produced by BAPCo. It has several different scenarios built-in and allows you to choose which to run. It runs the test on battery life so that it produces both a score for the performance aspect and a run time for battery life.
For our testing, we chose the Office Productivity line of testing. The "Performance Qualification Rating" and battery life (in minutes) is reported below in the charts.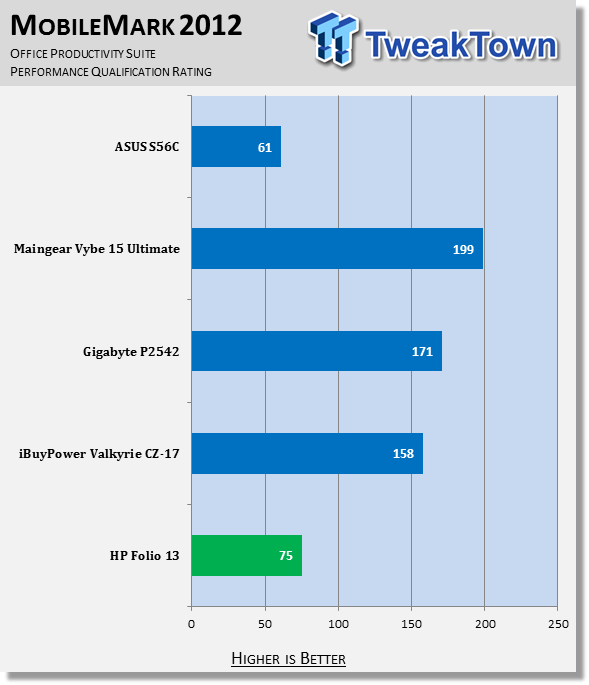 Here again, we can see the impact that the lack of a full SSD can have on a system. It performs worse than the HP Folio 13 even though it has a newer and better CPU and GPU. This isn't too much of a concern, though, as the system is cheaper than the HP Folio 13.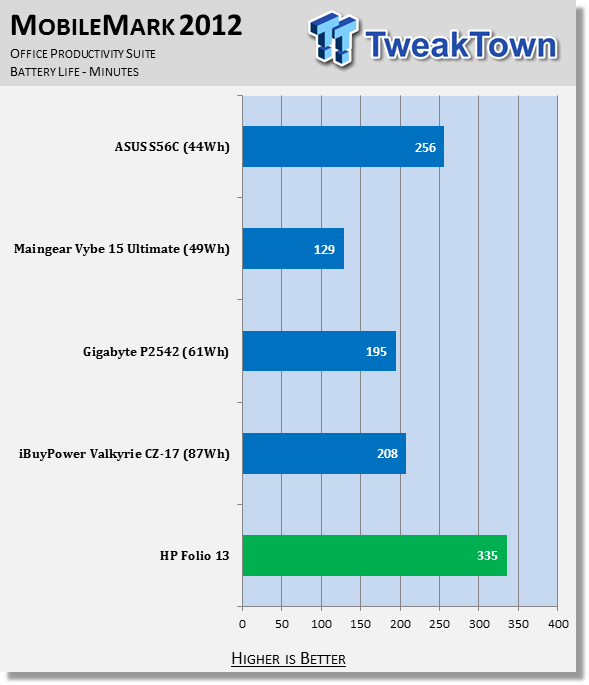 But, this lack of performance does have its benefits. It allows the system to conserve energy and run for 256 minutes, a pretty good result. The HP Folio 13 does have it beat, though it is a more expensive machine.
CrystalDiskMark
Version and / or Patch Used: 3.0 Technical Preview
Developer Homepage: http://www.crystalmark.info
Product Homepage: http://crystalmark.info/software/CrystalDiskMark/index-e.html
Download here: http://crystaldew.info/category/software/crystaldiskmark
CrystalDiskMark is a disk benchmark software that allows us to benchmark 4K and 4K queue depths with accuracy.
Key Features:-
* Sequential reads/writes
* Random 4KB/512KB reads/writes
* Text copy
* Change dialog design
* internationalization (i18n)
Note: Crystal Disk Mark 3.0 Technical Preview was used for these tests since it offers the ability to measure native command queuing at 4 and 32.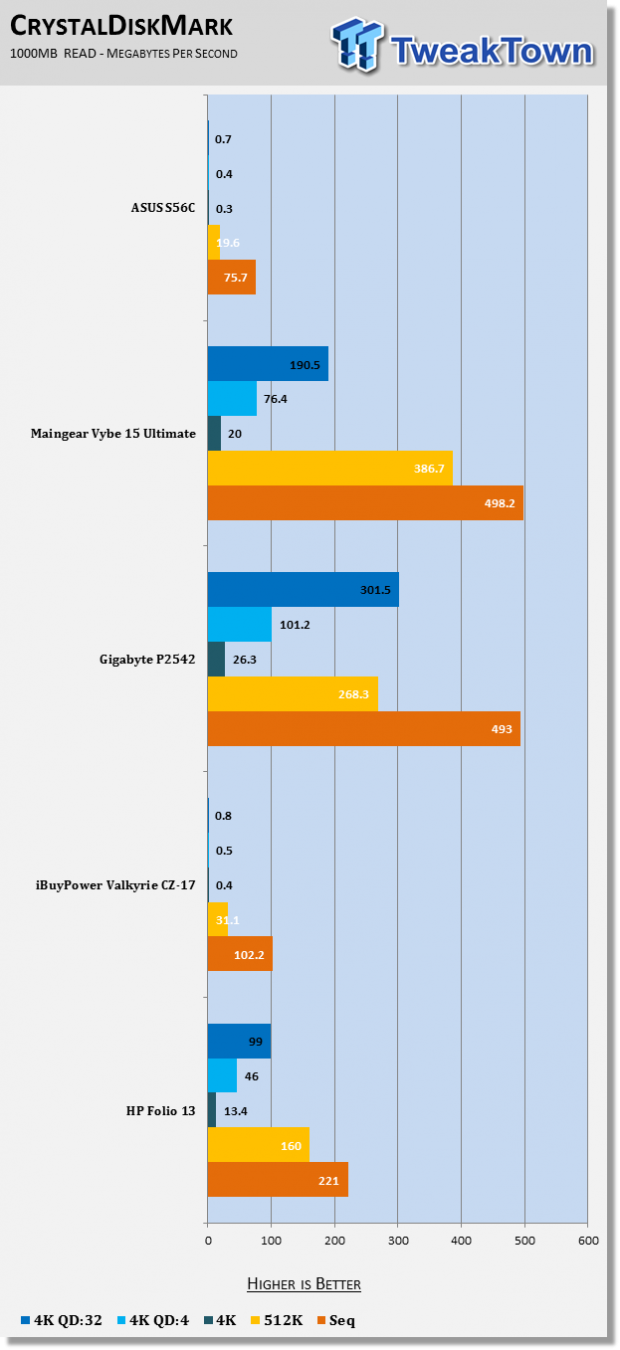 Here you can see the lack of a solid state drive very clearly. The 5400 RPM drive used for the system isn't the fastest one out there, and the system would certainly gain a boost from running entirely off of a solid state drive.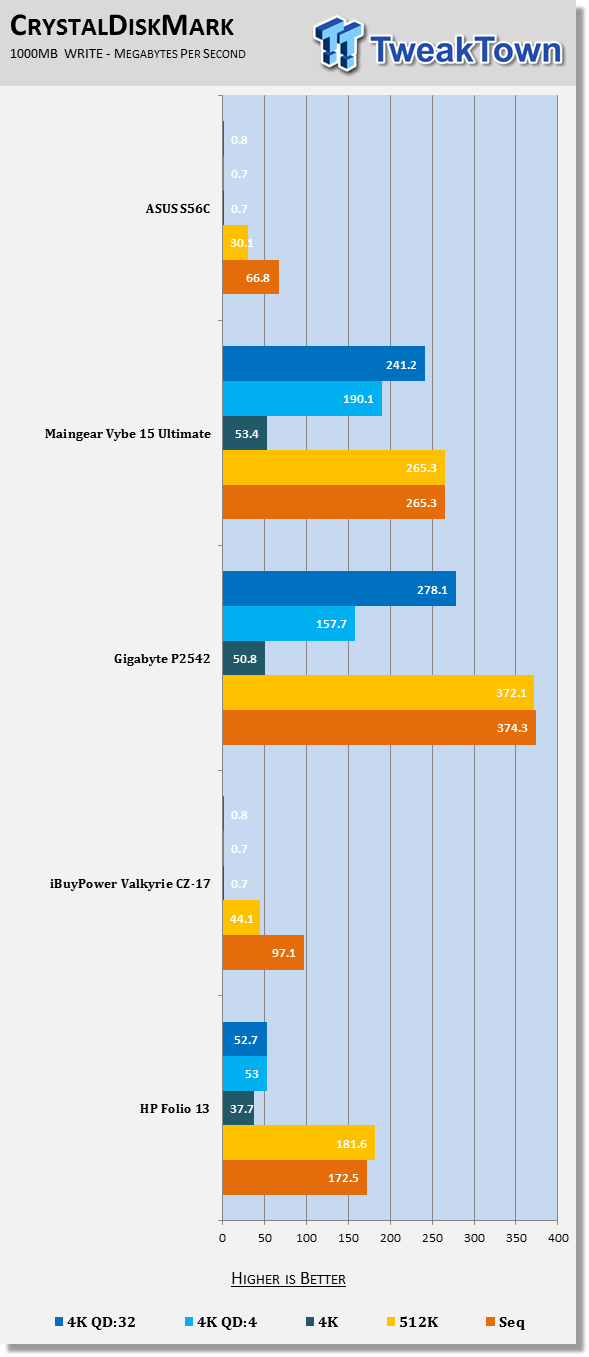 With that said, the benefits of a solid state drive would possibly be outweighed by the cost of said drive. If you aren't going to be doing things that use the drive much, having an HDD with caching SSD should be enough, though you will note a distinct increase in performance if you use a solid state drive instead.
Battery Life Performance
PowerMark
Version and / or Patch Used: 1.1.1
Developer Homepage: http://www.futuremark.com
Product Homepage: http://www.futuremark.com/benchmarks/powermark/
Download here: http://www.futuremark.com/benchmarks/powermark/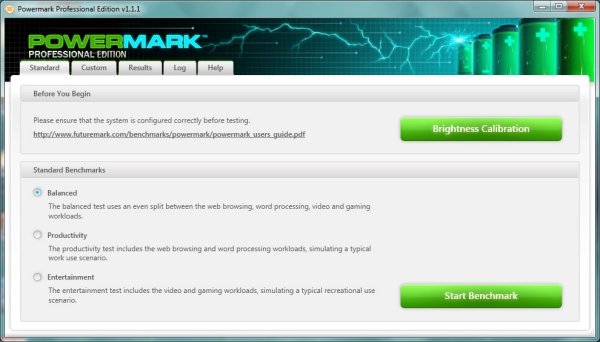 PowerMark is a benchmark produced by Futuremark that simulates different usage scenarios in order to determine battery life. It loops these different scenarios infinitely until the battery hits 15% and then gives us an estimated battery life time. For our testing, we use all four different scenarios. These are video playback, gaming, web browsing and word processing.
Tests are ran twice, once with the computer's Power Options set to Balanced and another with the computer's Power options set to High Performance.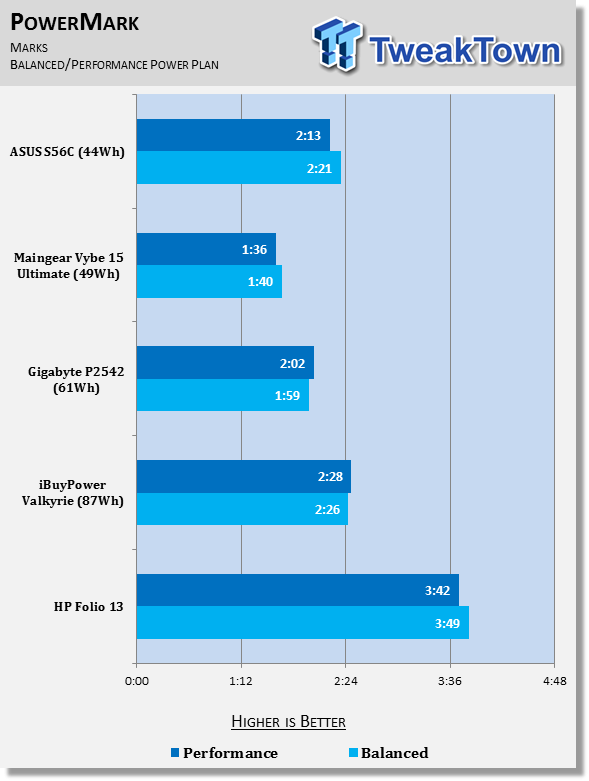 With the PowerMark benchmark, the ASUS S56C didn't fair quite as well as it did in the MobileMark battery test. It was still beaten by the HP Folio, and the iBUYPOWER Valkyrie also took a win over the system.
Keep in mind that the Valkyrie is a full-size 17-inch gaming machine, though it does come with a larger battery than the ASUS S56C. The S56C does meet and exceed my arbitrary bar of two hours of battery life, though not by as much as I would like.
Considering the price, though, I'm going to be a bit forgiving on the battery life aspect. I have to keep in mind that this system will only set you back $699 or less.
Final Thoughts
If you're still with me, congratulations, you've made it to the end. We've seen some interesting results in the various benchmarks that we've put the ASUS S56C through. Now it's time to analyze all of the results as a whole and see how this machine stacks up. Through our testing, the ASUS S56C didn't have any major disappointments, save for the lack of a solid state drive. It performs roughly in line with where it should, after taking price, size, and market into account.
It's not going to set any world records, by any means, but if that's what you're after, you're better off using ASUS' gear on the desktop side of things. For a college student, which I happen to have experience being, it's probably enough for most majors, though CAD and other engineering students may want something with a bit more horsepower.
It's also a good machine in respect to its cost. At $699 or less, the machine can do browsing, Word documents, and even programming with fairly good speed. The keyboard is definitely a strong point and most should be perfectly content using it. I just wish it had a backlight, but again we need to reflect on the price in this area.
Battery life is so-so. For the machine's cost, it's definitely more than adequate, though I like to use my systems when I'm out and about. I have very few qualms about the machine and battery life is towards the bottom of that list.
On a budget, the ASUS S56C would make a pretty good purchase decision. It won't be as capable as some of the other systems that have graced my lab, but it's no slouch, either. $699 or less won't hurt the bottom line too much, and isn't out of reach for college students or those looking to pick up an Ultrabook. $699 is more in line with the pricing that Intel was hoping Ultrabooks would retail at. It's no premium machine by any stretch of the imagination, but can do most of what those more expensive machines can do.
A solid state drive would be a beautiful inclusion and would definitely make this system more irresistible. But, as the machine sits, it's not a bad option for those out shopping on a budget. It would make a great holiday gift for the high school senior heading off to college in the fall, or for the spouse who was out looking for a new system.
It's important to note that the system comes with a one-year accidental damage warranty. I'm not sure of the full details of the program, but accidental damage warranties have saved me before when I dropped my system.
I have only one real, major qualm with the system. If you noticed in some of the pictures (see Accessory Ports page), the optical drive is a bit maligned. It didn't inhibit use, but it is definitely an annoyance that I would probably try and get ASUS to fix.
So, where does that leave us? The machine is a good buy. As you would expect it comes installed with Windows 8 and it's a solid performer for the price with very few things detracting from its performance and aesthetics. It looks good and is very capable. For $699, or less, the ASUS S56C should be on your list of laptops to take a peek at for those on a budget.