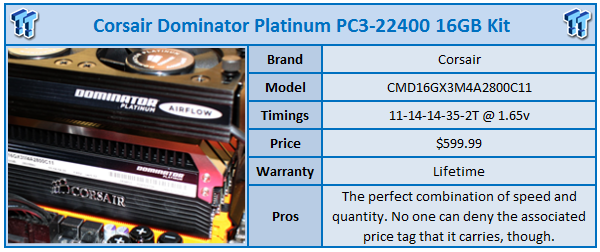 We found ourselves extremely impressed with what Corsair was doing with the latest Dominator series which came under the new Dominator Platinum title. Last month we got the chance to check out the 16GB PC3-21300 kit which we loved. A little pricey for some, though, the 16GB PC3-17066 kit could be a better option for those with less money to spend.
Today, though, we're looking at a PC3-22400 kit which as you can probably figure out comes in at a higher speed than the other kits. PC3-22400 translates into a massive 2800MHz DDR out of the box. This isn't the first time we've seen this speed as also last month we got a chance to look at the Kingston HyperX T1 4GB kit that carried the same speed.
While the raw MHz of the Kingston kit impressed us, the CL12 nature of the timings meant that some of our slower MHz kits that came with more aggressive timings were actually faster. Along with that, the fact it was only 4GB meant that from a productivity stand point it was just not enough.
Today we might able to have both speed and quantity with the Corsair Dominator Platinum kit that we have on hand. Having a look below you can see that out of the box the PC3-22400 kit shows no real difference when compared to the slower PC3-21300 and PC3-17066 kits we previously reviewed.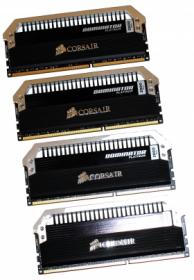 Looking closer we do of course see that there are a few subtle changes when it comes to the part number and mention of the speed. But for the most part we're really dealing with that same fantastic looking black and chrome kit that we've looked at in the past.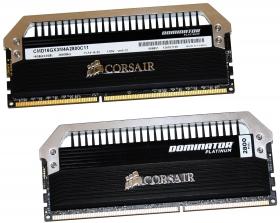 Moving in closer to the kit you can see we've got the Dominator Platinum labelling on both sides while one also has note that it's 2800MHz DDR. The other side has a sticker that runs across it and gives us a run down in a bit more detail about what we're dealing with here.

Moving in closer you can see as we've already mentioned that we're dealing with a 2800MHz DDR kit. As for the size it's a massive 16GB dual channel kit consisting of four 4GB modules. As for the timings we've got an 11-14-14-35 setup. Not only are the timings more aggressive than the Kingston 2800MHz kit, the biggest difference is the fact we're dealing with a 16GB kit here instead of the 4GB size that we saw from Kingston. That's a big deal.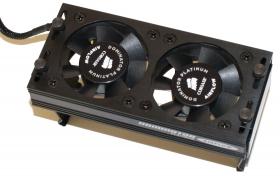 In no real unusual fashion for high-end kits we've also got a Corsair Dominator Platinum Airflow cooler in the bundle that is designed to sit over the top of the modules. This is the first Dominator Platinum kit we've seen come with the Airflow cooler and considering the higher speed nature of the kit, it's not a surprise.
Moving back to the RAM we installed our kit into our ASRock Z77 OC Formula motherboard and proceeded to set the XMP profile to 1 on our 3770k CPU which we knew was capable of doing 2800MHz DDR thanks to the strong Internal Memory Controller on this CPU.
In a bit of a surprise we then found our system wouldn't boot. Feeling a little confused about why we headed over to the ASRock website. We knew that less than a month ago we had the Kingston kit running at 2800MHz DDR on this board, but the Corsair kit on hand today just didn't want to work. Knowing that Nick Shih, the man behind the Z77 OC Formula is working on the BIOS on nearly a daily basis, we had hoped that grabbing the most recent BIOS which at the time was only five days old would fix the issue. We grabbed it, copied it over to our USB pen drive and then proceeded to flash to the new 1.6 BIOS.
With that all done we headed back into the BIOS and set our XMP profile back to 1. Getting out of the BIOS our system booted up straight away and when we got into Windows just fine, and we fired up AIDA64 and checked the CPUID area just to make sure and as you can see below we're running at 2800MHz DDR 11-14-14-35-2T.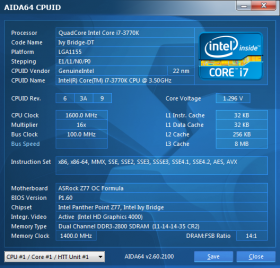 Under AIDA64 we ended up with Read / Write numbers of 23,471 MB/s / 20,525 MB/s, Copy speed of 25,093 MB/s and latency of 31.3ns. As you'd expect this is some strong performance out of the box with impressive numbers across the board. Even with the CL11 timings and the 2T command rate you can see the 31.3ns latency is impressive.
With the out of the box performance sorted it was time to see what we could get going on the overclocking. As always we let the ASRock Z77 OC Formula handle the timings. To give you a bit of an idea, when we started with the Kingston kit, our timings blew out too an extremely relaxed 14-15-15-35-2T. With those timings we also managed to achieve only a 40MHz DDR overclock on top of the default 2800MHz DDR.
While 2840MHz DDR was the highest raw MHz we've had to date, it wasn't the most stunning overclock, especially considering the timings had become extremely relaxed. Heading into the BIOS the first thing we tried was the 2933MHz DDR memory divider. Not knowing if our CPUs IMC was strong enough to handle it, we weren't surprised that botting was an issue.
Back into the BIOS we moved to the 2800MHz DDR memory divider again and started to adjust the BCLK to see just what kind of performance we could get out of the kit. In the end we eventually got up and running with a BCLK of 102.7. We could actually boot slightly higher, but would get a BSOD as we entered Windows.
Having a look below you can see that the 102.7 BCLK when combined with the 2800MHz DDR memory divider brings this RAM kit in at 2875MHz DDR. This isn't bad at all, but I think what is more impressive is the simple fact that the ASRock board chose to leave the timings alone. That means we remain at 11-14-14-35-2T.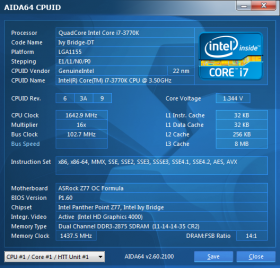 Under AIDA64 we ended up with Read / Write numbers of 24,269 MB/s / 21,600 MB/s, Copy speed of 26,008 MB/s and latency of 30.6ns. As you'd expect across the board we've got a bump in performance. It's not huge as there's no denying that 75MHz DDR isn't the hugest increase, but nonetheless you can see improvements. What we're really interested in see is what the performance numbers look like when we throw a heavier overclocked CPU into the mix.
Heading back into the BIOS it was time to adjust our CPU multiplier to give our CPU a speed boost as well. Looking below you can see that we ended up running our CPU multiplier at 47x. This combined with the 102.7 BCLK brings our CPU in at 4825.5MHz.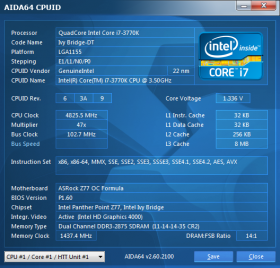 Under AIDA64 we ended up with Read / Write numbers of 26,626 MB/s / 25,397 MB/s, Copy speed of 27,340 MB/s and latency of 28.9ns. Here we start to see some really nice gains. Especially in the Write numbers which have moved from 20,525 MB/s to 25,397 MB/s. Along with that we also see the latency come under 30ms by a decent 1.1ms. This is some really awesome performance thanks to the strong MHz and timings on offer.
While last month we saw the G.Skill TridentX PC3-20800 kit run at 2882MHz DDR 11-13-13-33-2T, it's important to remember that here we're dealing with a kit that is twice the size, and takes up all four banks in our ASRock motherboard.
Clearly this isn't an easy task as out of the box we had trouble running the Corsair kit at default on our ASRock Z77 OC Formula. Instead we had to head on over to the ASRock website and grab the latest BIOS. If you're looking at some super high speed RAM kits, especially ones that will fill all four banks up, it's worth remembering to check out the BIOS version you have, and the BIOS version that is available. Especially when it comes to these high performance boards as we see companies like ASRock, ASUS and Gigabyte update the BIOS on a regular basis.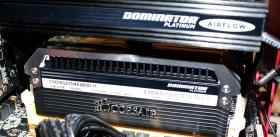 Before you get too excited, though, thinking that this is the next kit for you, the associated $599.99 price tag is going to an extremely hard one to swallow for a lot of people. This is especially the case when you consider how aggressively priced RAM is these days. We've looked at some great 16GB kits from companies come in at around the $200 mark including the lower clocked Dominator Platinum stuff.
The biggest thing that we can't stress enough, though, is that while our Corsair kit did 2800MHz+ DDR, it may not on your system. The importance of a quality Internal Memory Controller (IMC) holds the most importance. A 3770k that is capable of doing 2800MHz DDR plus is somewhere around 1 in 50 when it comes to retail CPUs. That may have improved since then, but don't be expecting your next CPU to just do it.
This is the biggest downfall for any high speed kit that starts to go past 2666MHz DDR. Due to this, though, we don't see companies release huge quantities of these highly clocked kits and this is the reason we see such a large price premium on them. If you wanted to save a few dollars and still get a 2800MHz DDR Dominator Platinum kit you could check out the C12 version kit that comes in at $529.99. If you're spending this kind of money already, though, the chances are that you're not going to be too worried about the extra $70 that is associated with the C11 kit.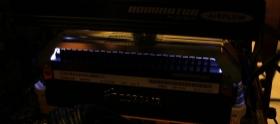 This is a really awesome kit of RAM, and like the other Dominator Platinum kits we've already reviewed, one of the main things that stand out is the excellent quality of the new series. This is a kit that is hardly for everyone, though. We mean that not just in the price point of view, but again in the point of view that your CPUs IMC could simply not be able to provide these kinds of memory speeds.
If you've possibly bought a pre-tested Ivy Bridge processor that you know is able to do this kind of memory speed, it's a fantastic option, especially if you're looking for a combination of not only speed, but also quantity. Again, while not for everyone, if you're able to make use of what Corsair offer here and have the money, the Dominator Platinum PC3-22400 16GB kit is simply amazing.