GeIL EVO Leggera PC3-14900 16GB Dual Channel Memory Kit Review
We had a look at the GeIL EVO VELOCE the other day and today we're checking out the new EVO Leggera RAM kit.
Published Wed, Nov 21 2012 11:41 PM CST
|
Updated Tue, Nov 3 2020 7:01 PM CST
Rating:

98%
Manufacturer: GeIL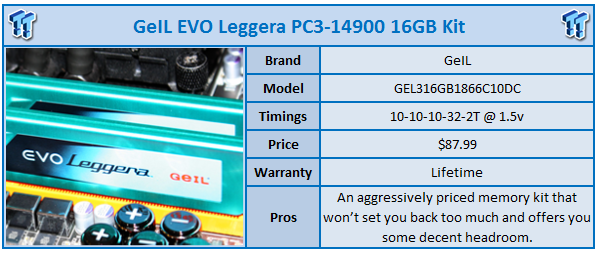 The other day we got a chance to check out the GeIL EVO VELOCE PC3-17000 16GB Kit and found ourselves really impressed with what GeIL was offering. We got a kit that offered some strong overclocking headroom, came with a good out of the box speed, and hit at a strong price point.
Today we're checking out another kit that is part of the EVO line from GeIL, but instead of being part of the VELOCE series, this particular kit we're looking at today is part of the Leggera series. This is the first time we've seen this series, so it will be interesting to see what it offers.
Looking at the kit the first thing we notice is the smaller low profile heatsink that is present. The VELOCE kit had itself a larger cooler and for people who use oversized CPU air coolers, it might not be an option. Straight away the Leggera kit we're looking at today could be a better option for those users.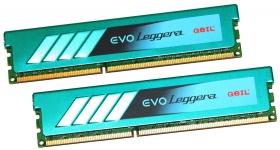 One of the biggest pet peeves we have when it comes to memory from companies, though, is the decision to not opt for the black PCB which always looks great. It's a little different here today, though. While we would've still preferred GeIL go down the path of a black PCB, because of the more aqua color heatsink, the green PCB doesn't look nearly as bad this time around.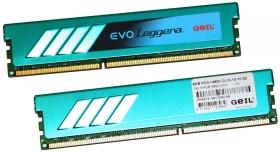 Flipping over one of the modules we can see exactly what's going on. You can see the heatsink design has a "fin like" setup going on each side and one side has the EVO Leggera GeIL logo. Looking at the other side you can see we've got a sticker that gives us a run down on some of the main information.
Moving in closer you can see we're dealing with an 8GB module which helps make this a 16GB Dual Channel kit. On the speed side of things we're running a little slower than the PC3-17000 kit we looked at from GeIL the other day. Instead you can see here we're dealing with a PC3-14900 kit which translates into 1866MHz DDR.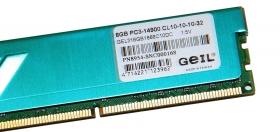 The other main information that's present is the timings. You can see we're dealing with a slightly more aggressively timed kit with a 10-10-10-32 setup instead of the CL11 setup we saw on the higher speed VELOCE kit. The other big difference is that because of the lower speed we only need to run the kit at 1.5v instead of 1.65v.
Heading into the BIOS we went straight to the memory area and loaded the XMP profile. Of course just as you'd expect we got straight into Windows without any problem.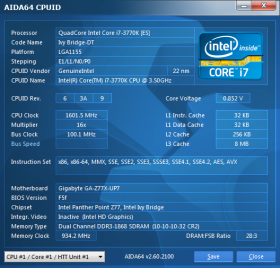 Under AIDA64 we ended up with Read / Write numbers of 20,170 MB/s / 20,075 MB/s, Copy speed of 22,675 MB/s and latency of 39.6ns. As you'd expect our numbers are a little lower than the PC3-17000 kit we looked at the other day.
As always, though, with that working fine, it was time to head back into the BIOS to see what we were able to get out of the kit. We left the timing at AUTO and let the GIGABYTE Z77X-UP7 do its thing. The best way to find the overclock is to simply start by adjusting the memory divider.
Moving from 1866MHz DDR we got to 2000MHz, 2133MHz, 2200MHz and 2400MHz DDR which was the speed that finally caused our system to not boot. Knowing that we're going to sit somewhere between 2200MHz DDR and 2400MHz DDR we headed back to the 2200MHz DDR divider and started to adjust the BCLK.
Slowly working our way north with the BCLK we found ourselves eventually hitting a wall at 107. Looking below you can see this brings our kit in at 2354MHz DDR with an 11-13-13-32-2T setup.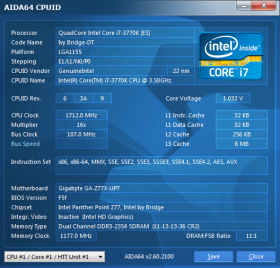 Under AIDA64 we ended up with Read / Write numbers of 21,937 MB/s / 21,920 MB/s, Copy speed of 25,156 MB/s and latency of 35.2ns. Across the board you can see a nice little bump in performance with the strongest improvements being seen in the Copy speed and the Latency department thanks to a combination of a higher memory clock and an increased CPU speed due to the higher BCLK that is on offer now.
Having found the highest clock speed it was time to get back into the BIOS and adjust the CPU speed to see just what kind of speed we can get with our CPU speed running higher then stock. Looking below you can see with the 107 BCLK in hand we pushed our CPU multiplier up to 43x. This resulted in our CPU running at a solid 4.6GHz.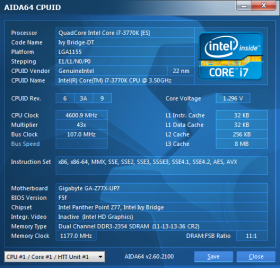 Under AIDA64 we ended up with Read / Write numbers of 22,542 MB/s / 23,810 MB/s, Copy speed of 26,443 MB/s and latency of 34.2ns. Just as you'd expect we again see some improvements across the board. They're not huge gains, but across the board you can see thanks to the extra CPU bandwidth we're able to increase overall speed a little more.
At $87.99 this is a well-priced memory kit that is a good option for people who want 16GB, but also prefer or require a lower profile heatsink. As good as some of the larger heatsinks look, there's no denying that they're not for everyone, especially those who have opted for larger CPU air coolers.
Out of the box performance is pretty typical and while the timings are slightly more relaxed, when you start to move to CL9 and CL8 kits of this kind, the price jumps to over $100 and can go as high as $149.99. For some the pure amount of memory is going to be more important than the speed and for those people this is a good option.
There's really little to complain about with this kit on a whole. While we again make note that a black PCB is always appreciated, thanks to the color of the heatsink here, the green PCB doesn't stand out like an eyesore when compared to memory kits with darker colour or non-matching heatsinks.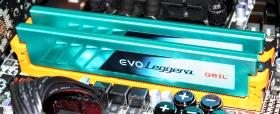 When it comes to the overclocking side of things you can also see performance is extremely strong when you let your motherboard take care of the timings. As always, though, we must mention that the speed we achieve is not only dependent on the kit of RAM, but also the motherboard and the strength of the Internal Memory Controller on your CPU.
If you don't need the giant heatsink, require a larger 16GB kit and don't need a kit of RAM that is offering huge MHz out of the box, this is a really nice option from GeIL that comes in at a competitive price and offers plenty.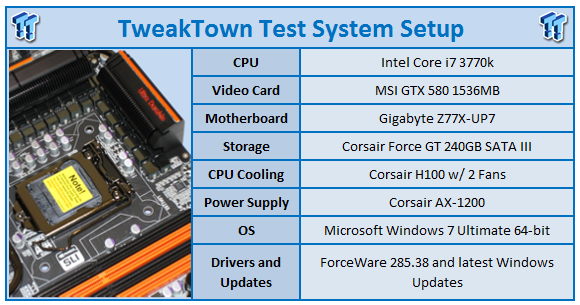 PRICING: You can find products similar to this one for sale below.

United States: Find other tech and computer products like this over at Amazon.com

United Kingdom: Find other tech and computer products like this over at Amazon.co.uk

Australia: Find other tech and computer products like this over at Amazon.com.au

Canada: Find other tech and computer products like this over at Amazon.ca

Deutschland: Finde andere Technik- und Computerprodukte wie dieses auf Amazon.de