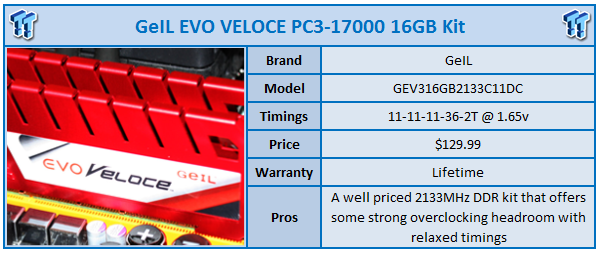 It's been a while since we've seen anything from GeIL, but last week we received not only one kit from them but two. The last kit we saw them was almost 12 months ago and was the Quad Channel EVO Corsa PC3-19200 16GB kit for the X79 platform.
We haven't had a chance to look at any Dual Channel kits from GeIL so far, but that's going to change today with a look at the new EVO VELOCE kit that remains part of the higher end "EVO" series of memory from GeIL.
With the last GeIL kit we looked at we found ourselves impressed with what was on offer. The $399.99 price tag that was associated with the kit at launch, though, meant that it was clearly not for everyone. Today we're looking at a kit that comes in at the same size, but isn't as fast when it comes to the MHz side of things.
Before we get into the specifications of the kit, though, let's take a closer look at the kit itself. Looking below you can see the red heatsink which looks absolutely awesome. What doesn't look so awesome, though, is the green PCB that's present on the kit. One of our pet peeves when it comes to higher end RAM is companies who opt for the green PCB instead of the black; especially when you're dealing with a heatsink color like the red we've got here today.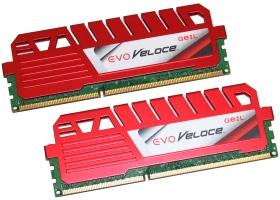 The overall heatsink design, though, isn't anything too crazy. We've got a fairly typical fin setup and you can see they've done something a little different when it comes to the overall design. Flipping one of the modules over we can take a closer look with what exactly is going on with each side.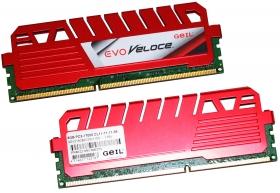 The overall heatsink design is identical on each side, but you can see on one side we've got the GeIL logo along with the EVO VELOCE logo. As for the other side you can see we've got a sticker which gives us a run down on the main information that helps us identify what exactly we're dealing with.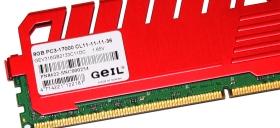 Moving in closer you can see we're dealing with an 8GB module which means we're dealing with a 16GB kit. The speed is PC3-17000 which translates to 2133MHz DDR and you can see the timings are set at a quite relaxed 11-11-11-36 that requires 1.65v to get up and running.
Considering we've tested memory faster than this we really expected no issue when it came to getting stock clocks and heading into the BIOS we loaded up the XMP profile, and as we expected, we got up and running in Windows straight away.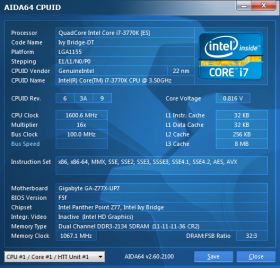 Under AIDA64 we ended up with Read / Write numbers of 21,079 MB/s / 20,382 MB/s, Copy speed of 23,401 MB/s and latency of 37.8ns. This is some good performance. It's not the fastest 2133MHz DDR kit we've tested as we've seen kits come with more aggressive timings. One of the biggest trade-offs to the timings, though, at this speed is as soon as we start becoming more aggressive, the price can start to jump quite quickly.
With everything running it was time to head back into the BIOS to see just what we could get out of the kit. Letting our GIGABYTE Z77X-UP7 take care of the timings we started to move the memory multiplier. We decided to skip 2200MHz DDR and jump straight to 2400MHz DDR.
We got into Windows without a problem so it was time to head back into the BIOS to see how much more we could get out of the kit. We moved to the next memory divider which was 2600MHz DDR. While we booted up with no issue as soon as we got into Windows and tried to open AIDA64, our system instantly froze. This wasn't a huge surprise considering this is quite a high overclock from the stock 2133MHz DDR that is offered.
So we knew that we'd end up with something between 2400MHz DDR and 2600MHz DDR. We figured that since we could boot and get into Windows at 2600MHz DDR we'd be closer to that figure than the 2400MHz DDR one. Back in the BIOS we moved to the 2400MHz DDR divider and then proceeded to adjust the BCLK to increase the memory speed.
We eventually ended up in Windows with a 105.5 BCLK while running the 2400MHz DDR divider. This resulted in a memory speed of 2533MHz DDR which is a solid 400MHz DDR over the default clock. With the timings on auto we saw the GIGABYTE board relax them out too 11-13-13-36-2T.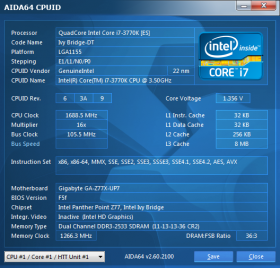 Under AIDA64 we ended up with Read / Write numbers of 22,712 MB/s / 21,799 MB/s, Copy speed of 25,550 MB/s and latency of 33.5ns. Compared to the out of the box speed we can see a nice boost in our overall performance with decent bumps across the board. The most impressive improvement probably comes in the overall latency side of things as we gain more than 4ns.
With the maximum overclock found on the kit it's time to head back into the BIOS and adjust the CPU speed to see just what kind of numbers we're able to get out of the kit. Normally we'd just move the multiplier up to the 46x mark to get around 4.6GHz, but that wasn't an option as we've pushed the BCLK up quite high.
In the end we pushed the multiplier up to 42x. With the 105.5 BCLK that is present that means our CPU came in at just over 4.4GHz as you can see below. As for the memory side of things you can see that remains the same at 2533MHz DDR with an 11-13-13-36-2T setup.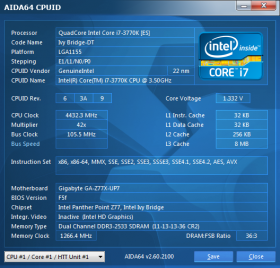 Under AIDA64 we ended up with Read / Write numbers of 23,607 MB/s / 23,765 MB/s, Copy speed of 27,118 MB/s and latency of 32.6ns. Again across the board we've got a nice bump in performance and compared to the normal out of the box performance you can see we've got quite the performance bump with solid gains being seen across the board.
The AUTO timing option on motherboards these days are very good and you can see by letting the motherboard take care of the timings we're able to get quite the boost when it comes to raw MHz. Today is a prime example as the EVO VELOCE kit gains 400MHz DDR.
Overall GeIL have put together a really nice kit with what we find to have only one flaw. The decision to skip on the black PCB is disappointing, especially when you've got this great looking red heatsink. Against a black PCB the whole kit from an aesthetics point of view would have been awesome.
In the end, though, it's purely cosmetic and if you don't have a case with a window, the chances are you're not even going to see the memory. From a performance point of view, the kit is great. While it's a little more relaxed on the timings side of things when it comes to the out of the box speed, the benefit of this is the price.
At $129.99 this is a well-priced memory kit that offers a good out of the box speed. The other good thing is that 2133MHz DDR is a speed that most CPU's shouldn't have an issue with. Of course getting over 2500MHz DDR is a different story. As soon as we start to move past the 2400MHz DDR mark the ability to gain speeds higher very much comes down to the CPU and its Internal Memory Controller strength.
The GeIL EVO VELOCE really does a good job of ticking all the right boxes when it comes to buying RAM. At 16GB we're dealing with a good size kit. With a stock speed of 2133MHz DDR we've got a speed that should run on any CPU with no issue. If you want to loosen the timings a bit more, you can see there's some good headroom when it comes to overclocking, especially if you're fortunate enough to have a CPU that carries with it a strong Internal Memory Controller like we just mentioned.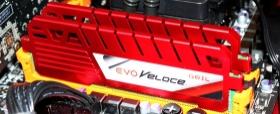 Of course we would've liked to have seen GeIL opt for a black PCB just to complete the look, but outside of something which is purely aesthetic, we've got a really good kit of RAM here that comes in at a good price. If you're looking for a good quality 16GB kit that isn't going to bust the bank, while still offering strong raw MHz, this is a really nice option from GeIL.