Introduction, Specifications, Availability and Pricing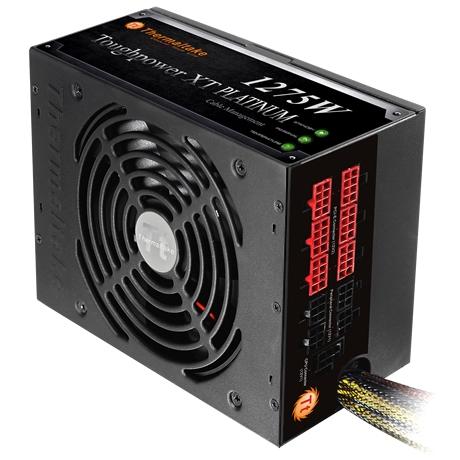 About two years ago we started seeing a push towards 80 PLUS Platinum rated power supplies. At the start these were limited to power supplies capable of 1000W or less. Those who were seeking high efficiency with high wattage units were just out of luck until the last six to eight months.
We've seen a recent surge in the number of units capable of high efficiency above 1000W and today we taking a look at one from Thermaltake.
The power supply in question today is the Thermaltake Toughpower XT Platinum 1275W. Launched back in June, the Toughpower XT Platinum 1275W comes in two colors; standard black and Snow Edition for those seeking a white power supply.
Along with the two colors comes 80 PLUS Platinum efficiency and a ton of power spread across two rails to power up to four GPUs.
Everything sounds great for enthusiasts so let's dig into the specs and see how things fair.
Specifications, Availability and Pricing

I/O specifications look very good for the Toughpower XT Platinum 1275 power supply. The majority of the power is supplies via the two 12V rails. 12V1 is rated for 45A while 12V2 is rated for 65A. Unfortunately Thermaltake doesn't list a combined maximum output for the Toughpower XT Platinum 1275. Both the 3.3V and 5V rails are rated for 25A each with a combined maximum output of 150W. The power supply also features a rather strong 4A 5VSB rail for 20W of power when on standby.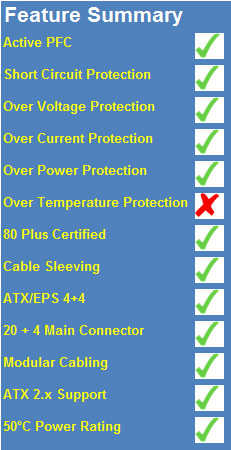 Thermaltake almost scores a solid list of checks for the feature summary. We were quite surprised when Thermaltake informed us that while the power supply does feature SCP, OVP, OCP and OPP, there is no over temperature protection included in the unit. The power supply is however rated for 100% continuous output at 50C and can handle high temperatures. The Toughpower XT Platinum 1275W power supply features both native and modular cabling, all of which is fully sleeved. It is rated for 80 PLUS Platinum efficiency.
Thermaltake has an MSRP of $339.99 on the Toughpower XT Platinum 1275W power supply. That might seem a bit steep for some, but some quick shopping will yield much better prices. Currently, MWave has the power supply in stock for $259.99 plus shipping which will cost around $10 depending on where it is shipping to.
This makes it much more competitively priced and better priced than many 80 PLUS Gold rated units. Thermaltake backs the Toughpower XT Platinum 1275W with a fantastic seven year warranty.
Packaging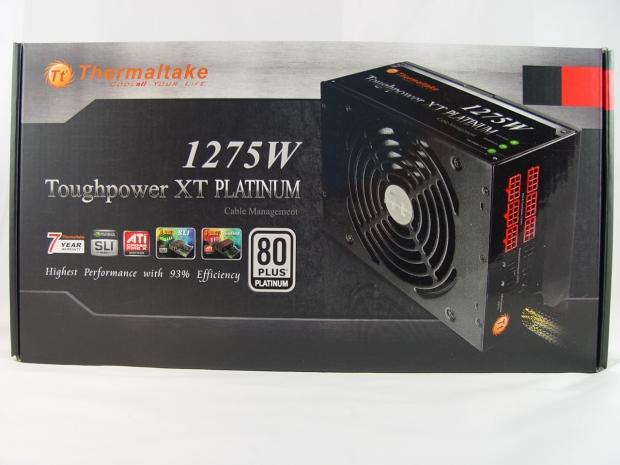 The front gives us a great quick overview of the power supply along with a good glimpse of the unit.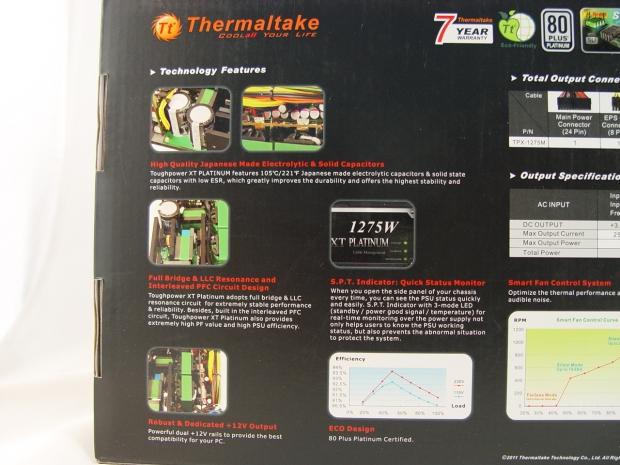 A few highlights on the back go build quality and efficiency such as the Japanese capacitors, Full Bridge and LLC Resonance and dual 12V rails. They also introduce you to the S.P.T. indicator which lets you know if the power supply is in standby, outputting good power, and if it is operating within acceptable temperature ranges.
This means the power supply is actively monitoring temperature yet Thermaltake still chose not to implement over temperature protection. You're probably scratching your head as much as I am right now, but it just isn't there.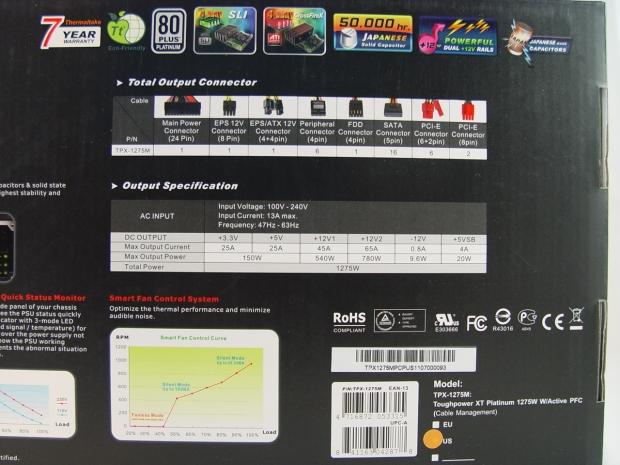 Short of cable length, we have a solid chart with all of the connectors available in the power supply. Also listed here are the I/O specifications for the power supply.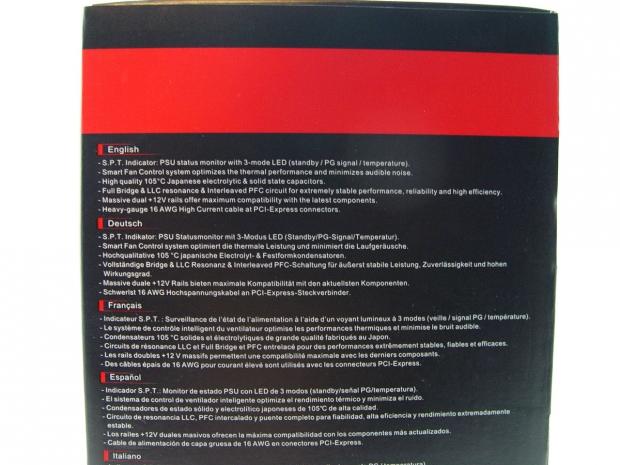 Both sides feature the same information and just highlight the information on the back. The other side provides the information in more languages.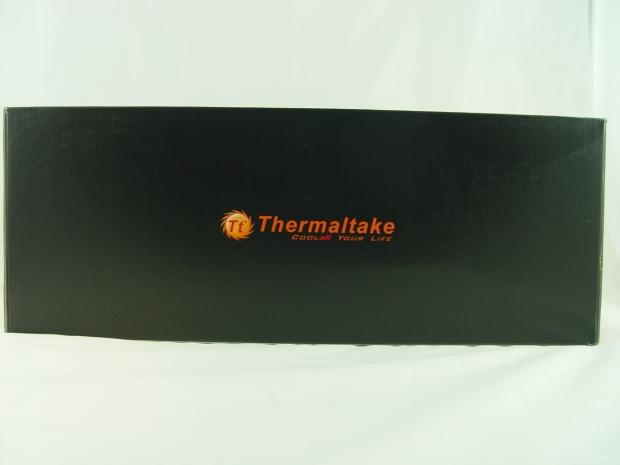 The top and bottom of the box have no information on them.
Inside the Box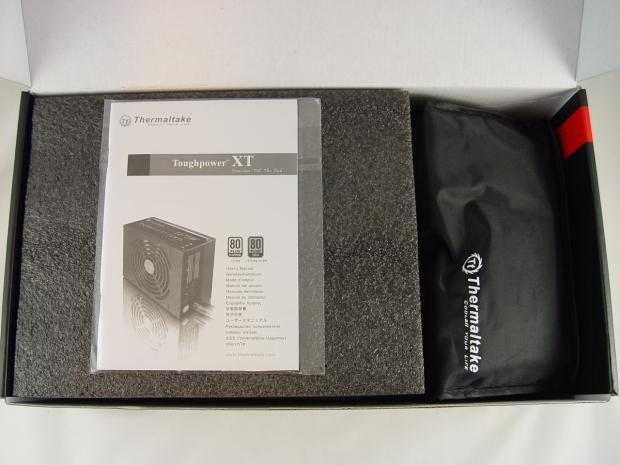 The Toughpower XT Platinum 1275W power supply is well packed in all aspects with plenty of foam protecting the unit itself.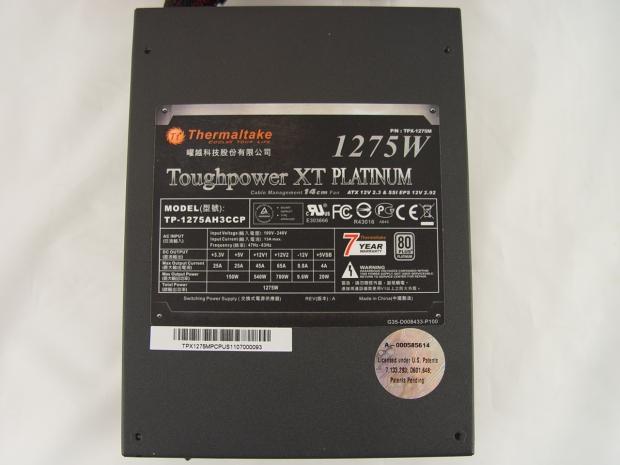 If you think the power supply looks rather large, you're right. While most seem to be making power supplies that are shorter, Thermaltake isn't concerned with reducing the length of the unit. It measures in at just less than eight inches long.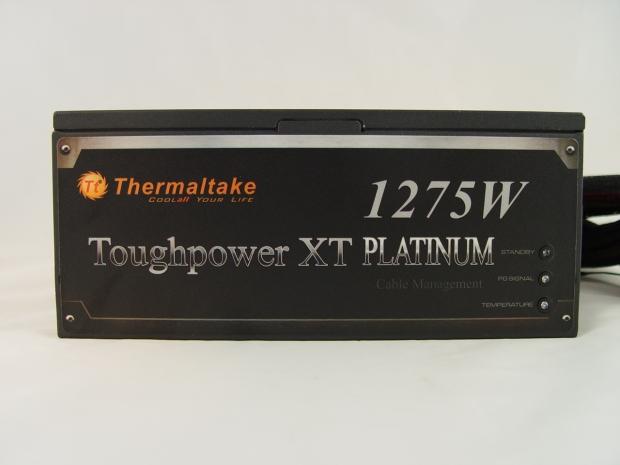 Both sides feature the same logo, just inverted on the opposite side. This is the only side that has the S.P.T. lights however.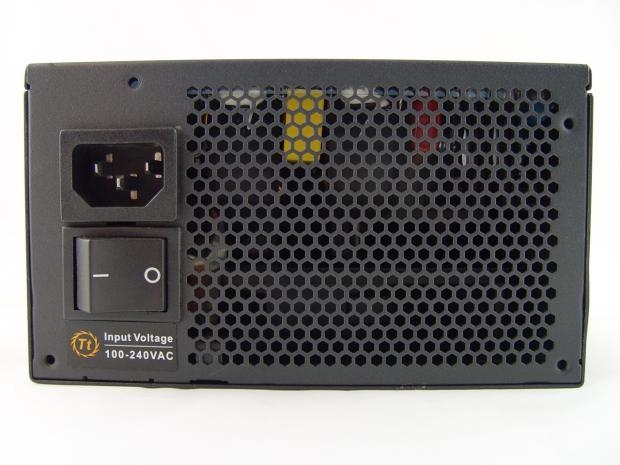 The back is standard with the honeycomb venting as well as the AC input and on/off rocker switch.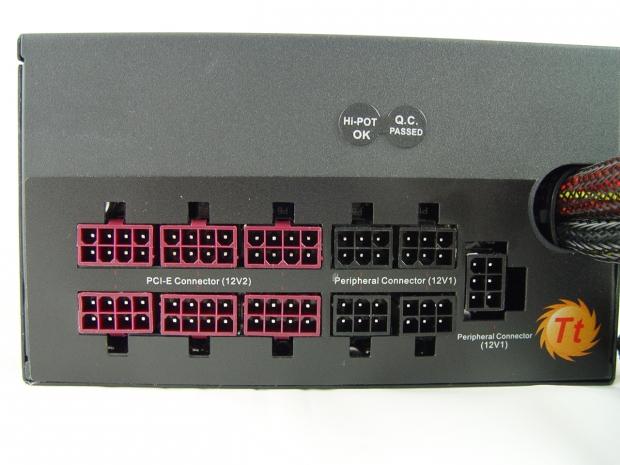 Towards the front, we find the modular connectors for the Toughpower XT Platinum 1275W. All of the modular connections are labeled as to which rail they go with. It would be nice to see the native cables labeled as 12V1 so that there is no doubt as to which rails supply power to where.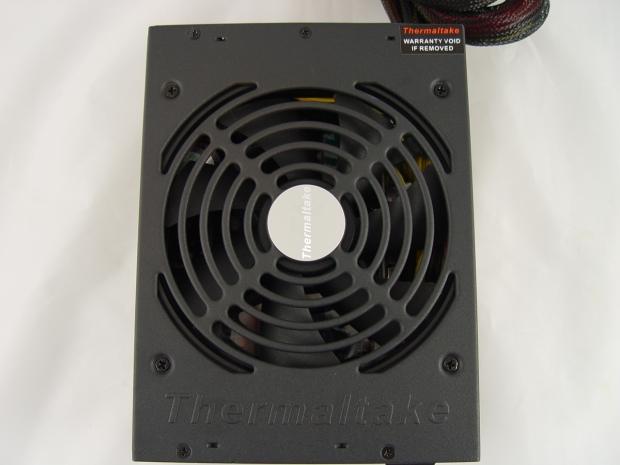 The bottom of the power supply features a stamped grill to cover the fan. It is a little more restrictive than some, but should still flow plenty of air.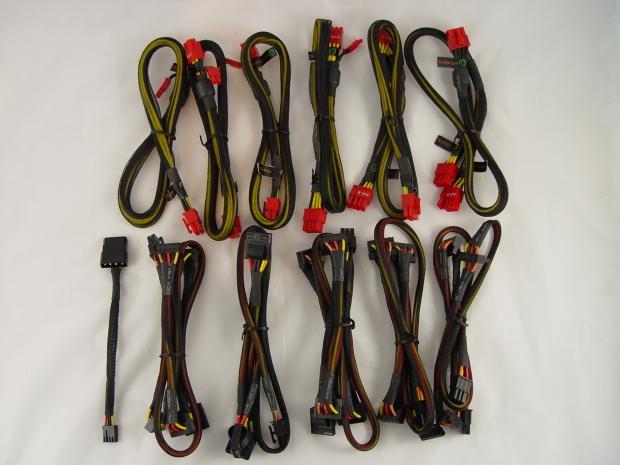 All cables both modular and natively wired are fully sleeved with nylon mesh.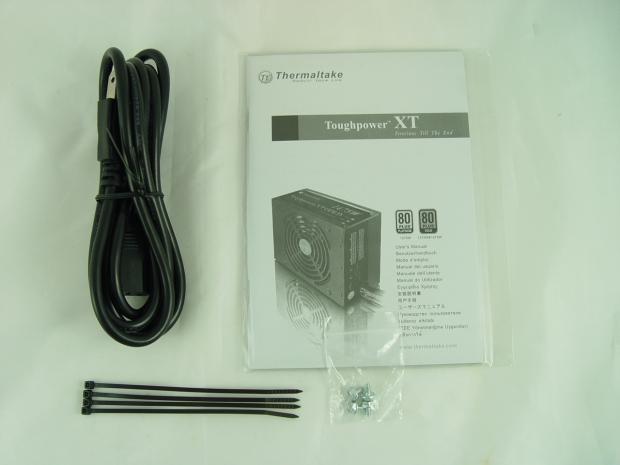 Also included are the user manual, AC input cord, four cable ties and mounting screws.
Cabling Arrangement and A Look Inside
Cabling Arrangement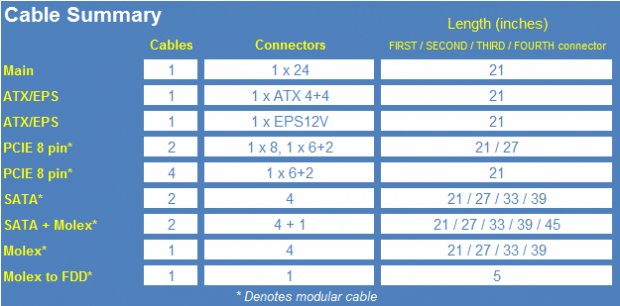 Aside from the 24-pin Main, ATX/EPS, and PCI-E cables being a tad short, there is a nice selection of cables and connectors for the Toughpower XT Platinum 1275W power supply.
Eight PCI-E connectors spread across six cables make it easy to power up to four video cards. Peripheral connections are supplied in the form of 16 SATA and six Molex. Also included is a Molex to FDD connector in case you need one. If anything could be changed here, it would be to natively wire one of the PCI-E cables instead of having both the ATX 4+4 and EPS12V connectors natively wired.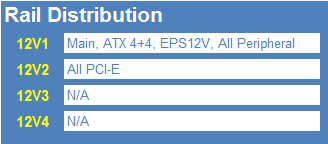 Thermaltake does a good job of naturally balancing the two 12V rails. 12V1 is reserved for all of the natively wired connectors and peripheral devices while 12V2 is dedicated entirely to powering video cards.
A Look Inside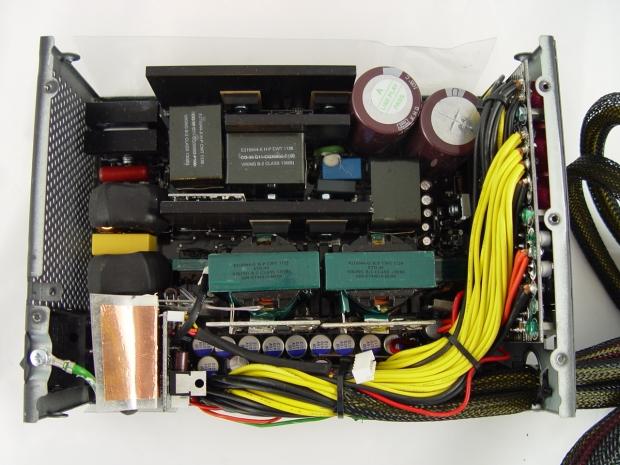 Thermaltake didn't waste any space in the 8" long unit. What surprised us the most was the minimal amount of passive cooling on the unit. Considering the power supply operates fanless until about 40% load, we expected more.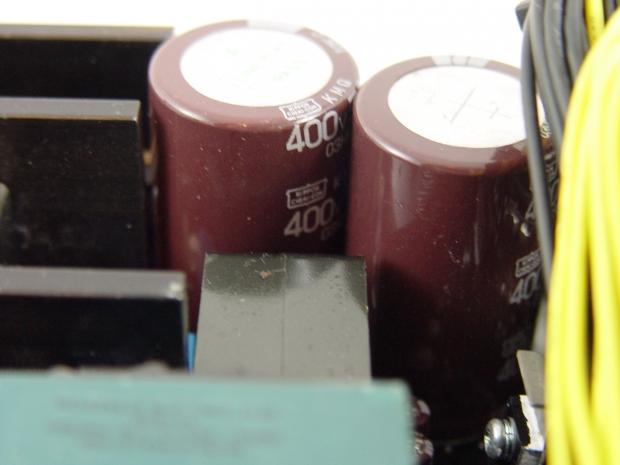 A pair of Nippon Chemi-Con capacitors reside on the primary side of the Thermaltake Toughpower XT Platinum 1275W power supply.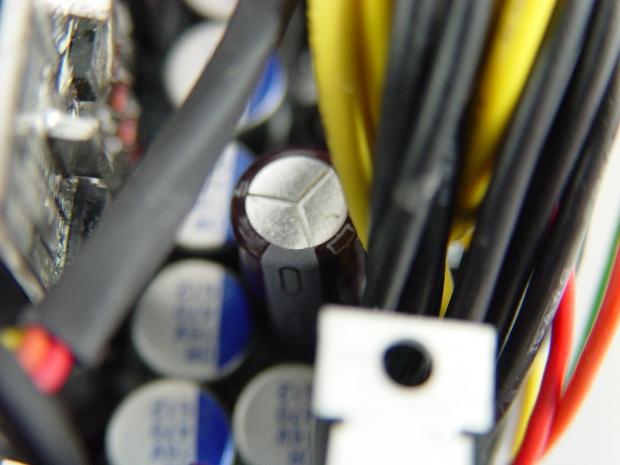 More Nippon Chemi-Con capacitors are soldered in on the secondary side as well.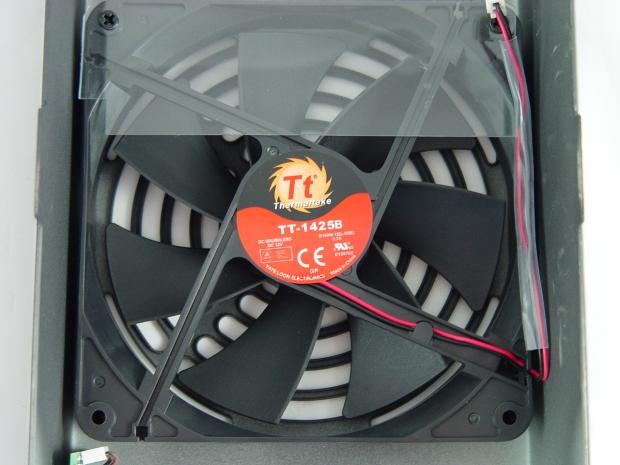 Thermaltake uses their TT-1425B 140mm fan to provide the active cooling for the unit. As you can see from the label, it is a rebranded Yate Loon.
Test Results and Final Thoughts
Test Results
Our load tests utilize a couple of FAST ATE active load testers and a variety of other equipment such as an oscilloscope, power conditioner, temperature probe and a power consumption meter. You can read more about our standard testing approach here.
The tests performed are based around six conceivable setups that are out there and progressively load down the PSU up to the power supply's limits or 1000W, whichever comes first. Since our test equipment's limits are lower than that of the Thermaltake Toughpower XT Platinum 1275W power supply, we can only test it to 1000W.

The above tests represent typical loads that we have measured from various systems and are meant to give a rough idea of where your computer might fall in line with our tests. Please keep in mind that each system is different and actual loads can vary greatly even with similar hardware.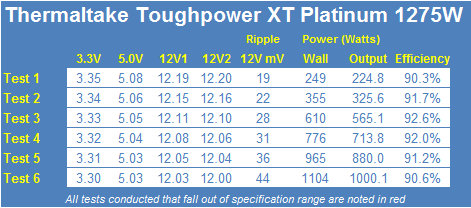 Let's start by taking a look at the voltages to see how well this unit did during testing. Starting with the 12V1 rail, we see 2% regulation from start to finish with a total drop of .16V. 12V2 showed nearly identical results with 2% regulation and a total drop of .20V. The 5V rail managed to stay within 2% of specification as well with a total drop of .05V from start to finish. Moving towards the 3.3V rail, we see that regulation was again within 2% of specification with a total voltage drop of .05V.
DC Output quality for the Toughpower XT Platinum 1275W was great and well within specification. During Test 1, we saw 19mV of noise on our scope. When we increased the loads in Test 3, the ripple climbed to 28mV at a little under half load. During Test 6 under a load of 1000W, the oscilloscope showed a maximum of 44mv on noise on the 12Vrail.
The Thermaltake Toughpower XT Platinum 1275W is rated for 80 PLUS Platinum efficiency. This means that the power supply must perform at 90%/92%/89% efficiency at 20%/50%/100% loads respectively. As you can see, the Toughpower XT Platinum 1275W passed on our bench and wasn't close to failing at any point.
Final Thoughts
Thermaltake's Toughpower XT Platinum 1275W is the third power supply we have taken a look at to date that is rated for both 80 PLUS Platinum efficiency and more than 1000W. The other two have been the Corsair AX1200i and the PC Power & Cooling Silencer Mk III 1200W. Performance for the Toughpower XT Platinum 1275W is just what you would expect from this enthusiast grade power supply.
All voltages are within 2%, it has great DC output quality, and Platinum level efficiency just as advertised. This makes it very hard to distinguish the power supply from the competition as all of these power supplies have performed extremely well and with very minimal differences in the test results.
When you start looking at some of the features and specification, we find the ability to start to differentiate the three. We find that the Corsair AX1200i is by far the most feature-rich with the integration into the Corsair Link software and the PC Power & Cooling Silencer Mk III 1200W brings a massive single 12V rail while the Thermaltake has dual 12V rails. All three units feature seven year warranties as well.
Once we take price into consideration, we find a huge difference between the three and this is most certainly where the Thermaltake Toughpower XT 1275W power supply shines. At a price of about $270 after shipping, that makes it at least $30 less than the competition, and $80 less when compared to the Corsair PSU. That's a good chunk of change that can be dumped elsewhere into a system to gain more performance.
So, unless you demand the monitoring features of the Corsair or the single 12V rail of the PC Power & Cooling, the Thermaltake currently represents the best value for an 80 PLUS Platinum power supply that is capable of more than 1000W.