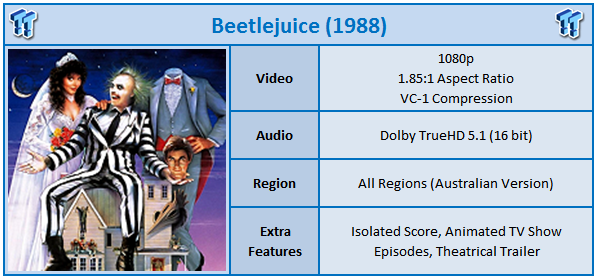 After a few years of relatively mediocre Tim Burton films such as Alice In Wonderland and Planet of the Apes, it's a breath of fresh air to revisit one of his biggest hits - the wholly original Beetlejuice.
When a happily married couple, (Alec Baldwin and Geena Davis) are killed in a car accident, their journey to the other side is interrupted by the unfortunate sale of their home to an obnoxious family, changing the decor and tearing down years of their work. In retaliation, the couple hires a demon named Betelgeuse (Michael Keaton) to scare the family away, but in Beetlejuice, they've gotten more than they bargained for.
Despite some aged visual effects, I'm happy to report that Beetlejuice stands the test of time. Ironically, it seems that the rise of technology has inversely affected the quality of Tim Burton's films. In a disease that also afflicts fellow director George Lucas, the ability to essentially do anything his crazy mind dreams up (i.e. Alice in Wonderland) is now the cinematic shortcut, rather than in avant-garde style manipulating clever compromises and movie magic to achieve a shot. Unfortunately, the insane risk taking of Beetlejuice seems to be in short supply in modern Hollywood.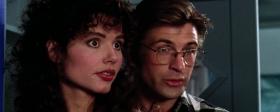 Video
Beetlejuice is presented in the film's original aspect ratio of 1.85:1, encoded with VC-1 compression.
Clearly originating from an updated transfer, the encode is clean as a whistle, with a high level of detail. Whilst some shots exhibit significant softness, this has more to do with multi-layered rotoscoping and composited shots than any fault of the transfer. Unlike the previous DVD release, this is devoid of the worst of film artifacts, making for a significant upgrade in visual quality.
Colors are saturated well, with a very appropriate black level. Compared to the DVD release, this is a real night and day comparison. Bravo, Warner.
[img]2[/img]
Audio
Beetlejuice is presented in Dolby TrueHD 5.1, at 16 bits.
Despite its age, I'm happy to report that Beetlejuice comes with a relatively good audio mix, but which is conservatively restrained to the front soundstage. I found no issue with audio sync and fidelity is quite wide. There is very little in the way of rear surround effects, supporting only some minor ambience effects and leakage of the score.
The iconic score by Danny Elfman is rendered well, but again, it's mostly limited to the front three speakers. This marked only the second time that Elfman and Burton had collaborated together; a productive relationship which exists to this day.
The LFE channel is surprisingly active throughout, kicking into life when it's most needed.
[img]3[/img]
Extras
Beetlejuice hits Blu-ray emblazoned with a '20th Anniversary' logo, but unfortunately, there's not that much to get excited at here. Most notably, an audio commentary and making of documentary are both conspicuous by their absence.
While we might not get an audio commentary, the Danny Elfman Isolated Score is a nice touch. We don't really see these any more, and with some particularly memorable tracks (presented in 5.1 sound, no less), this is a welcome inclusion.
Next we have two episodes of the Beetlejuice Animated TV Show, presented in rather basic standard definition. I have fond memories of watching the VHS tape when I was younger, and whilst the show has clearly aged, its inclusion is another nice touch.
Finally, we have the original Theatrical Trailer in somewhat sad standard definition.