We recently checked out the Kingston HyperX T1 PC3-22400 kit and while out of the box the 2800MHz DDR clock it offered was the highest of its kind we've had to date, we found ourselves a little underwhelmed with what we got out of the kit. The T1 series from Kingston has been around for ages, and we really feel that the heatsink has really done its thing, and it's time to move on.
While more than capable, it just felt like we've been staring at the same look for years and with companies like Corsair recently refreshing the Dominator Series and G.Skill constantly changing its heatsink designs, we felt that while Kingston continued to create some fantastic memory, they were missing out as companies move forward with heatsink design.
Today, though, we've seen a new addition to the popular HyperX line. The Predator sits alongside the known Blu and Genesis series which we've tested many times in the past at different speeds. So what are we getting out of the new Predator series? Well, let's find out with the new kit we've got on hand today.
Straight away you continue to see that heavy emphasis on blue along with the black X down the middle of the kit. We're not dealing with a matte design, instead we've got an iridescent / glittery design, which we like. It's something a bit different and it's nice to see Kingston mix it up a bit for a change.
Unfortunately the great looking setup is let down with the decision for Kingston to go down the path of a green PCB. With the black highlight on the kit, a black PCB would've looked fantastic. Of course it's never been about performance with the black PCB, but purely cosmetic. It would've been really nice to see Kingston make this move, but we continue to see companies release really nicely designed heatsinks that don't pop as much as they could, because of the PCB color choice.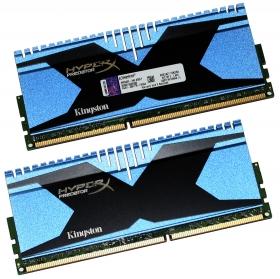 Flipping over the kit we can see that both sides are very similar with the overall design giving us that black X and across the top and we've got the new HyperX Predator logo while the bottom includes the Kingston logo. As usual we can see that one side has a sticker that gives us a little bit of information in regards to what exactly we're dealing with.

Looking at the sticker we don't get loads of information as Kingston tend to be a little vague on its stickers. We can break down the model number on the right since we've seen so many, but instead we'll just get straight into the specification side of things so you know exactly what we're dealing with here.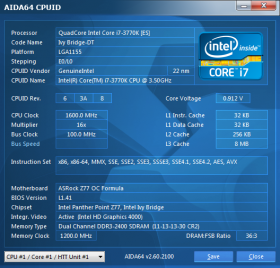 This dual channel kit comes with two 4GB modules that makes up an 8GB kit with a default speed of 2400MHz DDR or PC3-19200. On the timing side of things we've got an 11-13-13-30-2T setup that requires 1.65v to get up and running. This isn't anything too out of the ordinary, and while a little loose on the timings side, it should help keep price down.
Considering we've just come off a 2800MHz DDR kit from Kingston we knew that getting up and running at these speeds wasn't going to be an issue with our CPU. We booted our system up, headed into the BIOS and set the XMP profile to 1 and straight away we found ourselves in Windows.
Getting into the benchmark side of things under AIDA64 we ended up with Read / Write numbers of 21,909 MB/s / 20,739 MB/s, Copy speed of 24,798 MB/s and latency of 34.3ns.
These are some pretty standard numbers as you'd expect with the speed and timings. With that out the way, though, we can get into the fun side of things, and see what we can do when it comes to overclocking. Back into the BIOS the first thing we tried was to move the memory divider to 2600MHz DDR, which is the next step up from 2400MHz DDR.
Unfortunately we weren't able to get up and running at that speed which meant that it was time to go back into the BIOS and start to find what kind of speed we're able to achieve via BCLK tweaking. We figured that we'd be able to get at least 2500MHz DDR so we jumped the BCLK up a little bit and used that as our jumping point.
With no issues getting into Windows it was time to go back to the BIOS and increase the BCLK slowly to we hit a point where we couldn't get into Windows or our machine wouldn't post at all. As we moved through the BCLK we found ourselves getting closer and closer to that 2600MHz DDR that we tried first, but couldn't quite achieve.
In the end the BCLK finished up at 108.2 which gave our memory a speed of 2598MHz DDR... of course just 2MHz DDR shy of that initial 2600MHz DDR that we tried to get. We tried to push the BCLK again to see if we could sneak past 2600MHz DDR and while we could post with our BCLK at 108.5, we got a BSOD before we hit Windows.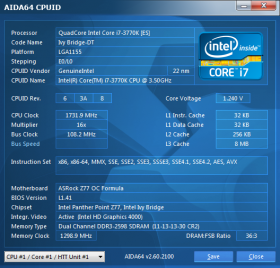 So in the end we found ourselves with a 2598MHz DDR clock while the timings remained at the same 11-13-13-30-2T. The only thing we did change along with the BCLK was the RAM voltage, which was pushed to 1.7v. This is a fairly standard number and helps us make sure we can get as much overclock as possible.
Under AIDA64 we ended up with Read / Write numbers of 23,706 MB/s / 22,449 MB/s, Copy speed of 27,074 MB/s and latency of 31.8ns. Across the board this is some great gains especially when we look at the Write and Copy numbers which see a massive boost while Latency sees an almost 10% drop.
Of course there's more to the picture then just the boost in RAM speed here. Such a strong boost in our BCLK meant that our CPU speeds really shot up. Instead of the standard 3.9GHz, our CPU was running at a strong 4221MHz. Because of the strong BCLK boost we knew that when it came to our final test where we push our CPU to around the 4.7GHz mark, the same boost in speed wouldn't be seen, as we normally see when a kit might be running closer to that 3.9GHz clock when overclocked.
With that said we head back into the BIOS and start to mess around with our CPU multiplier. Because of the high BCLK we knew that we wouldn't be able to get our multiplier as high. We should still get very close to that 4.7GHz number that we always try to hit, though.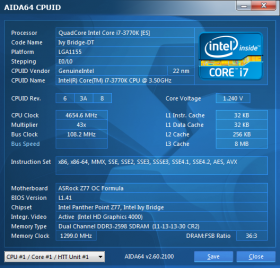 Looking above you can see we end up with a 43x Multiplier which brought our CPU speed in at 4655MHz when our BCLK was set to 108.2. As always we try to make sure the RAM is running at the same overclock and as you can see at the bottom we're still running at 2598MHz DDR with the 11-13-13-30-2T setup.
Under AIDA64 we ended up with Read / Write numbers of 24,627 MB/s / 24,492 MB/s, Copy speed of 28,983 MB/s and latency of 31.0ns. Overall we've got some great numbers here and while there's not the normal jump over the last set of results, when you compare to the initial results, though, we really see a nice boost in the overall performance numbers.
Overall Kingston has produced some good numbers here, but it would've been nice to simply select the 2600MHz divider instead of having to adjust the BCLK. We're just fortunate enough that our i7 3770K is capable of a strong BCLK giving Kingston the best opportunity to show off its overclocking abilities.
We haven't got a whole lot to complain about when it comes to the new Kingston HyperX Predator PC3-19200 8GB kit. The slightly more relaxed timings and 8GB size means that we've got a super attractive looking $69.99 price tag that is going to be in reach for most.
It's also great to just see that Kingston has expanded the HyperX series with the new Predator edition which really gives a nice refresh to the high-end section of the HyperX line. We would've loved to have seen Kingston opt for a black PCB against this heatsink to just make the kit on a whole pop a little bit more.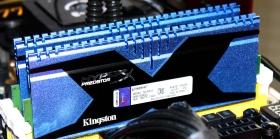 Compared to a lot of other kits we've looked at recently one of the bigger advantages here is that 2400MHz DDR shouldn't be an issue at all for people using something like a 3770k. 2600MHz DDR might be a little tougher and moving above that it becomes harder and harder as the clock is dependent on the quality of the Internal Memory Controller on your CPU. Always keep this in mind when buying performance RAM.
If you're looking for an 8GB kit that comes in at a good speed and a great price tag, this is a really nice option. The taller heatsink isn't going to be possible for everyone as it can cause issues with some large CPU coolers, but if you're looking for something new and different to what we've seen in the past, this is a nice kit that offers solid performance.