Kingston HyperX T1 PC3-22400 4GB Dual Channel Memory Kit Review
We look at our fastest out of the box memory kit yet, the 2800MHz DDR HyperX kit from Kingston.
Published Mon, Oct 15 2012 11:27 PM CDT
|
Updated Tue, Nov 3 2020 7:01 PM CST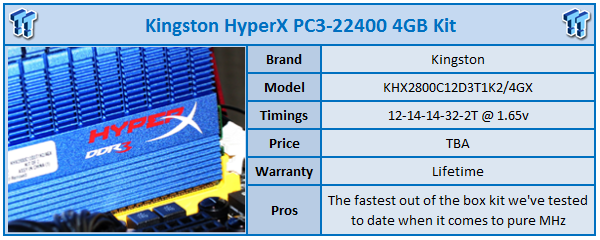 Over the last few weeks we've had a bunch of RAM come in that we've been working our way through and one of the last kits for us to look at comes from Kingston and follows the popular HyperX line that we've known about for years.
Consisting of the Blu, Genesis and T1 series we've known for a long time that the T1 series from the company represents the highest of speed. Soon, though, we should see an expansion on the HyperX line with the new Predator series that's due soon and will carry speeds of up to 2666MHz DDR which at the moment seems to be the go to speed for most companies when it comes to performance RAM.
Today, though, we're looking at a kit from Kingston that carries with it the highest out of the box speed we've tested to date. Before we get to that, though, let's just take the time to have a quick look at what we're dealing with today when it comes to this kit of RAM.
Looking below you're not going to see anything too out of the ordinary when it comes to this dual channel kit. The HyperX T1 heatsink is something we've been seeing for ages now, and it really has had no design changes since its introduction, which really feels like forever ago. It will be good to see the Predator series come from Kingston and a much needed refresh to the performance end of the HyperX line.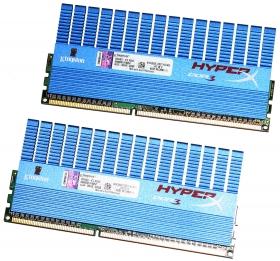 Having a look above we can see the RAM and you can see both sides are nearly identical with very little separating them. You can see the Kingston logo alongside the HyperX logo on both sides and in the middle of one kit we've got a sticker that gives us a run down on the main details.

Looking at the information above you can see plenty, but a lot of it doesn't mean a whole lot to us. Unfortunately we don't have the normal amount of information that tells us the speed and timings, but you can see that based off the model number that we're dealing with a 2800MHz DDR C12 kit.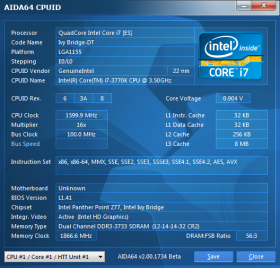 Expanding on what we know the 2800MHz DDR kit comes with a 12-14-14-32-2T setup that requires 1.65v to get up and running, which is pretty standard. The biggest surprise from the kit probably comes in the form of the size which is 4GB. At the same time this isn't a huge surprise since one of the biggest sacrifices when it comes to high speed RAM is that we have to take a hit in the size of the kit.
Under AIDA64 we ended up with Read / Write numbers of 22,810 MB/s / 20,927 MB/s, Copy speed of 24,942 MB/s and latency of 32.0ns.While this is no doubt the fastest out of the box kit we've tested when it comes to pure MHz, these aren't the highest scores we've seen and that's mostly due to the relaxed timings. We've actually seen 2666MHz DDR perform a little faster thanks to it coming in at 10-12-12-31-2T.
Of course the numbers are still overall very strong, but probably not quite as high as you'd expect due to those more relaxed timings. With that stock out of the box performance looked at it's time to see what we can do on the overclocking side of things. We know that the CPU we've got is good for 2933MHz DDR.
For now it's time to head into the BIOS and see what we can do. We left the DRAM timings at AUTO which really lets our ASRock Z77 OC Formula do what it wants when it comes to the timing side of things. We figured the first thing we'd try is 2933MHz DDR since it's the next divider.
With no real shock that didn't work so we headed back into the BIOS to do some BCLK adjusting with the 2800MHz DDR divider in place and our timings still at AUTO. We ended up in Windows at 2840MHz DDR with a 101.5 BCLK which as you can tell isn't much of an overclock. Looking at the timings, though, we noticed that while the ASRock board would tend to loosen them more than the default ones, in this instant they remained at the same speed.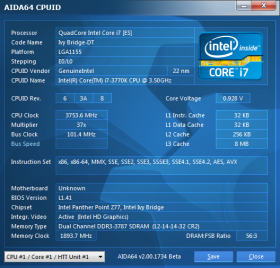 Because the timings stayed the same we figured that we could go back into the BIOS and adjust them ourselves slightly. What we ended up doing is changing them to 14-15-15-35-2T @ 1.7v. Adjusting the BCLK from 101.5 to 102 we found ourselves greeted with our system not wanting too post. It was clear that really no matter what the limit on this particular kit of RAM was going to be just over 2800MHz DDR no matter what timings or voltage we used. So with that done we headed back into Windows with the 101.5 BCLK and our RAM running at 2840MHz DDR again to see what it did to overall performance.
Under AIDA64 we ended up with Read / Write numbers of 22,460 MB/s / 20,229 MB/s, Copy speed of 24,323 MB/s and latency of 32.0ns. You can see we've got no difference at all really; the numbers are actually slightly lower thanks to a slower CPU speed.
At stock the 3770k runs at 3900MHz thanks to Intel Speedstep, but when we start to adjust the CPU speed ourselves we lose Speedstep and our CPU speed comes in at 3753MHz. Still combating that is what we intend to do now as we head back into the BIOS and overclock the CPU to see just what kind of numbers we're able to get.
Heading back into the BIOS with intention of adjusting the Multiplier we ended up bumping that up to 47x. In conjunction with the 101.5 BCLK our total CPU speed comes in at 4768MHz which should help give us an overall decent boost in performance. So with that all set and everything going as planned we find ourselves back in Windows.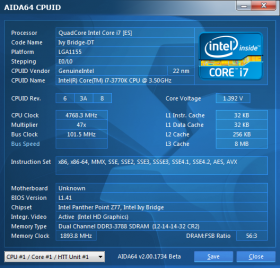 Under AIDA64 we ended up with Read / Write numbers of 25,184 MB/s / 24,991 MB/s, Copy speed of 28,00 MB/s and latency of 29.8ns. With no surprise at all you can see we've got a nice boost in performance across the board when compared to the other two sets of tests we've already completed.
99% of people are simply not only going to have use for this RAM, but a large group would probably also prefer something that is slightly slower, but comes in at least 8GB or 16GB. As for why 99% of people are simply not going to have use for this RAM it's due large to the fact that this speed is insane out of the box and a lot of CPUs are going to have a real issue getting this kind of speed as we've said so often recently; to get these kind of speeds a strong Internal Memory Controller is needed.
We actually got this kit of RAM from Kingston months ago when the Z77 platform launched, but we didn't have the ability to test it since we couldn't get 2800MHz DDR up and running. Instead we sent it back to Kingston and said we'll let you know when we can test this speed. While our normal 3770k is impressive offering us over 2700MHz DDR via the IMC, it's not strong enough to do 2800MHz DDR.
This is not only the problem for a kit like the one here today, but also a problem with any high-end kit. While Kingston can of course guarantee that the kit can do 2800MHz DDR, they can't guarantee that your system will do it. We go to our best efforts to educate users about this as the last thing we'd want is you to buy a high speed kit that won't run at the rated speed.
If you then went to return the kit and it was tested and it ran the speeds fine because that person had a capable CPU, then your return could be declined. This isn't the same at all shops in all countries as some will simply refund if done within a certain amount of time. It's still something that is very important to note as we see more and more companies offer us these high speed kits that start at 2666MHz DDR.
It's also important for us as reviewers; just because we got over 2700MHz DDR on a 2666MHz DDR kit it doesn't mean that you're going to be able to get it. That could be due to a combination of not only the particular RAM we got, but also the IMC on your CPU.
The Kingston 2800MHz DDR kit is a good kit for someone that wants speed, but doesn't care about quantity and wants to know without a shadow of a doubt they can run 2800MHz DDR (assuming they have a capable processor).
A few things do kind of bug me with this kit, though, and one is the quantity. 4GB isn't much at all and we're seeing companies offer us 16GB 2666MHz DDR kits that do nearly 2800MHz DDR with overclocking. Due to the really lose timings we're also seeing some larger capacity 2666Mhz DDR kits out perform this kit.
Another issue is that the HyperX T1 heatsink is just really aging now. It's a very good heatsink and just overall a very good quality heatsink and the fact we're able to do 2800MHz DDR without a cooler is really good, and a testament to the quality of the heatsink. We've just seen it for so long, and we've seen some unreal heatsinks from companies in recent months. This is one of the main reasons I find myself excited about the upcoming Predator RAM that you'll also see on TweakTown soon.
Overall this is a good kit that offers awesome MHz out of the box. But as we mentioned above it's not without its points that make it less appealing than other kits we've looked at recently. 2800MHz DDR guaranteed is cool. For most, though, it's not going to matter. What it does is remind us that Kingston is capable of offering us high speed RAM and are a serious contender in the performance market. We are just left not overly excited about the kit in general.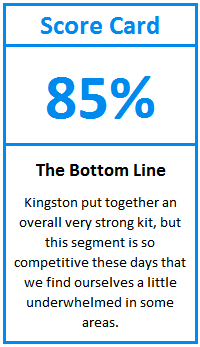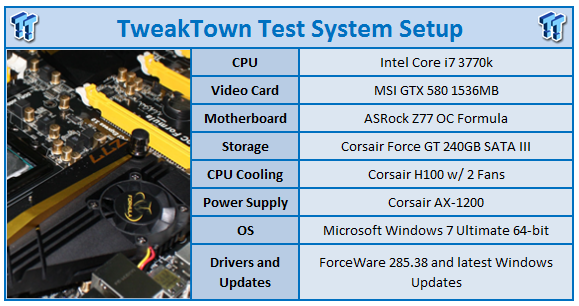 PRICING: You can find products similar to this one for sale below.

United States: Find other tech and computer products like this over at Amazon.com

United Kingdom: Find other tech and computer products like this over at Amazon.co.uk

Australia: Find other tech and computer products like this over at Amazon.com.au

Canada: Find other tech and computer products like this over at Amazon.ca

Deutschland: Finde andere Technik- und Computerprodukte wie dieses auf Amazon.de